The media was abuzz when Google's leadership announced the launch of their corporate entity, back in 2015.
With developing the new brand to roll it out, the corporate branding venture alone cost the company millions of dollars.
Was it worth creating this new entity, considering that Google's brand portfolio was doing quite well to begin with?
Data said "yes" shortly after the launch of Alphabet. The market reacted immediately, pushing Google's shares up by 6% in extended trading.
For Google, corporate branding was a worthwhile investment. But how do you know whether corporate branding is right for you?
In this article, we'll break it all down and help you decide if corporate branding is worth investing in. Plus, we'll share corporate branding strategy examples from top brands, explain how to build a corporate branding strategy and more.
Corporate Branding Strategy Defined
Before explaining what is a corporate branding strategy, let's first define what a corporate brand is.
A corporate brand is how you define your organization as a whole.
On the other hand, corporate branding is building, promoting and growing your company's brand as a corporate entity.
It's how your corporation presents itself to the world, as well as how you represent your corporation to your employees.
Corporate branding is a type of branding strategy that's much broader than the scope of branding specific products or services separately.
It involves integrating consistent branding with your marketing, communications and corporate social responsibility (CSR) activities to reach customers, investors and even employees.
What Is The Difference Between Brand And Corporate Image?
Now that you know what corporate branding is, let's dive into what corporate image is.
A corporate image, also known as corporate identity, is how you present your brand to the public and is typically represented with the use of trademarks, advertising, product design, public relations and more.
For example, whenever you see golden arches forming an "M," you instantly recognize it as McDonald's logo.
— McDonald's (@McDonalds) August 31, 2021
On the other hand, your brand image is how your consumers perceive your brand.
When you think of Coca-Cola, for example, you might think of the company as a brand that exudes happiness — bringing families and friends together over a bottle of refreshing soda.
This is by design — Coca-Cola's advertisements help craft this image.
How are you and your crew enjoying #HaveACokeDay?
How are you and your crew enjoying #HaveACokeDay? pic.twitter.com/xI7rAhYRPC

— Coca-Cola (@CocaCola) May 8, 2021
So, while you might imagine a fun get together with family and friends when you think of Coca-Cola (the brand image), you also know that the brand is associated with the colors red and white, along with the brand's trademark typography (the corporate image).
Benefits Of Corporate Branding
So why invest in a corporate branding strategy? Let's look at three major benefits you can gain from corporate branding.
1. Define Your Personality
Corporate branding defines your brand's personality.
What traits does your brand embody? Does it have a sense of humor like Wendy's or KFC? Or maybe your brand is vibrant and welcoming, or prestigious, focused on sustainability, etc.
If your target audience resonates with your company's personality and feels a connection with your brand, customer loyalty increases, which creates a great opportunity for increased sales as well.
2. Create Consistency Across Your Offerings
Corporate branding enables your brand to utilize a centralized and consistent marketing strategy across your offerings.
For example, let's say you own a tech company, and you portray yourself as an innovative leader in the industry, but you're also focused on simplicity (hello, Apple)!
Implementing a corporate branding strategy allows you to brand each of your products in a similar method: simple (with a minimalistic design) yet innovative (including the latest tech innovations such as artificial intelligence for face recognition, if you offer mobile phones).
3. Save Time And Money
Highlighting the previous point of consistency, corporate branding allows you to save time and money in your branding and marketing efforts. You won't have to create a brand-new game plan every time you launch a new product.
3 Successful Corporate Branding Examples: Apple, Alphabet & SAP
Before creating your corporate branding strategy, look for inspiration from the best.
We've compiled three examples of famous brands that turned their corporate branding efforts into highly successful campaigns.
Example #1: Apple
Apple is one of the best examples of a well-established corporate brand. It is also a perfect example of how to distinguish a corporate brand from a product brand.
The tech giant is famous for offering smart gadgets ranging from mobile phones, laptops and computers to TVs, watches and more, but its brand is even bigger than its products.
The tech aspect of the brand became a universal measurement according to which Apple's competitors evaluate themselves and quantify their own efforts, be it design, software features, packaging or company image.
Apple's brand is all about people's emotions, hopes and dreams. It is also about lifestyle, innovation, simplification and empowering people through technology. In short: It's high quality, high class, high tech.
In their own words, taken from Apple's ad "Intention:"
"The first thing we ask is: What do we want people to feel? Delight. Surprise. Love. Connection. Then we begin to craft around our intention… We simplify, we perfect, we start over until everything we touch enhances each life it touches. Only then do we sign our work: Designed by Apple in California."
Now, think of an iPhone, an Apple Watch or a MacBook Pro. Can you sense Apple's corporate brand values shining through each product?
But this company hasn't become such a widely recognized brand by chance.
Over the past few decades, Apple has carefully crafted a strong branding strategy to make sure all of the moving parts present as a unified brand, perceived (and cherished!) by millions of people around the world.
The power of Apple's brand is demonstrated right from the company's roots.
Back in 1978, Apple Corps, the record label and holding company founded by the Beatles, arguably one of the most popular bands of all time, filed a lawsuit against Apple for trademark infringement.
The suit was officially settled in 1981 with an undisclosed amount paid to The Beatles' label. As a condition of the settlement, Apple (Apple Computers at the time) agreed not to enter the music business.
However, today, we know that iTunes (one of Apple's flagship apps) is one of the most popular music streaming platforms in the world.
To see Apple's corporate brand in action, watch Apple's ad, "Intention" below.
Example #2: Alphabet
Alphabet, an American multinational conglomerate, is the very definition of a huge corporation. It was created through a restructuring of Google to become its parent company.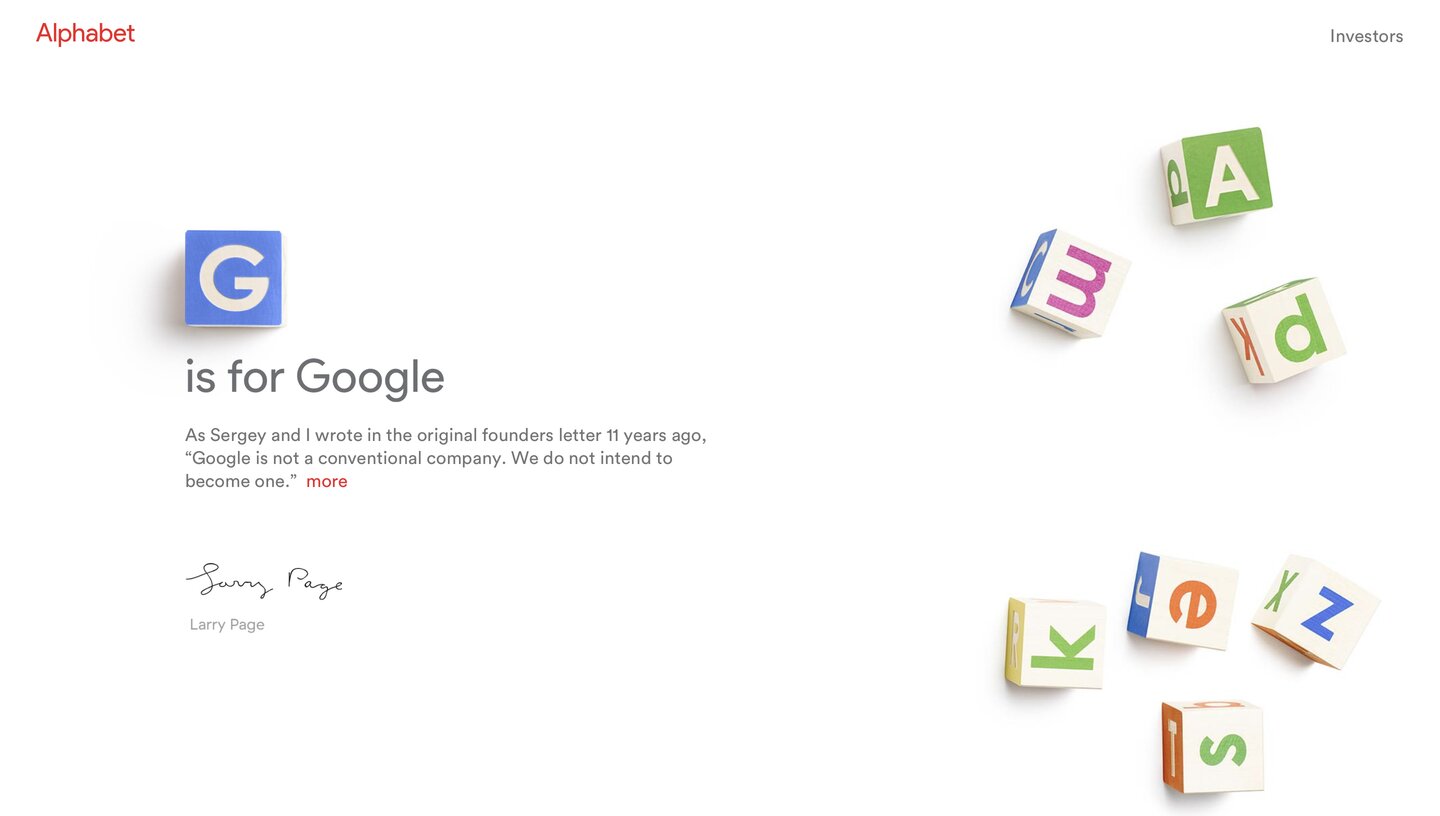 As is usual when a company announces a rebrand or an entirely new brand, people immediately reacted when Google created its new parent company — some of them negatively.
In a blog post, Google co-founder and now, an Alphabet CEO, Larry Page, explained that the goal wasn't to become a big consumer brand with an expansive product portfolio, but rather that the point of Alphabet is the independence of its subsidiary companies to develop their own brands.
Page explained the logic behind the Alphabet's name:
"We liked the name Alphabet because it means a collection of letters that represent language, one of humanity's most important innovations, and is the core of how we index with Google search! We also like that it means alpha‑bet (Alpha is investment return above benchmark), which we strive for!"
Although it's not customer-oriented, Alphabet's corporate branding, or rather brand architecture move, is historical.
Alphabet, just like its name suggests (from A to Z), represents the enveloping of progress across industries.
Its brand is "the house of brands," the unification of disparate companies and products under a strong name. It's a revolution in itself, as well as part of Google's continuing game-changing ambitions.
The genius of creating the Alphabet "method," so to say, is employee and acquisition marketing. The company is extremely acquisitive, with more than 180 individual brands under its wing (Wing, a drone-oriented tech company being one of them).
Every new business under Alphabet has functional autonomy and separate management teams, allowing more opportunities for career development.
This holding company structure allows different brands to operate independently, which is great for attraction and more importantly, retention of talent.
Example #3: Nestlé
Nestlé is a multi-national corporate brand that's well-known in the food and beverage industry.
While Nestlé currently operates a total of 200 brands, powdered and liquid beverages rank as the most sold product in 2021 with the Nestle PetCare line ranking as the fastest growing product in 2020.
Our petcare brands continued to bring families what they loved in 2021. Get the lowdown on our product innovations and explore five exciting trends for pet owners to look out for: https://t.co/StrFUJFYYE 🐶 🐱 ❤️ pic.twitter.com/8rbLTnpf5g

— Nestlé (@Nestle) February 20, 2022
Here is Nestlé's mission:
"The world's leading nutrition, health and wellness company. Our mission of "Good Food, Good Life" is to provide consumers with the best tasting, most nutritious choices in a wide range of food and beverage categories and eating occasions, from morning to night."
And vision:
"To be a leading, competitive, Nutrition, Health and Wellness Company delivering improved shareholder value by being a preferred corporate citizen, preferred employer, preferred supplier selling preferred products."
From chocolates and coffee to bottled water, baby food and more, Nestlé's list of offerings could go on for days thanks to the brand's extensive product portfolio.
While their offerings are extensive, what strikes a chord for us is their slogan: "Good Food, Good Life."
This paints Nestlé as a brand that cares about both the nutrition and satisfaction their products provide to consumers.
When thinking of Nestlé's products such as Carnation (milk), Cerelac (baby food) and Alpo (dog food), the brand wants consumers to think of health, allowing their mission and vision to shine through.
To further emphasize the importance of nutrition, Nestlé took a step further in their advocacy to address the global challenges of malnutrition, obesity and aging.
How? By creating Nestlé Health Science in 2011, an ongoing program where they perform extensive research and development while working with healthcare providers to make their products healthier and better.
Their commitment to improving their food and beverages shines by reducing salt, saturated fats and sugar in their nutrition-derived products.
To remove perhaps some of the negative connotation associated with the Nestle' brand when it comes to candy and chocolates, the corporate brand shifted their focus and put their money where their mouth is, to help consumers reimagine the Nestle' name.
Who Should Invest In Corporate Branding?
Corporate branding isn't right for every business, so how do you decide if it's worth investing in?
For starters, let's analyze one of the greatest corporate brands out there — Disney. The House of Mouse is not limited to movies or legendary theme parks.
On one hand, it's a huge corporation, a sovereign ruler of the entertainment industry.
On the other, it's the source of magical storytelling that creates emotional connections with consumers.
Disney doesn't simply sell a single product or a single movie, but an experience.
.@chancetherapper, @JimmieAllen, @KChenoweth, and so much more are bringing the magic to your home this Sunday on @ABCNetwork! 🎄 📺 #DisneyHolidayCelebration #DisneyWorld50 pic.twitter.com/vmptUD7XUp

— Walt Disney World (@WaltDisneyWorld) November 27, 2021
Whether it's an action figure, a DVD or a stuffed mouse, the Disney logo means something to people — it represents joy, youth and imagination.
There's a reason why you have this association with the brand, regardless of the type of product, and it has a lot to do with corporate branding.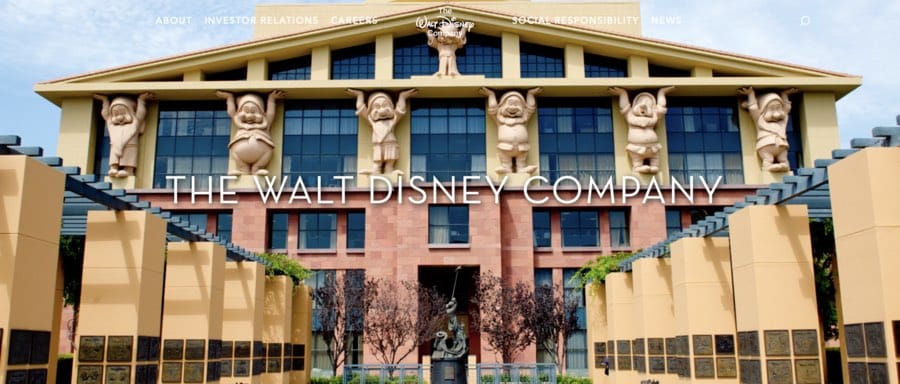 Marketing and selling without a base brand means there's a chance that you must constantly start from scratch, each time convincing a new audience that your product or service is worth purchasing.
Investing in your brand as a whole, instead of marketing a single product, gives your audience a long-term connection with your business and allows them to form an association each time you present something new.
Simply put, corporate branding helps consumers relate multiple products or service offerings to a brand instead of viewing them as separate entities.
Effective corporate branding can also minimize the need for large-scale marketing initiatives for every single (new) product or service, since consumers have a prenotion of the quality based on the overarching brand.
So, corporate branding may be right for your company if your goal is to:
Transfer brand equity to owned brands (new and existing): Think pharmaceutical brands such as Johnson & Johnson, Bayer, GSK — all recognizable and trusted corporations with whose logos endorse every product they put on the market to transfer credibility and give it a head-start, both with consumers and the media.
Improve and grow vendor relationships and networks: Corporate branding can help you position or reposition your business within its ecosystem. With more visibility, your brand is likely to attract better partners and deals.
Increase company valuation: Corporate branding coupled with solid digital marketing and PR strategies can influence the public perception and interest in your company.
Attract more media attention: With the increased visibility and interest in your corporation comes better media coverage opportunities.
8 Steps To Building A Corporate Branding Strategy
One of the most popular models for creating a corporate branding strategy is called the Vision-Culture-Image (VCI) Alignment Model.
This model can help you keep a strong consistency between:
A strategic vision of the company's founders and top management
A company culture reflected in employees' opinions and behaviors
A public image and customers' perception of the company
You can implement the VCI model into your strategy to help you:
Align your business goals, marketing goals and branding goals
Integrate employer branding and corporate branding practices
Create a strong brand image for the foundation of your business
Here are eight simple steps to creating a corporate branding strategy.
Step #1: Set Your Branding Goals
Depending on your current business status, your branding goals may be to:
Establish a brand image for your new company
Grow awareness and visibility for your existing brand portfolio
Attract better talent to your corporate headquarters
Attract more media attention and/or investors
Once you have your goals written down, the next step is to set clear key performance indicators (KPIs), depending on the objectives you set, to define your idea of success.
Step #2: Identify Your Corporate Values, Mission And Vision
Having clearly defined corporate values, plus a unique mission and vision, will help you lay a strong foundation for your branding efforts.
Values represent the principles that your company stands for and the philosophies that shape your company culture.
If you're not sure what your corporate values are, start with these steps:
Evaluate your current company culture
Decide if you want to move your business in a different direction
Identify the values that match your business development plans
Integrate the values important to your employees into your culture
Once you define your values, incorporate them into your mission and vision statements.
A mission statement declares the strategic direction towards accomplishing your long-term goals.
A vision statement declares the long-term goals you what to achieve and the ideals you strive to reach.
Both of these statements should be clear and concise and help your employees, executives and stakeholders understand the purpose of your business and the values behind it.
Here's an example of Nike's mission: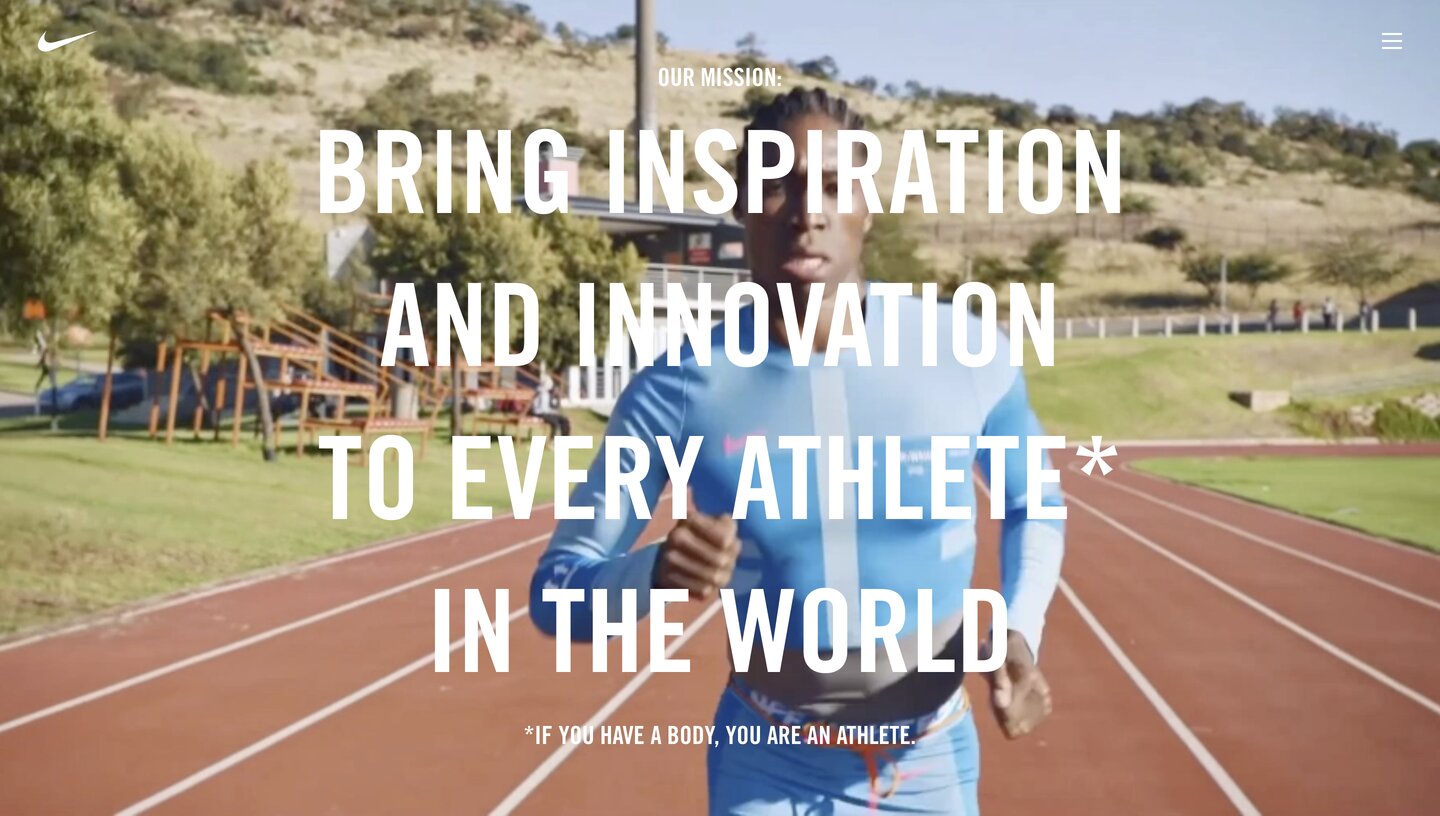 Step #3: Research Your Target Audience
To make your branding efforts successful, you need to define exactly who your audience is. The best way to establish that is by conducting audience research.
Audience research may include polls, surveys, focus groups, chats, one-on-one interviews, or any other form of conversation with your existing and/or potential customers.
Gather as much information as you can about your audience's needs, wants, pains, values, behaviors and habits.
This will help you create buyer personas to represent different audience segments. The best practice is to be specific when creating personas.
Include demographic data, as well as values and opinions, buying habits, online platforms they spend the most time on, devices they use and more.
If you have several different target audiences, create a buyer persona for each.
For example, if you run a SaaS business and your product is targeting both individual users and enterprises with large teams, make sure that you communicate the right messages to each audience segment.
At Digital Silk, we create buyer personas tailored for your target audience to identify their pain points and wants, and ultimately, provide a solution for your existing customer and prospects.
Step #4: Define Your Corporate Brand Voice
Another important element of a corporate brand strategy is your corporate brand voice.
Here are the key points to remember about your voice:
It needs to reflect your corporate brand values, identity and personality
It needs to be consistent throughout your internal and external communications
It needs to be in line with the voice of customers (VOC) and the audience you serve
The best way to define your brand voice is to establish your brand personality. In other words, identify a set of human characteristics that you can assign to your brand.
Start with these questions:
If your company was a person, who would it be?
What would that person care about the most?
How would that person behave in different situations?
Is it a strictly professional or a funny individual?
What are the main strengths and weaknesses?
How would that person appear in public?
How would you want them to be perceived in public?
The best practice is to document your brand voice and create a well-organized voice style guide to ensure consistency in brand communication across all channels.
Take Mailchimp's brand voice guidelines:
At Mailchimp, we've walked in our customers' shoes, and we know marketing technology is a minefield of confusing terminology. That's why we speak like the experienced and compassionate business partner we wish we'd had way back when.

We treat every hopeful brand seriously. We want to educate people without patronizing or confusing them.

Using offbeat humor and a conversational voice, we play with language to bring joy to their work. We prefer the subtle over the noisy, the wry over the farcical. We don't take ourselves too seriously.

Whether people know what they need from us or don't know the first thing about marketing, every word we say informs and encourages. We impart our expertise with clarity, empathy, and wit.
Step #5: Craft Your Key Brand Messaging
Once you have defined who your audience is and you have established your brand voice, the next step is to combine the insights into compelling brand messaging.
One of the most important messages you need to communicate is your brand's unique value proposition (UVP).
A UVP can be a single sentence or a set of sentences that speak clearly to your audience about:
The main value your company provides (including your products or services)
The key differentiator that sets your business apart from your competitors
The unique way your company solves a specific problem for your audience
The UVP should be immediately understandable, so avoid using industry jargon or too many buzzwords. Keep it simple.
Other brand messaging statements that you might want to craft include:
A slogan as a catchy, memorable line that helps attract loyal customers
A motto that describes your company's beliefs, values or services
An elevator pitch that describes your company in a clear, concise statement
Creating unique taglines sets your brand apart from other businesses who provide similar products and highlights your brand's mission and vision.
Here's a recent commercial from Dunkin', a famous donut chain. The commercial ends their pumpkin spice beverage commercial with their signature slogan, "America runs on Dunkin'".
Step #6: Design Your Corporate Visual Identity
The visual identity of your corporate brand includes (but is not limited to):
Logo design
Color palette
Typography
Imagery
Your corporate visual identity represents your brand's characteristics.
For example, if your brand offers sustainable products, your corporate visual identity should utilize a calm and earthy color palette such as green, white and brown.
To ensure consistency, create a brand book or a design style guide to display the fonts, colors, styles and use-cases for each of the branded assets you have.
You can refer to this brand book when designing your corporate website, business cards, corporate stationery, product packaging and marketing collaterals.
At Digital Silk, we create custom corporate visual identities to ensure your brand stands out from competitors, from conceptualizing your logo design to utilizing imagery in your website to connect with your target audience.
Step #7: Manage Your Online Brand Reputation
Your corporate branding strategy should also outline the ways you will manage your reputation and maintain customer loyalty.
Ever since digital channels enabled customers, vendors, partners, employees, investors and everyone else to quickly share their experiences online, online brand reputation has become more fragile and, therefore, even more important to manage.
Managing your online business reputation may include:
Using social media monitoring tools such as HootSuite, to keep track of when, where and how people talk about your brand
Ensuring that information about your company is complete and accurate across profiles on business directories
Overseeing customer reviews and online ratings of your company and products/services on rating platforms
Online customer reviews are still one of the most significant decision-making factors for prospective customers.
According to a recent Spiegel study, customers who saw negative reviews on social media decreased their spending by 12% and reduced their purchase frequency by 5% in relation to a given brand.
The same study also found:
There is a 270% greater chance of purchase for a product with five reviews compared to a product with no reviews
The conversion rate for lower-priced products with displayed reviews increased by 190%, while the conversion rate for higher-priced products with reviews increased by 380%
Reviews from verified buyers, as opposed to anonymous reviews, increase purchase likelihood by 15%
Now that you know online customer reviews can influence buying decisions at such a rate, consider displaying positive reviews on your website, prioritizing verified reviews and generating reviews for higher-priced products.
Step #8: Invest In Employer Branding
As our resident brand strategist at Digital Silk, Zorica Marjanovic, explains:
"Corporate branding describes an organization as a whole. When presented through employer branding, it can help attract valuable talent as potential employees."
Most marketers think of branding in limited terms of appealing to consumers. They'll invest heavily in all of the above-mentioned steps with the goal of resonating with their target market.
However, important as it is, corporate branding is just as essential for talent acquisition, or employer branding if you will.
Employer branding is not limited or owned solely by your HR department.
The main mission is to build a brand that reflects your company culture that ensures both job seekers and current employees have a strong positive connection with your brand and its values.
Employer branding encompasses a specter of different communication platforms, including:
Careers site or landing page
Company intranet
Internal newsletter
Employee testimonials
Building a stellar reputation is closely tied to the recruiting process, as it guarantees access to top-tier talent. In fact, three-quarters of job candidates spend time researching a company before applying.
A Glimpse Into Our Corporate Branding Strategy Process At Digital Silk
As our resident Branding Director, Courtney Bozigian puts it:
"Corporate brands shouldn't always think of just the now, but also the future, to better guide the path they want to take. This includes ambitious and fearless goals for your corporate branding strategy."
She adds,
"The competitive set is different for corporate brands and the brands that live within it. To set corporate brands for digital growth, we perform competitive research, keyword research, understand more of the brand value and the vision or the future state of the brand."
At Digital Silk, our team of experts can create a corporate branding strategy that is tailored to your needs. From conceptualizing and research to implementing and launch, we have you covered.
Wrapping Up On Corporate Branding Strategy
A corporate branding strategy streamlines how your brand is perceived by the public, your customers and employees through the use of corporate visual identity, corporate image and more.
It allows your company's brand to be a corporate entity rather than branding each of your products or services separately.
A corporate brand strategy helps you:
Build trust and long-lasting relationships with your customers
Increase the level of customer loyalty, engagement and advocacy
Grow the purchase likelihood for every new product/service you launch
To create an effective corporate branding strategy, start with the VCI Alignment Model to build consistency between your strategic vision, company culture and the public image of your brand.
Craft a corporate branding strategy by following these eight steps:
Set clear corporate branding goals
Document your values, mission and vision
Research your target audience
Define your corporate brand voice
Craft key branding messages
Design your corporate visual identity
Manage your online brand reputation
Invest in employer branding
Ready To Invest In Corporate Branding?
Request A Quote
Tell us about your project and let our experts give you recommendations.