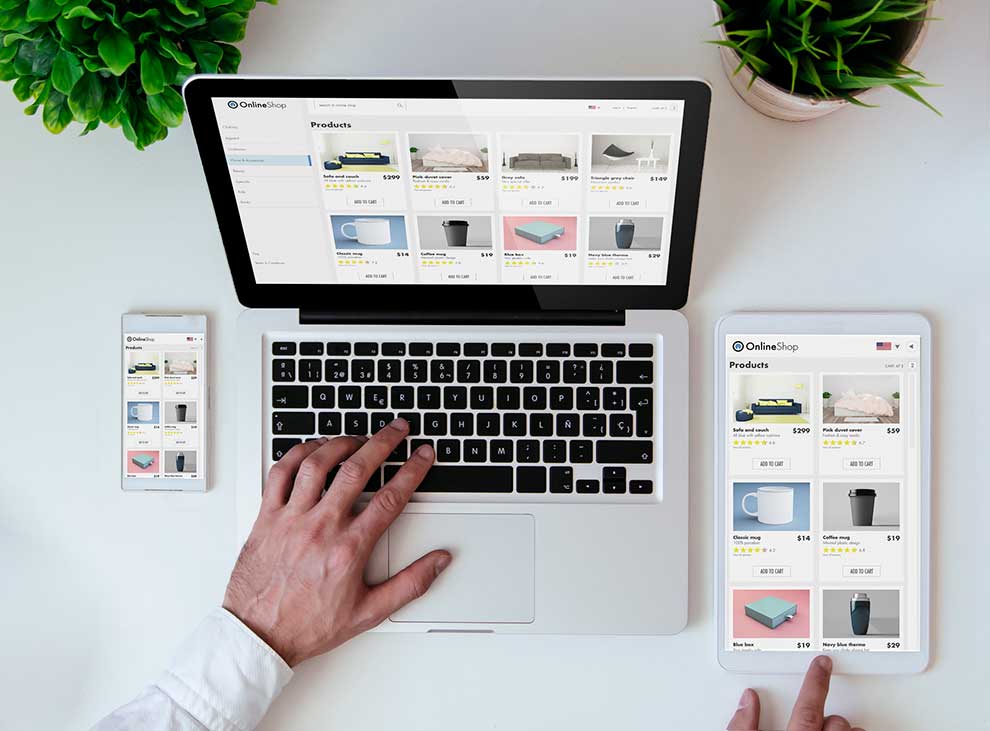 A minimum of 47,000 chain stores throughout the U.S. have temporarily closed their doors, increasing the demand for online services. This is in addition to numerous small businesses that have also had to close physical stores.
And, with the introduction of social distancing and self-isolation measures across the U.S., it's no surprise that consumers have adjusted their shopping habits.
For context, in the fourth quarter of 2019, eCommerce made up 11.4% of total sales.
Though no official data on online sales is released yet for the first quarter of 2020, a daily analysis by Klaviyo of eCommerce figures shows a steep rise in online sales beginning around March 1 and increasing steadily. This includes the growth of "new essentials" emerging from self-isolation such as office supplies, toys and sporting goods.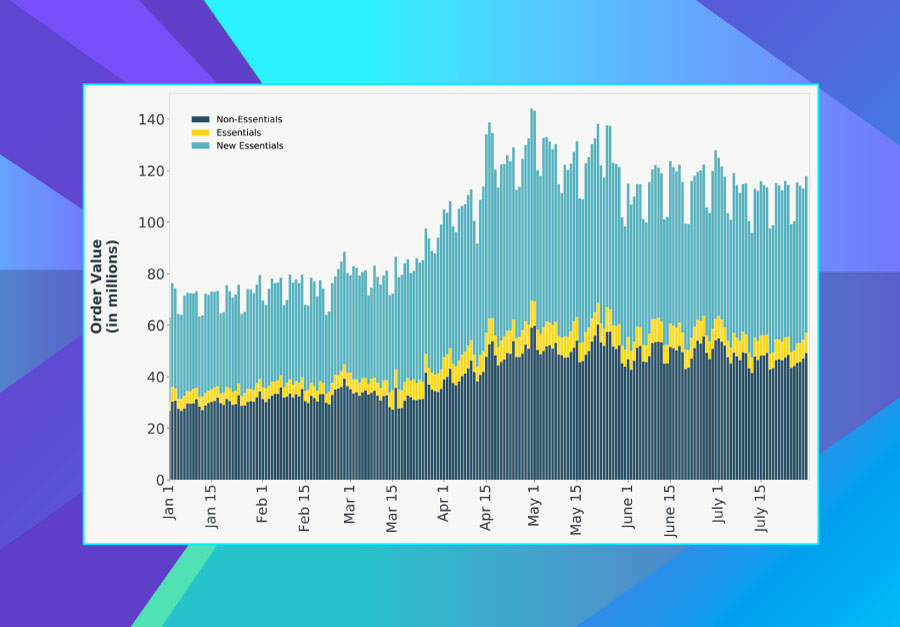 The need to shop online is a natural boon for eCommerce in some sectors.
Companies that allow consumers to conduct their shopping from home have an opportunity to increase their audience.
As seen during the 2002 and 2003 SARS crisis, Alibaba and JD.com both saw significant growth and expanded their platforms.
It is all about recognizing the shifting consumer needs. On that note, the COVID-19 pandemic has altered the online shopping habits in a few interesting ways.
In this article, we'll share insight on how these are affecting eCommerce brands and how businesses can adapt.
1. New Shopping Habits Redistribute Consumer Loyalty In eCommerce
With the aforementioned limitations in place, people have started becoming first-time purchasers of goods like groceries and staple items online.
The number of adults in the US who tried and liked online grocery services has doubled earlier this year, according to CivicScience data.
The same study indicated that 41% of shoppers were grocery shopping online on March 22, a jump from the 11% who said they were on March 1.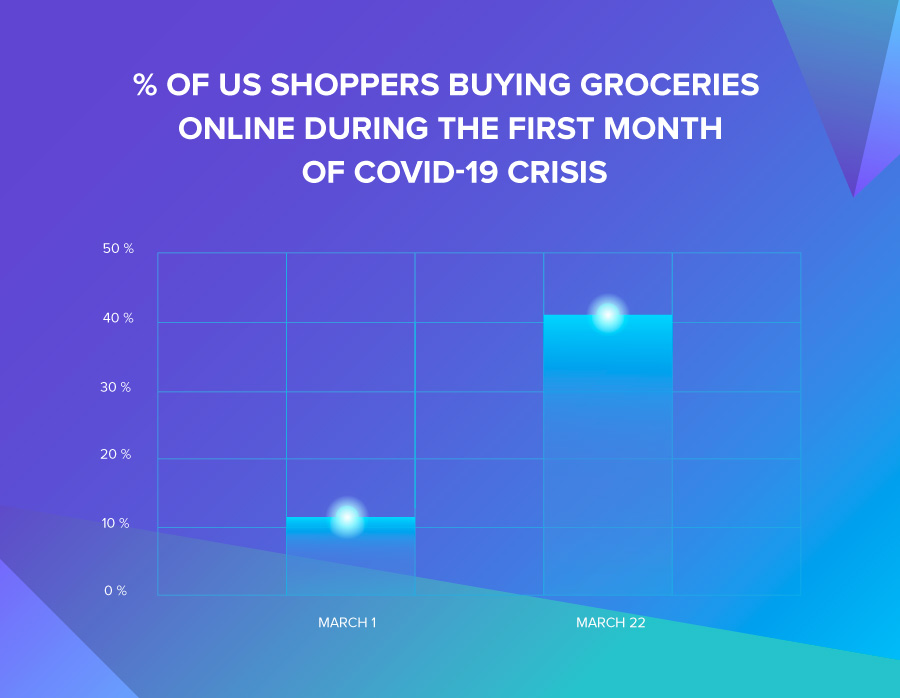 A Nielsen study indicates how quickly consumers can digest and process new information pertaining to the outbreak and then make spending decisions linked to that news.
It can cost seven times more to acquire a new customer than retain an existing one, so the bump in customer acquisition due to the current crisis can be a financial opportunity for companies to work to retain those customers even after the crisis.
Shopping online, especially for staples, has become the new norm during this time, creating a habitual pattern of online purchases for consumers.
When consumers form habits, in this case shopping habits, during unusual periods of times, specialists claim that those habits tend to stick long after the abnormal time has passed. Experts say it takes 21 days to build a habit and many have already passed that threshold.
2. Coronavirus Spurs eCommerce Growth For Certain Sectors
Certain segments that cater to the lifestyles of socially-distanced consumers, notably digital entertainment and essentials, will continue to see growth.
There is increased demand for subscription and membership services such as Netflix, Spotify and Twitch. In anticipation of this surge in demand, the European Union actually made a deal with Netflix to slow their speed of delivery by 25% to ensure broadband networks could perform properly.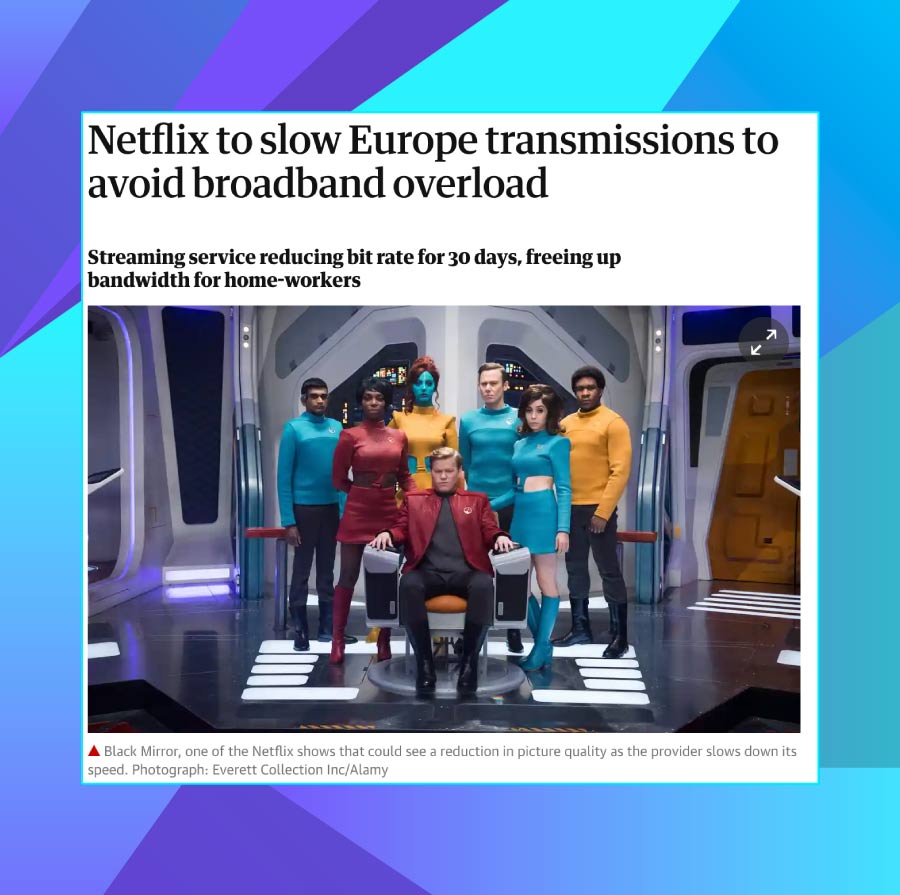 Subscriptions to services that increase the convenience of purchases that are now made online are also seeing demand, though companies like Amazon (Amazon Prime and Amazon Fresh) are struggling to keep up with the influx of orders.
Similarly, there has been growth for tools that facilitate digital communication and work-from-home, such as Zoom, and online retailers that accommodate self-isolation and social distancing.
For example, "new essentials" that have emerged include sporting goods, office supplies, home improvement supplies, toys and more.
As people have to work, eat, parent, entertain and exercise from home, certain retail items have become more important.
3. Consumers Spend More Time At The Computer, Indicating A Shift For Mobile-First Ecommerce Brands
While mobile optimization remains an important front for ecommerce platforms, there is an increase in visitors to the websites instead of apps, per an analysis by The New York Times.
People are largely confined to their homes and spending more time on their laptops and desktops than they were and less time on mobile devices which are more convenient when you're, well… mobile.
Reporting and analysis on digital optimization have pointed to a mobile-first user base for years. A crisis like this proves that, while the need for mobile optimization is still there and will bounce back, we should not overlook desktop anytime soon.
It's key to have a website that can handle the increase in traffic since 47% of users expect a maximum of two seconds loading time for an average website.
Additionally, businesses should take advantage of the increase in site visitors and create an engaging website experience for those users. 59% of consumers will engage with content that's well designed and attractive.
There are platforms like WebDesignCompanies.com that sort and rank web design agencies that brands can work with to develop more engaging websites.
4. Shopping Priorities Have Changed
Research by MarketingWeek on shopping behavior shows that as a result of the COVID-19 crisis, consumers' priorities have changed.
Before the pandemic, when purchasing, shoppers' main priorities were:
Quality (48%)
Price (47%)
Brand (24%)
However, when shopping during these circumstances, they're mostly focused on:
Availability (49%)
Price (36%)
Quality (34%)
Considering the fact that 58% of them have experienced product shortages in stores, this doesn't come as a surprise.
For brands this is an opportunity to expand their market and reach new potential clients since now consumers will try new products that they haven't used before.
And to reach them successfully, companies should market their offerings and target wider audiences.
Adapting To New Ecommerce Trends In User Behavior: Two Ways Businesses Can Adjust Strategy
Online sales have been increasing since before the crisis. The crisis only accelerated this growth, so we can expect eCommerce to continue growing in size and value post-crisis.
Retail eCommerce sales globally amounted to $3.53 trillion in 2019 and eCommerce revenues are forecasted to reach $6.54 trillion in 2022. Those figures have not even accounted for the extent of the COVID-19 impact, the final result of which is still uncertain.
Therefore, if your business has not yet created an online store – it's time to set up shop.
With the surge of consumers looking to buy online, the pool of prospective customers is larger than average and brands can benefit from taking this opportunity to engage with them. Building a relationship now can have a lasting effect on sales and customer retention.
Adobe's John Copeland acknowledged the long-term value of meaningful engagement now. "Companies need to pay extra special attention to their digital and eCommerce experiences right now," says Copeland.

The current demand is also a great chance for smaller brands to make their mark, as consumers look for alternatives to overloaded services like Amazon.
The main two focuses for brands now should be to have a high-quality online shop and to engage effectively with consumers.
Word of Caution: Solve eCommerce Coronavirus Challenges For Supply Chains
An important note is for companies to carefully consider their communications and supply chains in the current situation.
Many manufacturers around the world ceasing production, as we've seen in the media with examples of apparel brands facing factory closures across Bangladesh, China and more which has caused issues with consumer orders.
Those with regional supply chains appear to have greater resilience in a crisis situation like this, making the case for businesses to consider localized operations.
For businesses that are facing logistical challenges, the key is to communicate with clarity and openness to consumers about available stock, shipping times and more.
Engaging with a large audience of online shoppers will not have the same impact if brands over-promise and under-deliver due to disruption in the supply chain.
Clear communication and operations that run as smoothly as possible will go a long way at this time.
These New Shopping Habits Are Expected To Remain Post COVID-19
A lot of these eCommerce trends in 2020 will likely continue to develop as we face longer periods of social distancing and health measures as we combat COVID-19 as a society, and even after.
People who have started online shopping more frequently or for new products like groceries and staples will have created a lasting habit.
We might see continued growth in subscription-based and premium models that provide consumers with either entertainment or 'front-of-the-line' access to staples, as we continue to see shipping delays with brands providing those essential products.
The recent launch of Quibi could prove to be an example of how consumers react to new content providers.
Running a digital agency, I have seen the growth of eCommerce take off. It's indisputable that online shopping has and will continue to grow and overtake traditional retail, with COVID-19 appearing to be a catalyst for that change occurring even faster.
The opportunity for eCommerce brands to jump on this change and build a relationship with consumers is immense. Taking some strategic steps now can pay off in the long term for eCommerce brands big and small.

Ready To Build A Market-Leading eCommerce Website?
Request A Quote
Tell us about your project and let our experts give you recommendations.