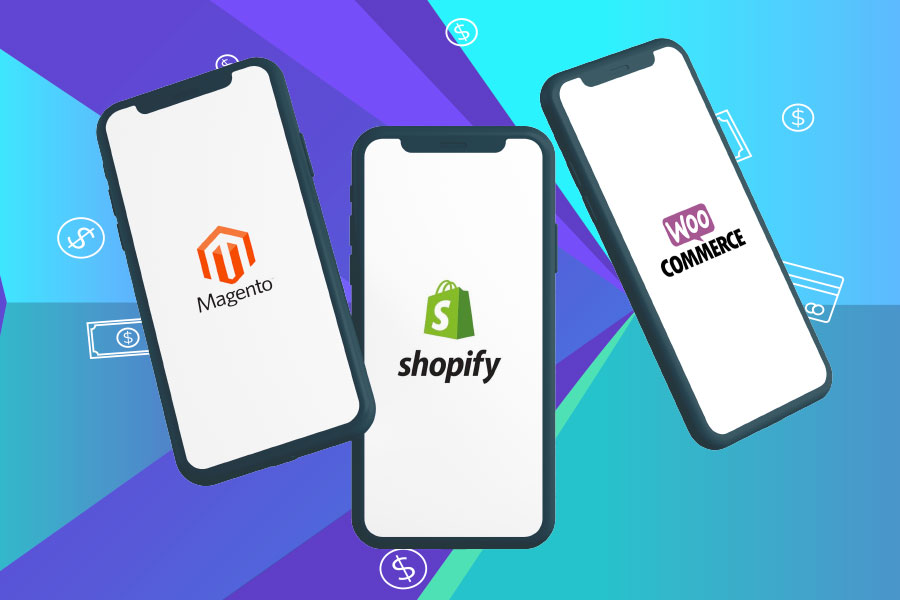 Let's start with some facts.
According to Statista:
worldwide retail eCommerce sales amounted to 3.53 trillion US dollars in 2019
e-retail revenues are projected to grow to 6.54 trillion US dollars in 2022
the eCommerce software application market is forecast to grow to approximately 6.3 billion U.S. dollars by 2023, up from 5.1 in 2018
The market is booming with opportunities.
Today, we'll compare and contrast (arguably) the top three eCommerce platforms in existence: Magento vs. Shopify vs. WooCommerce.
Which one should you choose and why?
Read on for the breakdown.
What is Magento?
Magento is the corporate, most advanced eCommerce platform on the market. It is mostly used by web developers and large-scale businesses that require high-functioning online stores.
It's considered to be a niche but it has been gaining steam over the past couple of years. Here are some interesting facts:
Niche doesn't mean unpopular. On the contrary, you might have heard a couple of the brands using Magento at the moment:
Nike
Christian Louboutin
Paul Smith
Canon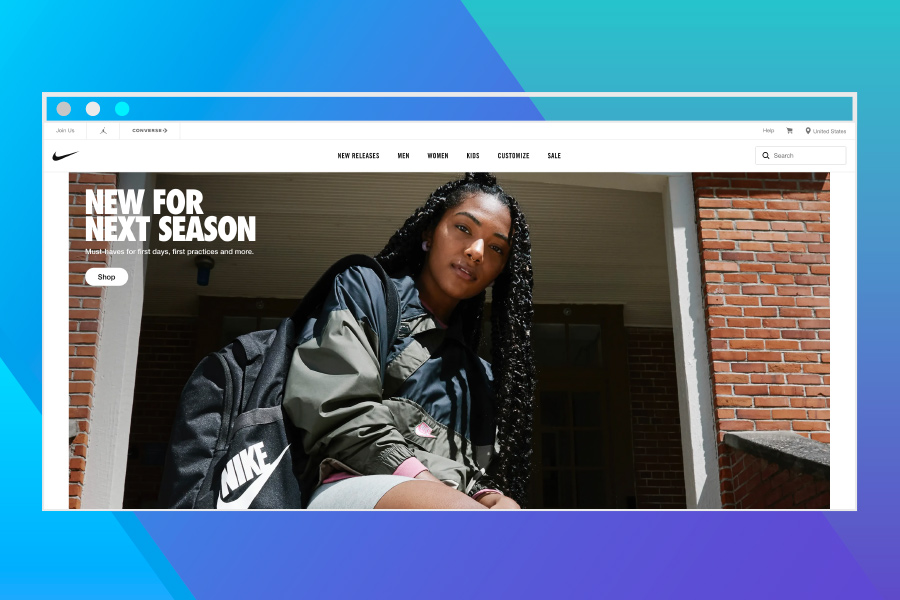 Now that you know the basic profile for each tool, it's easy to see why people would want to know the answers to the Magento vs. Shopify and Magento vs. WooCommerce questions.
Magento Ease-of-use
To put it lightly, Magento is not the sort of platform you simply jump into.
It has its own learning curve and if you don't possess a working knowledge of PHP, cloud hosting, or HTML, head-scratching moments will come in bunches.
In saying that, Magento has come a long way since its release in 2008 and with each new version, usability is noticeably improved.
Magento Features
Magento is the premium, most advanced option of the lot so it's reasonable to wonder what kind of features it provides to its clientele. Here are some of the most notable:
Inventory Management & Cataloguing
When dealing with a scaling business, the stock is one, if not the biggest challenge.
Magento's inventory management system allows batch import and export of products, syncing the warehouse stock with the online shop.
Additionally, the platform appropriates different tax rates per location, solving another headache of such a large-scale operation.
International Support
Running an e-shop is one thing, running it on a global scale is a completely different story.
Magento supports multiple languages, currencies, provides a list of information about registration, purchasing and shipping.
Hosting Choice
Magento gives you the freedom to choose the hosting service of your liking and have complete ownership of your store.
Magento has its own hosting solution as well which ensures the smoothest, faster integration of them all.
Magento SEO
As you would expect from a platform of Magento's caliber, the SEO optimization is off the charts.
The solution comes packaged with a built-in SEO package and inbuilt analytics but also offers settings such as meta tags optimization, edit robots.txt file, canonical tags for products, and many more.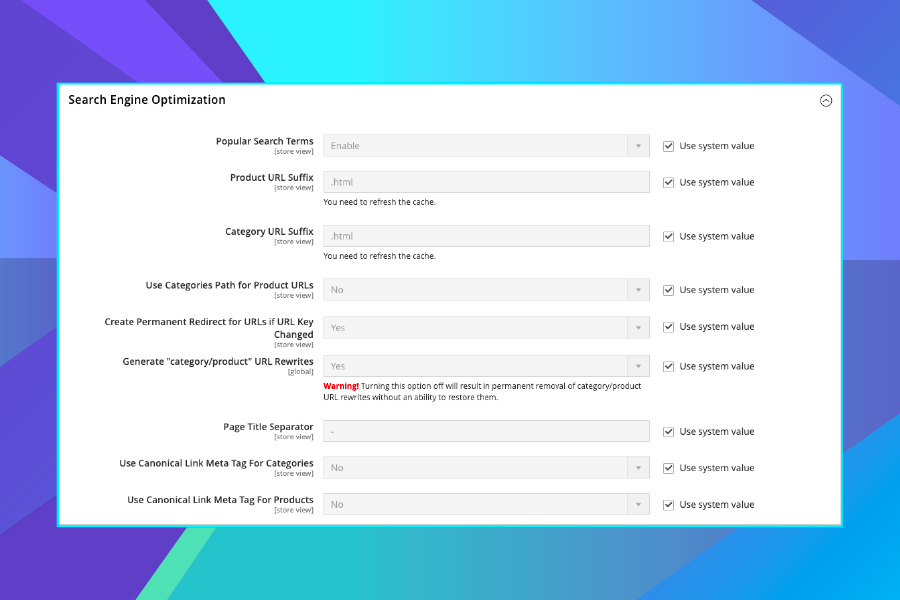 Magento Security
Magento takes security very seriously and this is obvious from their continuous updates on the security front.
The provider offers a comprehensive best practices guide to enforce and strengthen an already formidable offering.
Magento Pricing
Magento Commerce comes in three editions according to the size of your business. The price range is considerably higher than any other eCommerce solution and it goes like this:
Magento Customer Support
Magento's customer support varies according to the edition you're using.
The open-source version might not guarantee official support but it does give you access to a community of around 300,000 members. That should answer most of your questions
Their direct customer support is rich in resources and availability.
Magento Overview
Magento does an excellent job of separating itself from the pack in terms of the audience it's serving.
Both the pricing, the usability and packages it offers, carve its own place in the marketplace, serving clients with specific needs.
It is a high-end, high-quality, advanced eCommerce platform for businesses that already have the brand name and following to support them.
What is Shopify?
Shopify is the most notable SaaS eCommerce platform in existence with a continuously growing user base.
Looking at stats, you might find that Shopify ranks third, with just 10.98% of the eCommerce software market. That's because first-place WooCommerce is not really its own platform, but a WordPress plugin.
When it comes to the Shopify vs. Magento question, we'll give you the answer in a bit. For now, let's focus on Shopify.
Shopify has been gaining steam with distinguishable brands over the past few years.
Here are a few examples:
The Economist
Heinz
Kim Kardashian's beauty brand KKW Beauty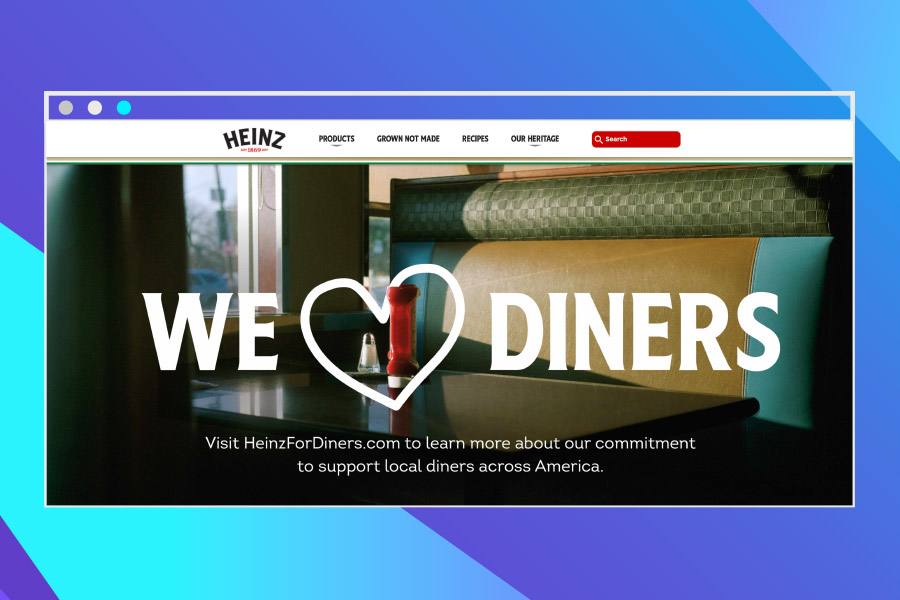 Shopify Ease-of-use
Shopify pioneered the idea of building an online shop without eCommerce development or coding experience.
The platform introduces a drag-and-drop mindset from the get-go, making it simple, clear and intuitive for the user.
This idea of simplicity translates into the conversion funnel and user journey optimization, making Shopify's end-product very competitive.
It becomes apparent from the very beginning that someone else has done the legwork for you, leaving you to decide about how you want your shop to look and what you want it to do.
If you decide to customize your theme and proceed with Shopify development, you can do that too.
Shopify Features
Apart from the core offering of an online shop, Shopify comes with an arsenal of difference-making features.
Whether it's making your life easier in the backend or making your shop stand out in the frontend, these features are something to behold.
Here are a few examples:
Simplifying complicated tasks is what Shopify does best and this is an ideal example.
Calculating shipping costs when you want to have a truly national/international business is a headache and Shopify does the work for you.
This is where Shopify goes above and beyond.
It won't stop at providing you with the platform to sell products, but it gives you the technology to understand your clientele and re-target them with tailored offers.
You have a full history of a buyer's journey – their preferences, their medium of choice, their price range. This information is gold when you want to build customer loyalty.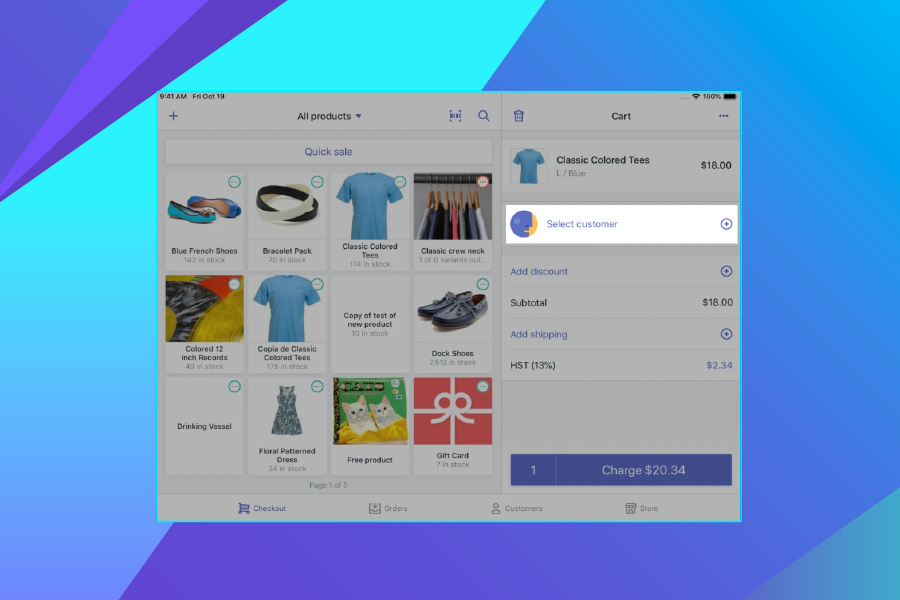 Being able to track your traffic, sales and user journey is key if you want to build a sustainable business.
Shopify's embedded tracking system is not only detailed enough to provide you with all the information you need, but it's presented in a simple, yet beautiful way.
Shopify SEO
Shopify is viewed by many as "the gold standard for setting up shop online, and its SEO is built around that functionality."
The platform comes out of the gate with some built-in SEO features like Title tags, meta tags, ALT tags, Page URLs optimization and image optimization, showcasing its understanding of how SEO works and why it matters.
Shopify doesn't stop there. The platform does an excellent job at providing resources on improving search engine optimization, and answering questions such as "What Can I Do to Help My Store Rank in Search Engines?"
SEO is hard to get right but let's just say that Shopify's got your back.
Shopify Security
Security concerns can sway merchants one way or another when choosing their eCommerce platform.
Taking the right steps to ensure your shop ticks all the online security boxes can be time-consuming and taxing on resources. Shopify eliminates those worries for you.
The provider follows a number of procedures to ensure online security:
Shopify Pricing
Shopify's "all-in-one" solution is reflected in its "all-in-one" pricing model.
The provider offers a 14-day free trial and works with 3 monthly offerings at different price points, for different user needs.
Basic Shopify at $29/month for starters
Shopify at $79/month for growing businesses
Advanced Shopify at $299/month for businesses that want to scale
Depending on how you look at it, the monthly billing model has its pros con.
On one hand, there's a fixed monthly cost you need to worry about but on the other hand, it gives you the ability to plan and budget without any surprises.
Shopify Customer Support
When according to Hubspot, 80% of people will stop doing business with a company because of poor customer experience, you realize the importance of customer support for your business.
Not only does Shopify provide 24/7 support, but it does it in style: phone, email, chat, or any social media channel, you pick whatever works for you because Shopify covers it all.
This is another area where the platform has managed to gain ground over its counterparts as setting up your own shop with no prior experience comes with a lot of questions.
With Shopify, you're never alone and every answer you need is a message, or a phone call, or an email, or a DM away.
Shopify Overview
Shopify is an end-to-end eCommerce platform that does one thing and one thing only: help you build a complete online store.
It's very similar to the restaurants serving one main dish: they better get it right and Shopify most surely does.
When building your e-shop with Shopify you'll often catch yourself marveling at the level of detail they have gone to. You'll get answers to questions you haven't even thought.
Shopify's flexibility allows you to apply your own branding and digital strategies seamlessly, not posing any hurdles in the process.
The platform is built in such a way that it has accounted for changes in consumer behaviour. Think of online shopping habits during COVID-19 and the domino of changes for e-commerce companies.
Shopify's arsenal of features and capabilities allow you to respond to such scenarios with ease. You could have easily been amongst the eCommerce coronavirus success stories, leveraging the power of the platform.
What is WooCommerce?
WooCommerce is the most used eCommerce solution in the world.
Did you notice how we used the word "solution" and not the word platform? This is because WooCommerce is not its own entity. It's a free plugin powered and engineered by WordPress.
Its popularity mainly stems from the established user-base of WordPress. Here are some interesting stats:
it's used by 4.9% of all websites
it powers over 28.19% of all online stores
22% of the top 1 million eCommerce sites use WooCommerce
Even though the plugin-platform technicality might seem insignificant to many, it does come into play when you're comparing and contrasting the best in the business.
WooCommerce is at the top of the hill and we're about to find out why.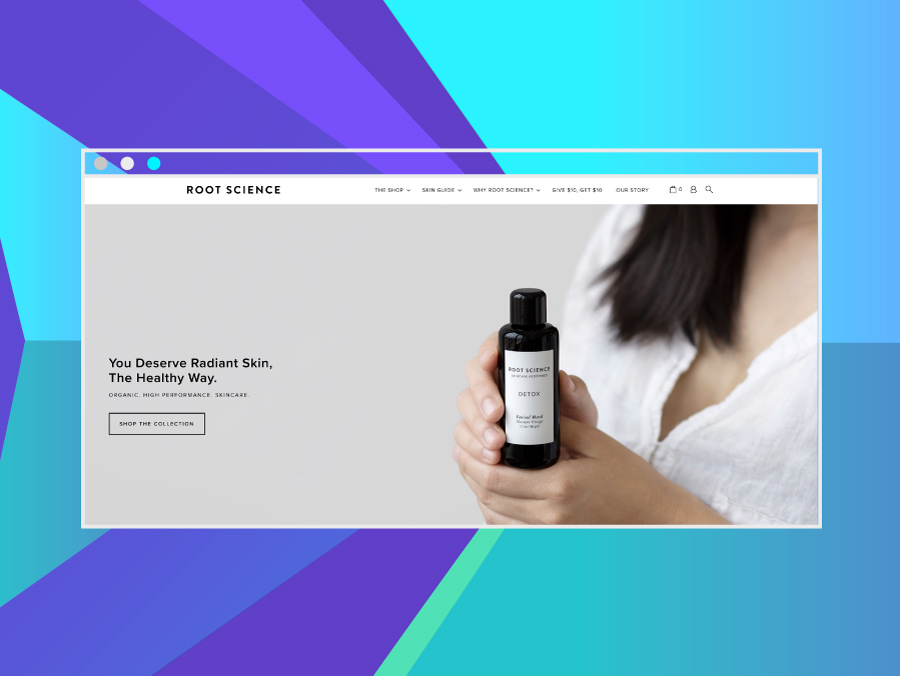 WooCommerce Ease-of-use
WooCommerce is extremely easy to use and navigate as a plugin. This is one of the main reasons people navigate towards it.
The user experience is smooth for the most part and it only becomes challenging when you decide to perform customizations or deal with third-party additions.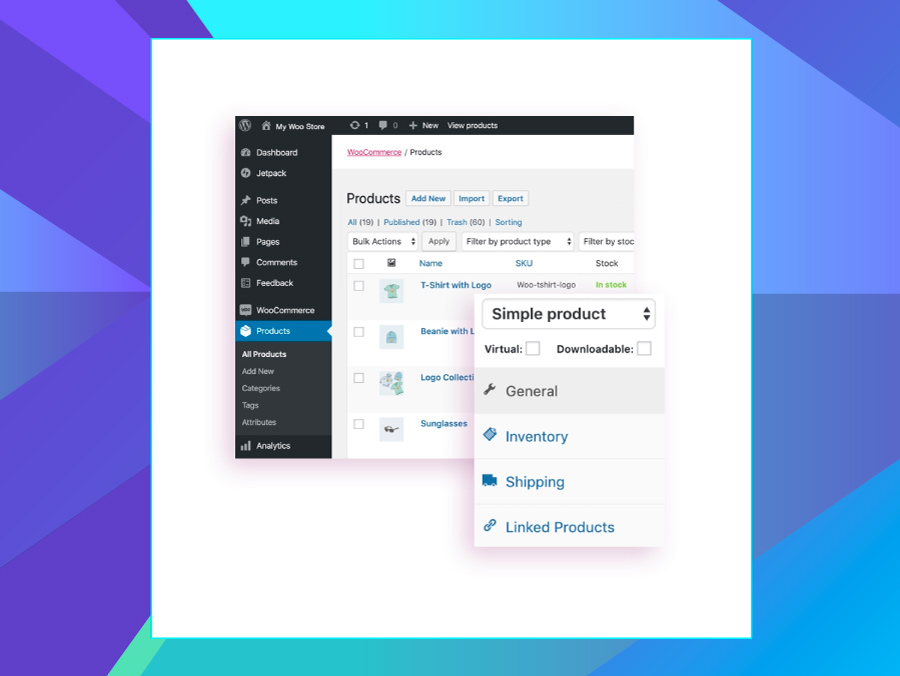 WooCommerce Features
Features leave an impression on users and WordPress has managed to create a name for itself for certain categories.
Themes Galore
WooCommerce provides users with a gallery of endless themes to choose from. Here's a sneak peek.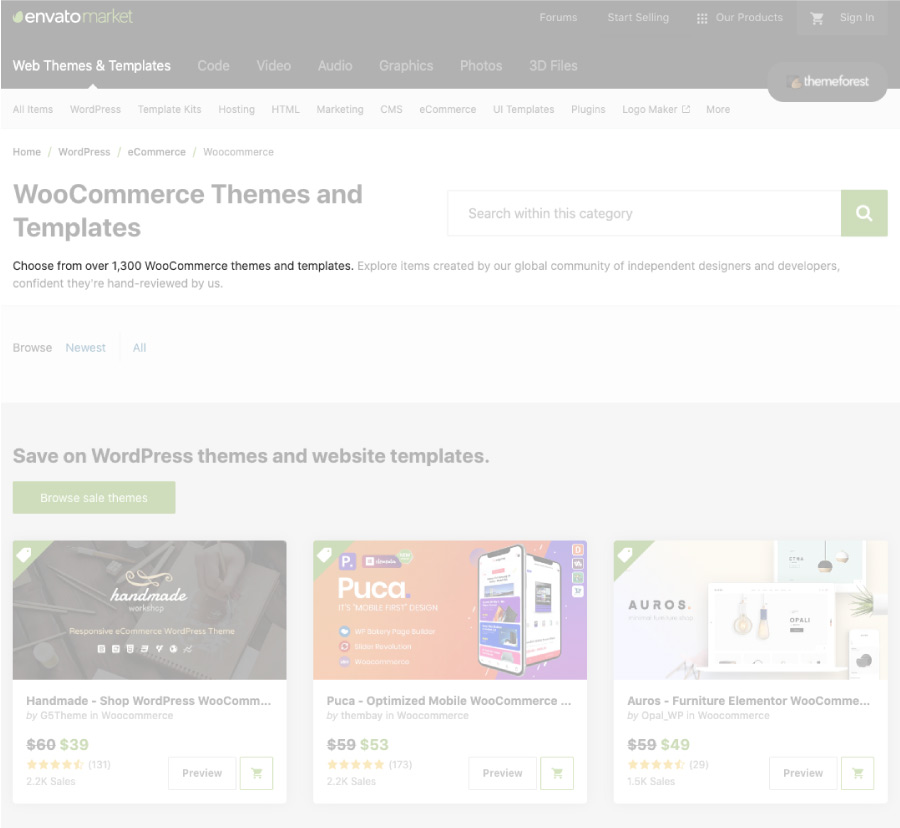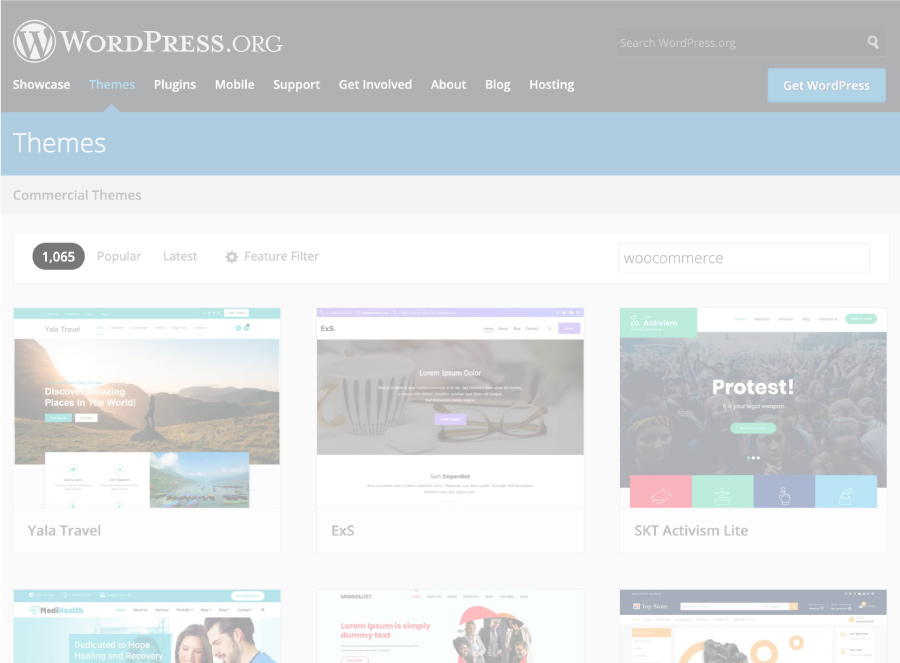 Choice is power and people can save a lot of time by selecting a beautiful ready-made theme.
Unlimited Customization
WooCommerce leverages the WordPress technology to offer users the ability to customize their e-shops to their liking.
The value of this proposition is that you can take a theme and turn it into your own, personalized shop without too much hassle. WooCommece gives you the base and you build it according to your needs.
Integrated Blogging
The web is filled with articles outlining "The Best Sources for Ecommerce News and Information in 2020". If there's one thing people do before they shop, it's to read.
This is exactly why blogging is an integral part of any contemporary e-shop. Enter WooCommerce.
With WordPress and blogging might as well be synonyms at this point, WooCommerce is in the unique position of offering built-in blogging.
You're essentially building a shop on the world's most popular content publishing platform. The advantages are countless, which brings us to our next point.
WooCommerce SEO
WooCommerce is built using SEO-optimized code, meaning that it doesn't come packed with SEO features right out of the box.
As explained above, WooCommerce gets its SEO juice when integrated with WordPress and the plugins that are available (see Yoast SEO).
WooCommerce Security
Here's where things get a little dicey.
Remember when we said WooCommerce is a plugin, not a platform? Security is one of the areas affected by this reality.
Since WooCommerce is not an end-to-end e-commerce solution, there are areas you need to tackle manually, usually employing the help of third-party vendors. Naturally, these are areas of potential threats
WooCommerce security threats stem from the following areas:
WooCommerce does offer its own set of resources on how to up your e-shop security, but the initial offering does come with asterisks.
WooCommerce Pricing
Pricing is one of the most favorable attributes of WooCommerce as it is free to install. Are you sensing there's a "but" coming? Good, because there is.
WooCommerce is free, to begin with, but that's not the whole story. In order to build a competitive e-shop, you need to invest in paid extensions and plugins. The prices range and differ depending on what you want.
Adding features and capabilities to your shop takes time and can sometimes be a hit or miss. It creates uncertainty in terms of performance, results and budgeting.
WooCommerce Customer Support
Being an open-source solution, it comes as no surprise that WooCommerce doesn't offer personalized, mind-blowing support.
Social media, email, or phone are not options and the only way you can get help is through submitting a web ticket. Another thing to consider is that the more third-party plugins you use, the less help you can get from the WooCommerce help-desk.
WooCommerce Overview
WooCommerce is an easy-to-use, free eCommerce building option for WordPress lovers. The plugin's success is predicated on WordPress' brand name and clientele.
Whilst many enjoy the familiarity it brings with it, it must be noted that it has often been criticized for the paid extensions, its lack of supporting multiple languages or its ability to allow users to set up more than one storefront.
Which eCommerce Platform Wins The Face-off? The Final Showdown
We've looked at them individually and we've examined them with a fine-tooth comb. Now it's time to square them off and see how they measure up against one another.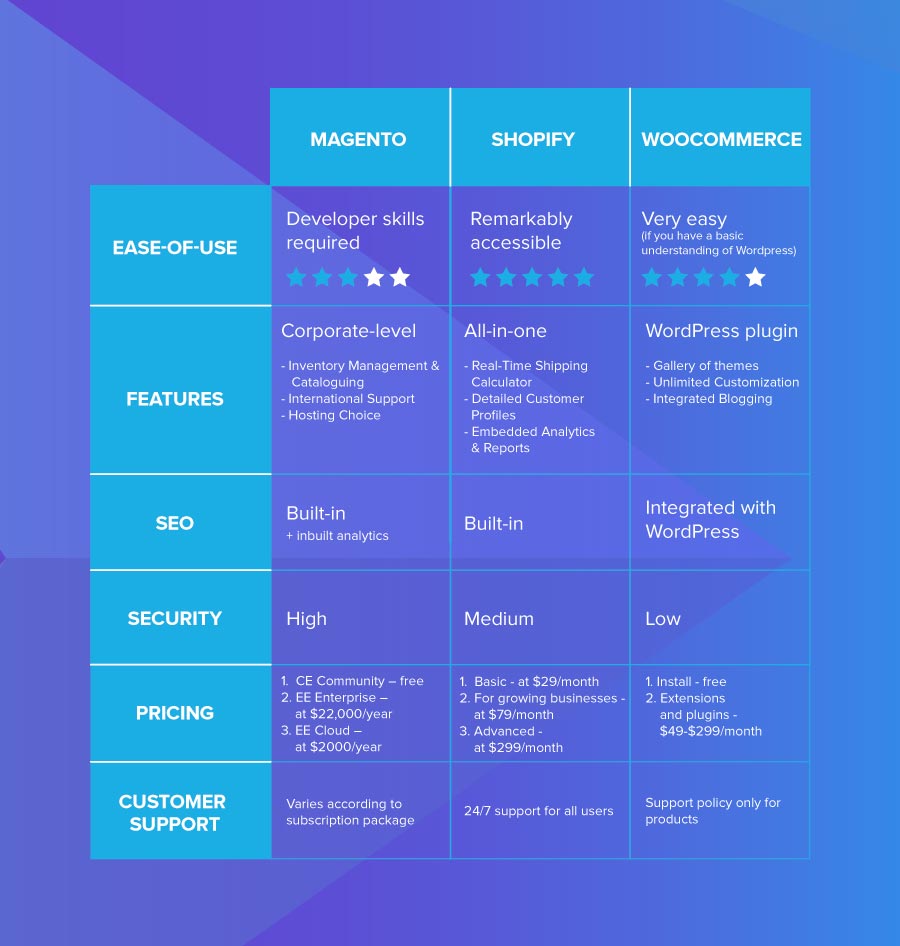 Magento vs. Shopify
They are both eCommerce-first platforms and they both offer a high-end product. Magento vs. Shopify should be a really closely contested rivalry, right? Wrong.
The reason it would be unfair to square these two off is the fact that they clearly serve different parts of the market.
Magento vs. Shopify would be like matching up a featherweight and a heavyweight boxer – same sport, different weight class.
Shopify is the ideal solution for beginners, for people with no previous coding experience and people who don't have all the questions but definitely want all the answers.
Magento on the other hand serves experienced developers and businesses that have been in the eCommerce game for longer. It needs more human involvement and assumes you have prior knowledge.
The Magento vs. Shopify battle is simpler than what originally meets the eye.
Magento vs. WooCommerce
The same logic applied to Magento vs. Shopify applies to the Magento vs. WooCommerce comparison. These two solutions don't belong in the same class which makes for an easy choice between the two: choose the one that suits your business.
Magento vs WooCommerce is not really a debate about capabilities but a debate about different business needs.
One could argue that after getting all the facts about the different eCommerce platforms, the Magento vs. Shopify and Magento vs. WooCommerce comparisons become very clear.
Now, let's square off the Shopify vs. WooCommerce.
Shopify vs. WooCommerce
This is where things get interesting as these two are the closest in principle and market share they serve.
You can view this battle from way too many angles which is why we will take a bird's eye view and try to be as objective as possible.
With Shopify, there are no surprises – fixed pricing, fixed offering with not a lot (if anything, really) missing from the package. A 360 solution to the eCommerce problem.
With WooCommerce, you are joining the mighty WordPress army with all the goodness that entails. On the flip side, the offering comes with too many variables (plugins, extensions, price) which makes it more challenging to manage.