Are you experiencing a decrease in revenue? Are you hearing chatter from consumers that they don't understand your brand?
Or, maybe your sales are at an all-time high but you're still losing business to competitors, and you can't figure out why.
Whether you're in the red or the green (and even despite where you think you might be), a detailed brand audit can provide valuable insights to help you determine your strategy, messaging, visual identity and more to help you plan next steps.
At Digital Silk, brand audits are part of our brand strategy.
Our experts audit your brand and conduct thorough research about your industry, target audience and competitors to define your ideal brand position, create targeted messaging and define your unique visual identity.
Here, we'll explain the benefits of auditing your brand, detail the seven-step process and share what sets Digital Silk apart from our competition when it comes to branding.
What Is A Brand Audit?
A brand audit is a thorough assessment of a brand's current position in the market. It helps you understand how your customers perceive and connect with your brand.
A brand audit can help you can gain insights into your strengths and weaknesses to define a clear strategy for areas that need improvement.
Why Should You Audit Your Brand?
There's no doubt that online competition is increasing in nearly every industry, with global online sales reaching almost $4.29 trillion in 2020.
If you don't regularly audit your brand, you may end up falling behind competitors without even realizing it's happening.
A brand audit can help you:
Determine your brand's market performance and positioning to help you map out corrective marketing strategies for your brand
Discover your brand's strengths and weaknesses and identify areas of your marketing strategy that need to be improved
Align your offerings more accurately with your customers' expectations to help you stay competitive, differentiate yourself in the market and ensure repeat customers
Gain data-backed insights to base future decisions on, from marketing campaigns to your digital strategy and more
How To Do A Brand Audit
Now you know what a brand audit is and why it's important, but where do you start?
We've laid out a seven-step process that will help you assess your brand's current position in the market so you can create a strategic plan for areas that need improvement.
Step 1. Build A Framework
The first step is to create your brand audit's framework by examining your objectives, mission, unique value proposition and positioning.
Create a list of topics you'll cover that relate to your business, both internally and externally, directly and indirectly. A simple way to do this is to use mind-mapping.
Elements to consider during your brand audit include:
Your website's intent
Your target market
Your brand's positioning
Your competitors
Your current and expected industry trends
Your differentiators, such as brand image, pricing, distribution channels or your unique value proposition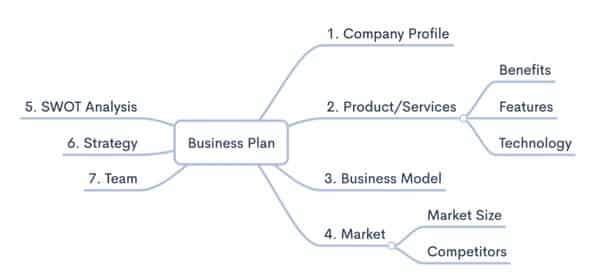 Step 2. Study Your Web Analytics
If you're not consistently monitoring your website analytics, you should be.
Why?
Because you stand to gain deep insights about user behavior and demographics, your content vs. competitor content and most importantly, your conversions.
Key metrics to consider regarding your website's analytics include:
Traffic: The first step here is to determine whether you've seen an increase or decrease in traffic. The second step is to analyze exactly where your traffic is coming from. If it's not coming from your target audience, it likely isn't valuable.
Bounce Rate: Are your visitors staying long enough to interact with your site? A high bounce rate could mean several things. Your content isn't valuable, you aren't attracting the right audience with your strategies and/or the keywords you're using don't align with search intent.
Conversion Rate: Conversion for your brand might mean making a purchase, signing up for a newsletter, requesting a quote or something else. Define what conversion means for your brand and see how your website is performing.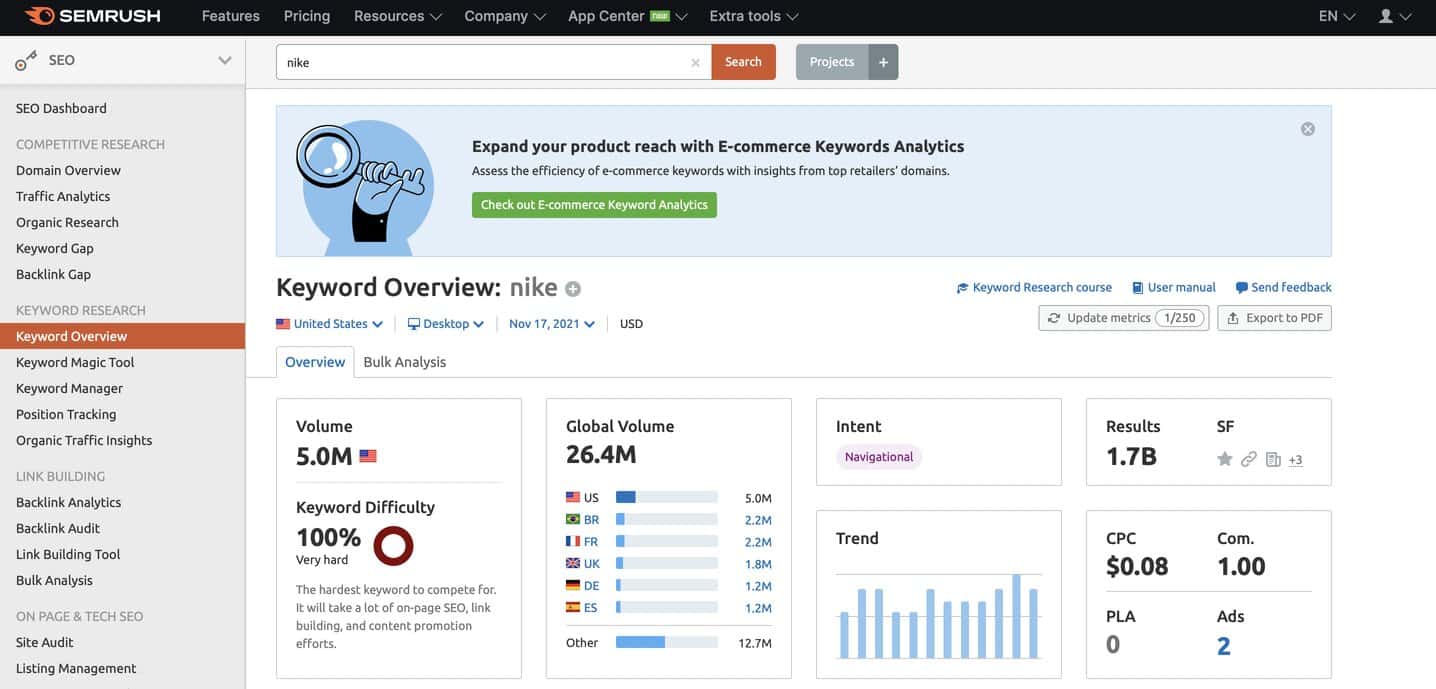 Step 3. Review Social Data
Not only can social data give you a better understanding of your target audience, it can also help you shift your communication strategy to better tailor it to your consumers.
Use social intelligence tools such as HootSuite to review your customers' interests outside of your brand to ultimately gain a better understanding of their behavior.
Studying consumer behavior can help you determine what influences consumers' buying decisions.
When you know what they expect and what they're looking for, you can tailor your website, marketing strategies, messaging and other aspects of your brand to deliver what they're looking for.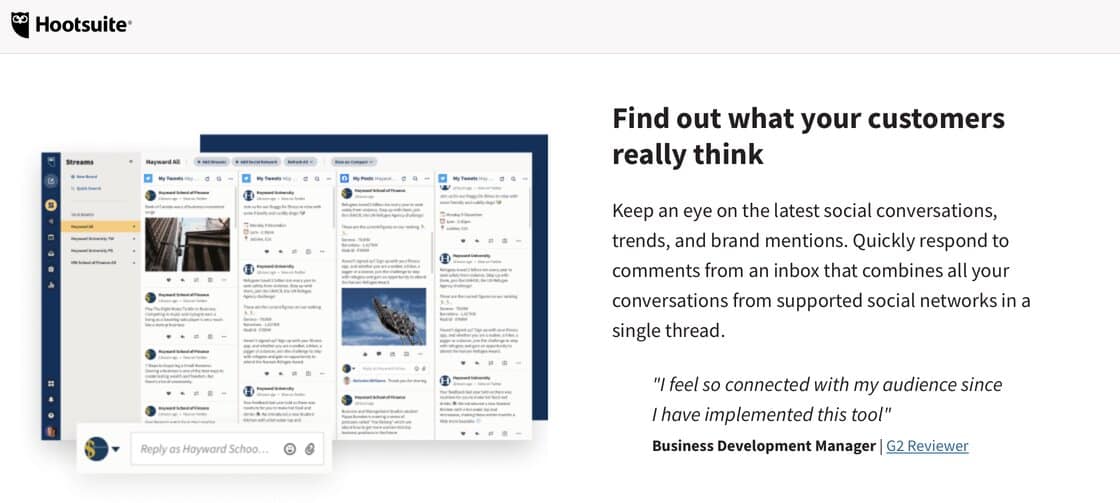 Step 4. Ask For Feedback From Your Customers
According to a 2018 survey on customer service expectations, 68% of consumers are willing to pay more for a brand's products or services if the brand provides a good customer service experience.

While analytical research is important, asking for feedback from your customers is just as crucial. It helps humanize your brand audit by giving you a true glimpse into how people perceive your brand.
Your customers can help you uncover answers to questions that numbers often can't.
For example, you can include a pop-up form after a purchase asking your customers to rate the customer service experience, or send out an email survey asking loyal customers why they prefer your brand over competitors.
Step 5. Act As Your Customer
This step is simple: Put yourself in your customer's shoes.
Start on your homepage and scroll through each page of your website. Interact with the CTAs, the navigation menu, modules, videos, links and other elements throughout your site.
Assess the overall user journey and experience, by answering the following questions:
Is your UVP up front and center?
Are your pages loading quickly?
Is your content valuable and concise?
Is the navigation simple and hassle-free?
Are you able to find what you're looking for quickly?
Are the elements engaging?
Is conversion fast and simple?
Is the user journey clear and engaging?
This step will vary depending on your industry and offering.
For example, if you run an eCommerce brand, shop on your product pages and end with a purchase.
Do your product pages contain enough detailed info without overwhelming the user? Do you offer various options for payment? Do you offer guest checkout for a hassle-free purchase?
If you run a hotel chain, is your media high-quality? Do you have a booking form in the hero section of your site for quick conversion? Do you highlight your amenities, location and other key aspects that set you apart from your competition?
Examining your brand and the overall experience of your site from the outside looking in can give you new insights into areas that need improvement.
Step 6. Evaluate Your Competitors
By assessing your competitors' websites, marketing and advertising materials, social media presence, customer service and other aspects of their brand, you can identify their strengths and weaknesses, and find opportunities to elevate your own brand.
For example, a recent survey found that an increasing number of organizations are using AI as a tool for generating value.
If your competitors are using AI and you have yet to implement it, such as chat bots to enhance customer experience or geospatial software to retrieve and analyze geographic and spatial data, you may be missing out on revenue.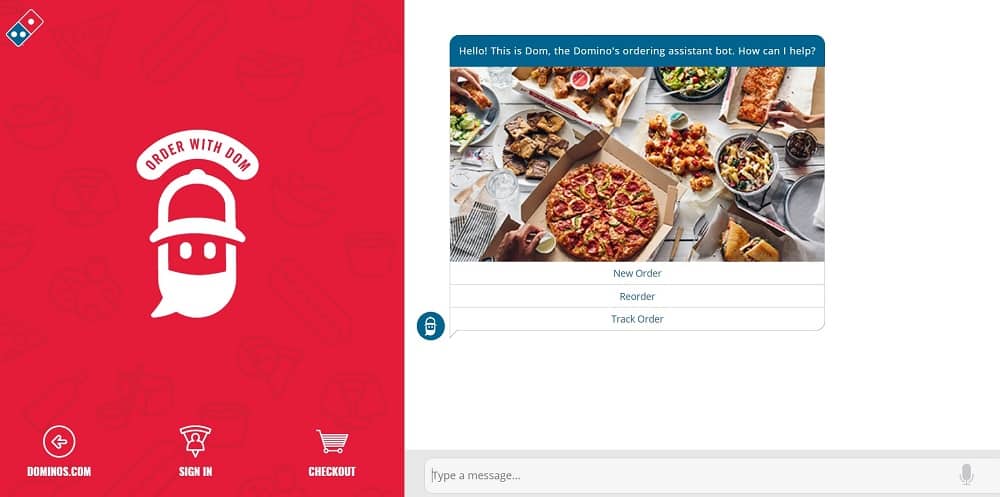 Step 7. Take Action And Monitor Your Progress
The main purpose of a brand audit is to evaluate where your brand is positioned on the market and how it's viewed within your industry. Doing this allows you to collect the insights you need to formulate an action plan for areas of improvement.
For example, let's say you discover that your bounce rate is over 70%. Your action plan might include a detailed analysis of your content over the next six weeks to re-asses the keywords you're aiming to rank for.
Are your keywords attracting your target audience? Is your content providing value? Does your content answer the keyword search intent?
Or, maybe your shopping cart abandonment rate has increased over the past six months. In this case, factors you might want to look at include page speed, ease of checkout, payment options and more.
You could also roll out automatic emails to remind shoppers of their abandoned cart and offer a discount code.
Your findings in the audit process will help you set actionable targets to address issues with defined goals and a clear project timeline.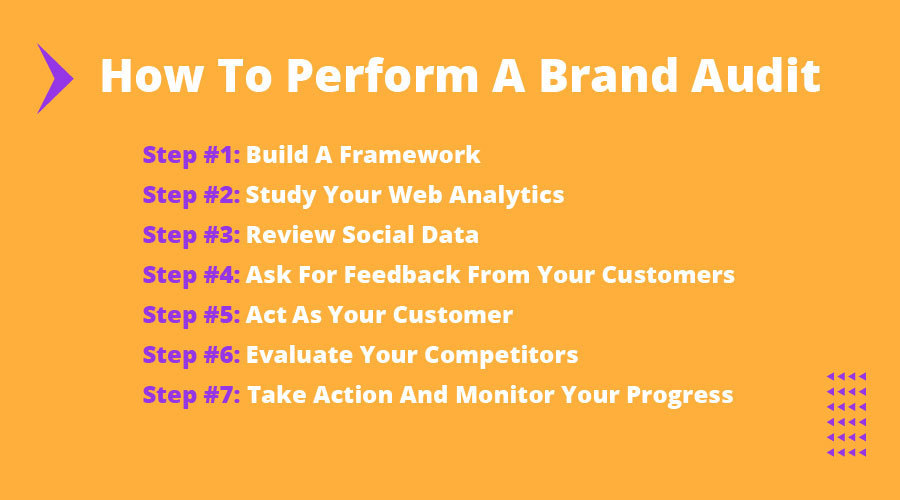 Our Brand Audit Process At Digital Silk
At Digital Silk, a brand audit is part of our branding strategy. We use the insights we discover to craft a strategy unique to your brand.
Our goal isn't to create a brand strategy that gets put into a book, placed on a shelf or hidden in a folder and never looked at again.
Our brand strategists use this strategy to perfectly position your brand on the market, craft your visual identity, fine-tune your messaging and more. Here's how:
Research: First, our experts dive into your brand's unique offering, conduct industry research and competitor research and identify your unique value proposition.
Brand Foundation: Next, our brand strategists evaluate your brand's values, target audiences and brand mission & vision to develop a foundation for our upcoming strategy.
Brand Positioning: To determine the ideal positioning for your brand, we look at your current positioning, along with your marketing and business potential and find opportunities to improve your brand's position and messaging.
Brand Messaging: Once we've learned everything we need to know about your brand, it's time to deliver sample messaging for your brand that will translate into actionable results and conversions. We start with your UVP and create messaging on why consumers should care about your brand and ultimately, why should they buy from you. We also craft an Elevator Pitch — a short description to spark interest about what your company offers.
Brand Visual Identity: Finally, we do a deep dive of your brand's visual identity. This includes a review of your logo, color palette, fonts and graphical elements. Our designers create unique imagery collateral samples so you can visualize your new or improved identity, and brand guidelines so you can ensure consistency across all channels.
A brand strategy is about more than your website.
It communicates your brand's unique selling points to clients or customers and helps craft your brand's visual identity, voice and messaging, resulting in a cohesive image, from your website to social media channels and more.
Wrapping Up On Brand Audits
While analytics platforms and other tools can help you conduct your own brand audit, leaving it to the pro's can not only help ensure you gain truly valuable insights, but set you up with detailed strategies on how to use those insights to improve different areas of your brand.
At Digital Silk, brand audits are part of our branding services.
Not only will our experts perform your brand audit, but they'll use data-backed research to craft specific strategies for your brand, from messaging and positioning to a unique visual identity.
A brand audit gives you the insights you need to:
Determine your brand's market performance and positioning
Discover your brand's strengths and weaknesses, plus opportunities for improvement
Align your offerings more accurately with your customer's expectations
Construct clear recommendations for new strategies
Interested In Our Branding Services?
Request a quote!
Tell us about your project and let our experts give you recommendations.