70% of marketers believe that branding consistency is important when targeting existing customers.
However, consistency can be difficult to achieve when the communication effort does not have clearly defined goals, channels and target audiences.
That is why the key to successfully communicating your brand to your target customers is a comprehensive communication strategy.
In this article, we will define what a communication strategy is, reveal its benefits and present a step-by-step guide to creating a successful strategy for your brand.
Let's jump right in.
What Is A Brand Communication Strategy?
A brand communication strategy, also referred to as simply a communication strategy, is a comprehensive plan that helps you profile your audiences and craft compelling and consistent messaging that will resonate with them.
It should answer three key questions about your brand:
What is your brand and the message behind it?
Who are you attempting to reach with your brand?
How will you reach them?
In other words, it defines the three most important aspects of your brand:
Messaging: The unique value proposition of your brand that differentiates it from its competitors
Target audience: The group of customers that the messaging will resonate with
Channels: The mix of tools and outlets via which the messaging will be communicated to the target audience
FREE Communication Strategy Template: What Does A Communication Strategy Include?
Developing a communication strategy is a lengthy process that can be disorienting. That's why we summarized this article into a template that you can use for reference.
Download FREE Brand Communication Strategy Template
Ready to build the communication strategy for your brand? Use this FREE template to define your target audience, shape the main idea of your communication strategy and choose the right channels.
Email the download link to:
Why Build A Comprehensive Communication Strategy?
Building a communication strategy can be beneficial to the well-being of your brand for three key reasons.
Reason #1: It Will Help You Make Informed Decisions On The Language And Tone Your Brand Should Use
Developing a thorough communication strategy for your brand inevitably helps you gain a deeper understanding of your brand.
More specifically, it grants you a better understanding of, arguably, the most important aspect of your brand – its target audience.
Analyzing and defining your target audience is an essential element of your communication strategy. As you'll see later in this guide, many of your decisions while crafting your brand will depend on your audience.
For instance, imagine a bespoke men's tailoring brand and think of what the target audience of such a brand would look like.
You're probably imagining men who can afford custom and designer suits: affluent businessmen, politicians, successful artists attending black tie events – and you wouldn't be wrong.
Now, how would such a brand communicate, i.e. express itself?
If the brand understands its target audience well, its core message would capitalize on the ideas of old-school luxury and perseverance with the tailoring traditions, for instance.
Furthermore, the brand would most likely be very strict about avoiding colloquialisms and urban slang.
In other words, they would do their best to speak their audience's language – something that all brands should aim at.
On the other hand, failing to speak your audience's language can lead to a dissonance between them and your brand.
With the help of your strategy, you can evaluate how your decisions will impact your target audience and, respectively, the well-being of your brand.
Reason #2: It Will Help You Mitigate Crisis & Turn It Into Opportunity
Whether it is a natural disaster like a global pandemic, an internal discord or a public scandal, every brand finds itself in troubled waters at least once it its lifetime.
Very often, these troubled waters arise from poor communication between the brand and its audience.
Something as trivial as a misprinted ad or something as major as a poorly communicated corporate scandal can lead to a brand's demise.
However, a thoroughly planned communication strategy – or even spontaneous, in-the-moment communication decisions taken guided by that strategy – can help your brand avoid that fate.
We covered a few examples in our business reputation management article.
Take KFC's "FCK" campaign for instance.
When multiple KFC locations in the UK ran out of its staple ingredient – chicken – due to supply chain disruptions, the company had to withstand a serious backlash from the media and the public.
When faced with such situations, many brands only end up making things worse by issuing dry, corporate-speak apologies and offering insignificant promo deals to already dissatisfied customers.
What saved KFC, in this case, was their intricate, carefully crafted communication strategy. Throughout their brand communication efforts, they place an emphasis on humor and honesty. Their approach to the crisis was no exception.
KFC apologises with a full page ad in today's Metro. A masterclass in PR crisis management.#KFCCrisis pic.twitter.com/ZF4SfAuHl5

— Andrew Bloch (@AndrewBloch) February 23, 2018
The clever apology campaign quickly made headlines and instantly became a textbook case for crisis communication professionals.
However, if KFC hadn't had a comprehensive understanding of their approach to brand communications, they wouldn't have been able to create such an effective campaign so quickly.
The lesson to learn from this case is that you never know when the insights you gain into your audience and your brand while crafting your strategy will come in handy.
These insights can help you overcome even the most critical situations — the outcome of which depends solely on communication.
Reason #3: It Will Help You Understand What Results You Wish To Achieve & How To Measure Them
Perhaps one of the most important benefits of a communication strategy is that its success can be measured with actual data.
Developing a quantifiable framework of benchmarks and key performance indicators (KPIs) is one of the most important steps when developing your strategy.
This framework can be beneficial to your brand for two main reasons.
First, it is versatile which means that you can choose to measure whatever variables you believe will objectively reflect the success of your brand, such as:
Website visitors
Newsletter subscriptions
Purchases made through your app
Social media shares
Social media mentions
PPC ad clicks
Online reviews
Media coverage
And while these metrics are not exclusive to brand communication, they can be very helpful in making the goals and outcomes of your communication efforts more tangible and universally understandable.
Second, the framework can help you develop a more cost-effective approach to branding, as it will clearly show the impact of your investments.
A comprehensive communication strategy is not just a vague mashup of user personas and color palettes. It is a powerful tool for critically analyzing the performance of your brand and taking data-driven decisions.
10 Steps To Building A Brand Communication Strategy
Developing a comprehensive brand communication strategy is an effort-consuming yet rewarding process. And while it may seem like a complicated process, it boils down to ten key steps.
Step #1: Define Your Communication Objectives
This is the first and most essential step of the process that can be summarized with the Ancient Greek phrase "know thyself."
Before you can begin crafting your strategy, you must be able to answer these questions:
What are your business objectives?
What are your current bottlenecks?
What do you expect to achieve that with your communication strategy in terms of reaching business objectives or overcoming bottlenecks?
To define your business objectives, first consider the three key foundations of your brand:
Mission: The reason why your brand exists and the core problem it solves for your customers
Vision: The trajectory of how your brand will develop in the future and the mark it will leave on your industry
Core values: The principles your brand stands for and your product or services promote.
Consider any highly successful brand and you will find that they define each one of these building blocks in a clear and unique way.
Apple serves as a great example of a successful corporate communications strategy. It consistently ranks as the number one most valuable brand in the world.
This achievement is largely due to the company's carefully crafted mission, vision and value statements.
Apple's mission is:
"Bringing the best user experience to its customers through its innovative hardware, software, and services."
Apple's vision is:
"We believe that we are on the face of the earth to make great products and that's not changing."
Apple's core values are:
 "Accessibility, education, environment, privacy, inclusion and diversity."
These three elements helped create Apple's narrative of a high-end, innovative tech brand and can be credited with the company's great success in the industry.
After defining your business objectives, you will be able to define your communication objectives – the other essential element of this step.
Communication objectives play two important roles in your communication strategy.
Not only do they define what you wish to achieve with that strategy, but they also act as tools that will help you achieve your broader business goals.
In other words, your business objectives and your communication objectives define and depend on each other.
That is why your communication objectives can take many forms, such as:
Educating your prospects about your brand
Educating your warm leads about your unique value propositions and competitive advantage
Solidifying relationships with your correct customers to convert them into brand advocates
Enhancing and providing consistent customer support experience
Managing online communities & mitigating the impact of negative online reviews
Your exact communication objectives will also depend on the current situation of your brand – something that you will establish in the next step.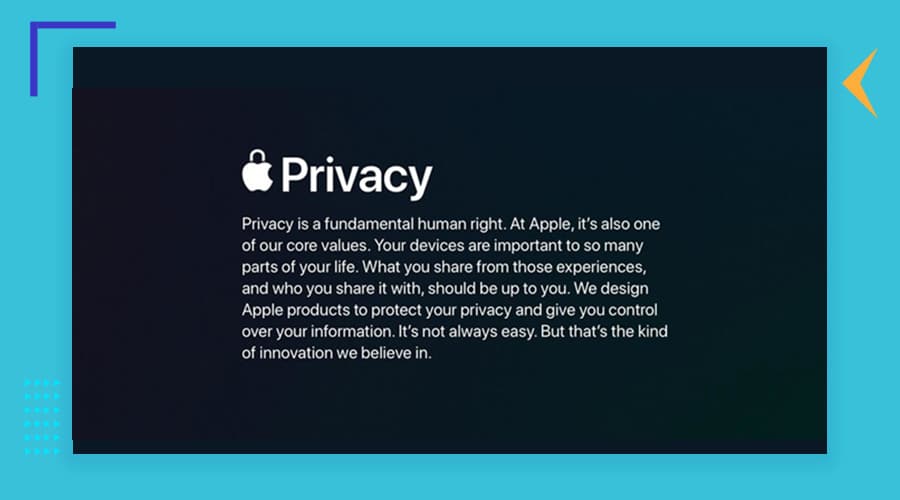 Step #2: Perform A Situation Analysis
A situation analysis is a brief overview of the current state of your brand and your industry.
Analyzing the circumstances under which your brand is operating will allow you to better plan your communication strategy.
More importantly, it will help you ensure that your communication objectives are aligned with your business objectives and, above all, your capabilities.
For instance, a cash-strapped start-up that is yet to attract a large customer base should focus its communication efforts on boosting the recognition and awareness of its brand and educating its target audience about its products or services.
You can thoroughly evaluate your brand's situation using two common tools: SWOT and PEST analyses.
The SWOT analysis allows you to evaluate four qualities of your brand:
Strengths
Weaknesses
Opportunities
Threats
The goal of the SWOT analysis is for you to identify the internal factors (strengths, weaknesses) and the external factors (opportunities, threats) that influence your brand.
Ideally, you want to build upon the strengths of your brand, turn your weaknesses into opportunities for improvement and avoid the threats.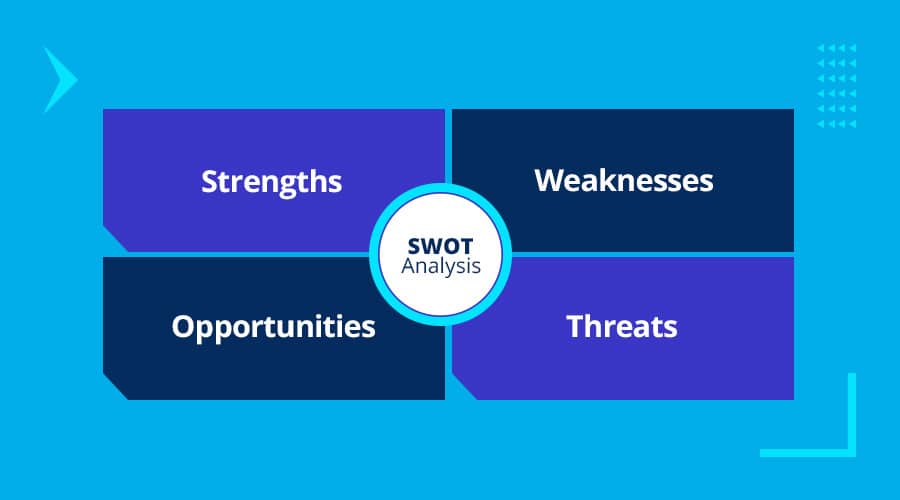 While the SWOT analysis is helpful in giving you a more tactical overview of your brand's situation, the PEST analysis will allow you to assess the macro factors that influence your brand.
The PEST analysis evaluates four major factors that may impact the well-being of your business:
Political factors
Economic factors
Social factors
Technological factors
While there is little you can do to change the impact of these factors, take them into consideration when building your strategy.
For instance, political or economic instability in a given market may hinder your brand's performance there, while technological developments may open new opportunities for your brand.
Step #3: Perform A Competition Analysis
Keeping an eye on your competition is crucial whether you're just launching your brand or developing your strategy later in the game.
In fact, your competition will affect your decision-making when developing your strategy – that's why thoroughly analyzing your competition is an essential step of this process.
When you're just launching your brand, you'll probably want to analyze your competitors' business models, value propositions and marketing efforts.
Similarly, when developing a communication strategy, you will need to analyze the strategies of your competitors.
This analysis will allow you to better understand:
Who your competitors are communicating with
How they communicate their brand
What their key communication messages across the funnel are
Pay attention to the elements of your competitors' communication, such as:
Taglines embedded in logos, website footers and social profiles
Main website headers on the core pages (homepage, key products)
Social media profile descriptions
Branded hashtags
Campaign slogans
Key visuals
Catchphrases and other specific vocabularies
Replies to online comments
Based on these findings, you will be able to craft a unique strategy that will give your brand an advantage over the competition.
Step #4: Understand Your Target Audience
It is impossible to craft an effective communication strategy without a clear idea of the target audience.
Understanding your target audience means being able to answer these key questions:
Who am I speaking to or with?

List the specific segments

What are their key pain points?

List the key pain points for each segment

What are their key objections?
How does my brand help them solve their problems?
What are my key arguments against their objections?
To determine your audience, consider who will be the most interested in or benefit the most from your brand.
The easiest way of segmenting your target audience is through these four main audience characteristics:
Demographic characteristics include age, gender, occupation, income, ethnicity and other standardized variables
Psychographic traits include your audience's values, attitudes, interests, priorities and lifestyle commitments
Behavioral segmentation defines your audience members by their perceived status, purchasing habits, online behavior and brand interaction
Geographic characteristics segment your target audience based on its city or country or residence, zip code or climate
All of these elements can be summarized in a target buyer persona – an aggregate representation of your ideal customer, i.e. a segment of your target market.
Think of developing a buyer persona as giving a face to your audience and, instead of perceiving them as a vague collection of demographic data, imagining them as a real person with real qualities and attributes.
A buyer persona includes the traits of your target buyer as well as their frustrations and goals that your brand could address.
For example, one of the buyer personas for a craft chocolate brand could look like this: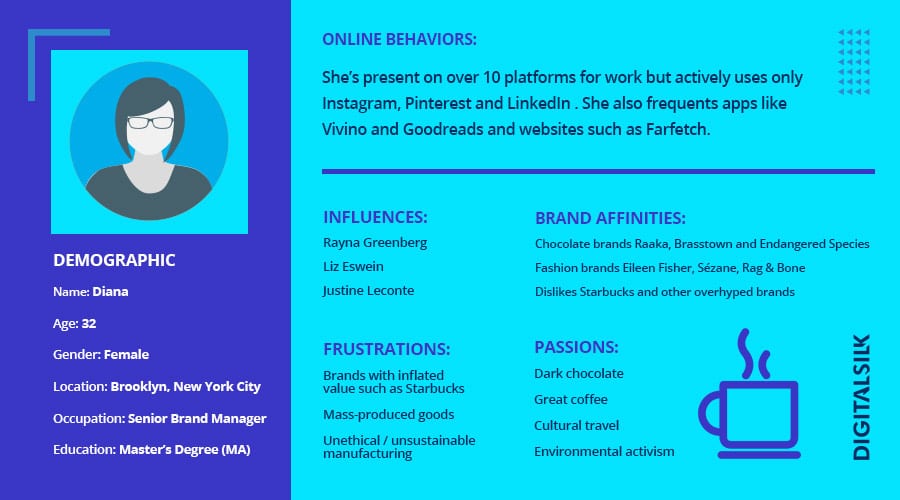 During a typical strategy development process, brands should develop at least two or three buyer personas to represent the different segments of their audiences.
Step #5: Shape Your Communication Idea
The communication idea is the heart of your communication strategy. It is the key message that you want your strategy to relay from your brand to your target audiences.
The communication idea blends all of the strategy elements that you defined in the previous steps. The core message of your strategy can take many forms, such as a tagline, a slogan or a key visual.
Regardless of its format, the core message of your brand must be:
Unique: Your brand's messaging must be unique enough to effectively communicate your brand on its own, without any supporting information. In other words, it must be instantly recognizable and descriptive of your brand.
Consistent: No matter what communication channels you pick for your core communication message (something that we will discuss later on), the message must stay the same and be optimized for each one of these channels.
Straightforward: Shaping your communication idea is not a lyrical exercise. Whatever messaging format you choose, your brand communication must be straightforward and easy to understand.
Honest: Above all, your key communication idea must be honest. In brand communication, honesty goes a long way and can help you attract a loyal audience. Don't make any questionable claims. Tell your audience what's in it for them and how your brand will make their lives better.
As far as this step is concerned, another great communication strategy example is Man Crates.
Their core communication message is presented very clearly as a mission statement: "We ship bragworthy gifts for guys."
Even a completely unfamiliar visitor will instantly get an idea of what the brand is about, how it is unique and who its target audience is.
Moreover, their messaging is communicated in a unique, distinct tone – the next thing to consider after you have shaped your key communication idea.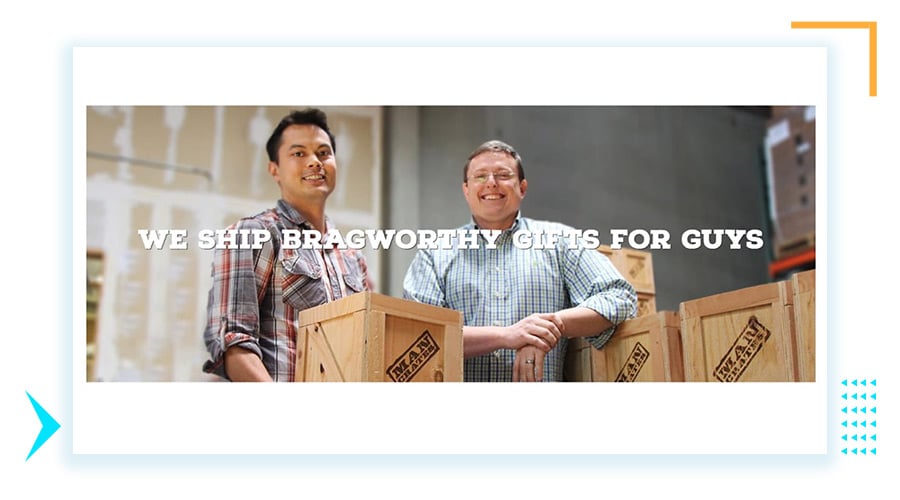 Step #6: Choose Your Language & Tone
Now that you've figured out what message you will communicate to your audience, you must define how you will communicate it.
The language and tone of your communication strategy are very important because they make up your brand's personality.
Brands are just like human beings – each one has a distinct personality with human-like traits and features.
For example, consider the craft chocolate brand – what would its personification be like? Would it be cool, hip and laid-back or sophisticated, reserved and neutral?
When developing your brand communication strategy, aim for a language and tone that will accurately represent your brand and its personality.
The language of your brand refers directly to the words, phrases and visual elements that you use to communicate your brand to your target audiences.
The elements that make up your brand's language include:
Vocabulary: How do you feel about colloquialisms, buzzwords and even cursing?
Grammar: How do you feel about abbreviations and how far do we want to go with them on a scale from "it's" to "y'all"? How about verbs, the Oxford comma or title capitalization?
Syntax: Where are you on the scale Shakespeare to Hemingway?
Idiolect: Do you have specific words (ex. terms of endearment), phrases, exclamations, and even emojis that you like to use frequently?
Emojis: Speaking of emojis, do you like them? Do you use them generously or sparingly?
Hashtags: Do you have branded ones? If so, when and how do you use them?
An effective brand language does not only resonate well with your audience – it's also memorable and unique.
Perhaps, one of the greatest examples is KFC with their iconic "Finger Lickin' Good" slogan.
The popular fast-food chain went as far as inventing a whole new phrase just to create a unique, memorable tagline that exists to this day, has spawned multiple spinoffs and is consistently integrated into a large chunk of KFC's brand communication materials.
The tone of your brand, on the other hand, is more subtle and has to do more with the feelings and emotions behind a brand's communication strategy, rather than its contents.
To this day, one of the best frameworks for defining a brand's tone comes from Nielsen Norman Group.
They outline four dimensions of tone that you can refer to when defining your brand's tone of voice:
Funny vs. Serious: Are you looking to make your brand appear professional and authoritative or humorous and easy-going?
Formal vs. Casual: Do you wish to instill credibility and trust or buzz and relatability
Respectful vs. Irreverent: Do you want your brand to be friendly toward its target audiences and competitors or gain a following through controversy?
Enthusiastic vs. Matter-of-fact: Will your brand's communications be full of energy and willingness to act or honesty and simplicity?
Keep in mind that the language and tone of your brand's communications will have to be different across different channels.
Different communication channels serve different purposes and address the different needs of your target audience.
As such, the main messaging on your website may require a different tone compared to your Twitter account or your official press releases.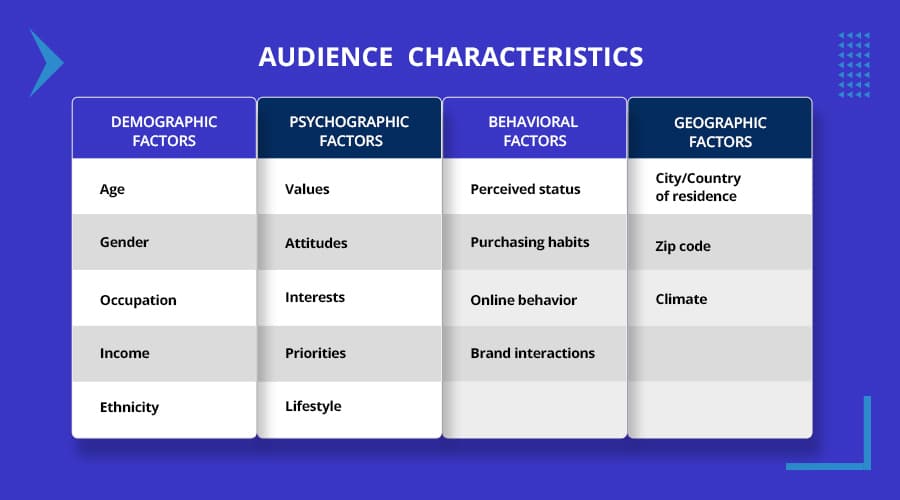 Step #7: Craft Your Elevator Pitch
The elevator pitch is a quick, concise synopsis of your brand and its background. In other words, if your key communication idea is a summary of your communication strategy, your elevator pitch is a summary of your whole business.
While some dismiss the concept of the elevator pitch as a Hollywood cliché and others only develop it when preparing for meetings with potential investors, the elevator pitch can assist you in crafting your strategy.
The purpose of the elevator pitches is to help you communicate your brand to market segments across the marketing funnel, from the brand unaware to the existing customers.
Your strategy should be concise and straightforward enough to be able to explain it in brief and targeted elevator pitches.
While it may not be the perfect example of an elevator pitch in the context of this article, you can look to the legendary American racecar driver and automotive designer Caroll Shelby for inspiration.
In an old ad for his company Shelby American, he walks into the frame and proudly proclaims: "My name is Caroll Shelby and performance is my business."
While this statement might not be a textbook example of an elevator pitch, it has the same spirit. It's concise, memorable and tells the audience all they need to know about Mr. Shelby and his company.
When crafting your own elevator pitch, be sure to not only follow the same basic idea, but also to address the following factors in your elevator pitch:
The fundamentals of your business, such as its mission, value proposition and history
The core idea of your communication and how it relates to your brand
The impact that your strategy will have on your target audience
Step #8: Choose Your Communication Channels
At this point in the development of your communication strategy, you should already have a clear understanding of your target audience.
That means that you should have an understanding of the channels via which you can access that audience.
Choosing the right communication channels for your strategy is essential to its success.
However, it's easy to get lost at this step because there are so many channels to choose from, including:
Media outlets
PPC advertising
Email marketing
Blogs and influencers
Affiliate marketing
Sponsorships and endorsements
Content marketing
Your own website
Ultimately, the exact communication channels you choose won't depend as much on your personal and creative preferences.
Rather, the two decisive criteria will be the cost and the effectiveness of attempting to reach your target audience with the given channel.
At the same time, the realities of modern brand communication command that you implement your strategy across multiple channels in the same way.
This is known as omnichannel communication – creating a consistent and seamless brand experience across a multitude of communication channels.
Omnichannel communication has several advantages:
Increased sales: Businesses that implement their communication campaign over three or more channels earn a 287% higher purchase rate
Higher customer satisfaction: 90% of consumers want brands to offer seamlessly integrated omnichannel experiences.
Improved brand visibility: 73% of shoppers browse more than one channel when looking for products and services
These numbers show that omnichannel communication is a rewarding strategy that will help you ensure that your brand reaches your target audience in the right place at the right time.

Step #9: Establish Your Design Guidelines
Visuals play a vital role in brand communications – and not only because of some best practices, but because of how we humans function.
We communicate visually first and foremost: the information our brains are capable of processing is 90% visual.
Providing your audience with consistency in design, both in terms of recurring elements and aesthetics in line with your personality, will make them comfortable and receptive to your brand.
When developing your brand strategy, you can either implement your brand's general visual design guidelines or establish a whole a new set of visual elements specifically for the strategy.
Nevertheless, these guidelines should include:
Imagery
Typography
Color palette
Graphics
Your design guidelines will usually take shape as a dedicated document, such as a brand book that can easily be shared within and beyond your organization.
Your design guidelines should also be valuable and easily understandable, even to someone who's not familiar with your brand.
To achieve that, be sure to:
Establish Do's and Don'ts: This is, essentially, the purpose of your design guidelines – to explicitly say what your visuals should and should not look like. The list of Do's and Don'ts should be concise and straightforward, outlining the basic rules of your brand's visual identity: how to use the logo, whether the logo can be modified and so on.
Be specific: The more specific your design guidelines are, the easier they are to understand and implement. As such, feel free to be as specific as possible in explaining what typeface and colors must be used in specific cases.
Stay on brand: The fact that the design guidelines serve a very practical purpose doesn't mean that you shouldn't treat them as an extension of your brand. Turn them into a branded piece by implementing your brand's color palette, logos and typography to ensure that even your guidelines document leaves a lasting impression.

Step #10: Outline Your Communication Plan
Now that your communication strategy has taken shape, the last thing left for you to do is to outline your communication plan.
In other words, you've already established what you will communicate, who you will communicate with and how you will communicate it – the only aspect left to address is when.
However, your communication plan should not only include the proposed schedule of your strategy. It should also include the communication goals you wish to achieve.
Ideally, those goals should fulfill the SMART criteria and be:
Specific
Measurable
Attainable
Relevant
Timely
For one last time, consider the craft chocolate brand. If you were developing its strategy, your goals for it should not just boil down to "I want this strategy to help us sell more chocolate."
Instead, it should include measurable metrics and defined timeframes, such as "I want this strategy to help us increase our sales by 10% every month until January 2022."
Once you establish specific goals and a comprehensive communication plan for your strategy, you will have all the necessary elements in the right place and your strategy will be ready for takeoff.
Download FREE Brand Communication Strategy Template
Ready to build the communication strategy for your brand? Use this FREE template to define your target audience, shape the main idea of your communication strategy and choose the right channels.
Email the download link to:
Communication Strategy Takeaways
A comprehensive communication strategy is fundamental to the success of your brand.
It not only ensures that your brand consistently reaches its target audience, but also helps you make strategic decisions and bring measurable results.
And while the process of creating the strategy might be difficult and time-consuming, by the time you finish it you will have obtained a much better understanding of your brand.

Ready To Build Your Brand Strategy?
Request A Quote
Tell us about your project and let our experts give you recommendations.