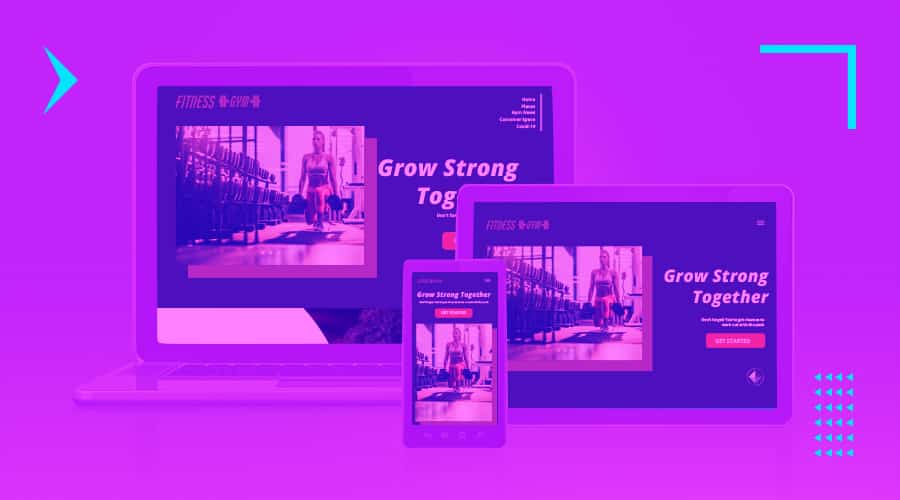 Did you know that 75% of customers judge your company's credibility based on your web design?
Think of your website as your best sales representative.
Does it attract your users? Does it offer them value and incentive to engage with your brand? Does it communicate your offering clearly and efficiently?
If you're looking to improve your existing corporate web design or build a new website, we're here to show the key elements to focus on. Plus, we'll show you some of the best corporate design examples you can learn from.
What Is Corporate Web Design?
Corporate web design is the process of designing and developing a business website to serve as a pillar of a company's online presence.
Not to be mistaken for a promotional website, the focus of a corporate website is to promote a company as a whole, rather than focus on a single product or sub-brand.
While promotional websites are focused on specific products or services, a corporate website does not promote, advertise or market products, but instead emphasizes business performance, corporate news, staff and social responsibility.
The main purpose of corporate web design is to reflect the company's success, fortify its reputation, build trust and inform about services and products ― but not focus on them.
What Are The Key Phases Of Corporate Web Design?
This process typically has several phases, especially when you outsource these services. If you hire a web design agency to help, they'll cover the whole process to ensure that your web design solution resonates perfectly with your target audience, industry and niche.
Corporate web design phases are:
Discovery: This includes design brief, audience research and competitor analysis
Wireframing: Designers will create a high-fidelity wireframe of your website
Design: Once you approve a wireframe, designers will create a complete solution
Development: Web developers will build a fully functional website based on the design
Iteration: This phase includes necessary changes and fine-tuning of your website
Optimization: SEO experts will ensure your website is optimized to rank high in search
Launch: Your website is ready for a launch and you can rest assured knowing it will bring results
Corporate websites are not meant solely for clients and consumers.
Instead, they should also serve as a tool that communicates your company's value, mission and accomplishments to your shareholders, investors and partners, while also providing educational content to be distributed through the press and help establish thought leadership.
To make the most of corporate web design, creating a custom website is the best solution.
Why Is Custom Design The Best Option For Your Corporate Website?
Getting started with a professional website doesn't have to be hard. There are a variety of website building services that allow you to design your own website using a template in a matter of hours.
However, if you are serious about launching a professional website that is optimized for SEO and conversions, then you may want to work with a professional web design agency that would create a custom web solution, tailored to your company's needs specifically, to serve your target audience and help you grow your brand online.
Although working with web design agencies does require an up-front investment, you will find that the money you spend on professional web design services is well worth it.
A custom website is unique, not only in its functionality but in how it brings to life a company's value proposition, which is something that cannot be achieved with a template.
Companies looking to make a name for themselves need unique layouts and custom functionalities to be built from the ground up.
Speaking of unique layouts and custom functionalities, we've rounded up five of our favorite corporate websites.
5 Best Business Websites For Your Inspiration
Let's look at some of the best corporate web design examples to see what makes them so successful and help you find inspiration for your own business website design.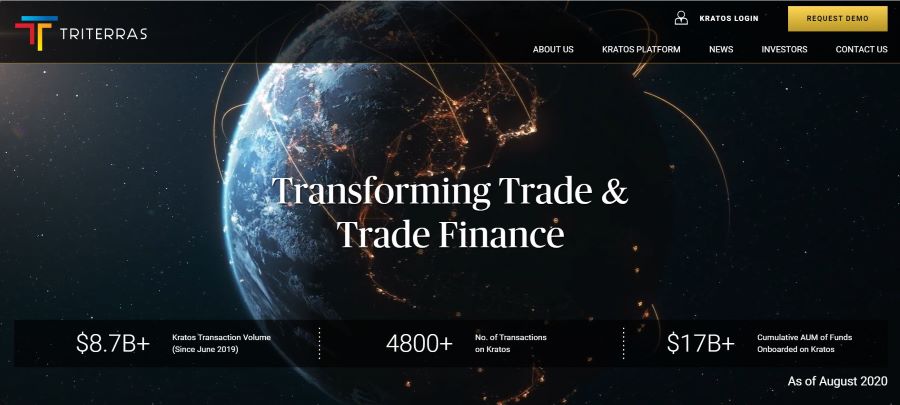 This FinTech innovator company's custom website uses distinctive design, paired with motion graphics and infographics, to create their unique digital footprint and improve user experience.
The dark theme with golden elements is in line with Triterras' brand image and contributes to the website's look and feel.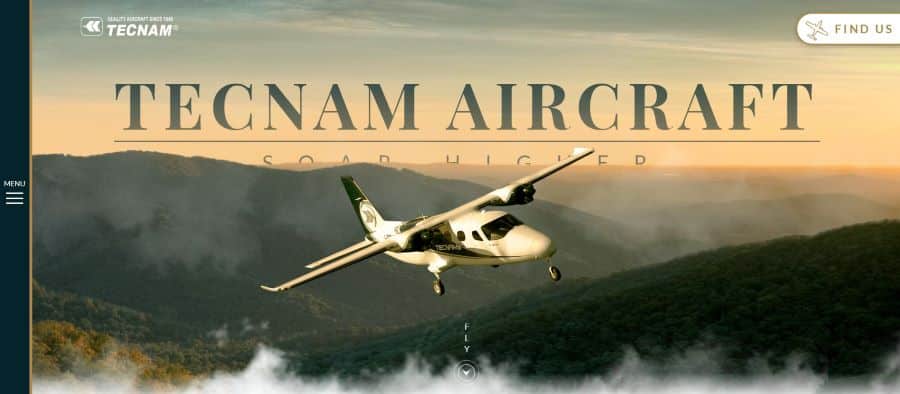 This motion graphics website helped our client takeoff in the international market to boost brand awareness and drive revenue.
The site features a Legacy section with horizontal scrolling, creating a unique user journey and visually guiding the users through the ages of this Italian family-owned aircraft manufacturing tradition.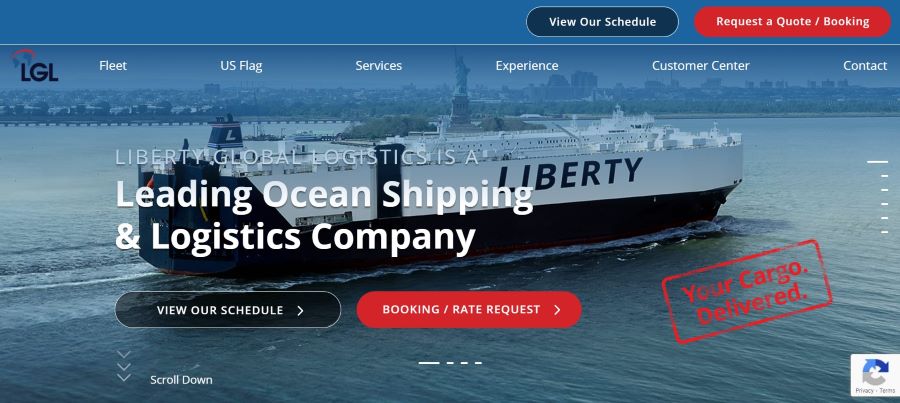 This custom B2B site represents one of the best work practices in the shipping industry with superior user experience for each customer: a custom API integration with LGL's scheduling software, allowing users to check the shipping schedule and request a quote right from the website.
The website features an easy-to-use routes map on the homepage. Users can see where LGL will ship to and download their desired routes for easy viewing and sharing.
The full-page design allows for easy scrolling, browsing and an amazing user experience. Subtle motion graphics and custom-designed infographics keep visitors engaged throughout the site.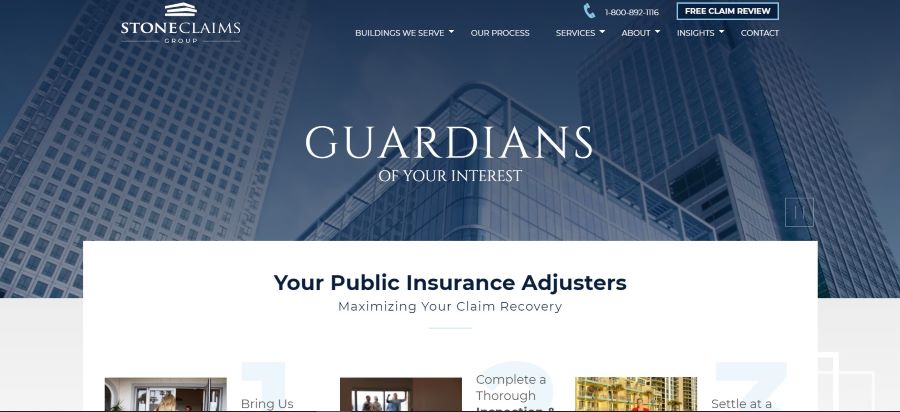 This custom website combines distinctive design features with important news, updates, trends and insights, fortifying the thought leadership and reputation Stone Claims Group is well-known for.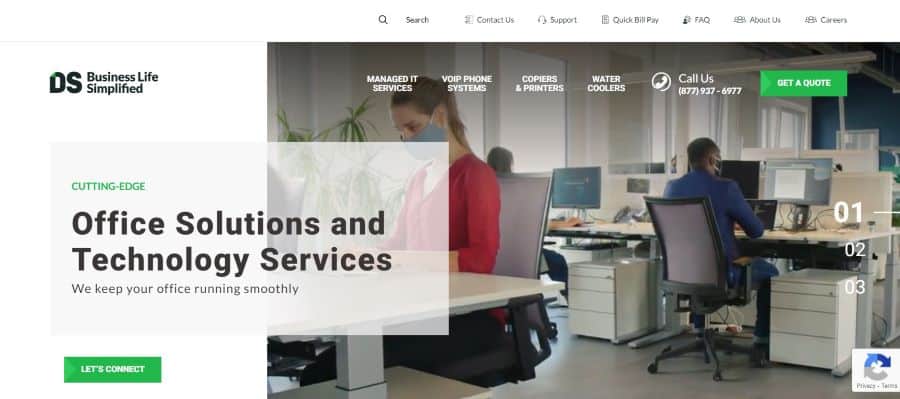 This modern, dynamic and fresh website design perfectly reflects this company's brand image and resonates with a relevant audience.
Dynamic modules help keep large amounts of information structured flawlessly to avoid overwhelming the consumers with large paragraphs of text and ease their decision-making process.
Ready To Create Your Business Web Design? Here's How To Get Started.
Ready to start brainstorming ideas for your own corporate web design?
The first step is to take the guesswork out of the equation with audience research.
Effective website design is an iterative and data-driven process that leverages the power of the internet to create experiences that benefit both the company and the audience.
To be successful, your corporate website must effectively meet the needs of its users.
But before you can do that, you need to understand who your target audience is, what their needs are and how your website and your business can help meet those needs and outperform the competition.
That brings us to the next step: creating a distinctive brand asset out of your website.
Successful websites set companies apart from their competition. To achieve this, competitor research is an essential step in the design process.
During this phase, you will map and analyze the websites of your key competitors and look for patterns to identify best practices, gaps and ways to advance user experience and build a website that differentiates your company from the competition.
These insights are also used to define your brand's unique value proposition, target audience and personas, outline a data-driven conversion funnel and conduct comprehensive keyword research.
5 Elements Of A Successful Corporate Web Design
A well-designed business website shouldn't be overcrowded and packed with too much information. Instead, it should be clean, clear and easy to use.
Here are five key elements your website should include.
Element #1: A Clean Layout
When it comes to corporate web design best practices, less is often more.
The purpose of a well-designed website is to provide a clear path to navigation and put the most important elements of the website front and center.
A website with a clean design will not only load faster, but it will be easier to scan through, allowing for more information to be absorbed by the visitor and resulting in higher onsite engagement and lower bounce rate.
Removing unnecessary elements helps you draw the reader's attention to what matters most.
A clean design puts the focus on the value you bring to your clients and customers and sharpens the message, without distracting them or making them feel overwhelmed by other unnecessary elements.
Element #2: An Excellent User Experience
Let's talk about first impressions.
Having a great product or service doesn't mean much if your website is slow or has a poorly designed interface. Even if it's aesthetically pleasing, a website with poor functionality is a liability you can't afford.
The user-centered design puts the user first, making their needs and objectives the top priority during the web design process. User experience will make or break your website, your product or service and your company's reputation.
This is when the audience research insights come into play. The audience research phase will help you answer the most important questions regarding your audience.
You will use these insights to make informed decisions about the next steps in the design process. The more you know about your audience, the better. Well-informed website design can set your website apart from the competition by creating experiences that feel tailor-made to the user.
Some of the key elements of excellent user experience are:
Usefulness: Your website should fulfill users' needs
Usability: Your site must be easy to use
Desirability: Design elements should evoke emotion and appreciation
Discoverability: Your content needs to be easily navigable and locatable onsite and offsite
Accessibility: Your website needs to be accessible to people with disabilities
Credibility: Users must trust your brand and believe what you tell them
Element #3: Intuitive Navigation
Intuitive navigation is a crucial element of any website. A well-designed navigation bar enables visitors to move around your website and find the information they want, without interfering with the user flow.
Navigation affects your ranking and traffic volume, as well as the conversion rate.
Some of the industry best practices when designing the navigation bar include:
Stickiness: The navigation bar should follow the users as they scroll down the page, allowing them to easily navigate the website.
Calls-to-action: The navigation bar should feature at least one primary CTA to help you increase the conversion rates.
Contact info: The navigation should include the contact information as a CTA.
Descriptive labels: Descriptive labels in your navigation are good for site visitors because they communicate meaning instantly. Descriptive labels also help search engines understand what your website is all about. Avoid generic labels such as "Services" or "Blogs." People don't go to websites looking for "services" or "blogs." They visit websites looking for answers and information.
The order of labels: In website navigation, just like any list, items at the beginning and the end are most effective, because this is where attention and retention are highest. This is why you should place the most popular, important items at the beginning of the navigation.
Element #4: Compelling Content
Even though the design is essential in making a good first impression, content is what keeps your audience coming back.
Having a content-rich website will positively affect your overall SEO ranking and help you establish credibility and thought leadership, as well as retain customers.
The content includes everything from the copy, product and service descriptions to videos, photos and blog posts.
More specifically, content is the packaging on the website that presents your audience with information and its ultimate goal is to promote brand awareness, brand loyalty and visitor engagement.
Content provides value to your visitors.
In fact, according to Forbes, the majority of clients want companies to educate them on their services, and not sell them.
Content should be used to promote ideas, discussion and interest in your industry, blog or business, answer questions your visitors may have and offer them useful information that results in higher targeted traffic volume and increased conversions and engagement.
Other types of content like testimonials and reviews are used to build brand trust and loyalty and are viewed as an essential element of the website.
In order for your content to be effective and get the desired results, your audience needs to be able to find it and that can only be achieved with good SEO, which includes the use of keywords, internal and external links, image alt text and more.
How your content is structured is just as important as what information it offers, so paying special attention to ever-evolving SEO best practices is a must.
Element #5: Conversion Optimization
When it comes to building an effective website that helps generate business online, you need to have two questions in mind at all times:
How will this website help me generate traffic?
How will the website engage visitors and turn them into leads?
Whether the goal of the website is to sell products, entice visitors to sign up for a demo of your service or even apply for an open position at your company, conversion rate optimization is important.
Getting traffic to your website is only half of the job.
As previously mentioned, your website acts as a salesperson. It is often the first point of contact a prospect has with your business.
And as such, your website needs to move the relationship forward and seal the deal.
By optimizing your website for conversions, you can generate more sales for the same amount of traffic.
Instead of wasting more money on PPC campaigns, social media ads or other digital marketing methods to drive more traffic, conversion optimization allows you to efficiently convert your current traffic into leads and sales, thereby minimizing your cost per acquisition.
At this point, you can choose to invest in more advertising or simply benefit from the increased profit.
How do you achieve that?
Optimizing a website for conversion takes a scientific approach, as there are hundreds of variables that affect your website's conversion rate.
This is why hiring a professional agency and web development consultants to help with the design is a crucial step to successfully establishing your presence online.
Another tip to help you create a dynamic website for your brand? Design thinking principles.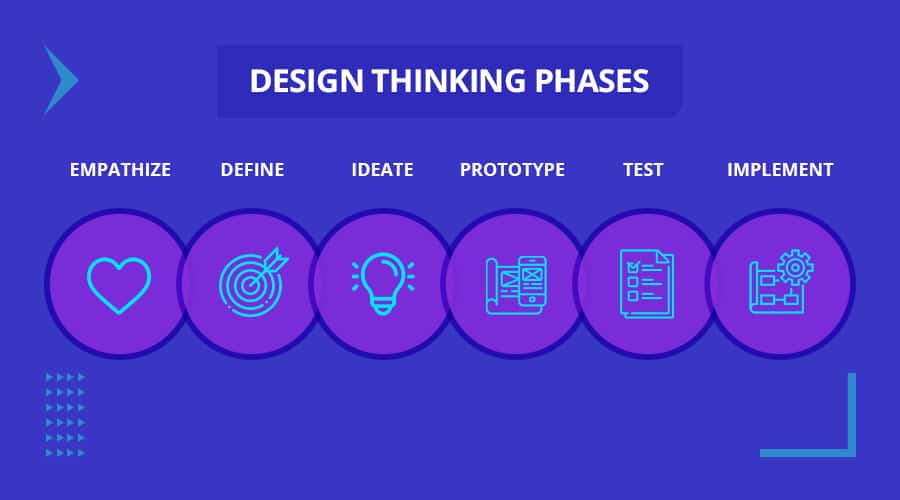 Corporate Web Design With The Help Of Design Thinking Principles
Design thinking is an approach that helps designers and creatives alike focus on the people they're creating for and design solutions that address audience needs and pain points.
Tim Brown, Executive Chair of IDEO, an organization known to be among the best practitioners of design thinking defines it like this:
"Design thinking is a human-centered approach to innovation that draws from the designer's toolkit to integrate the needs of people, the possibilities of technology, and the requirements for business success."
To help you create a user-centered and highly functional corporate website, you can go through the phases of the design thinking process and apply the tactics to web design.
Phase #1: Empathize
Design thinking starts with empathy.
To create a truly user-centric website, the design process starts with understanding your audience, including their needs, expectations and the problem they're trying to solve.
By combining owned and third party, quantitative and qualitative data in the Empathize phase, you ensure that your insights are grounded in the real-life behavior of your audience and set a solid foundation for the next phase of the web design and development process.
Phase #2: Define
The purpose of the Define phase is to clearly define the problem your website needs to solve for the user, so it can meet your business goals.
To achieve this, you will analyze the data gathered in the Empathize phase and turn it into actionable insights about your audience and the role of your website in their user journey.
Ultimately, you will formulate a concise problem statement ― a brief outline of the most important problem(s) your website needs to address to be successful.
This will be a guiding principle for the rest of the process.
Phase #3: Ideate
With a deep understanding of your user and their needs (Empathize phase) and the analysis and insights formulated during the Define stage, you are ready to start generating ideas.
The design thinking process employs a convergent thinking style.
It involves working to generate as many possible strategies and solutions to address the problem statement (including the ones that may not be instantly apparent), before narrowing down the ideas through prototyping and user testing, until you find the most optimal solution for your website.
Phase #4: Prototype
The purpose of the Prototype phase is to test the validity of the ideas you've generated by creating a prototype.
This is a version of your website that you can test with a small section of real users or have your quality assurance experts evaluate it internally, to see if there are any hiccups or areas that need to be improved.
Phase #5: Test
This is where you put your prototype to work.
Think of these tests as real-life experiments you can run to validate your ideas or disqualify them before you make the investment to bring the website to life.
Based on real feedback from real users, you can make informed decisions on the development of your solution, from identifying the most optimal solution to improving overall performance before launching your website.
Phase #6: Implement
Once you have your prototype website tested, you can implement the solution and launch your new corporate website.
But remember, design thinking is an iterative process. The work doesn't end once you implement the solution: essentially, it goes back to the beginning.
Tracking the behavior of your users and the performance of the solution will provide actionable insights you can use to optimize and improve the performance of your website and ensure a consistent and delightful user experience that will help you achieve your business goals.
A professional web design agency can help you understand your target audience and their user psychology, as well as address the factors that affect your website conversion rate.
How To Find The Best Web Design Company For Your Business Website
Depending on your industry and business type, look for a company familiar with your industry best practices that can bring insights into the latest trends and know-how.
When scouting for a web design company, the best way to find the most qualified and reputable companies is by browsing agency directories.
Agency directories and marketplaces serve as your guide to finding the best professional agencies, categorized by their areas of expertise and ranked by their trustworthiness, reviews and proven track record of success.
Some of the most notable agency directories include:
DesignRush
Clutch
Agency Spotter
Expertise
The Manifest
Top Agency
Once you've narrowed down your search to a few agencies based on the criteria you've chosen, it is time to start the screening process.
To make sure you engage the right company to design your corporate website, you will need to ensure a few things:
Search for an agency that is fully staffed with industry professionals and not reliant on outsourcing their business.
Compare apples to apples. Before making a decision that is mainly based on the price, you need to ask the agency what you are getting for the price, how much time will be invested into the project and what the billing procedure is like for add-ons or work outside of the project's scope.
Make sure you understand how the agency is measuring its results. One of the best features of doing business online is that everything can be measured, from CPL (cost per lead) to CPA (cost per acquisition) to bounce rates and abandoned cart rates. Make sure that the digital agency you hire will not just wow you with grandiose statements, but can show you case studies with actual results they have delivered to other clients.
Find out about the agency's credentials and qualifications. Find out if the company staff includes respected professionals in their industry and do your research. Are they recognized as industry leaders, keynote speakers, thought leaders or published authors? Have they worked on any groundbreaking projects or do they have any special credentials showing other expertise?
You can learn more about questions to ask when hiring a web design agency in an article we recently wrote on the topic.
Key Takeaways On Corporate Web Design
Your business website is often the first point of contact with your brand for your potential clients or customers. The first impression counts and that's why you should pay special attention to your corporate web design.
Follow these steps to create an attractive and distinctive corporate website:
Perform audience research to learn more about your target audience, their expectations, needs, problems and preferences
Analyze competitors' online presence to gain more insights and find gaps you can use to your advantage
Apply design thinking principles and use this approach to create a seamless user experience for your website visitors to help them find exactly what they're looking for
Design and develop a highly functional website with a clean page layout, intuitive navigation, compelling content and elements optimized for conversion
If you are not sure you can do it on your own, find a web design agency that can bring in a team of specialists to create a custom website tailored to suit your needs and help you stand out, even in an oversaturated market.