Outsourcing remains an essential tool for organizations to support their strategic goals. Overall, it will play a significantly larger role in short-term resilience and long-term growth.
This is one of the conclusions from Deloitte's 2020 Global Outsourcing Survey.
In other words – as technology develops and new challenges evolve – the demand for digital experts continues to rise. Having them as external partners will continue to be a clever strategic move.
Whether your reason for hiring a digital agency is to focus on your core business, build online platforms, improve user experience, solve capacity issues or anything else, outsourcing digital agency services can help you enhance your results and grow your business.
Here, we'll walk you through all the services that a digital agency offers and how you can benefit from outsourcing.
What Services Do Digital Agencies Offer?
A digital agency offers web design and development, app development, software engineering, digital marketing, branding and other services in the field of technology and digital communications.
A digital agency is typically a B2B company that gathers digital professionals under one roof and offers dedicated teams of experts to its clients.
Say you need a website redesign and you'd like to excel in SEO. Or, maybe you need help with branding and building a mobile app. A digital agency can help you with all of this and much more.
If you want to outsource all your digital activities to experts, a full-service digital agency is the best solution for you.
What Does A Digital Agency Do?
What a digital agency actually does may best be described through five developmental phases.
A digital agency can help you go (and grow):
From idea to concept
From design to development
From testing to improvement
From launch to promotion
From leads to conversions
Outsourcing to digital experts can also help you lower your costs, embrace innovation, speed up lead generation, increase sales and level up your digital presence.
Once you find an agency that fits your needs, you can build a lasting relationship and leverage their services.
In fact, the majority of companies tend to extend relationships with their current service providers – 89% of companies hire current providers for additional services.
To achieve mutual satisfaction in a long-term outsourcing relationship, you should be prepared to invest and be agile and responsive, while agencies should be flexible, engaged and involved.
Now, let's go through each of the digital agency services in detail.

1. End-to-End Digital Marketing Services
Digital marketing is one of the digital agency services with the highest demand.
It's an essential element of doing business online, growing brand awareness, generating qualified leads and driving sales. Plus, it's been even more important since the COVID-19 pandemic has increased a need for digital transformation.
Let's take email marketing for example, as one of the most effective tactics to connect with customers and maximize ROI.
As summed up in HubSpot's overview of digital marketing statistics for 2020:
35% of marketers choose to send three-to-five emails per week to their customers
Companies that A/B test every email see a 37% higher ROI than brands that don't do it
Segmented email campaigns see 14.31% higher open rates than non-segmented ones
Email campaigns segmented by user interest have 74.53% higher CTRs than non-segmented campaigns
And email marketing is only one service that digital agencies offer.
In general, digital marketing services may include:
A complete digital marketing strategy
Social media marketing
PPC search and display campaigns
Retargeting campaigns with dynamic ads
Email marketing and newsletters
Content marketing in all of its forms
SEO and link-building
Landing pages (design and copywriting)
Video advertising (including production)
Affiliate marketing
Influencer marketing
Analytics, reports, insights and more
Placing all of your marketing activities in the hands of one agency can be a cost-effective solution for your business.
However, some digital agencies specialize in only one, two or several types of marketing, so if you're on a budget or you want to focus solely on one aspect, such as content, social media or email marketing, you can find specialized agencies as well.
2. Web Design & Development Services + eCommerce Solutions
Having a professionally designed business website is a must-have, regardless of the industry you're in.
Not only can a digital agency can help you design and develop it, but it can also optimize your website for higher ranking in search engine results, higher conversion rates and an excellent user experience.
Web design and development services provided by a digital agency may include:
Website sketching and wireframing
UX/UI design (frontend)
Website development (backend)
ECommerce solutions
Website copywriting
Usability testing with users
Quality assurance and improvement
Website optimization (including technical SEO)
Web performance improvements
Web hosting and data backups
Website redesign
Website maintenance (including CMS updates)
Web design and development services may be broad or specific. For example, some agencies may specialize only in WordPress websites, while others may build only custom CMS solutions or have a team of Laravel experts.
The same goes for eCommerce solutions.
The majority of digital agencies include eCommerce design and development in their services.
Some of them may be specialized in building with Shopify, while some may use mainly WooCommerce and others may have experts for all of the eCommerce platforms.
Finding the right agency will depend on its expertise and previous projects, as well as on your website needs, complexities and functionalities.
3. App Design & Development Services: From Mobile To Web Apps
A digital agency can help you design and develop different apps, whether you need a mobile app, a gamified mobile platform for your online courses or a website turned into a progressive web app to offer lightning-fast loading speed and content available off-line.
App design and development services typically include:
Android and iOS mobile apps
Windows or Linux desktop apps
Progressive web apps
Experts from a digital agency will follow through the app development process from the beginning to the end, delivering apps with a user-friendly interface, easy-to-use platforms and responsive design that fits every screen size.
Having professionally built and well-optimized apps can help you grow your customer base, boost user engagement, build brand loyalty and increase revenue.
4. Software Development Services: From Custom Solutions To Integrations
Software development services may include design, development and maintenance of:
Company intranets
Custom CMS solutions
CRM and similar platforms
AI-based systems
Wearable technologies
IoT software solutions
Business automation tools
You can outsource custom software development to digital experts depending on your business type and development needs.
To find an agency with a team of engineers who have the right type of expertise for your business, go through a portfolio of the agency's previous work, read their case studies and try to learn as much as you can about the expertise they can offer.
How Much Do Digital Agencies Charge For Their Services?
The cost of digital marketing services will depend on the type of services, the scope of your project, the complexity of deliverables, the project's timeline and many other factors.
Based on the average rates and project costs listed on rating platforms like DesignRush and web directories like Yelp, digital agencies may charge:
An average hourly rate: $35-$199/hour
A minimum monthly rate: $400-$1,000/month
A minimum project cost: $1,000-$50,000
The price of services will also heavily depend on the agency's location.
Offshore outsourcing to digital and IT experts has undoubtedly been on the rise and digital agencies around the world make up a significant segment of the outsourcing market.
In 2019, the global outsourcing market reached $92.5 billion. Of that, business process outsourcing generated $26 billion and IT outsourcing generated $66.5 billion.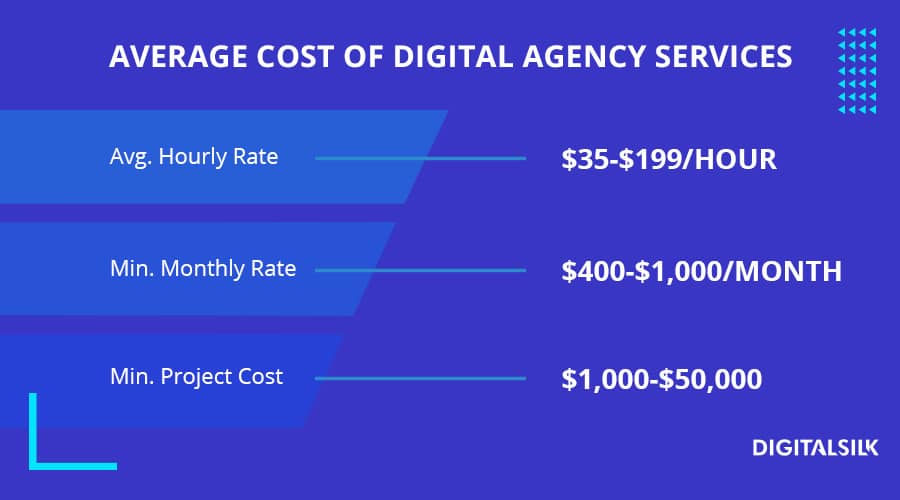 Digital Agency Services Key Takeaways
Digital agency services include a wide range of digital marketing, design, development and software engineering services that digital experts can help you with.
Typically, digital services include:
Content marketing, social media marketing, email campaigns, PPC advertising and more
Website and eCommerce design, development, optimization and maintenance
Mobile app development, including Android and iOS apps, as well as desktop and web apps
Custom software solutions including intranet, CMS platforms, IoT solutions and more
Why should you consider outsourcing activities to digital experts?
Outsourcing to digital experts can help you save time, cut costs and allow a team of professionals to take care of your digital presence through end-to-end engagement, including research, strategies, lead generation, conversion rate optimization and various other highly specialized tasks.
Should you hire several agencies for different activities or engage with a full-service digital agency to keep your projects under one roof?
This will depend on the scope of services you need, as well as on your budget.
For example, if you only need SEO service, you can hire a specialized SEO agency. But if you want to rebrand, reposition and redesign your overall appearance, a full-service agency might be the best fit.
How much will a digital agency charge for the services?
This will also depend on the service type, project type, timeline and other factors, including the agency's location. In general, average hourly rates range from $35 to $199, while a minimum project rate may be anywhere between $1,000 and $50,000.
All in all, as outsourcing continues to play "a significant role in short-term resilience and long-term growth," hiring a digital agency to help you scale up and grow your business can certainly serve as a clever strategic move.

Ready To Build A Digital Marketing Strategy?
Request A Quote
Tell us about your project and let our experts give you recommendations.