Have you ever wondered why people are willing to pay premium price for a branded cup of coffee, even if it tastes identical to a cheaper, lesser-known brand?
It's because of branding.
The effort you put into branding your business directly relates to how consumers will feel when they hear your brand name or see your logo.
So how can you build a brand and ensure it stands out in a sea of competitors?
In this article, we'll share how to build a brand in six steps, plus why you should build a brand instead of just a business, and more.
Why You Should Build A Brand And Not Just A Business
Studies show that around 80% of small businesses survive their first year.
What's the difference between a brand and a business?
A business is an organization that earns money by producing and selling goods or services. A brand is the identity or image of that business.
Let's look at Starbucks's branding as an example.
We know that Starbucks is a good example because whether you're a coffee drinker or not, Starbucks needs no introduction.
You only need to get a glimpse of the iconic green siren logo, and your mind goes immediately to Starbucks and the premium drinks and pastries they offer.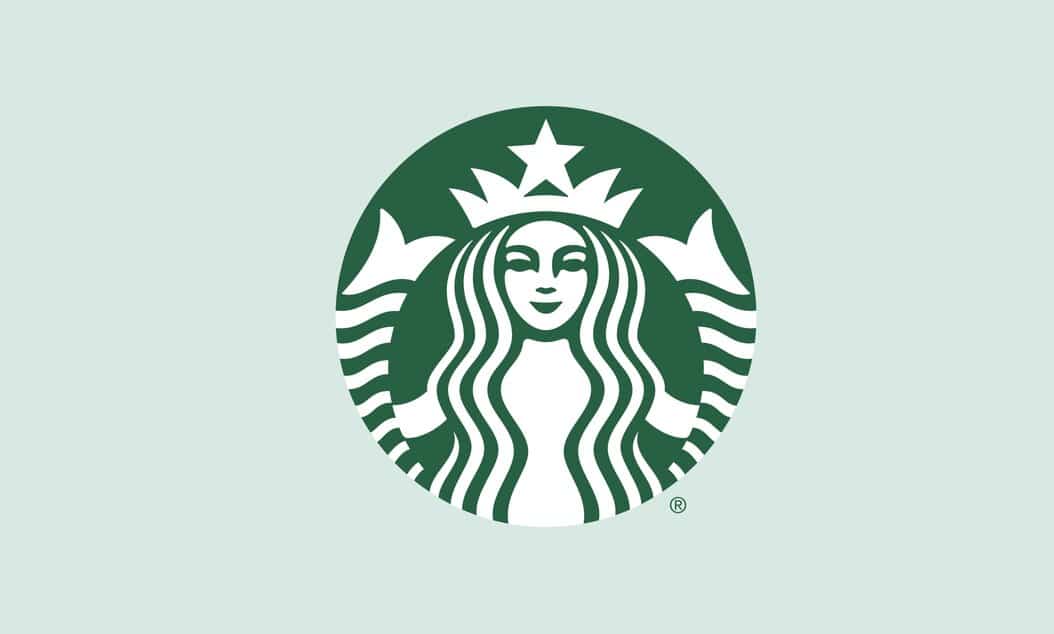 So, if you're caught between Starbucks and a café you've never heard of, wouldn't you feel more gravitated towards Starbucks?
If you ask us, Starbucks is more than a business. It's a brand that will last in the years to come — largely thanks to strategic brand management.
When a consumer sees your logo, what do you hope will come to mind? How can consumers differentiate you from your competitors?
In order to build a brand that thrives, you need to start at the beginning — creating a brand strategy by defining your goals and conducting research into your market, audience and competition.
How To Build A Brand: A Six Step-By-Step Guide
Now you know the difference between a business and a brand, but how exactly do you build a brand?
This branding roadmap will lay out six key steps, packed with tips and tactics about brand strategies, identity, communication and more.
Step 1: Create A Brand Strategy
To develop an effective brand strategy, start with setting clear goals and creating an action plan to accomplish them.
Then, conduct market and audience research and perform competitor analysis to find gaps, position your brand and clarify your unique value proposition.
As our digital strategist, Zorica Marjanovic, puts it:
"A brand strategy opens up new opportunities that can kick start exponential growth, whether for a start-up, medium-sized enterprise or a well-known company."
Define Your Goals: Why Are You Building A Brand?
The reasons for branding – or rebranding – your business can vary, depending on your industry, niche, direct and indirect competitors, business model and more.
For example:
If you run an emerging start-up, you might want to create a solid company culture based on your core business values to increase audience engagement across channels
If your business is already well-established and you delegate external communications to multiple parties, you might want to create consistency in your brand appearance to increase customer retention rates
If you want to drive your business in a different direction or you want to overcome a brand-damaging crisis, you might want to start a rebranding process but still remain relevant for your audience
Whatever the reason, setting clear goals and defining your brand's purpose will help you build a strong brand and grow your visibility, credibility, authority and trust through coherent presentation and targeted communication across channels.
As Zorica explains,
"In the age of digital, you're either beautiful or you're smart or you're practical. Brand purpose here is a total underdog. That's why its victories are so fascinating, and when they happen, they shine brighter than anything else."
Market Research: Which Insights Can You Detect?
Once you know which direction you want to go, it's time for research.
Market research will help you gather your industry, niche and category specifics to make better-informed decisions.
Your strategy will largely depend on your industry. If you're in the financial industry, for example, your strategy will differ from brands in the manufacturing industry.
This is a great way to gain valuable insights into consumers' typical behaviors, expectations, reactions and objections related to your product category or the type of services you offer.
When you gather these insights, it's going to be easier for you to define your competitive advantage and find opportunities for growth.
This step will help you see a bigger picture, find insights about your market and truly understand your audience behavior.
Audience Research: How To Build A Brand Your Audience Will Love
Audience research will help you define your main target audience and different audience groups you serve and help you create specific buyer personas for each of these groups.
You can conduct audience research using some of these methods:
Focus groups
One-on-one interviews
Conference calls
Online surveys
Social media groups
Talking to your prospective customers will help you acknowledge their needs, problems, drives, pain points and issues they might encounter in interaction with your company.
This way, you'll be able to position your brand to help your customers solve their problems.
You can also organize usability testing sessions for your website, especially if you run an eCommerce site or a cloud-based business.
This will help you define clear user flows, address the right issues at the right time and create smooth checkout processes to grow your conversion rates.
Competitor Analysis: Learn From Their Branding Triumphs & Mistakes
Competitor research will help you learn everything you need to know about your competitors and find opportunities to differentiate your brand.
But before you get down to analysis, observe your competitors' online activities.
Ask yourself: Have any of your competitors had a successful branding campaign lately? What did they do? How was it different from their previous activities? How did their results impact your business? What can you learn from that?
After answering these questions, you can use online tools to perform a website audit and an SEO analysis for competitors' websites to find out about:
Their overall website performance
Keywords they rank for in search results
Digital marketing channels they use
Types of content they publish
Business directories they have a profile on
Use the information to learn from your competitors' branding mistakes and inconsistencies or from the segments in which their brand saw major success.
You can also use this step to fill the existing gaps with your original ideas, different approaches and unique strategies for your brand positioning.
SWOT Analysis: How To Find Your Unique Value Proposition
In addition to the previous step, you can perform a SWOT analysis to help you paint a clearer picture of your own branding possibilities.
A SWOT analysis will help you define your:
Strengths
Weaknesses
Opportunities
Threats
You can use a simple four-square matrix to list all of these points. This will help you come up with potential activities, define areas you need to improve, find opportunities for growth and make a proper risk assessment.
As Zorica explains,
The main goal of a SWOT analysis is to find strengths that meet opportunities.
"A SWOT analysis is also a great methodology to learn your unique point-of-view, find your comparative advantage, position your brand the right way and craft a unique value proposition."
A unique value proposition (UVP) is a single sentence or a set of sentences that clearly communicate the value your products or services bring to your audience.
It should describe how you solve your customers' problems and state why they should choose your company over competitors.
It needs to be simple, concise, attractive, easily relatable and immediately understandable. So, avoid using buzzwords, industry jargon and meaningless fluff in your UVP.
To make the most of it, put this statement in the hero section of your website home page. It's a great way to capture attention at first glance and make a long-lasting first impression.
Why Is A Brand Strategy So Important?
Developing a brand strategy is a foundational step for any branding agency.
When you have documented goals, starting points, plans, analytics, risk assessments, value propositions and everything else in place, you'll be able to grow brand awareness more easily.
A brand strategy can help you:
Keep your brand identity consistent
Streamline your branding activities or communication
Align your branding goals with audience goals
Prioritize customers' needs and solve the right problems
Boost B2B lead generation with your conversion funnel
Nurture long-term relationships with your customers
Build a strong community around your brand
To learn about different types of brand strategy and get actionable tips for developing this document, read our comprehensive article about why brand strategy matters and how it can help you grow your business.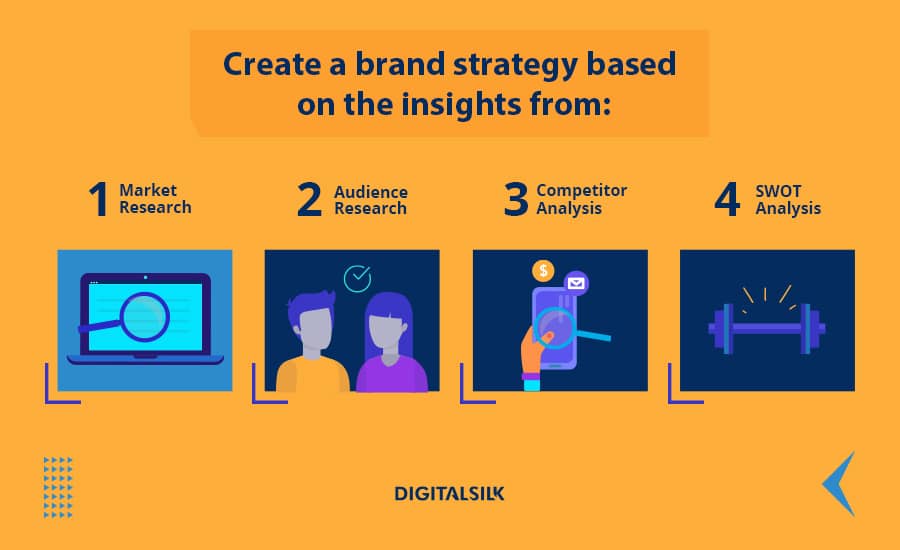 Step 2: Define Your Brand Identity
The elements of your brand identity include your brand personality, archetype, voice, visual identity, values and more. These elements will help you complete your brand strategy and represent your business in a unique, genuine way.
Let's go through each of these steps to help you get a better idea of what a brand identity entails.
Define Your Brand Personality
To define your brand personality, imagine your brand as a person. Who would it be? What would that person be famous for? What would be their legacy?
If you're not sure where to start, you can organize brainstorming sessions with your team to come up with as many adjectives related to your brand as you can. Then, narrow the list to the top three adjectives that describe it the best.
For example, you might define your brand as:
Strong, ambitious and unbeatable
Thoughtful, caring and generous
Bold, independent and unconventional
Be sure to align your top adjectives with how you want your audience (and the world) to perceive your brand.
To do that, think about how you want your customers to feel when they hear your company name, when they see a new email from you in their inbox, when they come across your ad within their social media feeds and in other similar situations.
Let's be honest, we can't talk about brand personality without talking about the King of personality (or should we say Queen) – Wendy's. Take a look at their Twitter below. Wendy's has gained a reputation on social media for being hilarious and roasting the competition.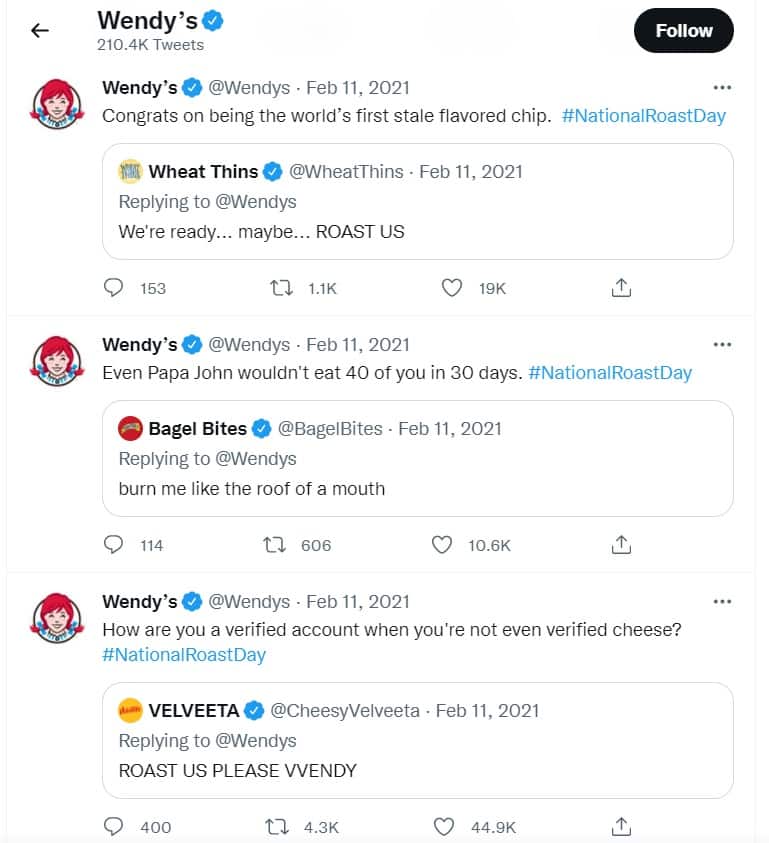 Determine Your Brand Archetype
To take it a step further, you can determine your brand archetype — a specific character that makes a brand universally recognizable and easily relatable.
Why is this important?
Zorica tells us:
"Giving your brand a character will help you connect with your customers emotionally. A good brand connects with people at an emotional level – they feel good when they purchase from the brand through an emotional experience."
There are 12 main brand archetypes:
The Magician: A brand that solves problems, fulfills wishes and turns dreams into reality – like Disney – through amazing, intelligent, transformative content
The Creator: A brand with a vision and freedom of expression – like Apple or GoPro – that creates enduring, innovative products and enables creativity in others
The Ruler: A brand that takes control, sets rules and fosters stability – like Microsoft or Rolls Royce – to gain respect, build trust and grow its authority
The Lover: A brand that inspires intimacy and close relationships through seduction – like Victoria's Secret – to grow a strong bond with its audience
The Caregiver: A brand that gives more than it takes – like IDEO – motivated by compassion and altruism, typically considered caring, nurturing and trustworthy
The Jester: A brand that lightens up the mood, has fun and thinks outside the box – like Red Bull – which makes a good foundation for innovation, creativity and forward-thinking
The Sage: A brand that believes that knowledge is power and is driven by the desire for truth – like TED or IBM – trying to make the world a better place by sharing insights
The Explorer: A brand that discovers new paths – like NASA – often a strong, independent trailblazer who inspires change and seeks the purpose of life
The Rebel: A brand that undermines the status quo, dismantles paradigms and creates something different – like Harley Davidson – seen by the world as a broad-minded outlaw
The Hero: A brand that is up for a challenge, the one that empowers, inspires and rises above the norm – like Nike – to help the audience fulfill its potential
The Everyman: A brand that makes almost everyone feel comfortable – like Ford or Gap – by appealing to diverse audiences and being non-pretentious, reliable and authentic
The Innocent: A brand that wakes up the inner child and spreads joy – like Coca-Cola – while promising simplicity, happiness and honesty through its communications
You can complete a brand archetype quiz to see exactly where your brand fits. Check out Nasa "The Explorer" below.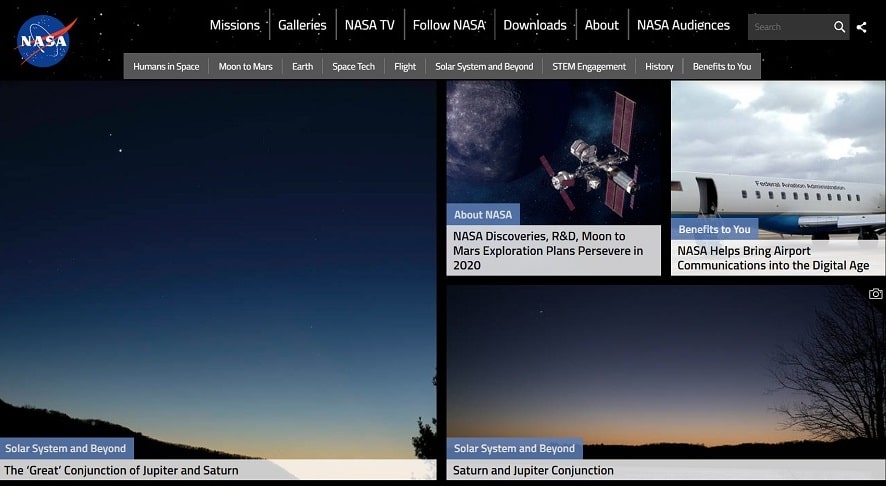 Build Your Brand Persona
Your core business values are the pillars of your brand. They can help you stand out, fight for a cause, keep a purpose behind every decision and make a strong connection with your audience, even beyond your products or services.
To build your brand persona, you need to determine:
What your company stands for
What drives you forward
Why you do what you do
Why you care about bringing your brand to people
Why people should care about your brand
Your brand values might reflect social, cultural, political, economic or other views relevant to your business. When you clearly define your values, incorporate them into your key branding statements.
Phrase Your Key Branding Statements
Besides a unique value proposition, key branding statements can include a tagline, mission and vision statements, an elevator pitch, a company culture manifesto, your personal story and more.
When phrasing these statements, make sure to:
Keep them simple, clear and concise
List the benefits up front
Speak directly to your audience
To make your statements instantly relatable, use the language your audience uses, a.k.a. the Voice of the Customer (VOC). This way, you can avoid industry jargon, buzzwords and fluff that can confuse your potential customers and harm your brand.
Document Your Brand Voice
Aside from the voice of your customers, your brand should have its own voice clearly defined and documented.
Be as specific as possible when defining your voice. Don't just say your brand voice is "friendly."
Instead, try something like this: "We communicate with customers as if we are talking to a close friend. We are open and honest when we make a mistake. We are patient and supportive when our customers need help. We show empathy and interest in the problems they come across."
This can help provide clarity about your brand voice and the tone of voice you'll use in different situations, depending on the context.
Use your voice and tone guide as a cornerstone of all your branded communications.
Include the vocabulary with words and phrases your brand uses, branded hashtags, emojis and grammar, spelling and formatting guidelines to keep all written communications consistent.
Here are some popular brand voice examples and how the brand archetype is reflected within each:
Nike uses powerful action words and phrases like "Just Do It." Also, Nike recently sent a powerful message in support of racial equality: "For once, Don't Do It." Nike is The Hero brand archetype and these messages perfectly align with its heroic character.
IBM uses its century-long expertise to send a purpose-driven message like the one in the "Let's Build a Smarter Planet" campaign that served to unite and inspire employees. IBM is The Sage brand archetype and its voice is purposeful, thoughtful and knowledge-based.
Apple uses notions of innovation, creativity and freedom to evoke the emotions and aspirations of its customers in their brand messages, like the tagline "Think Different." Even though it's grammatically imperfect, this tagline is perfectly aligned with The Creator archetype.
It's highly recommended to document your brand voice in a guide. Why? To keep everyone in your company on the same page and keep your brand appearance consistent.
Consistency is the key to branding success. If your brand isn't cohesive, customers will never take you seriously. Nor will your competitors.
Check out the homepage of IBM below, with a clear, purpose-driven message.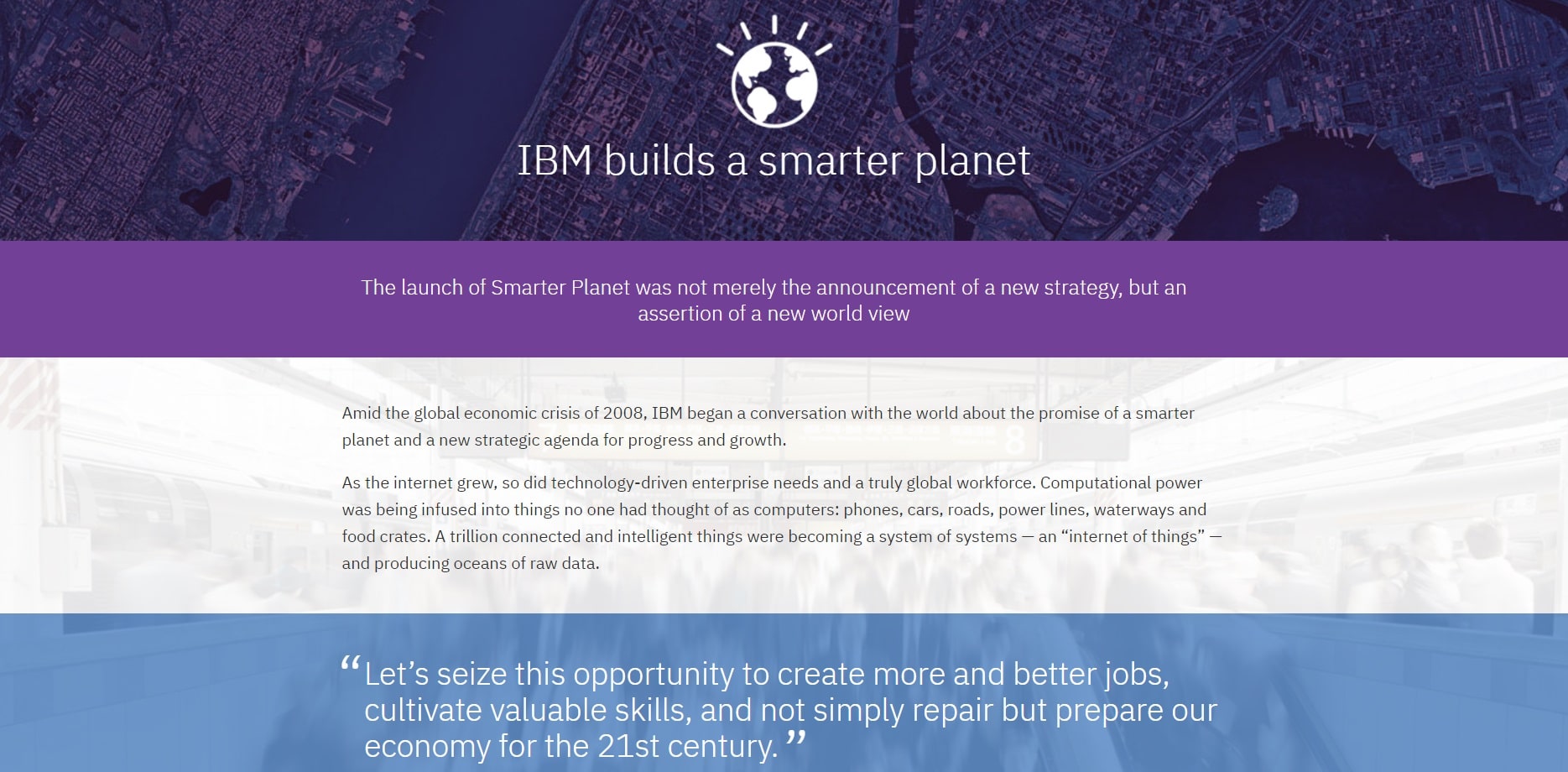 Craft Your Visual Identity
Another important segment where consistency is utterly important is the visual identity of your brand.
The visual identity includes:
Logo
Memos
Typography
Color palette
Website design
Packaging design
Photography style
Custom illustrations
Video production style
The list goes on and it can range from social media visuals to design preferences for all your printed documents.
To keep the visual representation of your brand consistent, the best practice is to create a brand book or a design style guide with clear instruction on when, where and how to use each of the design elements.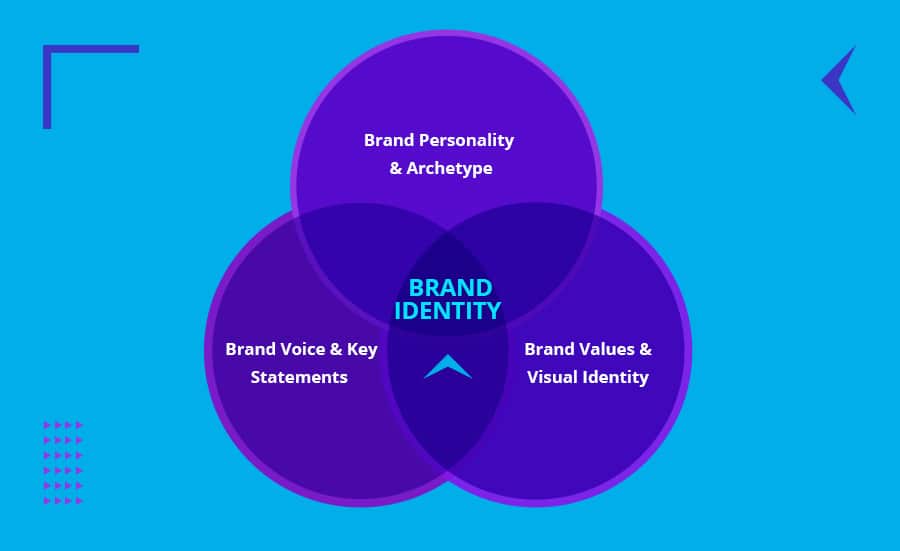 Step 3: Name Your Brand
When you have your strategies and guidelines in place and you know exactly who your target audience is, you can continue to the next step – naming your brand.
This is going to be a crucial step if your business is still in a developmental phase or if you're building an app or other digital product with frequent feature updates and new launches.
This step will help you define:
Your company name
Product names
Feature names
Your company name is one of the most important elements of your brand.
It's your whole business story in a single word or a phrase. Make sure it's unique, memorable and easy to pronounce in different languages (if you're targeting a multinational market).
To find just the right name for your business, organize brainstorming sessions and write down every single idea, then narrow and test the most potential ideas with your customers.
Keep testing until you get to the one name that delights you and completely resonates with your company, niche and audience.
Remember to also check that your chosen name isn't a registered trademark and to choose a domain name that makes sense with your brand.
Product names should follow the same path of discovery, ideation, testing and distilling ideas to the names that make the most sense, not only to you but to your users as well.
This goes for both B2C and B2B brands.
If you're developing a SaaS company or you're building an app, the name you choose for your digital product can help you stand out in an oversaturated market and become a key marking point of your brand.
Similarly, if you're in the soft drink industry, for example, and you're about to launch a series of organic juices, think of the series as a whole, first. Then, come up with different yet interconnected product names to grab consumer's attention and grow your sales.
Feature names within your mobile app or other digital products should be clear and immediately understandable.
Here, you don't have to make up new names, you can simply use familiar terms and phrases, especially if it's something common and universally known as such.
For example, if you're implementing a new feature that will act as a text editor, simply label it as "Text Editor" – as opposed to making up names like "Text Sheet" or "Word Organizer."
This could confuse users, increase the product adjustment time and skyrocket your churn rate.
However, if you're building never-before-seen features that will make your brand unique in the market, brainstorm ideas for new, interesting names. But don't go over the top — stick with plain language and easily understandable phrases.
For more tools and resources about this topic, you can visit Onym, an online library for naming.
Step 4: Create A Communication Strategy
This step expands on your key branding statements to create a complete communication strategy and tailor your voice to different segments of your audience and the channels you use for interaction with your customers.
Think about these potential scenarios to segment your elevator pitches:
How would you pitch your offerings to audiences still unaware of your brand?
How would you pitch the leads who are comparing you with competitors when trying to decide whether to buy from you?
How would you pitch product upgrades to current customers?
How could you make your existing customers fall in love with your brand and tell everyone about it?
The answers will help you know how to communicate the right message at the right time to the right audience. This will significantly improve your audience engagement and drive more leads.
A communication strategy can help you:
Engage with your audience
Convey the right message at the right time
Define guidelines for PR communication
Prevent the spread of misinformation
Keep your audience in the loop
Maintain brand credibility and trust
Grow your brand authority and help you thrive
Build a stronger connection with your customers
You can also create separate guidelines for different channels to define how you will engage your audiences on your website and social media profiles or through PR campaigns, email marketing campaigns and other channels.
Communicating clearly with your audience is of the utmost importance for branding your business the right way.
To learn more on this, read our full brand communication strategy guide.
Step 5: Define How Your Brand Speaks & Reacts Publicly
To make a communication strategy applicable to various channels, you can accompany it with additional guidelines and actionable tactics for managing your appearance in online business directories, on social media or navigating through a crisis that could harm your brand.
Manage Your Online Reputation
When you shift your business operations entirely to a digital environment, your online reputation is going to be the essence of your brand.
To drive more website traffic, grow your domain authority and promote your products or services, consider enlisting your company to online business directories and review platforms like Yelp, G2, DesignRush, Product Hunt and others.
To gain traction, define guidelines for your business reputation management on these third-party channels.
These could be your starting points:
Find all relevant local, regional and global directories that you can create business profiles on
Submit your company and create complete profiles, with accurate contact information, relevant case studies from your portfolio, product or service descriptions and link to your website
Create a strategy for driving more reviews from your happy customers, while minimizing the impact of negative reviews
Define a guideline for managing replies on review platforms like DesignRush, G2, Clutch etc.
This can help you empower your brand, attract new customers, showcase your company culture and rank higher in search engine results.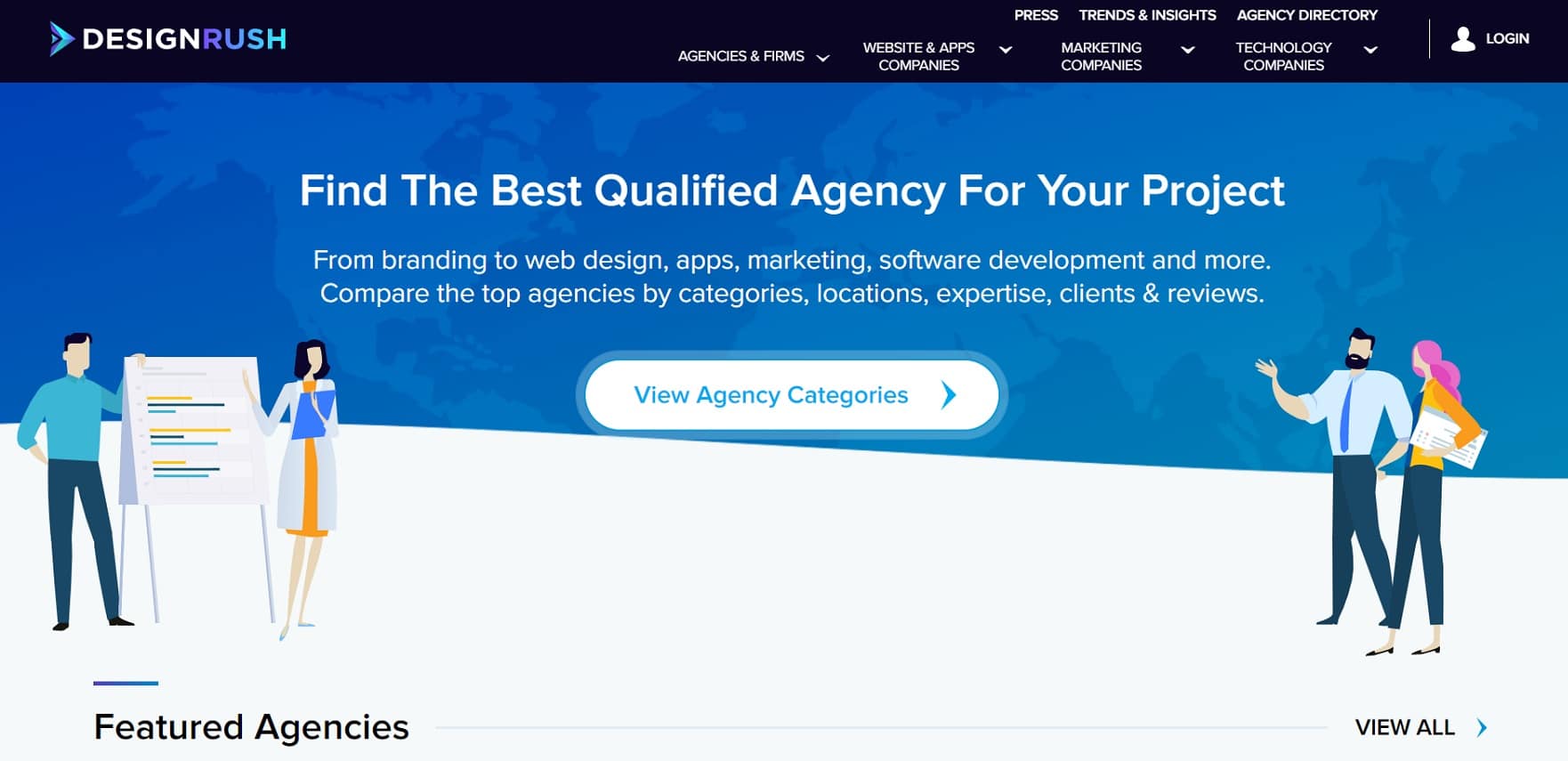 Brand Your Social Media Profiles
Your social media profiles are an important part of your overall online presence and, as such, they play a major role in your branding process.
Continue managing your online reputation on social media platforms. Use the social media listening tactic to track your brand mentions, analyze competitors' posts, monitor their performance and identify issues that need to be fixed.
Remember: You don't have to be present on all social networks all the time. You just need to choose your platforms wisely and grow your presence strategically.
How do you build a brand on social media? By creating a social media branding strategy.
A social media branding strategy can help you:
Increase your brand awareness
Reach more potential customers
Communicate directly to your customers
Grow your brand community
Target your audience directly with ads
Retarget your audience for the purpose of remarketing
Increase your website traffic
Grow your conversion rates
Engage your audience in an authentic way
To accomplish this, you need to truly know your audience, down to the details.
Find out which social networks your audience uses the most, what types of content your customers prefer, what their online habits look like, what drives their purchasing decisions, what inspires them, what they don't like and more.
Once you have all this information, you'll know which channels to focus on and what type of content to publish, when and how often. This will make easier for you to make plans and measure the impact of your posts.
To keep everything on-brand, make sure that every social media profile you create has a consistent look and feel that allows your brand values, personality, voice and visual identity to shine through.
Create A Crisis Communication Strategy
As a special and very important part of your communication strategy, be sure to develop a strategy specifically designed for crisis communication.
Think about how your brand will communicate in times of natural, internal or any other critical situation.
A crisis communication strategy can help you streamline internal communications and correspondence with your audience, media, partners and other stakeholders during a potential brand-damaging crisis or global events such as the COVID-19 pandemic, for example.
According to McKinsey & Company, 73% of consumers in the US adopted new online shopping habits in 2020 and they will continue practicing those in the future.
We've all experienced the importance of timely, clear and concise messaging during this pandemic, so be sure to implement lessons you've learned in a strategy that will help you successfully manage a potential crisis in the future.
To get you started and help you keep your audience engaged during the COVID-19 lockdowns, we created a master guide to crisis communication based on our experience in helping businesses thrive during the global recession of 2008.
Here, you'll find actionable advice for handling crisis communication, along with valuable post-crisis recovery strategies.
Step 6: Continue Branding Your Business Through Active Education, Training And Digital PR
Keep in mind that your brand isn't set in stone. It's a living and breathing entity that needs attention, care and continuous development.
You can keep branding your business with the strategies you documented.
Use them as guidelines to:
Onboard new employees and continue nurturing your company culture
Train your sales representatives, customer support agents and brand ambassadors
Attract service providers and agencies that are the right fit for your business
Brand your business consistently across all channels
Be sure to stay in the loop with your industry news and events, keep track of emerging trends and listen to your audience to keep coming up with fresh, original branding ideas for your future endeavors.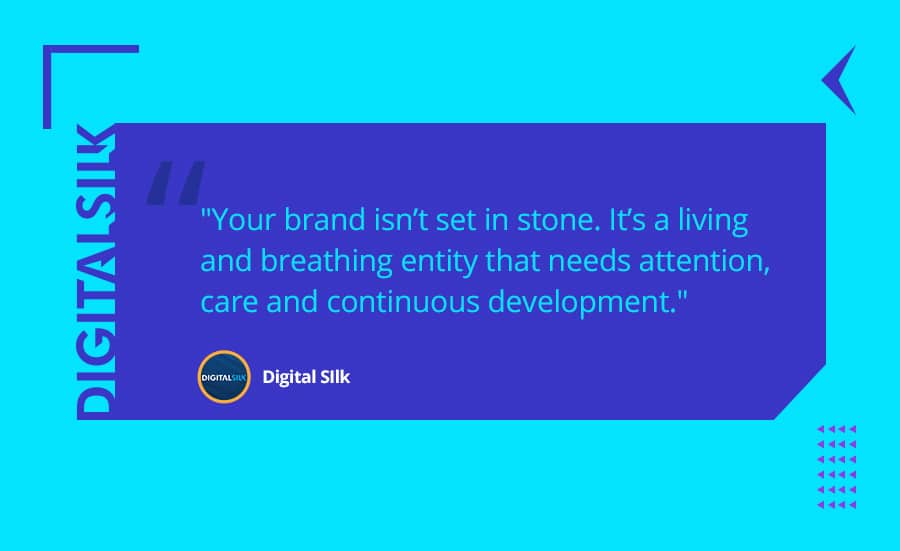 Wrapping Up On How To Build A Brand
Building a brand doesn't happen overnight.
It's a tedious process that requires more than just a sales plan.
But building a brand and gaining recognition has numerous benefits, from increased customer loyalty and a wider audience reach, to satisfied customer advocates who stand up for your brand.
The six steps in building a brand include:
Create a brand strategy
Define your brand identity
Name your brand
Create a communication strategy
Define how your brand speaks and reacts publicly
Continue branding your business through education, training and digital PR
At Digital Silk, we build brands that truly thrive in the digital age. As a full-service digital agency, our team is made up of top designers, developers, brand strategists, SEO experts, content specialists and more.
We use data-backed insights to create superior digital experiences that increase visibility, grow recognition and set your brand apart from the competition.
Ready To Build Your Brand Strategy?
Request A Quote
Tell us about your project and let our experts give you recommendations.