63% of online shoppers in the United States abandon their carts due to shipping costs.
That means a drop in sales, along with a potential decrease in trust and loyalty from consumers.
Of course, your business needs to be profitable, and free shipping isn't always an option. So how can you improve delivery and create a customer-centered shopping experience with transparent and convenient shipping costs?
The answer is simple: Use shipping table rates.
In this article, we'll explain everything you need to know about Magento 2 shipping table rates.
We'll share the benefits and explain how to configure shipping table rates in your online shop. Plus, we'll give you a look into our expert Magento services that can take your e-store to the next level.
What Is Table Rate Shipping In Magento?
Table rate shipping in Magento is an extension that allows you to calculate your shipping costs and provide profitable and customer-centered shipping options.
The primary reason that online shoppers in the U.S. abandon their carts is high shipping costs, followed by non-working discount codes, long shipping periods and the need to re-enter information in the system, which makes the shopping experience slow and tedious.
Typically, factors that affect shipping cost include product size, product weight, shipping distance and product nature.
With the Table Rate Shipping extension, you can customize your settings to appeal to your consumers and reduce shopping cart abandonment due to unexpected shipping costs.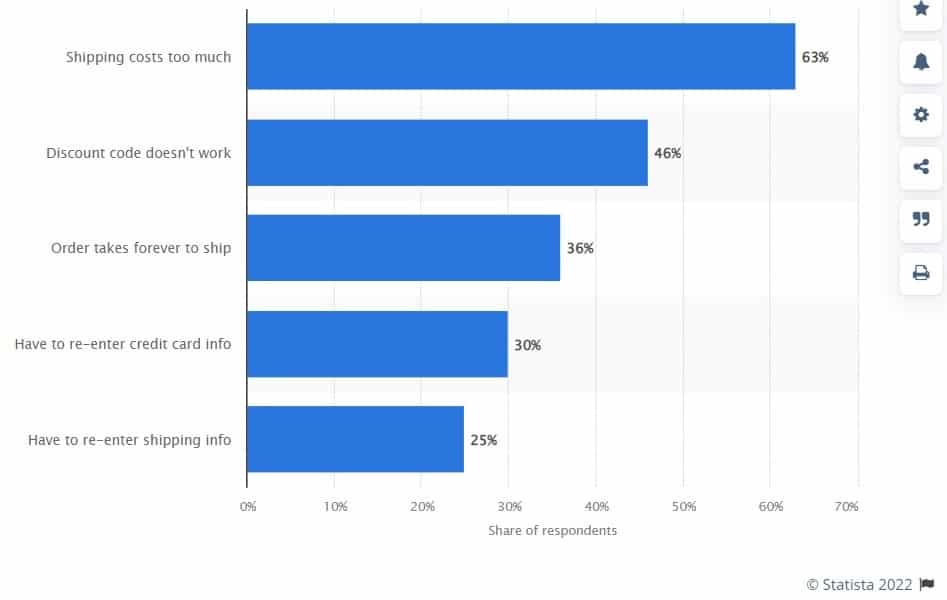 Configuring shipping table rates on your Magento e-store can help:
Define transparent and fair shipping costs
Provide information on shipping methods in easy-to-read tables
Meet customers' expectations about shipping and shopping
Improve the customer experience
Decrease cart abandonment rate and increase revenue
Build trust and increase loyalty due to transparency
Improve your shipping strategy
How Table Rate Shipping Works In Magento 2
The extension allows you to use an unlimited number of shipping methods to calculate your shipping costs, which also helps you find the best carrier for your eCommerce business.
You can choose conditions to apply, according to:
Quantity
Weight
Price
Shipping Type
Country
State
City
Zip Code
You have the option to use flat rate shipping, or you can configure additional shipping rates based on:
Base for the Order
Percentage per Product
Fixed per 1 unit of weight
Fixed per Product
The extension calculates the rates for each order and shows the available delivery methods.
How To Configure Magento 2 Shipping Table Rates In 4 Steps
Configuring your shipping table rates provides an opportunity to assess your shipping costs and delivery process and implement shipping methods that keep your customers satisfied and coming back.
To set the extension, follow these four steps:
1. Configure Your Table Rate Shipping Method
Generate various shipping methods with flat and percent costs using the Magento 2 Shipping Table Rates extension. Customize them to reflect your specific requirements and needs.
Options include:
Set different shipping prices for products or product groups. For example, your delivery costs can be higher for products that are fragile, toxic, bulky or available in distant storehouses only. This will give you the possibility to better scale and control your shipping processes.
Set flexible combinations. Use Magento 2 matrix rates to create cost combinations for products stored in different storehouses. In this case, you can set charge and percent price simultaneously, for example 1% of the product price + $5 per order. Or you can offer cheap delivery or free shipping when your customer buys more than 10 items. Such flexible combinations allow you to adjust shipping costs in line with your requirements while encouraging more sales.
Set rates using specific delivery parameters. To match your business needs, you can combine factors like weight, destination address, order subtotal and more. Here is an example: you can assign flat rates of $5 for shipping items that weigh between 5 and 10 kg and costs between $15 and $75 for 5 or less items a customer adds to the shopping cart.
Show minimal & maximal cost for products with different shipping methods. This means that if a shopping cart contains products with different rates, you can define the range for the whole order.
Provide free shipping. Free shipping is a magic word in digital sales. It is a great strategy to improve conversion and your e-store popularity.
Show delivery dates. Specify the shipping period for each method so that your customer has this information before completing the order. This will improve your customer experience and build trust and loyalty.
Use volumetric weight calculations. This method allows you to set your shipping costs based on the dimensions of the package. In addition, it provides the possibility to optimize cargo space and consequently save money.
Magento 2 Shipping Table Rates also offers advanced options that can further optimize your business performance and your customer experience. Here are some examples:
Add images and comments to your delivery methods. This will give your customers more information and will improve their experience on your e-store.
Use an unlimited amount of rates. This allows you to work with large volumes and approach your shipping costs in detail.
Charge extra for excess weight. In this case, you can apply extra charges if the item is heavier than typical items.
Exclude free shipping items. This option makes it possible to exclude items from the calculations and avoid inaccuracies.
The technical steps include:
Go to your configuration settings and select Shipping Method section
Set the title for the rate shipping on the checkout page of your store in the table rate section
Define the calculating method conditions
Add virtual products for your calculation
If you charge handling fees, add this option
Set your shipping rates per country, allowed or selected countries
Set your shipping method sort order
Save your data
2. Preview Your Table Rate Data
To preview your table rate data:
Go to your store view
Export your data in a CSV file
Add your data to the spreadsheet
Save your file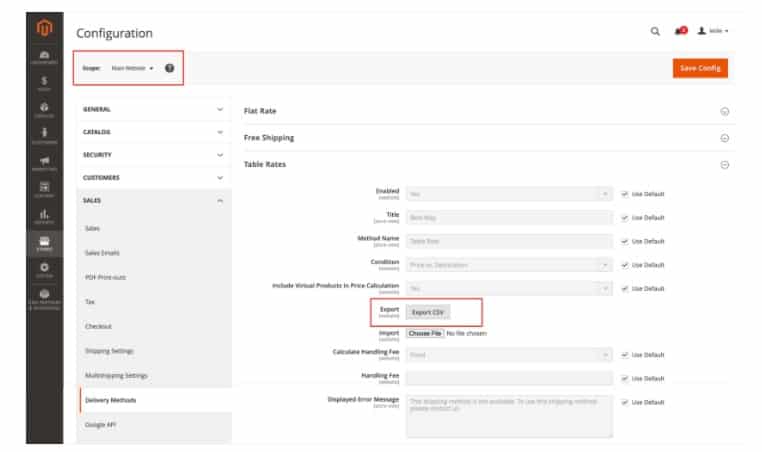 3. Import Your Data
To import your data:
Go to your store view section
Import your information spreadsheet
Save your data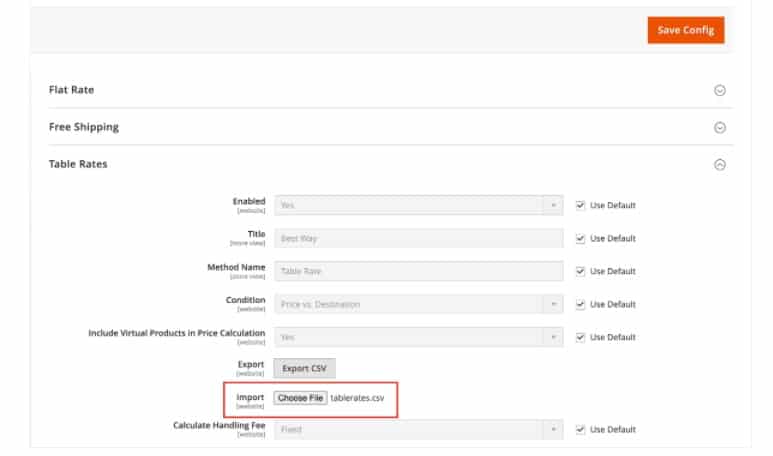 4. Check Your Rates
To check your rates, use different shipping addresses in the checkout process to make sure your tables have been configured correctly.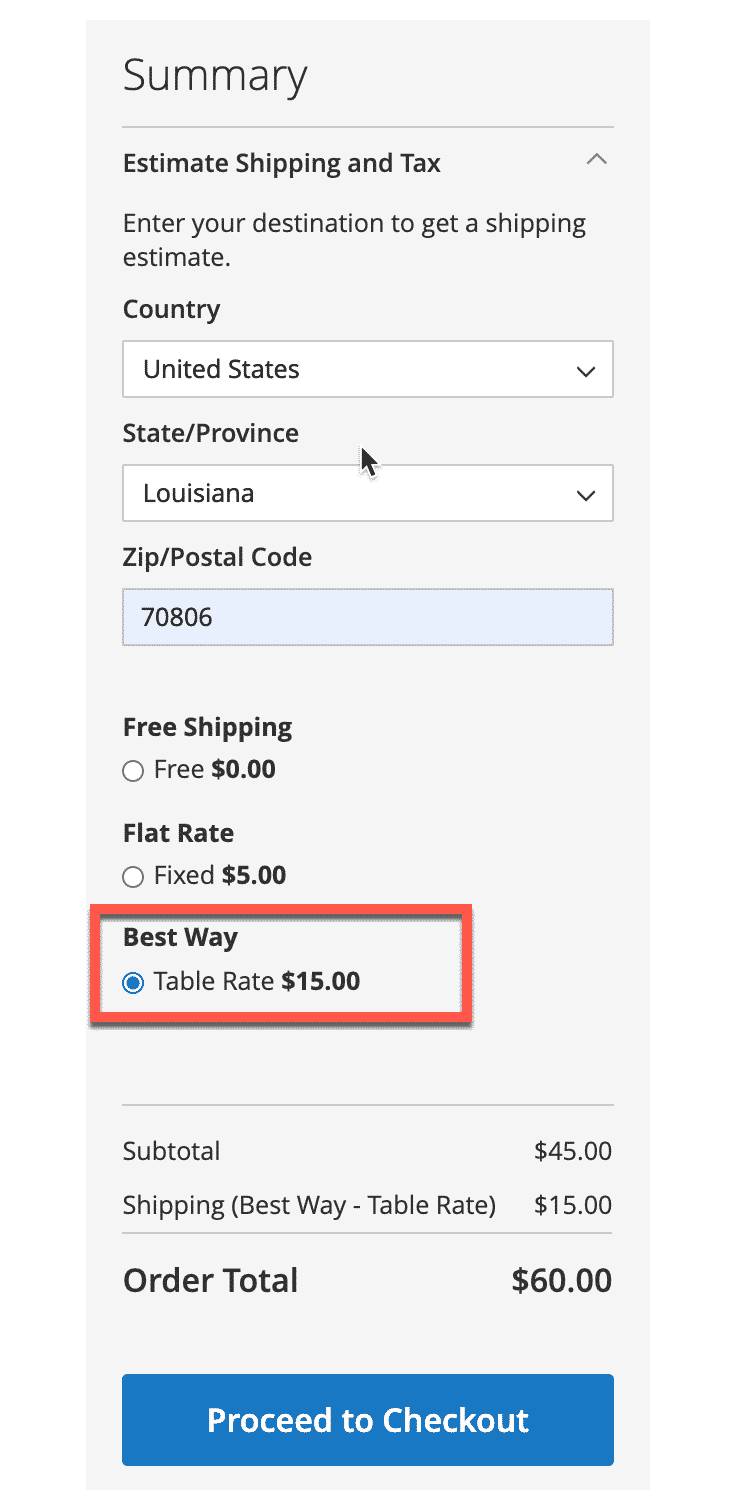 Digital Silk's Magento Services
At Digital Silk, our top-ranked Magento developers, designers, strategists and consultants conduct a detailed audit of your current solution and create professional recommendations for optimizing your e-store.
We research your industry, competitive landscape and user behavior, along with the best eCommerce solutions in your niche.
After thorough research, our team creates a custom digital strategy aimed to improve the visibility, ranking and conversion of your e-store.
The Magento services we offer include:
Magento End-To-End Development Services
Custom Magento Development
Magento Website Design
Magento Integration Services
Magento Migration Services
Magento PWA Development
Magento Consulting Services
Here's a quick look at each of our Magento services:
1. Magento End-To-End Development Services
New to Magento 2? We build online stores that convert.
From in-depth research and a digital strategy to a custom Magento design reflecting your brand identity, we develop, QA and launch your new solution.
As an additional service, we provide future support to make sure your online shop is optimized, secure and competitive.
2. Custom Magento Development
We create custom websites to give your customers a superior shopping experience. Our strategic designs connect with your target audience and encourage engagement and conversion.
3. Magento Website Design
Our team follows eCommerce best practices to create your custom solution, enhanced by your branding elements, high quality images and detailed product and service descriptions.
4. Magento Integration Services
Our experts integrate your e-store solution with the systems you are using for seamless operation.
From Enterprise Resource Planning (ERP) and Product Information Management (PIM) to Point Of Sale (POS) and accounting, shipping and marketing, we streamline your processes to optimize resources, save time and simplify.
5. Magento Migration Services
We migrate Magento 1 and other eCommerce platforms to Magento 2.
With the new version, your e-store is equipped with high speed, a mobile-friendly design, security, a streamlined checkout process, flexibility and more.
6. Magento PWA Development
Our team develops your Progressive Web Application (PWA) to increase your website's loading speed, traffic and conversion and improve your customers' experience.
7. Magento Consulting Services
Not sure which Magento solutions are the best fit for your brand?
We offer Magento consulting to answer your questions and provide strategic recommendations on all Magento-related topics, from custom development and design to PWA, migration and integration.

Wrapping Up On Magento 2 Shipping Table Rates
Magento 2 Shipping Table Rates provides the solution for an issue that affects many eCommerce stores: shopping cart abandonment due to high or hidden shipping costs and the consequent losses in revenue.
Use this Magento extension to define the shipping methods and rates that fit your business and meet your customers' expectations.
Benefit from an improved shipping cost structure and strategy, along with enhanced trust and loyalty, while your customers enjoy a superior shopping experience.
At Digital Silk, we offer a wide range of Magento services, from custom Magento development and design to integration, migration, consulting and more.
Ready To Start Your Magento 2 Project?
Request a quote!
Tell us about your project, and our industry experts will share ideas and recommendations for how to make it successful!