Are you seeing duplicate data in your system? What about errors?
If you're experiencing these eCommerce challenges or similar issues, it's time to integrate SAP with your eCommerce platform.
In this article, we'll explain everything you need to know about Magento SAP integration, including the benefits it offers, plus we'll detail our own expert Magento integration services at Digital Silk.
What Is Magento SAP Integration?
SAP (System Analysis Program) is an enterprise resource planning (ERP) software that centralizes data management within your company.
It provides a seamless and centralized communication system to improve processes, accelerate workflows and increase productivity.
From Finance and CRM to Stock and Service Management, SAP helps you manage your Magento e-store's operational efficiency to ultimately increase revenue.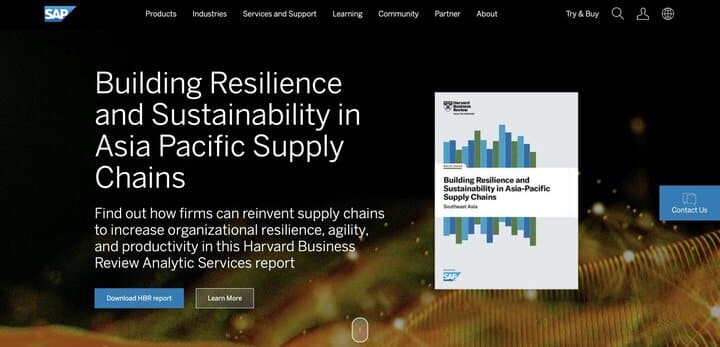 SAP Solutions
SAP offers nine solutions across a wide range of areas:
ERP and Finance: This feature maintains continuity by integrating cloud ERP and financial management solutions from SAP.
CRM and Customer Experience: With SAP's customer experience and CRM solution, you can engage with the right consumers at the right time and on the right channel, and understand them better, thanks to AI-powered insights.
Spend Management: This feature allows you to automate and manage your spending process so you can save more.
Supply Chain Management: With this solution, you can solve complex business problems through SAP's sustainable supply chain management software.
HR and People Engagement: SAP's cloud HCM solutions enable your employees to have a better understanding of how they work, what they need and what motivates them in your workplace. Benefit from time tracking, cloud payroll and trends with people analytics.
Employee Experience Management: Through SAP's Employee Experience Management solution, you can take insights-based actions to improve employee engagement and experience.
Business Technology Platform: SAP combines intelligent enterprise applications with database and data management, integration, analytics and extensions into one platform for hybrid and cloud environments. This includes pre-built integrations for SAP and third-party solutions.
Small and Midsize Enterprises: Whether you own a small-scale or midsize enterprise, SAP can help you manage your cash flow, operations and supply chain while keeping your employees engaged, even in a remote work setup.
Industry Solutions: SAP's industry cloud enables you to generate sustainable and profitable business transformation while helping you manage changes within your industry.
5 Benefits Of Magento SAP Integration
From eliminating duplicate data to increasing customer satisfaction, here are five benefits of Magento SAP integration.
1. Eliminates Duplicate Data
Research shows that poor data management costs the U.S. around $3 trillion per year.
When you integrate your Magento e-store with SAP, it eliminates redundant data, including billing information, shipping addresses, contact names and numbers, and more.
Thanks to SAP's features, including virtualization and smart data access, the system syncs these pieces of information real-time. All data is stored in one place, increasing information accuracy and operational efficiency.

2. Boosts Employee Productivity
With the help of automation in processes such as tracking orders and updating your order status, the need for human involvement in your workflow process is decreased.
This automation minimizes human error and gives your employees more time to increase productivity on tasks that can't be automated.
3. Increases Customer Satisfaction
According to a 2018 survey, 82% of consumers want their marketing or sales questions answered in 10 minutes or less.
With SAP integration, your customers can benefit from quick and accurate answers, thanks to the real-time access your sales team has to the products in your inventory.
Thanks to SAP's centralized system, all information in your database is uniformed, accurate and updated regularly.

4. Reduces Operational Costs
SAP eliminates the challenges of archiving documents manually.
Forget printing costs and storing outdated, hard-copy documents as part of your archiving plan.
With SAP, you can update information about your sales, inventory and transactions in real-time, while storing them in your ERP system.
5. Provides An Omnichannel Customer Experience
With SAP, you can connect your customers from different channels via phone or online into one solution (omnichannel), enabling a consistent and streamlined customer service experience.
If a customer issue arises, SAP's ticket and case management function automates ticket categories. This allows your customer support team to be organized and efficiently resolve customer tickets.
In addition, you can access your customer data and insights when you need them, for a highly personalized interaction with your customer.
Why Work With A Professional Agency To Integrate Your Magento E-Store And SAP?
The Magento-SAP integration is a complex process. A one-size-fits-all approach doesn't work, since every business has different needs and goals.
Allowing an agency to handle your integration guarantees the process is handled by experts.
At Digital Silk, we offer end-to-end Magento services, including SAP integration.
How Much Does Magento SAP Integration Cost? 
The cost of your Magento SAP integration will depend on several different factors, from the scale of your e-store to your current solutions and extensions.
At Digital Silk, our rates are highly competitive in the U.S. market. Request a quote to get an estimate for your project!
Magento Integration Services At Digital Silk
At Digital Silk, our Magento experts provide end-to-end Magento services, including integration.
Here's an inside look at our Magento integration process:  
Onboarding: Welcome to our meet and greet! We'll first get to know you as our client and do our homework on your target audience, industry and your competition. We'll evaluate your current Magento structure and the solution you're implementing.
Recommendations: After you share your goals with us and we've done a deep dive into your brand, we will map out third-party solutions you'll benefit the most from.
Integration: We'll synchronize your POS, ERP, PIM, accounting and marketing systems to unify your data flow, provide real-time analytics, and improve inventory management, productivity and client satisfaction.
Security: Our team of experts will ensure you're constantly up-to-date with Magento's security updates, so your data remains safe.
Functional QA: In this stage, we test your integrations in the staging environment (sandbox). Once your eCommerce store is operational, we'll test buttons and functionalities in your production environment to ensure everything is working smoothly.
Launch: Once we complete quality assurance, your e-store is ready to be pushed live for the world to see!
Support and Maintenance: We don't pack our bags just yet! After each successful launch, we will continue to support and provide maintenance services for your e-store.
Digital Silk's Additional Magento Services
From consulting on your current or future eCommerce store to custom development and design, Magento 2 migration, integration and PWAs, our experts have you covered.
Integration is far from the only Magento service we offer. Our expert Magento developers can help you with any Magento project, including:
Magento End-to-End Development Services
We create you Magento e-store with the state-of-the-art features and functionalities in online shopping: responsive design, high speed, flexibility, security and more.
The result is a fully optimized site that increases traffic, encourages customer engagement, and drives repeat visitors.
Custom Magento Development
Our Digital Silk experts provide custom Magento development, from a tailored CMS and clean code to exceptional functionality.
Magento Website Design
At Digital Silk, we perform in-depth research into industry trends, your target audience behavior and your competitors' digital presence. We create strategic designs while integrating research-driven best practices to your tailored solution.
Check out one of our recent eCommerce projects below. Our experts created a brand-new Magento e-store for our client in the firearms industry, Geissele Automatics.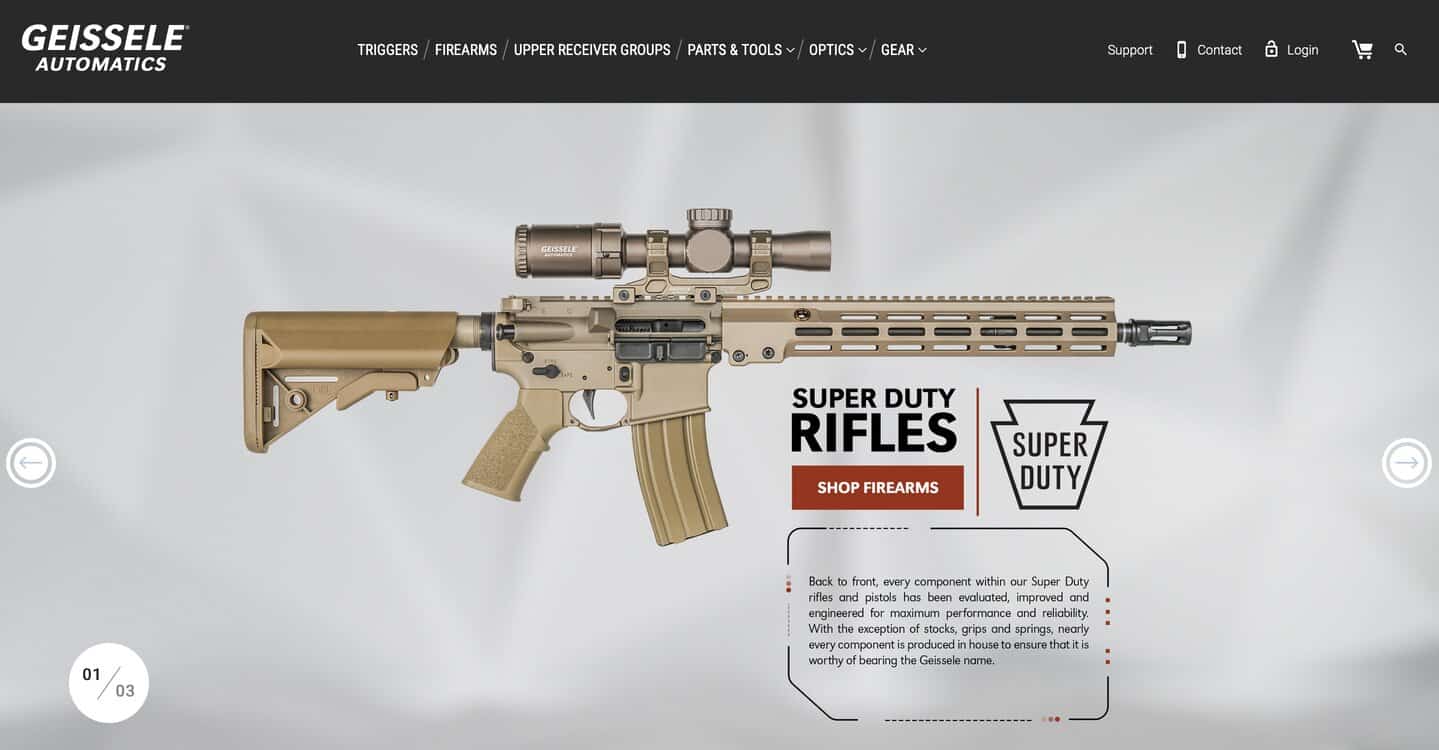 The simple navigation, clean design and detailed product pages encourage engagement and conversion.
Magento PWA
We put ourselves in your customers shoes and look at your Magento e-store from their perspective. This allows us to provide you with an engaging shopping experience may it be offline or online, without the fuss of complicated checkouts.
Magento Consulting
From development and integrations to Magento store planning, optimization, design and marketing, we provide Magento consulting services as part of our end-to-end development offering, and as a stand-alone service.
Our Magento experts extensively research into your competitors and industry to recommend strategies to optimize site visits, conversion, visibility and brand reputation.
Magento Migration Services
We then migrate your Magento 1 e-store to Magento 2 so your customers can experience a streamlined shopping process. The latest features include top-grade security, flexibility, high speed and increased engagement.
Wrapping Up On Magento SAP Integration
SAP allows every department in your company to effectively communicate with each other, while using solutions that expedite information flow and data processing.
Integrating SAP with your Magento eCommerce site allows you to:
Eliminate duplicate data
Boost employee productivity
Increase customer satisfaction
Reduces operational costs
Provides an omnichannel customer experience
At Digital Silk, our Magento experts can facilitate your integration from start to finish, so you can start offering consumers an upgraded customer experience.
Ready To Integrate Your Magento E-store With SAP?
Request A Quote
Tell us about your project and let our experts give you recommendations.