The Nike brand, the world's largest sports apparel company, is at the top of its game. Thanks to artificial intelligence (AI) that fuels its customer engagement efforts, the brand is still growing in more than just revenue.
Inge De Bleecker of CMS Wire writes that industries worldwide spent $35.8 billion on AI systems and research in 2019.
A general sentiment about AI in the retail business is that it forms closer ties between brands and their users, while reshaping the customer care segment.
Some of the Nike customer experience key features that AI is impacting significantly are:
Personalized Recommendations

Life-like Virtual Assistants

Better Scalability Through AI Data

Contextual Relevancy Aids Personalization

AI-Based Insight For Betterment Of Customer Activation
This article will take a studious look into how AI helped Nike's customer experience strategy grow. We will also look at some of the most revolutionary Nike artificial intelligence applications that may become a norm in the near future.
Nike Customer Experience, Artificial Intelligence And Product Personalization: A Case Study
Nike and avantgarde tech go back a few years together.
One of the most astounding examples of customer care and artificial intelligence symbiosis comes straight from their workshops.
In 2015, the Nike brand acquired a patent based on an Augmented Reality Design System. This paved the way for the application of holographic technology into sneaker design.
A year later, they invented self-lacing shoes – inspired by the iconic footwear from the movie "Back to the Future."
As Matt Wujciak of Customer Contact Week Digital writes, health and wellness are becoming more prominent points of interest of millions, and consumers everywhere are buying sports equipment like sneakers in increasing volumes.
In such a climate, Nike could be forgiven if they kept doing what they were already doing and just reaped the rewards (revenue).
But that's not the foundation of long-term success for any business. Knowing that mixing things up is best while at the top, Nike announced the Triple Double Strategy in 2017.
What it entails is the following:

Doubling the impact of innovation

Doubling their market speed

Doubling direct connections with consumers
Nike's special focus was on the customer connection, which yielded some truly impressive results.
The end goal? More consumer engagement, employee loyalty and business longevity.
Here is what Nike did.
How Nike's House Of Innovation Revolutionized The Brand's Retail
In 2018's Q3, Nike apps contributed to over 60% of digital business.
It began in April 2018 with the acquisition of Tel Aviv-based computer vision firm, Invertex Ltd.
This move was pivotal in Nike's securing of new digital platforms and complemented another the previous buy of Zodiac Inc – analytics and consumer data company.
The Invertex buy was met with proclamations of building "groundbreaking innovations to help Nike serve millions of members around the globe."
Nike's Chief Digital Officer further commented that this business maneuver would "further the company's capabilities in computer vision and artificial intelligence," promising "the most compelling consumer experience."
The Nike artificial intelligence revolution continued with another purchase on August 5th 2019:
"Nike announced its acquisition of Celect, a predictive analytics company founded in 2013 in Boston. The acquisition is the latest in a series of deals made by Nike to improve their new strategy of selling directly to customers. Celect's technology will be integrated into Nike's app and website. Celect's technology also allows Nike to have the proper inventory to meet customer demands." – Rebellion Research
The Nike brand wanted to shift its business strategy towards direct sales to customers. To that end, digital design studio Virgin MEGA helped Nike launch the SNKRS app.
This was a basis for Nike's House Of Innovation: a "blueprint for future retail locations," integrating digital and physical retail into a single store.
Nike Customer Engagement And Personalization Of The Buying Experience
The brand's New York flagship store "knows" all there is to know about their customers who enter it and log into the app: their color preferences, their favorite sports, their foot size and so on.
Nike's customer engagement program uses this info to provide a personalized customer experience of the highest order.
The data, collected via the app, is used by Nike to decide which sneakers to stock in which retail stores and, more broadly, what future direction the company should take.
Their shoppers can also scan clothes in the shop and send requests for a piece of desired clothing to be sent to a fitting room in their exact size. 
Nike Maker Experience And Nike By You
In IBM's January 2019 publication, "The coming AI revolution in retail and consumer products," Nike's artificial intelligence efforts got a great amount of attention.
It explained the automated process behind the sports apparel company's custom-designed sneakers.
As a way of engaging with its customers, delivering on their expectations and making it possible for buyers to create their own pair of dream sneakers, Nike developed a system dubbed "The Nike Maker Experience."
This system made designing one's shoes almost instantaneous. It allowed the customer to make their own sneakers and leave the retail location wearing them!

The process is wonderfully futuristic and beyond convenient:
A pair of blank Nike Presto X sneakers is placed within a system. The customers choose the colors and graphic elements they'd like to add to their customized Nikes. And all this through voice activation commands!
"The Nike Maker Experience" makes use of artificial intelligence, object tracking and projection systems to create the desired product, 100% tailored by the buyer, according to their tastes.
The final product is completed in less than two hours. For the sake of comparison, the standard sneakers customization procedure – with client communicating their wishes to the brand – takes two weeks.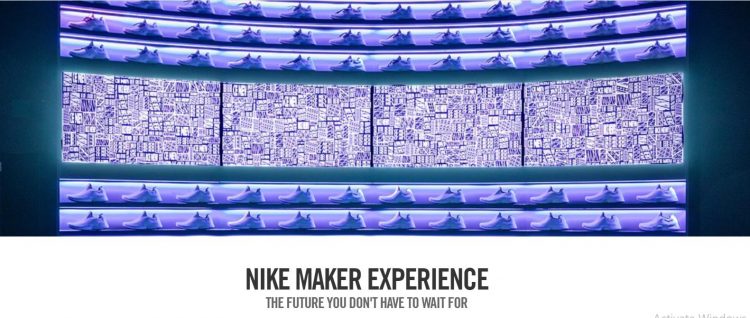 By personalizing the customer experience through customization of every single element of their shoe, Nike is able to attract even the most indifferent of demographics to their products.
The brand has taken on numerous brand ambassadors – musicians, sports figures, street artists, lifestyle influencers and others – to promote this industry-leading feature.
They also design their own, ready-made sneakers, that Nike places on their online store for display and for customers to purchase.
That's the integral part of the "Nike By You" lifestyle scheme, which entails complete customization of products with an almost unlimited range of bespoke signature elements – all through the power of AI.
Once the customer has designed their shoe online, they can save it on Nike's website, get an instant shareable link and share their own, personal Nike sneakers with their friends on social media.
The possibility of sharing a product socially enhances customer satisfaction and user experience – all part of Nike's customer-centric policy.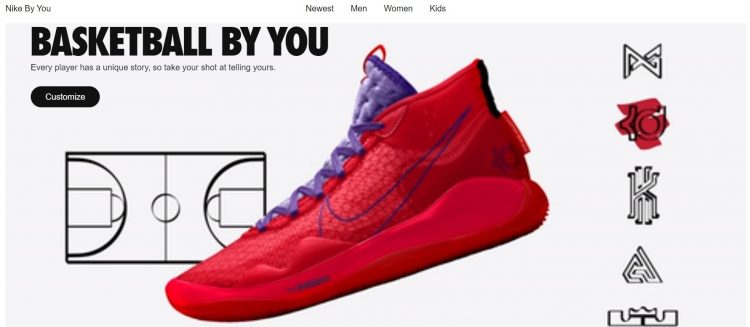 How Artificial Intelligence And Customer Engagement Improved Nike's Brand Reputation And Customer-Centricity
90% of all the Big Data in the world was made in the last few years.
Artificial intelligence is capable of capturing the  Big Data that is reshaping the landscape of online and retail stores in more than one way.
Big data and AI have given rise to personal (virtual) shopper assistants.
These virtual assistants can:
Facilitate the use of voice and image searches

Analyze customer's preferences and their history of behavior

Make predictions for sales and segmentation

Analyze reviews

Process orders

Suggest solutions and answers to questions etc.
Virtual assistants are also sometimes called chatbots – and Nike is already capitalizing on them, by boosting the conversion rate from retail campaigns.
The company is extensively using data algorithms to cultivate customer trust.
Customer trust and loyalty are intertwined and dependent on each other – which is why Nike went one step further, which led to a notable rise in shoe sales.
The brand is constructing a conglomerate of personalized customer relationships via "one-stop shops" for custom-tailored workout regimens and shoe recommendations based on AI algorithms.
As an example, the company developed the "Nike+" program for loyal customers, offering them an exclusive sneak-peak into new and future releases.
They are also allowed, through this AI-based individualization scheme, to engage with experts for equipment recommendations.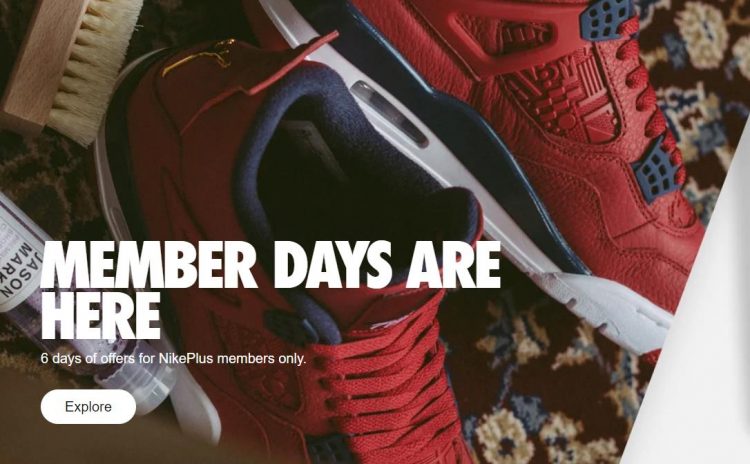 Nike Fit: Augmented Reality App For Scanning Customers' Feet
Nike rolled out the Nike Fit app as a part of their individualization agenda. Augmented reality-infused technology takes a snap of customer's feet and, with absolute precision, measures them.
The goal is to get the perfect shoe size for the buyer, who may be making the purchase out of the comfort of their own home (away from retail location) without fearing whether they got the size right.
Nike Fit uses a smartphone camera to capture and scan customer's feet using these AI elements:
Computer vision

Data science

Machine learning

Recommendation algorithms
The whole process takes just a few seconds. It is a superior method of measuring a person's foot because it takes into account its entire morphology and anatomy, rather than just length and width.
Once the foot is scanned, Nike treats its customers with a "best fit for you" recommendations.
A product personalization program is completed in the app: once you search for shoes to buy after measuring your feet, you will only see your size for any given pair of sneakers in the store.
Nike Fit reshapes not only the way their shoppers experience shoe purchases while getting high-end service, it also helps Nike be more accurate in designing and manufacturing their products.
The Impact Of Nike's Customer Engagement Program
Nike's customer engagement combines mass-produced retail stores with interacting with individual customers and AI technology to communicate their products in a more personal way.
They do this through:
Ready-made products

State-of-the-art apps and customization programs 

Rewarding loyalty schemes

Retail shops that blur the line between physical and virtual experiences
The outcome is the cultivation of customer trust and the creation of brand integrity and recognition that will turn to legacy.
Nike's artificial intelligence program not only anticipates customers' needs and helps the brand meet them – it communicates to the customers that what they truly want is possible and achievable; that they themselves can partake in designing a product fit only for them.
Nike's yearly revenue amounts to $39.12 billion. Investments in AI have helped grow the revenue share through the Nike Direct segment (brand's site, app and stores combined).
The shift towards direct sales to consumers led them to rise 12% annually – to $10.4 billion in 2018. Direct revenue now contributes to about 30% of Nike's profits and this number continues to climb.
The key to these turnover figures was in the company's many innovations – "Nike House of Innovation" being the most prominent one.
The brand's artificial intelligence technology is used for customer cultivation: to satiate the consumers' hunger for experiences, personal and responsive retail environment.
What these products and services enhanced by AI, big data and recognition algorithms are making possible is:
Improved personalization:

Artificial intelligence is pushing Nike's business – as it does the entire fashion segment – towards selling directly to customers, cutting out the middle-man, and offering a fully customizable, experiential shopping.

Empowering self-service:

AI changes the notion of waiting for your turn to be serviced and your product to be delivered. Chatbots are already handling the majority of customer queries online.

Constant availability:

Services powered by AI, such as virtual assistance agents, don't go to sleep. The 24/7 availability is one of the most sought after qualities in customer care but was also the one that was hardest to procure until AI appeared.

Virtual assistants provide happy experiences:

Client courtesy is always a guarantee with virtual assistants and chatbots. Real-life customer representatives may have a bad day – whereas with AI, the company is sure to always have a "smiling" assistant providing a quality user experience.

The consumer becomes the ultimate signal of demand:

Thanks to big data and machine learning algorithms, the brand continues to close the gap between them and the consumer.



When Invertex purchase was announced, Nike's Chief Digital Officer, Adam Susman, proclaimed that the company's goals of personalization were only shaping up.
The addition of "world-class data-science talent and best-in-class tools" was to be used to "power one-on-one relationships with consumers through digital and physical consumer experiences."
Nike Artificial Intelligence And Customer Engagement Takeaways: What's In The Future?
Nike's website gets 60 million visits per month, with 7 minutes being the average time spent by visitors.
In an interview for Particle Data website, Heidi O'Neill, president of Nike Direct in charge of eCommerce and direct retail, revealed what artificial intelligence and machine learning mean for the company in the long run:
The curation of completely personalized stores for every single shopper in the future, by looking at every retailer and their specific consumer relationship

Innovations like audio-guided run in Nike Run Club app track running stats

Using big data to know where Nike consumers are and to select and curate products in stores accordingly

Using data science to identify and invite high-value consumers to exclusive events, such as guest spots by top designers in House of Innovation store
Nike CEO Mark Parker has previously stated that the success of NYC and Shanghai flagship shops exceeded all expectations – and he had AI and ML to thank.
"Both stores create the most personal and responsive retail environment in the industry. It's a digital experience brought to life in a physical space," comments Parker.
Based on announcements by Nike's top executives, further personalization, customer engagement – with a dash of exclusivity – will remain a company's priority.
When it comes to exclusivity, House of Innovation's mythical 5th floor is reserved for Nike+ members only.
But other than housing exclusive gear, it's also symbolic of the brand's direction: transparent benefits for all who simply choose to engage themselves up a notch. Also, a Nike+ membership is free of charge.
The company is already mulling the development of their digital customer experience in these three ways:
Building customer relationships through mobile apps

Career advancement for store and customer support agents 

Implementation of AI innovation via Voice of Customer
This final point offers a most immediate glimpse into the future. Nike Live is a promise of a "hyper-localized" customer experience – an ecosystem of sorts, bolstered by consumer research through a Voice of Customer program.
The entire experiential concept is centered around a smartphone app which is in charge of member's loyalty points and information on products.
The futuristic retail concept, located in Los Angeles, is available for Nike+ members only and traces buying patterns and customer engagement typical of the area the store is in. Another location is in plans for Tokyo.
Ready To Improve Your Customer Experience With AI?
Request A Quote
Tell us about your project and let our experts give you recommendations.