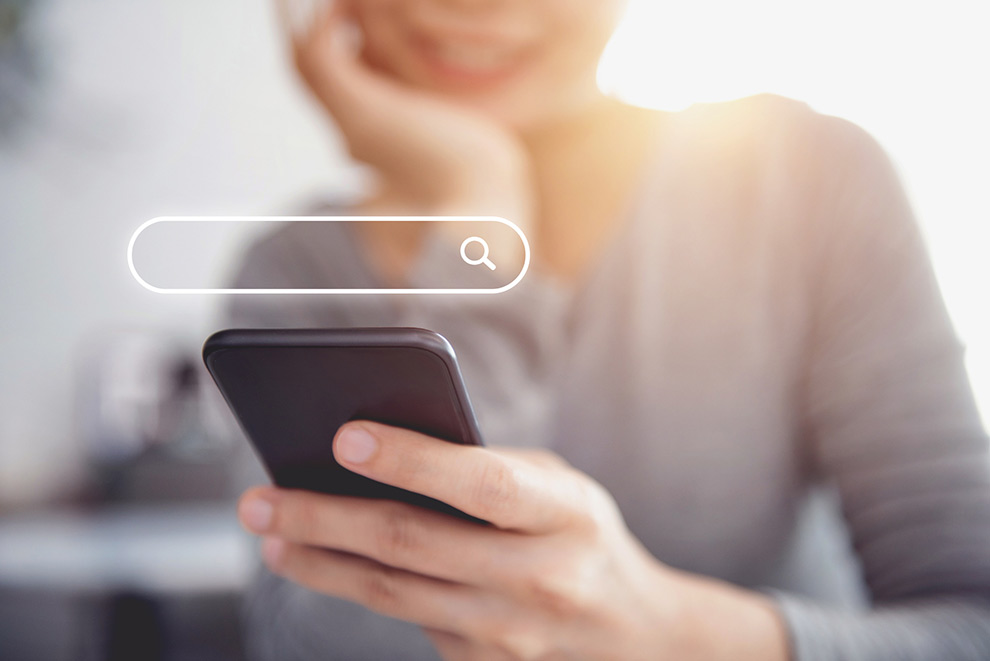 When Google rolled out its new BERT algorithm, the company itself admitted that it will help "understand searches better than ever before" by looking at the intent behind them.
Simply put, the search process will become more natural and search intent will become a huge ranking factor! 
Search engine rankings have never been more competitive than in 2020 – and to rank well, your business should be among the most relevant results for the search query.
To achieve that, you need to understand users' search intent and align your content with it.
In this article, we will look into custom intent audiences as a method of targeting users who use specific keywords related to the products and solutions your business offers.
We will also learn about:
Search intent and its benefits for your business

How to create a custom intent audience and why you should use them

What the four types of search intent are

How to optimize your content and pages for search intent
Let's begin!
What Is Search Intent?
Search intent is the end-goal of every search engine user. 
It is the reason behind each search query and it explains why the user made the search. They may wish to learn or purchase something or to go to a particular page.
Algorithms such as Google Hummingbird and RankBrain interpret users' search intent and show search results that meet them.
Search intent also describes keywords that potential customers are using at different stages of their user journey. 
What Is A Custom Intent Audience?
Custom intent audience is a Google product for more granular targeting of users that are researching topics and solutions using specific keywords and by visiting certain pages.
With this tool, marketers can reach users based on their most recent purchase intent.
Custom intent audience allows targeting of these users, who are in the market for various products and services you may be offering. 
With custom intent audiences, businesses can reach their ideal users and target audience through display and video campaigns. 
Marketers can separate these audience groups into different segments. The segmentation is made according to specific keywords and landing pages marketers wish to target.
Using custom intent audiences, marketers can go beyond the predefined audiences and define their own target users by entering keywords related to their products. They can use this tool to reach people as they are making purchase decisions.
Two types of custom intent audiences exist:
Generated automatically by Google's machine learning algorithms

Do-it-yourself audiences that marketers can create on their own by inputting keywords and pages related to their product.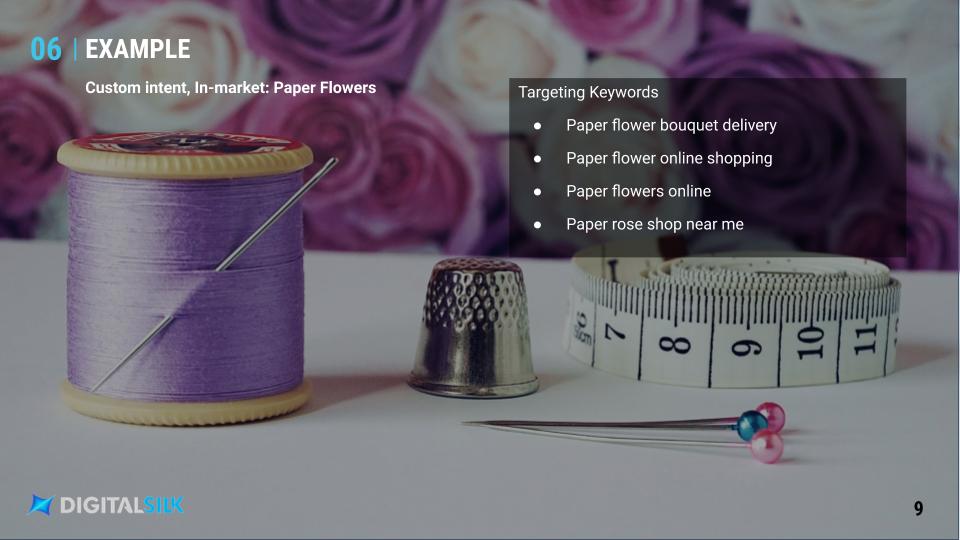 How To Create Custom Intent Audiences?
When creating custom intent audiences, you should consider these five search parameters:
In-market keywords

Main competitors

Search volume

Competitors' keywords

Competitors' pages
To create your business' custom intent audiences and make the most of this feature, follow this step-by-step process:
First, you need to sign in to your Google Ads account. 

After clicking on "Display Campaigns" from the navigation panel, select one of the active campaigns or create the new one and click "Audiences".

In the "Audiences" tab, select an ad group, followed by "Narrow targeting" under "Targeting".

Then, click the plus icon next to Audiences.

Next to "Targeted audiences", click the pencil icon and under the "Browse" tab, select "What they are actively researching or planning (in-market and custom intent)"

Next to "New custom intent audience", click the blue plus icon and create the name for you custom intent audience.




This is also where you should add keywords that this audience is researching and that is related to your products or services.

Finally, under "Audience size", you can check out the potential reach of your campaign, info about your targeted demographic and metrics such as conversion rates.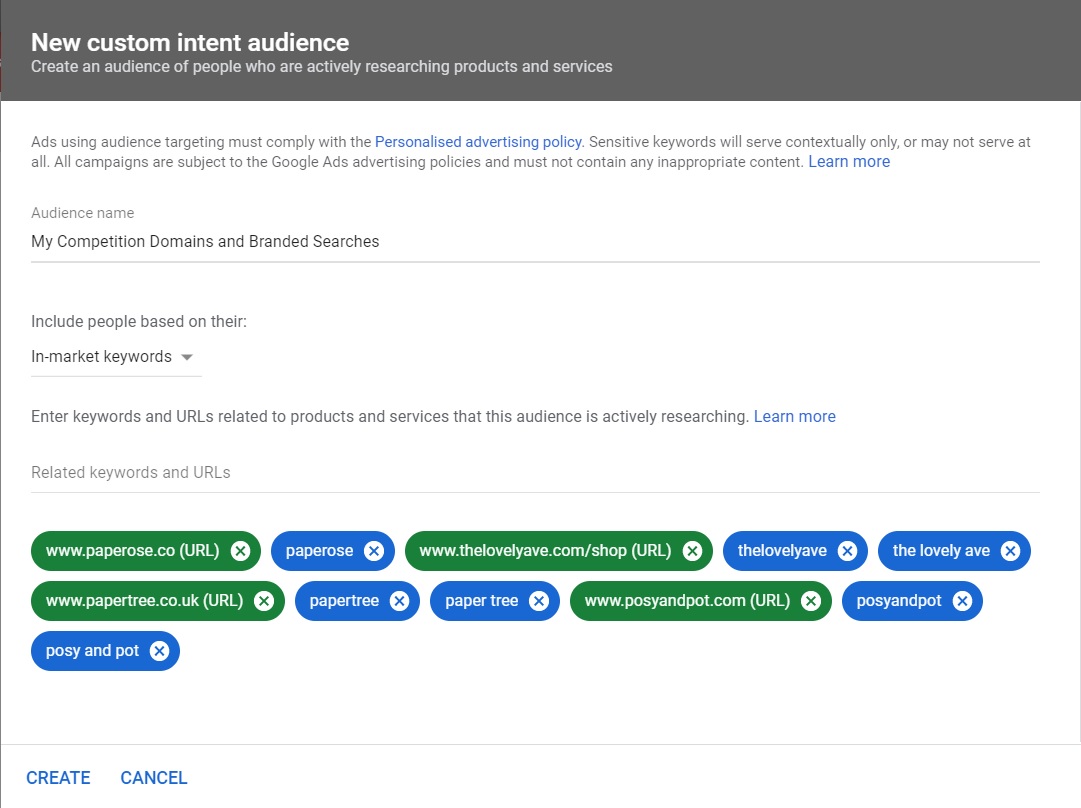 It is worth noting that, when you decide on your keywords and URLs to use, you should consider the keywords and websites your prospective customers are using to find related content.
Those using auto-generated audiences by Google can find out the key traits of their audience by hovering over the audience name. The info there will tell them:
What are the associated keywords from your account

What common keywords and URLs related to your products the audience is using

What this Google's predefined audience is based on
By allowing you to go outside the predefined audience categories, the custom intent audience makes it possible to introduce new prospects to your business.
These prospects should be interested in what you have to offer and when there is a higher chance of conversion, a higher ROI on paid searches becomes a reality.
Other reasons why your business should jump aboard custom intent audiences are:
You can market to your competitors' buyers

Your brand can become a thought leader in a certain topic

Custom intent audience targeting cuts down costs of less accurate ad campaigning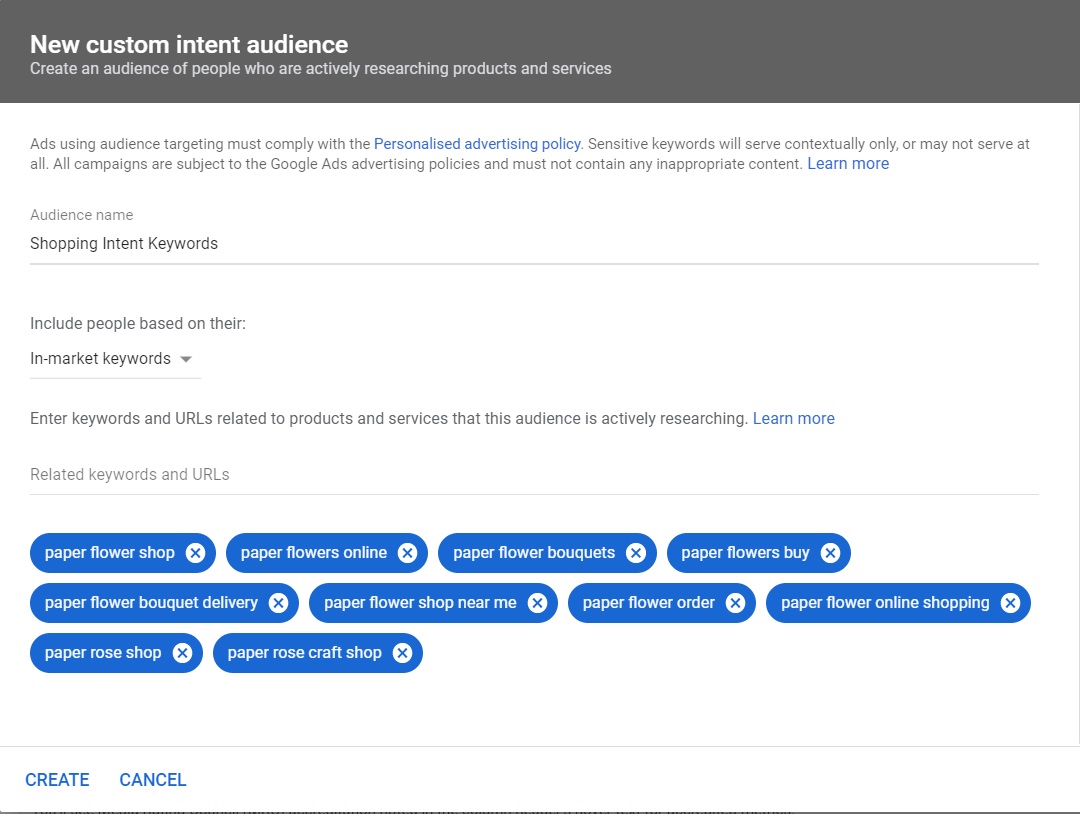 4 Types Of Search Intent And How These Should Inform Content Type
Each search intent can be categorized into one of the four types below, according to searcher's needs.
1. Informational
With this type of search query, users intend to find certain information.
The user wants to know something and needs an answer to a specific question. These queries have "how to" and "what is" as their most common types of questions, although they don't have to necessarily be formulated as questions.
They could be searching for answers to simple questions such as "What is the capital of Iceland?" to something that requires more in-depth answering. 
Here are some of the examples of informational searches:
How old is Michael Jordan?

How to tie a tie?

Directions to the airport

Communication crisis

Weather forecast
2. Navigational
With navigational search queries, the user is looking for a specific web page.
In other words, they already have an idea about where they want to go. Instead of typing the URL and go there directly, they use Google's search engine to find it. This may be because it's easier for them to do so or they don't know the right URL.
Navigational searches are usually dominated by branded keywords and can look like this:
Facebook

Ahrefs content explorer

Guide to custom intent audiences digitalsilk

Instagram login
3. Transactional
With transactional searches, the user's intent is to buy an item. They most likely already know what product they will purchase and are looking for an eShop to buy it from.
Transactional searches examples are:
Buy macbook pro retina

Nordstrom coupon

Lastpass premium price

Samsung galaxy s10
4. Commercial Investigation
Similarly to transactional searches, the user is actively looking for a product. However, the difference is, they are still estimating where to buy it and what solution would be the best for them.
During this search inquiry, the users are considering their options and are looking for reviews, testimonials and comparisons. 
Commercial investigation searches include queries that look like this: 
Best protein powder

Mailchimp vs convertkit

Ahrefs review

Top restaurants in London
How To Optimize For Each Type Of Search Intent
Understanding users' search intent provides a valuable insight into how you should optimize your content to meet their demands and wishes.

These are the basics of optimization for each search intent type:
Informational intent optimization:

To optimize for "what is" and "how to" search queries, use the full questions that users are asking in the content elements such as:

H1 and H2 tags

Page titles

Meta descriptions
The copy containing the answer should be right below the header that contains the question.

Navigational intent optimization:

With this type of search intent, the user is looking for specific web pages. Make sure you:

Have landing pages for your services and products the user might be searching for

Put product, services and brand names they are looking for in your headers, title tag and meta descriptions of those pages 

Transactional intent optimization:

For this type of search intent, you need to make it very clear to the user how they can convert and what the conversion means to them. The transactional landing page should contain:

A clean design with visuals expressing the value of your offer and as few words as possible

Eye-catching calls-to-action that stand out with their design

A copy that makes an emotional bond, simplifies the buying decision and builds trust with the user

Commercial intent optimization:

With these searches, users are looking to make a well-informed decision before making a purchase, compare the products and read reviews. They may also be looking for the most affordable solutions or products.

Display user testimonials and reviews on your page

Create a comparison chart between similar products and their elements for quicker decision making
Bonus Tips For Optimizing For Custom Search Intent Audiences
After mastering the above basic steps in optimizing for search intent, consider using these more advanced techniques to add finesse and substance to your optimization.  
1. Look At Search Results And Top-Ranking Pages For Search Intent Clues
The most effective way to optimize your content for custom search intent audiences is to analyze and learn from the top-ranking pages and SERPs.
This analysis helps with understanding users' wishes and what they want to find. It also informs your content and tells you what it should be about.
Analyze the "People also ask" section:

This Google search results section shows questions that users frequently ask and that you can provide answers for in your content. These questions are a direct insight into what the users are interested in and even how they formulate their questions. This is especially useful for informational intent queries.

Visit the pages that rank best:

Getting to know the pages that users most frequently visit is the best way to understand their search intent and know what kind of content they want. 
2. Check The Ranking History Of A Target Keyword
When you research keywords for the topic users search for, you need to consider its ranking history and not just the present ranking.
This is because relying solely on the current ranking is judging it on small timeframe. This keyword ranking may change and fluctuate in the future. You need to know how it behaved in the past to know how it will behave in the future.
Should you analyze top-ranking keywords a couple of months later, you would be surprised with the change in results. This change would alter your perception of keyword's worth for user search intent.
You can check the ranking history of the target keyword using tools like Ahrefs Keyword Explorer and determine whether
There are no ranking fluctuations:

This shows that top-ranking keywords and pages have always been ranking good and that they are a good indicator of continuous search intent.

There are fluctuations of some pages:

Some of the top-ranking pages are a good indicator of search intent. The keywords they contain could be good to target, but your content has to align with the main intent behind them.

There are a lot of ranking fluctuations:

This indicates that the search intent for these pages and keywords is always changing or that Google cannot fully understand the search intent. Avoid targeting these keywords because search intent for them is not clear.
3. Align Your Content's Type, Format And Angle With Best-Performing Content
Once you've located a keyword with a clear search intent, you should analyze the search results for 
Content type:

The kind of content in the search results that performs well, which can be

Blog posts

Landing page

Product page

Category page
You should look for the most prominent type of content in the search results and align your own content with it. If the blog posts are the most frequent type of content, then create blog posts; if it's landing pages, go for a landing page.

Content format:

The layout of the top-ranking pages, such as:

List posts

Tutorials

Hot-to guides

Reviews

Comparisons
Similar to the content type suggestion, follow the successful crowd when it comes to creating content. Identify the content format that constitutes the majority of results and align your content's format with that.

Content angle:

The unique approach to the article and its selling point. It provides insight into what users value when making this particular search. Again, align your own content with the most frequent content angle because that indicates what the audience wants.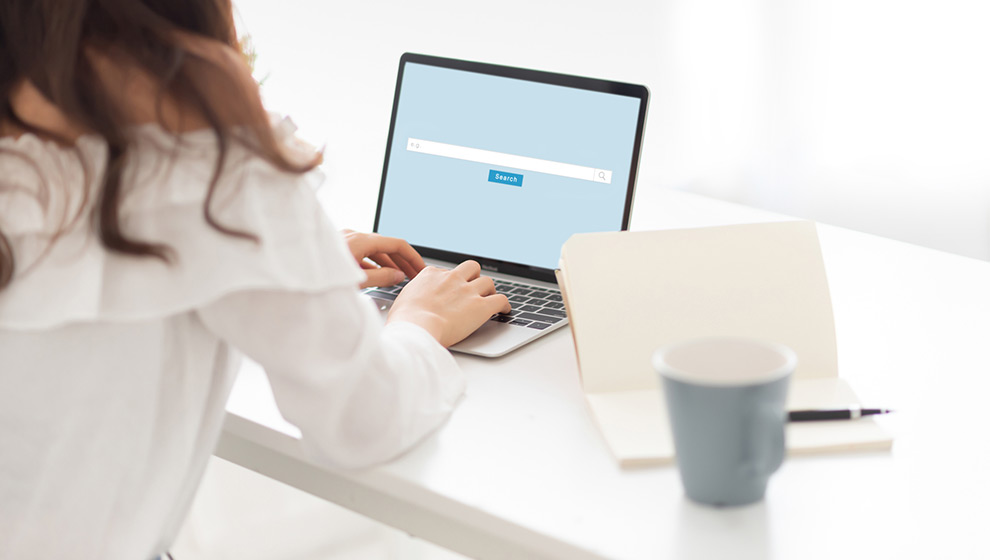 How Highly Targeted Content And Ads Improve ROI
The right use of custom intent audiences can make your business a thought leader in your specific industry.
Even with the best search engine optimization practices, websites need to wait for months in order to rank on the first page of search results.
Responsive digital display ads that use custom intent audiences can reach the same result much faster and with a higher ROI!
By using the URLs of the websites that are on the first page of Google, your business can reach the same users in a very cost-effective way through custom intent display campaigns. This will send the same users to your article and build a retargeting list to use later in other marketing channels.
What Are The Other Benefits Of Intent Optimization?
Semantic SEO can deliver search results to users that are of higher relevance to them, thanks to search intent.
How qualified and relevant the traffic that comes to your website will be, depends on the quality of intent optimization.
A better search intent optimization means improved conversion rates for transactional landing pages. Other pages, especially those catering to informational intent searches, will benefit from this, with:
More page views:

User whose intent you have met is likely to keep browsing and engaging with your website.

Reduced bounce rates:

When a searcher finds what they looked for, they tend to stay on the page.

Reach of a more relevant audience:  By analyzing search intent and aligning your content and pages according to it, you can attract the valuable audience that is interested in what you offer and, therefore, of higher relevance to your business.
These perks itself can guide you to the generation of more qualified traffic and leads for your business and much bigger engagement with your website.
Takeaways On Search Intent And Custom Intent Audiences
Search intent will be the next big thing in SEO and a major ranking factor, while custom intent audiences are the most efficient way of targeting users based on their intent to find products and services that you can provide.
When optimizing for search intent and creating custom intent audiences, it is important to know that:
There are informational, transactional, navigational and commercial search intent types

Using custom intent audiences, you can 

Market your services to your competitors' buyers

Make your brand a thought leader

Reduce advertising costs

To master the optimization for search intent, you should 

Look at and learn from top search results

Check the ranking history of a target keyword and popular pages

Align you content's type, format and angle with best-performing pages

Intent optimization's main benefits are:

Higher conversion rates and increased ROI

More page views

Reduced bounce rates

Attracting relevant audience
Ready to target your custom intent audiences?
Let's talk