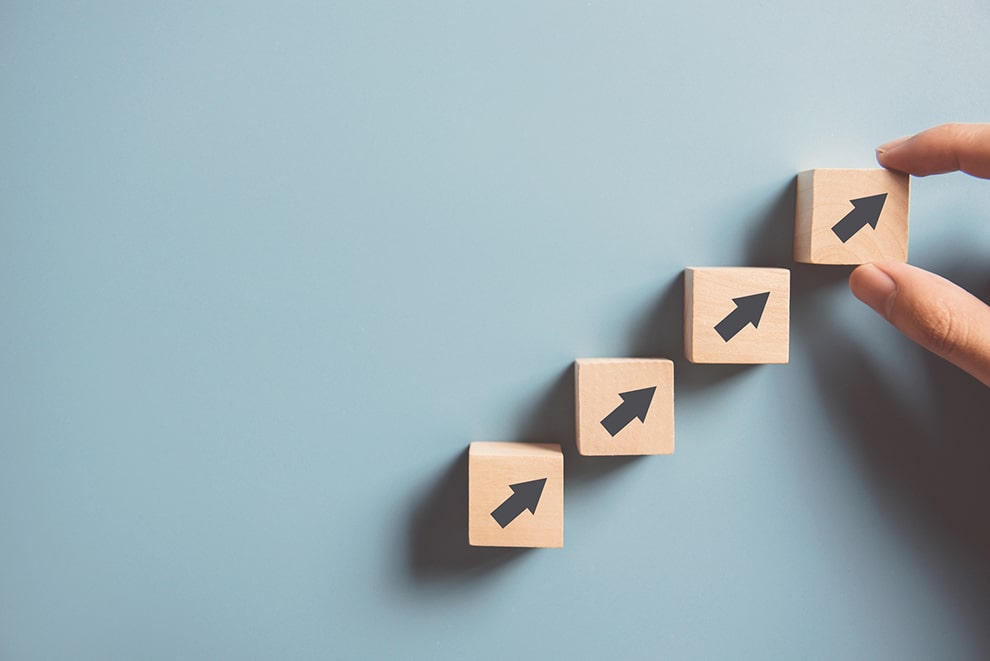 It is nearly impossible to define the exact stages of business growth.
Some experts recognize four stages of business growth, others five; Some equate the birth of a startup with the birth of a business idea, others do not acknowledge the period before seed funding and an initial customer base.
So why is there no clear-cut definition of the stages of business growth?
Because businesses are unique, living entities.
They have unique origins, leaders and structures, visions and evolutionary paths.
However, much like any other living entity, each business is likely to go through some common stages of growth.
In this post, we'll:
Comment on the different perspectives on a typical business evolution process
Go through the most common stages of business growth
Highlight the key areas to focus on in each stage
Stages Of Business Growth vs. Business Life Cycle: Which Perspective Applies Better In Your Case?
You'll find that the terms 'stages of business growth' and 'business life cycle' are either used interchangeably or the 'growth' part is embedded in the stages of a 'life cycle'.
But if you comb through the discussions around these in the business community, you'll notice that they almost represent two 'schools of thought', or perspectives rather, on the evolutionary path of an average business.
Entrepreneurs and SME owners who strive to build a legacy as opposed to a sellable asset, tend to perceive their brand through the growth perspective. They look for strategies that will keep their brand relevant in the long-term.
Serial entrepreneurs, on the other hand, tend to perceive entrepreneurial ventures through the cyclical, i.e. the life cycle perspective. Their goal is to grow a brand and sell it at its peak to maximize profits.
In this post, we look at the first approach to business growth.
4 Stages Of Business Growth
The growth -or the progressive- perspective focuses on the stages that take a newly founded brand from the startup phase to a large enterprise where the business becomes a household name.
Looking at your business through this lens, the four stages of growth would be:
1. Startup Stage
The startup stage, in this case, would begin with a minimum viable product (MVP).
You've created a product or started an agency that is unique, i.e. uniquely answers your target market's needs.
You've invested your money, energy and time into it, and have a clear vision where you want your brand to be in five or ten years.
At this point, you have a very small core team of multitalented individuals whose responsibilities are not strictly limited to their roles. Your business is new and needs as much fuel as you and your team can provide.
The money is tight, and you are still not making any profit.
What to focus on in this stage:
Recruit the best talent possible: These are the people who will define your corporate culture and build the foundation of your brand. You need a staff that is ready to roll up their sleeves and that has enough passion to power you through this, arguably, the most difficult stage of growth.
Establish processes and follow them with discipline: Pretty soon, your team will start growing, hopefully doubling or tripping in size. Your organization will need a more elaborate structure to sustain this growth and the only way to keep everyone and everything on the same path is to establish clear processes from the get-go. Your processes will evolve and you need to ensure that your teams receive the proper and timely training with each change, and you need to ensure your management follows through the adoption of each process.
Focus on the early adopters:  Rather than spread your marketing resources thin across multiple target groups, identify the customers you can convert into advocates and invest in them. 83% of your customers trust recommendations of the people they know. Focusing on acquiring and nurturing your first few customers is an effective way of growing your customer base.
Focus on customer service: Speaking of loyalty and advocacy, 69% of US consumers find their experience of your customer service crucial for their loyalty to your brand. Invest your time and resources in grooming your relationships with your initial customer base.
2. Growth Or Scale-up Stage
By this point, you've already grown your customer base and started entering the green zone profit-wise.
Your team has grown significantly. It has structure and established processes.
You are getting some attention within your industry and there is some indication of growing brand awareness.
Whether you have won funds or rely on profits alone, this stage is all about reinvesting in sharpening your competitive edge and growing your brand.
What to focus on:
Recruit top-class executives: Get at least one or two seasoned C-level executives with a proven track record of growing new businesses, preferably those in your lane. Relying on their experience and insight will save you some trial-and-error and help you fast-track your go-to-market process. These leaders will also help you enhance your offering, sharpen your unique value proposition (UVP) and optimize marketing efforts.
Define the roles and hire experts: By now, your existing team should have clear sets of roles and responsibilities to maximize the quality of their input. Your recruitment efforts should follow this trend; Define specific roles and find the experts who are qualified to perform them.
Outsource the non-core activities: To ensure every aspect of your business receives the best quality treatment while keeping you agile and focused, outsource the non-revenue generating activities. Whether it is digital marketing or accounting, employ the services of specialists rather than dilute your focus and funds on in-house experts.
Invest in branding and marketing: Speaking of digital marketing, the final step to getting ahead of your competition and growing your customer base is to make a trusted name out of your business. Focus on growing brand awareness and retention by investing wisely in different strategies, channels and campaigns. Research and let relevant data guide you in the process.
3. Expansion Stage
Now you are running a profitable organization.
You have a strong leadership team and an elaborate organizational structure.
Your brand is known both within your industry and your target market(s).
With your position solidified, it is time to expand your market share.
What to focus on:
Though established, treat your business as vulnerable: With revenues growing rapidly, many entrepreneurs get overconfident and focused on expansion alone, losing their organization and product (or services) out of sight. To maintain stability, keep your attention equally distributed between your organization, product/service portfolio and growing your customer base.
Find new opportunities for revenue growth: The most popular ways of diversifying and growing revenue sources are 1) evolving the business model to offer more accessible options, 2) introducing your brand to new markets whether locally or abroad, 3) introducing add-ons and/or versions of your offering that cater to new markets, and 4) growing brand equity to capitalize on prestige or relevance to new markets.
4. Maturity Or Enterprise Stage
The final stage of the business growth process is the maturity stage.
This is where businesses have created their household brands, build a self-sustaining organization and maximized their market share.
While there is a sense of security that comes with being established in your niche, most medium to large organizations share the following pain points:
They become less agile
They are less enthusiastic about innovation
As a result of the previous two, it becomes more challenging to keep up with the fast-changing trends
What to focus on:
Evolve the organizational structure to promote innovation: Successful large enterprises build divisions dedicated to innovation and incubation of new ideas within the family of their business. This approach provides a constant influx of fresh perspectives necessary to keep the brand relevant in the fast-changing markets.
Intrapreneurship: Hire entrepreneurs capable of running the innovation centers within your organization.
Invest in internal and recruitment branding: Positioning your organization as a great place to work will help you attract and retain the best talent on the market.
Focus on building customer loyalty: Approximately 65% of a company's business comes from existing customers. And, a more interesting trend to note is that a 5% increase in customer retention can increase profitability by as much as 75%. Loyal customers can not only provide a source of sustainable income, it costs less to retain them than to attract new ones, and a small increase in their loyalty can boost your profits significantly.
Main Takeaways On The 4 Stages Of Business Growth
The first bit to highlight is to perceive these stages as generic representations of a business' evolution.
With that in mind, do not get discouraged if your organization has deviated from this path.
The truth is: Most journeys zigzag and the path to success is more of a labyrinth than a highway.
You can, however, learn from this oversimplified model of growth.
If you are a serial entrepreneur or an aspiring one, these stages will help you groom an attractive brand. But, you may want to focus on the business life cycle approach more. We'll write more on this topic later.
Focusing on business growth alone, the key takeaways across all stages would be:
Build a strong core team
Earn customer loyalty
Never lose your offering or teams out of sight, no matter how successful your brand gets
Outsource non-core activities
Maintain agility across all stages
Foster the spirit of innovation
And of course, it almost goes without saying that your product or service portfolio should offer unique value to your customers and evolve as their needs do.
Looking to grow your business into a household name?
Let's talk