By 2023 businesses will spend 146 billion on digital marketing.
With 4.3 billion people using the internet worldwide, digital marketing is the most cost-effective method of reaching and engaging new markets.
In this article, we will look at the five successful young tech brands and the digital marketing strategies they've used to gain more customers. We will look into:
What channels and content they are using
How they create experiences that boost brand awareness
What lessons their success teaches us
Without further ado, let's dive right into it!
How Buzz-Making Tech Brands Use Digital Marketing To Get More Customers
Did you know that blogging can positively affect the SEO of your tech brand? Here is how:
These five tech brands are all the rage: they are young, inventive and already quite successful. And they owe their success, in great part, to smart digital marketing tactics.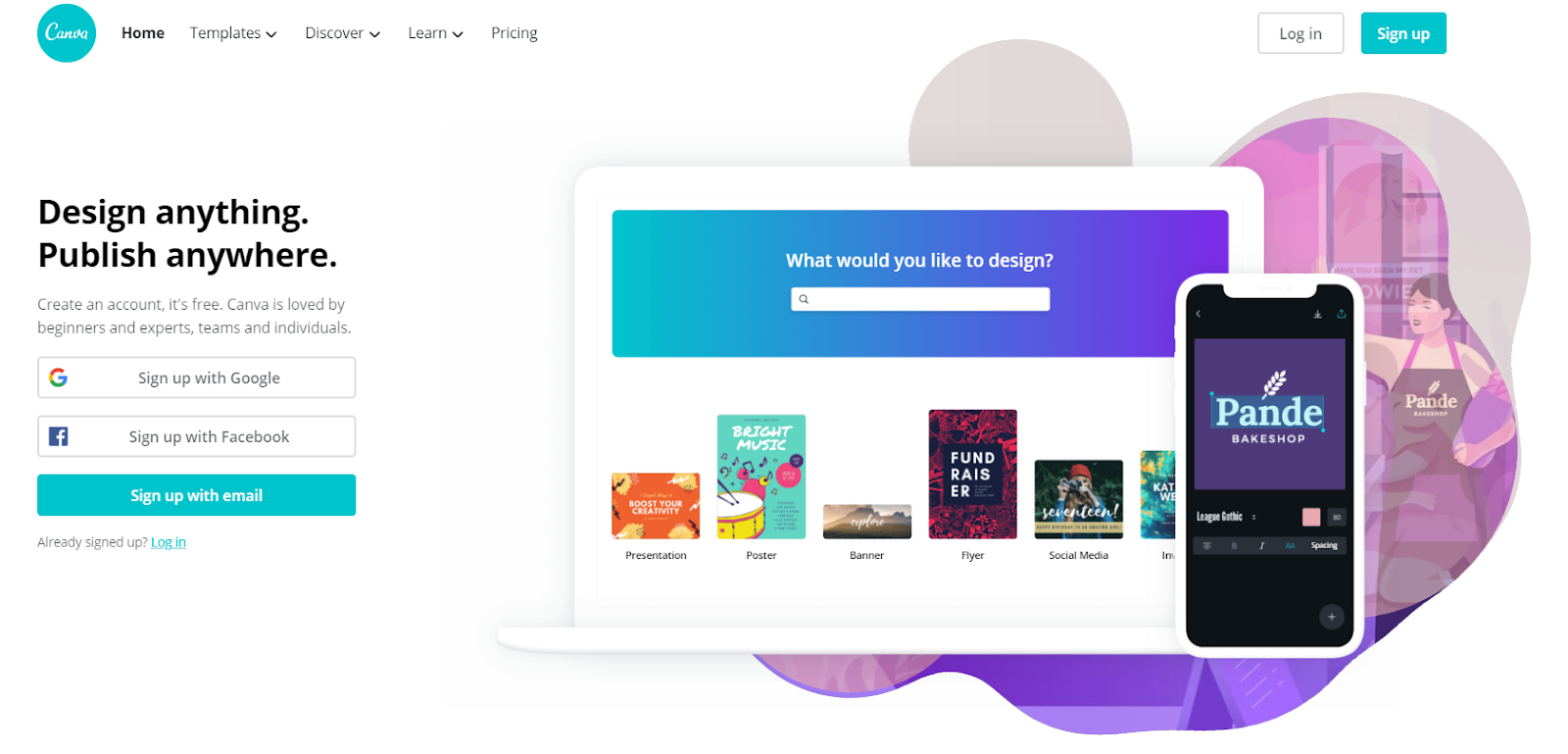 1. Canva Uses Social Media Marketing To Connect, Not Sell
Who they are: Sydney-headquartered Canva is an online graphic design platform for creation of visual content such as social media design and presentations. Its library contains thousands of preset templates, fonts and images and is simple enough even for the least tech-savvy users.
Canva revolves around intuitive controls and drag-and-drop features. Adding, removing, and editing elements is a remarkably easy process fit for masses. In 2019, Canva had over 20 million users in 190 countries.
In 2014, shortly after its foundation, the company hired technology and social media guru Guy Kawasaki as their chief evangelist and brand ambassador.
In January 2020, the company's philosophy of simplicity and making design understandable to everyday users took to another level with the release of privacy policy written in common language besides Legal English. This is the gist and general idea of this company's approach in digital marketing.
What they do: Canva's strong selling point is that great design can and should be more accessible.
Bringing simplicity to the design process, the platform is particularly handy for entrepreneurs and small businesses that look to improve their visual standards on social media and other online channels.
On their social media, Canva's tone of voice is very friendly, intimate and caring. They reply to their followers with personalized messages that are supportive and engaging.
Their posts aren't strictly oriented to the product but are tied to events and occasions that people everywhere find significant and interesting.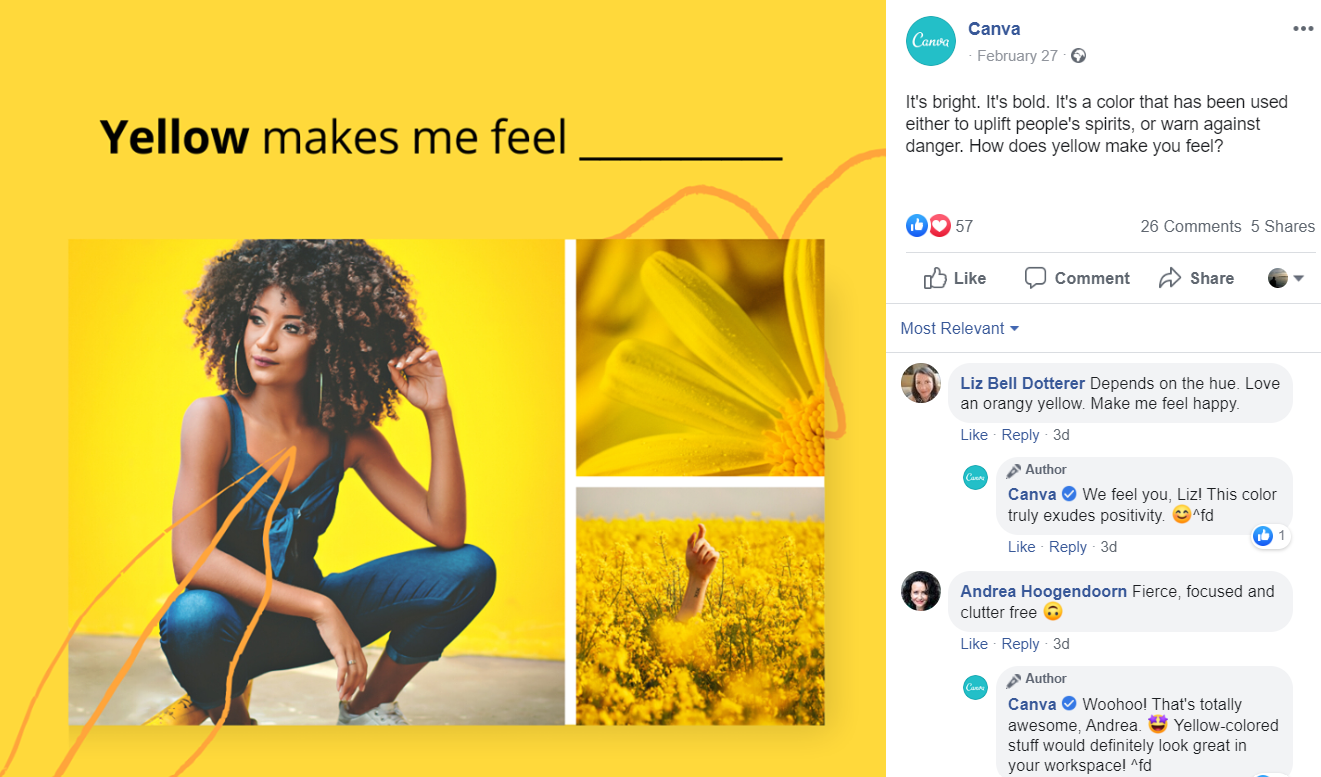 Since its inception in 2012, Canva won multiple accolades and has quickly established itself as an authority in the field of online graphic design.
They use this reputation to share their design and digital marketing expertise on a blog page with plenty of learning resources.
Their content marketing consists of blog articles on design, marketing, photography and branding. They provide even more value through tutorials, courses and events in their Design School section.
Canva's in-house writers, marketers and managers and outside experts partake in creating content that provides useful guidelines for businesses that go beyond visuals for visuals sake.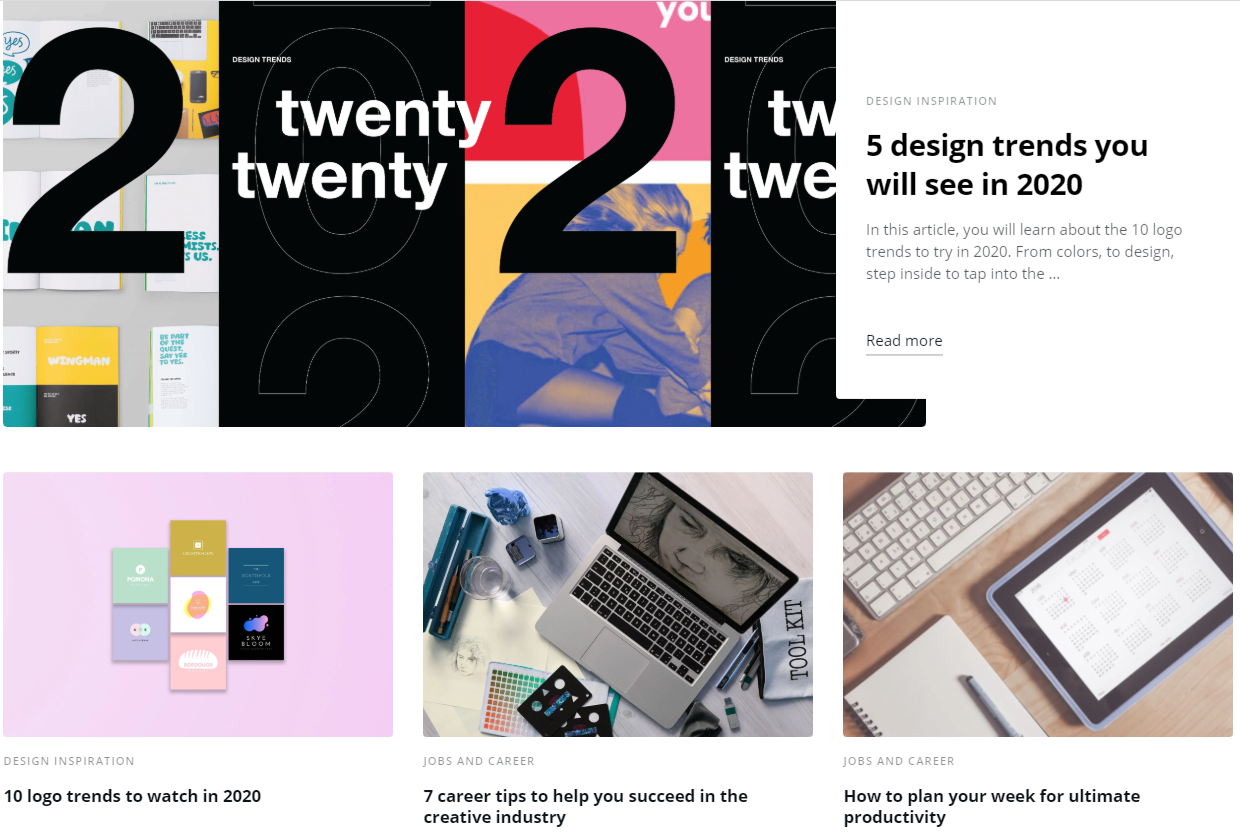 They often publish stories that improve companies' paid ads campaigns and teach the finer points of promoting creations on social media.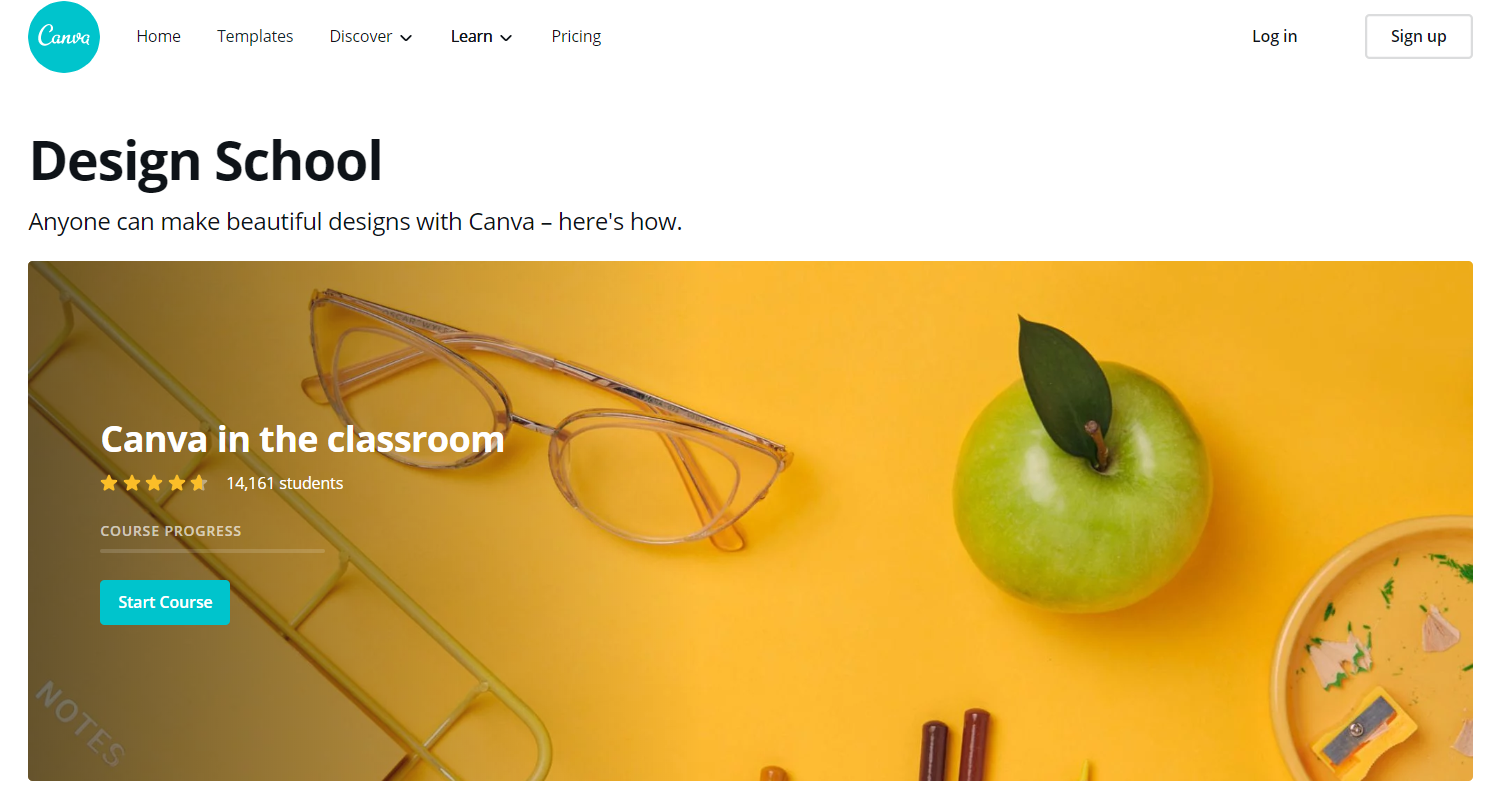 The lesson: Canva is a great example of the importance of personalized communication to engage with customers and to gain insight from them at the same time. Their transparency and multi-dimensional approach don't limit them to advertising their products and features – they advocate values and philosophy of simple and direct user experience.
Canva's digital marketing strength lies in their willingness to share and create knowledge with the public and to emphasize the importance of mass usability of a product. The key takeaways from their strategy would be:
Highly focused influencer strategy
Value-driven blog with native product placement
Value-driven and engaging social media strategy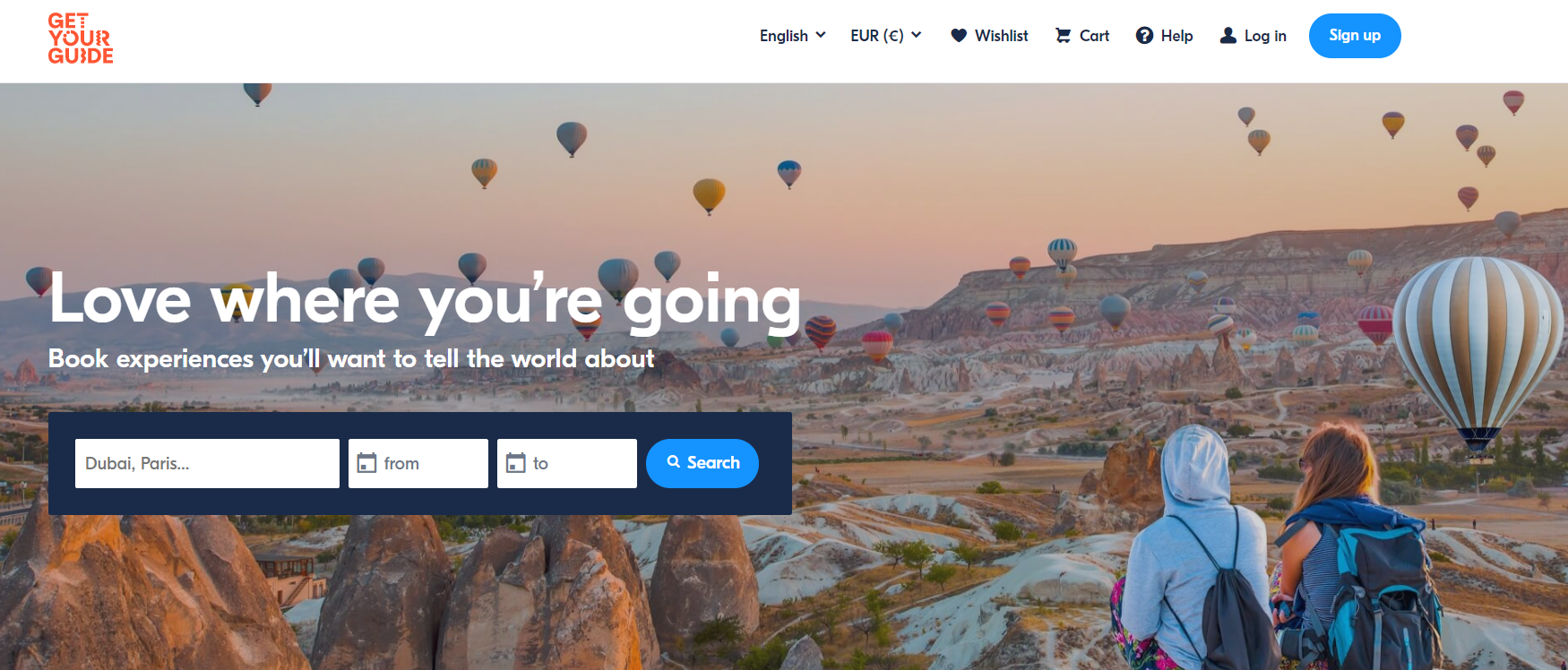 2. GetYourGuide Combines Blogging With Social Media To Inspire
Who they are: Award-winning bookings and travel platform founded in Berlin. GetYourGuide was named one of the world's most innovative companies on more than one occasion.
They connect their user base with immersive food and beverage tours, skip-the-line tickets for attractions, craft classes, niche offerings and other immersive experiences.
Currently, their network spans over 55,000 things to do in over 150 countries in the world.
Users have booked over 40 million tours so far using this online and app-based platform. The brand's team consists of over 600 travel and technology experts in over 15 countries around the world.
What they do: GetYourGuide's most prominent customer type is the travel-savvy "city tripper" that consumes a mix of blog, social media and traditional press.
Most of their customers come to them via Google or airline partnerships, which defines the company's digital marketing strategy.
Through their partnering with global tour suppliers and operators, GetYourGuide bases its marketing on their:
Customer reviews for trust and confidence
Availability and accessibility of last-minute tickets for attractions
Local prices guarantee
Currency flexibility
24/7 multilingual customer service
This brand is experiential and relies on storytelling. The most prominent part of their website is their massive blog section. The company invests heavily into their content marketing efforts.

Their blog posts and their own Magazine submissions are written by in-house experts and guest travel authorities. The subject matters range from travel over daily living to business and marketing advice from the company's own managers.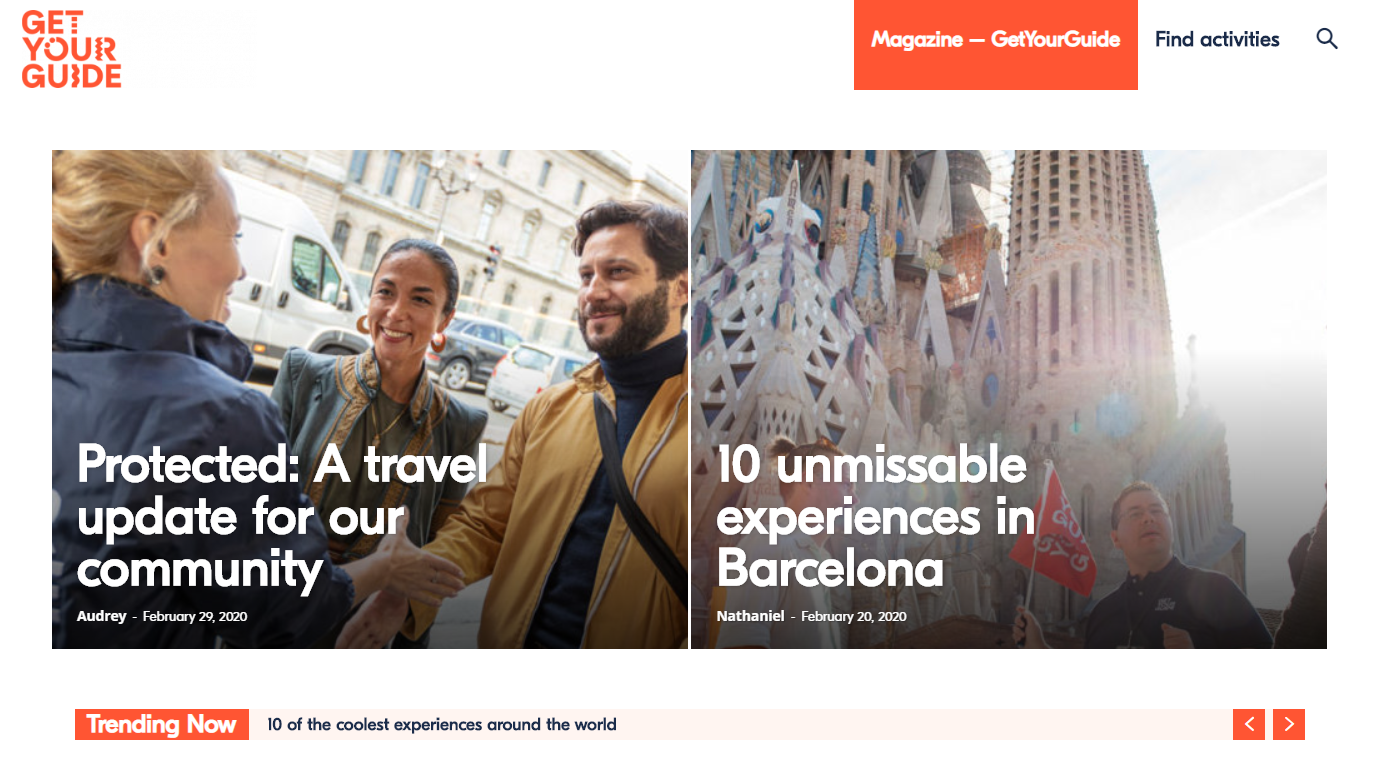 The brand continues its visual consistency on social media through the simple use of a distinct logo as their profile picture on Facebook, Instagram and LinkedIn pages.
The Facebook page features a cover video with main takeaways of what the company stands for and a striking summary of their offers.

GetYourGuide teams up with tourism influencers for their personal stories and experiences that differ from travel standards. These are posted on the company's website and Instagram page, because this social network is more lifestyle-oriented.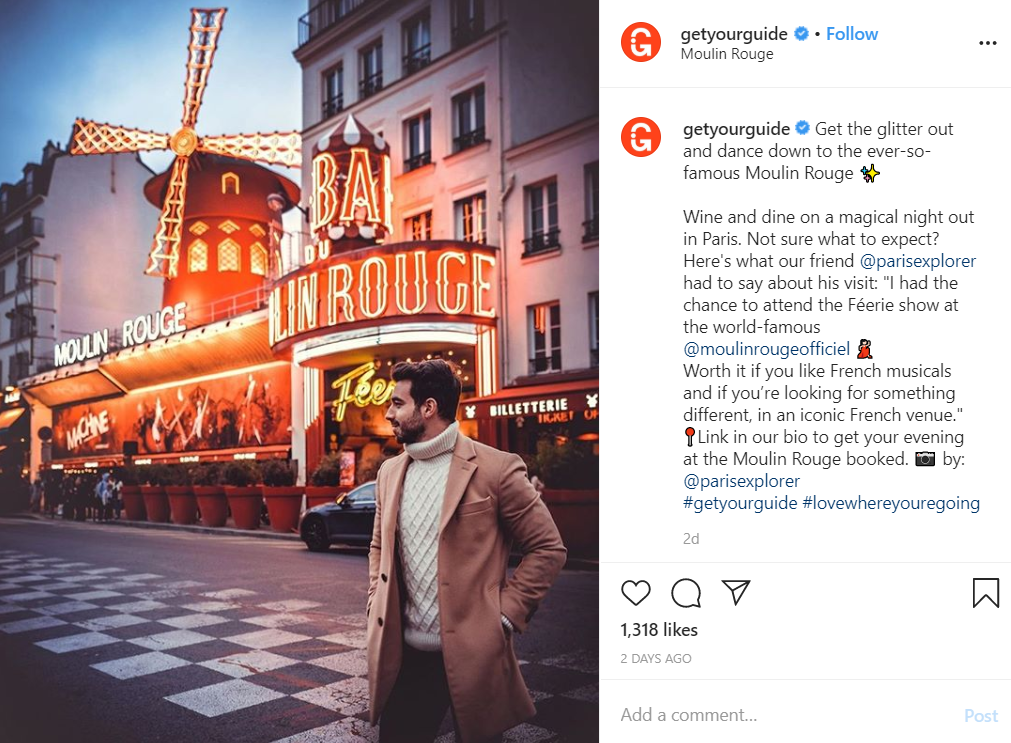 Understanding the importance of diverse and quality blog content, the firm discusses not only travel opportunities, but also tips, skills and advice for the betterment of their readers' daily lives at work. This type of business content is usually reserved for their LinkedIn page.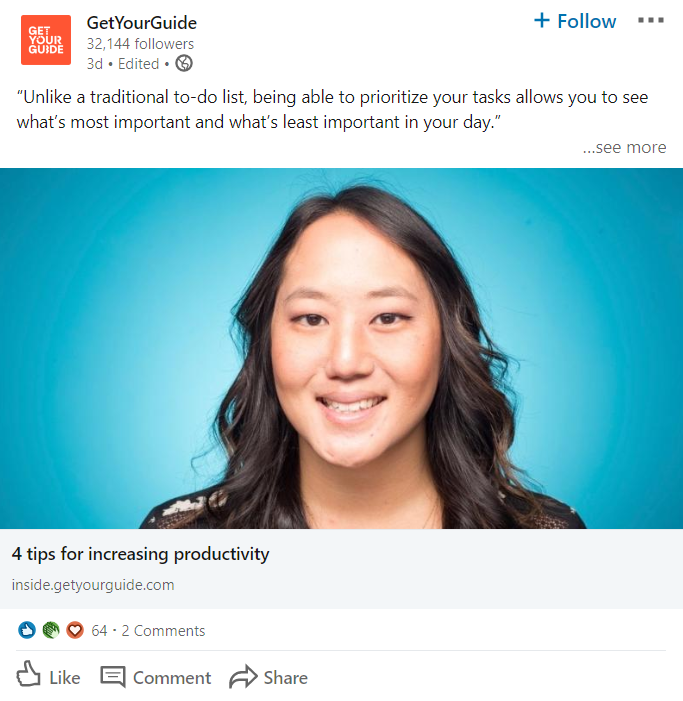 GetYourGuide lists stepping outside the comfort zone, being customer-obsessed, focusing on solutions and taking initiative as their core values.
The last one is reflected in their e-mail marketing campaigns which invite visitors to sign up for regular updates on extraordinary travel experiences.

The lesson: The key digital marketing lessons GetYourGuide provides are those of
Communicating openly about your business
Setting the right tone for every segment of the audience.
Communicating diverse topics across different channels whilst maintaining voice consistency and brand integrity.
They are also quite prominently featured in media which follows their achievements and they encourage their staff to share business advice and success stories.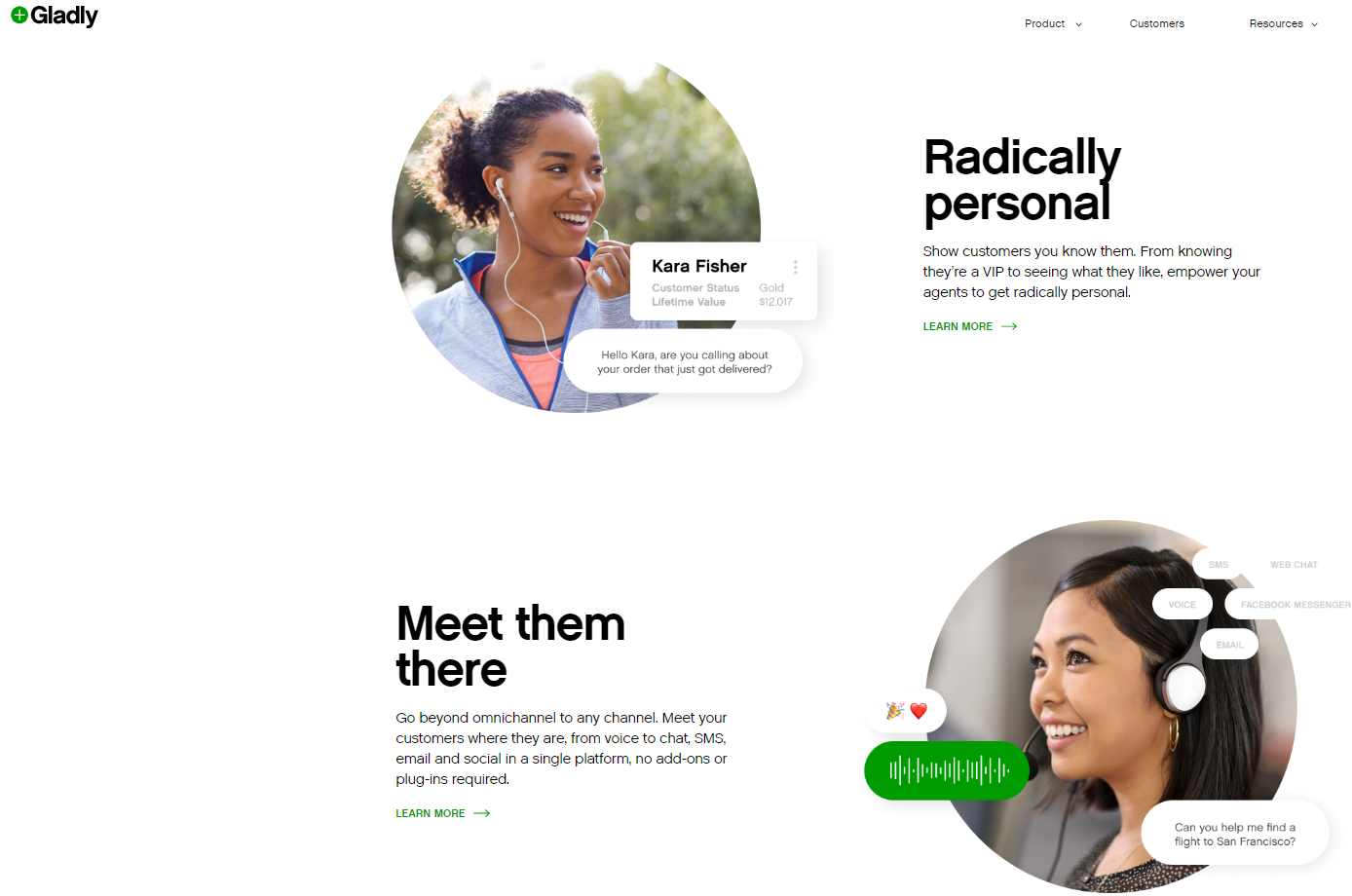 3. Gladly Builds Credibility With Video Marketing & Resources
Who they are: San Francisco-based Gladly is a platform that helps businesses in various industries to provide highly personalized customer experience.
It's a solution that connects businesses with their clients, from retail to tech, finance and hospitality.
Gladly enables seamless communication across all channels and puts the person – not a support case number – into the center of customer experience.
Gladly's support agents have all the available information about their client's case given to them in advance, making their service highly efficient and quick.
What they do: From the get-go, on their site's home page, Gladly voices their main brand message: putting the people at the center.
The company provides its own case study and a product demo video to everyone that sign up.
This digital marketing strategy fosters trust and boosts brand integrity by transparently showing the whole array of product's functions.

The case study continues throughout the website by pointing out social proof and testimonials of their clients' satisfaction.
Gladly also emphasizes its key trait: meeting customers everywhere – on social media, email, chat, voice search and in-app chat – for convenient user experience.
Using the contribution of leaders in various industries that deal with customer service is one of the surest ways to enhance content marketing's credibility.
Gladly relies heavily on this, through a rich Resources page packed with podcasts, webinars, demos, reports, guides and blog insights.
Global podcast listeners, in particular, have tripled over the past decade, making the use of this a very smart move.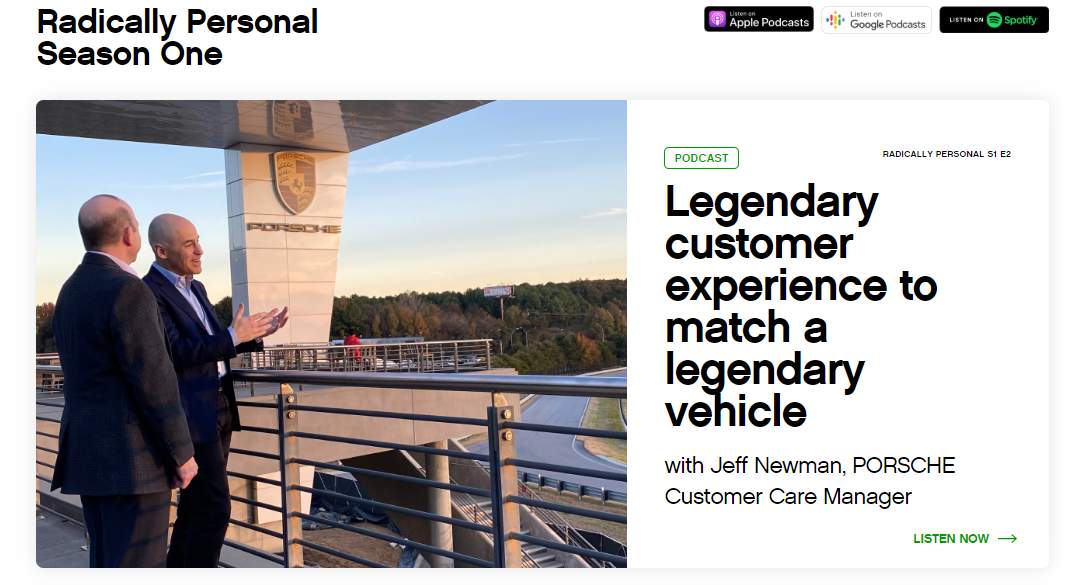 To help their B2B buyers speed up the decision making and purchasing process, , Gladly invests a lot of time and resources in its Press section.
Partner testimonials, PRs on closed deals, fundraisers and case studies by the likes of Yahoo Finance and Harvard Business Review communicate the reputation and importance of this brand.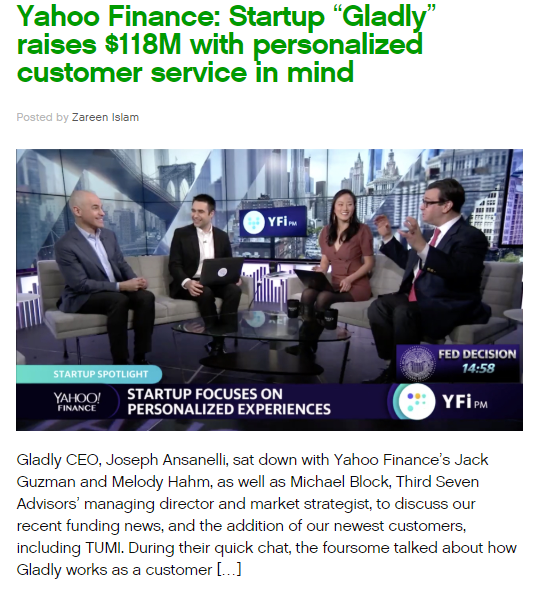 On social media, Gladly is primarily LinkedIn and Twitter-oriented, showcasing two different approaches in messaging; The former uses professional and corporate:

While the latter (Twitter) is more relatable and laid back: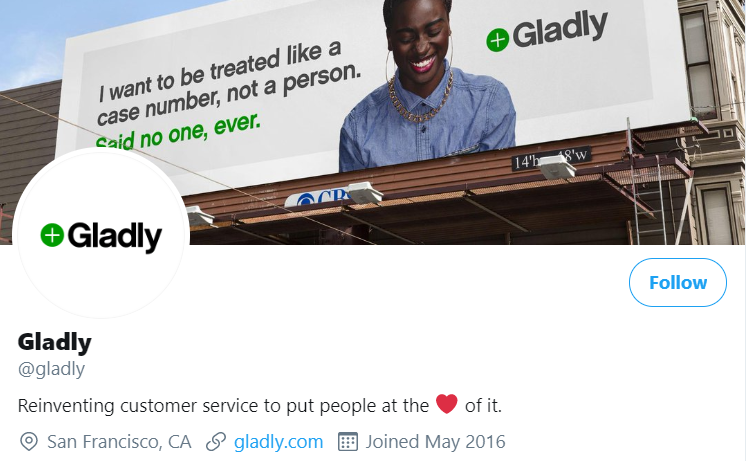 Although the company has a Facebook page as well, the link to it does not exist on their website, signifying that Facebook audience is not their primary demographics.
This is an example that companies do not need to invest their energy into all available channels, but rather pick one or two to focus on.
The lesson: Gladly is a platform that builds customer relationships that last. The B2B nature of this omni-channel tool directs the brand's digital marketing tactics:
They provide a lot of evidence of their product's value through their content.
They work with expert contributors to build authority.
They use podcasts to get to their audiences while the channel noise is still low.
They use demo videos to educate and inspire confidence in their products.
Their business-to-business orientation makes them focus on LinkedIn.
They keep their brand voice highly practical and focused on solving prospects' pain points.
This serves as a lesson for similar businesses to follow: create a digital marketing strategy centered on solutions to problems – not your product's features.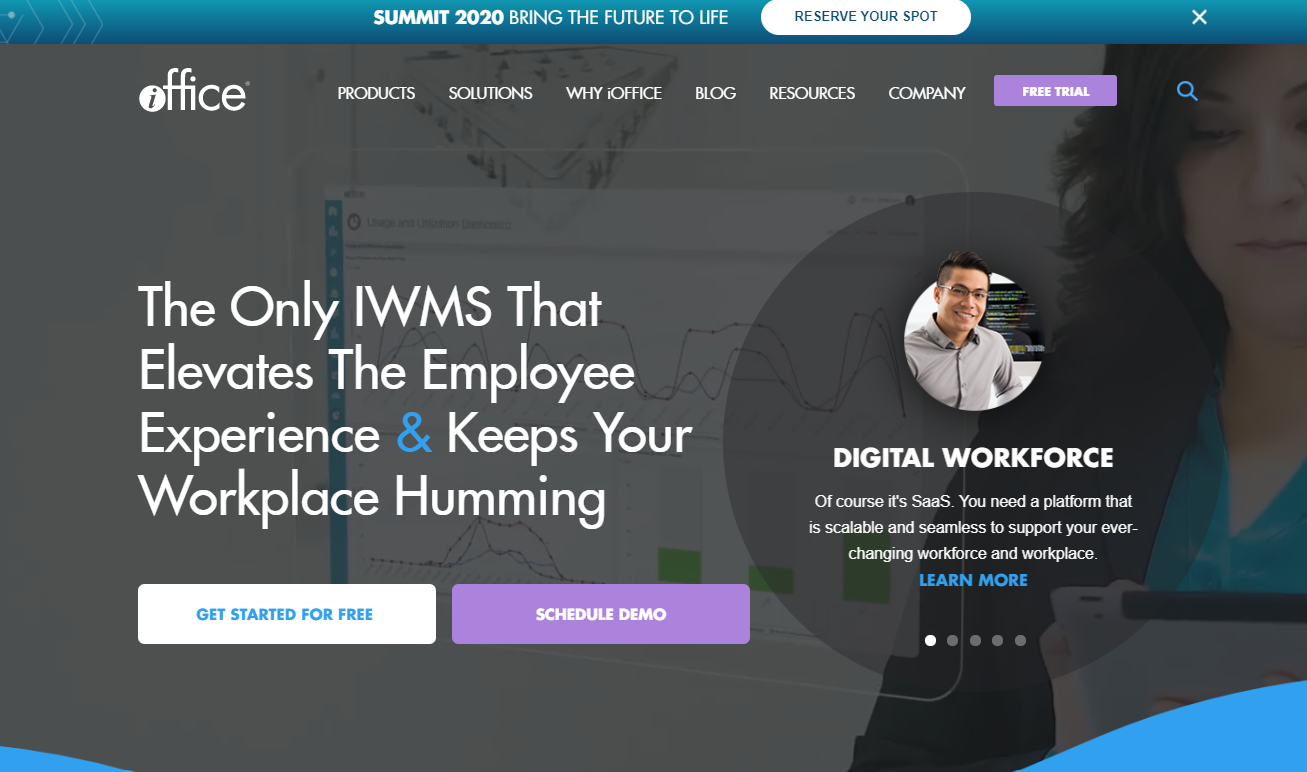 4. iOffice Website Is A Powerful Marketing Tool
Who they are: Houston's iOFFICE produces complex, highly-customizable products and applications to B2B partners. Their solutions include space management tools, visitor tracking, desk reservations and conference apps, among many other types.
The company's products are scalable and made to grow with the business, offering feedback from millions of users across the globe. The software is fully connectable with other systems through its robust API, for a higher level of data integrity for more precise planning.
The key trait of iOFFICE is agility, extreme ease of use and configurability – their digital marketing's backbone and main points.
What they do: iOFFICE's digital marketing begins with its visually engaging website.
With plenty of content and information to convince the prospective B2B buyers of the product's value, the interactive home page leads the visitor to keep scrolling and learn more.
Screenshots, sliding menus and striking calls-to-action to watch the demo of the product in action serve to educate the prospective buyer.
This content marketing strategy, packed with social proof, conveys the feeling of trust and reliability.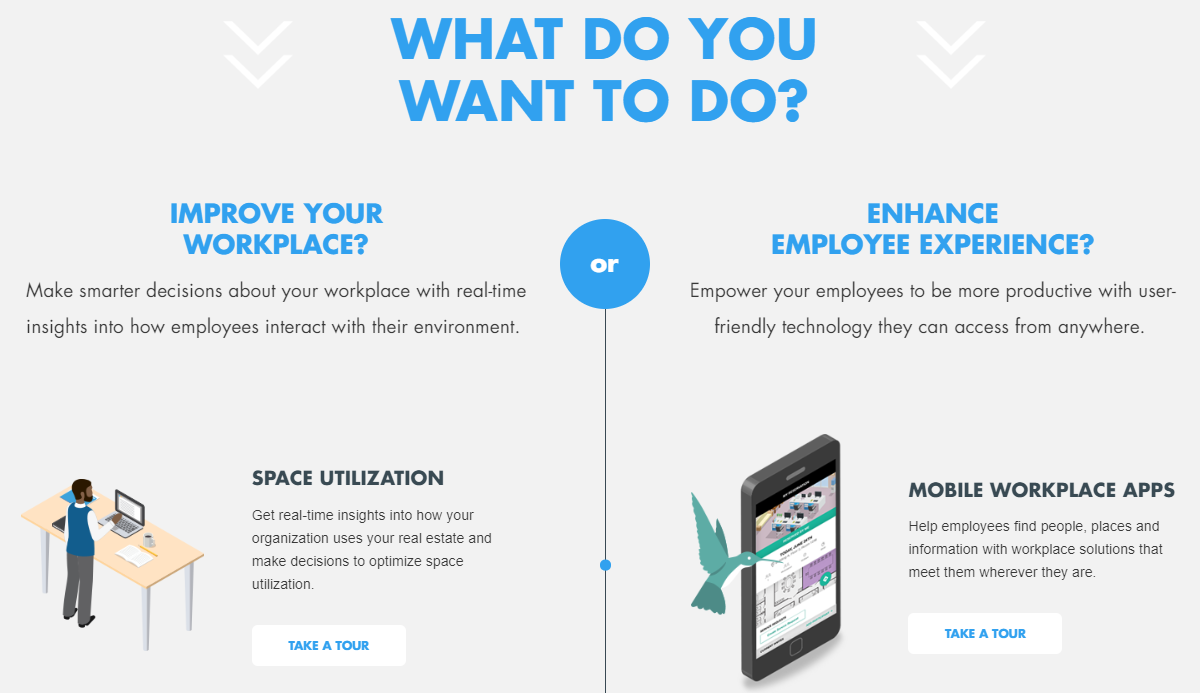 The company does not neglect e-mail marketing and invites visitors to leave their email address in exchange for blog updates.
The complexity of this product makes it imperative for the company to provide in-depth analysis and a lot of documentation describing its features.
This is valuable for B2B marketers who are looking for as much evidence as possible that iOFFICE can alleviate their pain points and solve their problems.
To convince prospects that they, and not their competitors, are the right choice, iOFFICE uses ebooks, webinars, slides and graphics, videos, demos and podcasts created with expert input.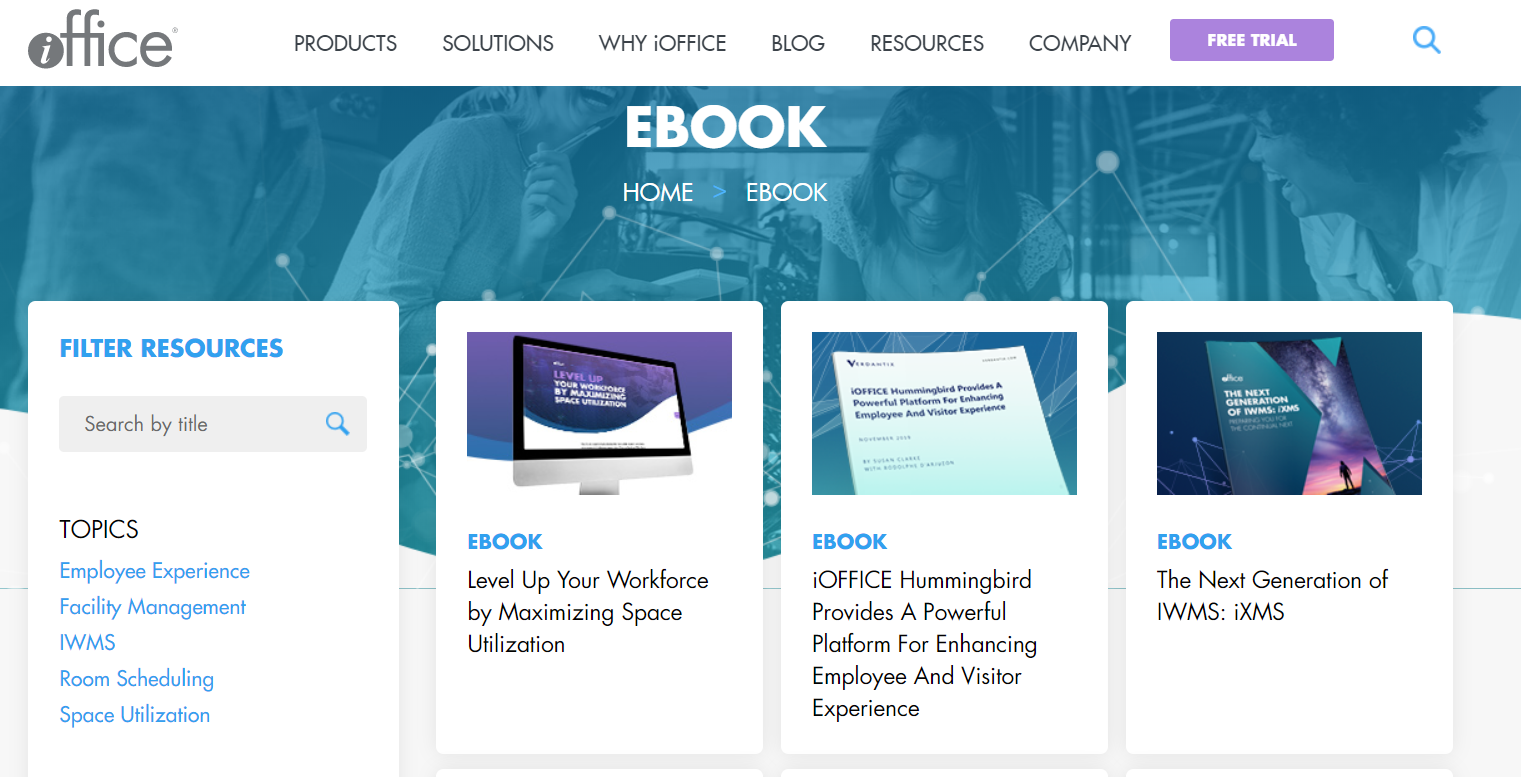 Company's video marketing is based on their YouTube channel.
Video marketing is highly effective in capturing B2B leads; also, 80% of video marketers say video has directly helped increase their sales.
iOFFICE's YouTube contains interviews with the company and industry authorities and provides a look behind the scenes of how the team operates and comes up with its solutions.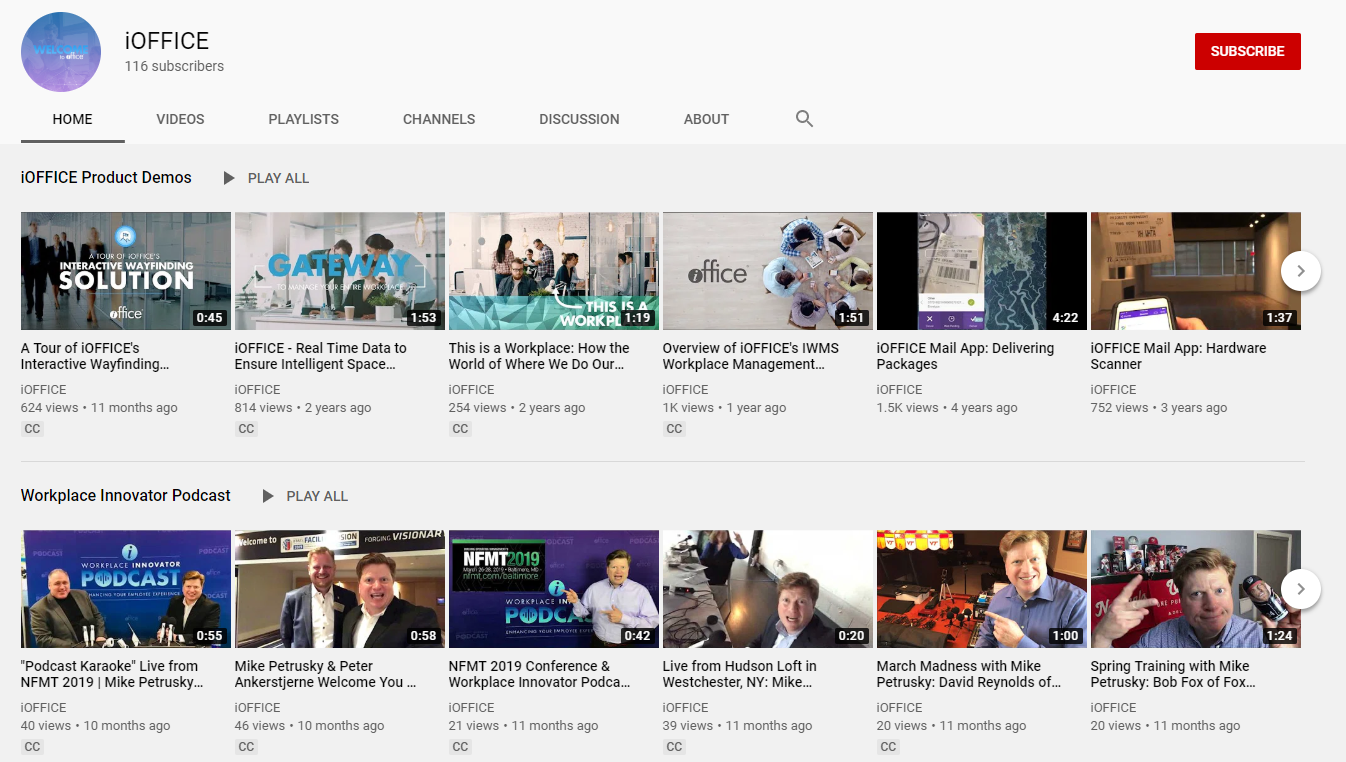 Facebook page contains a landing page that directs prospects straight to webinars for various aspects of iOFFICE product.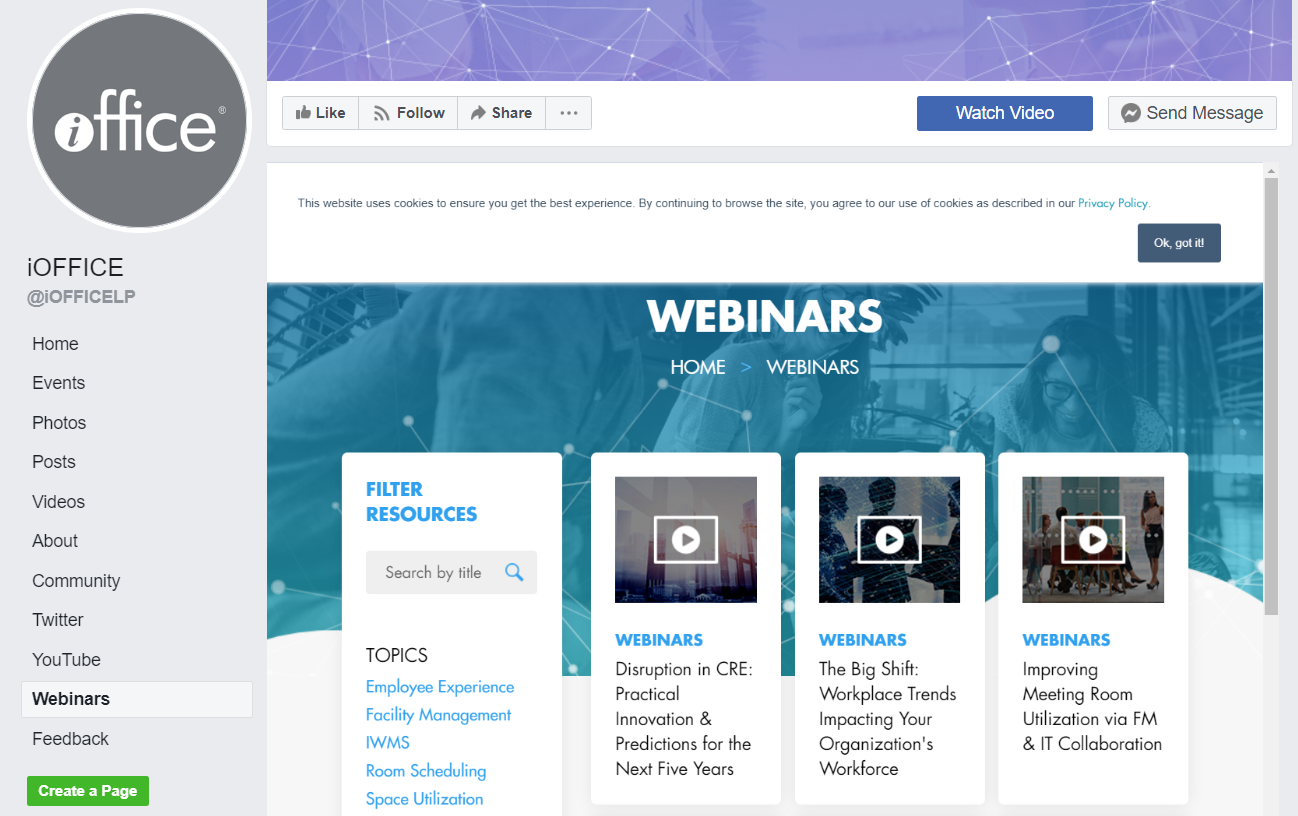 In regards to social media marketing, LinkedIn is a social network that proved most effective in capturing B2B leads.
iOFFICE uses LinkedIn to provide info about networking and social events as well as blog updates on improving workplace efficiency and other topics of interest for business prospects.
The lesson: iOFFICE's website is a treasure trove of eBooks, case studies and webinars, all dedicated to capturing B2B prospects and leading them down to the bottom of the well-optimized conversion funnel. This is well-integrated with:
Video marketing on YouTube
Interviews with industry experts explaining how these products changed their business for the better
Well-rounded content offerings across all channels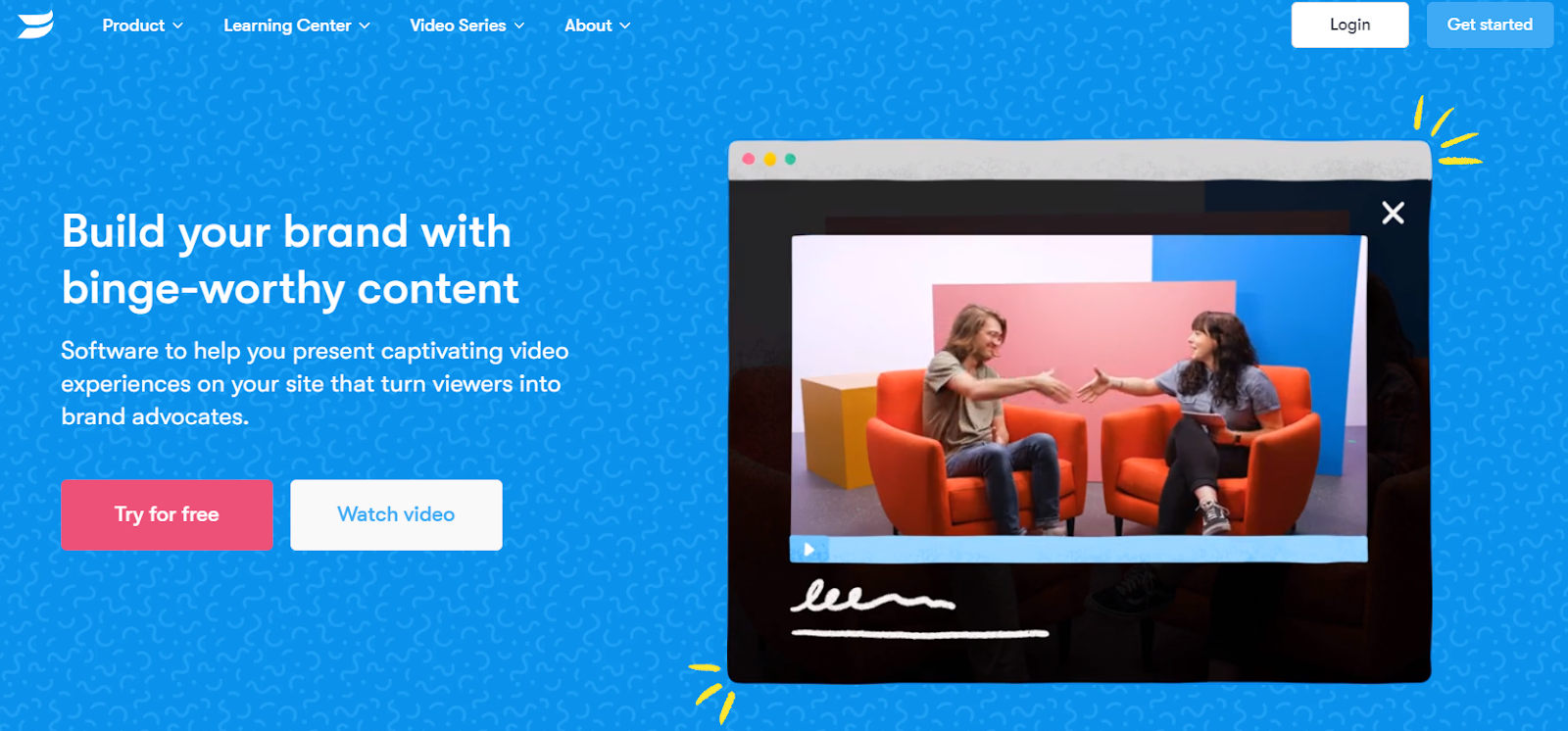 5. Wistia Leverages The Purpose Of Each Social Media Channel
Who they are: Wistia helps B2B tech companies generate their brand affinity and communicate with their prospects, leads and customers on a more personal level.
The video software's success is in coupling technicality with personality. Although it is very much business-focused, Wistia has a tone of playfulness to it which outlines its digital marketing tactics.
What they do: As a brand oriented towards the creation of compelling, amazing-looking business videos, it is no wonder video marketing is the number one digital marketing outlet for Wistia.
Their tagline is "creating video software that turns viewers into brand advocates." To enhance the immersive factor, the brand even hosts an awards show with a live stream filled with creative ideas by their clients.
This content is created at Wistia headquarters and is called Brandworthy. There is another series dubbed "One, Ten, One Hundred", which won the Webby award that challenges video production companies to create ads with different budgets.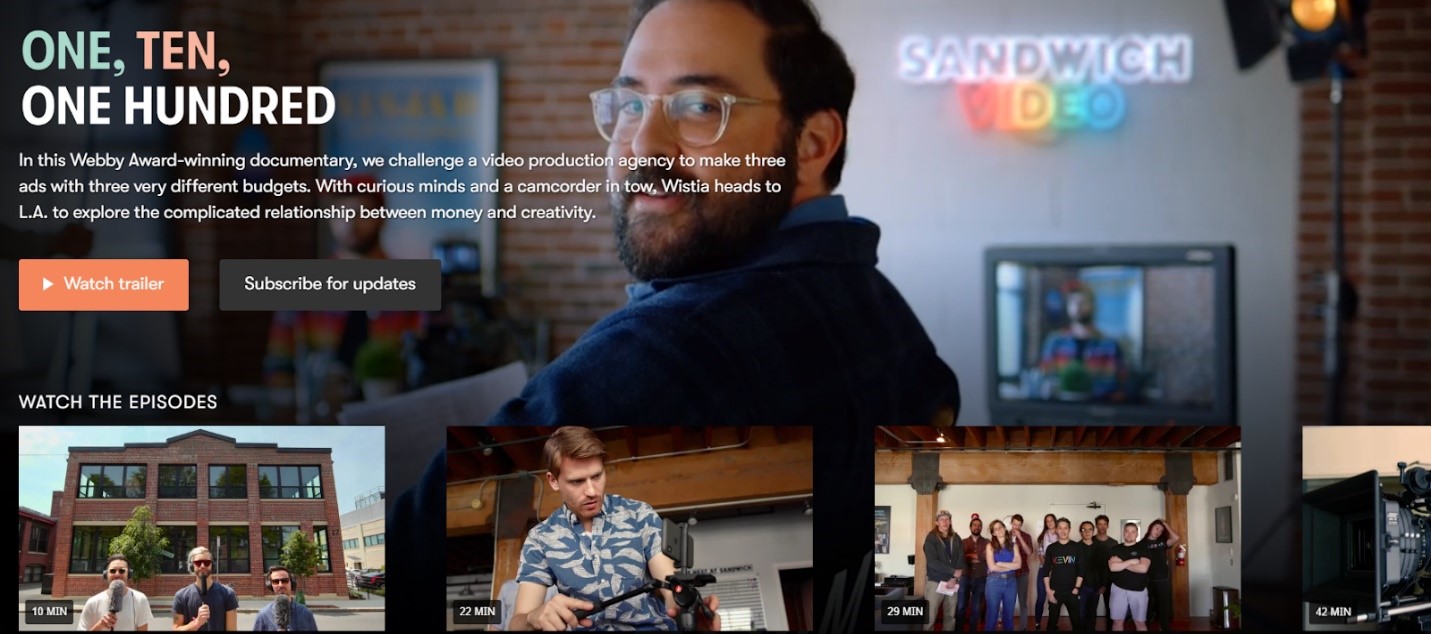 Wistia provides all the information you need about the product on the website and produces helpful content that includes instructions on using the product effectively along with general tips and advice for marketing with video.
Moving on to their social media marketing, Wistia makes a compelling case for inventiveness on their Facebook page's Videos tab. On it, they engage their followers with evidence of their clients' video-making creativity, as well as their own.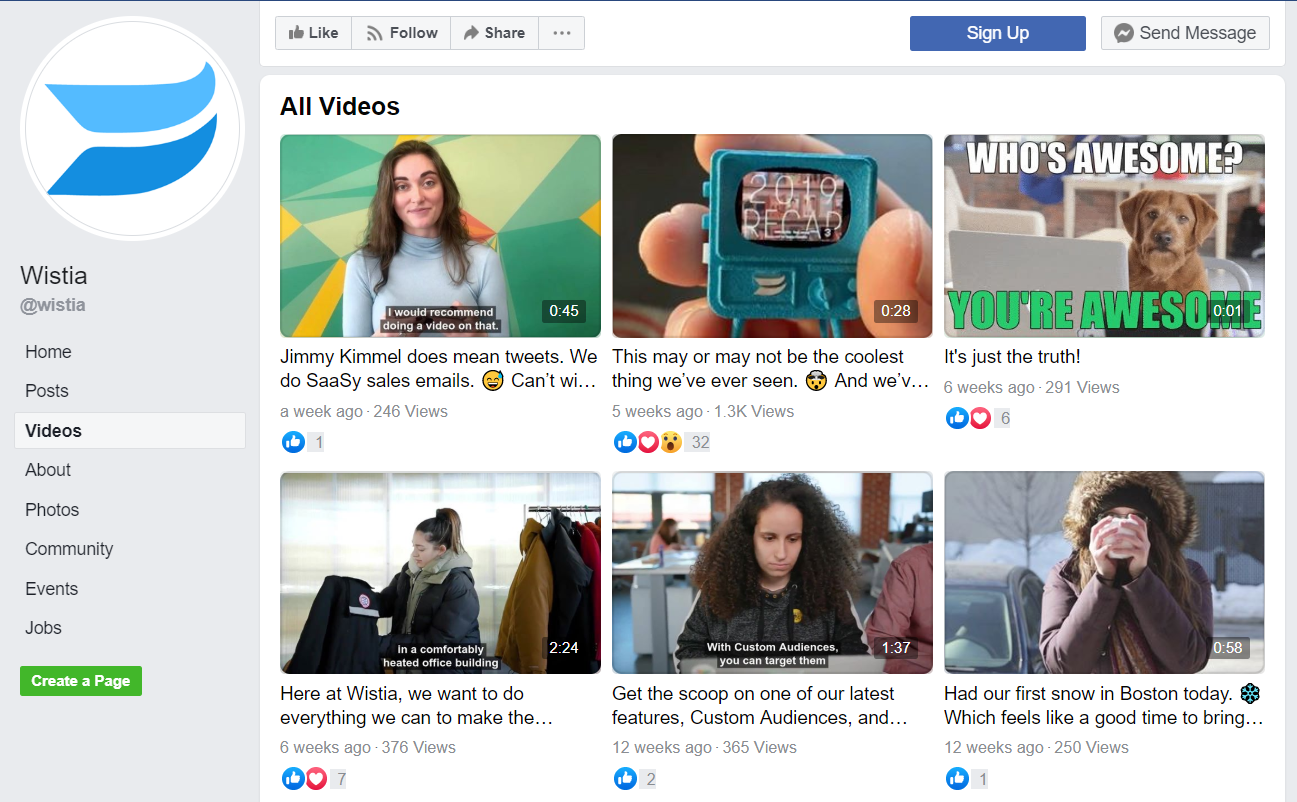 Their LinkedIn page is more focused on the business side of their offerings, such as hosting services, upcoming conferences and events. Same as previous entries on this list, they treat this business network with a distinct tone and unique posts. They take their time to address every comment individually for that added personal touch.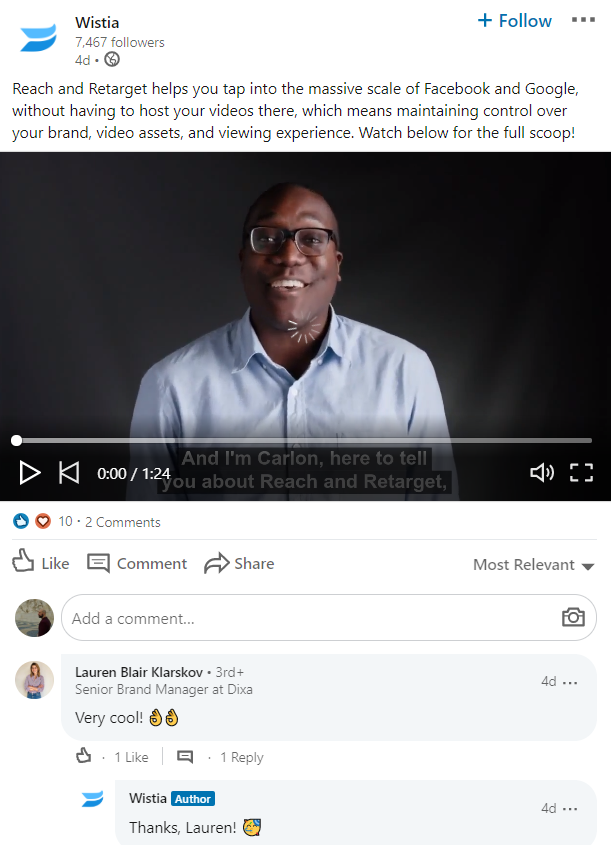 The lesson: Wistia teaches businesses that even marketing technological solutions doesn't have to be dull. Their branding and digital marketing rely on:
A strong sense of personality on all channels
Their products' usefulness and multi-purposefulness without sacrificing their fun factor
Takeaways
These five tech brands have used digital marketing to grow their customer base and position themselves as industry leaders in just a few years.
The big lessons that you can learn from these businesses and apply to your tech startup or a small enterprise is:
The importance of maintaining consistency while communicating differently across multiple channels
That having a rich blog section with input from industry leaders, influencers and experts  provides great value to prospects
That optimizing stages of a conversion funnel with specific digital marketing strategies and adequate value propositions is a must
Adaptability makes businesses able to anticipate trends and provide services that meet users' demands and solve their burning issues
These approaches build a brand reputation that acts as a magnet for new customers.
Want to build an industry-leading digital marketing strategy for your tech brand?
Let's talk!