Did you know that 75% of customers judge your company's credibility based on your web design?
Think of your website as your best sales representative.
Does it attract your users? Does it offer them value and incentive to engage with your brand? Does it communicate your offering clearly and efficiently?
If you're looking to improve your existing corporate web design or build a new website, you've come to the right place.
In this article, we'll take a deep dive into corporate web design to compare a custom vs. template approach, share inspiring business site examples, and explain the process and considerations for creating your corporate site.
What Is Corporate Web Design?
Corporate web design is the process of designing and developing a business website to serve as a pillar of a company's online presence.
Not to be mistaken for a promotional website, the focus of a corporate website is to promote an entire company rather than focus on a single product or sub-brand.
While promotional websites are focused on specific products or services, a corporate website does not promote, advertise or market products, but instead emphasizes business performance, corporate news, staff and social responsibility.
The main purpose of corporate web design is to reflect the company's success, fortify its reputation, build trust and inform about services and products ― but not focus on them.
Template vs. Custom Web Design: Which Should You Choose For Your Corporate Website?
There are a variety of website building services that allow you to design your own website using a template in a matter of hours. Some of these templated services include:
Wix
WordPress
Weebly
Squarespace
Shopify (for eCommerce websites)
The biggest advantage of these platforms is that they are affordable and user-friendly, enabling you to create a website for your business even if you don't have any web design or coding skills.
Ironically enough, this is also the biggest disadvantage of these platforms.
Their DIY nature means that you are very likely to end up with a website that is unoptimized for conversions and has limited functionality.
The worst-case scenario is ending up with a website that's indistinguishable from your competitors — after all, there are only so many templates to choose from, which means your web design won't exactly be unique.
If you are serious about launching a professional website that is optimized for SEO and conversions, then you may want to work with a professional web design agency that would create a custom web solution.
Web design experts can help you create a website that is tailored to your company's needs and target audience to help you grow your brand online.
Although working with web design agencies does require an up-front investment, you will find that the money you spend on professional web design services is well worth it.
A custom website is unique, not only in its functionality but in how it brings a company's value proposition to life, which is something that cannot typically be achieved with a template.
Corporate websites are not meant solely for clients and consumers.
Instead, they should also serve as a tool that communicates your company's value, mission and accomplishments to your shareholders, investors and partners, while also providing educational content that will help you establish thought leadership.
At Digital Silk, our experts use data-driven insights to design each part of your custom site, from top to bottom.
Check out the video below, where our CEO compares the websites of two top car brands – Ford and Tesla.
Best Business Websites For Inspiration [Designed By Digital Silk]
Let's look at some of our favorite corporate website designs tohelp you find inspiration for your own business website.

We provided FieldEdge with a corporate website designed to engage prospects through concise and benefits-driven copy.
Many of the website's animations follow you as you scroll, building interest and creating an engaging and immersive user journey.
Ample white space and a sticky menu offer easy navigation without overwhelming the user. The final result is a site that offers a clear user journey, along with personality and unique branding elements.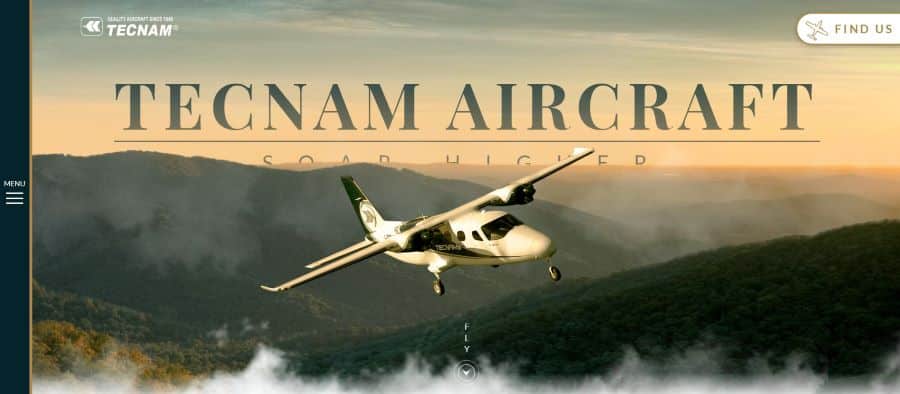 This motion graphics website helped our client Tecnam, an Italian aircraft manufacturer, take off in the international market to boost brand awareness and drive revenue.
Our team created a Legacy section with horizontal scrolling that creates a unique user journey and visually guides website visitors through the story and timeline of the brand.
The emphasis on the visuals is further extended into the individual product pages that are rich in aesthetic appeal with high-quality imagery and include factual technical data.