Whether you are creating a website for a hotel, resort, B&B or any other type of travel accommodation, the primary focus of your design should be to inspire your user's travel plans.
This means rich, immersive visuals, consistent and engaging branding and inspiring messaging.
The best hotel website design is one that pulls your target audience into the experience you offer before they even set foot on your property.
Our web design experts at Digital Silk evaluated five of the best hotel and resort website examples out there. We'll walk you through each one, then give you an inside look into our own best practices, plus industry insights, must-have features and more.
5 Best Hotel & Resort Website Design Examples [+ Our Strategists' Notes On Each]
Hospitality websites should present an entire world of delight and beauty for the senses.
From snow-capped mountains to green pastures and untouched beaches, the website should take you on a spectacular journey enhanced by colorful images and tempting descriptions.
Without further ado, let's look at some of the top hotel website design examples and see how they measure up, according to our design experts.
1. Burj Al Arab
Website: Burj Al Arab via jumeirah.com
Category: Hotel microsite design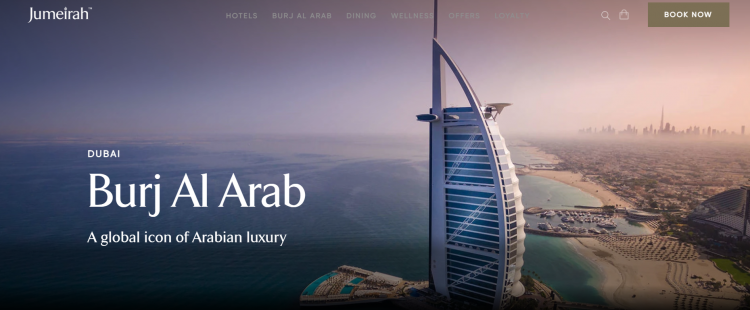 What they do well:
The renowned Burj Al Arab's web presence comes in the form of a microsite hosted on Jumeriah.com — the parent brand's website.
Messaging: We applaud their luxurious branding reflected in the dark palette, along with their minimalist approach to content.
The menu is sticky, with a prominently placed CTA in the top right corner — Book Now. The copy is minimal and engaging, with small and well-structured paragraphs, short enough to easily skim and process.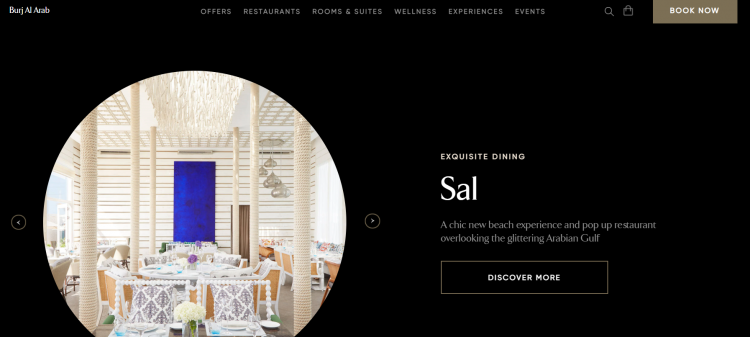 The CTAs are actionable, consistent and intriguing; they invite the user to "discover" their offering and dive deeper into their website journey.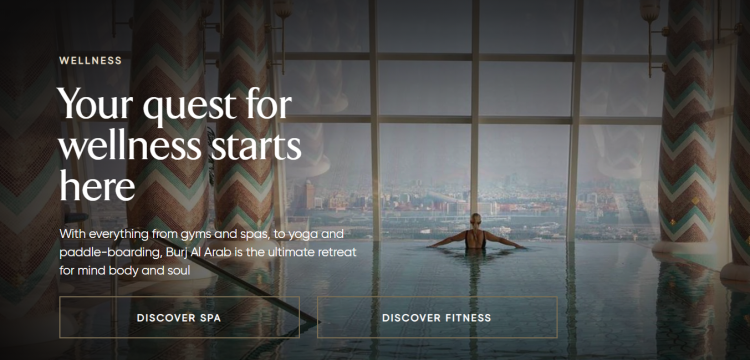 The conversion funnel and user journey are clearly defined, with a focus on inspiration arising from both the language and imagery, and aspirational elements woven intricately throughout the entire funnel.
Typography: The fonts are large and legible to facilitate readability while staying true to the brand.
Visuals: The visuals are full of vivid colors that draw you in. The hero image reflects a world of luxury, with the high-end, sleek hotel rising against the infinity of the sea and the sky.
The video that plays in the background makes you a part of this allure. How can you resist the desire to visit?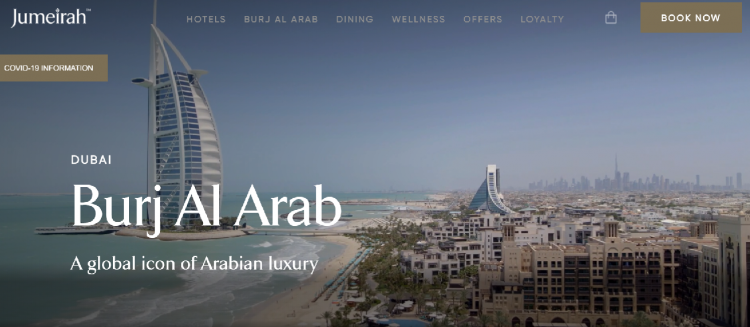 What they could do better:
We recommend adding a background color to the menu and using more contrasting colors with the text throughout, because it's somewhat difficult to see (it is not ADA compliant).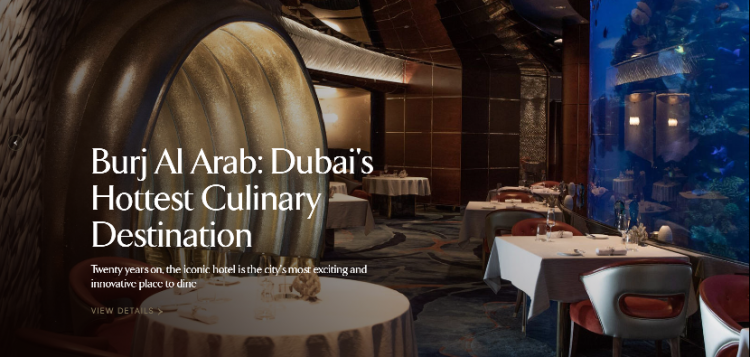 The CTAs should be more prominent and visible, which can be achieved by increasing the contrast between the gold color and the background and/or by adding more design interest to the CTAs, such as engaging animations.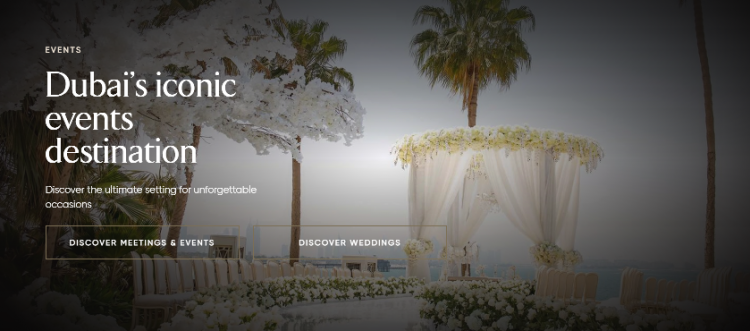 Another tweak we'd make is to place the booking form in the hero section itself to maximize conversions, which in this case is online bookings. This would reduce the number of steps the user has to take to convert, getting them closer to the finish line at a quicker pace.
We are positive that these little design details could increase the site's click-through rates and consequently improve their ranking.
2. Au Club Alpin
Website: auclubalpin.ch
Category: Hotel website design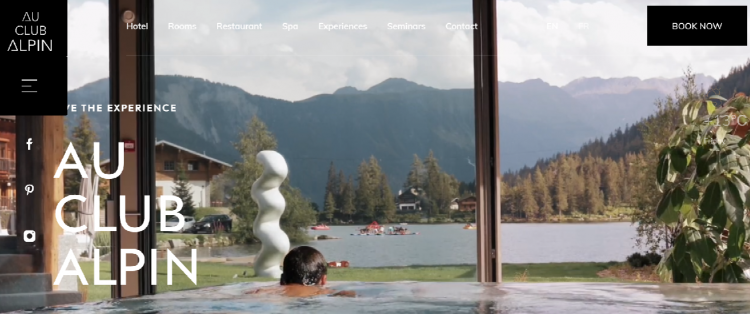 What they do well:
Messaging: This hotel website design uses a two-tier menu. The main links are clearly visible while secondary links are stashed in a hamburger menu. The Book Now call-to-action is prominent and accessible at all stages throughout the site.
The site uses modules to cleverly highlight seasonal key activities and selling points, grouped by summer and winter categories.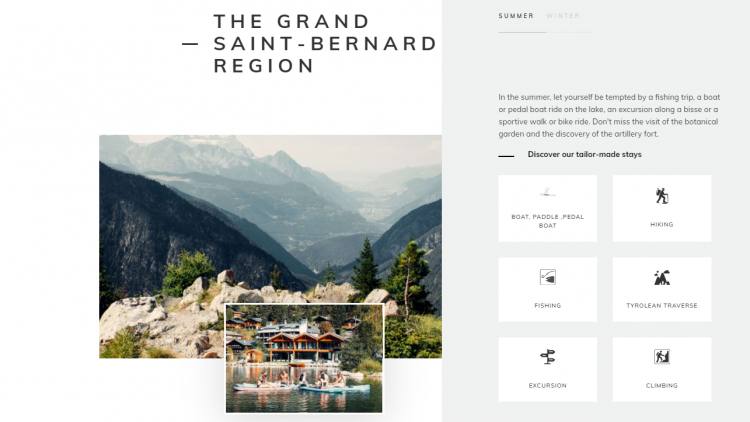 From dining and the spa to art and the brand's eco-stance, Au Club Alpin uses the homepage to present their offering and key value proposition, while the related CTAs in each section urge the user to continue their journey.
It is worth mentioning that the Offering and News sections are cleverly used to communicate time-sensitive information and boost sales and attendance.
Typography: The typography is beautiful and clean, fully on-brand, and it gives the website and, consequently, the hotel, a modern appeal valued by various customer groups.
Visuals: Dynamic and high-quality videography is used in the hero section to immerse the visitor into the experience from the get-go. Natural scenery, a cozy atmosphere and mouth-watering menu choices — why wait?
We admire the great use of iconography to simplify and highlight key information and the fact that the iconography stays consistent with their visual identity adds to the website's luxurious feel.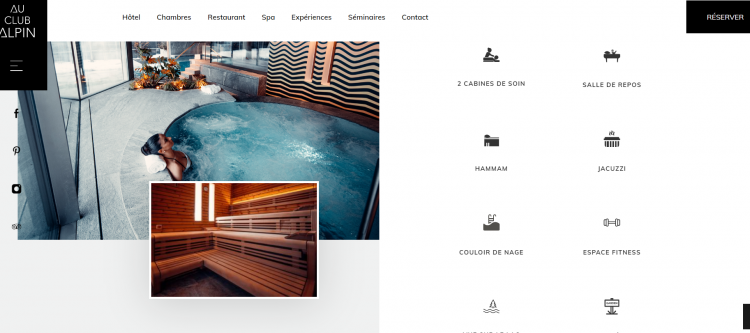 The site contains interesting elements, attention to detail and a real-time weather report, which is useful for both current guests and guests who are planning a visit.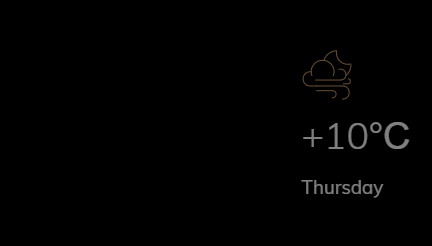 Social proof: It is obvious that the brand understands the value of social media in their industry, which can be seen in the attention paid to these channels and the integration of social media into their website design.

What they could do better:
The site is a bit too text-heavy, which could deter top-of-the-funnel users who are known to be skimmers (in fact, 80+% of users are skimmers).
We recommend limiting the text to:
One paragraph max, with no more than three lines per paragraph
No more than 12 words per line, as wide paragraphs feel heavier (example below)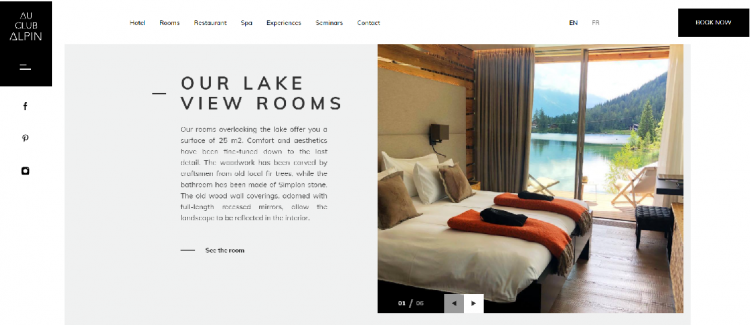 The use of icons and bullet points to communicate messages would make the content easy to read and digest even at a glance.
The implementation of tabs or expandable text modules could also reduce the amount of text while still giving visitors the option to pursue more information.
Adding a home button to the main menu (in this case, "Hotel") is not necessary, since the users are aware they can just click on the logo and get back to the homepage.
The CTAs should be more prominent to increase click-through. At the moment, for example, "See our spa" is barely visible and its function cannot be utilized to the maximum.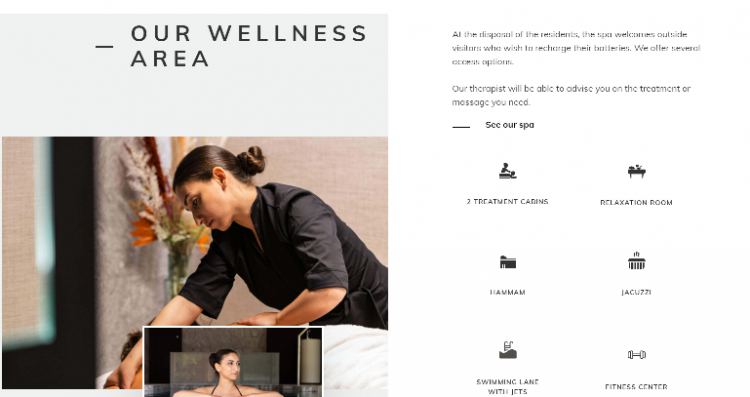 Improving the page loading speed is essential, especially for the booking page. 70% of consumers say that their willingness to purchase is influenced by page speed, while 22% would stop engaging with a website if it is slow and 15% would jump to a competitor's site.
Here's what Google's PageSpeed Insights says for the main domain: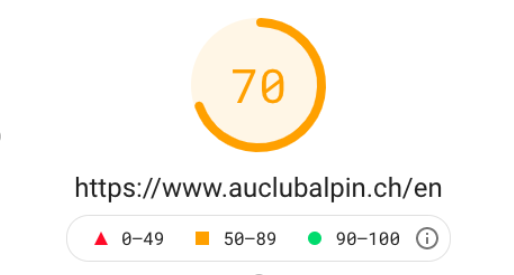 And here's what PageSpeed Insights say about the booking page:

To sum it up, higher speed means more revenue!
3. El Môderne
Website: elmodernehotel.com
Category: Boutique hotel website design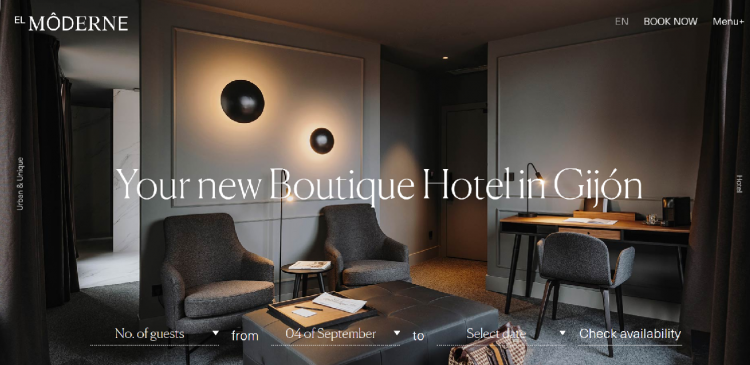 What they do well:
Messaging: This hotel presents a beautiful, sleek, modern – if not timeless – hotel website design.
They follow the modern website trend for a minimalist approach, giving each section enough breathing space and striking an optimal balance between text and imagery.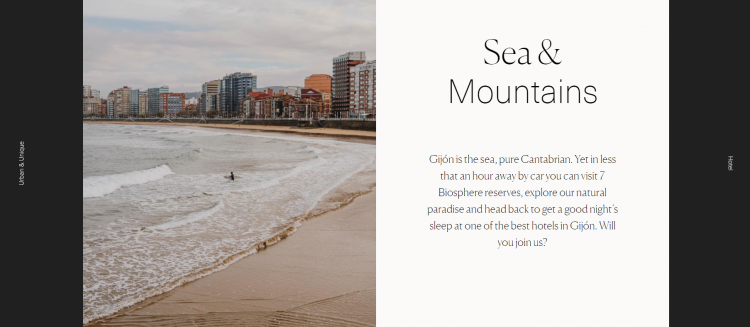 The In-page booking form is integrated into the hero section to minimize the steps to conversion.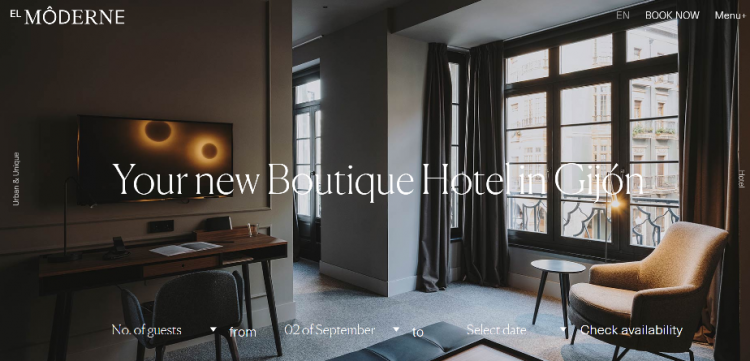 The hamburger menu opens into a user-friendly and visually-engaging full-screen window, allowing for simple navigation.
They also cleverly keep the main CTA "Book Now" out of the hamburger menu to ensure that it does not interrupt with the perception.
Typography: El Moderne combines fine serif and sans serif fonts as a design element, which is an impressive feat, and it works.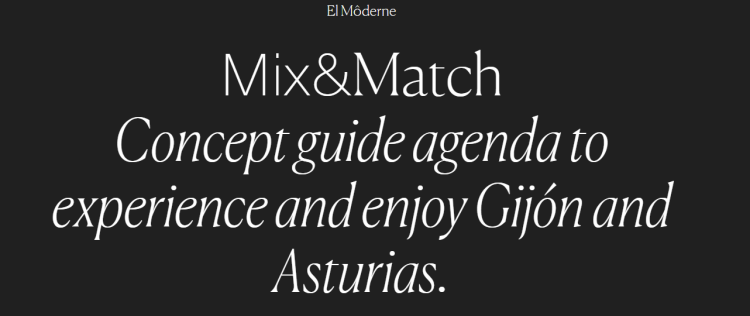 Visuals: The visuals present a lively and diverse palette across the site, ranging from high-quality photography to videos and sketches, with every visual exuding luxury and welcoming potential guests.
What they could do better:
We would implement a sticky navigation menu instead of a disappearing menu, to help users choose the next destination in their journey through the website at any point without having to scroll back up.

We would also use more prominent CTAs, since the current ones are very flimsy and difficult to spot. Though this may look more delicate and minimalist, it is not functional as the goal is to funnel the user down to the conversion point.
Chunky paragraphs could help improve readability, with up to three lines per paragraph to engage skimmers. Their current paragraphs are a bit too large and can come off as overwhelming for the visitor, who might choose to skip reading the info entirely.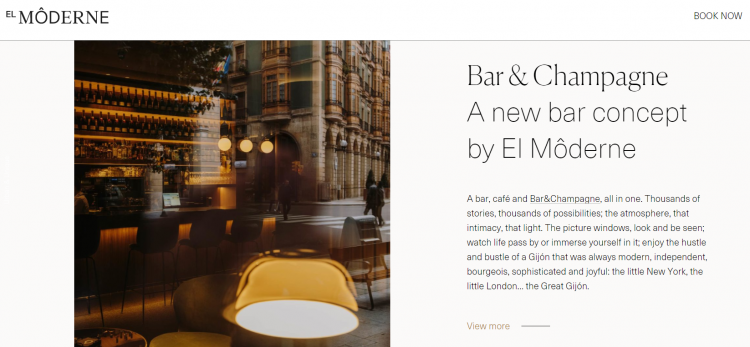 4. Can Ferrereta
Website: hotelcanferrereta.com/en/
Category: Hotel and spa design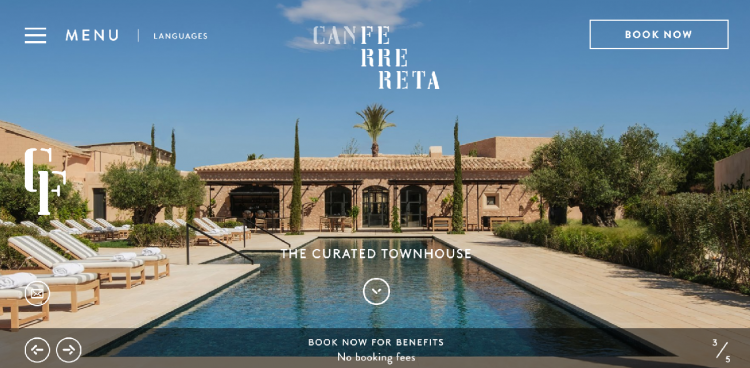 What they do well:
Messaging: Can Ferrereta implemented a sticky menu, with diversified and actionable CTAs throughout the homepage.
The layout is interesting and engaging. At some points, it feels like an editorial in a travel magazine, which is an unusual but fascinating choice, keeping in mind that the main objective of the hotel website design is to inspire visitors' next destination.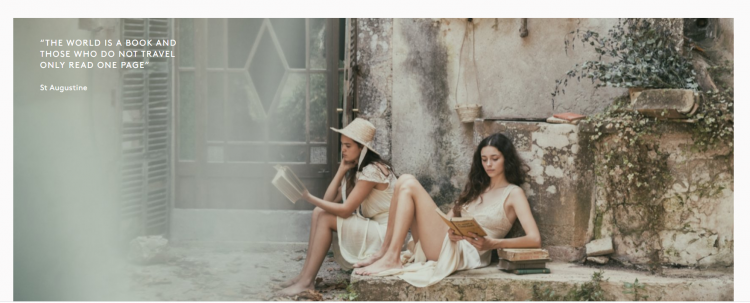 The map at the footer is a unique choice that can help influence guests to choose the hotel based in part on all of the attractions nearby.

Visuals: Can Ferrereta offers its web visitors a sleek visually-driven design with excellent use of photography and video. The color palette provides the high-end feel of touching something rare and beautiful, and the excitement of being part of it.

The welcoming video absorbs the visitor in the hotel's charm. You can almost hear the rustling of the wind in the grass and smell the fragrance of home-made croissants and coffee.
What they could do better:
Fire up the SEO Minion and you'll see no signs of search optimization. We would add title tags and meta descriptions, and tag content with a proper header structure as the first step.
The hero section has a carousel-like strip at the bottom, which we would remove. Carousel features are not user-friendly because no user is going to click all the way through to discover what comes next.
To optimize click-through, you want to make sure that the user knows what's behind the click, so we recommend using modules instead of carousels.

Events are, presumably, an important secondary source of income for most hotels. With this in mind, we would feature them more prominently in the menu.
5. Relais de Chambord
Website: relaisdechambord.com/en/
Category: Boutique hotel website design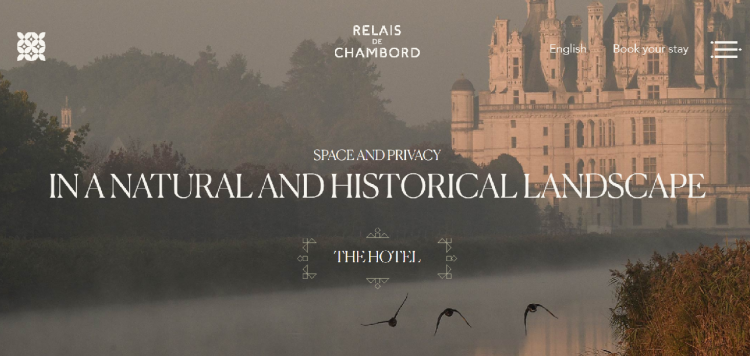 What they do well:
Messaging: The branding on this website design exudes luxury. It is well represented, consistent and memorable. Their interface (UI) design, including the color palette, the photography and typography, all come together to create a cohesive experience.
The brand clearly understands their audience's behavior and tailor their content to it. All content is minimal and easy to consume, with no chunky pieces of text anywhere on the homepage.
The airy and luxe feel is enhanced by the space and breathing room between elements.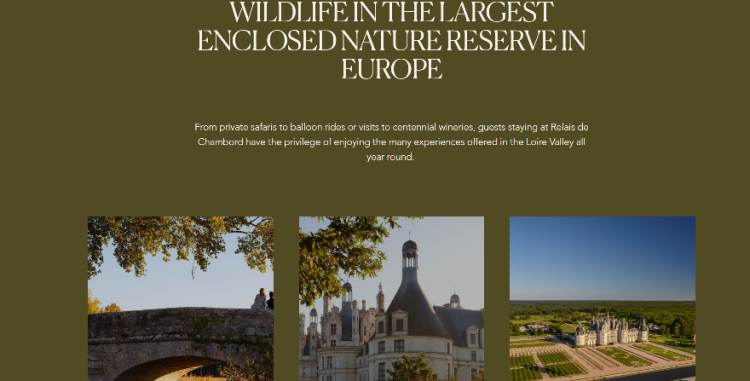 There are multiple signs of search engine optimization, which can be seen in the clearly defined title tags, meta descriptions and headers.
Typography: The font is large, clean and readable, while staying on-brand.
Visuals: The images are colorful and charged with emotion, with spectacular views inviting you on a splendid adventure.

We also want to point out the iconography showing in the little branded ornaments throughout the website that elevate its design. The attention to detail is vital, since it gives the promise that the hotel guests will be treated with the same attention and care.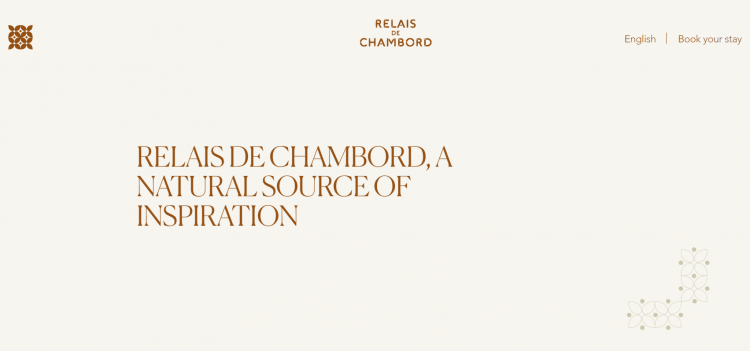 What they could do better:
While Relais de Chambord uses CTAs, the design doesn't stand out and it is very easy to overlook them. We would improve the CTAs since calls to action are essential to building a smooth user journey.
Additionally, the CTA messaging is a bit underwhelming — particularly "Learn More." We would create more of a contrast between the CTA button and the environment, by using more actionable language such as "Read Our Story," "Discover Our Experiences" and so on.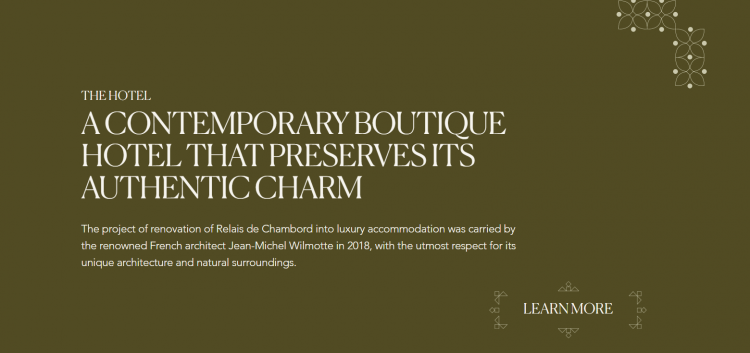 We would also implement a sticky navigation menu with a prominent CTA, so users can access any page of interest in as few clicks as possible and be guided to the conversion point in a logical and effortless way.
From building awareness and educating your user on your offering, to building the trust they need to convert, your content structure needs to speak to your user's needs at every stage of the conversion funnel.
For example, your homepage should build awareness of all key values through your brand offers.
In this case, just by adding sections to the homepage that promote current events, the hotel could increase their click-through rate to the said pages, as well as increase the number of bookings and event attendance.
Before Planning A Hotel Web Design, Consider These Consumer & Industry Insights
The Covid pandemic had a severe impact on tourism and hospitality around the globe. Closed borders, tightened travel restrictions and serial lockdowns resulted in a drastic loss of guests and revenue for hotels, resorts and the like.
Now that we seem to finally be turning a corner into post-pandemic new normals, the competition is even stronger, which calls for increased efforts to gain customers.
If your hotel website design isn't optimized for easy and direct bookings, you'll end up falling behind.
Here's how important your digital presence is through the eyes of your potential visitors:
700 million people are estimated to book trips online by 2023
83% of Americans prefer booking their trips online
72% of mobile bookings are made within 48 hours of last-minute Google searches, including the words 'tonight' and 'today'
Searches related to travel and calling for urgency through 'tonight' and 'today' have increased by 519% in the past five years
Two-thirds of online travel reservations are made directly from hotel websites
It's estimated that 72% of total revenue in the travel and tourism market will be generated by online sales by 2025
50% of travelers worldwide used the web as a source of inspiration for vacations, according to a 2020 study
33% of the guests who interacted with the chatbot at The Cosmopolitan Las Vegas were more satisfied with their stay and spent 30% more while at the hotel
In general, here are some important stats to keep in mind about online user behavior:
75% of users believe that credibility is directly related to how a website looks
70% of online users say their willingness to buy depends on page speed
22% of users say they would stop interacting with a site if the page speed is low
Our Hotel Website Design Process: How Pros Create High-Performance Websites For Resorts
So how do you create a hotel website design that converts?
We'll give you an inside look at our process of creating a modern website design for hotels and resorts.
Digital Strategy
It's important to approach your hotel design with data-backed insights. That's why we kick off our custom web development projects with a digital strategy that clearly defines the goals for your site, including KPIs, SEO elements, a content plan and key industry insights, among others.
Information Architecture
After taking a deep dive into your industry, goals and competition to develop a custom strategy, we create your unique sitemap, landing page conversion funnels and messaging to ensure a benefit-driven user journey resulting in conversions.
Wireframes & Design
Our next step is to create a wireframe and bring your website's design to life, with clear messaging, convincing CTAs and an on-brand user interface to attract new audiences and encourage repeat visitors.
Our Hotel & Resort Website Design Best Practices, Header-to-Footer
Here are some of the expert best practices we follow to help you attract new visitors and encourage repeat guests, from the very first step of website planning:
Hotel web design messaging best practices:
Use a simple sticky menu with well-structured paragraphs not exceeding three lines.
Craft alluring messaging by building explorative words into your headers and CTAs, such as Discover, Explore or Experience.
Show the user that you are their dream resort, preferred, desired and only a click away.
Inspire by providing a different, value-driven service – something unique that your competition doesn't offer.
Make your rates easily accessible and transparent, with all the details seen at a glance (prices per room category, extra beds, child policy, other services included).
Dedicate a section within the homepage to limited offers and event announcements, which will encourage visitors to dive further or book right away.
Focus on safety measures to show your visitors they will be in good hands during high-risk Covid times.
Use SEO best practices to optimize your content and increase traffic and ranking so you stand out from your competitors.
Hotel web design typography best practices:
Use clean, readable fonts that are ADA-compliant.
Implement contrasting colors to improve visibility and content perception.
Hotel web design imagery best practices:
Focus on building desire (inspiration) with a visually-driven design.
Use high-quality photographs, videos, gifs and even soothing or dynamic sound effects to immerse the user into the experience before they make the trip.
Choose your photo and video subjects strategically by placing an emphasis on visuals that feature human subjects, who are easier to relate to.
Create aspirational imagery, design your user personas and choose your models according to their profiles and interests. 360-degree virtual reality videos or a full-screen homepage hero can facilitate engagement and create an immersive experience.
Build interest by implementing micro-interactions like animations, or changing colors when hovering over a CTA or text to encourage further exploring and breathe life into the design.
Hotel web design social proof best practices:
Display media mentions and reviews on your homepage to build credibility and desirability.
Add social or community initiatives to show your responsibility to society and various initiatives and causes (fund-raising for orphanages, support for young talents or elderly people, for example).
Attract by showing that you are the center of all action – feature important events and celebrities who have made their choice to stay with you.
Integrate user-generated content into your marketing strategy and website to drive advocacy and source relatable content for your audiences.
Educate by adding interesting content and speaking about it (joint initiatives with culinary schools, family activities).
Must-Have Functionalities For Hotel Websites
Must-have features and functionalities for your web design depend on the industry you're in. Our recommendations for hotel web design include adding some mandatory functionalities that will improve your performance and increase your revenue:
Implement a simple booking form where potential guests can check availability and reserve accommodation.
Integrate hotel ERP connecting inventory management with a booking form to automate booking processes.
Implement a chatbot or another kind of prominently displayed contact channel. Use them as your virtual 24/7 concierge or a personal assistant to your business travelers. This will facilitate mid-funnel users to request the information they need to convert (spa inquiries, event planning like weddings, anniversaries or product launches, questions about the facilities, etc.). And it will make guest interaction so much fun!
Optimize your page loading speed to boost revenue. Visually heavy websites tend to struggle with the loading speed, however, a second over the optimum loading speed can deter 70% of users, costing you valuable leads.
Use a mobile-first web design to provide an excellent user experience across all channels and devices.
Must-Have Marketing Features For Hotel Websites
We recommend adding the following marketing features to increase conversions on your hotel or resort website:
Integrate your social media channels into your site. Adding social media content such as your Instagram feed into your site's design could help increase your brand's general and social media visibility.
Urge your visitors to sign up for a newsletter subscription for lead nurturing and loyalty-building that will result in repeat sales for your hotel.
Create an SEO blog. From storytelling about your legacy to sharing practical advice about your town or region, blogs can be a great asset in your marketing strategy. Optimizing for search can help drive additional traffic to your site as well.
Hotel Website Design Takeaways
While the COVID-19 pandemic had a devastating effect on the hospitality industry, millions of people around the world now have the itch to travel and are ready to get back to exploring the world around them.
Optimizing your digital presence can help you compensate for past revenue losses, increase visibility and attract more guests.
When creating your hotel website design:
Reflect the change in customer behaviors with a clear focus on safety.
Utilize attractive and inspiring images and videos to build desire and urge the user continue their journey from page to page.
Make conversion easy with a simple booking option positioned prominently in the hero section.
Utilize consistent and engaging messaging, including attractive and actionable CTAs.
Use a mobile-first design that allows users to scroll through your offering and book a stay on any device.
Implement a sticky navigation menu to help users choose the next destination in their journey through the website at any point without having to scroll.
Highlight events and nearby attractions to help your hotel stand out among the competition.
Ready To Design A Market-Leading Hotel Website?
Request A Quote
Tell us about your project and let our experts give you recommendations.