According to a recent industry report, 42.3% of homeowners in the U.S. went online to look for a heating, ventilation and air conditioning (HVAC) contractor to help solve their HVAC problems in 2020.
In the same year, the United States and Canada were the biggest markets for heat pumps.
What does this mean for HVAC service providers?
The competition is stiff. In addition to a HVAC website being visually appealing, it needs to be optimized for easy contact, include testimonials and reviews and display a unique value proposition front and center to set the brand apart.
If you're not sure where to start with your HVAC website design, you're in the right place.
We've rounded up five HVAC website designs for inspiration, added our expert notes on each and detailed best practices your website should follow in order to drive conversion.
Best HVAC Website Design Examples To Get Inspired By [+ Our Strategists' Notes On Each]
From sleek and modern to simple yet engaging, here are five HVAC website designs that take the cake when it comes to navigation, messaging, CTAs and other key elements that drive conversion.
1. FieldEdge
Website: fieldedge.com
Category: HVAC Platform
Design by: Digital Silk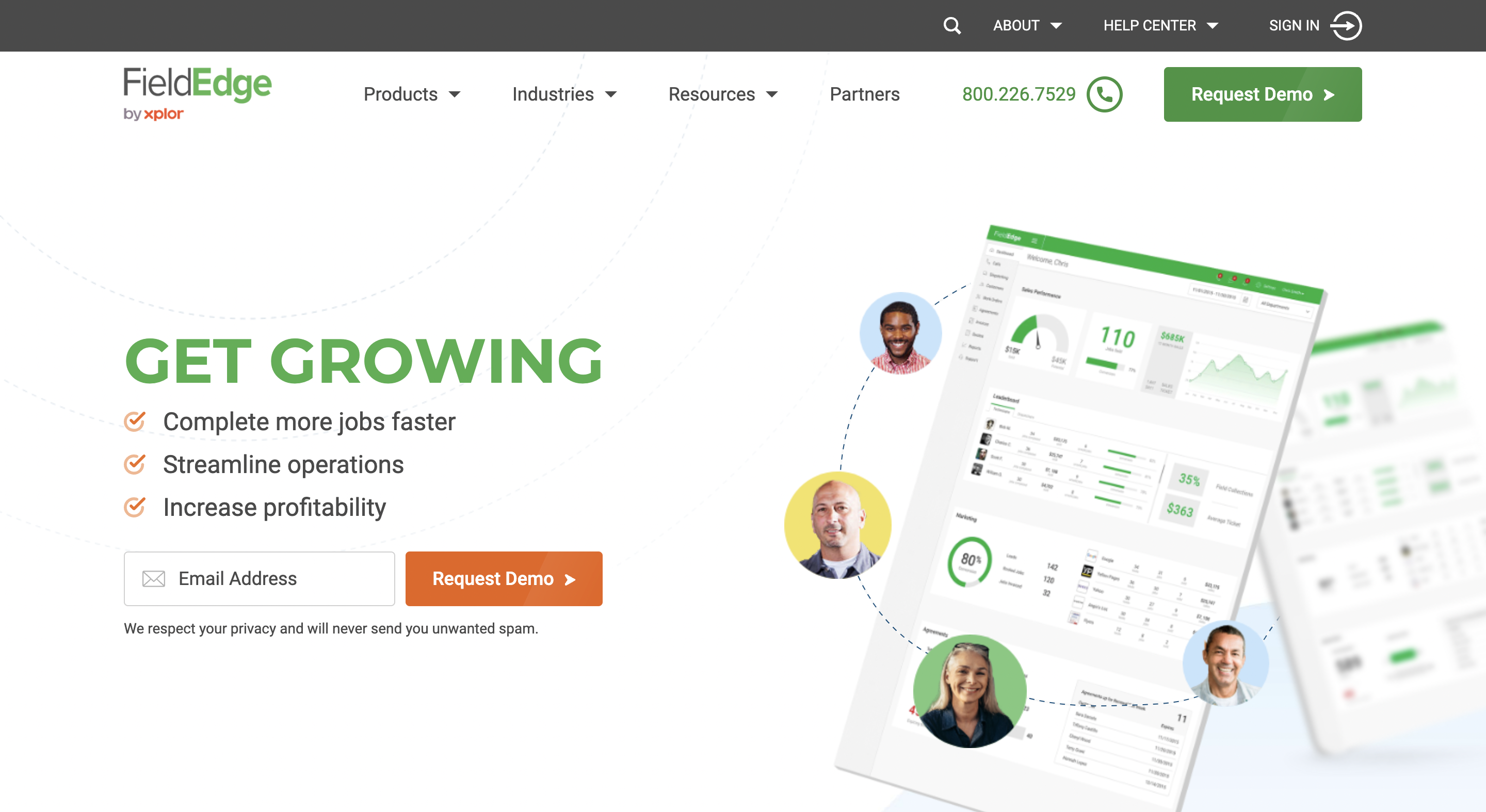 Our designers ensured consistency by using FieldEdge's unique color palate and branding elements throughout the site.
The menu is sticky to allow key items to follow the user as they scroll, including a conversion CTA placed in the top right corner — Request Demo.
The copy is kept short and benefits-driven, thanks to bullet points that allow for easy skimming.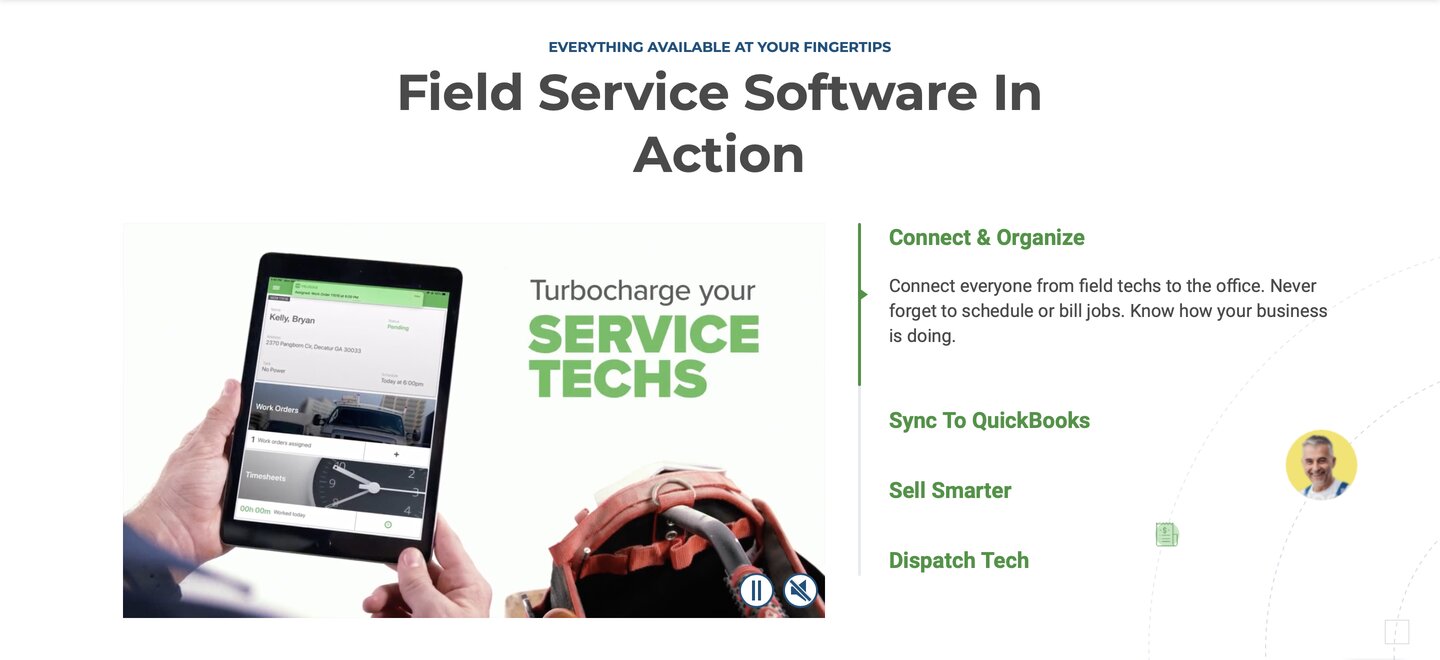 When scrolling down the homepage, a FieldEdge chart jumps to the center of the screen, following the visitor with a subtle yet engaging animation, offering a visual cue for the visitor and making the interaction easy to follow.
As the visitor scrolls further down the page, the animation comes full circle and shows a FieldEdge chart with the solutions' benefits.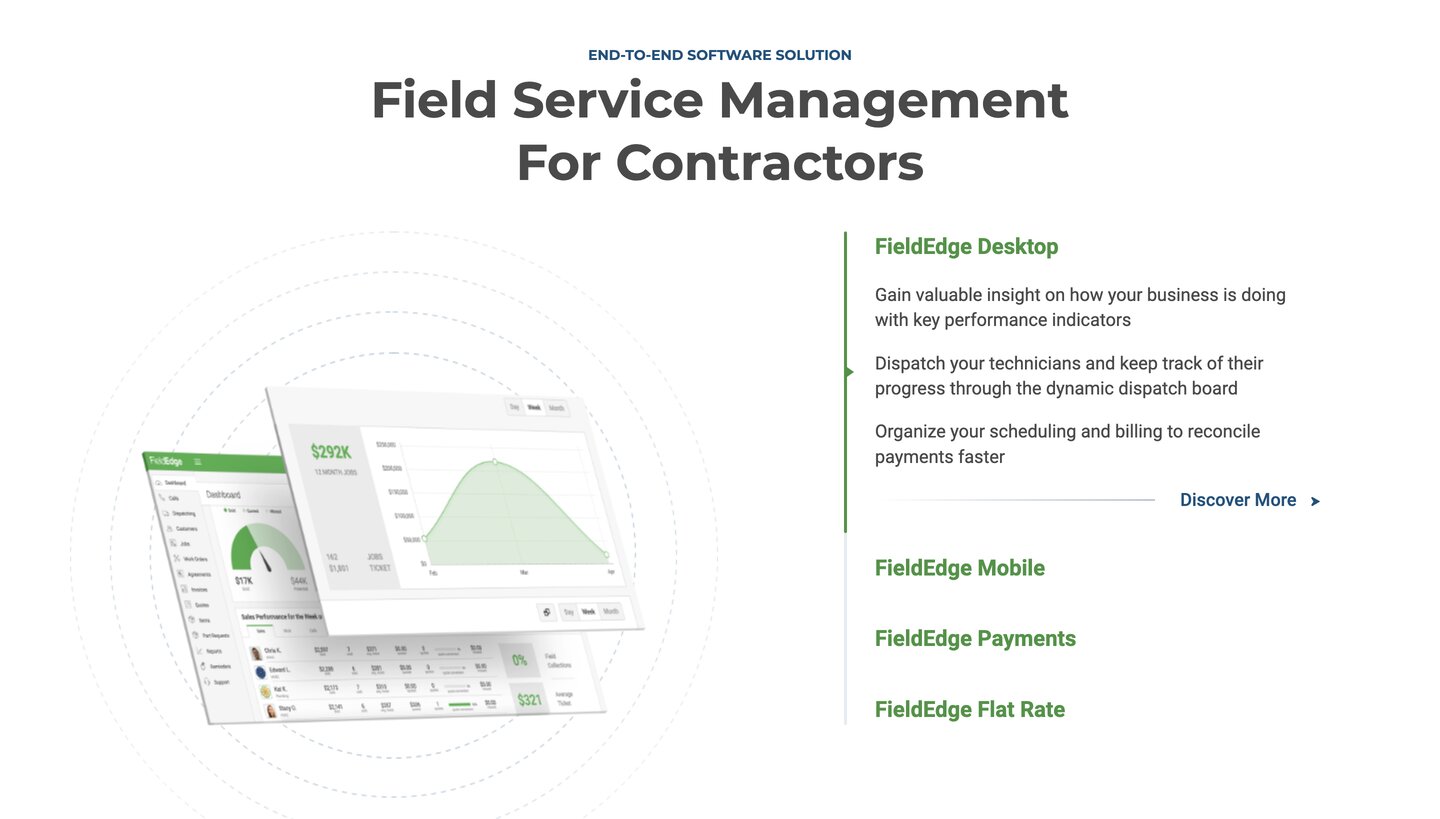 A chatbot is located on the bottom right corner as a 24/7 service to answer any question a potential customer may have, at any time.
Since this website was designed by our experts at Digital Silk, it follows all of our SEO best practices, including keyword-optimized meta descriptions, headers and title tags.
This improves visibility and allows FieldEdge to rank higher on search engine results pages (SERPs) and generate more organic traffic.
In addition to the moving chart, our designers took a different approach with image presentation, instead of just laying them out flat.
We're talking floating profile images of people to illustrate FieldEdge's diverse user base and humanize the brand, platform screenshots to provide insights into the solution, 3D screenshots of webpages surrounded by rotating text to allow more engagement and an informative video at the bottom to wrap things up.
Towards the bottom of the homepage, social proof was executed in both video and copy formats.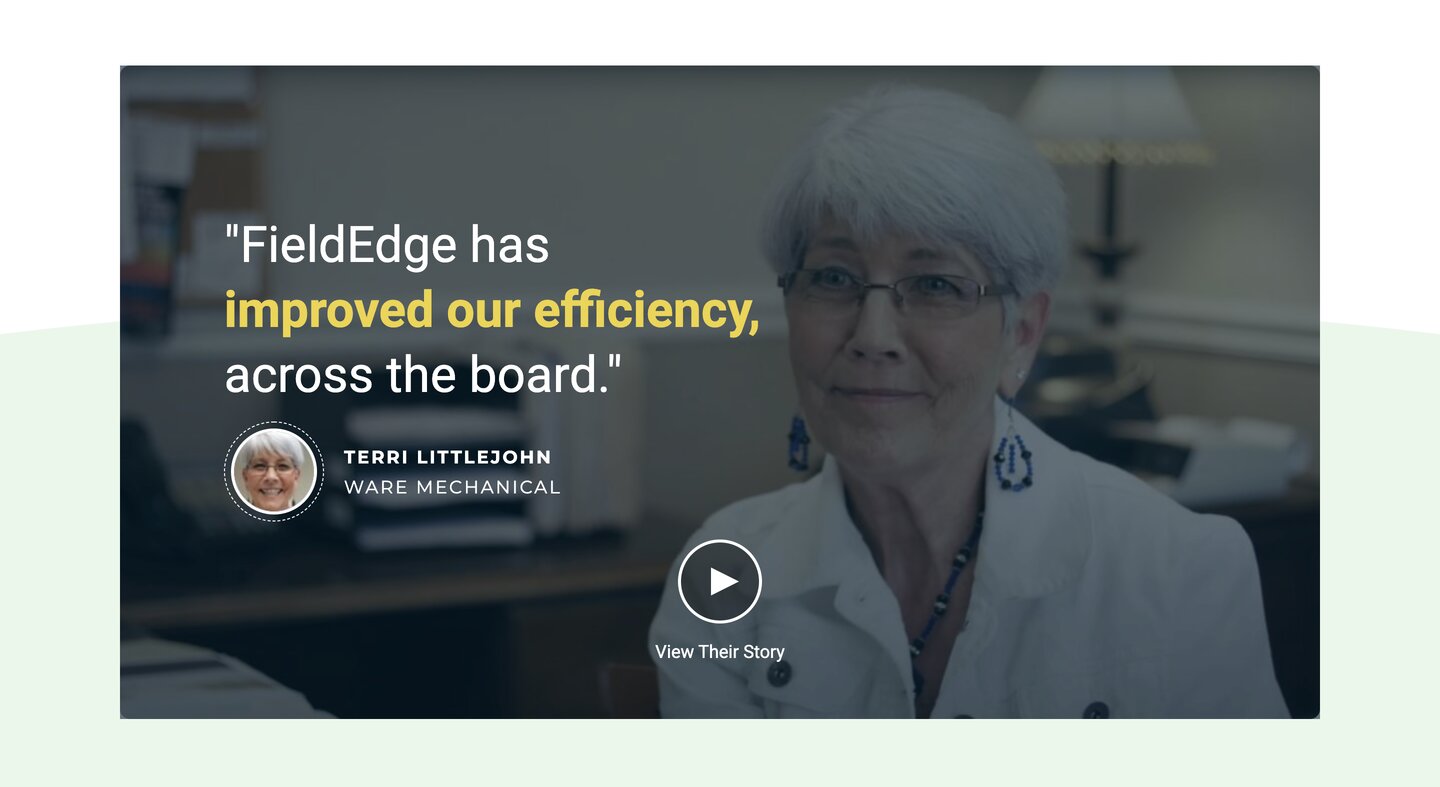 Testimonials play an important role in the HVAC industry, and can help persuade potential customers in the consideration stage to move to conversion.
Between consistent branding, a clearly defined conversion funnel and an engaging user journey, we're proud of this HVAC website.
Is there anything that we could've done better? Let us know!
2. HomeAdvisor
Website: homeadvisor.com
Category: HVAC Service Provider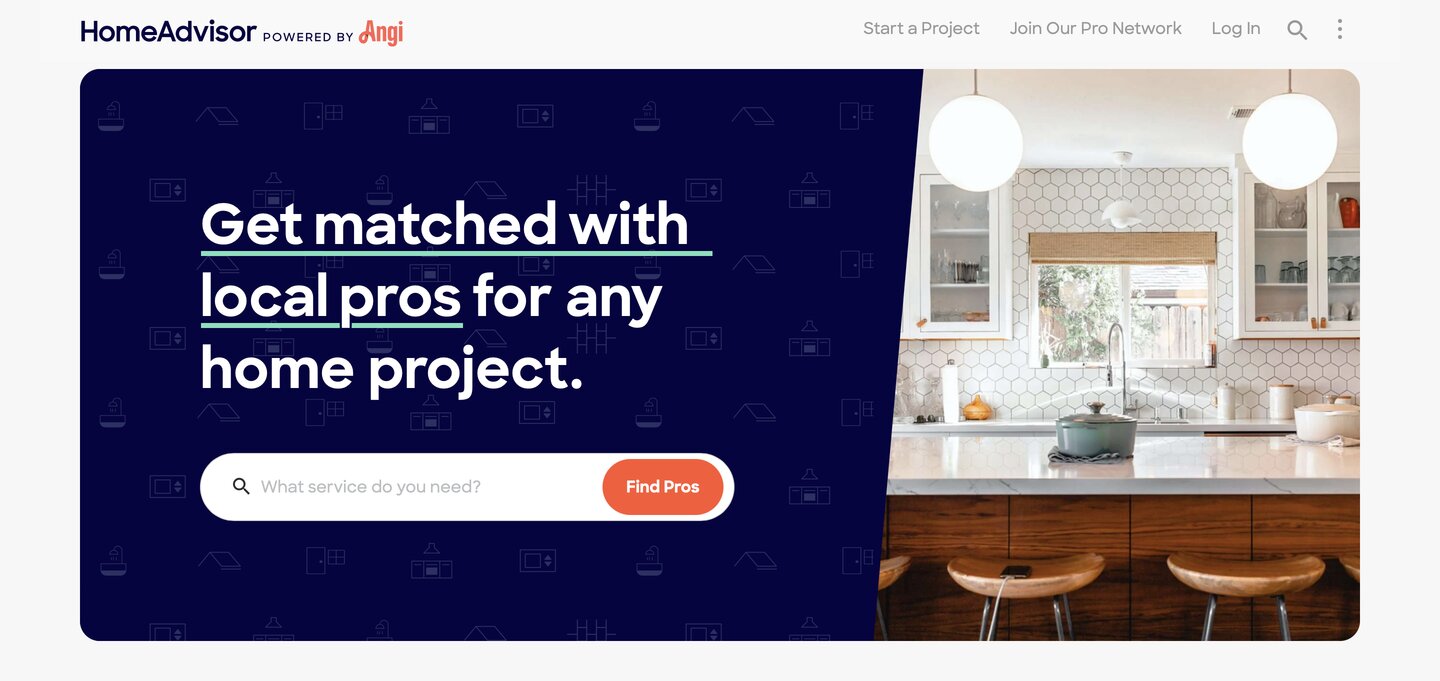 HomeAdvisor keeps the homepage simple — no animation, large headers and service descriptions neatly arranged in modules.
CTAs are specific, including "Find Pros" and "Shop Services," which adhere to our in-house best practices. CTAs need to be specific so the website visitor knows exactly what's behind the click, which increases the chances of a click-through.
The brand's typography is packed with clean lines and soft edges, making it easy to read while also being fresh and modern.
Keywords are underlined in vibrant colors to highlight key details, like 'Find trusted local pros' and 'fixed price service' to grab the user's attention.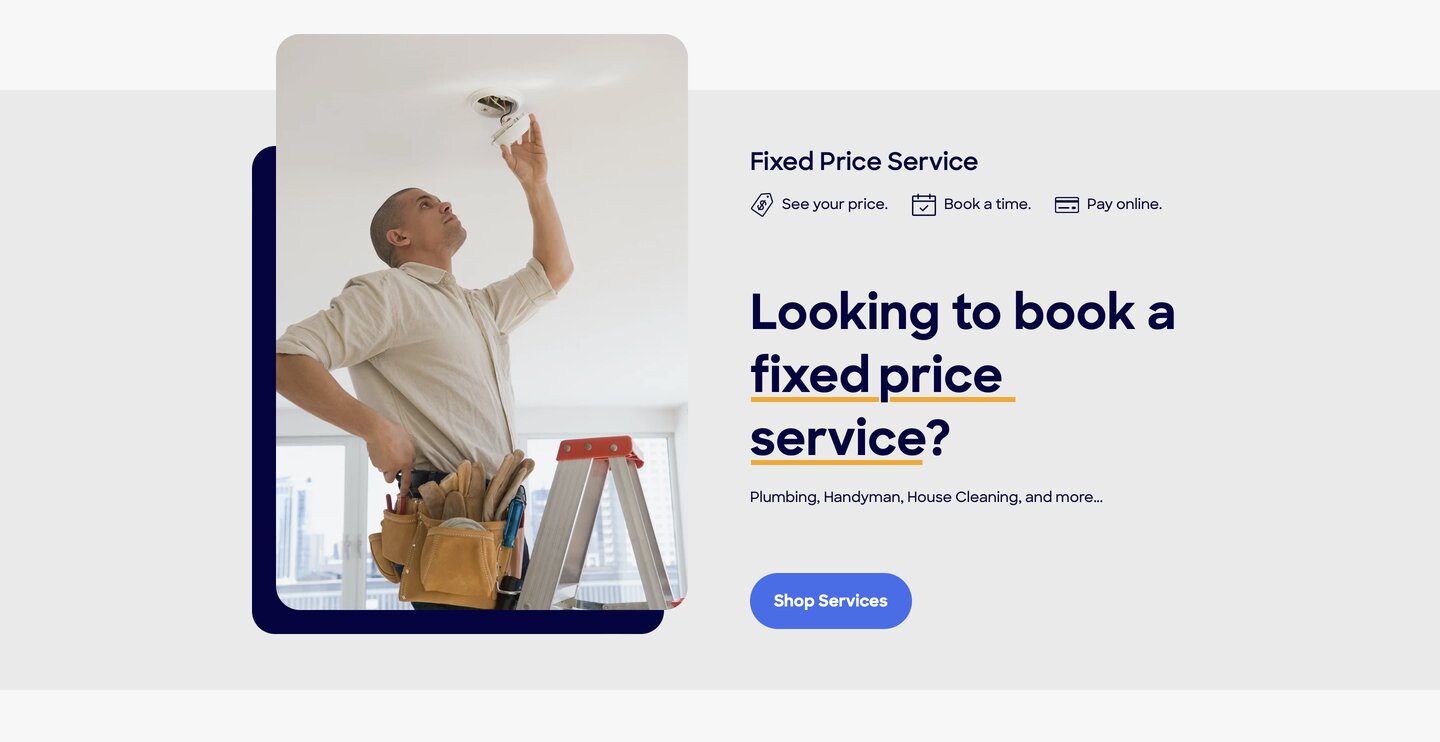 While images only appear in the hero section, service section and modules, the brand relies heavily on iconography instead.
Icons are used as visual representations of service areas, combined with the name of the service, making it easier for the user to not only read about the offering, but to visualize it as well.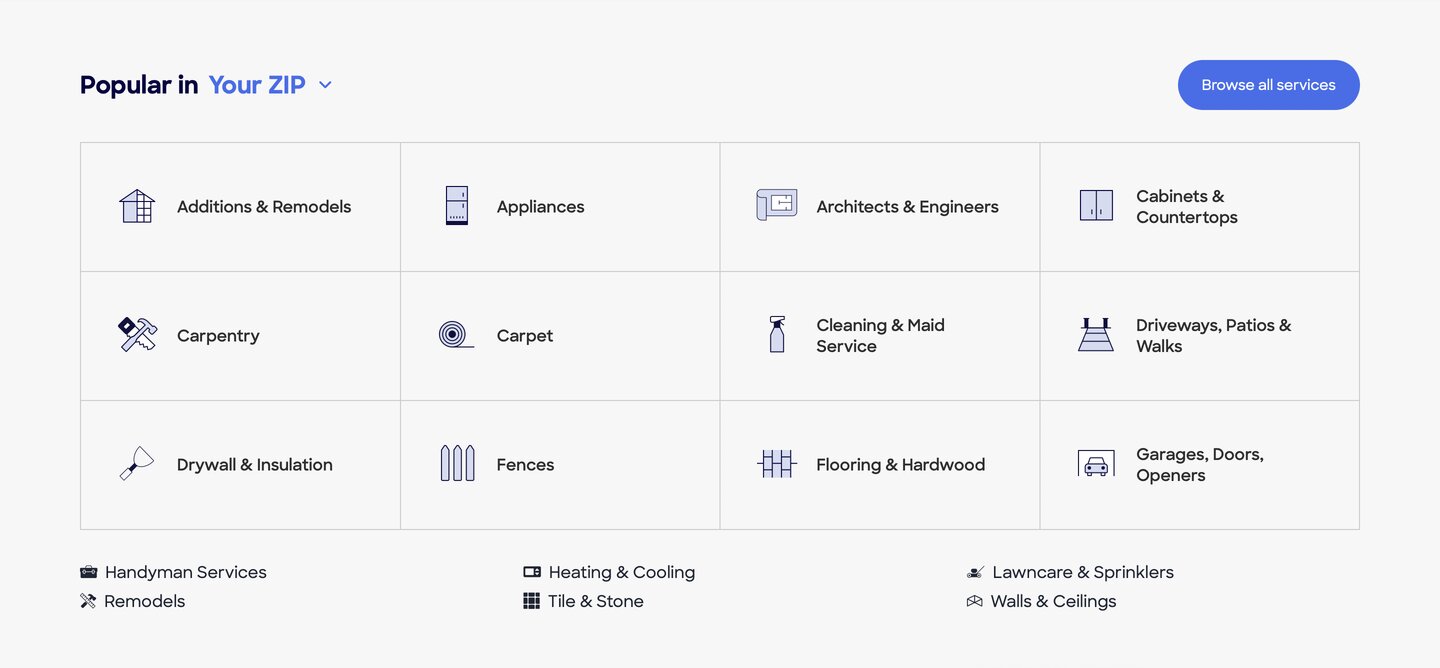 What they could do better:
The navigation is an element we'd improve. While it's sticky and shifts into category dropdown with a scroll, it's plain and unimaginative which isn't too inspiring for click-throughs.
Contact details are hidden at the bottom of the page and warrant a game of "I Spy." Contact details should be sticky and visible right away, so users are always a click away from contact.
Social proof such as testimonials and media mentions are key elements for the HVAC industry that could help push potential customers toward conversion, and HomeAdvisor doesn't try hard enough to include it.
In addition to social proof, we'd optimize the site for search engines and add a page explaining how their solution works, for new users, and link it from the homepage.
3. Samsung
Website: samsunghvac.com
Category: HVAC Product Brand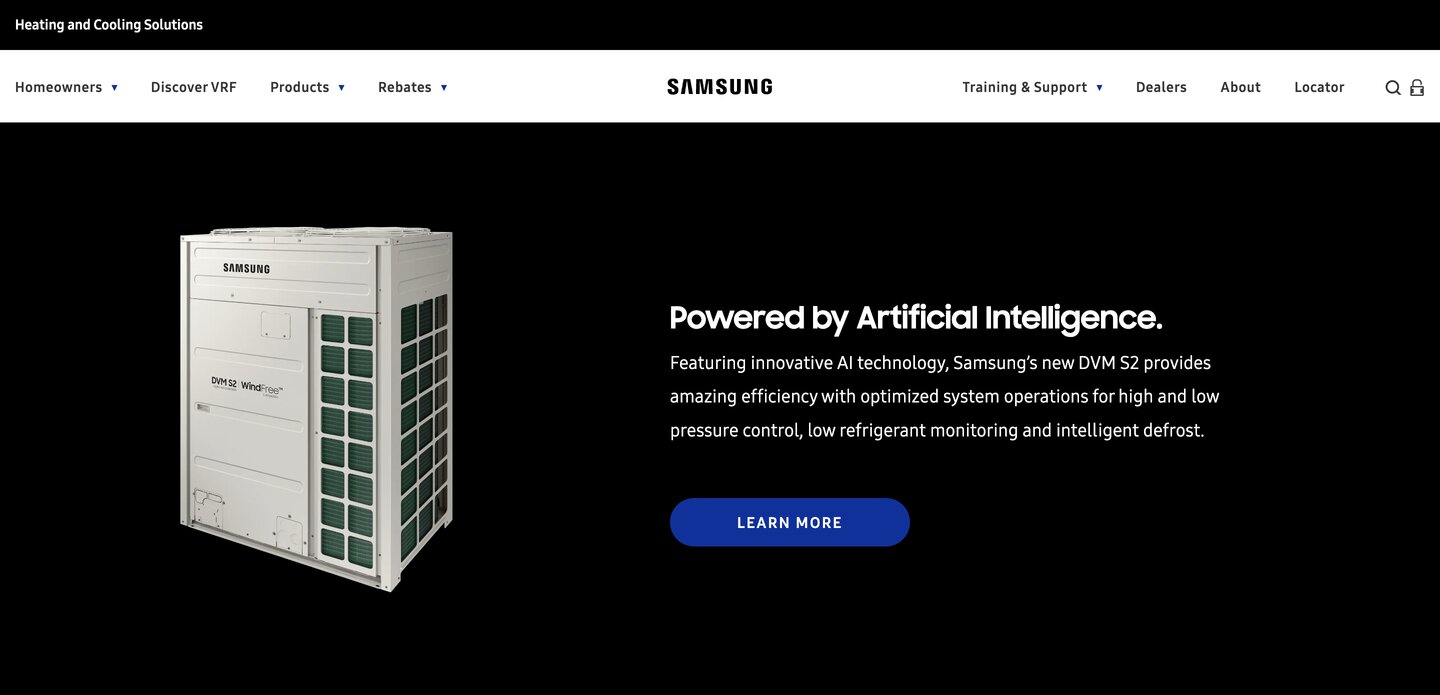 Samsung's messaging starts out strong on the homepage with the welcoming phrase, "Comfort you can count on." This messaging helps immediately put the user's mind at ease and begins building trust right off the bat.
While the messaging is valuable, the paragraph in the hero section is a bit overwhelming for visitors who likely aren't interested in reading through chunky blocks of text.
Witty punches like "Most HVAC companies maintain the status quo, Samsung never will" live throughout the homepage for continued valuable messaging, with minimal copy for easy skimming.

The sticky navigation displays key pages the visitor might be looking for, conveniently displayed and easily found.
Located at the lower right corner of the homepage, you can spot Samsung's chatbot that says, "I'm happy to help," where customers can plug in their question and name for quick and easy answers to their questions.
Another element that helps put the user's mind at ease, a chatbot provides accessible customer service around the clock, allowing for constant and easy interaction with the brand.
The site is consistent with Samsung's recognizable branding, including their signature crisp yet bold typography.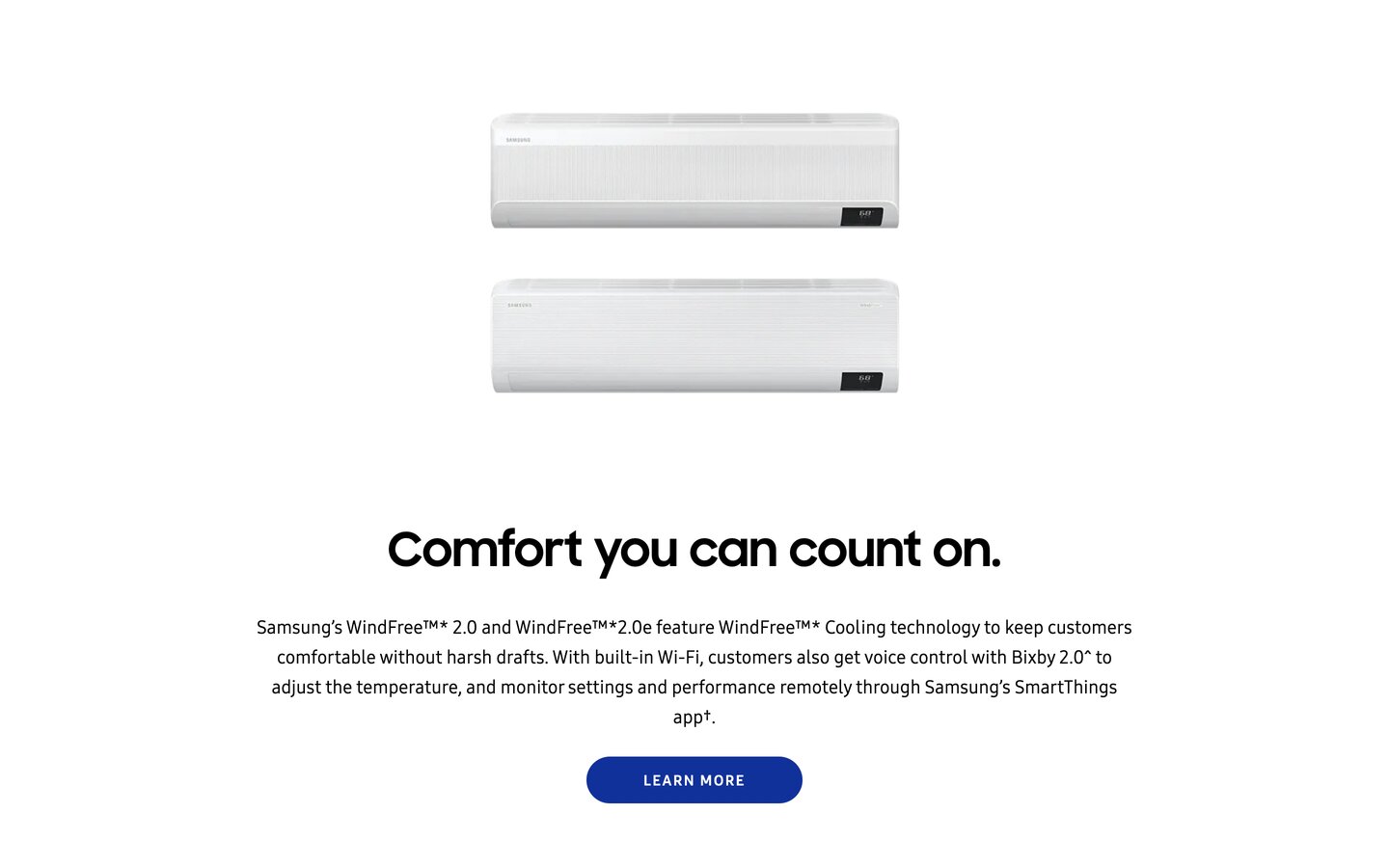 What they could do better:
For a world-renowned brand, efforts in other key aspects are lacking. The color palette feels a bit all over the place, and the stock images hardly add any value or personality to the brand.
From using stock and flat product images to utilizing a dark shade of blue for CTA buttons against a black background (yikes!), the site could use an update to improve readability and engagement, and ensure consistent branding that potential customers will recognize on different channels.
While it's no secret that Samsung is a household name that doesn't need an introduction for most, adding testimonials from previous satisfied customers, along with product ratings, would further increase their credibility as a brand.
We've noticed that many renowned brands tend to rely on their name alone, and assume they don't need to put effort into optimizing their digital presence for conversions.
As a result, these brands undoubtedly miss out on conversion, regardless of how much revenue they may be pulling in.
While there are elements we applaud, such as the typography, sticky navigation, chatbot and even the "Locate an HVAC pro" section at the bottom, we think this site could use a few updates.
4. ServiceTitan
Website: servicetitan.com
Category: HVAC Platform
Landing on the homepage, visitors are greeted with a simple yet engaging design. ServiceTitan features animated previews of their solution, giving users a sneak peek into their offerings.
The navigation menu is sticky and includes a key CTA, "Get Demo" in the top right corner where it's always visible — two of our in-house best practices!
Just above the fold, Service Titan briefly lists their offerings with a clickable video of client testimonials.
Potential customers don't have to search the website to find out the benefits they can get from ServiceTitan — the services, benefits and reviews from past customers are front and center.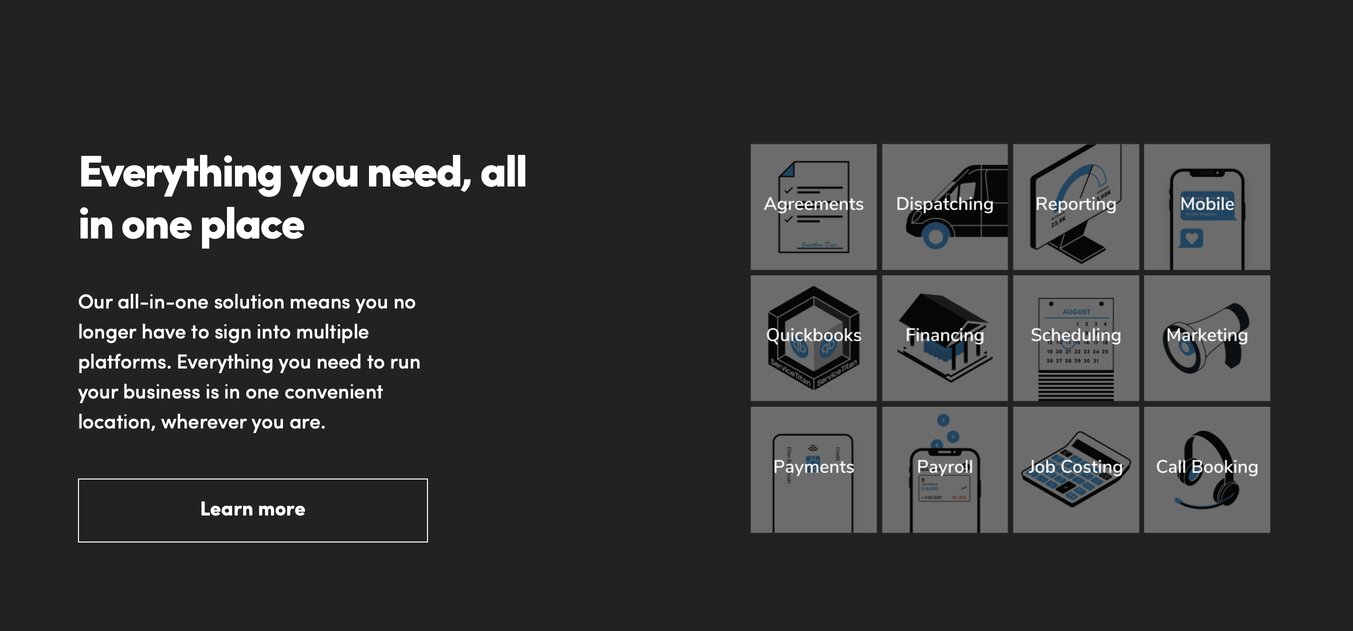 Scrolling down the homepage, visitors can easily spot smiling Sofia, ServiceTitan's designated chatbot, on the lower right corner of the page.
Customers and potential customers alike want to get information as fast as possible, so offering a chatbot to quickly answer questions is an efficient 24/7 service tool for this brand.
ServiceTitan wants to prove that they're a brand both people and other big brands can bank on, which is why they use client testimonials.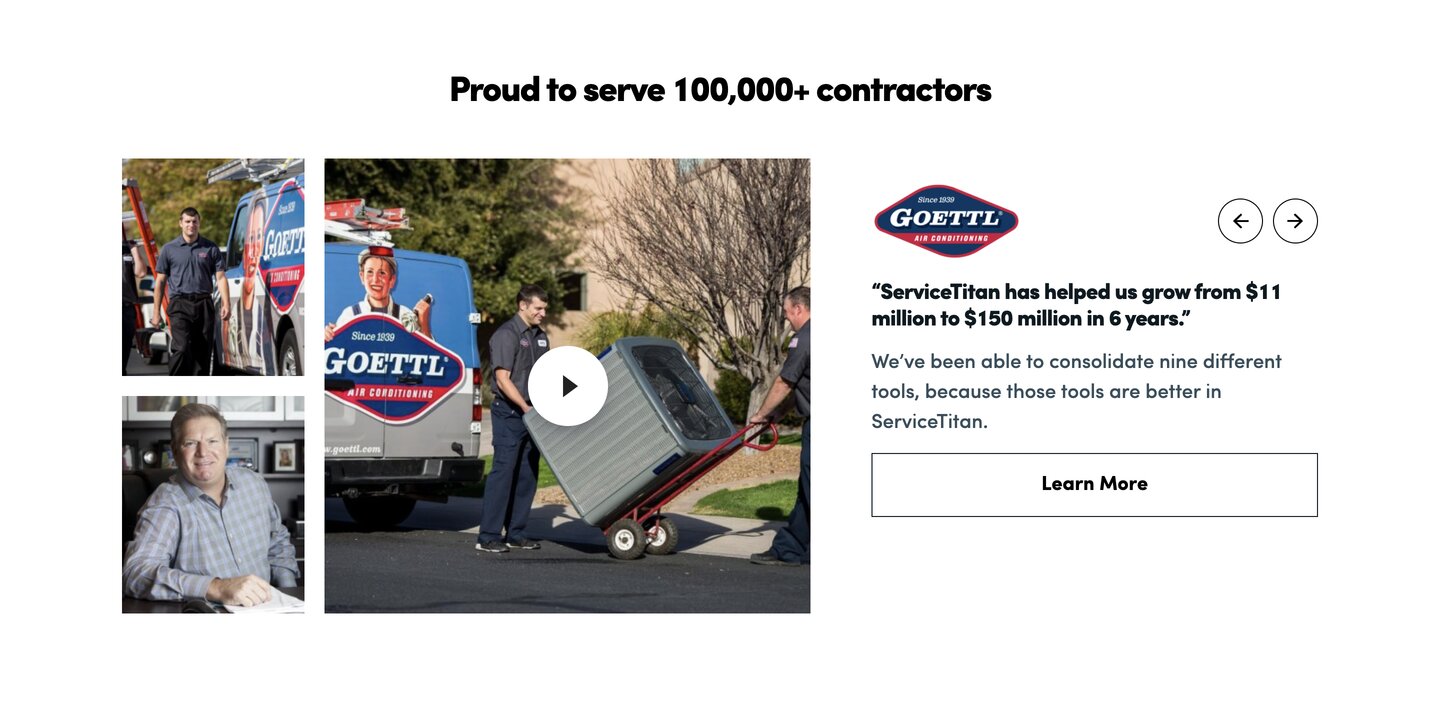 What they could do better:
ServiceTitan hits the nail on the head when it comes to elements like social proof and navigation. However, the user journey is lacking a bit.
Keep in mind that motion graphics are more than just decoration. Even subtle animation such as changing the CTA button color or adding zoom animations could help makes the user journey feel responsive, more natural and enjoyable and website visitors.
The "Invest in your success" section is overwhelming. Four columns with four rows of text next to each other may bore the site visitor.
We recommend minimal, benefits-driven copy to make their offering visible and skimmable.
The "Learn More" CTAs throughout the site are uninspiring and can reduce click-through, as they don't clearly tell site visitors where they'll be redirected to by clicking on the button.
Last but not least, the messaging beats around the bush and doesn't immediately tell the site visitor what they actually do. This can cause the visitor to become confused or lose interest— especially considering that people have short attention spans.
5. Sertus UK
Website: sertus.uk
Category: HVAC Service Provider
Landing on the website, site visitors are greeted with an image of a smoke ventilation system spanning across the homepage.
The hero messaging, "We design and manufacture smoke ventilation systems. Our passion is making buildings safe and making people feel safe" explains the brand's UVP to the visitor right off the bat.
As the visitor scrolls, they see ample white space, simple images and concise copy explaining the brand's services and systems, in an organized, easy-to-digest manner.
The short and direct copy allows for skimmability and makes it easier for the site visitor to read.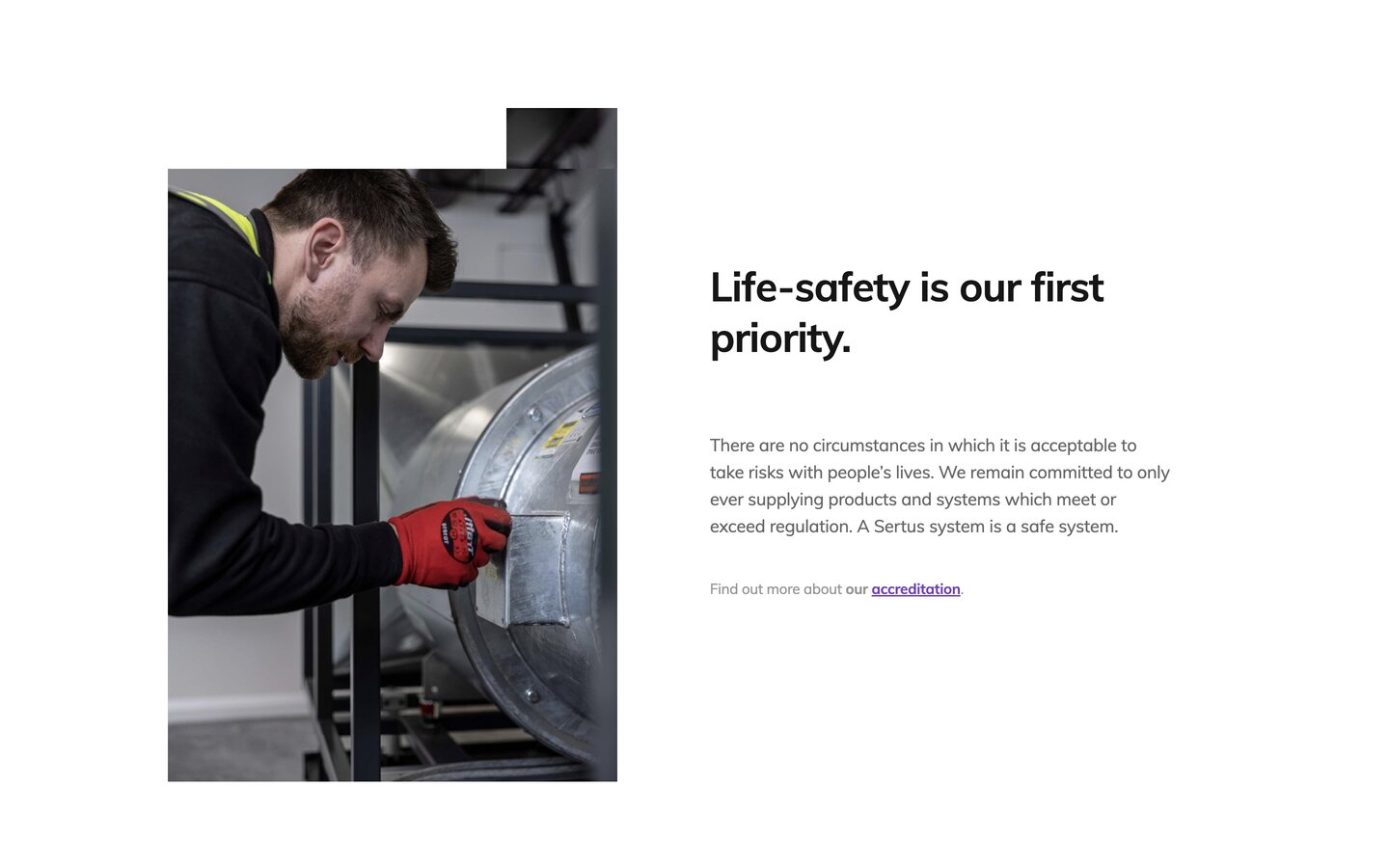 The sticky navigation follows the visitor with each scroll, keeping contact details and key pages in full view.
On the lower right corner of the homepage, Sertus UK implements a sticky chatbot for customer support.
Like the previous examples, a sticky and visible chatbot enables users to ask questions at any time and get instant answers — providing 24/7 support and putting visitor's minds at ease.
The imagery and iconography complement the minimalistic web design, with the use of real company photos (the Sertus logo is visible in their product images).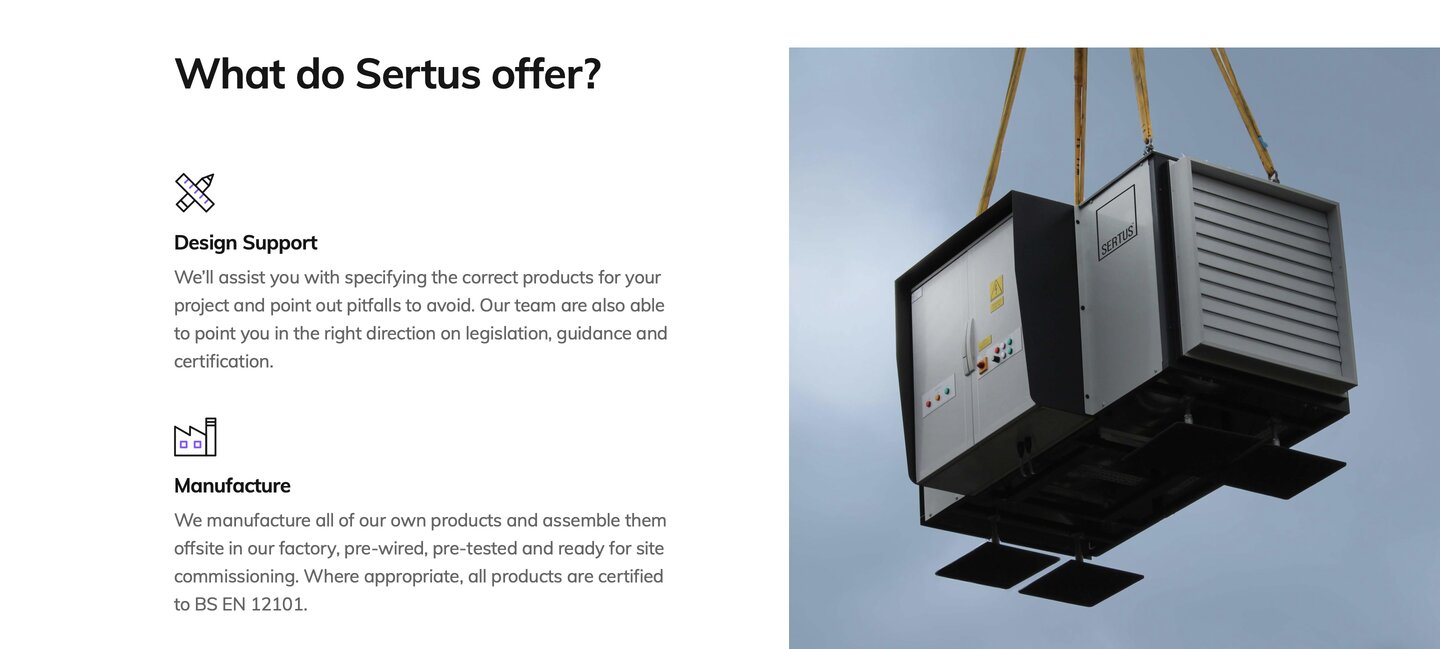 While we wouldn't call the images engaging, they're at least a step up from stock photos.
Halfway through the homepage, Sertus introduces social proof in the form of brand logos from companies they have partnered with, underneath an impactful but simple statement, "Trusted by the industry."

A user who recognizes any of these logos can instantly form a connection and build trust with the brand.
What they could do better:
We applaud this brand's no-fluff direct messaging, social proof, ample white space, sticky navigation and chatbot for easy contact.
So what would we change? One element that misses the mark – and an important element at that – is CTAs.
The hero section provides a UVP, but lacks a CTA above the fold. Since they have nowhere else to go (unless they connect with the menu bar), this forces the visitor to scroll and put in effort to look for what they're hoping to find.
After scrolling, and some more scrolling, CTAs finally appear in the Services section, with bland "Learn more" titles. CTAs are vital to the user journey and to conversion, so reworking this element is key.
Our HVAC Website Design Process
At Digital Silk, we design and develop custom websites that are strategically engineered to increase conversions and on-site engagement.
Here's a sneak peek of our process, from kick-off to launch.
Digital Strategy
Each of our custom web development projects is based on a thorough analysis of your industry, competitors and user behavior. We use these insights to create a digital strategy for your brand, which serves as the basis for your design.
Information Architecture
After researching your industry, target audience and competitor landscape, and considering your goals and expectations, we create your sitemap to mark each key point in your conversion funnel.
Wireframes & Design
Our designers create wireframes to show you how your new website will look. After you approve the wireframe, we add colors, images, CTAs and custom messaging to breathe life into your project and get your custom new design ready for launch.
Before Planning A HVAC Website, Consider These Consumer & Industry Insights
Before creating a website, it's important to gather industry insights that could inform your design one way or another.
These insights can help you determine your branding elements, your presence on different channels, your messaging and more.
When it comes to HVAC website design, here are a few stats to consider:
71% of homeowners look to Facebook for plumbing/HVAC brand awareness campaigns.
A brand awareness campaign can help introduce your target audience to your brand and your offering.
For many brands across industries, social media has proven not only to be a key factor in creating brand awareness, but maintaining customer relationships and generating new leads.
Determining the social channels your brand will be active on starts with understanding your target audience, from their demographics to their likes, dislikes and where they spend the most time online.
According to the stat above, Facebook is a must-have platform for your HVAC brand.
26% of home service buyers searched online when they realized they had a home service they needed to address.
While 26% is a minority in the grand scheme of things, failing to invest in a professional website design means you could be missing out on 26% of potential customers.
Following SEO best practices such as optimizing meta descriptions, headers, title tags and more for relevant keywords is key to having a better ranking on search engine results pages (SERPs).
This in turn will help increase your brand visibility, and help you increase lead generation.
Looking For Custom Web Design Services?
Request a free proposal.
Our HVAC Website Design Best Practices & Must-Have Functionalities, Header-to-Footer
From attracting prospects through an optimized website to ensuring potential customers can reach you through visible contact details, here are some of our best practices for HVAC website design:
Ensure your website is responsive: Allows your website to fit a wide range of devices and screen sizes to ensure usability.
Build trust with testimonials and other types of social proof: Display the quality of service you provide and share how your previous clients were satisfied with your services
Integrate artificial intelligence into your website: For robust websites like Samsung's, use a chatbot so your customers are provided with 24/7 support
Use original images: Avoid using stock images and use real images of your team and products to connect with your visitor and humanize your brand
Keep paragraphs to three lines max for skimmable copy: Ensure your copy doesn't overwhelm your visitor by keeping it concise and benefits-driven
Follow SEO best practices: Optimize meta descriptions, headers, title tags, image tags and more to improve your website's ranking on Search Engine Results Pages (SERPs)
Find the right channels: Research your audience and create user personas to determine which channels your brand should use to improve engagement and visibility
Make the most of your hero section: Your hero section should include a simple navigation bar, a clear unique value proposition and a key CTA above the fold to greet your visitor and start the user journey
Create a dedicated page for each key service you provide: Don't make your visitor wander through your site searching for something they can't find; Create a dedicated page for each of your key services and link through a clear CTA on the homepage
Create a RAQ section: Along with brand reputation and service options, price is typically a deciding factor in the HVAC sector; Add a "Request a quote" form and/or CTAs throughout your homepage for quick contact and transparent quotes
Wrapping Up On Best HVAC Website Designs
In addition to being visually appealing, the best HVAC website design should build trust through transparency, educate the visitor, and help convey your unique offering of exceptional and reputable HVAC services.
At Digital Silk, we use data-driven best practices as well as industry, competitor and audience research to design strategic conversion funnels and create benefits-driven copy that connects with each brand's target market.
Our team of top designers, developers, digital strategists, branding experts, copywriters and more collaborate on each project to deliver custom solutions that convert.
Ready To Design A Market-Leading Website?
Request A Quote
Tell us about your project and let our experts give you recommendations.