62% of businesses update their websites at least quarterly and 30% of them – on a monthly basis — how does your website measure up? 
If you're banking on an outdated website, it's likely that your competition is miles ahead. Why?
Because modern web design trends aren't just about the way your website looks. Every faucet of your site — from your color pallet and branding elements, to your navigation, CTAs, images, user journey and more — affects your conversion rate.
In this article, we'll dive into the top 10 trends for modern web design and explain exactly why you need to keep up in order to stay competitive.
Plus, we'll share expert insights from our CEO, Gabriel Shaoolian, as he compares the 2021 web design of car brand giants, Ford and Tesla. Find out how their web designs measure up regarding modern trends in UX, UI and messaging.
What Does Modern Website Design Look Like In 2022?
Do you remember what your favorite website looked like 10 years ago? What about five years ago?
Take a few of your go-to websites and look up a timeline of their design evolution. We bet you'll be surprised at how much the designs have changed over the years!
From static backgrounds and plain layouts to high-quality imagery and advanced features, modern web design today looks nothing like it did in the past.
Take Facebook for example. Check out their design evolution below:

So what exactly makes web design modern in 2022?
We have outlined the key elements of professional web design:
Minimalism: Minimalism is not just a trend in contemporary web design – it's a standard. You can find its influence in most of your favorite blogs, online stores or landing pages. Tons of white space, clean typography and scarce text are prevalent on small up-and-coming blogs and corporate pages alike.
Responsiveness: Did you know that mobile devices generate 51.53% of global web traffic? Responsive or mobile-first design is essential to ensuring that your website is accessible via a variety of devices with different screen sizes and operating systems.
Speed: 47% of people want your website to load in under two seconds and 40% will abandon it after three seconds of waiting. Slow websites are simply unacceptable in 2022. Consumers expect more, and they'll bounce right off your site if it's not lighting fast.
3 Data-Driven Reasons To Modernize Your Website Design
If your bounce rates are high, your brand visibility is low and your conversion rate is no where near your goal, updating and modernizing your website should be a no-brainer.
But let's say your website is a bit outdated and slow to load, but your revenue is stable. In this case, why invest in a more modern web design?
We'll share three compelling reasons to modernize your website — regardless of which category you fall into.
Reason 1: It Does Wonders For Your Brand Image
Website visitors only need around 0.05 seconds to form an opinion about it.
Whether you are in the B2B or the B2C market, your website is one of your greatest assets. It's your business card, product brochure and lead-generation tool all in one.
In most cases, your website is the first point of contact between your business and your customers.
This means that their first impressions of your brand will be based on your website and 94% of these impressions will be design-related.
Whether you're in the hotel industry, banking, retail, manufacturing or something else, if your website is unattractive and outdated, your customers will perceive your business as equally unappealing.
On the other hand, if your website design is modern and responsive, it will help turn your prospective clients into existing ones, while increasing your brand reputation and inspiring trust.
Reason 2: It Helps With Your SEO
68% of users start their online journey with a search engine. 
Website design plays an important role in your SEO strategy, albeit indirectly.
Sure, it does not influence your Google ranking like keywords and backlinks do, however, a minimalist, responsive, fast-loading website is easy to navigate and find the information they're looking for.
This is the foundation for a good user experience that encourages your visitors to stay on your website longer, engage with it, revisit or recommend it.
As a result, your time on page goes up and your bounce rates go down. These two metrics are Google's content quality indicators and, as such, can make or break your chances to rank in the top 10 search results for your target keywords.

Reason 3: It Boosts Your Revenue
62% of businesses increase their sales by optimizing their website for mobile devices. (Cision)
51.53% of users now access the internet via mobile devices and as many as 40% of all online transactions occur on smartphones and tablets.
If your website is not optimized for mobile devices, you are probably losing over half of your lead base.
Brands are increasingly investing in mobile-friendly or mobile-first designs to engage this growing market segment and grow online conversions.
If you're not, you're missing out.

Top 5 User Interface (UI) Website Design Trends
You now know the key characteristics of modern web design and the data-backed reasons to invest.
Now, let us explore in greater detail the most important modern web design trends in 2022 – starting with UI design:
1. Negative Space
Minimalism remains popular in web design in 2022.
One of its most prevalent elements is negative space.
Purposeful and tasteful use of negative space can make a website stand out from the crowd and facilitate easy navigation.,
Mostly a UI trend, as it has to do with the aesthetic side of web design, it can also contribute to improving the UX.
Use negative space to accentuate your product descriptions and CTAs, highlighting a path that will lead your visitors to key conversion points.
Apple is one of the companies that pioneered negative space in web design. Note how the images of the laptops and the blue-colored CTAs instantly draw your attention.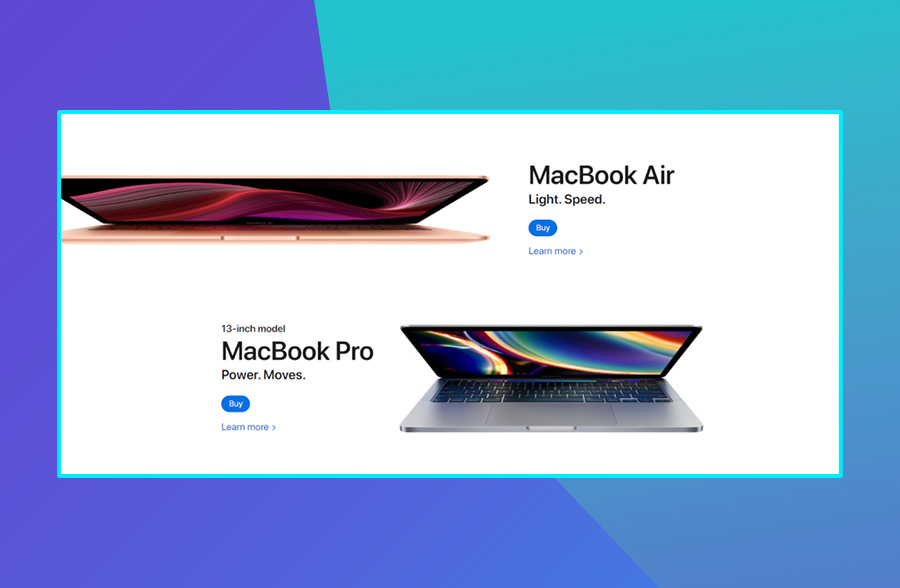 Mozilla took a similar approach with the homepage for their Firefox web browser. The colorful hero image and the shortcuts that lead to the product pages stand out on the empty white background.
Using negative space on an eCommerce website can be tricky unless it fits your brand vision. In the case of the Palace clothing brand, it does. Their website is easy to navigate and the heavy use of white space compliments the brand's minimalistic, underground aesthetic.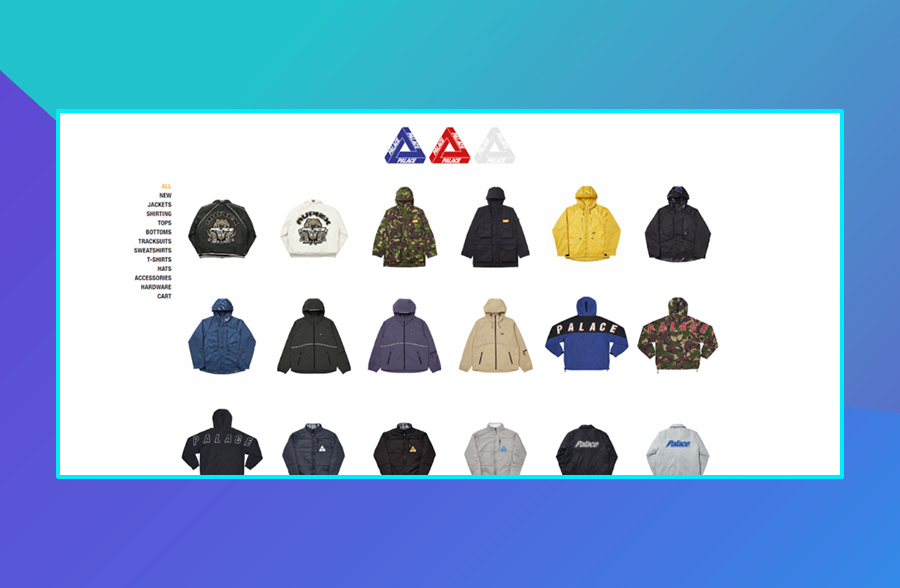 2. 3D Graphics
3D graphics used to be very expensive to make and took a heavy toll on the page loading speed.
But that's no longer the case. Today, 3D visuals are more affordable and more popular than ever.
Graphic designers now access to numerous tools that make 3D modeling less effort- and time-consuming.
Plus, with the onset of 5G and innovative image formats, page loading speed isn't as much of a concern anymore.
3D graphics can completely transform the visual identity of your website.
Use them to add a sense of depth and make your website appear more immersive and realistic.
Be sure to use them with moderation, though. Too much can come off as overwhelming to the user and cripple the performance of your website.
Payment provider Stripe managed to find the right balance. Even though they use plenty of animated and 3D elements on the website, they are all tasteful and work towards establishing a unique brand identity.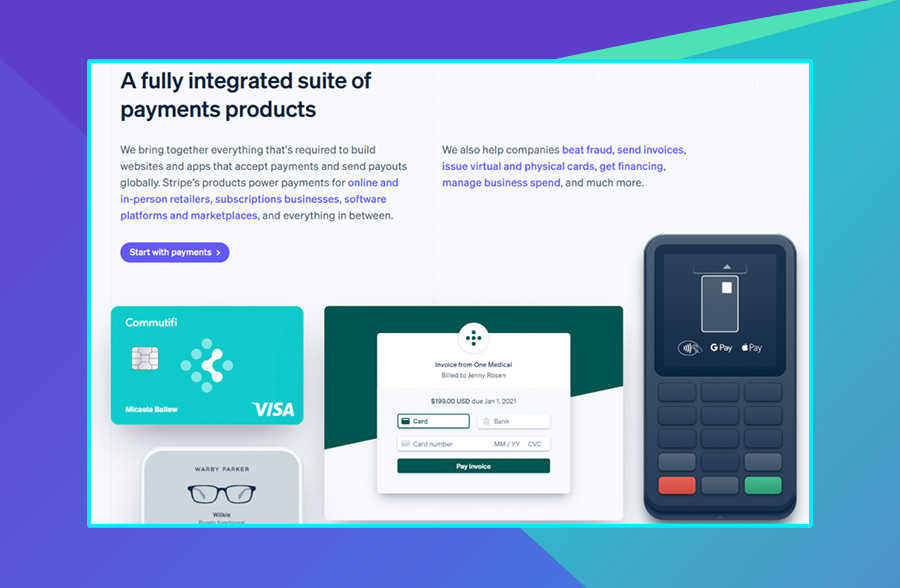 However, it would be hard for Stripe to beat Beans Agency in using 3D to establish a brand identity.
Take a look at their unique and on-brand design below: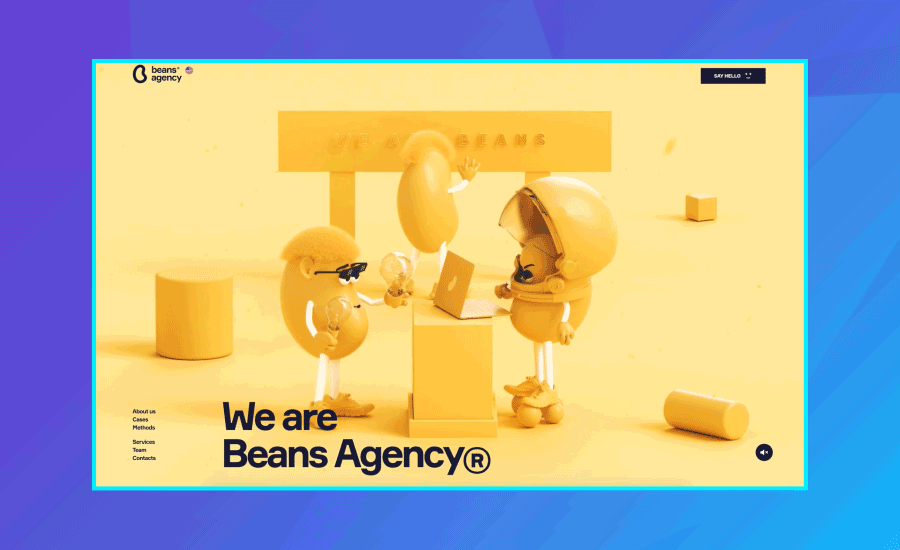 The website of Canadian digital agency Turbulent is a great example of how to take 3D a step further. All of their visual elements are animated and follow the visitor's journey, creating an immersive experience.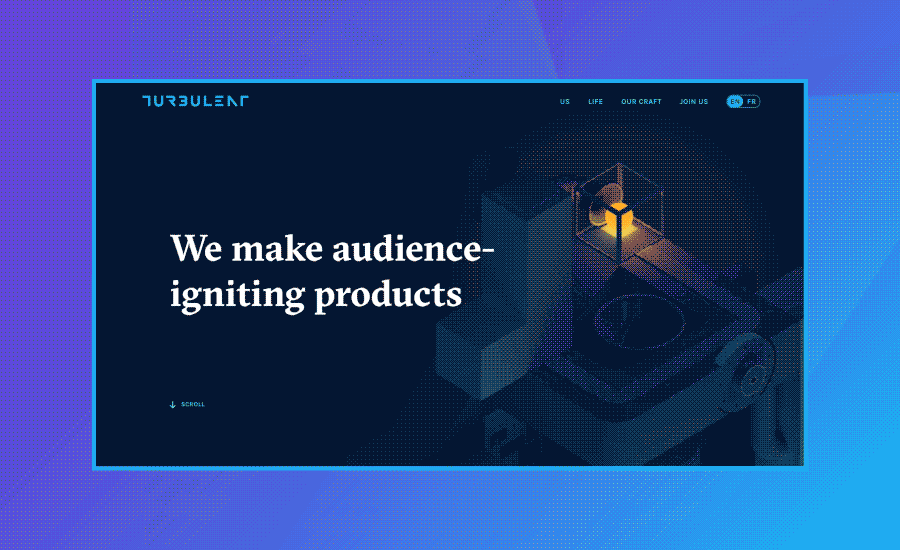 3. Bold Typography
Modern web design uses typography to make a statement.
The usual serif and sans-serif fonts are still widely used, but it's all about a unique and on-brand spin
What is irresistible and impactful, is a bold, oversized type that occupies a large chunk of the screen.
Swiss finance institution Golden Suisse does not use daring typefaces on their website. However, they combine oversized typography with negative space, creating a website that looks minimalistic and modern.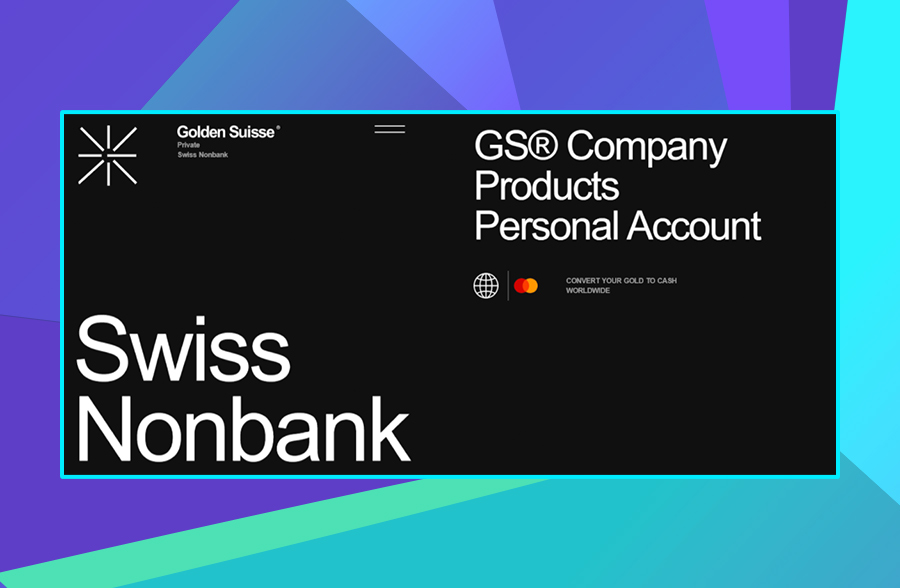 French interactive developer Florent Biffi takes a different approach to typography on their portfolio website. Here, the type is used as a design element that makes an impression, despite being practically unreadable.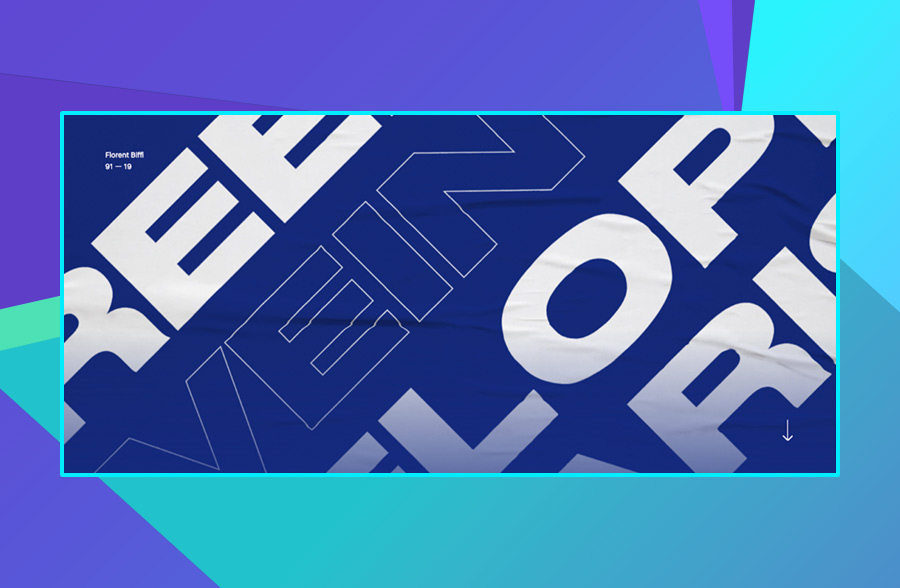 An extreme example of bold typography would be The Badass Project photography studio. The type on their homepage is animated, consists of several fonts, overlaps with other elements and consistently occupies your entire screen.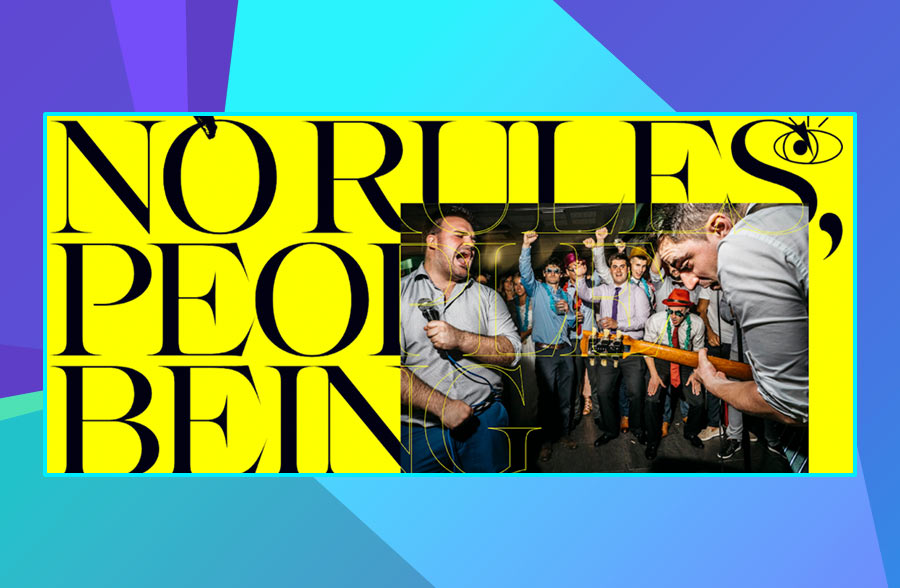 4. Dark Mode
This list would be incomplete without the now ubiquitous dark mode.
Pioneered first by mobile apps, dark mode is now becoming a standard in website design.
While it may seem like a gimmick, dark mode has several benefits that justify its widespread use:
Improved battery life by as much as 63% on devices with OLED screens.
Higher contrast that can help accentuate the key elements of a webpage, such as the CTAs.
Interactivity that makes the users feel more in control over their experience.
Independent search engine DuckDuckGo is one of the best examples of modern web design that implements interactive dark mode – and more. Users can choose between six appearance themes, two of which are variants of the dark mode.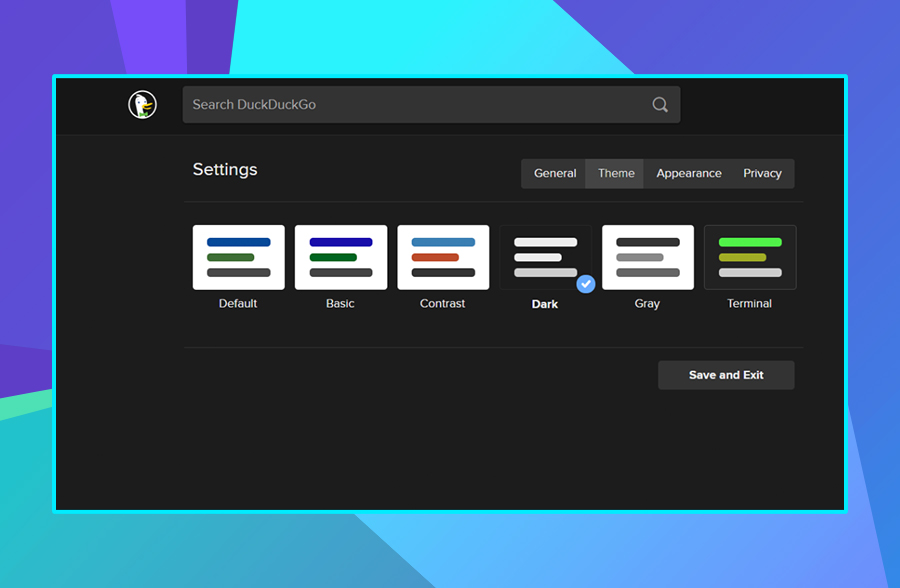 Interested in more dark mode examples?
Slack implements a similar solution, allowing the users to switch between Light and Dark appearances, and choose from one of multiple highlight color schemes.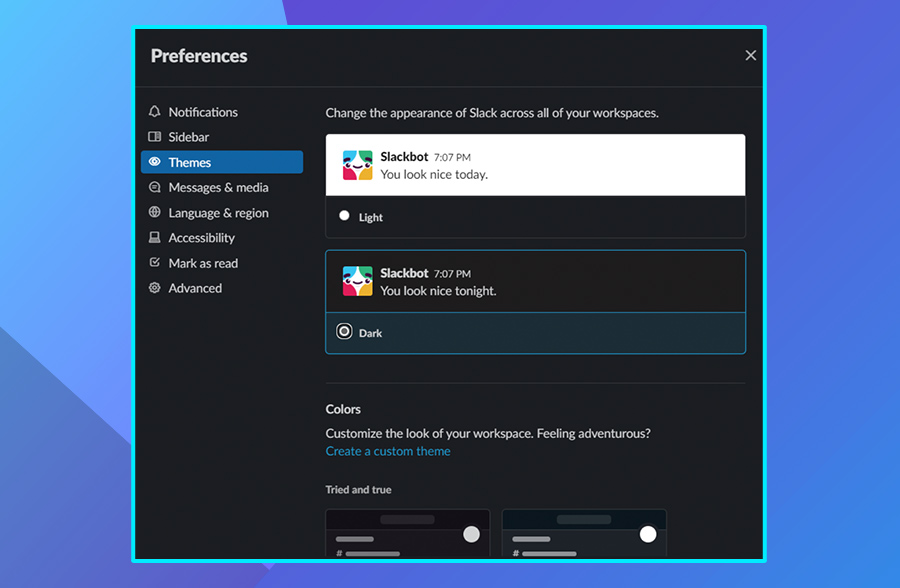 As for social media websites, Twitter is a great example of implementing interactive dark mode. In fact, there are two dark modes for the users to choose from that vary in darkness.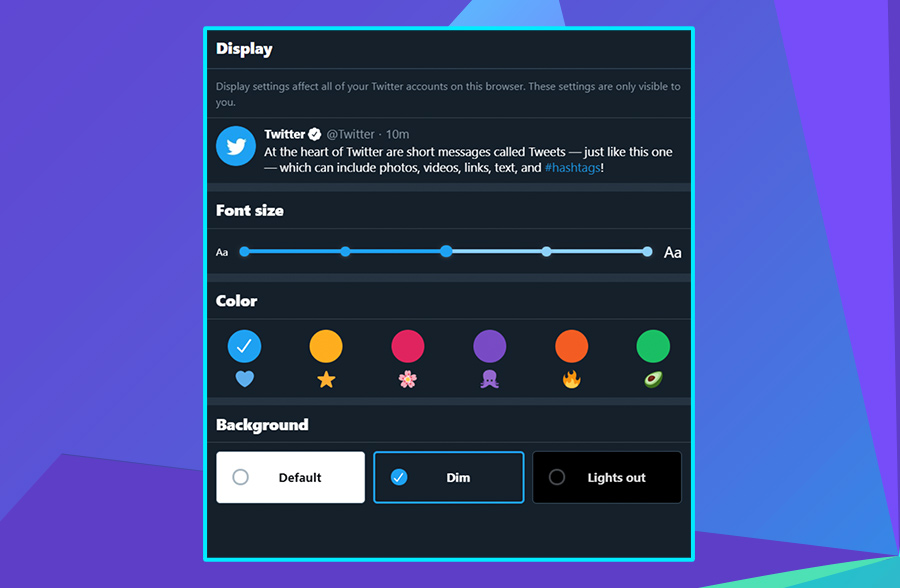 5. Vivid Color Combinations
Did you know that between 62% and 90% of consumers' first impressions of a product are defined by colors?
In 2022, colors are as important in website design as ever. This year, the hottest color trend are vivid, unusual combinations of pastel shades, earthy colors, jewel tones and floral hues.
Take GlobeKit as an example. The colors are vibrant and dynamic yet still provide an earthy feel, and they blend as you scroll down the homepage.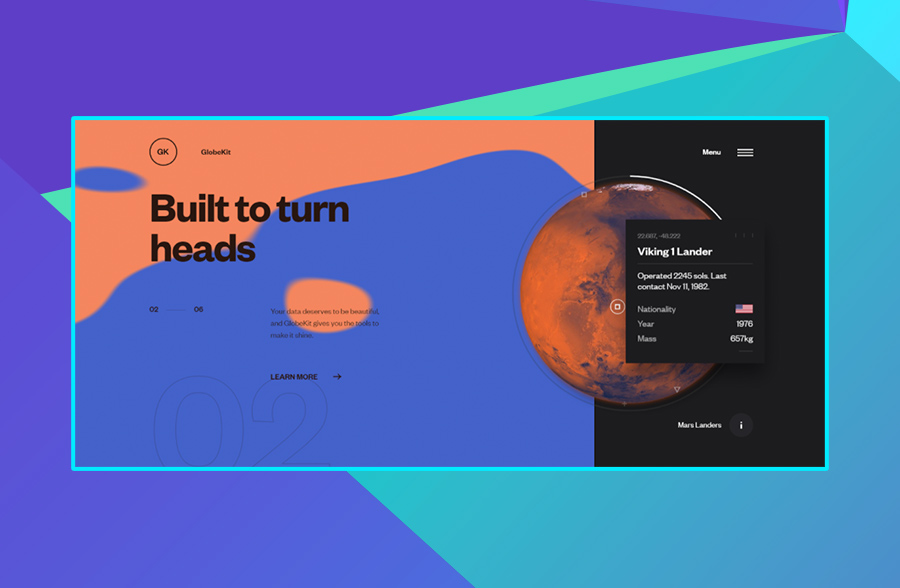 Manila-based agency GnGn takes a different approach. The color palette of their website utilizes vibrant jewel tones to create an immersive experience.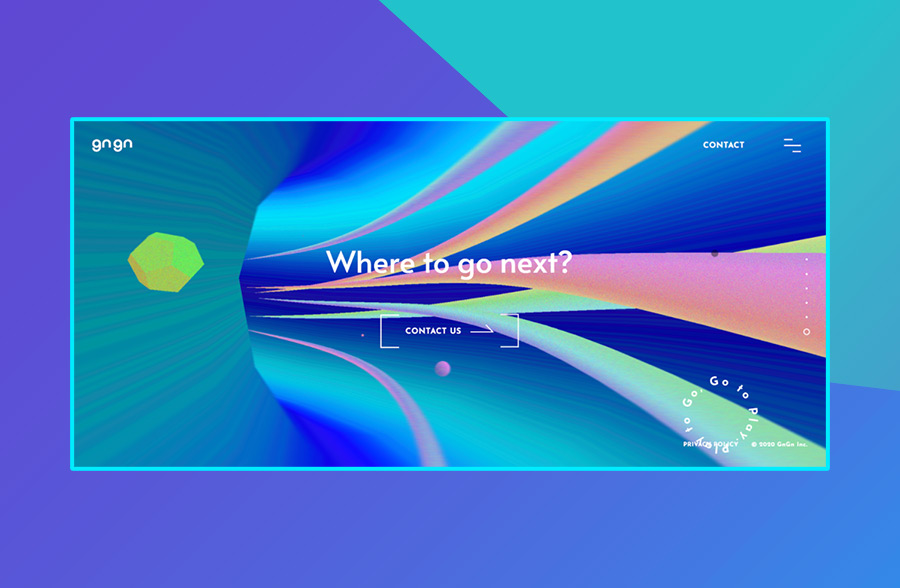 Top 5 User Experience (UX) Web Design Trends
UX design continues to leverage technology to personalize visitors' on-site experience
Besides advanced tech, leading websites are humanizing their content through storytelling to the users' emotional response.
Here are the top UX design trends in 2022:
1. Conversational UX
Conversational UX design serves to make a visitor's interaction with your website as 'human' as possible.
In website design, that can be achieved via an in-built chatbot or interactivity.
A good example of conversational design is the website of Buzzworthy Studios. Interestingly, they integrated the chatbot functionality into their CTA.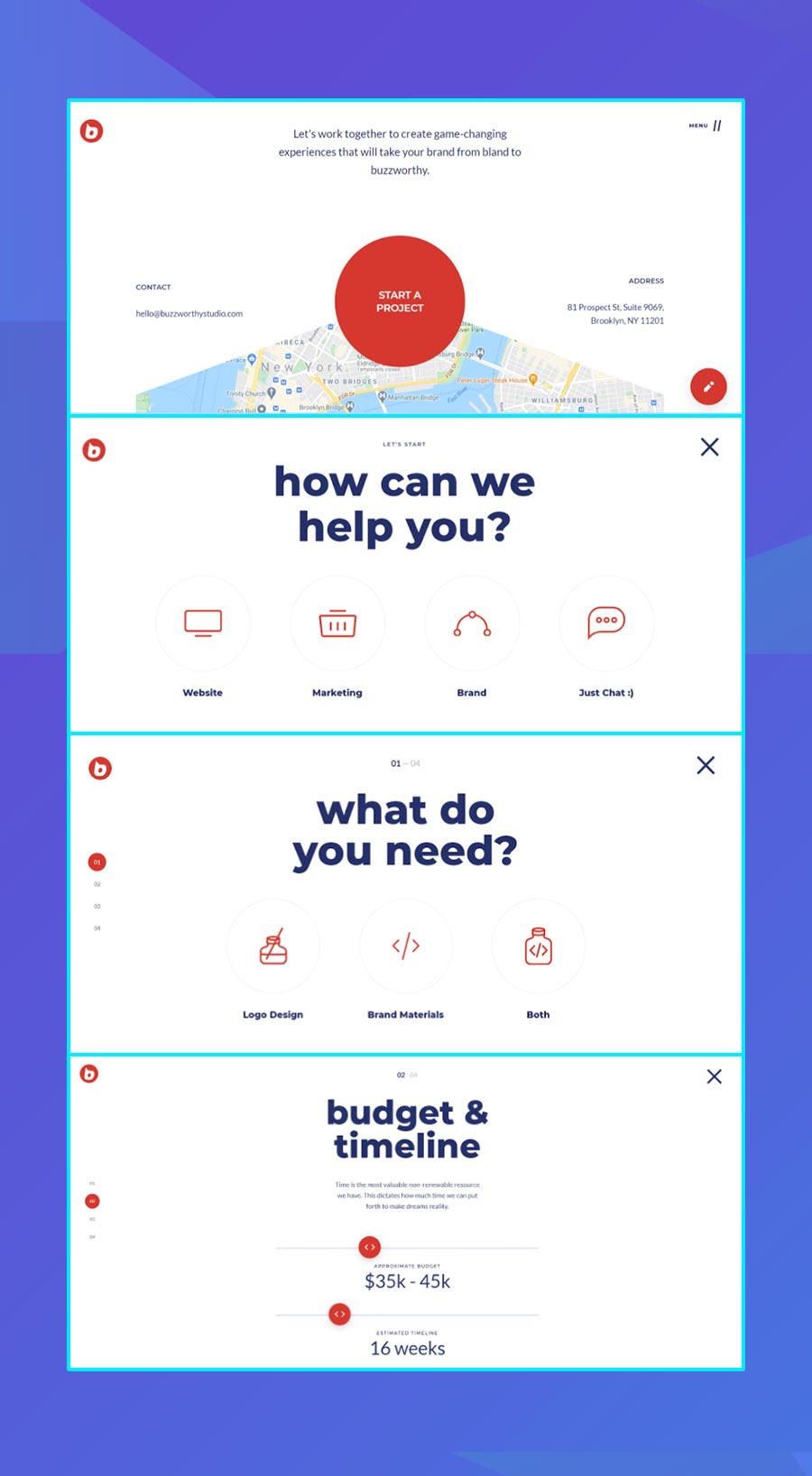 The contact form that opens once you click on the CTA is an interactive step-by-step process that flows like a natural conversation with a sales manager.
2. Human-Centric Copy
Another prominent UX design trend is human-centric copy. Its main purpose is to show your audience that there are real people behind your website.
Humanizing your copy will create a more memorable experience for your visitors and make your website stand out in the sea of webpages with boilerplate content.
TurboTax uses human-centric copy and design to convey trust and reliability. Note how many times the word "guarantee" and its variants appear in the text!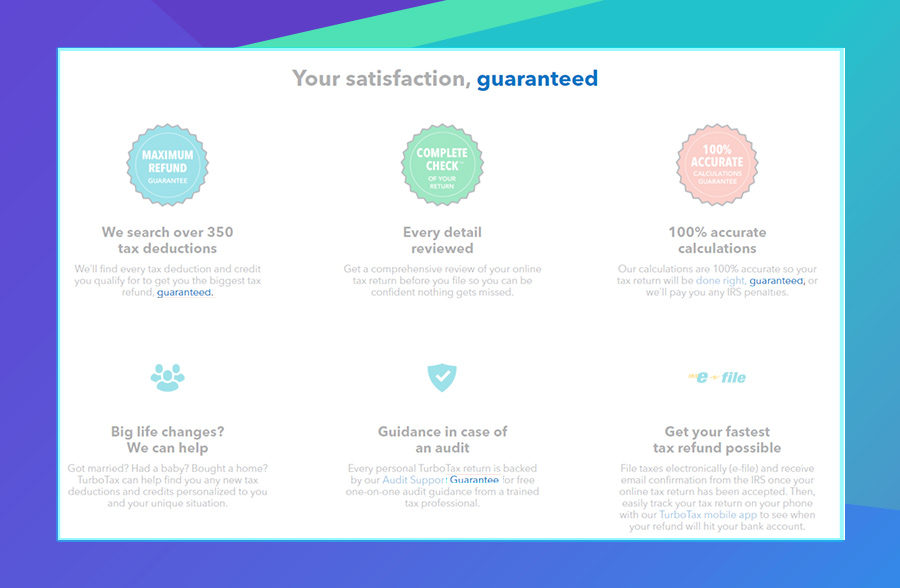 Their website is designed to turn something as complicated and bureaucratic as filing taxes into a pleasant, effortless user experience.
3. Storytelling
Remember how stories caught your breath as a child?
Telling the story of your product or business on your website can act in exactly the same way — to engage and convert your visitors.
Storytelling can help you craft an intimate, relatable user experience.
The website of the Flat Top Hills winery is a great example of powerful storytelling.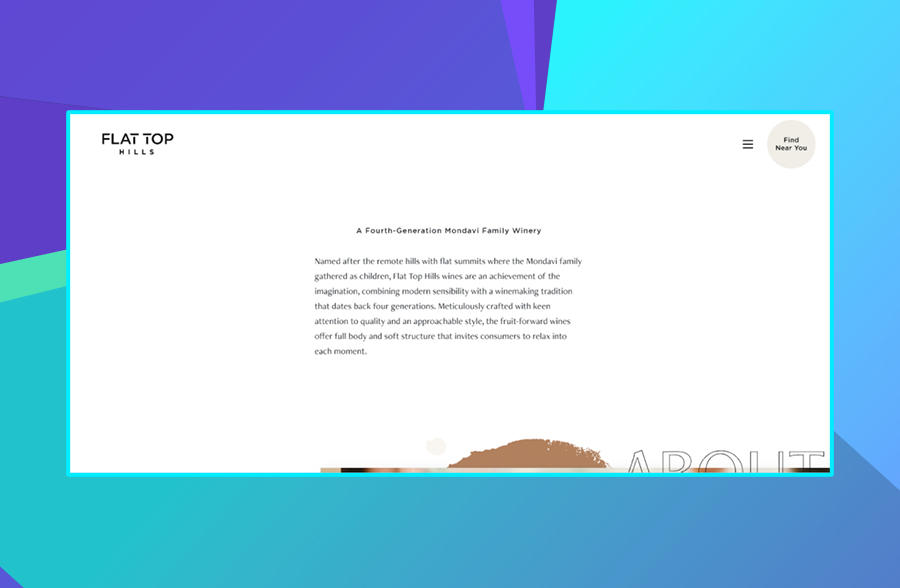 The entire "About" section of the website inspires the visitors to learn about the philosophy and the people behind the products.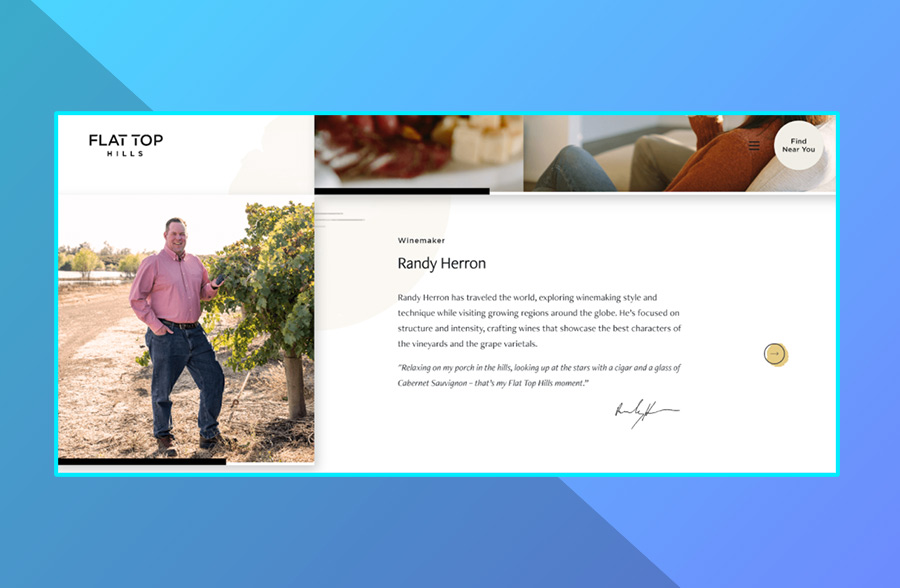 That intimacy makes the visitors' user experience more special and memorable.
4. Minimalistic Navigation
Following the minimalism trend, minimalistic navigation is one of key UX design trends this year.
This trend is fueled by one key benefit. The fewer menus and shortcuts you have on your website, the more time your site visitors can spend exploring your content, products or services.
The website of British fashion designer Martine Rose follows this logic. Despite the unusual placement of the navigation menu in the middle of the homepage, it never takes the center stage.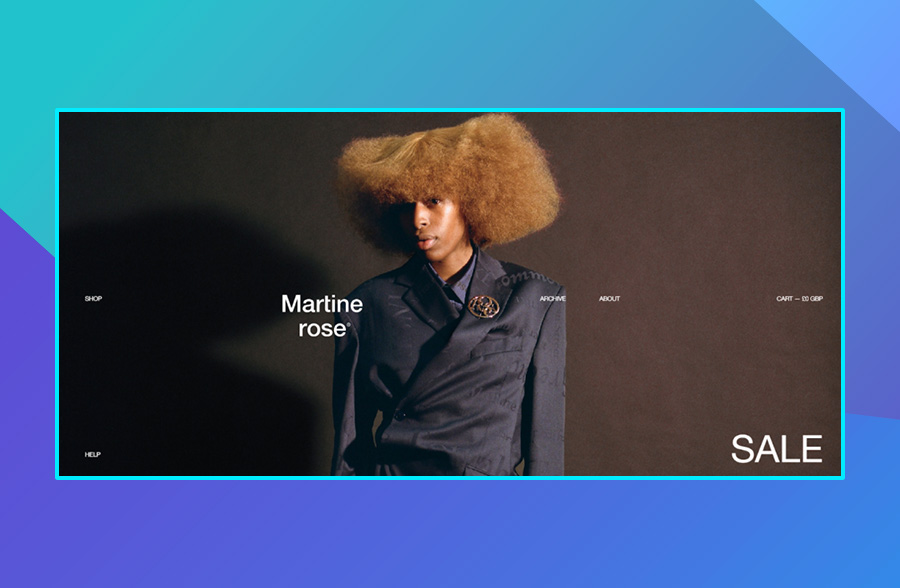 Even on the catalog page there is little to distract the visitors from exploring the products.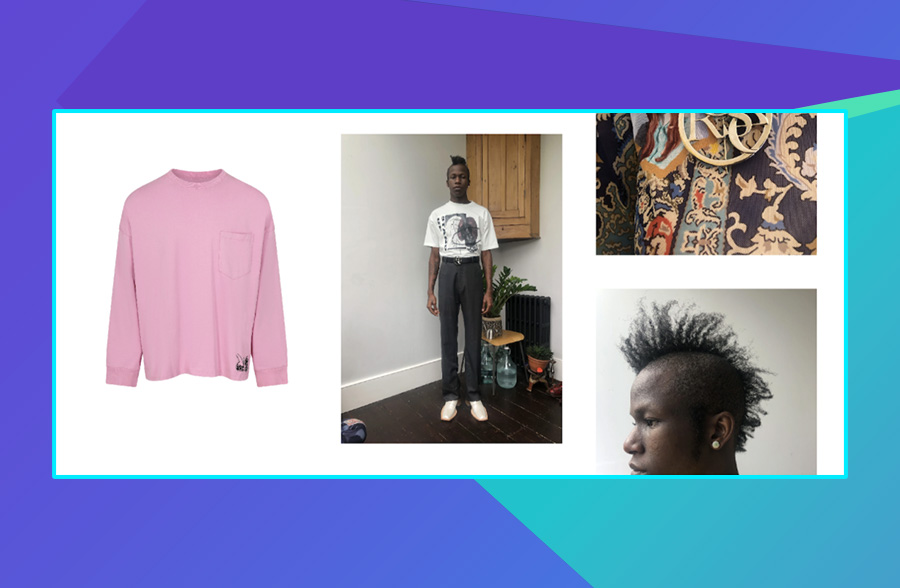 5. Virtual & Augmented Reality
In 2021, the global VR/AR market has grown to $18.8 billion.
Both have the potential to make websites more engaging and immersive than ever.
An example of a website designed specifically with VR functionality in mind would be the 50 Years Of Swiss Music Chart catalog where myriads of constellations represent popular songs from the period 1968 — 2017. Lively and interactive, rich in rhythm and emotion, wonderful new virtual worlds emerge for us to immerse in and explore.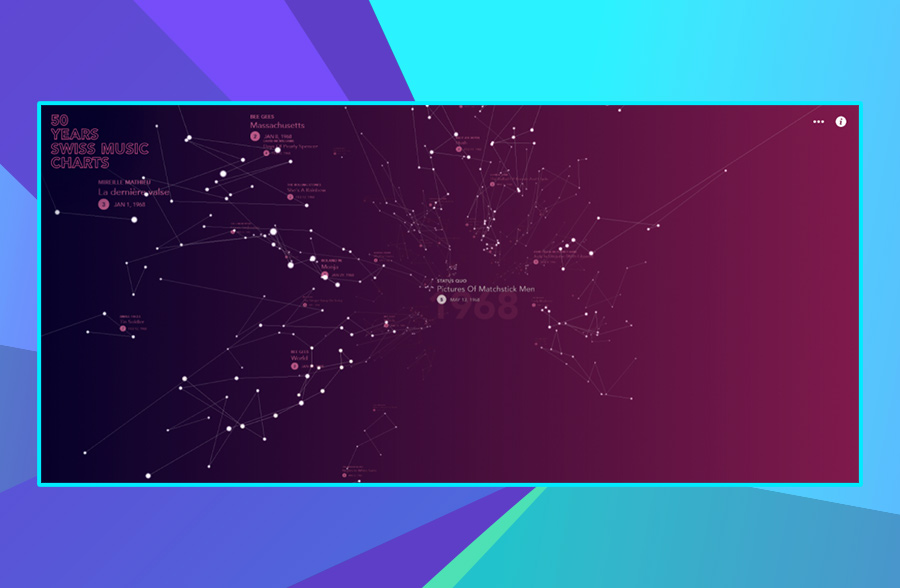 Ford vs. Tesla Web Design: Which Brand Does A Better Job With Modern Design?
Let's move to a modern website comparison of two globally-recognized brands: Tesla and Ford.
Founded in 1903, Ford has over a century of history, rich in innovation.
Tesla on the other hand, founded in 2003, is still considered a newbie in the industry. Nevertheless, in just under 20 years they have managed to grow their brand, visibility and product line — a whopping 100 years less than Ford.
But is Ford's longevity enough to connect with today's digitally native consumers? After all, around 50% of global internet users are between 18 and 35 years old, and let's face it — they're the ones who are calling the shots when it comes to consumer trends.
While the idea here isn't to pit the products of two iconic brands against each other, Ford and Tesla have web designs that are polar opposites and we can't pass up the opportunity to talk about their hits and misses.
Here, Digital Silk CEO shares his thoughts on which car brand does a better job keeping up with modern web design trends to appeal to today's audiences, in terms of UX, UI, messaging, SEO and creating an unmatched user journey.
It's showtime!
Ford: A Heritage-First Brand
Let's start with the homepage, below. Right off the bat, you see a simple image with messaging and a call to action to "View Offers."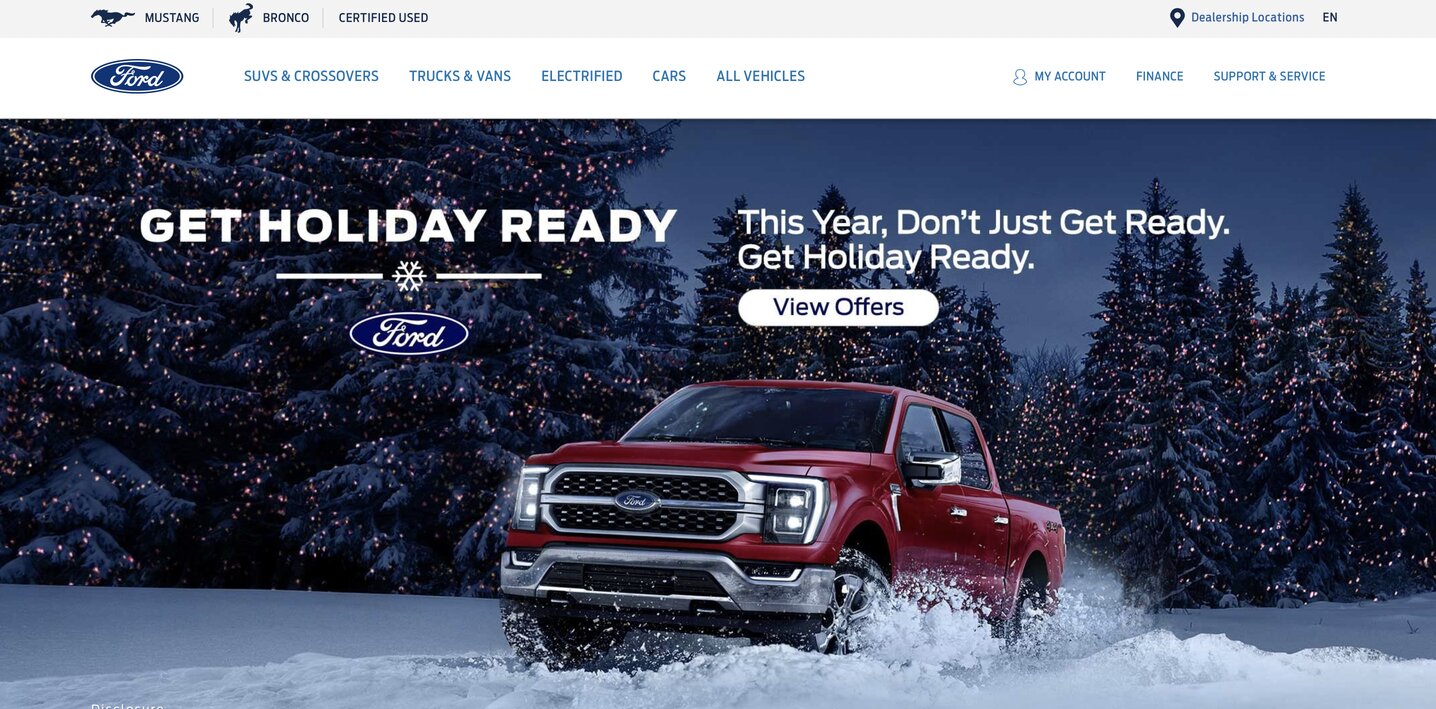 Our CEO's main note here is the lack of responsiveness. The image doesn't take over the entire screen on different devices and stops awkwardly on each side.
As noted above, responsiveness is one of the key factors in modern web design.
Moving down the page, you find a video.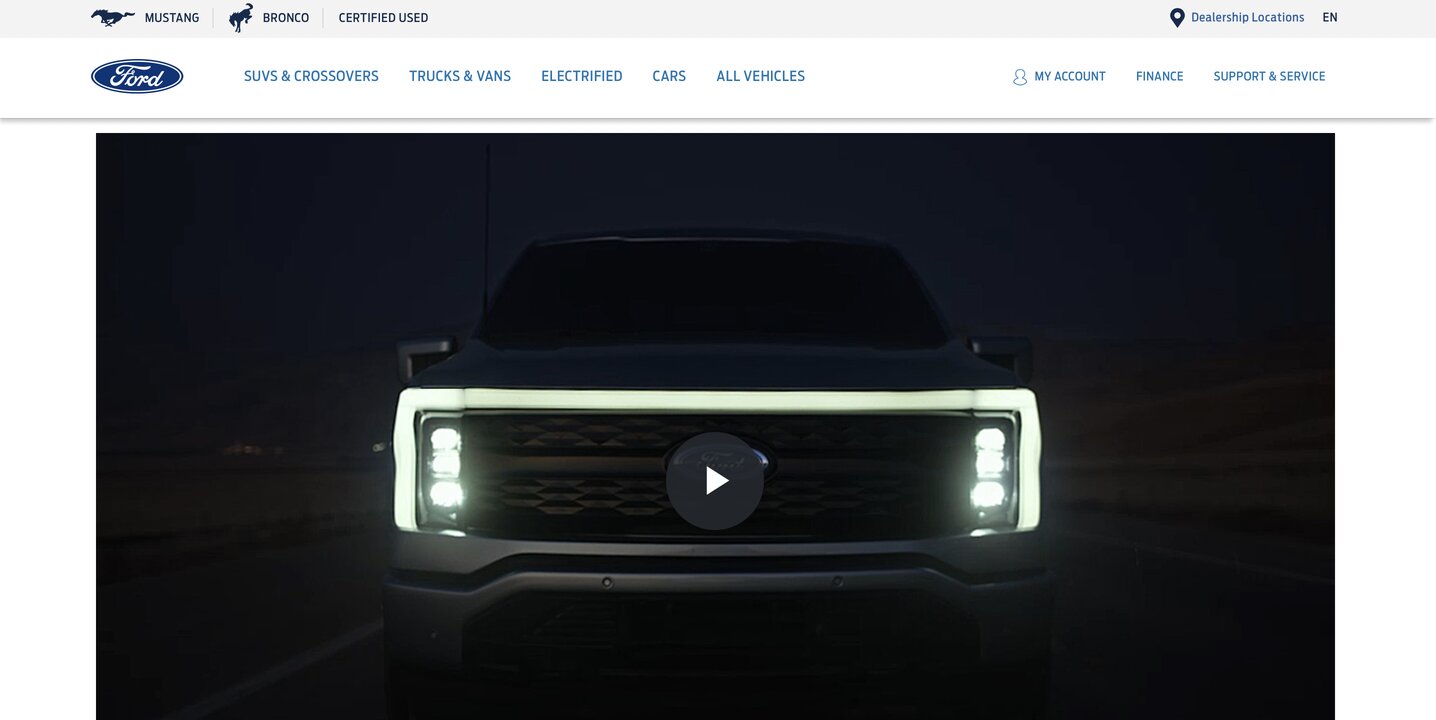 Where are the headers? Where are the CTAs? There's nothing here that makes the user want to click on the video. They have no idea what they'll get, so why bother?
Under the video, you have paragraph of text.

While the header is readable enough, the chunky paragraph is hardly inviting to the user, and we certainly wouldn't refer to this font as bold — a trend in modern web design.
The CTA "Join the Electric Revolution" is vague to its core. What does that mean? And again, what incentive is there for the user to click, when they have no idea what they're going to get?
As you move down the homepage, you find a collage of banners that seem random at best.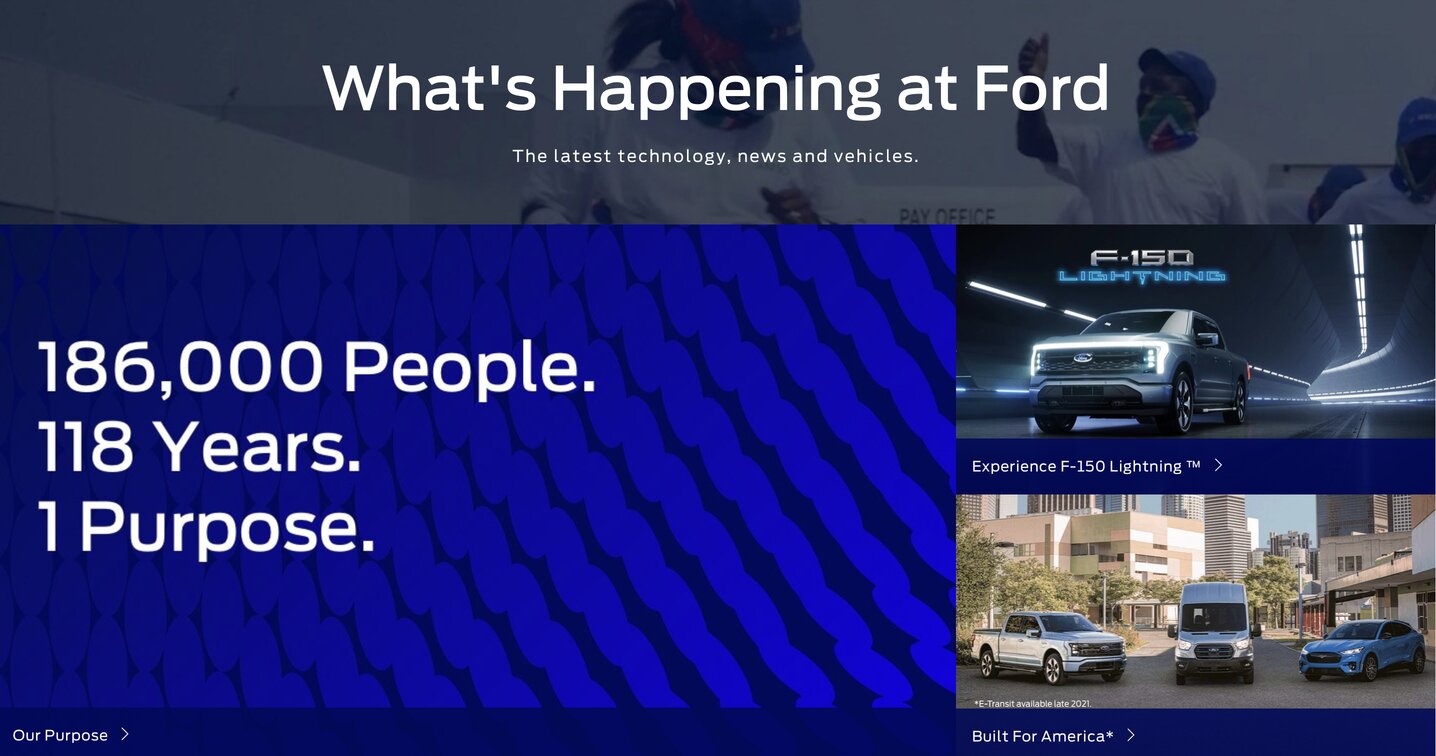 The main issue?
Where's the conversion funnel? Where's the storytelling?
From top to bottom, a homepage should take you on a journey. It should funnel your user to key conversion points and storytelling should flow naturally with each scroll.
Storytelling is key in modern web design, because it can help you craft a relatable and intimate user experience to connect with your audience — and that's exactly what the bulk of today's consumers, millennials and Gen Z's are looking for in a brand.
While Ford does a better job with their easy-to-navigate dropdown menu, the product pages are again not fully responsive, and they contain chunky paragraphs that are almost certain to increase bounce rate.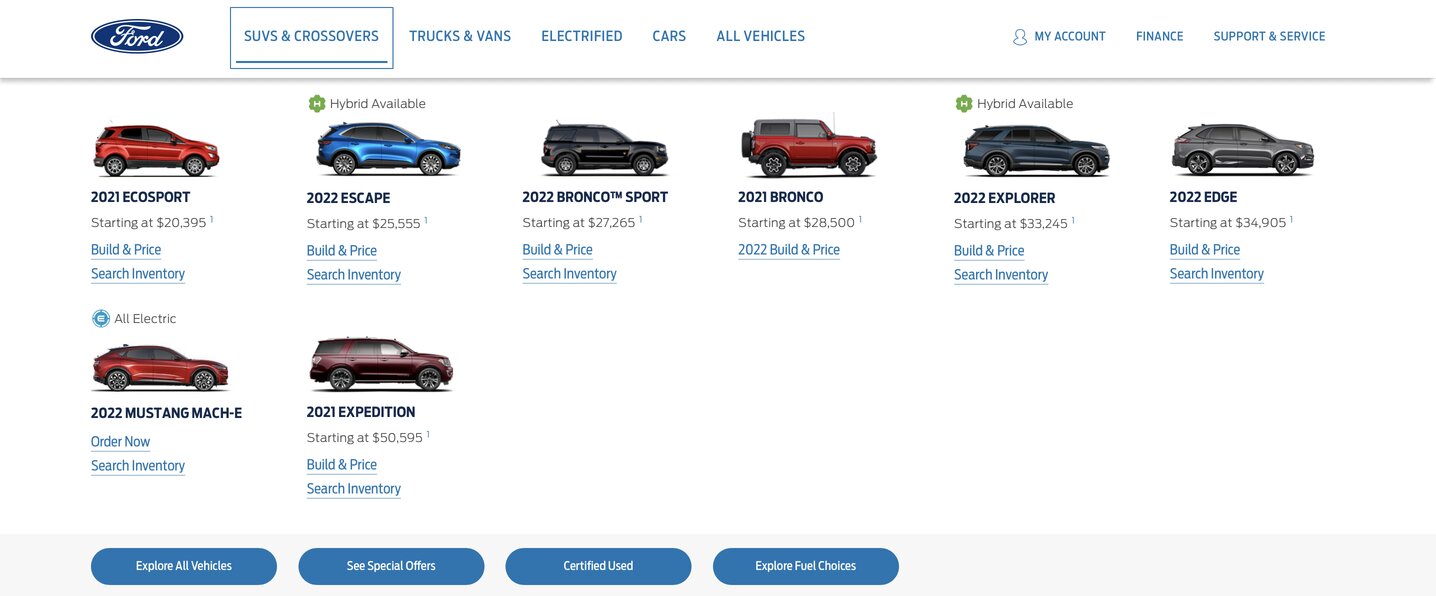 Our CEO's verdict: Overall, Ford's website isn't up-to-date with the modern design trends that can make or break your brand in today's environment. While the brand's rich history is undebatable, the bulk of today's consumers are looking for more from the brand's they purchase from.
Ford's homepage has no conversion funnel, isn't optimized for SEO and ultimately, doesn't offer users a one-of-a-kind user journey.
Tesla: A Digitally-Native Brand
When you land on Tesla's homepage, the clean and dynamic yet minimalistic image spreads from one side of the screen to the next, showcasing a fully responsive site.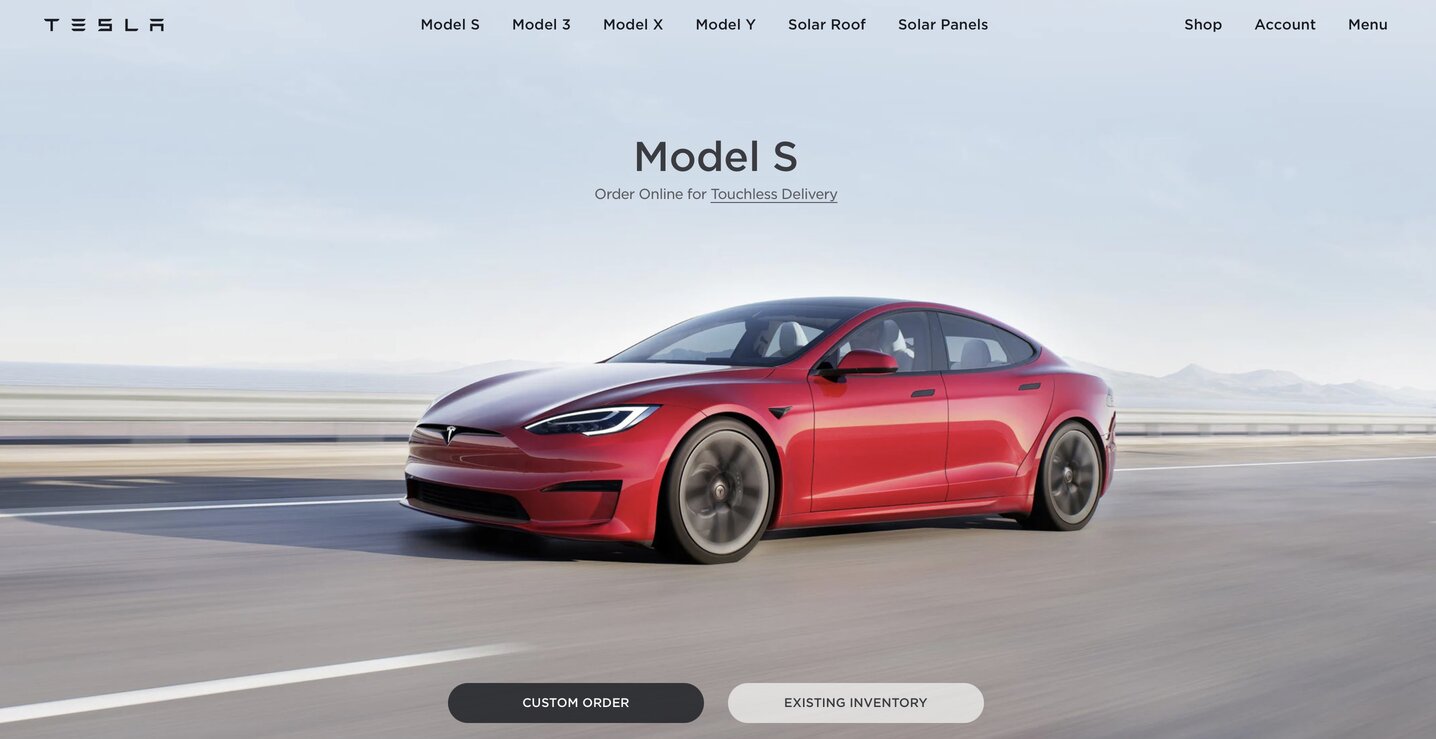 As you scroll, the images remain sharp, clean and to-the-point. The main CTAs, "Custom Order" and "Existing Inventory" follow you as you move down the page — an exemplary usage of modern web design trends.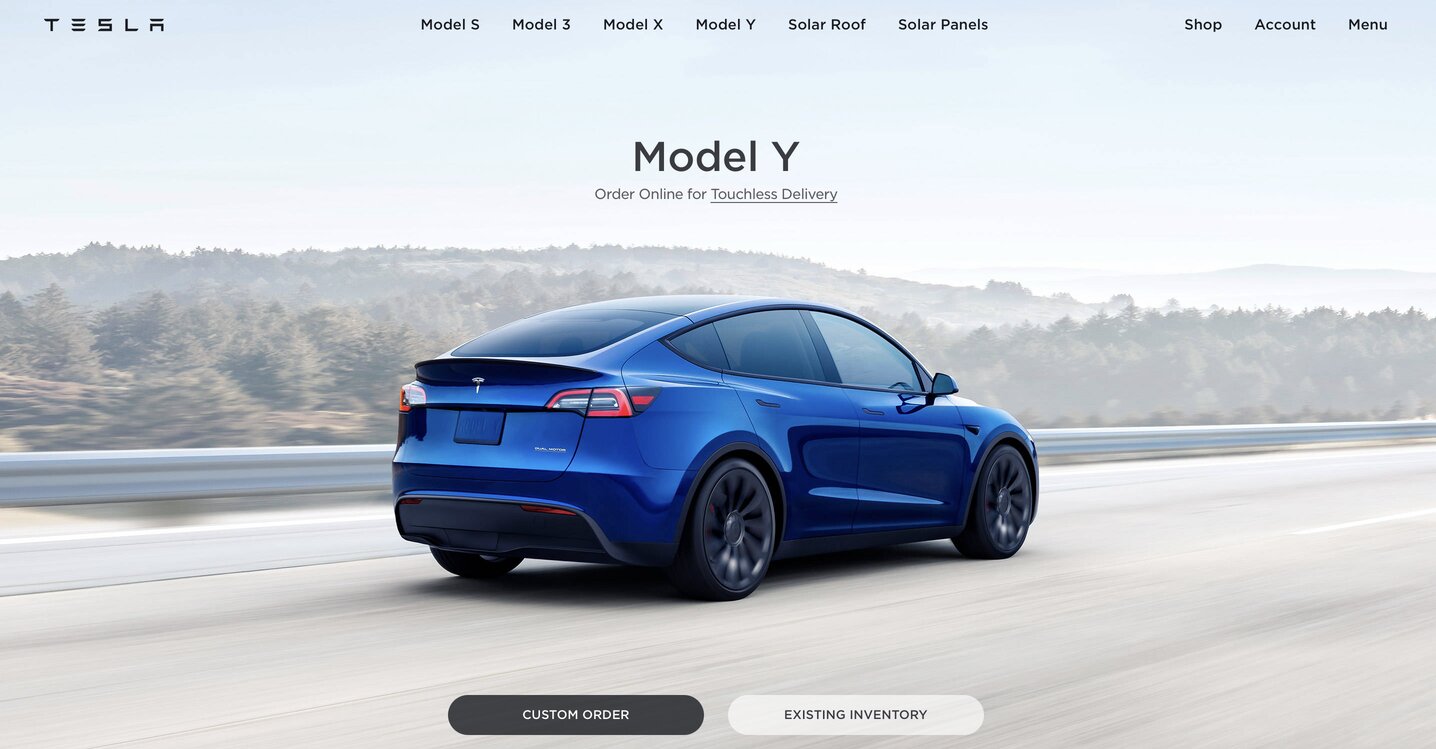 Clicking on a specific car model in the neatly-arranged, simple navigation menu leads you to yet another sleek and modern design that utilizes white space and minimalism.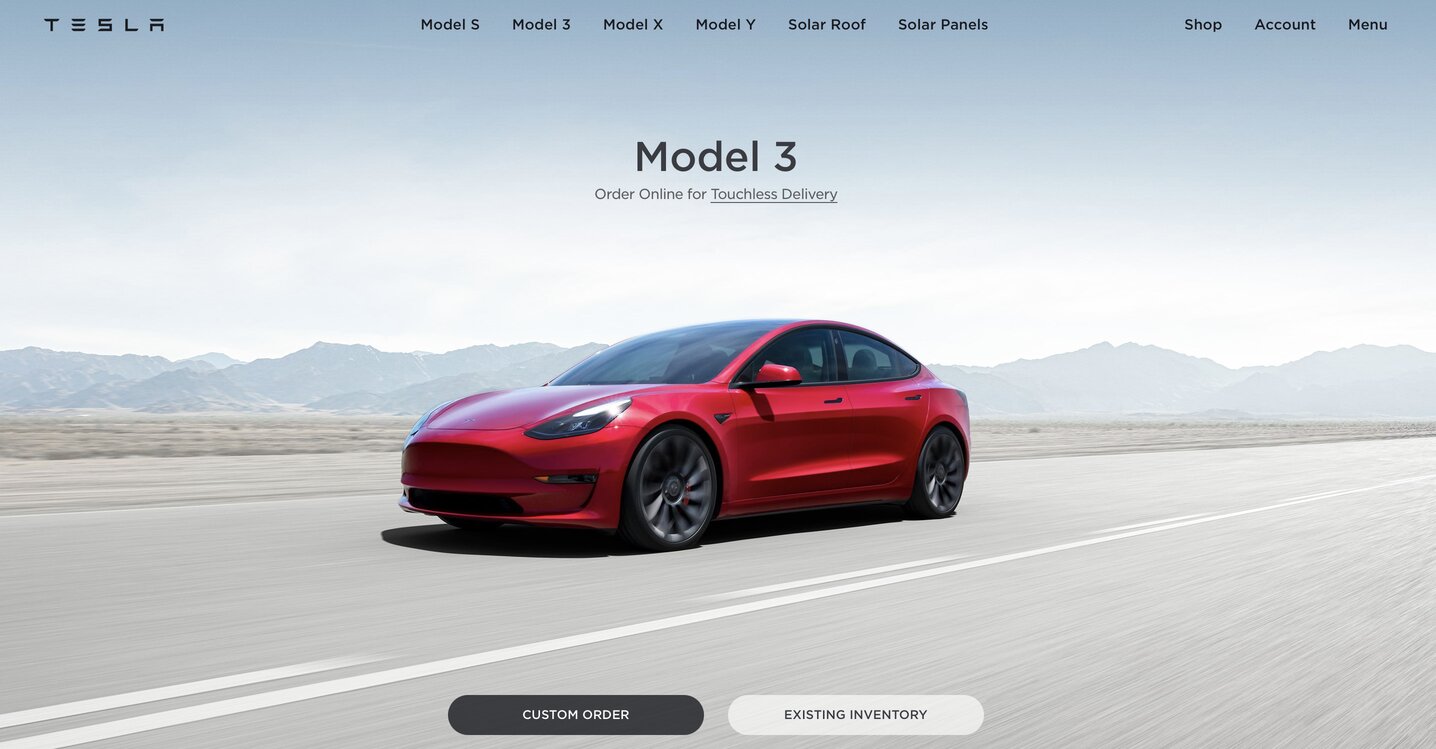 Tesla's site takes the user on a journey. From displaying the make and model of the car, to sharing safety information and important specs, the brand is telling a story with each scroll, while educating the user about the product.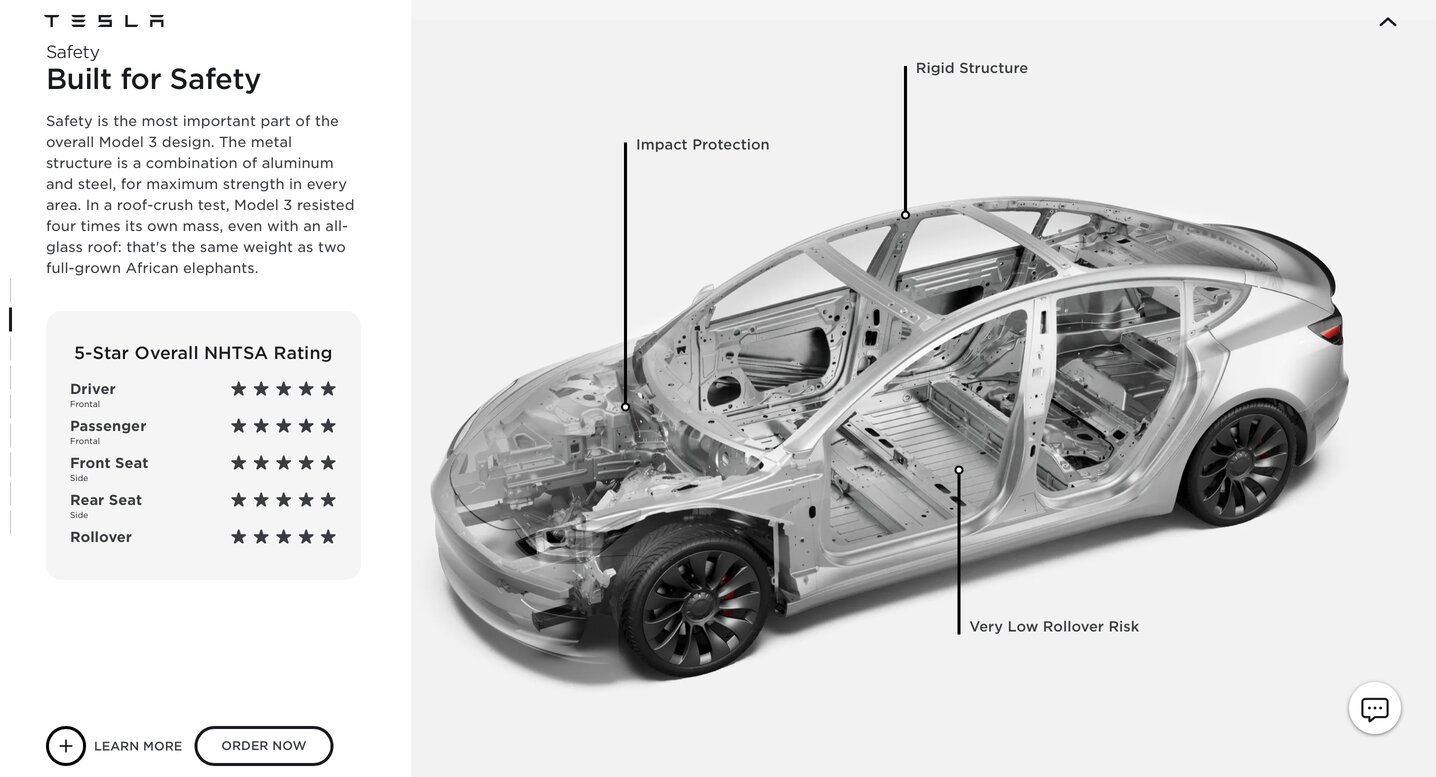 While they do include a slightly chunky paragraph to describe safety specs, it works here much better than on Ford's website — and we'll tell you why.
Because the use of several modern web design trends, including white space, minimalism, dynamic imagery and on-brand, easy-to-read typography, prevents this paragraph from coming off as overwhelming to the user.
Our CEO's verdict: Tesla's website provides an inviting and dynamic experience for the user. The brand follows modern web design trends almost to a T. The site is responsive, includes sticky calls-to-action, utilizes minimalism techniques and directly appeals to today's digitally native consumers — aspects that Ford's web design is lacking.
Understanding the value of the user's experience is key to reaching the next generation. While Ford continues to bank on their legacy, Tesla puts in the work and brings in around 16.7 million organic visitors every month.
While our CEO notes that both websites aren't optimized for SEO — a missed opportunity — Tesla takes the cake for this round.
3 B2B Website Designs That Are Setting The Industry Standards
Let's look at some great examples of B2B websites leading the pack for modern web design:
1. MailChimp
MailChimp needs little introduction. For years, it has been the go-to tool for email marketers.
Over the last few years, they've expanded their product line to several other marketing automation services. And in the process, they've created an exemplary B2B website.
Their web design might be a little conservative as far as the UI and the UX go, but it still follows several of the latest trends:
Bold colors: As soon as you open it, the homepage greets you with a vivid shade of yellow. It's somewhat of a signature color for MailChimp and they use it throughout the website to highlight important sections.
Negative space: MailChimp's use of negative space on their website is reserved, but strategic. The visual elements and the copy on the homepage stand out against the white background, grabbing your attention immediately.
Creative 404 page: MailChimp has one of the best 404 pages we've seen. It not only features honest, somewhat philosophical copy, but also has an in-built Easter egg. If you click on the horse artwork, you will be redirected to an 8-bit game of HorseSnake. Which is your good old Snake but…you play as a horse instead!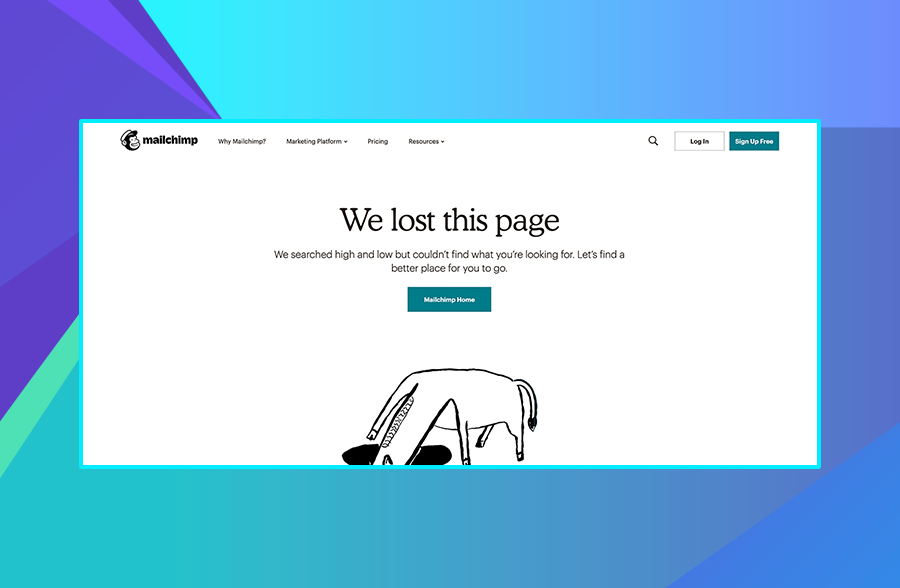 2. Rocka
Using the likes of Athena and Poseidon to market venture-building services might seem a little odd.
But not to Rocka.
On one hand, their website is as simple and straightforward as it can get. On the other hand, it's attention-grabbing and aesthetically pleasing.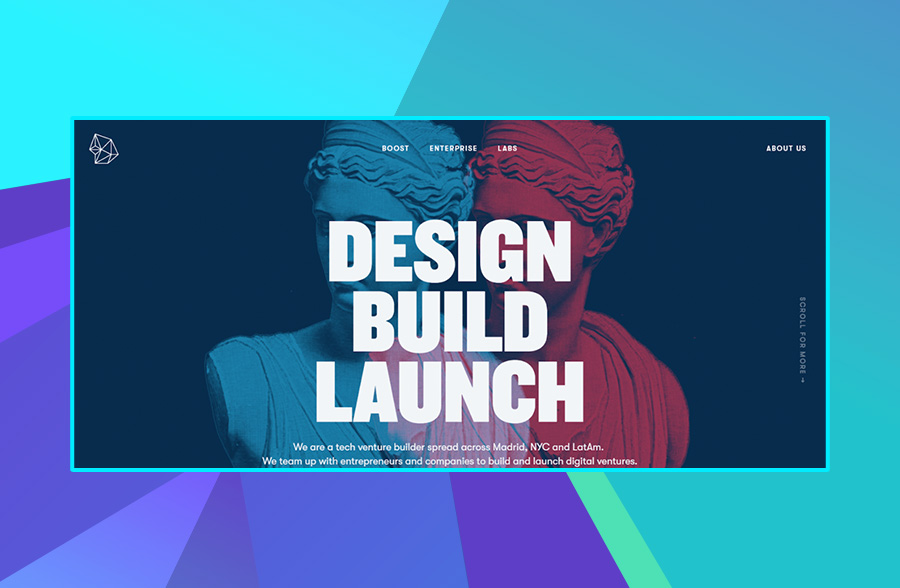 Here's why:
Clever visuals: No, we weren't kidding. Each one of Rocka's services is represented by a 3D image of a classical statue, suspended in the brightly colored negative space with a sea of animated geometrical shapes in the background. Minimalistic, memorable and eye-catching – exactly what a webpage should be in 2022.
Easy navigation: The navigation panel in the header of Rocka's website only consists of four buttons without any additional design elements. This is a great example of minimalistic navigation and makes their website easy to browse without getting lost.
Strong typography: Rocka's services and benefits are presented in gigantic white block letters. They are always in sharp contrast to the background and draw the visitor's attention to the essential information.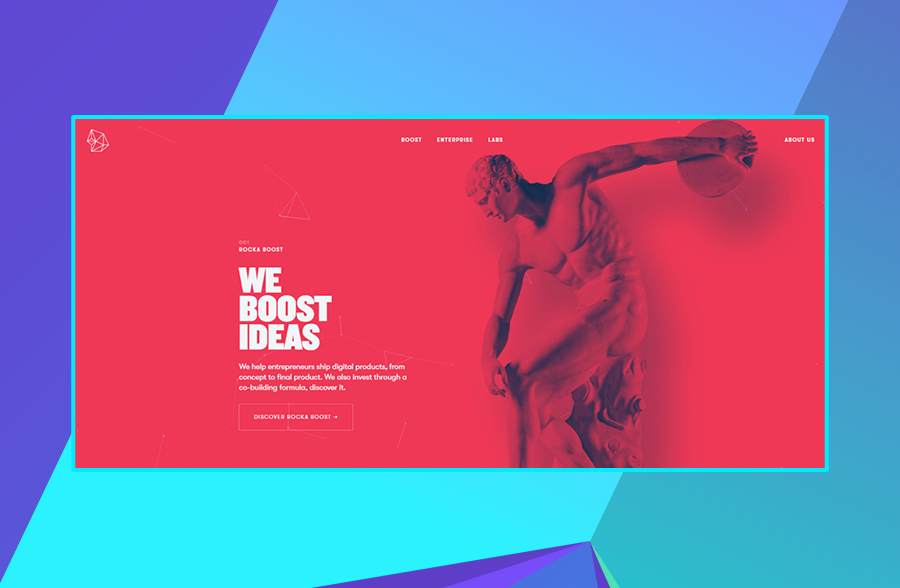 3. Dialpad
The cloud phone service provider Dialpad knows a thing or two about communicating their benefits to their potential customers.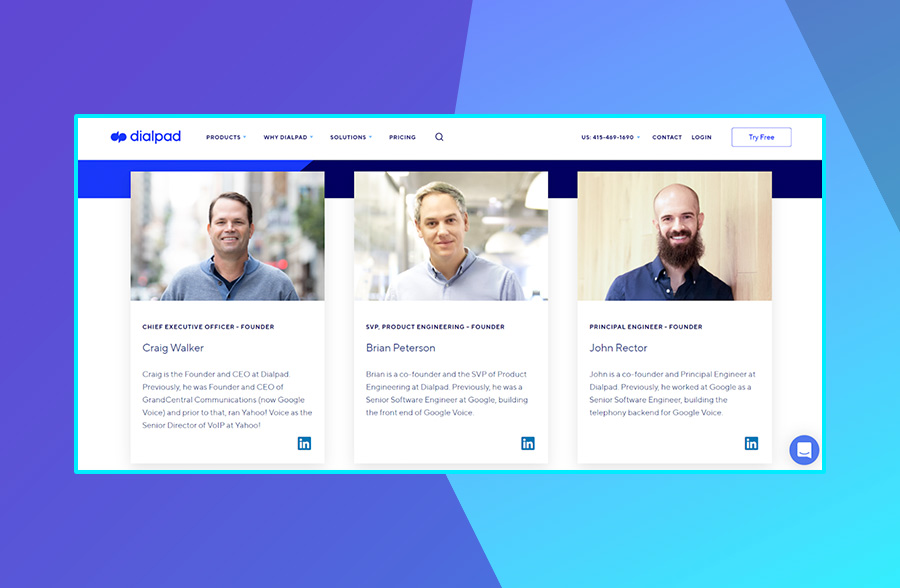 Their web design is a great example of how to give your website a human face. All because of the following practices they implemented:
Openness and honesty: Dialpad's website is designed to ooze transparency and personal approach on every page. For instance, you don't have to look hard to find out about the leadership and the investors of the company. They are at the very top of the "About" page together with a few key company stats and pictures of their team building activities. Same with the social proof – it is easily accessible and boasts reviews and testimonials from their clients.
Inspires conversation: Dialpad's website is a great example of how to successfully implement Conversational UX design. It features a clever chatbot that pops up the moment you land on the homepage. Not to mention how casual the copy is. Every part of the website is designed to make it seem like you're dealing with a real person.
3D graphics: The final thing that makes Dialpad's website stand out is their use of 3D visuals. Just open any of their product pages (each one of them is also color-coded, by the way), and you'll find a slideshow that explains the benefits of each product in handsome 3D.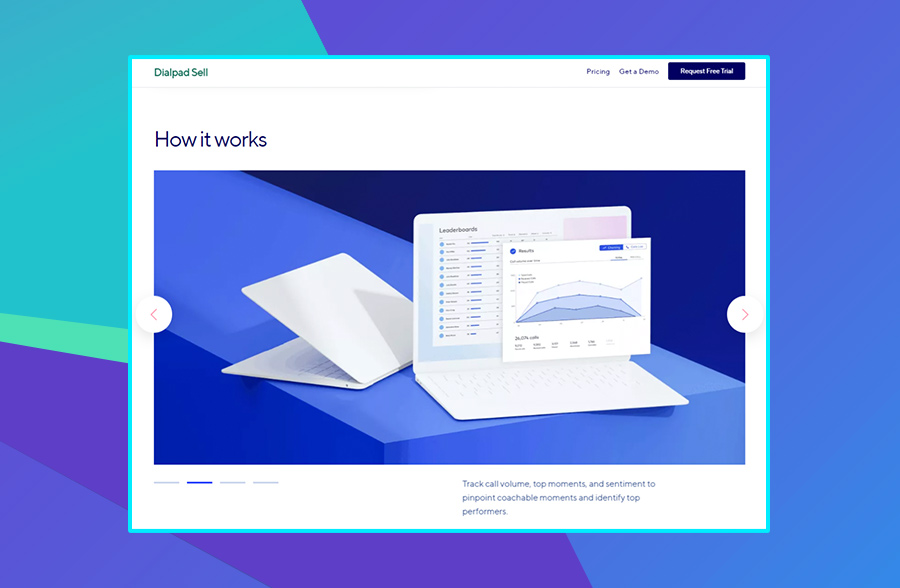 3 B2C Website Designs That Are Getting Major Love From Target Audiences
While the designs of B2B websites are usually optimized to boost conversions, B2C web designers lean towards creative expressions. Although, without sacrificing usability.
How exactly they do it? Here are three B2C website designs that are both stunning and functional:
1. Fronks
Fronks, a producer of organic nut milk, makes a strong case of why you don't need sophisticated visuals or copy to drive conversions.
Their approach is simple, fun, straight to the point and effective at the same time.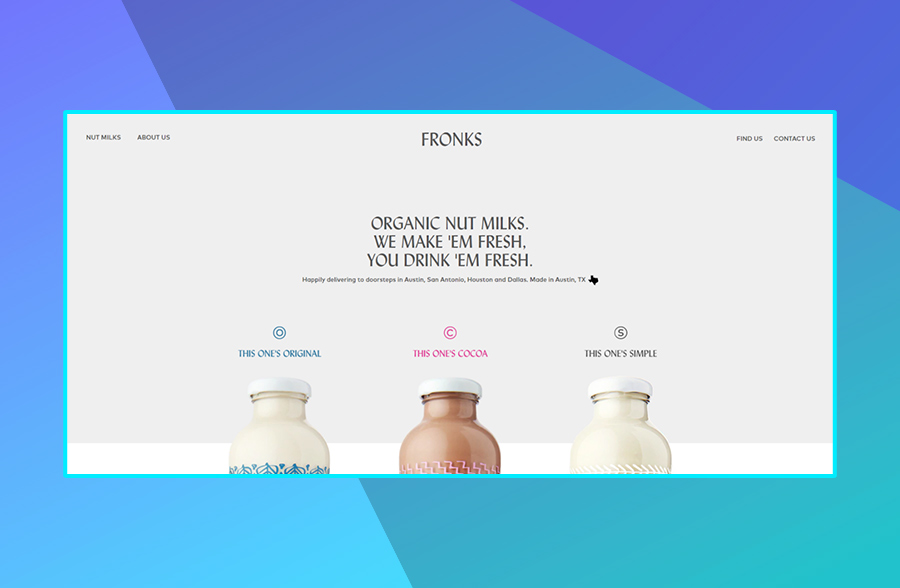 Here are a few reasons why:
Short and direct buyer's journey: As soon as you land on the Fronks homepage, you don't have many options other than going ahead and ordering some nut milk. In fact, the whole buyer's journey takes three clicks. If you wish to build a website that will drive sales, this is the approach to take.
UI highlights the product: Apart from product images, Fronks' website doesn't feature any other visuals. In fact, the entire UI is rather spartan – which is great if you want your visitors to only focus on your product.
Short yet powerful copy: You know that your copywriting is powerful when three lines are enough to communicate your product. This is exactly the case with Fronks. All their website copy is short, fun and straightforward. No marketing lingo – just pure facts.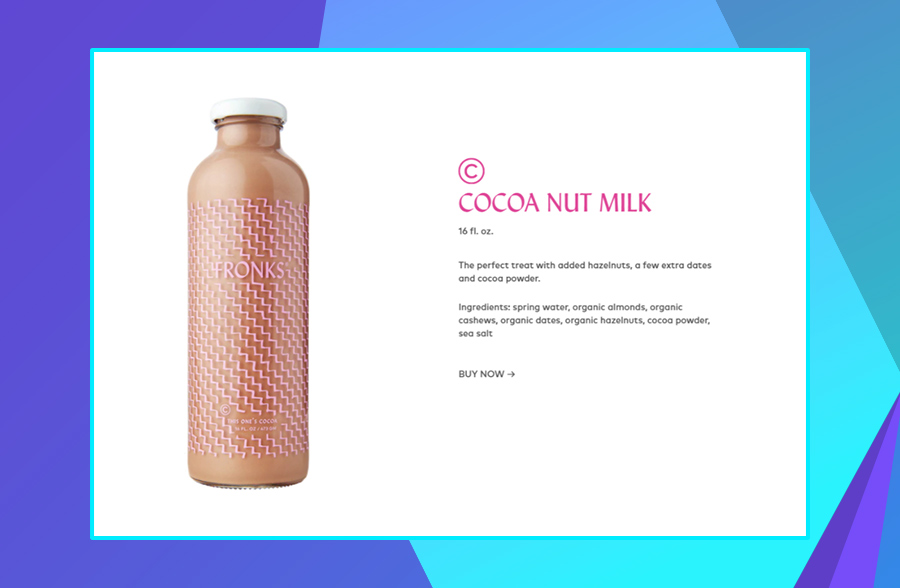 2. Havenly
If your products or services are visual, your website should reflect that.
Havenly took this exact approach. An interior decor company, they put a lot of effort into showcasing their work.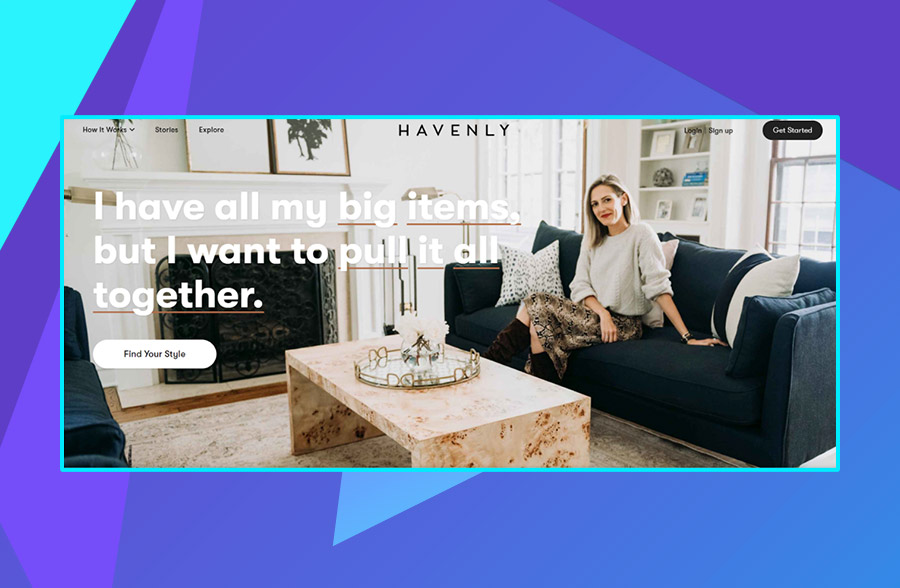 Their approach paid off. Here's why:
Stunning and convincing visuals: Havenly's entire website is built around the images of their own work, with the copy taking a step back. Looking at those images, we have to say – they are quite convincing.
Even more stunning visuals: When the real-life pictures aren't enough, Havenly turns to simple, elegant vector illustrations. Most of the website is visual and extremely easy to digest. "Show, don't tell" at its best.
Engaging content: Havenly knows its audience well – and it shows on their blog. Covering all things interior design may represent, it includes tips, real-life stories and opinion pieces. Well-developed and authoritative, it's a great display of how powerful content can be.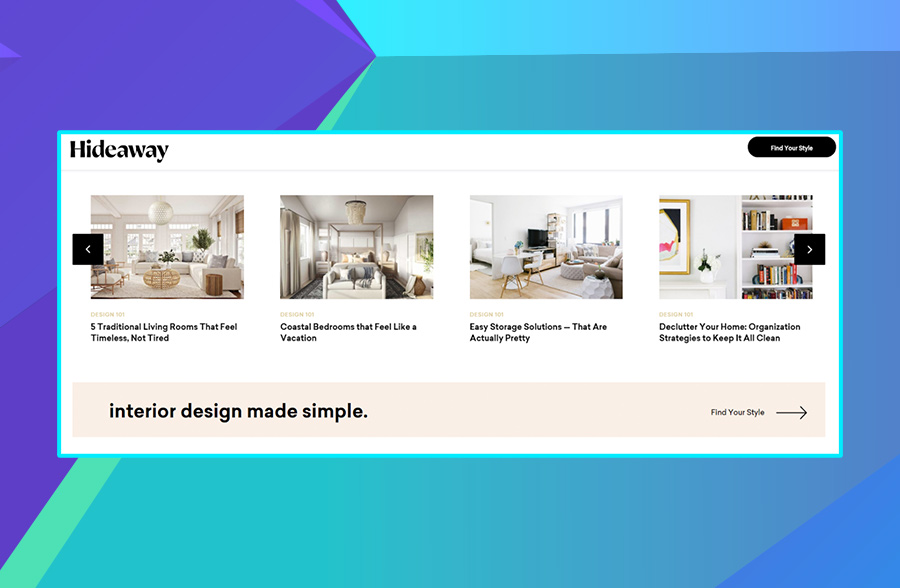 3. Simply Chocolate
Ready for a chocolate feast? Simply Chocolate's award-winning website is a testament to the great power of interactivity and animation.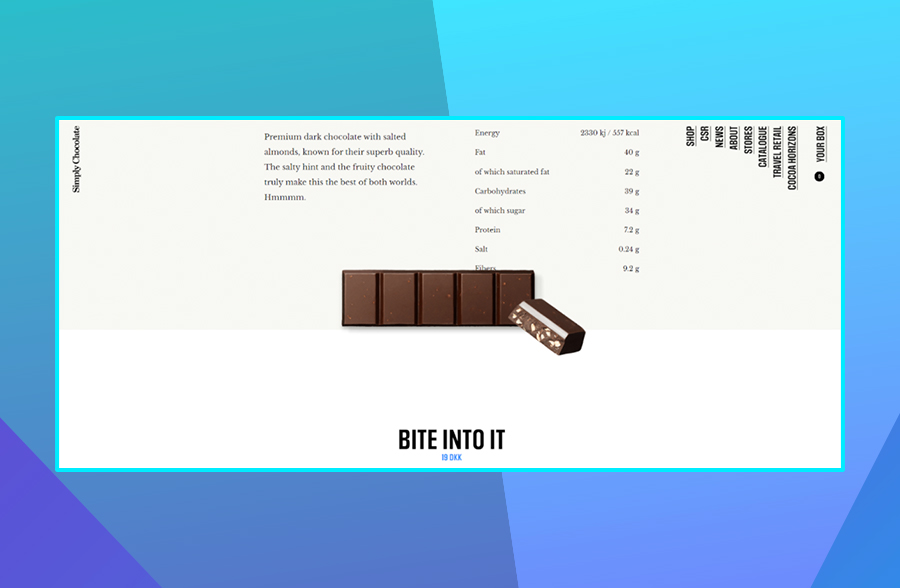 After all, have you ever seen a website that throws chocolate in your face?
Neither have we – but that is not the only thing that makes the Simply Chocolate website so great:
Unforgettable interactivity: Simply Chocolate's website makes their products irresistible. They do not just showcase their product, even though they do that very well. They encourage you to tear the wrapper off, gaze at the cocoa goodness inside and bite into it. We are not exaggerating – that's the actual CTA.
Quirky layout: Simply Chocolate does feature bold type on their website. But it is hardly the centerpiece – the products are. The navigation menu and the logo, on the other hand, are rotated and shoved off to the corners of the page. Nothing distracts you from exploring the products in all their glory.
Strategic use of color and visuals: Finally, we must mention Simply Chocolate's strategic use of visuals and color. As you scroll down the homepage, your screen is always fully dedicated to one specific chocolate bar. While the top part of your screen changes color to match the wrapper, the bottom is adorned with animated ingredients of the said bar.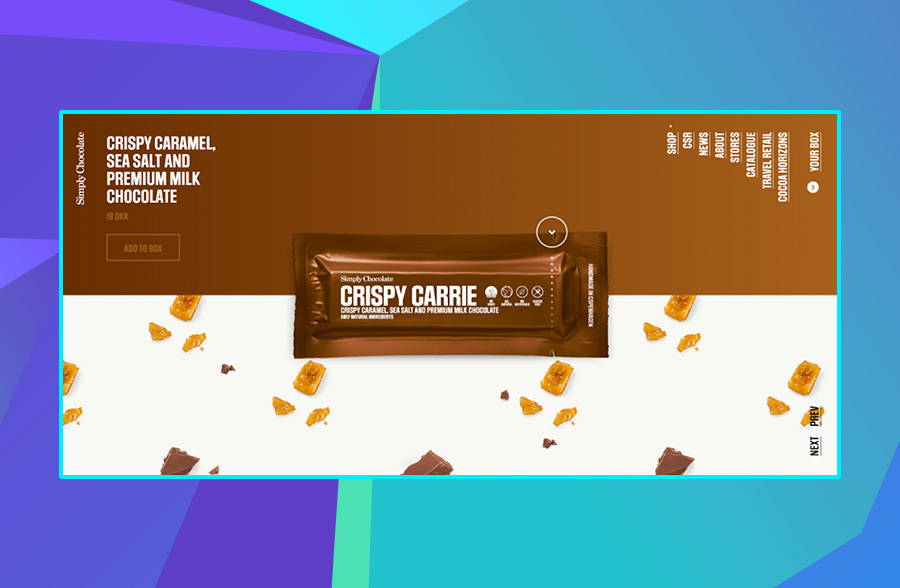 Takeaways On Modern Website Design In 2021
Modern website design is a constantly evolving field. But if you don't keep up with consumer expectations and industry trends, you risk falling behind your competition.
The following UI and UX trends can modernize your web design and improve the user experience for consumers:
Negative Space
3D Graphics
Bold Typography
Dark Mode
Vivid Color Combinations
Conversational UX
Human-Centric Copy
Storytelling
Minimalistic Navigation
Virtual & Augmented Reality
Need help keeping up? A custom web design company can design your site from scratch or give your brand a makeover with a unique redesign built for your target audience.
Our experts at Digital Silk follow best practices and modern web design trends to increase your brand visibility, create a custom user journey and facilitate a superior brand image, with an ultimate goal to increase conversions and put you miles ahead of your competition.
Ready To Design A Modern Website?
Request A Quote
Tell us about your project and let us give you recommendations.