From growing your brand awareness by devising a data-driven marketing strategy to creating a financial plan to ensure your business is set to scale, business consulting services can be employed at any stage of your business life cycle.
But whether you're a budding startup or a global enterprise, the true question is whether these services are worth investing in. What value can a consultant truly bring to the table?
Here, we'll take a deep dive into what business consultants do, explain exactly how they can benefit your brand, cover costs and our own areas of consulting expertise, then detail how you can find the best consultant for your business.
What Is A Business Consultant?
A business consultant is an independent expert who provides strategic advice to companies, often in a specific area such as finance, marketing or operations.
Business consultants are typically experienced professionals who focus on one specific business field. They are often former C-level managers or entrepreneurs with hands-on knowledge of how a business operates and how it can be improved.
What Do Business Consultants Do?
Business consultants offer impartial, informed insights into a company's processes, operations or performance.
Depending on their specialization, a business consultant may help an organization develop a marketing campaign, devise a financial plan that enables the business to scale or even improve human resources processes.
The scope of a consultant's involvement typically depends on the client's needs.
For example, an organization may choose to hire a consultant with a goal of getting advice or information on a specific issue, such as a business opportunity or potential threat.
Alternatively, a consultant may get involved with their client on a much deeper level to proactively implement changes to the organization's operations or processes.
Why Should You Employ Business Consulting Services?
From crafting comprehensive business, management and marketing plans to assisting in employee recruitment and education, consultants take a deep dive into the ins and outs of your business to find areas for improvement.
Some of the most common types of consulting services include:
Strategic consulting
Management consulting
Financial consulting
Brand consulting
Marketing consulting
Sales consulting
Web consulting
Startup consulting
Enterprise consulting
Growth consulting
Crisis PR consulting
The value business consultants provide lies in their expertise in specific areas of business, where your company could benefit from a professional evaluation, unbiased feedback and industry-specific insights.
Business consultants can contribute to the development of your business by:
Analyzing your financial situation to ensure that funds are being allocated in the most efficient way
Providing recommendations on HR management, hiring needs and insourcing vs. outsourcing opportunities
Providing team and management training, education and mentoring to boost workflow optimization and project organization
Performing an in-depth competitor analysis by comparing your business' unique value proposition, market share, pricing, marketing strategies, brand image, company culture and customer satisfaction against your competition
Analyzing your company's strengths and weaknesses to identify potential threats and opportunities, then creating an actionable plan for capitalizing on the opportunities while alleviating the impact threats
Identifying your target audience's expectations, behavior and opportunities and tailoring your messaging to them
Assisting in product, service or solution development
Lobbying for your business among investors, decision-makers and prospective partners
Providing crisis communication assistance in times of need to help repair brand reputation among the media, investors, customers and employees alike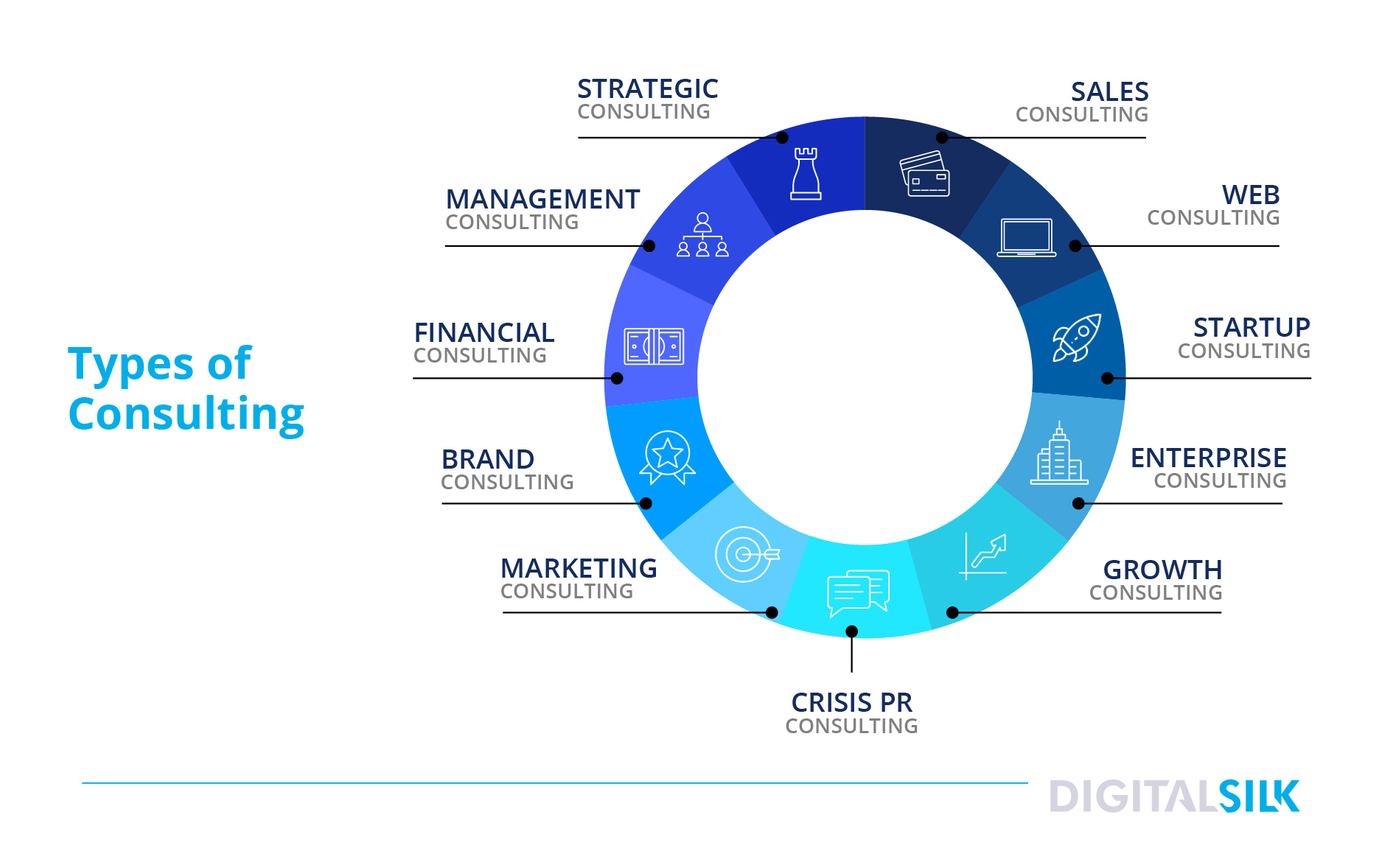 Which Business Consulting Services Does Digital Silk Provide?
From startups to Fortune 500 companies, Digital Silk provides global brands with comprehensive business consulting services.
From designing your company website to creating detailed digital marketing strategies, our experts work to achieve tangible growth and recognition for your brand.
1. Startup Consulting
We believe there are three core strategy pillars of a successful startup business: A detailed, realistic and measurable strategy; an all-star team; and a strong brand identity backed by a UVP and creative campaigns directed at the right target audience.
At Digital Silk, our startup consulting services include:
Business plans and strategies to create a model and processes for growth and financial objectives
Project management to initiate, plan, execute and control each step toward success
Financial modeling and forecasting to determine the expectations to meet future results
Company management to help you manage your resources to maximize efficiency
Our experts research and analyze your niche market and competition, define investment possibilities or strategic partnerships, design a unique business model, establish streamlined management practices and more. We focus on laying the foundation to help guide you until you are ready to grow on your own.
2. Enterprise Consulting
Studies show that around 20% of new businesses fail during their first two years, 45% during the first five years, and 65% within the first ten years. Only 25% of companies make it to 15 years or more.
Lack of investments and industry knowledge, vague business plans and rigidity towards innovations and trends were reported as the main reasons behind these staggering figures.
Whether your company is in a start-up stage or it's been thriving for years, our enterprise consultants can help you choose, implement and integrate the best software and technology solutions to help you streamline your processes and facilitate growth.
At Digital Silk, our enterprise consulting services include:
Digital transformation and software integration
Expert network building to help you manage internal teams and contracted resources
Enterprise resource planning to facilitate maximum return on technology investments
Relationship management for stakeholder negotiation and influencing skills
3. Growth Consulting
Most business owners would like to see their company grow over time.
Yet definitions of 'growth' can vary, whether it means an increase in revenue, projects, employees, customer and team satisfaction, ROI or something else entirely.
At Digital Silk, we offer business growth consulting services that address the main pain points of small businesses and global enterprises alike, including:
Revenue growth assessment to uncover opportunities within and outside the company
Customized strategy and planning to set data-driven goals for long-term success
Competitive analysis to outperform the competition
Team performance review to hire the right talent and build a company growth culture
Our analysts and consultants identify internal and external growth opportunities for your brand, establish data-driven goals, analyze your competition and help you build an expert team to set your business apart from the rest.
4. Web Consulting
There are nearly 2 billion websites on the internet. How do you make sure yours stands out?
With a responsive, optimized, dynamic website and a tailored, results-driven web strategy.
At Digital Silk, our experts use data-driven insights to examine how your website is performing. We evaluate everything from your branding elements to your website's layout, conversion funnel, messaging and more.
Here, our CEO looks at Netflix's website and Hulu's website to determine which streaming giant has the better website. Take a look:
Our web consulting services include:
A web strategy with results-driven online presence planning
Web user experience planning, including an interface that generates results
Web optimization and performance planning across all channels
Web design and development tailored to your brand and target audience
With a strategic web strategy, you can establish yourself as an industry leader, improve awareness and brand recognition and ultimately increase conversions.
We implement our best practices for all web designs and strategies, including consistent and on-brand messaging, optimized pages, engaging CTAs, mobile-friendly features and more, to help drive your website visitors through the conversion funnel.
Remember, it only takes half of a second for a user to form an opinion about your website, so every moment counts. Whether you need a custom website built from the ground-up, or a website redesign, our experts use data-driven insights to create a site that fits your brand and your target audience.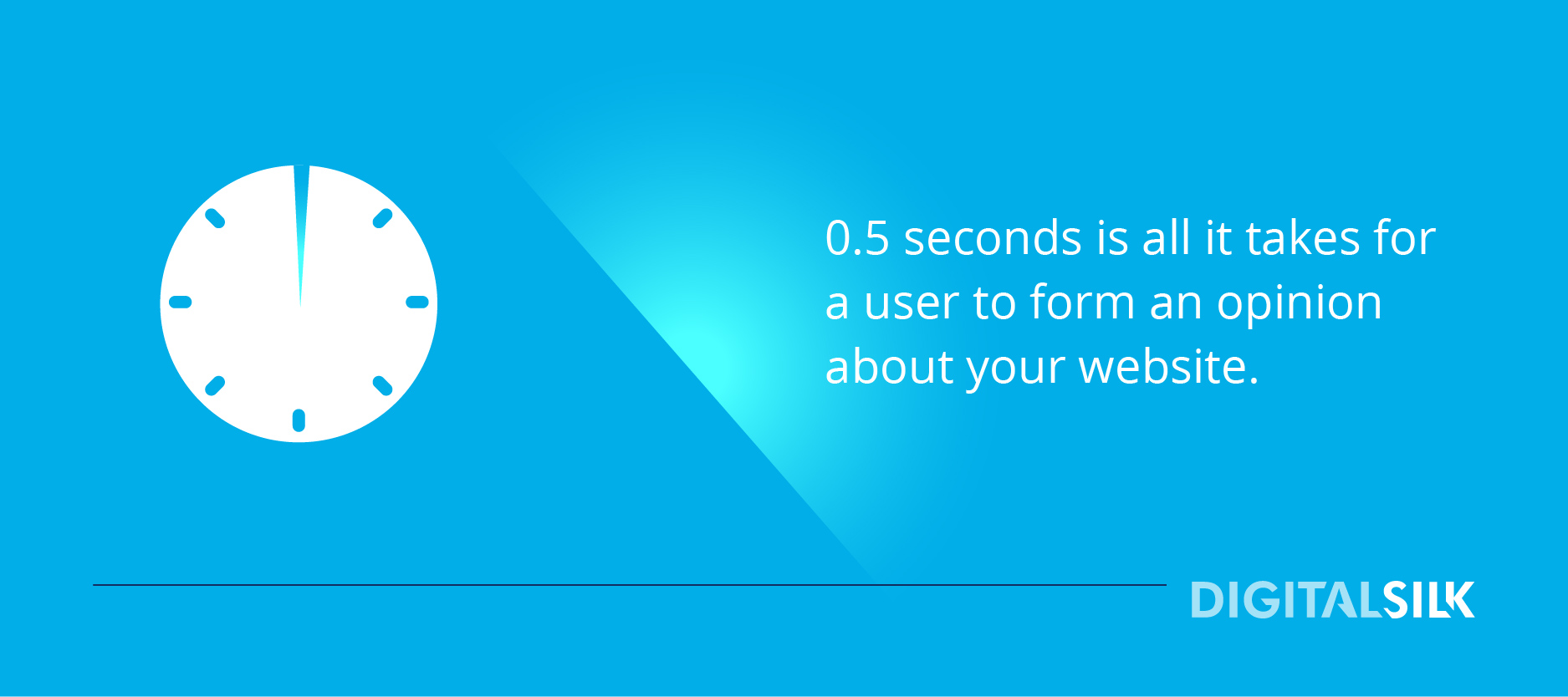 5. Digital Marketing Consulting
PPC campaigns, social media marketing, e-newsletters, influencer and brand partnerships, content creation, giveaways — this is only the tip of the iceberg of just how far-reaching your marketing efforts can be.
Formulating a cost-effective and efficient strategy requires in-depth market research, meticulous planning, continuous performance tracking and monitoring, and campaign optimization.
At Digital Silk, we help brands increase brand recognition and engagement to boost website traffic and conversions.
Our digital marketing consulting services include:
Digital marketing strategies to increase conversions and build brand loyalty
Search engine optimization to boost organic traffic and achieve greater visibility
Social and paid media strategies to generate better brand awareness, engagement and revenue
Team selection and management to help you manage and execute projects on time
How Much Do Business Consultant Services Cost?
Consulting fees can vary significantly depending on several factors:
The type and scope of services you require
The experience of the business consultant
Your competitive landscape and physical location
Whether the arrangement is one-time or ongoing
The more experienced a consultant is in your industry, the higher rate you can expect. Consultants who specialize in a certain business area typically charge more than those who provide general consulting services.
In the US, business consulting services typically range from $150 to $250 an hour. Flat rates for ongoing services may cost from $2,500 to $3,500 per month.
For specific services, here are some cost estimates:
Business consulting: up to $250 per hour, with a complementary consultation
Financial projections: $150 per hour, on average
Business plan: $150 per hour, on average
Market research: $150 per hour, on average
The bottom line?
Hiring a business consultant is more cost-effective than the potential fallout of attempting to navigate areas of business where you lack expertise.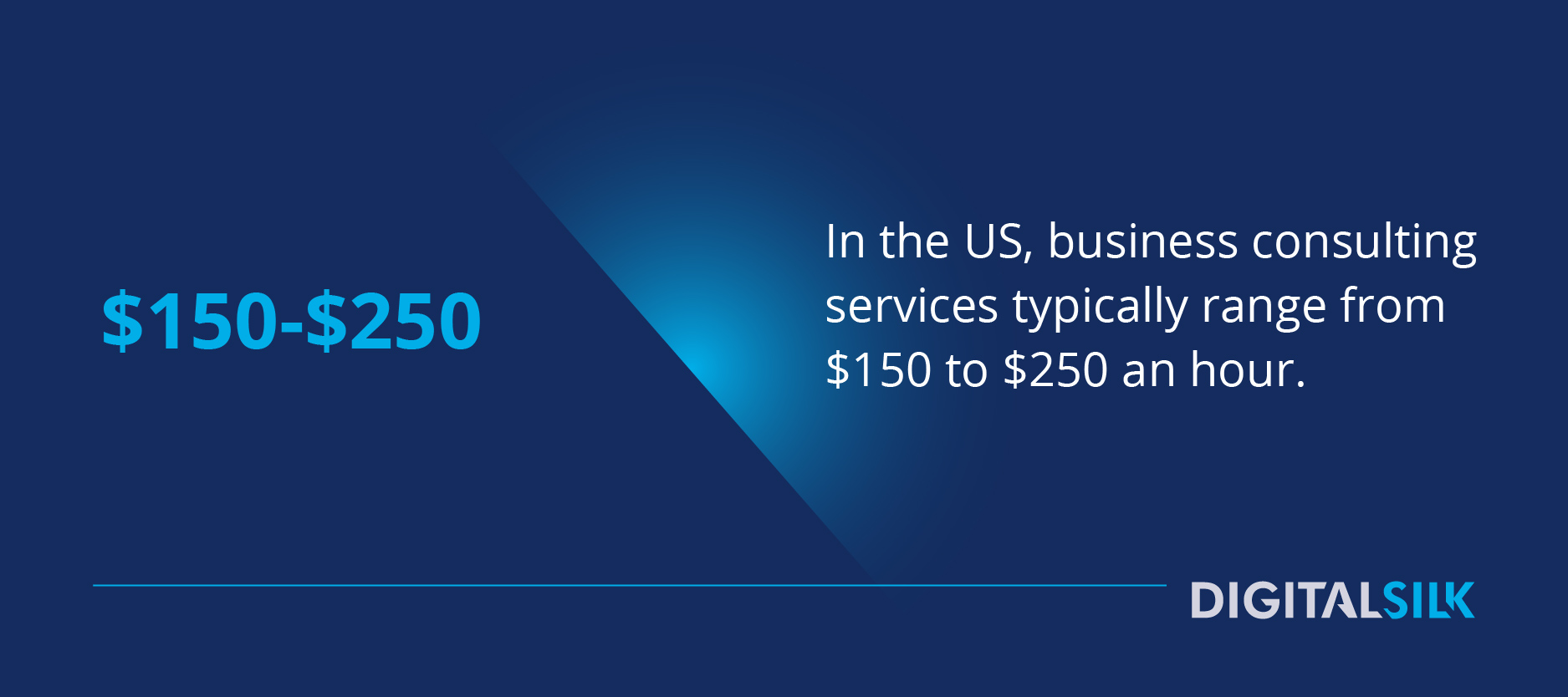 How To Find The Right Business Consultant
With the number of different consulting services available, how do you find the right fit? We'll let you in on three key steps to finding the right consultant for your business.
1. Define What You Need From A Consultant
The first step is to identify and define your specific needs. What are you hoping to gain by hiring a consultant? Are there specific deliverables you expect a consultant to meet?
Defining your objectives will help you narrow down the type of consultant you need, whether you need someone local or you're willing to outsource, and whether you're looking for a one-time consulting session or an ongoing relationship.
2. Research Prospective Consultants
Before meeting with potential consultants, it's important to do your research. A prospective partner should be transparent about their experience, areas of expertise and past projects.
Ask for a portfolio and look at their industry experience to see if it could be a match. Look for social proof, and, if possible, contact companies they consulted for in the past and ask how satisfied they were with the collaboration and results.
3. Meet With Prospective Consultants
Establishing a beneficial partnership with a consultant lies on a foundation of transparent and effective communication. Meet with potential consultants and ask specific questions about their experience, processes and deliverables.
Ensure the consultant you hire is willing to provide you with solutions tailored to your business's unique needs and goals.
Key Takeaways On Business Consulting Services
Whether you're launching a startup, need a plan to improve your digital presence, lack ideas for marketing strategies, or you could benefit from financial planning, there's a consulting expert who can help.
Business consultants often specialize in certain areas of expertise, such as marketing, finance, startup, web or brand consulting.
Cost varies depending on several factors: the type and scope of services you need, the consultant's experience, the competitive landscape, your physical location and whether you're looking for a single consultation or ongoing services.
To find the right fit for your business, define your goals, do your homework and meet with potential consults to assess communication, processes and deliverables.
Request A Quote
Ready To Work With A Consultant?
Tell us about your project and let our experts give you recommendations.