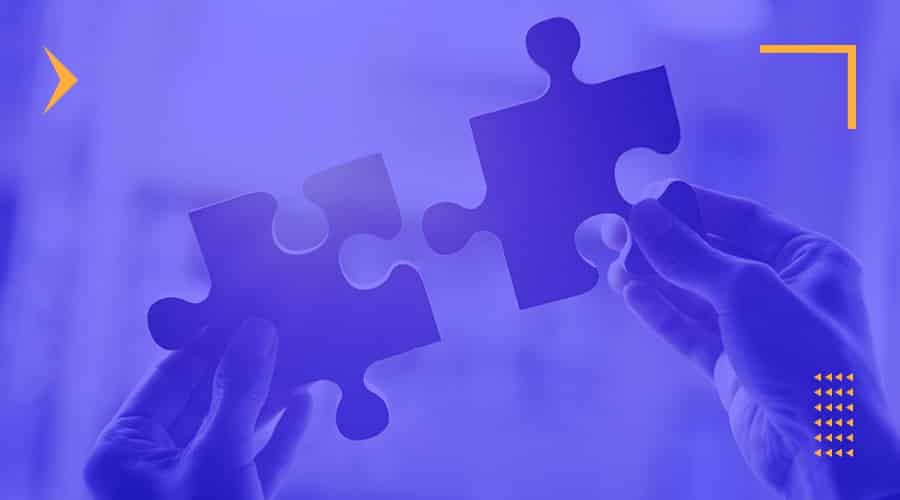 Did you know that 86% of buyers are happy to pay more for a product if it means getting a great customer experience?
Corporate branding can help you build a stronger bond with your audience and deliver a remarkable customer experience, which can increase brand loyalty and improve your reputation.
Corporate branding plays a key role in multiple aspects of your company, including:
Visual identity
Market positioning
Company culture
Talent acquisition
Marketing campaigns
External communications
And that's not all.
We'll explain how this type of branding can help you build brand trust, teach you how to create a strategy in seven steps and inspire you with innovative, creative and funny branding solutions from famous companies.
What Is Corporate Branding?
Corporate branding is the practice of building, promoting and growing the brand of a company as a corporate entity.
It's much broader than the scope of branding specific products or services separately.
Corporate branding typically involves optimizing multiple elements of a brand to create a cohesive voice and personality.
These elements may include, but are not limited to:
Logo design
Packaging design
Advertising campaigns
Product quality
Customer service
Social media presence
Employee training
The best way to create a strong, consistent corporate brand is to integrate branding with your marketing, communications and corporate social responsibility (CSR) activities.
How A Corporate Brand Identity Helps Build Trust With Consumers
Think about the products you purchase on a regular basis. What makes you choose a certain brand over another? Do you feel loyal to certain companies?
This is where corporate branding plays a major role.
It helps you create a consistent brand image, stay true to your brand values and nurture long-lasting relationships with your customers.
When consumers feel that your brand is worth their attention, they will be more likely to trust your company and make regular purchases from your brand.
Edelman, a US public relations and marketing firm, recently conducted a survey on brand trust. The results showed:
75% of consumers say they will purchase from a brand they trust even if it isn't the cheapest
75% of consumers say they will immediately check out and possibly purchase a new product from a brand they trust
78% of consumers say they will recommend a brand they trust to others and defend that brand against criticism
As the study results show, a customer may choose your brand for many different reasons other than price.
Corporate branding can help you share your company values with your customers, as well as facts about employee treatment, product ingredient information, eco-friendly practices and other factors that can help generate brand trust.
The bottom line: If your customers trust your company, they are more likely to reward you with a high level of loyalty, engagement and advocacy. Earning that trust is the ultimate goal of corporate branding.

3 Corporate Branding Examples For Inspiration
One of the most efficient ways to create a strong brand is to find inspiration from the best.
Let's take a look at three examples where famous brands turned their corporate branding efforts into highly successful campaigns.
Example #1: IBM
You may have seen the iconic Eye-Bee-M poster designed by Paul Rand in 1981 in support of IBM's motto "THINK." It has become one of IBM's globally recognized corporate brand assets.
But did you know that this tech giant has been investing a lot in corporate branding through internal communications?
IBM's in-house designers Ken White, John Anderson and Tom Bluhm created a series of posters in the 1970s with an aim to improve the company's overall work culture.
The messages on the posters called for proactivity, safety at work, equal chances for everyone, recycling, family get-togethers on weekends and more.
Even though these posters were for internal use, they are an excellent example of corporate branding achieved through expressing corporate values.
The designers approached each of the challenges as a unique communication problem and solved them with creative visual solutions, consistently staying on-brand.
That positioned IBM as a company that takes good care of its employees and innovates from the inside out.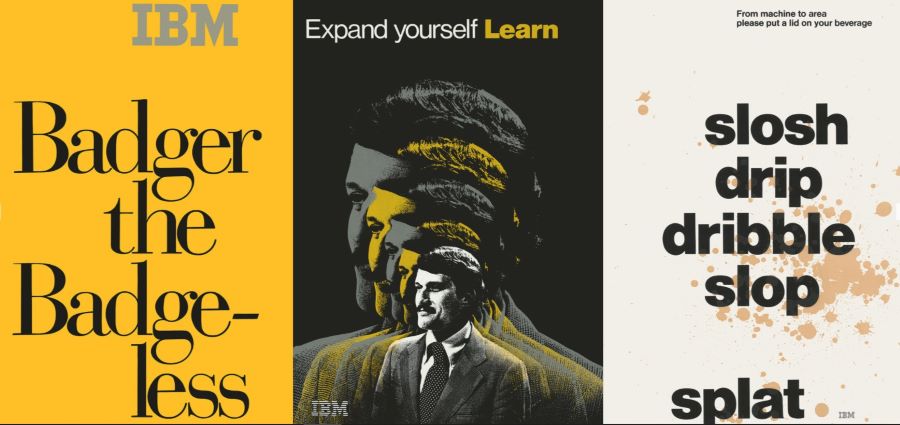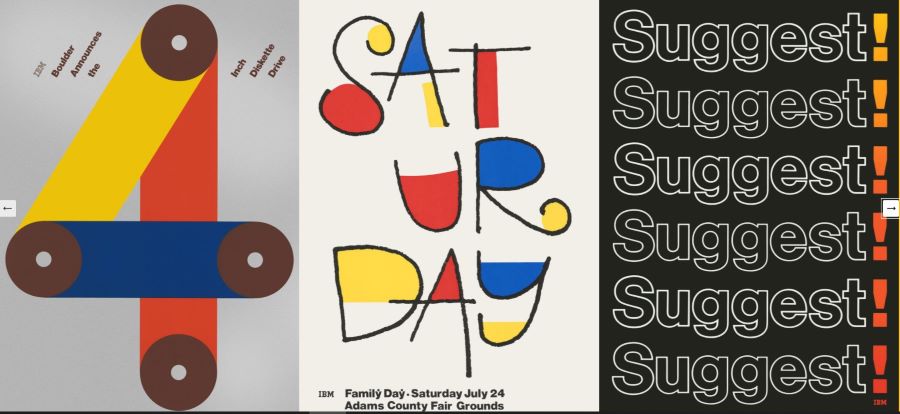 Example #2: Mailchimp
Mailchimp's Content Style Guide has been one of the most referenced style guides among content professionals over the past several years. It was created for internal use, but Mailchimp made it freely available to everyone under the Creative Commons 4.0 License.
This was a clever move that strengthened Mailchimp's corporate brand.
And it was only one of Mailchimp's clever moves.
In 2014, as a sole sponsor of the "Serial" podcast, Mailchimp (spelled MailChimp at the time) produced the audio ad that was broadcasted at the beginning of each episode.
The success of this podcast and the ad campaign itself launched Mailchimp in the orbit of widely recognized brands. It also played on the common mispronunciation of its name – MailKimp.
Instead of seeing the mispronunciation as a flaw, the company used it to its advantage and created multiple campaigns as a follow-up, adding a splash of humor to spice the brand image up.
In the years to come, Mailchimp created a series of short films – called "JailBlimp," "MailShrimp" and "KaleLimp." Plus, the company produced a line of chips called "FailChips," a beauty treatment called "SnailPrimp" and other campaigns.
The goal was to trigger people's curiosity and point them to Mailchimp's website every time someone typed the names of these mysterious new brands in the Google search bar.
"Did you mean MailChimp?" was the response they'd get, leading to a specific Mailchimp landing page.
This is a great example of how marketing campaigns can expand brand visibility and build a strong corporate brand image using humor aligned with the brand personality.
For a glimpse at Mailchimp's humorous campaigns, take a look at the excerpt of the "MailShrimp" short film below.
Example #3: Apple
Apple is one of the best examples of a well-established corporate brand. It is also a perfect example of how to distinguish a corporate brand from a product brand.
Apple's brand is all about people's emotions, hopes and dreams. It is also about lifestyle, innovation, simplification and empowering people through technology.
In their own words, taken from Apple's ad spot "Intention:"
"The first thing we ask is: What do we want people to feel? Delight. Surprise. Love. Connection. Then we begin to craft around our intention… We simplify, we perfect, we start over until every thing we touch enhances each life it touches. Only then do we sign our work: Designed by Apple in California."
Now, think of an iPhone, an Apple Watch or a MacBook Pro. Can you sense Apple's corporate brand values shining through each product?
But this company hasn't become such a widely recognized brand by chance.
Over the past few decades, Apple has carefully crafted a strong branding strategy to make sure all of the moving parts present as a unified brand, perceived (and cherished!) by millions of people around the world.
To see their corporate brand in action, watch Apple's ad spot "Intention," below.
Apple – Intention from Apple Inc on Vimeo.
How To Create Your Corporate Branding Strategy In 7 Steps
One of the most popular models for creating a corporate branding strategy is called the Vision-Culture-Image (VCI) Alignment Model.
This model can help you keep a strong consistency between:
A strategic vision of the company's founders and top management
A company culture reflected in employees' opinions and behaviors
A public image and customers' perception of the company
You can implement the VCI model into your corporate branding strategy to help you:
Align your business goals, marketing goals and branding goals
Integrate employer branding and corporate branding practices
Create a strong brand image for the foundation of your business
As our resident brand strategist, Zorica Marjanovic, explains:
"Corporate branding describes an organization as a whole. When presented through employer branding, it can help attract valuable talent as potential employees."
Now, let's go through seven simple steps to creating a branding strategy.
Step #1: Set Your Branding Goals
Depending on your current business status, your branding goals may be to:
Establish a brand image for your new company
Grow awareness and visibility for your existing brand
Build a stronger relationship with your customers
Emphasize your corporate social responsibility
Create a unified identity for your separate brands
Grow your brand's impact to reach global audiences
Once you have your goals written down, the next step is to set clear key performance indicators (KPIs), depending on the objectives you set, to define your idea of success.
Step #2: Identify Your Corporate Values, Mission And Vision
Having clearly defined corporate values, plus a unique mission and vision, will help you lay a strong foundation for your branding efforts.
Values represent the principles that your company stands for and the philosophies that shape your company culture.
If you're not sure what your corporate values are, start with these steps:
Evaluate your current company culture
Decide if you want to move your business in a different direction
Identify the values that match your business development plans
Integrate the values important to your employees into your culture
Once you define your values, incorporate them into your mission and vision statements.
A mission statement declares the strategic direction towards accomplishing your long-term goals.
A vision statement declares the long-term goals you what to achieve and ideals you strive to reach.
Both of these statements should be clear and concise and help your employees, executives and stakeholders understand the purpose of your business and the values behind it.
Step #3: Research Your Target Audience
To make your branding efforts successful, you need to know exactly who your audience is. The best way to establish that is by conducting audience research.
Audience research may include polls, surveys, focus groups, chats, one-on-one interviews or any other form of conversation with your existing and/or potential customers.
Gather as much information as you can about your audience's needs, wants, pains, values, behaviors and habits. This will help you create your buyer personas as your ideal customer profiles.
The best practice is to be specific when creating personas. Include demographic data, as well as values and opinions, buying habits, online platforms they spend the most time on, devices they use and more.
If you have several different target audiences, create a buyer persona for each.
For example, if you run a SaaS business and your product is targeting both individual users and enterprises with large teams, make sure that you communicate the right messages to each audience segment.
This will help you establish a customer journey for each of the personas and optimize your conversion funnel to better suit their needs.
Step #4: Define Your Corporate Brand Voice
Another important element of a corporate brand strategy is your corporate brand voice.
Here are the key points to remember about your voice:
It needs to reflect your corporate brand values, identity and personality
It needs to be consistent throughout your internal and external communications
It needs to be in line with the voice of customers (VOC) and the audience you serve
The best way to define your brand voice is to establish your brand personality. In other words, identify a set of human characteristics that you can assign to your brand.
Start with these questions:
If your company was a person, who would it be?
What would that person care about the most?
How would that person behave in different situations?
Is it a strictly professional or a funny individual?
What are the main strengths and weaknesses?
How would that person appear in public?
How would you want them to be perceived in public?
The best practice is to document your brand voice and create a well-organized voice style guide to ensure consistency in brand communication across all channels.
Step #5: Craft Your Key Brand Messaging
Once you have defined who your audience is and you have established your brand voice, the next step is to combine the insights into compelling brand messaging.
One of the most important messages you need to communicate is your brand's unique value proposition (UVP).
A UVP can be a single sentence or a set of sentences that speak clearly to your audience about:
The main value your company provides (including your products or services)
The key differentiator that sets your business apart from your competitors
The unique way your company solves a specific problem for your audience
The UVP should be immediately understandable, so avoid using industry jargon or too many buzzwords. Keep it simple.
Other brand messaging statements that you might want to craft include:
A slogan as a catchy, memorable line that helps attract loyal customers
A motto that describes your company's beliefs, values or services
An elevator pitch that describes your company in a clear, concise statement
The purpose of crafting unique taglines, statements and propositions is to present your brand in a coherent way and develop brand awareness, recognition and reputation more easily.
Step #6: Design Your Corporate Visual Identity
The visual identity of your corporate brand includes (but is not limited to):
Logo design
Color palette
Typography
Imagery
To ensure consistency, create a brand book or a design style guide to display the fonts, colors, styles and use-cases for each of the branded assets you have.
This will help you stay consistent while designing business cards, corporate stationery, product packaging, marketing collateral, your corporate website and more.
The definitive list of your identity elements and branded assets will depend on your business. To make the most of your branding efforts, be sure to keep your overall visual identity consistent throughout your brand's elements.
Step #7: Manage Your Online Brand Reputation
Your corporate branding strategy should also outline the ways you will manage your reputation and maintain customer loyalty.
Ever since digital channels enabled customers, vendors, partners, employees, investors and everyone else to quickly share their experiences online, online brand reputation has become more fragile and, therefore, even more important to manage.
Managing your online business reputation may include:
Using social media monitoring tools to keep track of when, where and how people talk about your brand
Ensuring that information about your company is complete and accurate across profiles on business directories
Overseeing customer reviews and online ratings of your company and products/services on rating platforms
Online customer reviews are still one of the most significant decision-making factors for prospective customers.
According to a Spiegel study, customers who saw negative reviews on social media decreased their spending by 12% and reduced their purchase frequency by 5% in relation to a given brand.
Another Spiegel study showed that:
There is a 270% greater chance of purchase for a product with five reviews compared to a product with no reviews
The conversion rate for lower-priced products with displayed reviews increased by 190%, while the conversion rate for higher-priced products with reviews increased by 380%
Reviews from verified buyers, as opposed to anonymous reviews, increase purchase likelihood by 15%
Now that you know online customer reviews can influence buying decisions at such a rate, consider displaying positive reviews on your website, prioritizing verified reviews and generating reviews for higher-priced products.
What Is The Difference Between In-House & Outsourced Corporate Branding Services?
Now, let's get back to your business.
If you're wondering whether to hire in-house experts or find a branding agency to create a strategy and position your brand, here are the pros and cons for each option to help you decide.
In-House Corporate Branding Experts: Pros & Cons
The advantages of hiring in-house experts include:
The opportunity to build a corporate brand from within the company
The possibility to engage executives and stakeholders in branding activities
The chance to be more involved in every step of the branding process
The disadvantages of having branding specialists within your company may include:
It can take time and resources to find the best talent
It typically requires hiring a team of experts
It can be a costly solution, not as effective as outsourcing
Outsourced Corporate Branding Services: Pros & Cons
The benefits of outsourcing services to a branding agency include:
The opportunity to zoom out and gain insights from an external point of view
The possibility of having a cost-effective team of experts developing your strategy
The chance to scale up your activities and expand the impact across more channels
The drawbacks of outsourcing services to a branding company can include:
The lack of on-hand access to internal documents and processes
The need to have at least one employee continuously available as the point of contact
The slower decision-making process for any deliverable that needs approval
All in all, branding professionals can help you create a strategy, determine the scope of your branding activities and allocate the right amount of time, money and other resources to help you develop a strong corporate brand.
Is Corporate Branding The Right Strategy For Your Business?
It's time to wrap it all up.
Corporate branding can be a highly cost-effective solution for your business if you want to unify your brand image in the eyes of the public.
This means creating your company's brand as a corporate entity rather than branding each of the products or services separately.
A thoughtfully developed corporate brand strategy can help you:
Build trust and long-lasting relationships with your customers
Increase the level of customer loyalty, engagement and advocacy
Grow the purchase likelihood for every new product you launch
To create an effective strategy, you can start with the VCI Alignment Model to build consistency between your strategic vision, company culture and the public image of your brand.
Continue crafting a strategy following these seven steps:
Set clear corporate branding goals
Document your values, mission and vision
Research your target audience
Define your corporate brand voice
Craft key branding messages
Design your corporate visual identity
Manage your online brand reputation
Finally, decide whether hiring in-house experts or outsourcing services to a branding agency better suits your business needs.
Either way, keep in mind that branding isn't an overnight activity. It takes time, but once you establish your corporate brand, it can help you grow your company's impact, attract loyal customers and boost sales.