Having grown multimillion-dollar businesses during the global recession of 2008, Digital Silk experts share actionable advice on crisis communication and recovery strategies for businesses affected by COVID-19 crisis.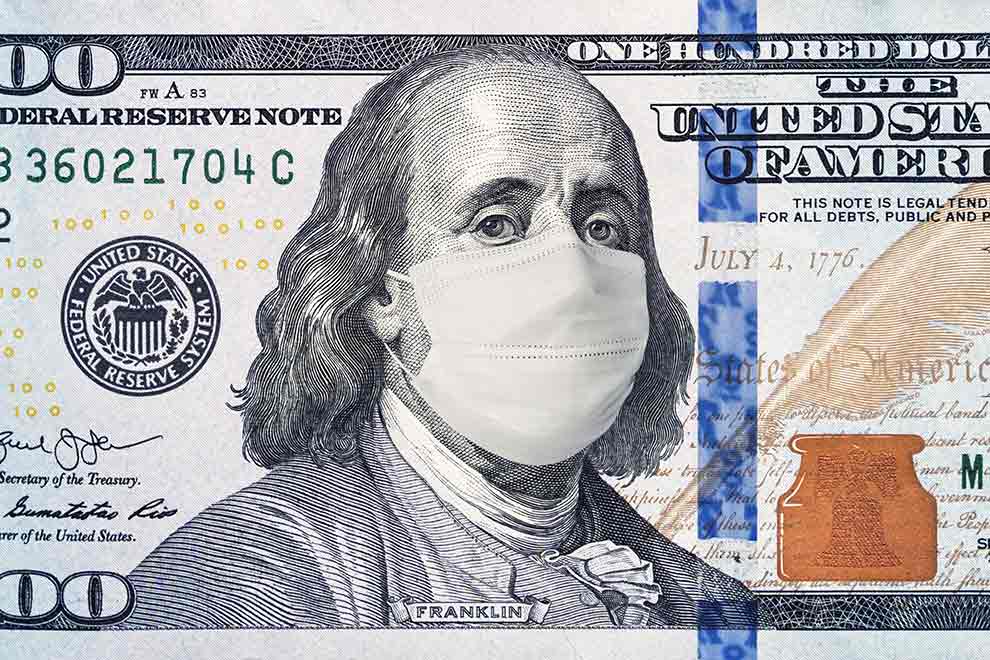 As we are writing this, there are nearly half a million registered COVID-19 cases in the world.
The difficult, yet necessary measures to prevent the spread of the virus have altered the global business landscape, as some speculate, beyond the point of no return.
However, the show must go on.
To weather through this global crisis, brands must maintain their relationships with their audiences while preparing for recovery in the post-COVID-19 economy.
Having helped businesses thrive during the biggest recessions in recent history, Digital Silk experts have prepared a master guide to crisis communication and post-crisis recovery, including:
An overview of the COVID-19 current and expected impact, focusing on both the hurting and thriving industries
Advice on how to keep your audiences engaged during the crisis
The recovery strategies and the need for digitalization in the post-pandemic economy
We'll look at crisis communication as a crisis response strategy that will help businesses maintain interest and brand awareness during the pandemic, setting the stage for recovery and preparation for the new age of business operations.
What Is Crisis Management?
Crisis management is the process businesses develop to improve reaction time and response efficiency to an unexpected disruptive event, be it internal such a user privacy breach or external such as a pandemic.
PR & branding agencies treat crisis management is an important part of a brand's PR strategy.
The three components of crisis management are:
Pre-crisis: A set of measures intended to minimize the chances of an internal crisis as well as predict and mitigate any early signs of a potential crisis.
Crisis response: The process and solutions developed to manage an ongoing crisis. In the case of COVID-19 crisis, a good example of the response strategies would be companies adapting their offering to cater to the newly arisen needs of the consumers, growing brand value and loyalty by offering real value to others.
Post-crisis: A set of measures developed to ease the workforce and audience into the post-crisis state. This is also when businesses must evaluate their experience and make important organizational changes to improve their agility and competitiveness.
What Is Crisis Communication?
Crisis communication is the process that guides an organization's correspondence with their staff, audiences, media and partners during an unexpected and disruptive event.
Falling within the scope of crisis management, crisis communication strategy also consists of three parts: pre, during and post-crisis.
It is one of the most important components of crisis management intended to:
Keep the staff and public informed
Prevent the spread of misinformation
Keep the audiences engaged
Maintain brand credibility and trust
To set the stage for crisis communication and recovery strategies, let's look at the current state of the COVID-19 impact:
5 Industries That Are Suffering The Biggest Consequences Of COVID-19
From disrupted supply chains, tanking demand and strict government emergency measures, these industries have suffered the biggest consequences of the global crisis:
Industry #1: Automotive
Complex global supply chains and the sharp decline in demand have dealt a major blow to the automotive industry's revenue and job markets.
Most of the car manufacturers rely on Chinese factories for different parts.
China, the biggest global supplier of vehicle parts and accessories with $34.8 billion in yearly exports, has shut down the factories nationwide, disrupting the global supply chain.
Similarly, the European auto industry has shut down its assembly lines in response to the health-protective government measures.
The US auto industry, manufacturers and dealerships alike, hasn't been exempted either.
It is projected that the country can lose about 94,400 jobs and $7.3 billion in overall earnings in a seven day period without the purchase of new cars or any other vehicles.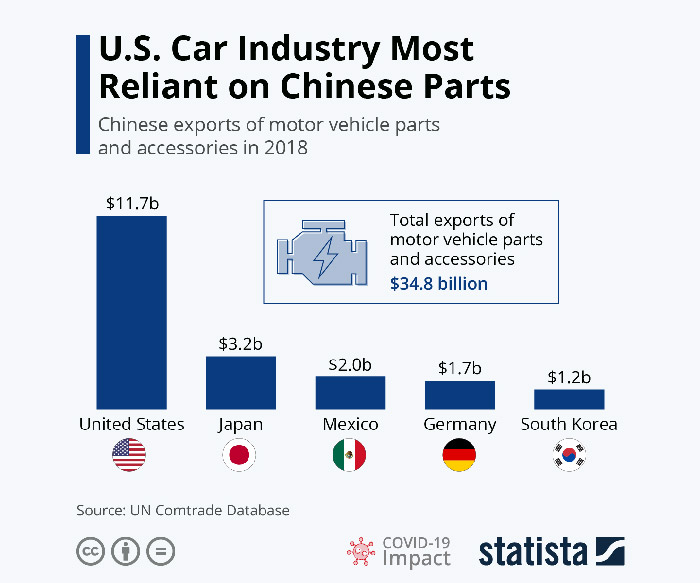 Industry #2: Hospitality
The pandemic has had a direct impact on the hospitality industry with many countries closing their borders, discouraging travel and limiting the work of hospitality businesses.
In its business update, Marriott International says that the company has seen a decline of 52.1% in revenue per available room (RevPar) in Greater China this January and February.
Between January and March, Beijing saw a decrease of -96% in bookings and Shanghai -71%.
Online travel agencies and booking sites' reservations are tanking in all major cities, particularly in Europe.
Among the other affected cities besides Beijing and Shanghai, are Rome, Milan and Tokyo.
We will travel again.

Soon, we will step out from behind our screens.

We will look each other in the eye—instead of the camera.

We will clink glasses. We will exchange hugs.
We will travel again.

Until then, stay healthy and stay positive.

We'll be waiting. pic.twitter.com/MrSHnVeD99

— Marriott International (@MarriottIntl) March 27, 2020
Industry #3: Air Travel
Governments worldwide have restricted entry or completely banned travel to and from the epicenters of the pandemic.
Between 9-16 March, Germany reduced its flights for -18.2%, Switzerland for -15.4% and Saudi Arabia for -15.3%.
The US has also banned entries from the Schengen zone until April 11. This is the reason why 40% of the affected airline companies are US-based.
American Airlines has stopped the operation of 55,000 flights. This was the reason why the company saw a decrease of $1.5 billion in revenue in March compared to the same month last year. [Source: USA Today]
We're grateful for our loyal customers who remain patient as our Global Reservations team navigates a record number of requests. Your messages of gratitude mean the world to us. Thank you. Your #AATeam's committed to helping you during this unprecedented time. pic.twitter.com/3mFzRIF2F9

— American Airlines (@AmericanAir) March 24, 2020
Industry #4: Tech Brands
Similarly to the automotive, the hardware tech sector is also very much dependent on China.
Many global brands source parts or manufacture their devices in the country.
With factories running limited operations or closed for the duration of the crisis, these brands' regular stock and new releases have been put on hold.
It is speculated that due to this disruption Apple may delay the launch of its iPhone SE2 and 5G.
What's more, the shipment of iOS devices in China decreased from 1.27 million in February last year to 494,000 this February, potentially costing the company billions of dollars.
Industry #5: Brick-And-Mortar Retail
By this point, it should be obvious that some of the vulnerable industries during this crisis are those heavily reliant on global supply chains and brick-and-mortar operations.
In the US, many brands have responded to the outbreak by shutting down their physical stores. These include Sephora, Macy's, H&M, Glossier, Walmart and Channel.
The multinational sportswear corporation, Nike, has also cloosed its store doors in the US, Canada, Western Europe and New Zealand.
However, while experts forecast that during this situation, Nike may lose $3.5 billion in revenue in the fourth quarter of fiscal 2020, the company just reported a 36% increase in digital sales and an overall revenue increase of 11% thanks to eCommerce.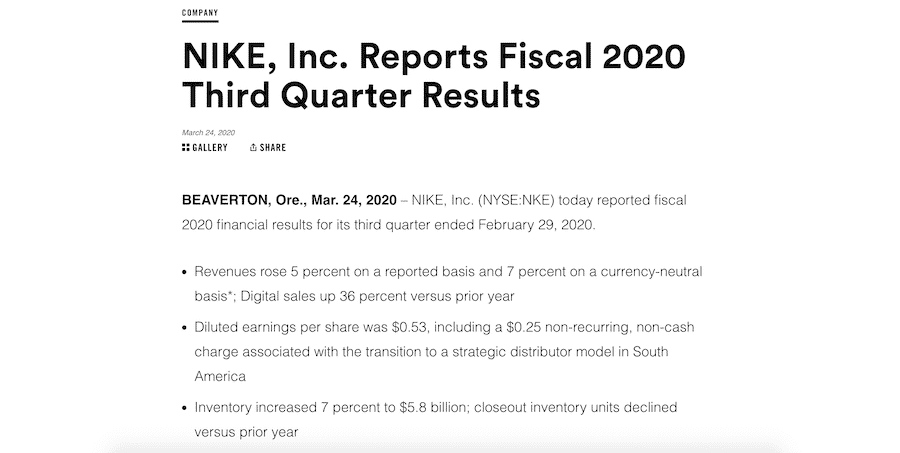 5 Industries That Are Growing During COVID-19
Facilitating shopping, entertainment and autonomous work, these industries have recorded new peaks in revenue and user base.
Industry #1: eCommerce
Picking up on Nike's example, other eCommerce brands have seen their revenues unscathed and even growing during the crisis.
The convenience and safety of e-shopping has shifted the demand online.
Because of this, Amazon is now hiring 100,000 employees for full and part-time positions around the US to meet the huge demand for delivery services.
If you're interested in developing an e-shop, here's more about our eCommerce development services.
Industry #2: Gaming
Almost a third of the world's population has committed to self-isolation or quarantine to decelerate the spread of the virus.
With schools canceled and many companies on temporary shut-down, the demand for in-house entertainment, most notably gaming, has seen a sharp rise in demand.
According to App Annie, the average number of weekly game downloads in China rose by 80% in February compared to the total 2019 average weekly downloads.
Industry #3: Online Communication Services
The global recommended or, in some countries, legally enforced measures have shifted the workforce to work from home, students to online lectures, and meetings and conferences to the digital space as well.
Communications platforms are struggling to accommodate the booming user base.
As a result, online communications companies are seeing their income skyrocketing. Zoom, for instance, has gone from $1.2 million net income in 2019, to over $15.3 million at the dawn of 2020.
We explored the impact of the #Coronavirus on the #mobile economy across #Business, #Education, #Games, #Social, #Entertainment, #RideSharing, #FoodDelivery, #Finance & #Dating. #COVID19 is greatly impacting our lives each day.

>> https://t.co/tnhL7uGL0m pic.twitter.com/95Ig16sXcd

— App Annie (@appannie) March 17, 2020
Industry #4: Streaming Platforms
Similarly to gaming, streaming platforms have become the go-to in-house entertainment option.
For example, the time spent in the Pluto.tv app grew by 75% in a week. (App Annie)
And, due to the large number of users consuming their content, platforms like Netflix have even been urged to reduce their streaming quality to alleviate the strain on the internet networks during the crisis.
The most popular video streaming apps at the beginning of this year are YouTube, Netflix and Hulu.
Netflix, the second-biggest driver of internet traffic in the world, is reducing video quality in India, Australia and some Latin American countries to cope with surging demand https://t.co/kV2K4wkt3h

— Bloomberg (@business) March 25, 2020
Industry #5: Recruitment Platforms
Experts estimate that the pandemic crisis has put as many as 80 million of US jobs at moderate or high risk.
Hundreds of thousands are filing for unemployment benefits in their states as their industries face uncertain futures.
Recruitment sites are already struggling to support the influx of job seekers.
We expect the crisis to cause tectonic shifts in the way businesses operate globally. These shifts are highly likely to move in favor of remote and freelance workforce, benefiting the providers of such services both in the short and long-term.
More on this in the Post-Crisis Management section.
Crisis Communication In Response To Natural Disasters: How To Engage Your Audiences During Times Of Uncertainty
One of the most difficult tasks for businesses is to maintain proper communication with their audiences during a crisis.
Whether in times of a natural disaster, local emergency or a serious virus like the COVID-19, you need to find a way to stay in touch and keep your clients engaged for several reasons:
Brand trust: Your audience needs to know you're reliable and will be available to help them pull through, in any way you can.
Brand loyalty: A natural consequence of being trustworthy is that your customers will be more invested into their bond with your brand.
Corporate responsibility: Although you're not responsible for a crisis, you are responsible for handling communication throughout a crisis in a way that demonstrates involvement, empathy and active effort to alleviate the situation.
Brands show their true colors during a crisis, so it is important to embed this step into your brand strategy.
Here are a few tips that can help you handle crisis communications effectively:
Act quickly: First impressions count. And your audience expects to hear from you. So, make sure you share your good wishes and tell them how the situation has affected you as soon as you can. Make sure you express emotion and involvement.
Be compassionate and considerate: Your prospects and clients may be suffering due to the crisis. They might be scared and stressed as well. So, show that you care and that you understand what they are going through. Once they see that you show empathy they will easily perceive your message.
Describe what actions you're taking to deal with this situation: Let them see that you are dedicated during these hard times. Set an objective and share how you plan to commit to reaching it.
Try to help: Depending on the type of business you are, you need to find a way to reassure your clients that you are available for support. A good way to start is to improve your customer care services and increase your social media and website availability. In other words, you should make it easy for them to reach you.
Take a serious and involved tone: Even if a serious tone is not your typical type of brand voice, the situation demands it. Don't sound entertaining and don't make any jokes. Remember that some of these people may be affected by this situation. And by using an inappropriate tone you can turn them away.
Don't take advantage of the situation: Be careful not to use this situation to increase your profit. Don't fall into the tendency to dump products or increase prices due to shortage. Though this may bring you success in the short term, it will affect your business negatively in the long term.
Communicate regularly: Share more content on your website and social media profiles to keep your audience engaged. However, don't only focus on self-promotion but rather provide them with useful tips that can help them better cope with the situation.
5 Most Effective Crisis Communication Strategies
In the time of a crisis, you need to prepare yourself in advance and put together a well-developed strategy to successfully communicate with your audience.
Here are a few effective crisis communication steps to follow:
Develop a plan: Set some rules and instructions to guide your business during the crisis period. They should include how to behave, what actions to take and how to communicate with your prospects and clients.
Create a crisis communication, i.e. management team: Choose a few team members that can communicate with your clients and provide support. However, ensure that you give them clear instructions since they need to understand what steps to take and how to cope with different issues.
Identify a spokesperson: Pick one person from the team who will speak on your brand's behalf. Whether it is your CEO or an employee…it is of key importance to be a good communicator. This person will represent your company and will be in charge of spreading consistent messages across all channels.
Choose your communication channels: Find out where your audience hangs out and identify which the best platforms to spread your messages are. Then, discover what type of content performs the best on these channels and act accordingly.
Analyze your audience's feedback: Have someone in your team monitor engagement and feedback. This can help you prevent a business crisis since it would allow you to understand how these people feel about what you offer and do during this situation.
Crisis Communication Examples & What We Can Learn From Them
Here are a few examples of some businesses that developed successful crisis communication strategies, and what businesses can learn from them to manage the COVID-19 pandemic.
1. Johnson & Johnson
The crisis: In Autumn 1982, there were seven deaths in Chicago of people who had taken Johnson & Johnson's market-leading, over-the-counter painkiller, Tylenol.
Over 90% of the American population had heard the story within the first week of the crisis.
The solution: The first action they took was to immediately alert consumers via advertising and the media not to consume any type of Tylenol product.
The company halted the production and advertising of Tylenol capsules and ordered a national withdrawal of the product.
Authorities concluded that tampering had only occurred once the Tylenol had reached Chicago, with the capsules stolen from stores, poisoned and deposited back on the shelves. Johnson & Johnson took a number of other measures aiding customers and costing the company millions.
Namely, within six weeks, the company had designed the first, triple-lock tamper-resistant container.
Within a few months, Tylenol regained its market share and ultimately Johnson & Johnson added value to their reputation and brand through their response.
The lesson: The response of Johnson & Johnson is widely credited as the leading example of good crisis communications.
The key element here is the focus on values instead of sales/profit in the short term.
People increased trust in Tylenol and Johnson & Johnson because they demonstrated they valued customers' needs first at the expense of the business – and long term, the bottom line benefitted too.
2. Pepsi
The crisis: Back in 1993, a couple from Washington claimed that they found a syringe in a bottle of diet Pepsi.
Then, the company struggled with accusations about the safety of its drinks, threatening to ruin its reputation.
The solution: In response to the allegation, Pepsi created a video campaign in four parts that showed the canning process to serve as proof to audiences that such a mistake simply wasn't possible.
Eventually, a video emerged of a woman that was caught putting a syringe into a can in her own grocery store.
The lesson: This situation is notable because the original issue was outside of Pepsi's control. The admirable aspect of their response is that they focused on transparency.
By allowing customers 'behind the curtain' to view the measures that they take to ensure safe production, audiences could understand Pepsi's perspective and begin to question the allegations.
3. KFC
The crisis: Due to a delivery delay, KFC dealt with a huge challenge when most of its restaurants in the UK and Ireland were left without chicken meat.
The solution: The company's marketing team placed unconventional ads in the newspapers. They threw caution to the wind and rearranged the letters of KFC into a curse word – FCK.
The company also allowed customers to track the delivery status of chicken meat in their local restaurants. In every campaign, they used a consistent brand voice which was a crucial part of recovering from this situation.
The lesson: KFC showcased expert crisis management by owning up to the negatives of the situation and providing a clear response and solution.
KFC recognized the frustrations of the consumers, addressed their questions and provided them with a tool to aid the situation.
KFC apologises with a full page ad in today's Metro. A masterclass in PR crisis management.#KFCCrisis pic.twitter.com/ZF4SfAuHl5

— Andrew Bloch (@AndrewBloch) February 23, 2018
4. American Red Cross
The crisis: An employee of the American Red Cross accidentally posted a tweet on the organization's account instead of his own.
It said:
Ryan found two more 4 bottle packs of Dogfish Head's Midas Touch beer…. when we drink we do it right #gettngslizzerd
The solution: The American Red Cross didn't ignore the tweet, trying to pretend it never happened. Instead, they took a humorous approach towards it and posted another tweet:
We've deleted the rogue tweet but rest assured the Red Cross is sober and we've confiscated the keys.

— American Red Cross (@RedCross) February 16, 2011
The unusual situation got the attention of Dogfish Head. They took part in this conversation and encouraged people to make donations to the organization using the hashtag #gettngslizzerd.
The lesson: The organization managed to not only mitigate a potentially embarrassing situation but also spin it into a positive one that garnered even more donations.
This example emphasizes why organizations should prioritize authenticity in the face of a challenge.
Crisis Communication Takeaways
The pandemic has caused one of the biggest disruptions in the global economy and we are yet to see where it will lead us.
As many industries' revenues are plummeting, experts estimate that the global market may lose 25 million jobs.
Some digitally native businesses, on the other hand, are struggling to accommodate the surge in demand.
An effective crisis communications strategy could help businesses keep their audiences engaged during the pandemic, if not increase brand recognition and loyalty.
Some of the key crisis communication tactics to employ during the pandemic are:
Timely response
Empathy
Assistance and comradery
Respect
Looking to develop an effective communication strategy?
Request a quote!
Tell us about your project and let our experts give you recommendations.