Do you know what unites The New York Times, Alibaba and Adobe?
A successful digital strategy.
In this guide, we'll explain what a digital strategy is, share the benefits and provide examples from top brands.
As a bonus, scroll down for a free digital strategy template for web designs and redesigns!
Let's get started.
What Is A Digital Strategy?
A digital strategy is a research-based document that defines the goals of your digital project and outlines the most effective pathways to achieve them.
Your digital strategy is integral for the success of your online projects, from website design or revamp, to digital marketing, social media campaigns and more.
The Purpose Of A Digital Strategy?
The main purpose of a digital strategy is to define goals for your digital project(s) and identify the most effective way to achieve those goals.
At Digital Silk, our experts create a unique digital strategy for each client, to share valuable insights, highlight untapped opportunities and ensure consistency throughout a brand's online presence.
For example, let's look at mobile forms software company, doForms. Our experts developed a website strategy followed by an effective SEO plan which yielded results in just a few months.
We created a new website with high conversion rates, low bounce rates, and an abundance of new backlinks to increase domain authority — 24/7 tireless sales force to bring revenue every step of the way.
Chech out our case study!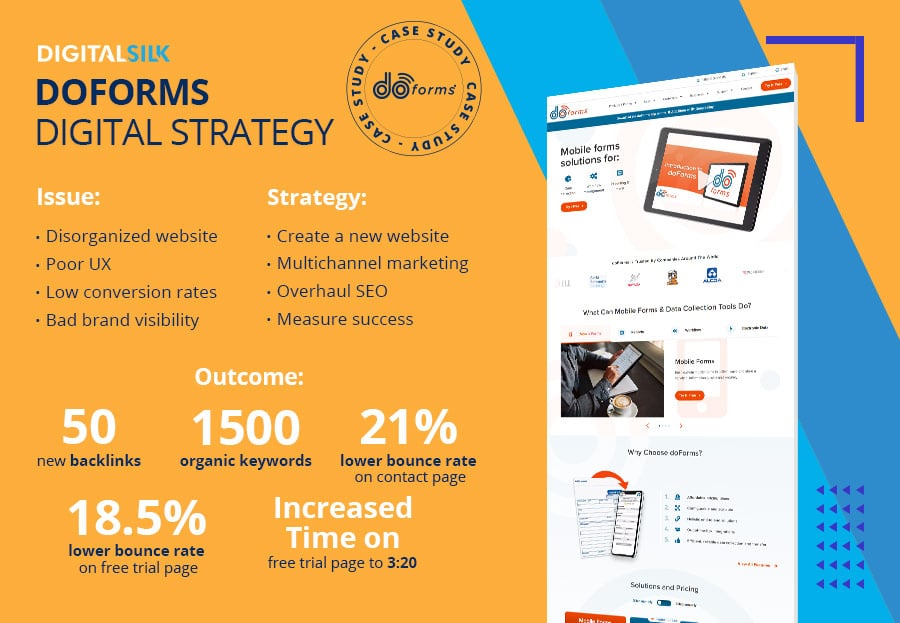 6 Benefits Of An Effective Digital Strategy
A digital strategy can play a key role in the success of your website, marketing campaigns and more. Let's look at six benefits of an effective digital strategy.
1. It Helps You Onboard An Agency And/Or Other Partners
If you are working with a digital agency or a consultant, a digital strategy can help you onboard them effectively by providing in-depth understanding of your business, competitive landscape and target market.
2. It Helps You Analyze And Draw Conclusions Based On Current Performance Or Historic Data
You can use your digital strategy to document your performance, such as monthly traffic, bounce rate and time on site.
Your digital strategy should contain insights about your social media presence, social campaigns and PPC campaigns.
3. It Deepens Industry Insights & Provides Competitive Landscape Information
Your strategy should provide insights into your industry and competitive landscape to identify strengths, weaknesses, opportunities and threats (SWOT) analysis.
To create an insightful SWOT analysis, consider:
Industry size and growth rate
Industry trends
Your market share
Direct competitors
Previous business performance and current business plan
Using analytics tools, you can track SEO performance, paid keywords, social media campaigns and various website metrics.
4. It Helps You Understand Market Behavior And Plan An Effective Conversion Funnel & User Journey
Your site visitors' journey from brand awareness to becoming a prospect and repeat customer is rarely short and almost never linear.
These stages of the conversion funnel include:
Awareness
Interest
Consideration
Conversion
Loyalty & advocacy
The touchpoints that guide your user through these phases are collectively called the user journey.
A digital strategy will help you define and analyze your target market to identify the best tactics to engage your site visitors at each stage of the funnel and guide them through the process.
5. It Outlines SMART Goals
Now that you have collected competitive and market behavior insights, you have enough data to define your project goals and objectives.
Make your goals SMART: specific, measurable, achievable, relevant and time-bound.
Here's an example of what your digital strategy goals might look like:
Corporate website digital strategy goals:
Generating leads via organic search (SEO)
Generating leads via newsletter subscriptions
Generating leads via request a quote or consultation
Educating prospects on your brand and offering
Increasing exposure to prospective recruits
eCommerce website strategy goals:
Educating prospects on your brand and offering
Increasing your user base via organic search (SEO)
Increasing subscriber base via newsletters (for nurturing and upselling)
Increasing repeat via loyalty programs
Decreasing cart abandonment
Social media branding strategy goals:
Increasing your targeted follower base
Increasing engagement rate
Increasing click-through rate
6. It Helps You Set Realistic KPIs
Key performance indicators (KPIs) help you measure the success of your digital strategy and project performance.
KPIs typically depend on your business's size, capacities and performance.
This is where your competitive analysis comes into play. Focus on your direct competitors' performance to gauge your market response and manage your expectations.
Your KPIs may include:
Social media: Increasing organic traffic to X
Email campaigns: Increasing unique click rates to X
Website: Reducing the bounce rate to X
Website & eCommerce: Boosting the conversion rate to X
Landing page: Boosting average session duration to X
3 Digital Strategy Examples To Learn From
The best digital strategy is the kind that evolves and keeps up with consumer trends and demands. Let's look at successful digital strategies from three top brands.
In 1995, The New York Times, one of the top global newspapers established in 1851, used technology to launch its online edition and expand its circulation.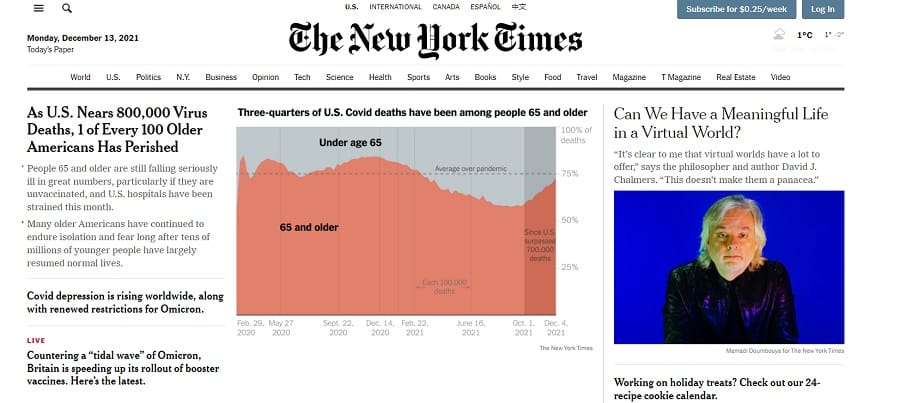 In 2005, the newspaper introduced a subscription service where subscribers paid for part of the published content such as Op-Ed and news columnists, while the other publications remained free.
In 2006, The NYT introduced an electronic version called The Times Reader, which allowed subscribers to download the printed edition.
In 2011, they implemented a paywall and subscription model, according to which readers could access 20 online articles per month for free but had to pay additionally, if they wanted to read more.
As news became increasingly popular to digest digitally, the company adjusted at every turn. This digital strategy brought remarkable results: in 2016, the newspaper made close to $500 million in purely digital revenue.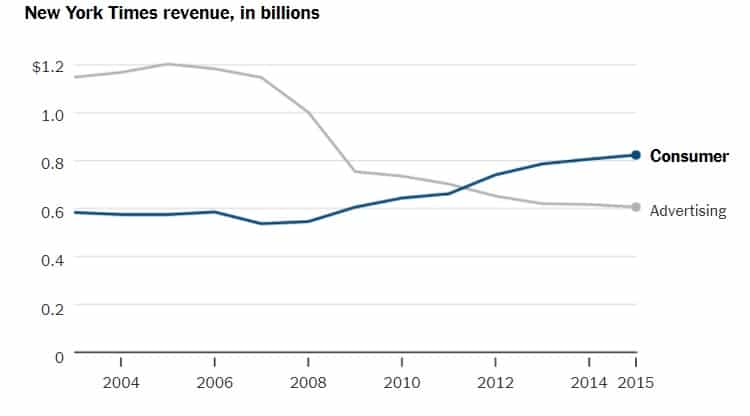 Today, The NYT has an even stronger digital strategy. The newspaper uses full-page imagery and colorful presentations to share stories, from news to sports, politics and more.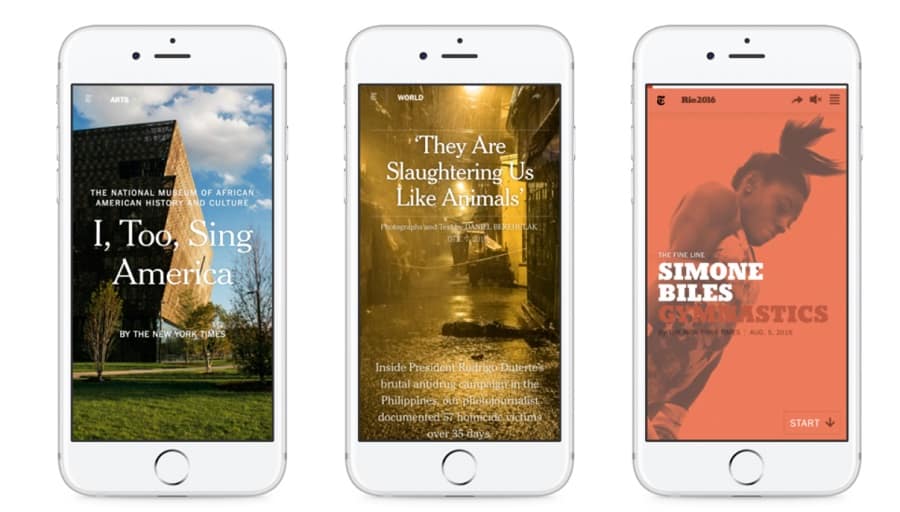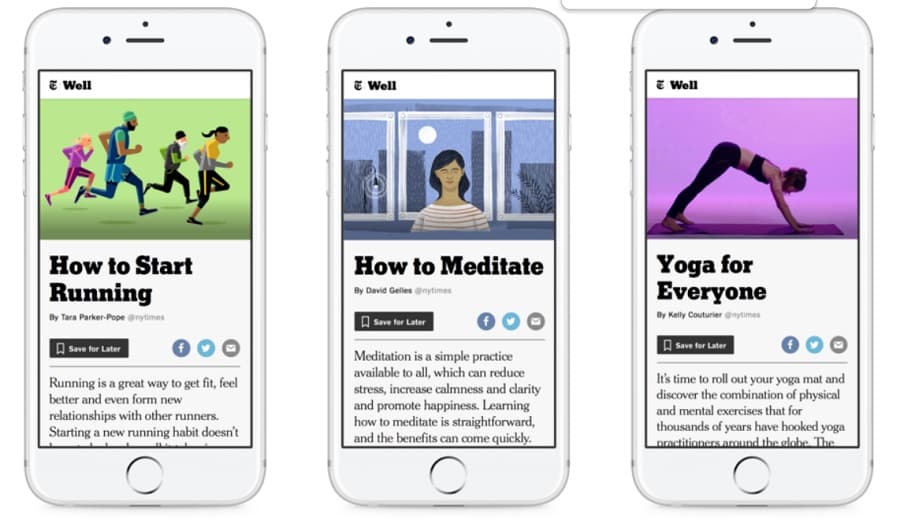 The lesson: Planning ahead, meeting tech trends and adjusting to changing consumer behavior, The New York Times' digital strategy cemented their market position and increased revenue.
Adobe faced the challenges of digital era in their own way.

In 2013, Adobe moved from purely physical software to Creative Cloud, to achieve a revenue of $12.9 billion in fiscal 2020.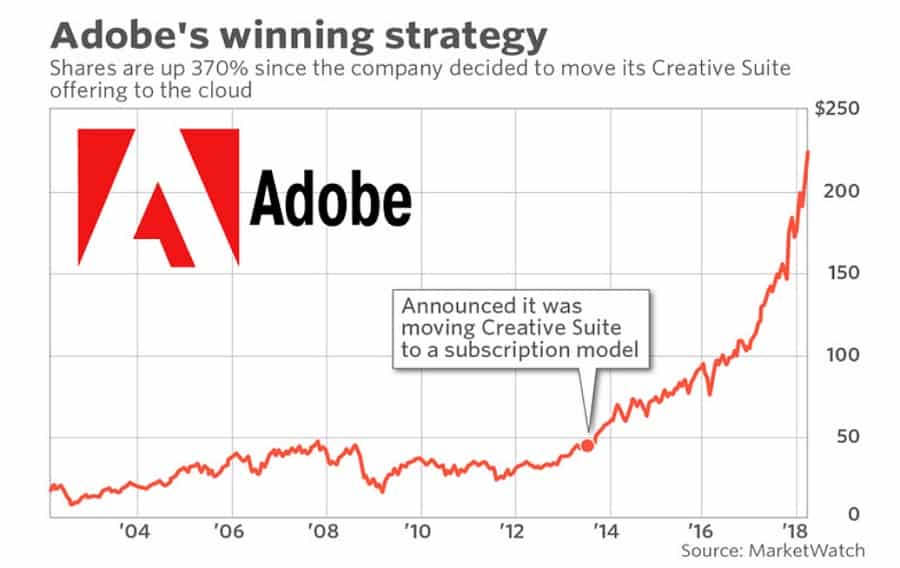 This revolutionary change increased software control, decreased piracy and answered the needs of consumers.
In 2018, Adobe acquired Magento Commerce, an eCommerce service provider followed by the purchase of Marketo, marketing automation software company.
Adobe never stopped developing digitally. In 2021, they announced they were adding payment services to their eCommerce platform.
As Alvaro Del Pozo, VP of international marketing at Adobe, explains:
"Trends and technology that were years away from serious consideration are now at the top of the agenda. Additionally, businesses are all grappling with the same challenges: remote working, new all-digital customers with different buying behaviors, and, added to that, their employees' and their customers' well-being."
The lesson: Understanding the needs and expectations of their users, Adobe offered innovative solutions, deserving their place among the leading digital businesses.
Challenged by the growing number of customers and billions of orders, Chinese eCommerce titan Alibaba used AI to build a smart warehouse with automated packaging and shipping.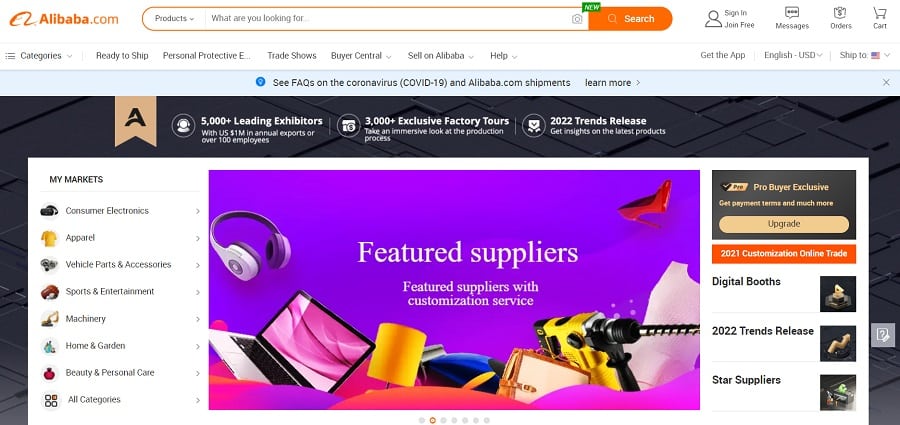 Check out the video they launched to showcase their innovation:
Today, their digital strategy encompasses everything from chatbots to smart product searches and recommendations to optimize the purchasing process and create a unique user journey.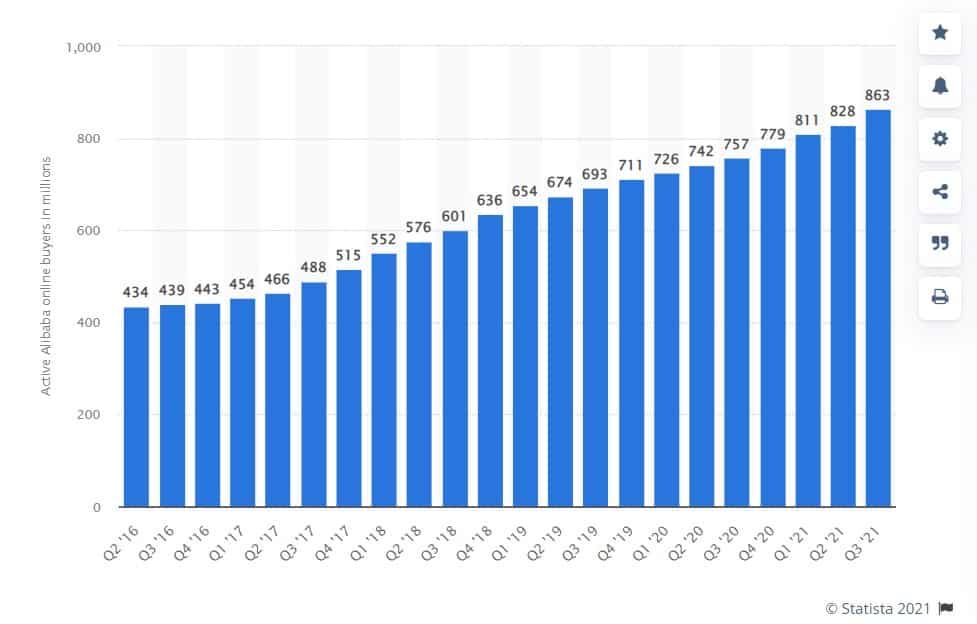 The lesson: Defining your specific business goals and acting from user-centered perspective provokes interest, provides a competitive edge and does not go unnoticed by consumers.
Digital Strategy Planning For Websites [Template]
To help your online business scale and live up to its potential, we have come up with this handy template document that outlines all the necessary steps for creating a website digital strategy.
The outline contains:
Business Overview
Website Goals
Key Insights
Current Performance (for revamp projects)
Industry/Business Landscape
Competitive Analysis
Market Research & User Personas
Conversion Funnel
User Journey
SEO/Target Keywords
Marketing Integrations
Website KPIs
Download Free Digital Strategy Template For Websites
Building or revamping a website? Use this template to plan your sitemap, content, functionality and optimize performance.
Email the download link to:
Digital Strategy Takeaways
A digital strategy is a plan of action designed to improve the quality and quantity of your website traffic and increase revenue.
Digital strategy can help with:
Website planning
Digital marketing
Online lead generation campaigns
At Digital Silk, we create all-encompassing digital strategies to build and strengthen your online presence. Our experts use data-backed insights into your industry, target audience and competitors to create a unique, actionable strategy to grow your brand and reach your specific goals.
Ready To Build A Winning Digital Strategy?
Request A Quote
Tell us about your project and let our experts give you recommendations.