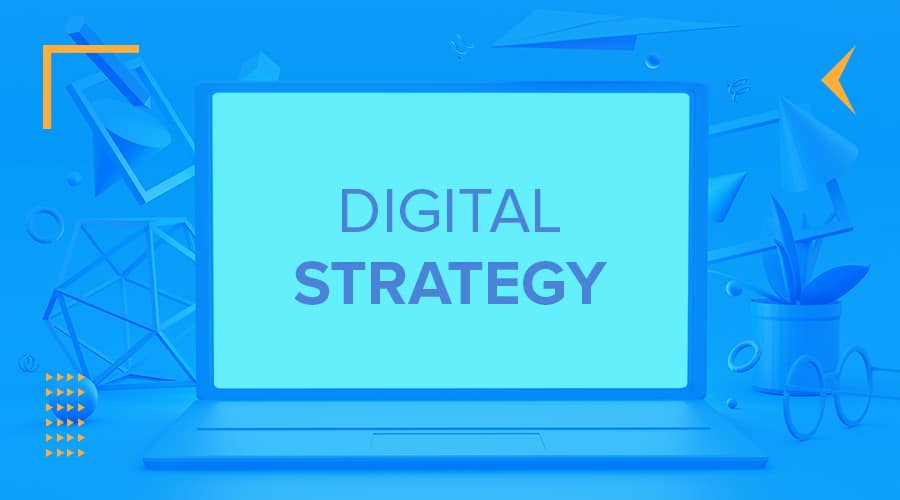 In this guide, we'll show you what a digital strategy is, how it benefits your business and helps you reach your brand's objectives online. 
As a bonus, scroll down for a free digital strategy template for web designs and redesigns! Let's get started.
What Is A Digital Strategy?
A digital strategy is a guide on how to build a brand online. It is a research-based document that defines the goals of a digital project and outlines the most effective pathway for achieving them. 
It aligns all efforts and stakeholders, keeping their eyes on the prize and moving in the same direction.
As such, digital strategy is integral for the success of projects like website design or revamp, digital marketing or its subsets like social media campaigns and blogging.
A digital strategy also facilitates a discovery process both for you and for your project partners (agencies), if any. It can help you:
Identify opportunities: During the research process, you are likely to gain valuable insights into your industry, target market and competitive landscape. These insights can point to untapped opportunities like digital marketing channels, website features or tactics your business can leverage to achieve its digital goals.
Onboard a project partner: If you are hiring a web design agency, developing a digital strategy with them is an effective way to familiarize your partner with your business, industry and target market.
Download Free Digital Strategy Template For Websites
Building or revamping a website? Use this template to plan your sitemap, content, functionality and optimize performance.
Email the download link to:
What Is The Purpose Of Digital Strategy?
The main purpose of a digital strategy is to define realistic goals for your digital project(s) and identify the most effective way to achieve them. 
This may sound simple, but in practice, most digital projects fail due to a lack of clear direction.
A digital strategy replaces assumptions and "gut feelings" with data-driven, achievable and actionable insights, while laying out a clear and coherent plan for all stakeholders to follow.
At Digital Silk, we treat digital strategies as bedrocks of any project. This is how we are able to help clients achieve remarkable results.
Take doForms, for instance. The website strategy we developed for them helped us lay out an effective SEO plan which started to yield results in just a few months. Check it out: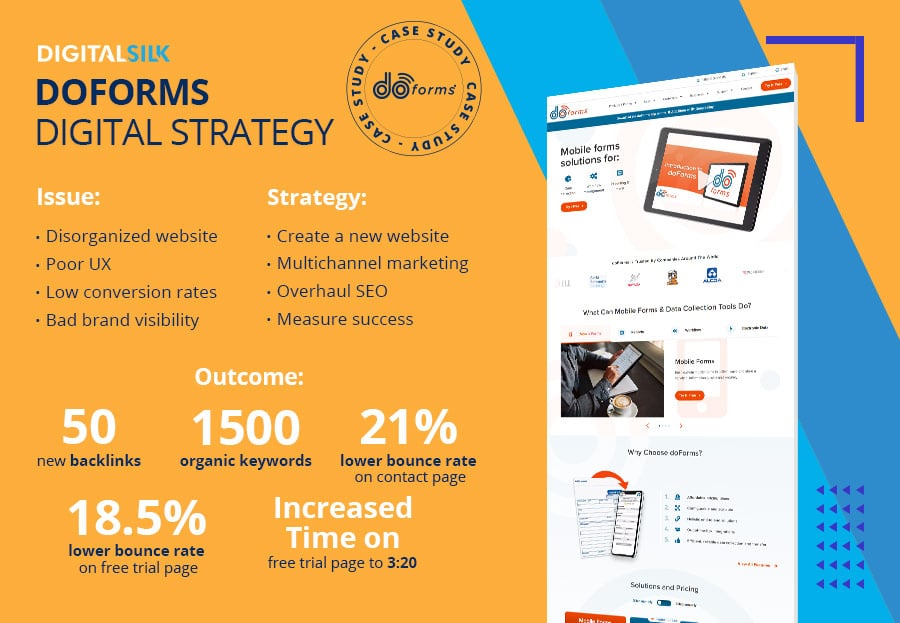 Additional benefits of a well-developed digital strategy include:
Benefit #1: It Helps You Onboard An Agency And/Or Other Project Participants
If you are working with a digital agency or a consultant, a digital strategy can help you onboard them effectively by providing an in-depth understanding of your business, competitive landscape and target market.
There are two ways in which digital strategy can help you onboard a project partner:
You can develop a digital strategy in-house or with a business growth consultant and use it as a briefing document for your agency, a.k.a. project partner.
You can develop the digital strategy with your project partner in which case it becomes both a discovery process for both parties, as well as a useful document that guides your efforts.
Benefit #2: It Helps You Analyze And Draw Conclusions From Current Performance Or Historic Data
If you're in need of website improvement, the digital strategy will document your past performance such as monthly traffic, bounce rates and time on site, against which you will benchmark the success of your new website.
If you are developing a strategy for your digital marketing efforts, this document will collect insights such as:
Social media followers and engagement rates for social campaigns
Cost per click, cost per lead, clickthrough rates and more for PPC campaigns
Much like the historic website data, these marketing insights will help you compare and contrast your digital marketing performance before and after
Benefit #3: It Deepens Industry Insights & Provides A Competitive Landscape For Benchmarking
This segment of the strategy looks into the industry and competitive landscape to provide context to your efforts, including strengths, weaknesses, opportunities and threats (SWOT) analysis.
To create an insightful SWOT analysis, you may want to make note of details such as:
Industry size and growth rate
Industry trends
Your market share
Direct competitors
Previous business performance and current business plan
The competitive analysis is particularly useful for benchmarking and KPIs.
There are various tools, some of them free, that can help you look into your direct competitors' performance on the channel(s) your digital strategy is targeting.
For example, these tools can help you track your competitors:
SEO performance
Paid keywords
Social media campaigns
Website metrics
Benefit #4: It Helps You Understand Market Behavior To Plan An Effective Conversion Funnel & User Journey
The journey from brand awareness to becoming a prospect and a customer is rarely short and almost never linear.
Your users, whether you engage them on digital marketing channels or your website, will go through stages before completing the desired action, such as completing an online purchase, or scheduling a call with your sales reps.
These stages are known as the conversion funnel and they include:
Awareness
Interest
Consideration
Conversion
Loyalty & advocacy
The touchpoints that guide your user through these phases are often called the "user journey."
A digital strategy will help you define and analyze your target market to identify the best tactics to engage them at each stage of the conversion and guide them through the process smoothly.
Benefit #5: It Outlines SMART Goals
Now that you have collected insights into your competitive landscape and market behavior, you have enough data to define the project goals and objectives.
Your goals should be specific, measurable, achievable, relevant and time-bound, in other words, SMART.
Corporate website digital strategy goals may include:
Generating more leads via organic search (SEO)
Generating more leads via newsletter subscriptions
Generating more leads via request a quote or consultation
Educating prospects on my brand and offering
Increasing exposure to prospective recruits
eCommerce website strategy goals may include:
Educating prospects on my brand and offering
Increasing user base via organic search (SEO)
Increasing subscriber base via newsletters (for nurturing and upselling)
Increasing repeat via loyalty programs
Decreasing cart abandonment
Social media branding strategy goals may include:
Increase targeted follower base
Increase engagement rate
Increase click-through rate
Benefit #6: It Helps You Set Realistic KPIs
Key performance indicators (KPIs) will help you measure the success of your digital strategy and project performance.
KPIs will vary from company to company, so what constitutes realistic KPIs will always depend on the business's size, capacities and performance.
This is where your competitive analysis comes into play. Focusing on your direct competitors' performance can help you gauge the market response to your type of project(s) and manage your expectations.
Such KPIs may include:
(Social media) Increasing organic traffic to X
(Email campaigns) Increasing unique click rates to X
(Website) Reducing the bounce rate to X
(Website & eCommerce) Boosting the conversion rate to X
(Landing page) Boosting average session duration to X
Digital Strategy Planning: What Types Of Projects Require A Strategy?
Digital strategy, as the name suggests, is applicable to any digital project.
Based on the project, it may be more specifically referred to as "website design strategy" or "email marketing strategy" or "omnichannel marketing strategy."
As such, digital strategy can help you with:
1. Website Planning
In terms of website planning, a digital strategy can help you:
Map out the content, including sitemap and landing pages, to optimize the user journey and conversions
Plan and set solid foundations for technical and on-page SEO
Align your user interface design with your brand and audience expectations
List integrations to funnel in targeted users from all digital channels
And even identify the right platform to build your website upon
We have included a sample website strategy in this post, so feel free to download it and try it out
Although every business requires a unique website strategy, here is the common outline:
Business overview
The primary goals and objectives of a website
What actions the company wants visitors to take on the website
Key insights such as:

Current performance analysis
Industry/business landscape
Competitive analysis
Market research
Target keywords

Conversion funnel & user journey
Features that the company would like to have on their website
The platform currently being used vs. the platform the new website will be built on
Whether they have Google Analytics and Search Console set up
Whether the client will supply their own content or if they will outsource the content
The client's brand guidelines
Examples of websites and apps they like and specific features they may want to include
We've written an extensive article on website planning here.
Digital Strategy Planning For Websites [Template]
To help your online business scale and live up to its potential, we have come up with this handy template document that outlines all the necessary steps for creating a website digital strategy.
The outline contains:
Business Overview
Website Goals
Key Insights
Current Performance (for revamp projects)
Industry/Business Landscape
Competitive Analysis
Market Research & User Personas
Conversion Funnel
User Journey
SEO/Target Keywords
Marketing Integrations
Website KPIs
Download Free Digital Strategy Template For Websites
Building or revamping a website? Use this template to plan your sitemap, content, functionality and optimize performance.
Email the download link to:
2. Digital Marketing
Digital marketing is a broad term for this context, so here are some specific digital marketing projects you can (and should) underpin with a digital strategy:
Consolidating all your digital marketing channels and efforts
Single-channel strategies such as email, social media, content, video and more
The benefits of strategy for digital marketing projects, therefore, vary based on the channel(s) you want to focus on and the goals you want to achieve with them.
This is why the strategy for digital marketing projects is not easy to template. However, there are some common elements to include:
Targeted competitive analysis: Focus on your direct competition and specific channels
Targeted market analysis: Focus on the market segments you wish to engage and their behavior on the targeted channels
Specific goals: Define what constitutes the "conversion" for this particular channel/strategy, as well as what are the milestones for the phases that precede it
Timeline & milestones: Create a plan and the "mini goals" to guide the project participants to the goals
We were wondering… What type of content do you like the most when researching new information?

— Digital Silk (@DigitalSilkCo) October 19, 2020
3. Online Lead Generation Campaigns
Online lead generation and nurturing typically involve multiple channels. As we mentioned earlier, your prospects' user journey is often meandering and includes several touchpoints.
A digital strategy can help you and your lead generation partners identify the right channels to attract qualified audiences, as well as the tactics to engage and nurture them.
How Digital Strategy Sets The Course For Digital Transformation
Let us now observe how digital strategy informs digital transformation in companies.
Digital transformation is helping organizations digitalize internal processes. A more inward approach compared to digital strategy, digital transformation alters the way in which a company delivers value to customers.
It is a process of using digital technologies to create new business processes or improve existing ones. The end goal is to provide superior customer experiences in changing market environments.
A digital strategy for digital transformation is a plan of action that describes how businesses should reposition itself on digital channels to meet these changing customer habits by adjusting operating models and using new technology.
This plan of action contains all the ingredients that digital strategy, in general, consists of, from business overview, over website goals to marketing integrations.
A good digital transformation strategy, therefore, is made up of:
Business diagnosis
Guiding policy
Plan of action
Figures show that the results of a well-executed digital strategy-led transformation can increase economic gains by 20%-50% for a company. Also, digital strategy improvements have led to higher revenue, according to 56% of CEOs.
Digital transformation revises internal systems and outward client communication by asking how a company can change processes in a way that enables:
Better decision-making
More efficient processes
Superior customer experience
Greater personalization of services
Digital strategy-led digital transformation helps organizations reevaluate and reoptimize the following:
Brand strategy: A digital brand strategy should create an emotional response in target audiences online. As a promise about the quality of service or product the customer is buying, a brand consists of various elements such as brand mission, statement, value, messaging and tone of voice. A brand strategy for the purpose of digital transformation should lead to boosted brand awareness and greater visibility on digital channels.
Communication strategy: The first rule of good brand communication is consistency in external messaging and storytelling. This builds a stronger and more trustworthy brand identity in the eyes of target audiences. Communication transformation to digital channels such as social media, email marketing, website copy and content marketing is an important part of any company's readjustment to nurturing customer relationships in the digital sphere.

Digital Strategy Takeaways
Digital strategy is a plan of action designed to improve the quality and quantity of website traffic, increase revenue from marketing campaigns and improve lead generation and overall online business performance.
Its end goal is to create competitive advantages for the business online.
Digital strategy services are relevant to changes in business models in that they use technology to create and enhance capabilities a company needs to thrive digitally. This drives changes in operational processes, business models and customer experience.
A digital strategy should lead to the creation of a concrete plan or roadmap. While you can change the specific tactics you decide to pursue, there should also be a clear commitment to your understanding of what digital means for your company.
Digital Silk creates all-encompassing digital strategies for building a more effective online presence by outlining:
Competitive analysis
Target audience
Business goals
KPIs
User journey
Ready To Build A Winning Digital Strategy?
Request A Quote
Tell us about your project and let our experts give you recommendations.
Author Bio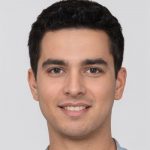 Damian Alderson is a business consultant and a freelance blogger from New York. He writes about the latest tech solutions and marketing insights. Follow him on
Twitter
for more articles.