Between website updates, search engine optimization, blogging, social media management, email marketing, online sales, chat support and other digital tasks that need to be completed, it can be hard to juggle everything by yourself.
That's where outsourcing to a digital agency comes in.
But what is a digital agency, exactly?
That's what we're here to explain. Next time you get in need of an agency, you'll know exactly what to look for, where and why.
What Is A Digital Agency?
A digital agency offers services in different areas of design, development, software engineering, digital marketing and digital communications.
Depending on its team size and expertise, as well as on the industry and niche the agency is operating in, a digital agency can serve any type of business, from start-ups, SaaS companies, entrepreneurs and local small businesses to large international corporations, B2C or B2B brands.
A digital agency may be specialized in several areas or it may be a full-service digital agency.
What Services Do Digital Agencies Provide?
Services that a digital agency provides can include (but are not limited to):
Digital marketing: Including creating and executing a digital marketing strategy, social media marketing, pay-per-click (PPC) campaigns including search ads, display ads and retargeting dynamic ads, email marketing, content marketing, SEO and link-building, analytics and more.
Web design and development: Including UX/UI design, frontend and backend development, eCommerce design and development, website copy, usability testing, website optimization, web performance improvements, web hosting and more.
App design and development: Including design and development of Android and iOS mobile apps, Windows or Linux desktop apps, progressive web apps and more.
Software development: Including design, development and maintenance of intranets, custom CMS, CRM and other platforms, systems based on artificial intelligence, IoT solutions, automation tools for business operations, workflows and more.
Branding: Including brand strategy, brand messaging, brand visual identity, brand style guides, brand positioning, reputation management and more.
What Is A Full-Service Digital Agency?
A full-service digital agency typically offers end-to-end solutions for your online business presence – from visual identity to web design, from software development to SEO, from PPC advertising to email marketing and more.
This type of digital agency will take on your project idea and help you:
Create a concept
Define your goals
Develop strategies
Make action plans
Build your brand
Level up your business
In other words, a full-service digital agency is a one-stop shop for your digital endeavors.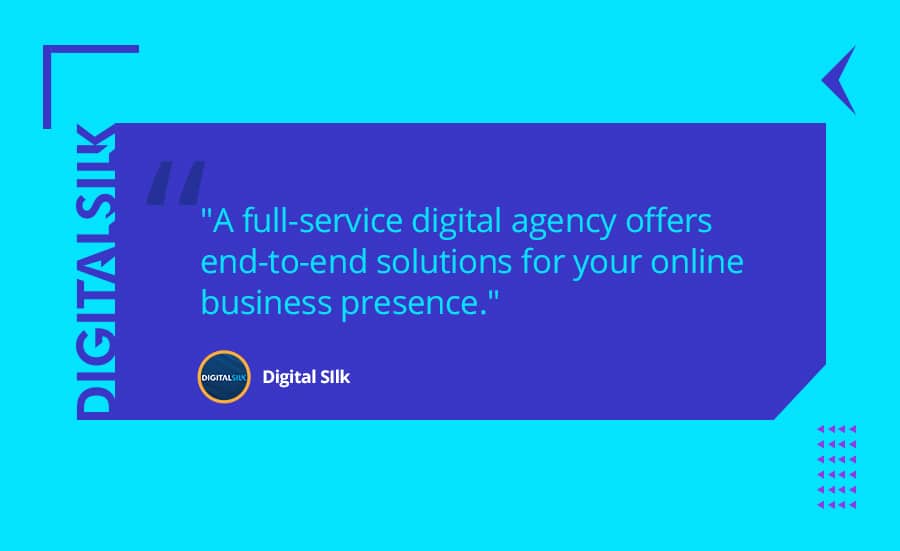 Digital Agency vs. Digital Marketing Agency
A digital marketing agency focuses on digital marketing channels, including:
Search engine marketing
Social media advertising
Influencer marketing
Email marketing
PPC display ads
Retargeting campaigns
PR activities
Affiliate marketing
Content marketing
A digital marketing agency will typically create a marketing strategy for you and help you define your buyer personas, create buyer journeys and launch campaigns for every stage of a conversion funnel. This can also include specialized data-backed analysis of the ROIs, KPIs and overall campaign results.
On the other hand, a digital agency views digital marketing as a part of a bigger picture which includes other digital channels such as the business website, apps and even internal software systems.
Besides digital marketing, services of a digital agency can also include brand strategy, social media branding, optimizing your website for conversions, search engine optimization (both technical SEO and link-building), web design and development and software development.
Digital Agency vs. Web Design Agency
A web design agency focuses on the design and development of your website, online store or custom digital platform.
It may be an online portfolio, a simple web presentation to showcase your services or a complete eCommerce solution with thousands of product pages and various functionalities. Either way, a web design agency will work upon your brief to create and launch your website.
A web design agency may also specialize in a specific CMS, like WordPress, or specific development frameworks like ASP.NET or Laravel. Or it may focus only on developing eCommerce solutions with platforms like Shopify, Magento or WooCommerce.
A digital agency, on the other hand, offers much more.
Besides web design and development, a digital agency will expand your online presence through branding, social media management, paid online advertising, lead generation strategies and other services that will help you build your brand and grow your business.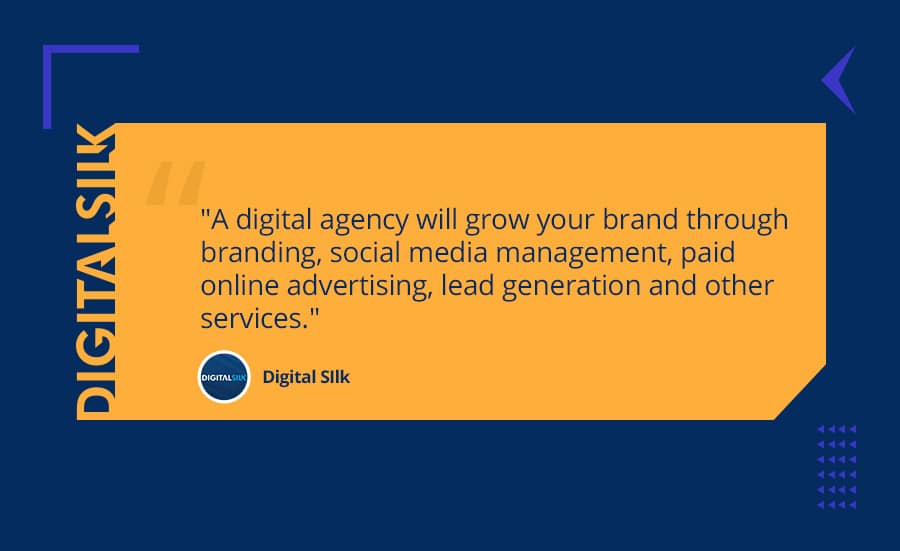 Digital Agency vs. Web Agency
If you search for a web agency, note that this term is often used interchangeably with the terms "digital agency," "web design agency" and "web design and development agency."
So, to determine what exactly a web agency offers, you should approach the term "web agency" on a case-by-case basis and look further into a specific agency's services to find out whether it offers only web design or it is actually a digital agency.
In general, a web agency may be focused solely on web solutions and the services may include web design, web development, web app development, web hosting, cloud computing, digital product development for SaaS businesses, web platforms for eCommerce businesses and other web-based solutions.
Although it's sometimes used as a synonym with the term "digital agency," a digital agency typically includes a broader range of services, especially in the branding and marketing area.
Digital Agency vs. Creative Agency
A creative agency can help you design your brand visual identity, including logo, letterheads, business cards, product photographs, brochures, catalogs and other marketing collaterals – print and digital.
It typically houses a team of graphic designers, illustrators, animators, photographers and audio/video producers.
So, a creative agency can also create a consistent brand image with graphics and visuals for your social media posts, advertisements, website custom illustrations and animations, promotional videos or content for your YouTube channel, online courses, webinars, podcasts and more.
A digital agency typically doesn't create print materials, but it can also engage graphic and web designers, illustrators and animators who can help you build your brand and create an original, authentic online presence.
In addition to branding, a digital agency may also develop an effective marketing strategy for you, build a highly optimized website, create native mobile apps, run your business blog with educative, engaging content, develop custom solutions for your digital platforms and more.
Why Hire A Digital Agency?
The benefits of hiring a digital agency include:
Saving time and money by outsourcing activities to a specialized agency instead of hiring an in-house team of specialists
Having a dedicated team of professionals, including strategists, managers, designers, developers, copywriters, marketers, SEO specialists and others, working on your projects to help you achieve the best results and even exceed your expectations
Having experts and consultants by your side to guide you to success, whenever you are in need of their guidance
Having a long-term partner who understands your industry and offers expertise to help you create strategies, execute them and accomplish your goals
Growing your business by attracting more qualified leads, acquiring new customers, driving more sales and expanding to new markets (even new continents)
Depending on your business needs, reasons for hiring a digital agency may be various and here are some of the possible scenarios:
You don't have time to promote and grow your brand by yourself
You need help with designing and developing a complex online store for your eCommerce business, plus you'd like professional marketers to drive brand awareness and help you grow your sales
You want to hire an external team of designers, marketers, and brand strategists who can help you position your business the right way, because you don't have in-house creatives
You're not quite sure where to start with digital marketing and you'd love to get everything from a marketing strategy to specific campaign copy and design, along with website redesign, SEO and social media marketing
It's more cost-effective for you to outsource digital services to a single agency than hiring a lot of professionals
Whatever the reason, a digital agency you choose may be local, regional or global, depending on your business type, industry, niche and expertise you seek.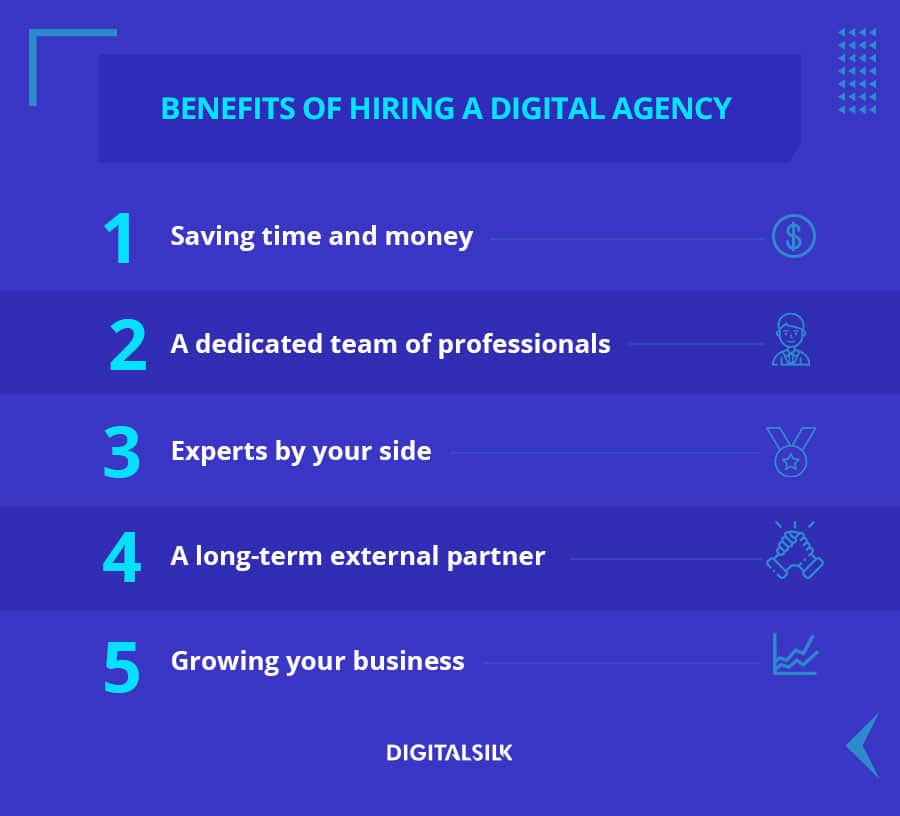 How To Choose A Digital Agency
As we mentioned, choosing the right digital agency for your projects will vastly depend on your needs, preferences and the scope of services you want the agency to take over from you.
To decide whether an agency is right for your business, check out the agency's:
Website to learn more about the services they offer
Location to find out whether the agency operates locally or globally
Portfolio and case studies to see previous work
Testimonials on the website to learn about previous clients' experiences
Ratings and client reviews on credible web directories and rating platforms
Price range and the scope of projects the agency typically works on
When going through an agency's portfolio and case studies, you can also look for projects in your industry to see if the agency already has experience in your area. If it does, and you are impressed with the results the agency achieved, it might be a perfect match for your business.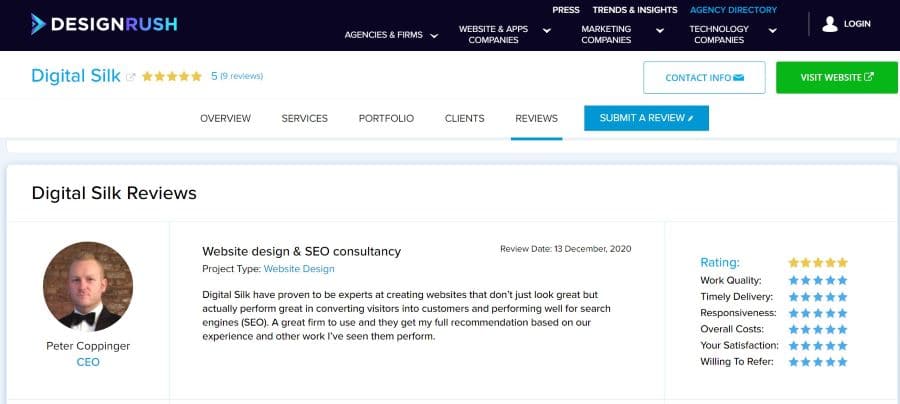 Questions To Ask Before Hiring A Digital Agency
Once you reach out to the agency and arrange the initial meeting with a project manager, you'll get a chance to ask everything you want to know.
This is especially important if you are not clear about all the services the agency provides or if you take several agencies into consideration before you decide.
To make everything clear before the project starts, consider asking the following questions:
Will you help me develop my idea and build a concept?
Will you perform market and audience research?
Will you give me recommendations for further improvement?
Why should I choose your agency over others?
Will you provide me with a team dedicated to my project?
What kind of specialists will be on that team?
Will you keep me informed about project development?
Have you worked on a similar project before?
What other services can you provide me with?
Of course, the list of questions will depend on your specific project needs, but asking these types of questions can help you determine whether the agency is right for you.
We created a complete guide about questions to ask a web design agency, so, if you are looking for web design services, read it to get more details and in-depth insights.
Hiring A Digital Agency Key Takeaways
Hiring a digital agency can be a cost-effective solution, whether you are just starting your business or you run a well-established company and you want to grow your impact.
Experts from a digital agency can help you with a variety of services, ranging from branding and digital marketing to web design and development, app development and software engineering.
When you choose a digital agency that matches your business values and expectations, it can become an extension of your team – your external partner – that will continuously help you grow your brand, drive more traffic and increase revenue.
Ready To Work With A Professional Digital Agency?
Request A Quote
Tell us about your project and let our experts give you recommendations.