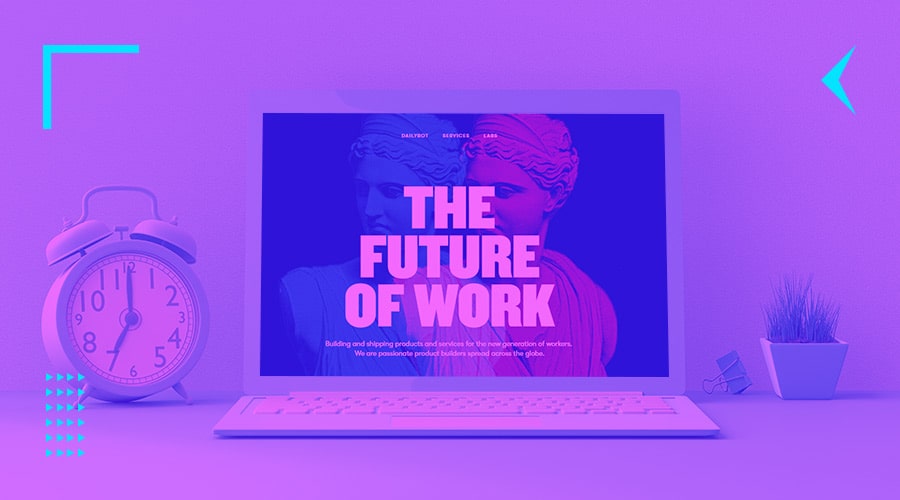 Differentiating a business from its competitors through quality web design boosts online visibility, affects brand awareness and influences customer retention.
This desire to be visually different is the main reason behind web design investment for 73% of brands.
In this article, we will explore how the best tech websites generate and convert high-value leads through distinctive design, and highlight the web design best practices that tech brands use to succeed.
5 Top Tech Website Examples In 2021
These five tech brands have turned their websites into conversation pieces:
Example #1: Rocka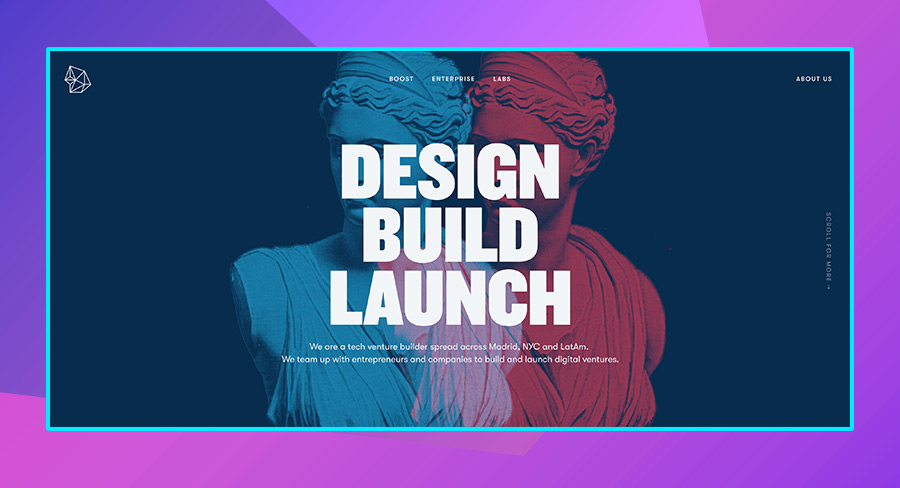 A service that helps startups and small businesses launch their digital brands, Rocka understands the importance of a positive website experience as a way of persuading prospects they're in the right place.
This business uses imagery to emphasize and explain each and every value proposition and benefit it communicates. As visitors scroll down the one-page conversion funnel toward the subscription form, the website changes colors and mood to match each stage of the user journey.
Massive elements cover the entire screen packed with vivid colors and high-quality photography. The experience is enriched with subtly animated geometric shapes.
The takeaway: The use and interplay of design and language communicate the tech website's benefits and features in a memorable manner.
Example #2: Quid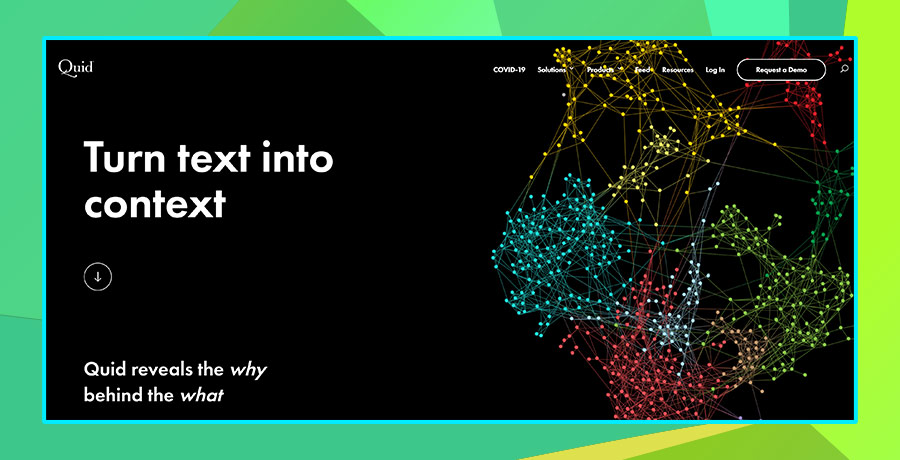 Sporting a minimalistic design, Quid boosts the user experience by shedding the excess and focusing the visitor's attention to the messaging that matters the most.
Along with increased readability and fast page load times, the website uses the popular dark mode to accentuate its value propositions and informative copy. The graphics in bold colors create a welcome contrast to the black background.
The visitors are led seamlessly toward the bottom of the sales funnel and pointed toward the "Request a Demo" CTA button which is very prominently displayed.
The takeaway: Less is more – clean content helps the reader focus to get the most out of their visit.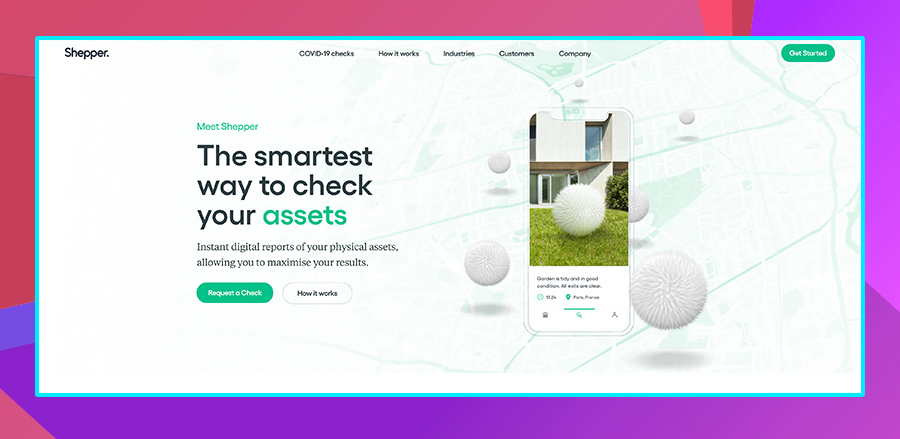 Shepper, a company that develops data collection software and asset checking, uses a selection of bright colors on its website that makes for a professional and clean design.
The subtle colors facilitate the navigation of the website's many areas. Discreet animations and interactive elements keep visitors engaged and focused, without being distracting.
Shepper also uses fonts to its benefit: headings use the sans-serif while paragraph text uses serif typography. This creates a good balance of modernity versus tradition while keeping legibility in check.
The takeaway: Despite there being more than one page on this website, the home/landing page does a great job of presenting everything there is to know about the product with short copy and visuals in a minimalistic environment. The bottom of the page is a CTA that takes prospects to educational material, instead of directly to the purchase page.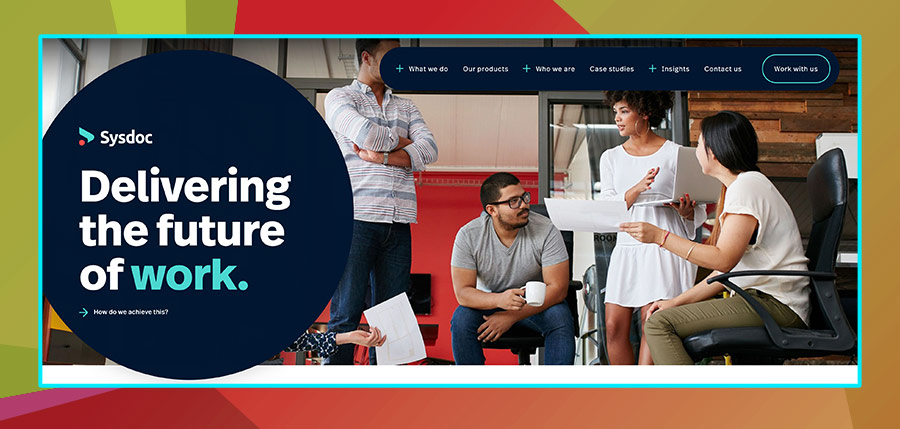 Helping businesses stay up-to-date with new technologies and keeping them competitive in the digital marketplace, Sysdoc uses a clean and modern layout.
Simple and short animations enhance the UX while use cases and client reviews help instill trust in visitors and add to the brand's credibility.
The copy is very concise in its explanation of what the company is and what it does. It communicates quite clearly what the company can do for its business partners by emphasizing its features. CTAs and very well-designed and bold, while the main nav follows the users as they scroll.
The takeaway: Photography combined with graphical elements lend an engaging note, but the real value of this website lies in its case studies and accessible client reviews.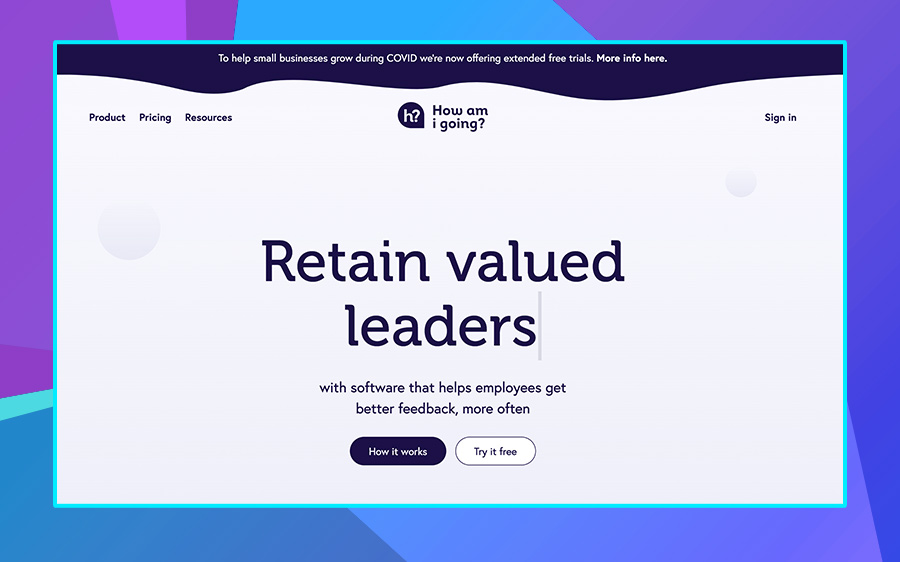 This personal development software provider uses graphics and illustrations with real-life photography to present its tech business online.
Slider buttons make navigation very simple, while a bold use of fonts steers the visitor's eyes on the most important pieces of copy. Different call-to-action buttons after every copy section and various opportunities for conversion are present on the homepage.
Focal colors highlight the most vital homepage areas, creating a very strong sense of unified brand identity by stretching the color scheme from the navigation to the CTAs.
The takeaway: Three CTAs that lead to educational materials are scattered around the landing page. Between them is a good mix of benefits and features copy and use cases that make for a well-rounded web page with great readability.
What Can The Best Tech Websites Teach Us About Lead Generation And User Conversion?
B2B tech websites that have a high success rate of capturing prospects and leads typically lend their success to these three key factors:
1. Understanding The User Journey And Intent
The success of a B2B tech website design thrives on understanding what motivates buyers. B2B buyers are usually well-informed and understand the value and nature of the tech product. Across a B2B sales cycle, there may be multiple buyer personas that form a decision-making unit.
It's important to highlight the differences between your tech brand and its competitors and also to define a content architecture around executives who are interested in long-term business value they wish to derive from a tech solution.
2. Using A Professional Tone That Reflects The Brand's Core Values
When it comes to creating a tone aimed at B2B lead generation, it is important to make it professional and reflective of the brand.
When appealing to different audiences – in terms of age group, for instance – best tech websites consider the distinct qualities of their target audience when creating visual content.
3. Understanding That B2B Buyers Want To Make A Well-informed Purchasing Decision
Since B2B tech buyers look to invest in a product that will make them competitive and profitable, they need research, statistics, data and facts. They also typically make contact long before they agree to their first buy.
Apart from making live chat, email address and phone numbers within reach, helpful content is crucial in supporting tech B2B buyer journey.
Buyers want to understand if the product will integrate with their systems, so providing in-depth analysis with real-life examples is an important lead generation strategy.

5 Web Design Best Practices For Creating Tech Websites
Digital agencies design websites strategically to give value to prospects and leads. Learn from the pros! These five best practices will help you turn your website into a business-generating platform:
Best Practice #1: Optimize User Experience And Convenient Navigation
B2B tech websites must provide seamless navigation and optimal user experience to their visitors so they can reach the most important bits of content as quickly and as easily as possible.
It's also vital to make the value proposition stand out on the landing page to proclaim the main benefits to prospects. In fact, 80% of technology websites use this tactic.
This simplicity of navigation and quality of user experience can be achieved through these practices:
Creating a to-the-point header menu: The reason why most websites have their main navigation menu near the top is that its most visible there. Anything over six menu items may overwhelm the visitor, so keep these at a minimum.
Providing a search field and contact info: These can be incorporated within the main nav menu at the top of the page. 44% of tech websites keep them at the top right corner.
Using breadcrumbs: Very useful on websites with a large number of pages, breadcrumbs help visitors keep track of where exactly they are on the website.
Adding appropriate links in the footer: Visitors intuitively expect to find info such as terms and conditions, legal and privacy info, sign-up and email subscription in the footer of the webpage. Indulge their expectations and place them there so they're easy to find.
Best Practice #2: Create A Mobile-First Layout
Over 50% of all internet traffic happens on smartphone and tablet devices. Responsive design is not a new requirement for any digital business of today, but creating a website for mobile experience first is a fairly novel strategy.
By utilizing this mobile-first approach, businesses gain a website that not only provides excellent UX and UI to the majority of visitors, but also functions with fast loading speeds, which is a good ranking signal.
This method also results in clear navigation and better viewability and the readability of all the content on the website.
Best Practice #3: Use Consistent Branding
Brand presentation consistency increases revenue by 23% and not having any visual consistency in branding results in disjointed messaging and a confused audience.
In order for the user to focus on the purpose and services of tech business as presented on the website, it's important to keep the website visually consistent with the rest of the branding.
Branding consistency increases trust with the audience because, in their mind, they can make a clear link between what they see on the B2B tech website and what they saw in the online marketing campaign or any other digital channel.
For better consistency and visual outcomes, it's advisable to create and follow the brand book that informs all the main visual elements of a website from colors and logos to fonts and photography.
Best Practice #4: Utilize Visual Storytelling
Telling a story through diagrams, custom graphics, charts and even videos conveys technical data in a way that is easy to understand and grabs a visitor's attention.
This practice works best when it's used to explain the features and unique value points of a technical solution. Visual storytelling should explain to visitors what the business does, the problem the technology solves and how it works.
Turning this into a visually appealing technical diagram helps even the non-technical B2B buyers get the right picture.
Best Practice #5: Use Bold CTAs
Bold and visually striking call-to-action buttons are a powerful lead generation tool for technology websites.
CTAs encourage visitors to take the desired action, from downloading a white paper or subscribing to a webinar to converting and buying a product.
Informative, to-the-point copy that entices a visitor to click should be a part of every CTA. It's important not to go for a sale right away with the initial CTA on the page, because B2B buyers need to read educational material before they make a buying decision.

These Trends Will Shape The UX Of The Best Technology Websites In 2021
When it comes to what's in store for modern tech web design, we predict these five trends to spread like wildfire in 2021 and beyond.
Trend #1: Minimalistic Navigation
The age of robust main navigational elements is over as streamlined, conveniently hidden navigation takes over to enhance the user experience.
This type of navigation only displays its contents and links to other pages once the user clicks or taps on it.
The main navigation menu that remains hidden to the left or right side of the screen creates more space on the screen. Web designers can put this space to use for visitors to engage with the page or to display important copy and visuals more prominently.
Minimal navigation makes way for valuable content, most of which can remain above the fold and communicate its message immediately to the visitor, not distracted by superfluous elements.
Trend #2: White Space
Minimalism has been trending for years in web design and it's not hard to see why: continuing the theme from the previous point, it accentuates the important content and keeps users focused on it.
White space provides a dash of high-end feel and elegance to any tech website, as well as ease of use and navigation. The user interface sits more prominently and gives visitors a better sense of orientation around the website.
Trend #3: Immersive 3D Elements
The hyper-realistic 3D visuals that take up the whole screen are a trend in web design that stems from the rise of VR popularity.
UI and UX designers use these immersive 3D effects to make websites more engaging. For tech websites, these elements can prolong the user's dwell time and average session time, if they serve the subject and provide value.
However, 3D elements of this kind can only work on the well-optimized, fast-loading platform and high-performing website UI that can support the bandwidth-heavy content.
Trend #4: Layers And Floating Elements
Floating website visuals and soft shadows provide depth and intensity to site elements and lend a 3D appeal to the website as a whole.
This particular trend is applicable to text, images and videos, in addition to graphics. Tech website UX/UI designers use this layering to place elements on top of each other.
To acquire an enhanced depth, they also apply soft drop shadows for a lightweight feel effect.
With layering, tech websites move away from flat and immutable designs.
Trend #5: Voice User Interface
In 2021, voice chatbots and virtual assistants became the norm in B2B and B2C digital sectors. They have changed the way users search for information and some of the most innovative brands, like Apple, have implemented this with their UI/UX design process.
This human-centered design approach to the voice user interface can be implemented to give any tech brand an edge over its competitors.
Takeaways On Best Tech Websites
B2B tech businesses use these best web design practices to create the optimal UX for their high-value prospects:
Impactful CTA with enticing copy
Strategic and concise use of visual content and messaging
White space or bold colors that accentuate important sections
Videos, white papers, animations, charts and graphs to help prospects make a well-informed buying decision
Ready To Create A Market-Leading Website?
Request A Quote
Tell us about your project and let our experts give you recommendations.