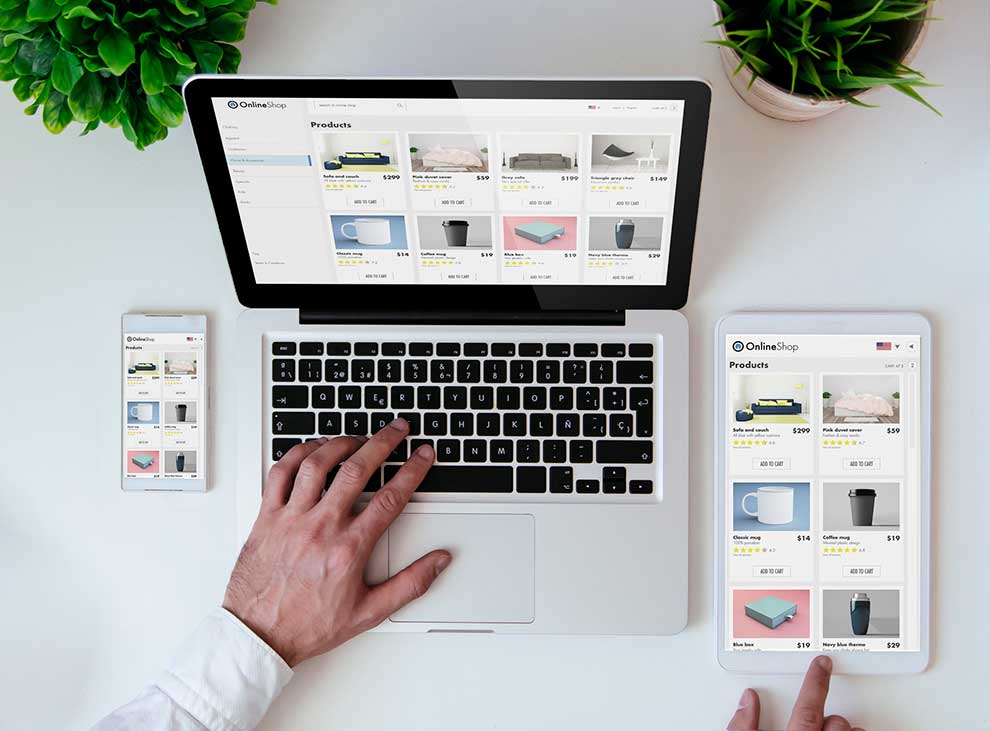 In 2019, only 3% of eCommerce website visits converted into purchases.
Low conversion rates and difficulties in attaining customers are just the tip of the iceberg: running an eCommerce business comes with its own set of challenges and issues that can damage the revenue, create financial losses and even lead to a decline in reputation.
In this article, we will address the most common challenges of eCommerce and provide practical solutions for each.
We will also:
Put the challenges into perspective by looking at some eCommerce growth figures

Take a separate look at some of the emerging challenges in eCommerce advertising

Look into some trends and opportunities for the eCommerce industry in 2021
Putting eCommerce Issues Into Perspective: Global Growth By The Numbers
To provide more context for eCommerce issues and challenges, let's look at the numbers regarding the performance of e-stores and the state of the global market:
As the market continues to grow, so do the challenges for businesses trying to set up an online store and attract and retain customers.
7 Most Common eCommerce Problems And How to Solve Them
From the absence of online identity verification to the challenges of creating a multichannel customer experience, these are some of the biggest problems online store owners might be facing in 2021:
Problem #1: Online Identity Verification
When a visitor registers on an eCommerce website, the information they enter may not be genuine – therefore you cannot know if they are genuinely interested in purchasing.

For example, cash-on-delivery purchases made with a fake phone number and address can result in massive losses in revenue. 
That's why it's important to perform online identity verification for each prospective customer.

The solution: 
Look for signs of suspicious activity.

This can be an unusually high volume of orders or zip codes that do not match with a state or a city. Always send an automated verification link for customers that sign up to validate that the customer is genuine.

Make an automated call for a cash-on-delivery purchase. T

hen, ask the buyer to validate the delivery address.

Use software solutions. These solutions should

 identify fraudulent attempts by using multi-layered authentication. These programs have features such as SSN verification, identity checks and instant authentication, making it possible for your eCommerce business to stay ahead of fraudsters.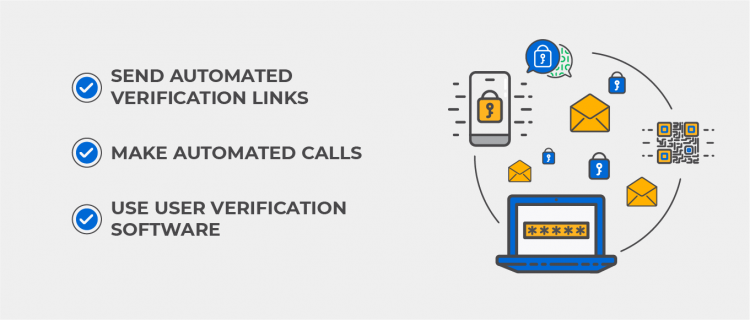 Problem #2: Cybersecurity Issues
Cyberattacks can compromise the security of your eCommerce website by infecting it with viruses and, what's even worse, they may compromise the security of your registered customers' data.

Hackers can potentially gain access to this confidential data, including credit card details. 
This scenario is one of the greatest issues to overcome in the eCommerce business and it is certainly one of the biggest nightmares of every eCommerce owner.
The solution:
Manage your own servers.

Make sure your eCommerce website is hosted on a standalone server dedicated only to you. Sharing the same space on one server with multiple other sites is risky; if some of those websites get hacked, the malware files may infect the entire server – including your store.

Make regular data backups.

Creating a backup of your entire database and all your files is essential in the eCommerce business. You can't go wrong with the frequency of doing this, although the general rule of thumbs is – the bigger the website, the more often the backup should be performed. At Digital Silk, we run daily backups of all the websites we maintain.

Install security plugins and safety components. 

These are specially designed to prevent hack attacks. There is a great online market of security plugins for different systems and platforms that include firewalls, two-factor authentications and more.

Update your eCommerce platform regularly.

 Whatever platform or CMS your eCommerce website uses, make sure you update it regularly with official patches, plugins and other software developed by its creators. Their teams work actively on identifying current threats and create solutions to stop them in their tracks.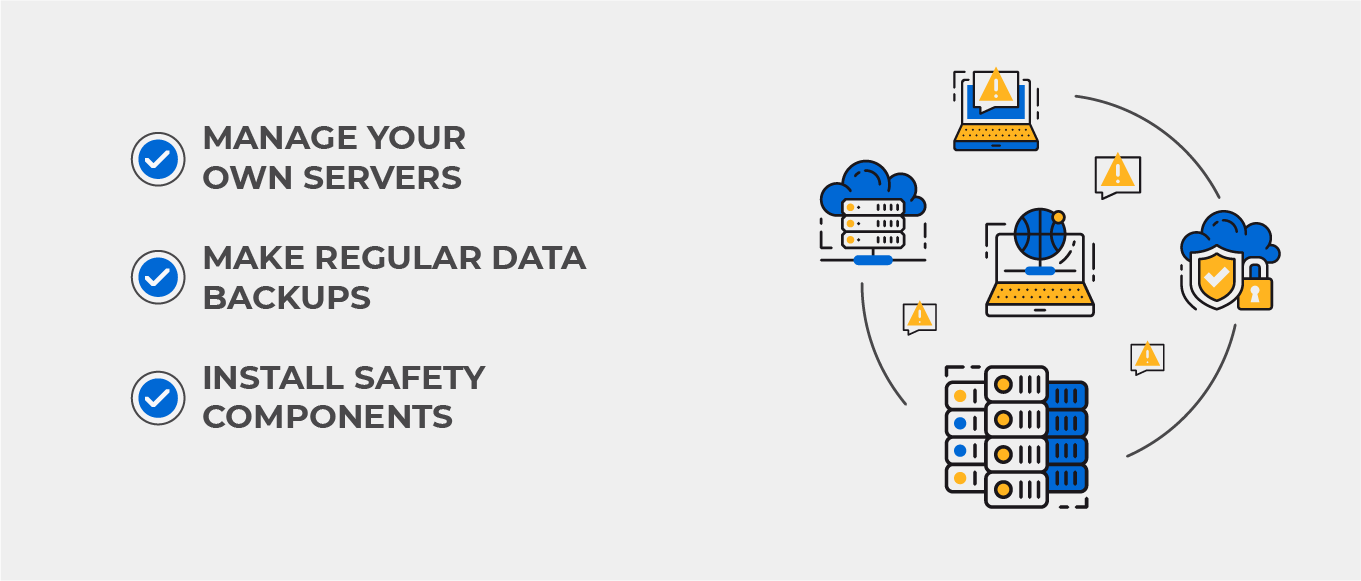 Problem #3: Shopping Cart Abandonment
One of the biggest problems eCommerce businesses are facing – no matter their size – is shopping cart abandonment. 
Stats show that online shoppers abandon their shopping carts 68% of the time and some stores can see abandonment rates as high as 80%.
So, how do you cut down on cart abandonment?

The solution:
Redesign your shopping cart.

Make sure there are no bugs or needlessly long and tedious processes such as form filling. One of the most common reasons for cart abandonment are tedious checkout processes.

Nurture your customers via live chat. 

Having a support agent that will proactively reach out to and engage with a buying customer during key stages of their

buyer journey

can prevent them from leaving without purchasing.

Optimize for mobile.

70%

of global online sales are made via mobile devices. Faster-loading times, optimized images and disabled pop-ups on mobile sites mean fewer obstacles for customers to finish their purchase.

Use retargeting marketing. A retargeting is a strategy of marketing products online to people who have already visited your eShop and looked at said products. Customers that have been retargeted show up to 50%-60% likelihood of converting.
Send email reminders.

 If your eCommerce website requires users to register in order to make purchases, you likely have their email address in your database. Create an elaborate email campaign of reminding them that they have not completed their purchase. Some platforms like Shopify have built-in email reminders.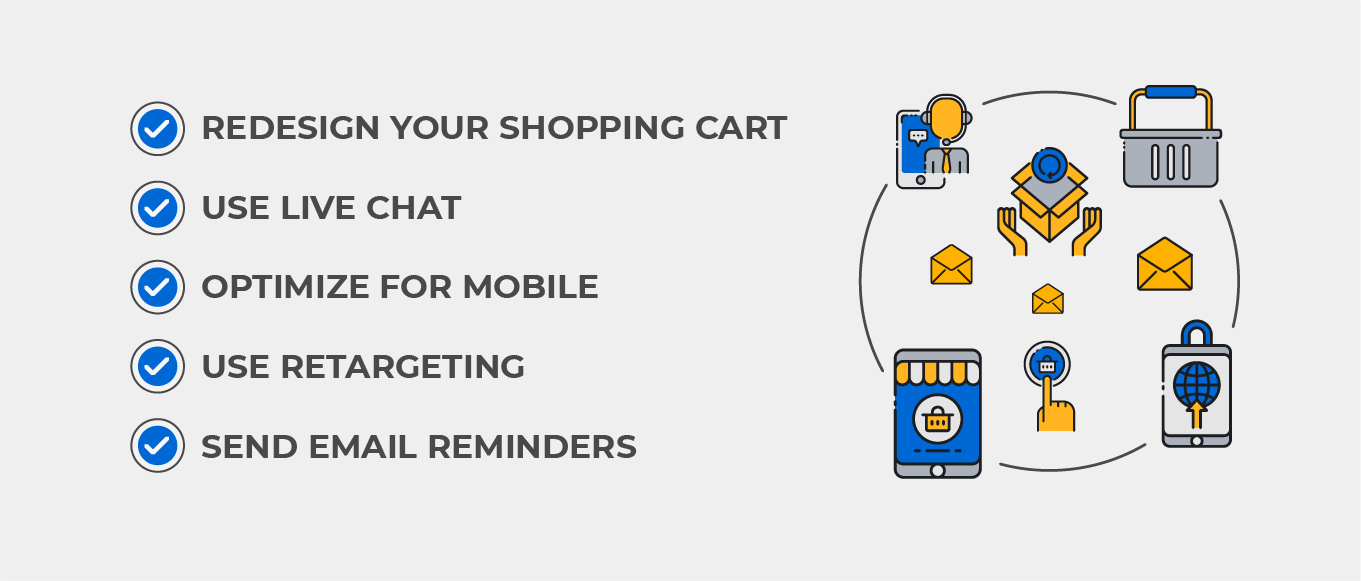 Problem #4: Nurturing Customer Loyalty
Customer loyalty is a very fickle thing, even with the best-designed eCommerce websites with a huge assortment of products and smooth functionalities. 
Without customer loyalty, any business may struggle as acquiring a new customer is five times more costly than retaining an existing one. 
Increasing customer retention rates by 5% can increase profits by 25% to 95%.

Customer loyalty is a matter of brand integrity and mutual trust between a seller and a customer. 
Since there is no face-to-face interaction like in a retail store, the development of trust and loyalty takes more time and effort in eCommerce.
The solution:
"Your culture is your brand."

This saying hits home on so many levels. Customer loyalty is the result of great customer service, so you need to make sure your customers are satisfied with the entire process of purchasing online, from browsing your store casually, to ordering online and shipping. Nurture your customer service according to a competitive advantage you have over other online retailers.

Again – add a live chat.

Having a live customer support specialist that can reply promptly to your customers' queries in a kind and reassuring way increases trust and makes your brand trustworthy and reliable in the eyes of shoppers.

Be transparent.

Display your address, phone number, customer testimonials and reviews and pictures and relevant info of your staff. This unmasks your eCommerce business and gives it a humane dimension that makes it no longer anonymous.

Use loyalty programs.

Multi-tiered schemes that reward returning customers with points, discounts and coupons is a great customer service tool that fosters their loyalty and keeps them coming back. 

Publish blog articles.

Content marketing such as informative blog posts relevant to your audience builds trust and boosts your credibility.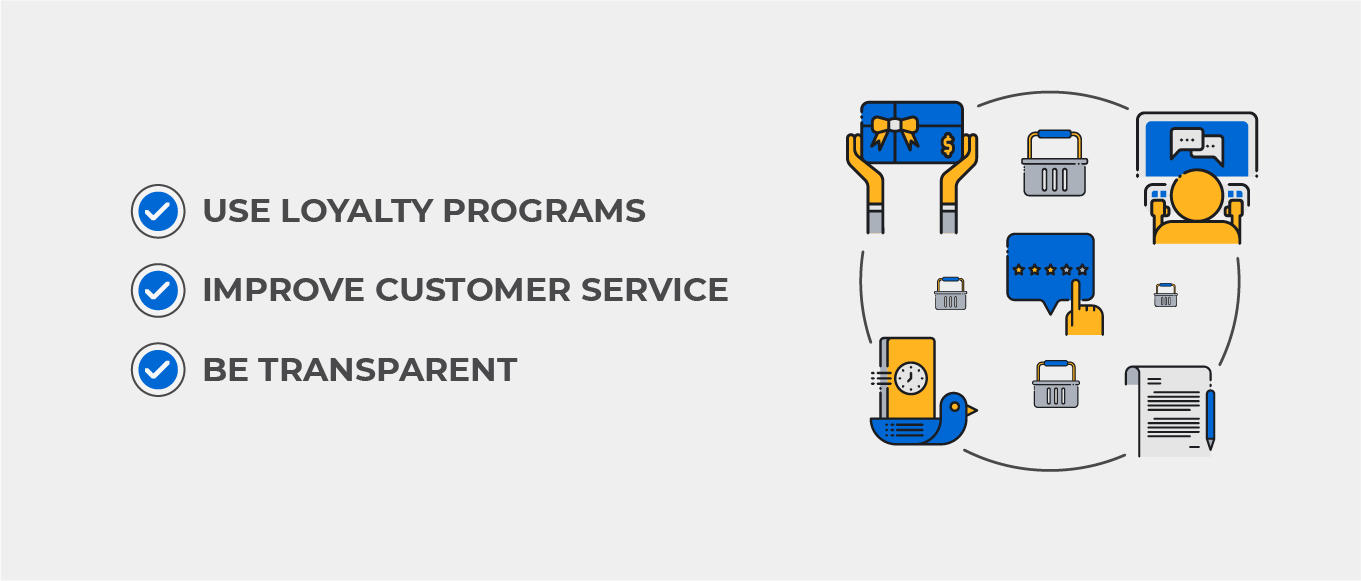 Problem #5: Product Returns And Refunds
Over 60% of online shoppers look at a shop's return policy before making a purchase. 
48% of customers would shop more if stores offered less complicated returns and an inconvenient returns policy deters 80% customers.

Furthermore, 89% of online shoppers have made a return at one point during their shopping experience.
This presents a challenge for online retailers: how can you give your customers peace of mind knowing they can return products they aren't satisfied with, without potentially damaging the business through losses in shipment and reputation?

The solution:
Be transparent about your return and refund policies.

Make sure customers can find detailed info on this very easily in your Terms & Conditions and FAQs pages and make sure the policies are clear.

Avoid imperative phrases in your policy wording. Phrases like

"you are required" and "you must" can sound harsh and may intimidate customers. Try to soften your language in return policies. 

Give options.

Consider providing various methods of shipping, payments and refunds as well as certain bonuses such as coupons and discounts for people dissatisfied with their purchase. 

Remember that returns and refunds are a part of great customer service. Keep in mind that customer service

 is a reflection of your brand and a gateway to customer loyalty.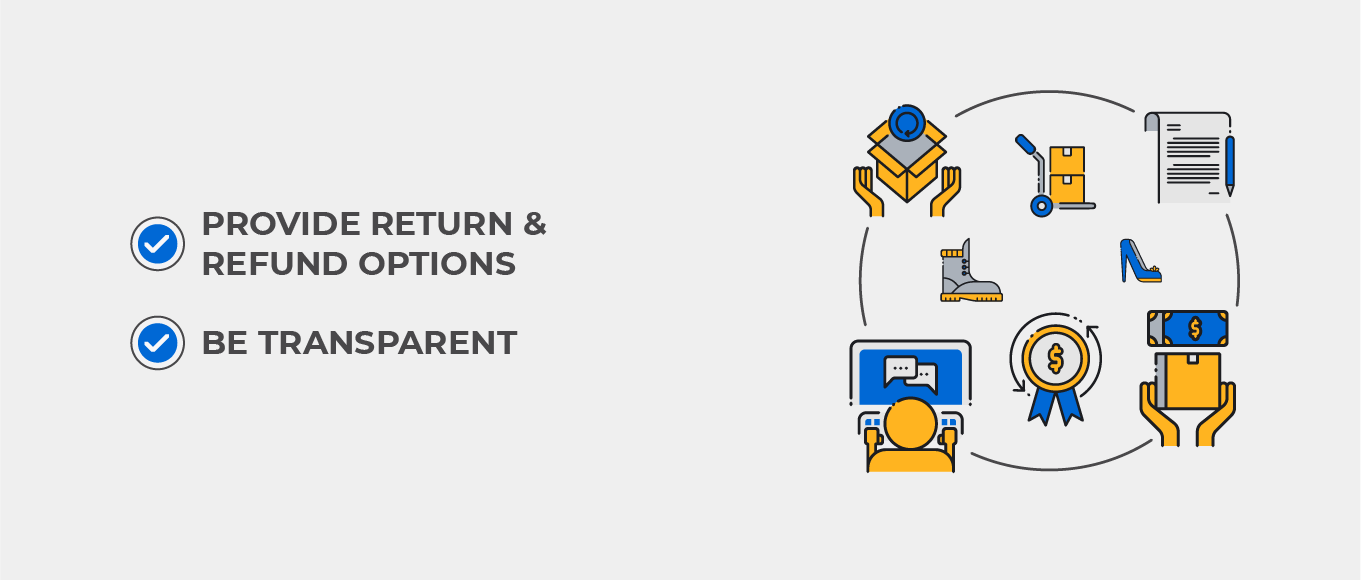 Problem #6: Competition From Manufacturers And Retailers
Manufacturers and retailers that online stores buy products from in bulk eventually begin selling their goods directly to customers.

This way, the company that used to be your partner becomes your competitor, which only gets worse if they create their own network of distributors. 
You can't prevent manufacturers from selling directly to customers – so, how can you minimize the problem?

The solution:
Prioritize partnering with manufacturers less likely to sell products directly.

The surest way for your retail partner to not become your competitor is to team up with smaller brands or brands focused on producing and delivering goods to shops rather than selling them directly.

Offer your products at lower prices or with additional benefits.

 Such maneuvers help boost sales of products that the manufacturer chooses to sell themselves directly.

Forge a contract with a language preventing this from happening.

When signing a contract with a manufacturer, include a statement that would restrict them from selling a certain product directly to a customer.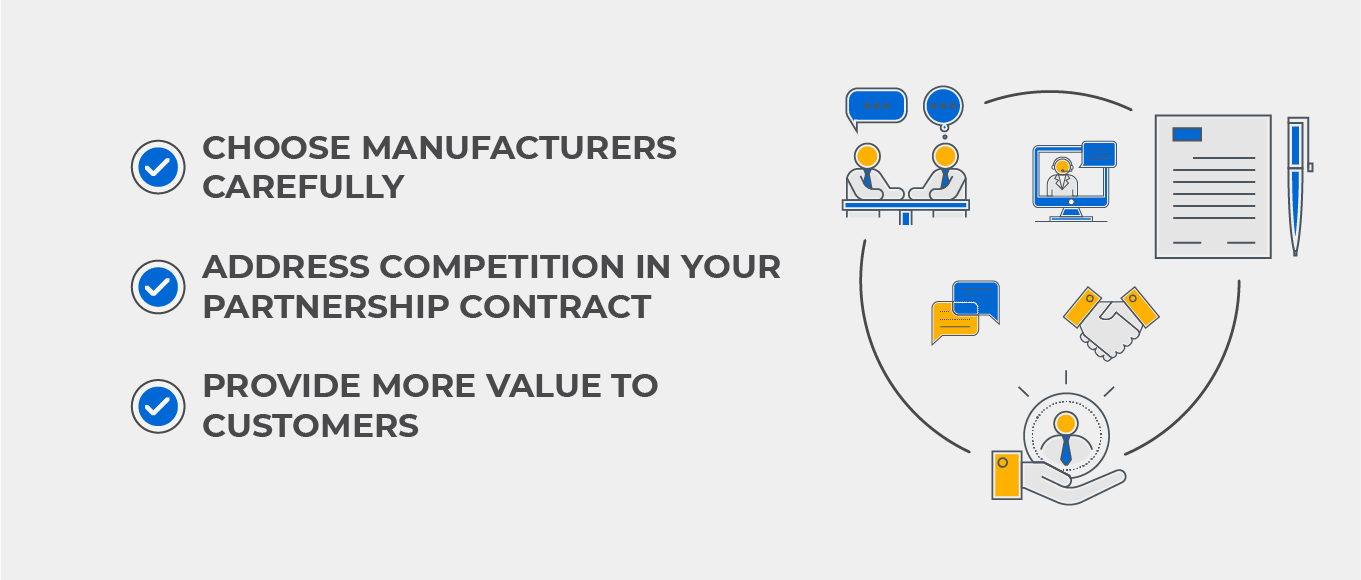 Problem #7: Providing Omnichannel Experience
Knowing that multi-channel shoppers spend three times more than single-channel shoppers is a strong incentive to overcome this eCommerce challenge.

In a world with desktop and mobile devices, official eCommerce stores, live chats, forums, Facebook, Instagram and other social media pages, the modern shopper has a big number of touch-points they can reach out through.

This creates an imperative for retailers: to adopt an omnichannel customer strategy. The alternative is lagging behind competitors and eventually be completely left behind. 
The solution:
Identify the most important channels for your customers and optimize them.

Optimize channels such as live chat, video calls, help centers, in-app messaging and others through which support clients should contact customers. This optimization means personalization of messages and one-on-one interaction.

Be consistent and keep track.

By keeping track of customer interactions and conversations, you should be able to direct conversations based on their conversation history and reply to them contextually.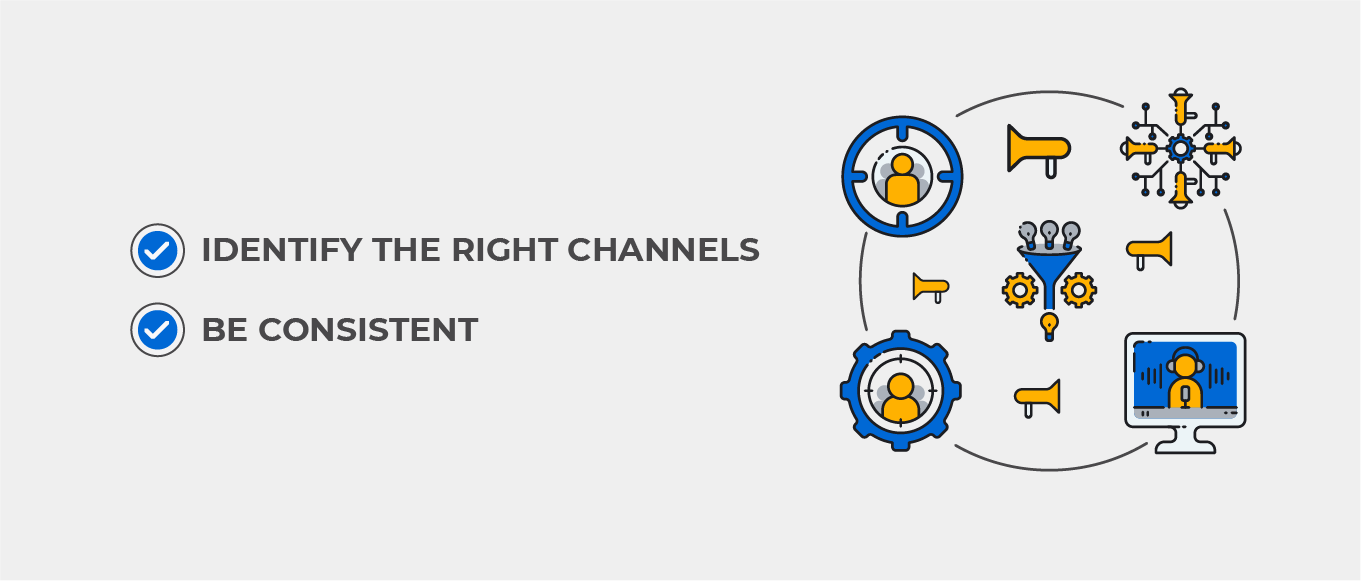 2 Advertising Challenges of eCommerce To Look Out For
Digital marketing is of special importance to online retailers and this fast-changing field presents its own set of eCommerce issues and challenges.
Challenge #1: Digital Marketing Is Getting More Expensive
Digital marketing has long been a more affordable form of advertising, compared to traditional marketing. 
However, it appears this is coming to an end, as marketers begin to realize how effective digital marketing is in the growing online market.
The cost of digital marketing has increased 12% on average across all channels, meaning that every dollar eCommerce managers invest may have less impact now than it had in the past.
The solution:
Try targeting very specific audiences. This increases your chances of higher conversion rates. Also, exploit the retargeting marketing that we've talked about earlier.

Be very thorough in tracking your marketing analytics and follow how efficient your digital marketing campaigns are.
Challenge #2: Influencer Marketing Might Lose Its Edge Due To Higher Costs
Social media and Google algorithms are making influencers charge more so they can afford to get their posts to reach more people – 25% more, in fact. 
The said algorithms are making it harder for sponsored posts to gain momentum, hence the steep rise of the cost of these influencer services.

The solution:
One way to use influencer authority to build your brand and amplify your message that is much cheaper – virtually free, in fact – is influencer blogger outreach. Try to find an influential blogger that writes articles relevant for your eCommerce niche, locate their SEO and social media stats to find the one with the best possible reach for your brand and reach out to them asking them to create content about your products or business in general – in exchange for which you can give them product discounts, commissions or social media shout outs.

Using customer brand ambassadors and

customer advocacy

is a very effective way to use the influence of happy customers to increase sales. A

12%

rise in advocacy results in a twofold revenue rise. 
5 Growth Opportunities For eCommerce In 2021
Some of the most significant trends that shape the future of eCommerce – and, subsequently, open doors to many opportunities for growth – include the following:
Opportunity #1: Social Media Shopping
Over 55% of shoppers have purchased a product through a social media post. 
As this number continues to rise, social media will become much more than just a place for brands to engage with their audience and grow their reputation. 
Platforms like Instagram are making it easier for eCommerce brands to sell products through their social media pages, by leading users directly to a product page on their website.
Opportunity #2: Mobile eCommerce
As we pointed out earlier, mobile contributes to 70% of global eCommerce sales, which will rise to 73% by 2021. 
According to the same research by Statista, mobile eCommerce could collect $3.5 trillion in sales by then.
Opportunity #3: Virtual And Augmented Reality
Virtual and augmented reality are revolutionizing industries and making it possible for shoppers to see, feel and even try out the products they mean to buy. 
eCommerce sites selling items like clothing and furniture can benefit greatly from this trend. 
More brands are releasing apps that use VR so customers can try different items before buying them.
Opportunity #4: An Online-To-Offline Shopping Experience
Even though eCommerce is growing, it still represents only 16% of total sales worldwide. 
The trend of online to offline in eCommerce is one to watch, as marketers begin to provide digital experiences that can match the in-store feel to their customers. 
Opportunity #5: eCommerce Automation
The operational needs of online merchants are also shifting.
The big trend in eCommerce is automated order fulfillment and minimal human involvement in the functioning of an eCommerce website on a daily basis.
This automation will be vital for the success of these businesses as it reduces redundant, repetitive tasks to a minimum. 
Check out this video by Envato to learn more about the current eCommerce trends and start optimizing your business for future growth.
Key Takeaways On Challenges of eCommerce
Managing your own eCommerce business, you may have already encountered some of these challenges while some others may be around the bend. 
However, as we've shown with some actionable tips, there are lasting solutions for each of them.

In a nutshell, eCommerce websites require a much greater deal of optimization to account for the technical side of things and also the improvement in spheres of marketing, content and, especially, customer service.

Getting these roadblocks out of the way is the only sure path toward a thriving and sustainable eCommerce business.
Ready to Grow Your Online Store?
Request A Quote
Tell us about your project and let our eCommerce experts give you recommendations.