If you need a business website, you have two options:
Use a ready-made template to create it (and risk it resembling thousands of other websites)
Build a custom website, completely unique and tailored to suit your business needs and goals
In this post, we'll guide you through the advantages of custom web development and the benefits of having a website built from the ground up just for you.
You'll learn:
What custom web development is
Why you should consider it
How to plan and create your website
Which type of development services could be right for you
Which platforms are used for custom websites
Let's get started.
What Is Custom Web Development?
Custom web development is the process of building your website or other digital solution from the ground up, specifically tailored to suit your business needs, serve your target audience and help you grow your brand online.
It includes several stages:
Research and analysis
Strategy and planning
Information architecture
Frontend design and development
Backend design and development
Quality assurance and testing
Optimization and maintenance
Custom web development may take anywhere from 10 to 30 weeks, depending on the project's complexity. It may also be a costly investment, but don't let that discourage you.
If you weigh the pros and cons of having a tailored web solution, the list of benefits is much longer than the list of drawbacks.
And that brings us to the next question: Why should you consider developing a custom digital product for your business?
Why Do You Need Custom Web Design And Development?
Let's dive into that list of benefits to help you understand the advantages of having a custom website, app, eCommerce platform or any other digital product.
The benefits of custom web development may include:
A secure and reliable website with all the functionalities you need
A unique, original design that strongly appeals to your target audience
A distraction-free layout, optimized content and faster loading speeds
Original, on-brand images, professional photographs, illustrations or videos
Thoughtfully developed conversion funnels to increase your conversion rates
Complete on-page SEO for each page to help you rank higher in search results
A user-friendly interface to help your customers easily navigate all the way through
An excellent user experience that helps you decrease the churn rate and build a strong brand
A fully optimized website to boost performance speed, compatibility and accessibility
Handcrafted admin panels enabling your web administrators to quickly make changes
Additionally, a custom-built website, app or platform can serve as a strong competitive advantage that will pay off in the long run, even if it requires a larger investment to begin with.
The reasons for building custom solutions may vary, depending on your business industry, custom solution type (do you need a website, a web app, a membership platform, an eCommerce website or something else?), your business growth plan, your long-term goals and other factors.
One of the main reasons to invest in custom solutions is to offer an excellent user experience to your existing and potential customers, guided by experts in the field.
Why is this so important? Because 89% of consumers turn to a competitor after a poor user experience.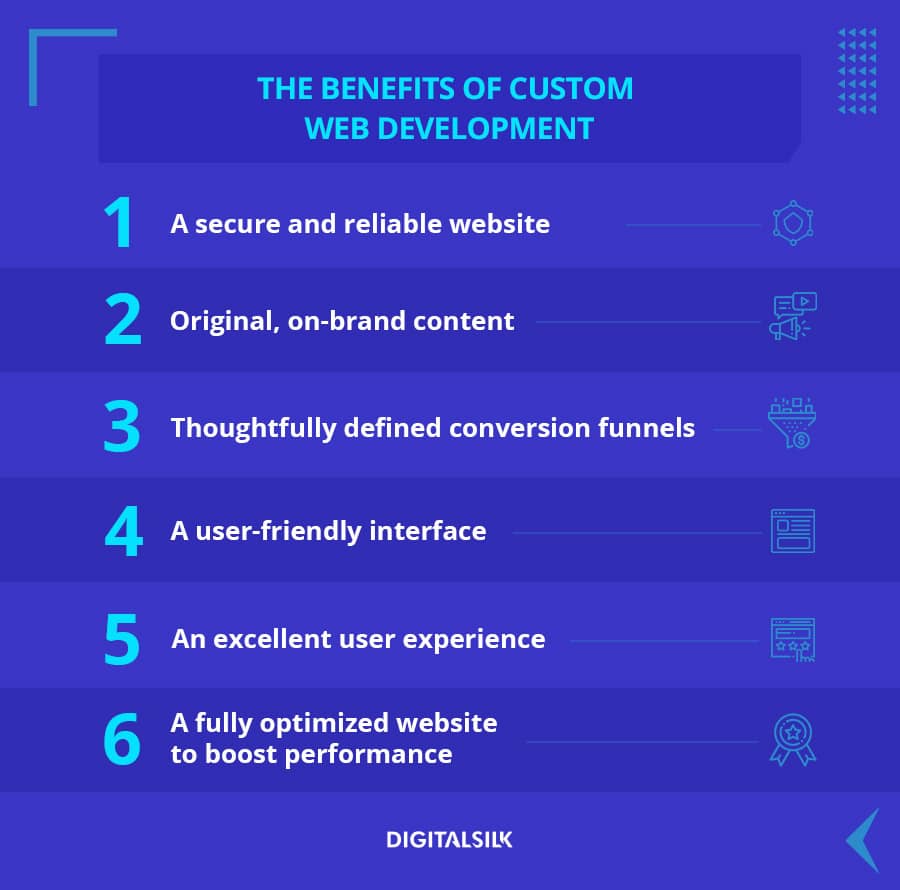 When Do You Need Custom Web Development Solutions?
Scenarios when a tailor-made solution could benefit your business include:
You have specific requirements for an online platform: It may be a SaaS platform, a mobile or a web app, an online store, a subscription-based website, a booking platform, a cloud-based solution or anything else
You want to impress your audience with a unique, distinctive design and your audience expects nothing less from you: This is especially true for large organizations and industry leaders (think Google, Apple or IBM) which may see templates as an unacceptable solution
You have an idea for an innovative digital product: But you need help from experts to turn it into reality; this can work well for VC-backed start-ups and fast-growing companies
You have a big budget and complete creative freedom to design and develop a bold website that will truly stand out, even if it's only to showcase your portfolio
You want to provide an exceptional user experience by paying attention to the tiniest details, from clear, consistent copy and engaging calls to action (CTAs) to a seamless checkout process, secure payment systems and data privacy
If you want to hire professionals for your custom web solutions, but you are not sure how to find the perfect match, check out these five questions to ask a web design and development agency before outsourcing to experts.
What Types Of Services Does A Custom Web Development Company Offer?
The type of services offered will depend on the type of agency you are considering to partner with for your custom project.
For example, if you hire a web design company, the services may include web design and development, app development and eCommerce development.
If you hire a digital agency, services may also include custom software engineering, branding and digital marketing.
Typically, custom development services include:https://www.digitalsilk.com/what-is-digital-agency
Frontend and backend web development: This includes UI/UX design, original content and a customized backend system, built from scratch or based on open-source CMS platforms.
Responsive website design and development: A responsive website that automatically fits different screen sizes from desktop to mobile is practically a web standard nowadays; you can also build a mobile-first website with a focus on mobile design that will then expand to fit the desktop screen size.
Web development for small and medium-sized businesses: This type of service might be the best solution for start-ups, SaaS companies and emerging digitized businesses; it can include anything from a five-page presentational website to a complete software solution suitable to your business type, style and needs.
Web development for large organizations and enterprises: Custom web development for larger organizations and multinational corporations may include complex websites with custom CMS solutions, intranets, dedicated AI-backed platforms, mobile, web and cross-platform apps, customizable big data systems, web development consultations and more.
eCommerce web development for online stores of all sizes: Whether you sell 100 or 10,000+ products, you can get a custom-made eCommerce platform for your business.
App design and development: Includes design and development of Android and iOS apps, desktop apps, progressive web apps (PWAs) and other applications.
Website support and maintenance: Once you launch your custom website, app, online store, SaaS platform or other digital product, you can count on a web development company to offer you full support and web maintenance in the years to come.
Website/Application migration: You can engage custom developers to safely and securely move your website or an application from one platform to another; for example, migration from WordPress to Shopify.
Website redesign: If your existing website isn't providing the desired results conversion-wise or you want to update the old design to align it with your business growth and new industry trends, you can opt for a website redesign to rethink and reframe your digital presence.
What Are The Popular Platforms For Custom Web Development?
You (or the experts you hire) can use a theme-based CMS like WordPress or a template-based platform like Drupal to build a custom website.
Platforms and frameworks you can use to build a custom solution include:
This list isn't exhaustive – there are many other web technologies and frameworks you can choose, depending on the type of project. These include Python, Go, Ruby on Rails, JavaScript frameworks like React, Angular or Vue and more.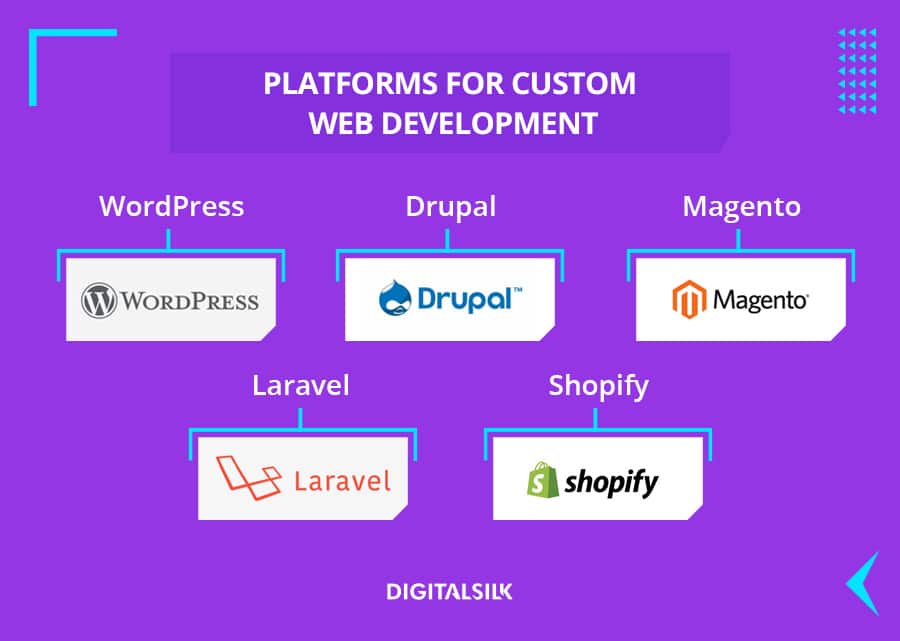 Custom Web Development Key Takeaways
In a nutshell, here is everything you need to know about custom development.
Custom web development is a process of designing and developing your website, application or web-based platform from scratch, tailored to fulfill your specific requirements.
It takes time and it can be a costly solution because it includes research, strategies, design, frontend and backend development, testing and iterations, as well as additional support and maintenance.
On the other hand, you'll have a highly functional, efficient and attractive digital solution built by experts that perfectly resonates with your industry standards and audience expectations. It will serve as a strong competitive advantage and set the ground for long-term business success.
If you decide to hire a web design agency to create your custom solutions, some of the services may include responsive design, app development, eCommerce design and development, UI/UX design, website migration or a redesign.
And last, but not least, your custom solution can be based on platforms like Drupal, Magento, WordPress and others, depending on the project type and the goals you want to accomplish.

Ready To Develop A Custom Website?
Request A Quote
Tell us about your project and let our experts give you recommendations.