A 2021 survey found that the majority of adults in the United States ages 18 and older  consider financial advisors their most trusted source for financial advice.
This is good news for the industry. But with the number of financial advisors across the country (218,100  in the U.S. to be exact), how can you ensure that your website outranks your competition to reach your target audience and drive leads?
By investing in a website that is not only visually appealing, but one that funnels visitors to key conversion points and conveys your unique value proposition through benefits-driven copy.
Whether you are planning on a website redesign or launching your new financial advisor website, our web design experts at Digital Silk have complied the top five financial advisor websites to pull inspiration from.
We'll share our expert analysis of each design, plus the best practices and must-have functionalities for conversion.
Best Financial Advisor Website Design Examples To Get Inspired By [+ Our Strategists' Notes On Each]
From sleek and modern to simple yet engaging, here are five financial advisor website designs that take the cake when it comes to navigation, messaging, CTAs and other key elements that drive conversion.
1. BeniGro
Website: https://benigro.com
Category: Investment Advisory
Design by: Digital Silk
Our strategic design decisions:
Messaging: Right off the bat, the visitor is drawn to the simple yet engaging image that spans across the entire homepage.
The contrasting colors in the CTA design draw your eye to key conversion points: "Schedule a complementary consultation" in the hero section and "Get started" in the top right corner.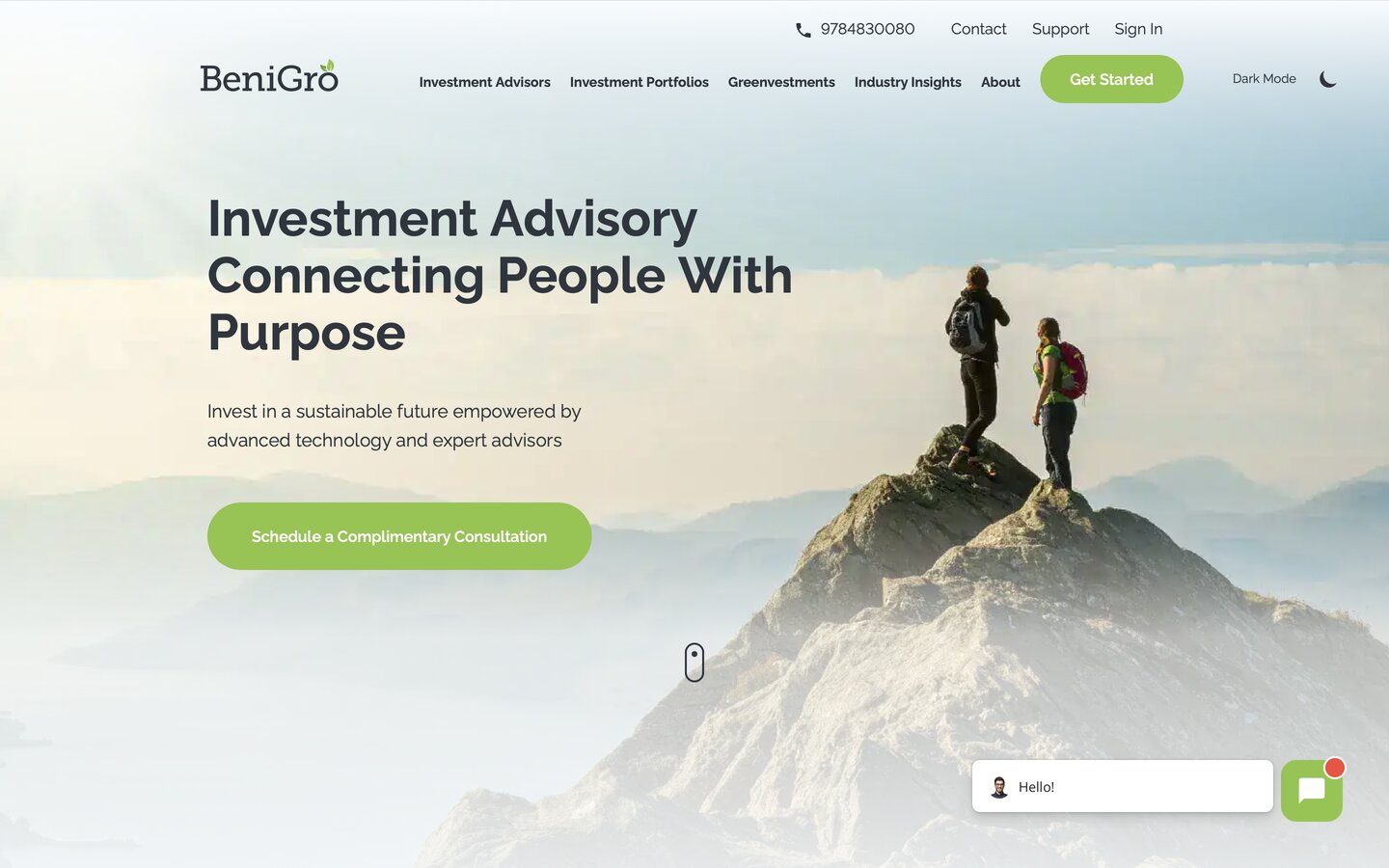 The navigation menu is simple and sticky, so the links to key pages, contact details and the main CTA follow the visitor as they scroll down the page.
The messaging is kept short and simple, showcasing the brand's unique value propositions.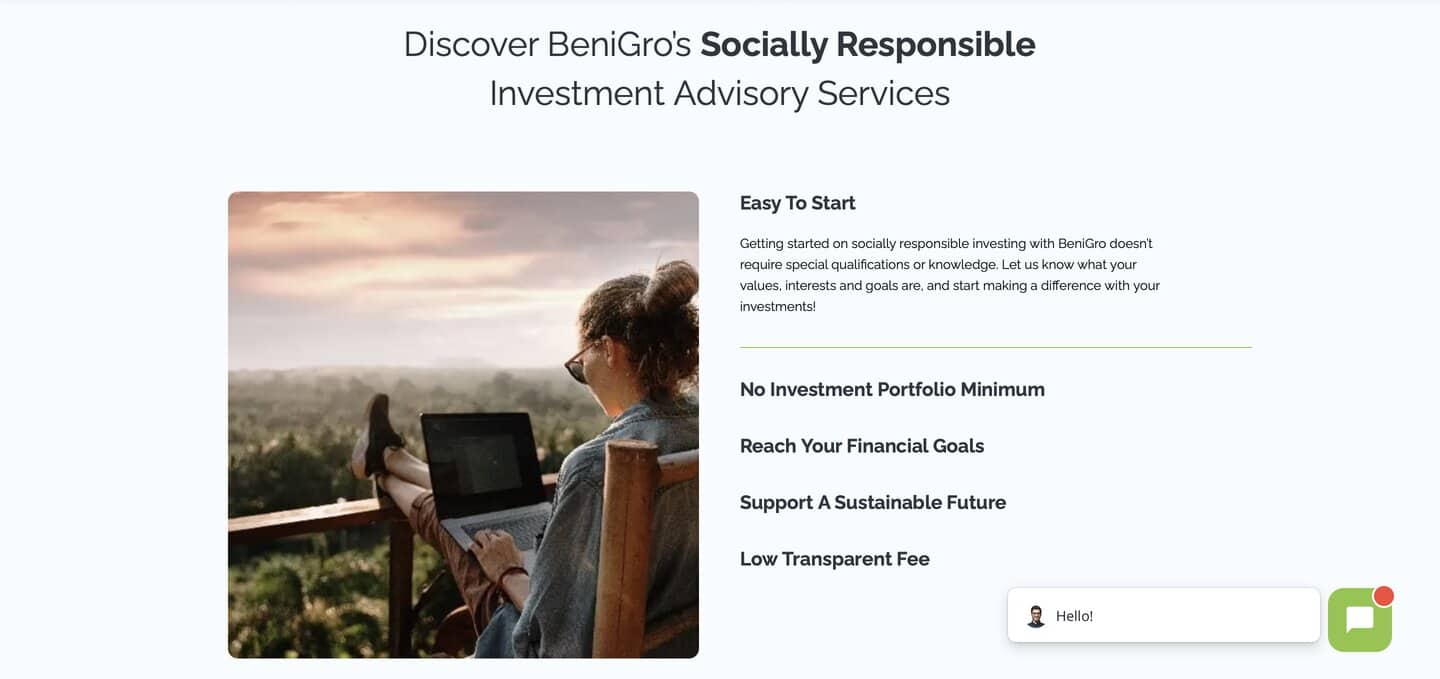 Typography: The straightforward typography is bold and offers simplicity to a topic that can often be intimidating.
The contrasting colors between the messaging, background and highlighted CTAs allow for increased readability while maintaining consistency throughout the website.
Visuals: The images are kept simple as background pieces, so the visitor's focus remains on the messaging.
Instead of relying on images to create visual interest, our designers instead chose to focus on subtle animation.
When hovering over CTA buttons, leaves appear to surround the CTA and highlight the brand's theme of investing in a sustainable future.
Midway through the homepage, a twirling globe slowly spins next to key messaging about socially responsible investments.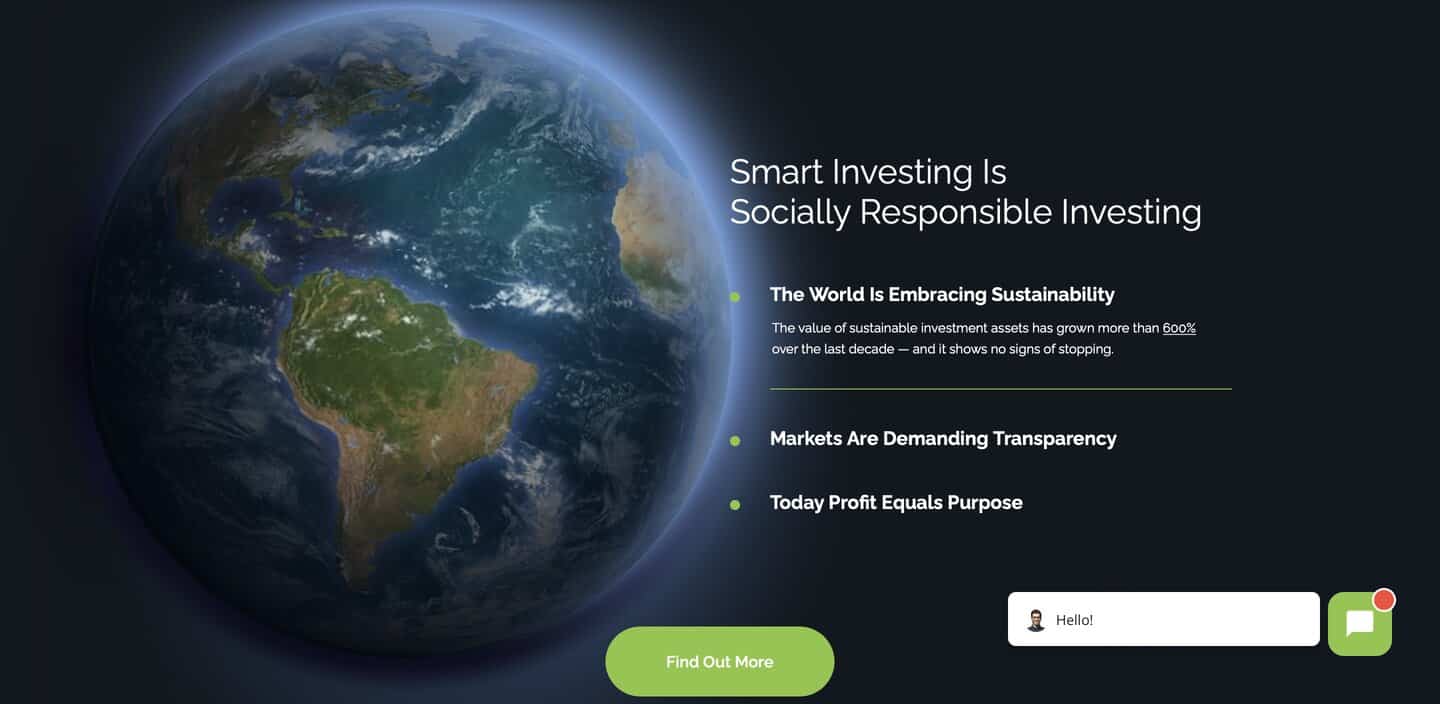 For users who experience eye strain, our Digital Silk designers added a dark mode feature for easier readability.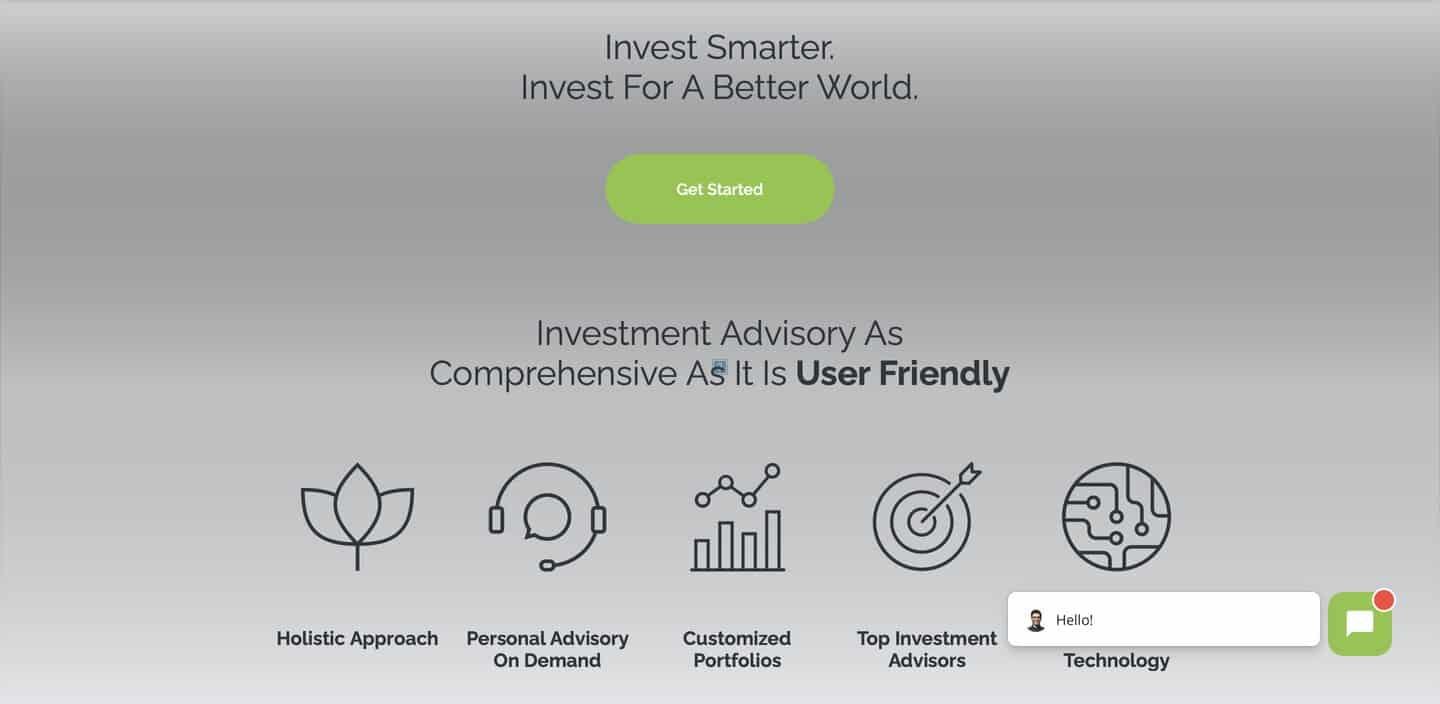 What we could do better:
From the simple navigation to standout CTAs and unique animations, our designers and developers created the site to convey the brand's key messaging about the importance of socially responsible investments.
An element that could be added? Testimonials, which can help potential clients feel more at ease before making the decision to reach out to a financial advisor.
Is there anything else you'd change about this design?
2. Buckingham Strategic Wealth
Website: https://buckinghamstrategicwealth.com
Category: Financial Advisor
What they do well:
Messaging: Buckingham Strategic Wealth features an engaging image of a father and son duo in the hero section of the homepage (points on the zoom out animation!).
The image resonates with the header copy, "We're wise beyond our collective years and intent on making the most of yours."
Buckingham aims to provide financial freedom for parents and adults in general, which will have an impact on the lives of their children.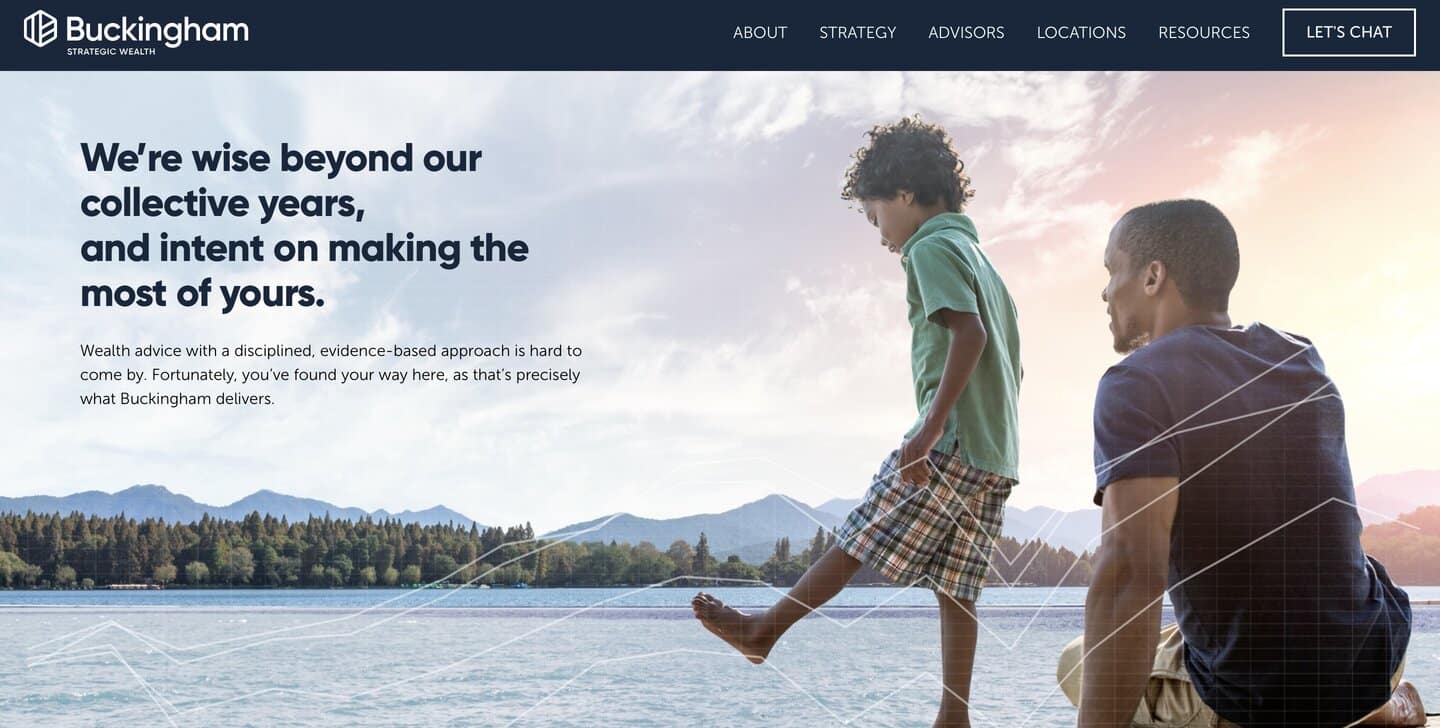 For an industry that may be seen as intimidating to some, the site uses clear, benefits-driven messaging to explain to the visitor both how they can help, and the value of their services.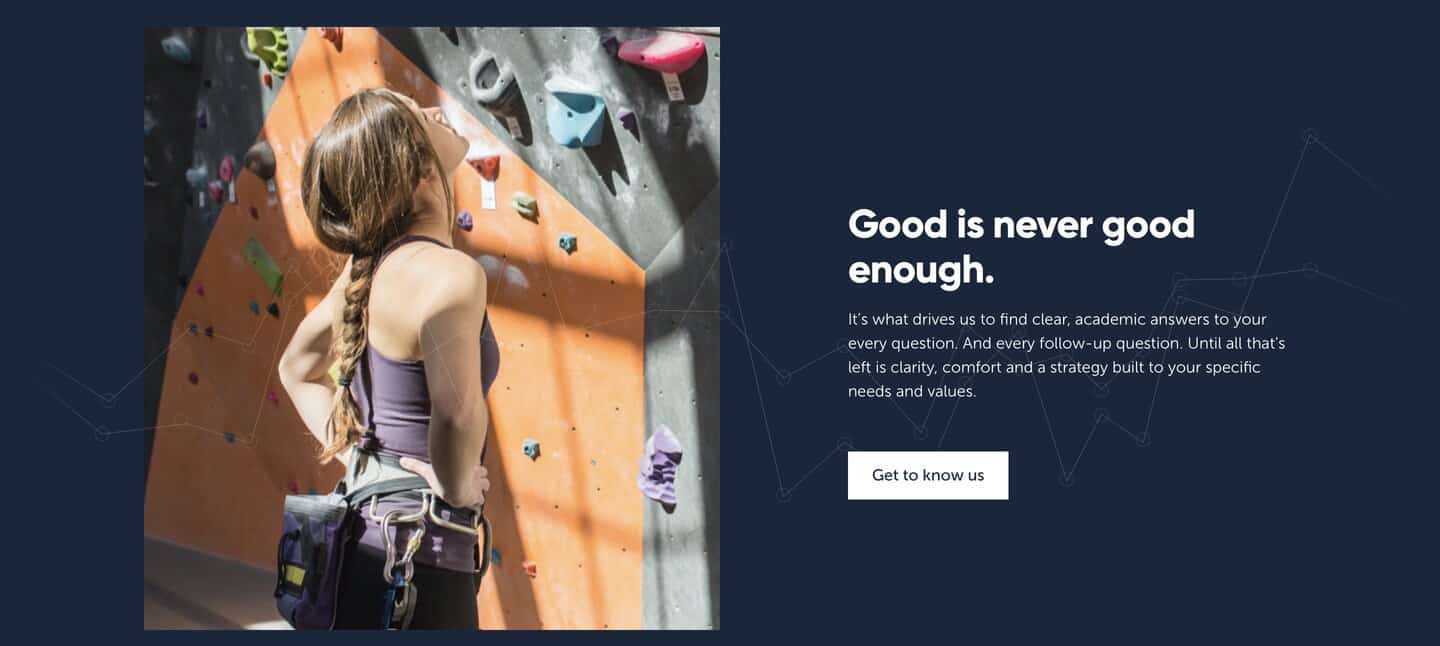 While the navigation menu is partially sticky, visitors lose sight of the menu once they scroll down the page but see it once again when they scroll back up.
The main CTA "Let's Chat" is enclosed in a white outline against the dark background, living at the top right corner of the page.
The rest of the CTAs on the homepage are valuable and engaging. Site visitors who click on "Meet our people," "Our strategy" and "Get to know us" know exactly where these buttons will take them.
Notice the subtle animated feedback of a thin white box that appears when hovering over key page links? This shows an effort even in the tiniest details.

Another bonus is the calendar located at the bottom of the homepage. This is an animated way to let site visitors schedule a time and date if they want to know more about the company's offerings.
Typography: The simple dark blue, black and white typography offers easy readability throughout the homepage, making the background, CTAs and messaging stand out thanks to contrasting colors.
Though bold, the slightly curved shape of the typography in the headers provides an inviting, unintimidating feel.
Visuals: In addition to a few lifestyle images, a slow-motion video of a man casting a fishing line and different UX animations rounds up the visual experience of Buckingham Strategic Wealth's website.
Our verdict? Site visitors have plenty to look and plenty to explore throughout.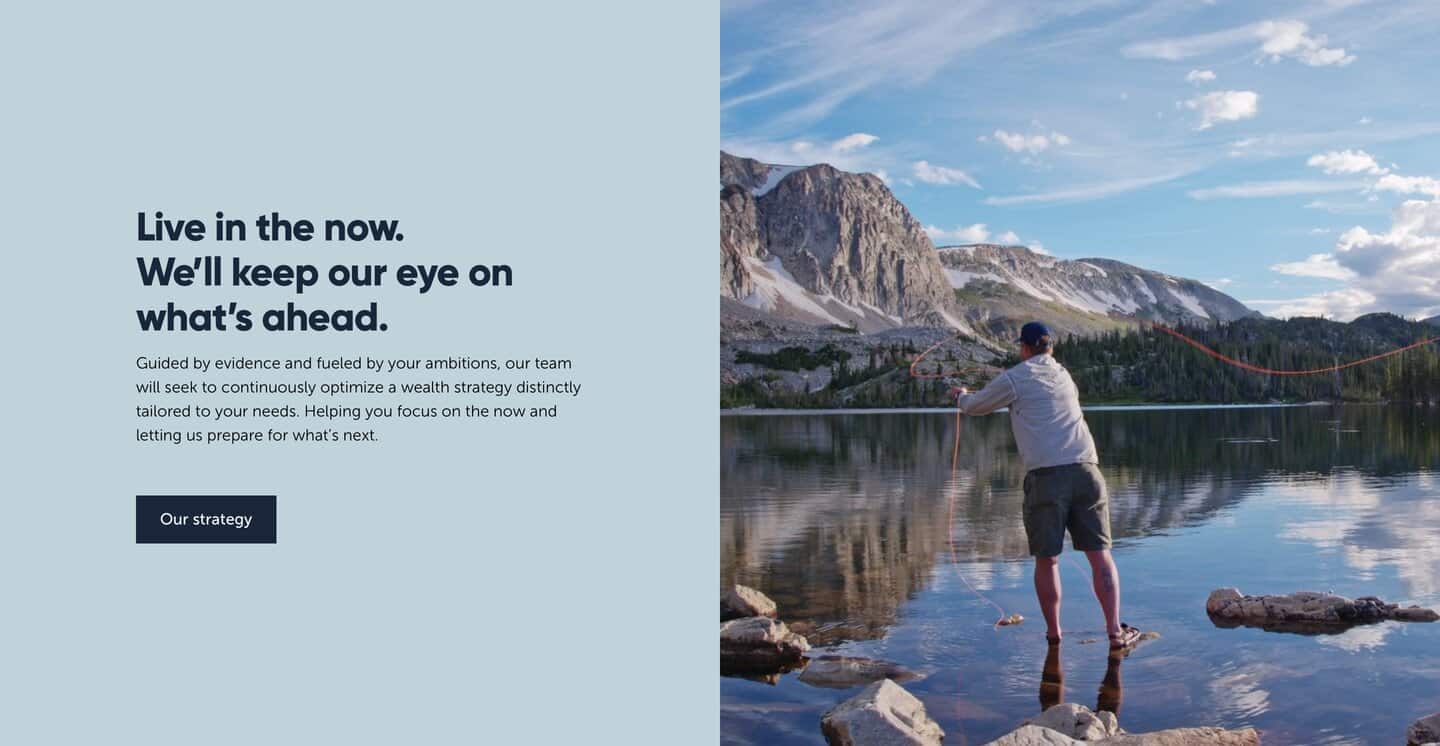 Social proof: Towards the bottom of the homepage, the website shows media mentions they were featured in such as The Wall Street Journal and The New York Times, enabling a sense of confidence for visitors who are planning to avail their financial help.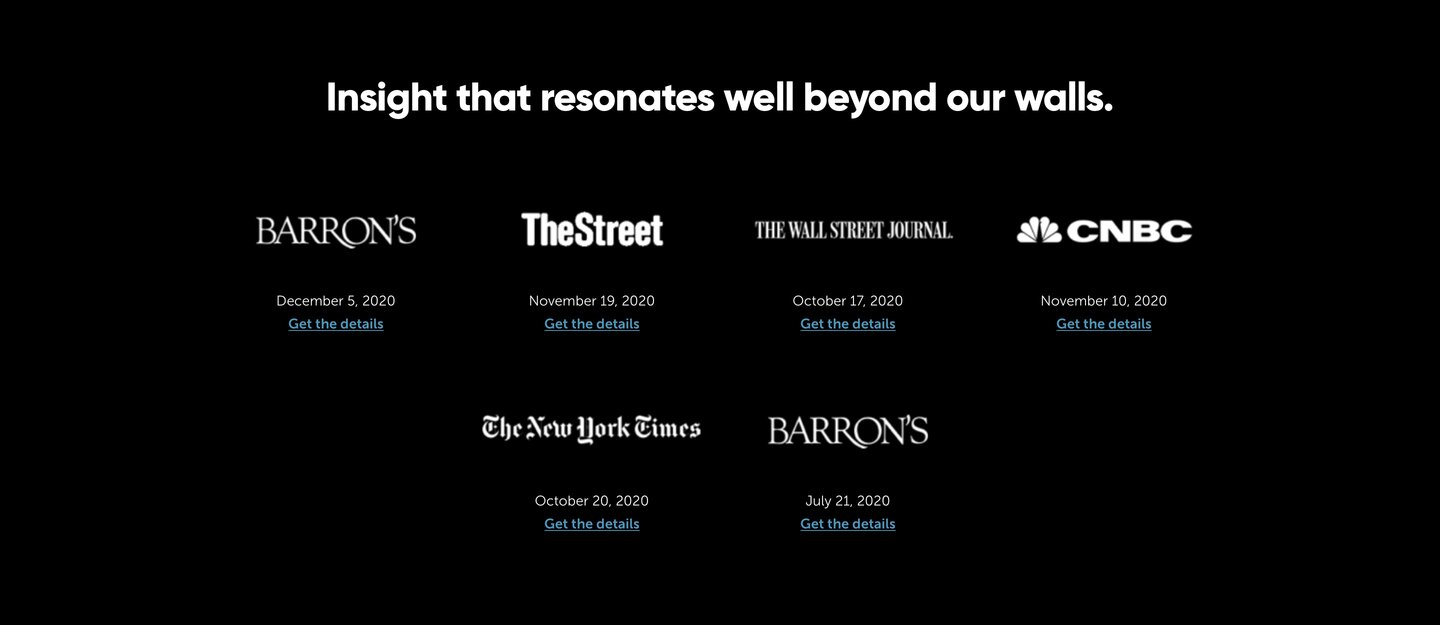 What they could do better:
From the dynamic imagery to the subtle animations, clear messaging and valuable CTAs, Buckingham Strategic Wealth follows many of our best practices for web design.
However, the navigation menu, which is only partially sticky, may help increase conversions if it stayed in sight as the user scrolled. Sticky navigation is the most convenient way for site visitors to access the information they need.
Considering that a CTA is also lacking in the hero section —another subtle yet important miss — the "Let's Chat" CTA in the nav bar serves as the main CTA when you land on the homepage. When it disappears with a scroll, so does the conversion point.
While media mentions can be a valuable form of social proof, the homepage is also missing testimonials — a key form of social proof for financial advisor websites.
3. Stash Wealth
Website: https://stashwealth.com
Category: Financial Advisor
What they do well:
Messaging: Stash Wealth has a unique brand voice, and they've proven they know how to use it in order to stand out from competitors.
The brand utilizes storytelling with their opening copy, "We get it. You splurge for Barry's Bootcamp, but you shop at Costco. Eventually you want to change careers, have a kid, retire; but you'd also like to go to Thailand next year. Let's figure out how to do both without sacrificing either."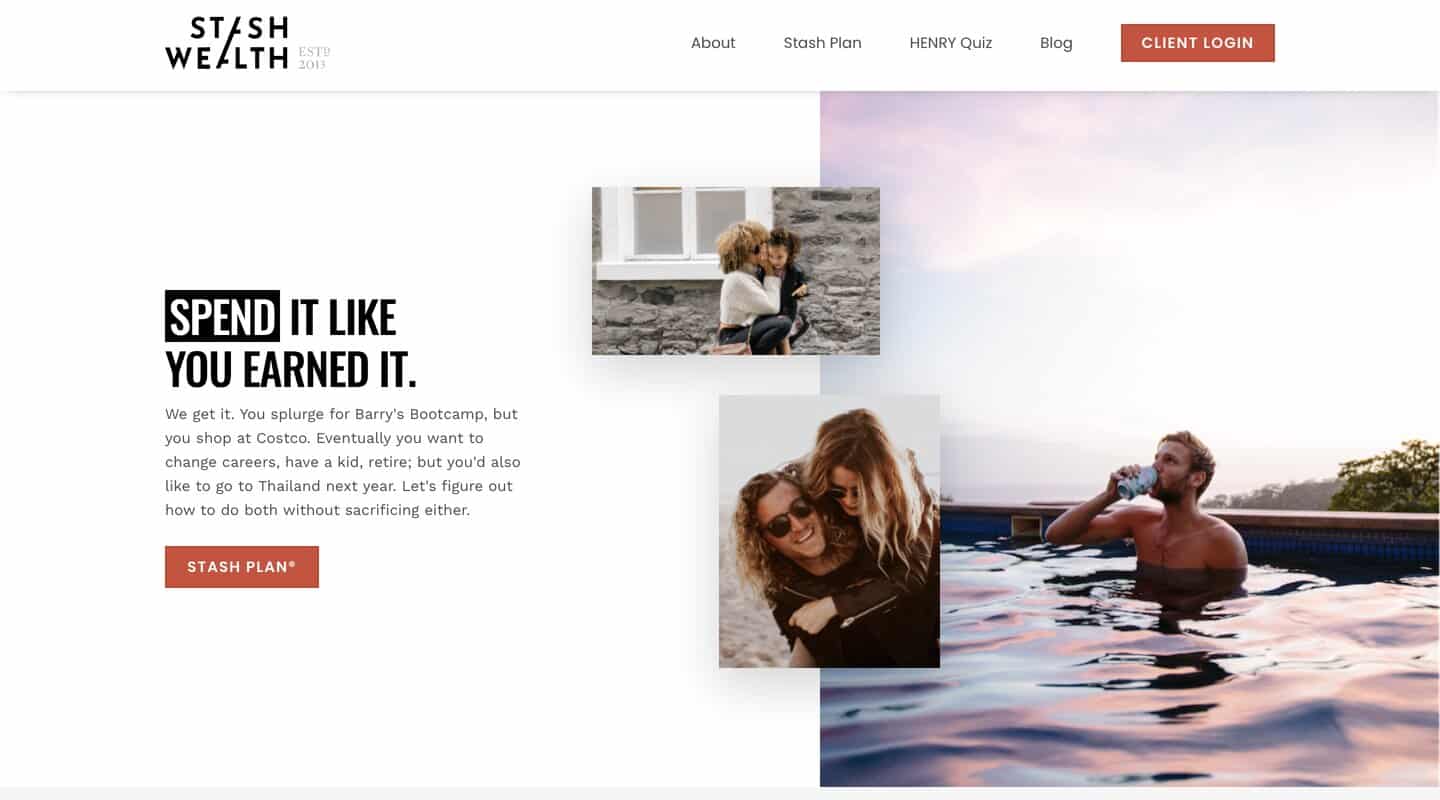 While some of the language they use may raise eyebrows for some visitors (note the copy just below the embedded video), we applaud the brand for adding personality to their copy.

Typography: Unlike the rest of our examples, Stash Wealth is bold and brave when it comes to typefaces.
Using capital letters in the headers ensures that important info can't be missed. Their approach to typography is also unique in that they box key words in black highlight.
Visuals: The imagery on the website is kept relatively simple, balanced out by ample white space.
The embedded video under the hero section depicts friends enjoying each other's company, a man who's holding up (maybe front row) tickets to a basketball game, a woman shopping and a man screaming at the top of his lungs celebrating.
These images not only show client diversity, but they portray feelings of excitement and elation, aligning with the text, "We treat you like a millionaire before you are one."
After all, who doesn't want to be treated like a millionaire?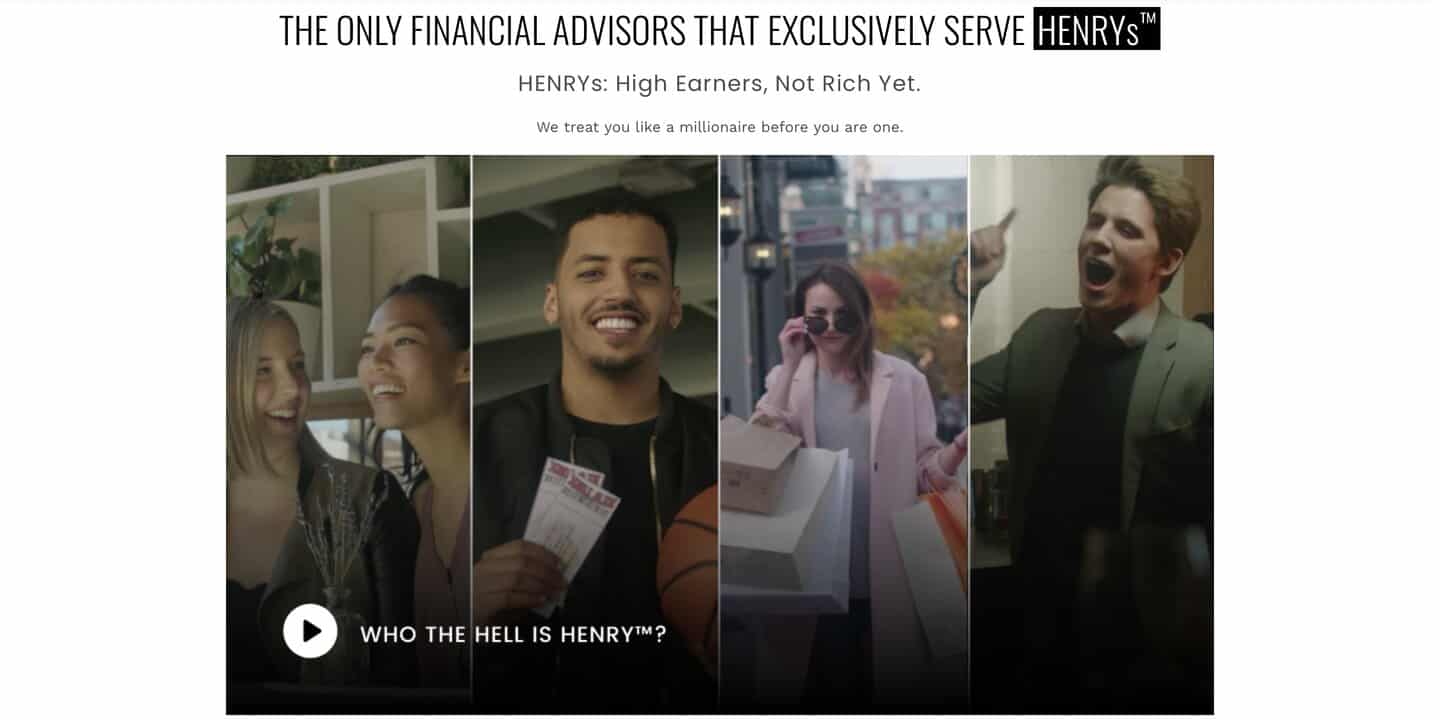 Social proof: Right above the fold, Stash Wealth isn't shy about showing the big names they were featured in such as BuzzFeed, TIME and The Wall Street Journal.
This social proof helps potential clients make a decision and feel confident about their choice.

What they could do better:
Overall, we applaud Stash Wealth for stepping outside of the box in an industry where design can too often become either boring or cluttered.
They're taking risks not only with their design but also with their typography, brand voice and other elements.
However, we do have to point out the lack of contact information, which can't be found anywhere on the homepage at all. These missing details are likely causing a lower conversion rate for the brand.
4. blooom
Website: https://www.blooom.com
Category: Financial Advisor
What they do well:
Messaging: This financial advisor website design is a bit quirkily — an adjective you don't typically associate with financial advising.
It has a sticky menu that contains minimal key pages and standout CTAs, which stays in sight as users scroll down the homepage.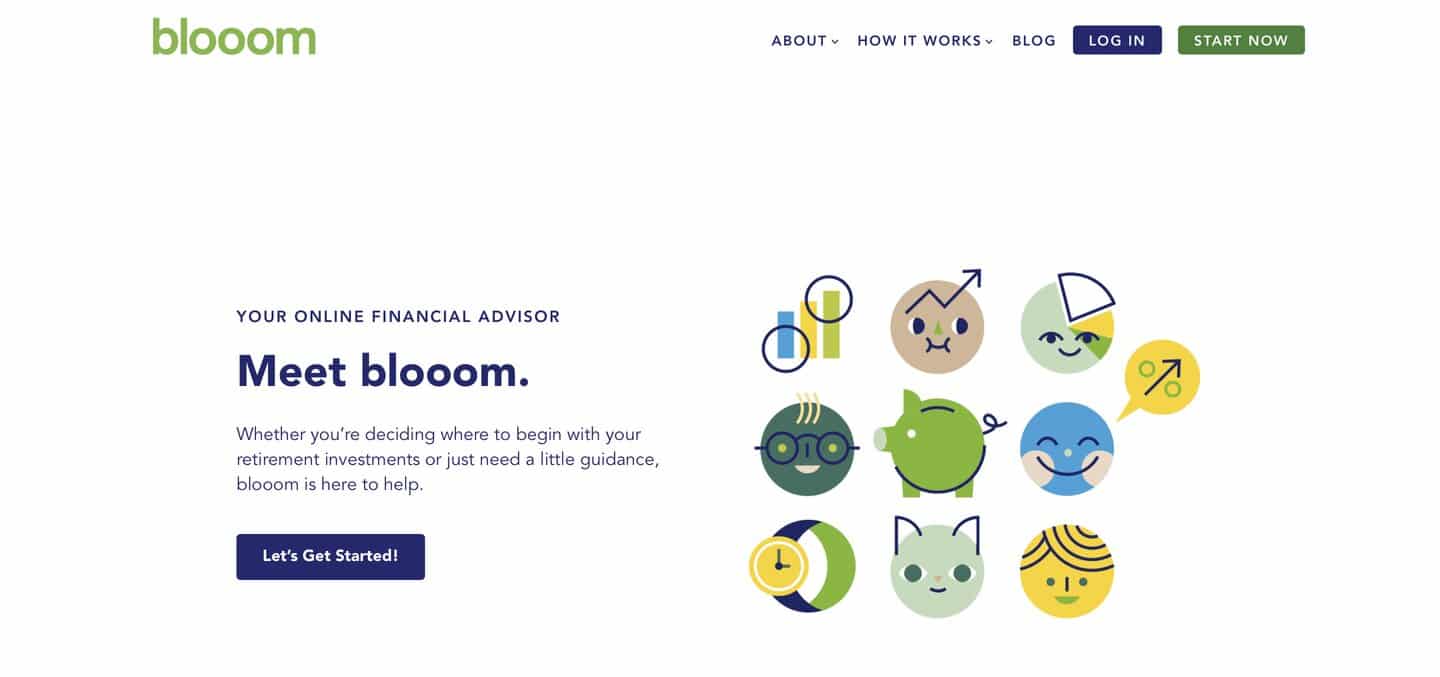 Copy is engaging and kept short to encourage readability and allow skimming. Throughout the homepage, blooom utilizes their friendly and approachable brand voice to make financial advising a less intimidating topic.

CTAs include "Let's Get Started," "Ask blooom" and "View Plans," which are simple yet unique, clear and effective.
Typography: blooom makes use of simple and consistent fonts throughout the website. The contrast between the dark typography against the white background helps the text stand out while ensuring that the reader is not overwhelmed by information.
Visuals: Financial advisor websites typically use images of people, whether stock or custom, but blooom took on a different approach by utilizing custom illustrations.
The quirky — there's that word again — illustrations may be a bit risky in the industry.
Some visitors may immediately deem the brand amateur and bounce. Still, others might find some comfort in the cutesy aesthetic and determine the process of seeking financial advice to be much less scary or stressful than they thought.

Social proof: On the homepage, blooom displays features in global media companies such as Forbes and The Wall Street Journal, serving as social proof for visitors who are considering their services.

What they could do better:
While we're all in for setting your brand apart from the competition by opting for a distinct design approach, blooom could have implemented real images of their team members so visitors could get to know a more realistic side of the company.
A key element that's missing? Contact details. While the "Start now" CTA and the chatbot icon move with you as you scroll, key contact details don't appear until the very bottom of the page in the footer.
This is a huge "no" for financial advisor websites.
If the visitor has to search for your contact details, there's a good chance they'll bounce and you'll lose your lead.
5. Betterment
Website: https://www.betterment.com
Category: Financial Advisor
What they do well:
Messaging: While we're not a fan of the slogan, which didn't require much creativity, the messaging improves with benefits-driven copy as you scroll down the page, which highlights what Betterment offers: easy, optimized and personalized solutions.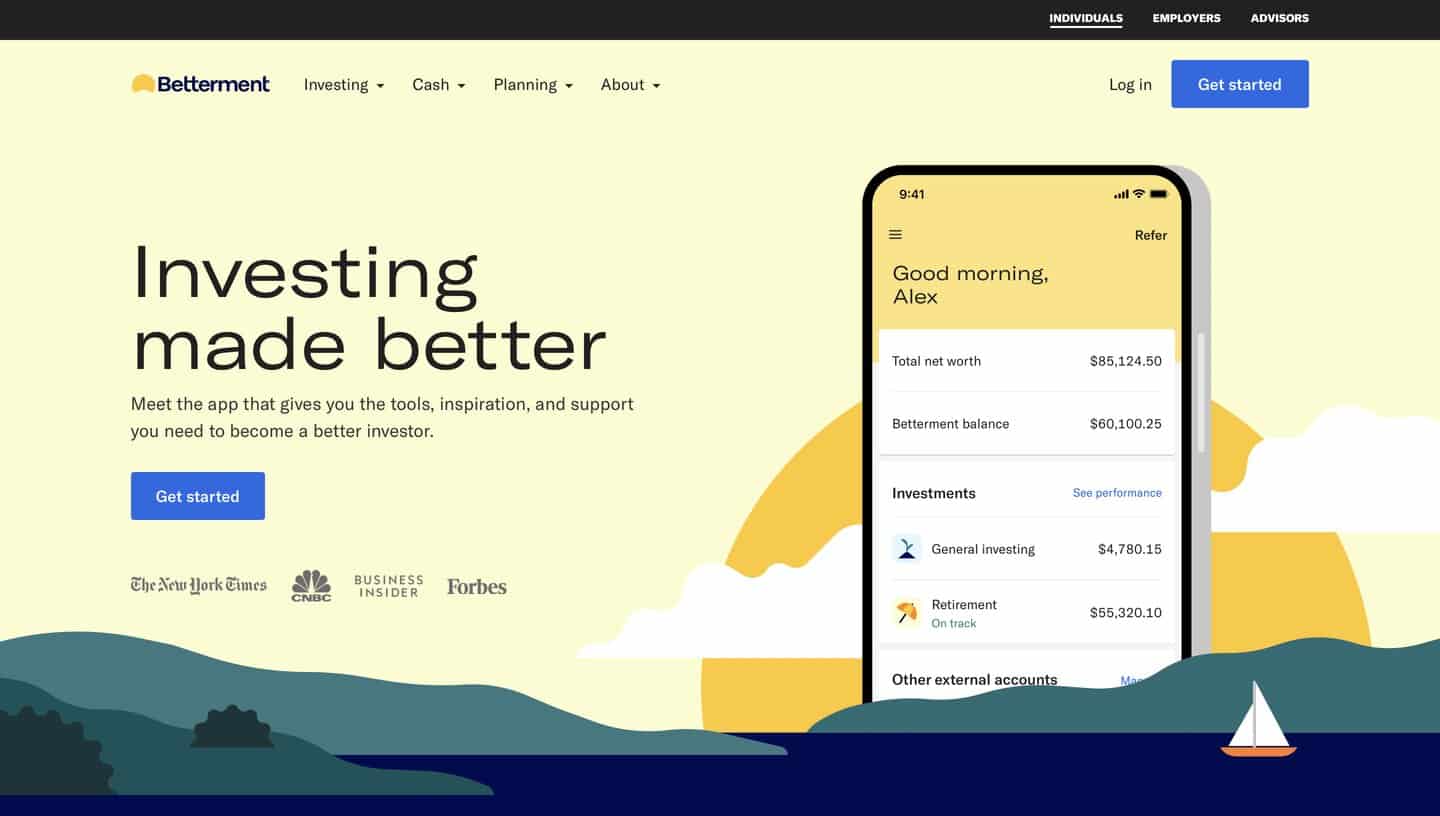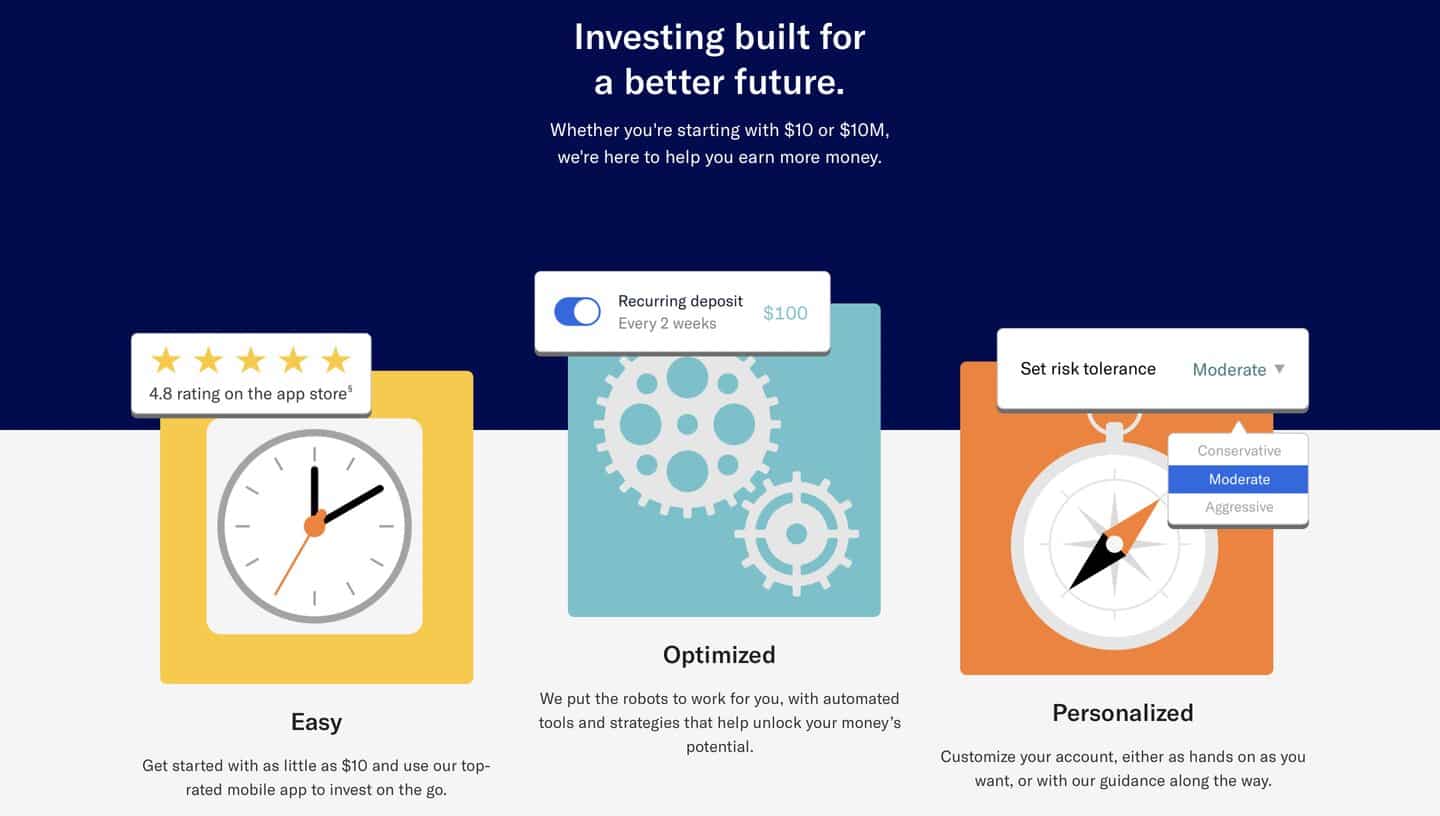 Typography: The font is consistent and simple throughout the homepage. Dark typography complements the pastel colored-backgrounds while light typography complements dark backgrounds to ensure readability throughout.
Visuals: Betterment's website is visually appealing thanks to the colors and flow, but not as a result of real imagery. The color palette is made up of the three primary colors, which offers contrast where needed but doesn't overwhelm the visitors' eye.

Social proof: On the homepage, Betterment shows media mentions, including reputable companies such as The New York Times, CNBC and Business Insider.
What they could do better:
The slogan on the homepage — "Investing made better" — lacks imagination.
Next, the heavy use of stock vectors and the lack of real human faces prevents visitors from humanizing the brand. Contact details are nowhere to be found, which is once again, a huge "no" for financial advisor web design.
Another miss is the lack of sticky navigation and the lack of diversity in repeating "Get Started" CTAs.
Before Planning A Financial Advisor Website, Consider These Consumer & Industry Insights
Before creating a website, it's important to gather industry insights that could inform your design one way or another.
Here are a few interesting insights to take into consideration when planning your financial advisor website design:
34% of Gen Z is learning financial advice from YouTube and Tiktok.
What does this mean? That your brand should consider modernizing both your website design and your approach to social media platforms.
While you may never have considered platforms like YouTube, TikTok or Instagram before, these social media platforms can help you increase your reach and gain the attention of a new generation of people who are seeking financial advice.
In 2021, 38% of Americans worked with a financial advisor, while 54% said that they didn't have a financial representative.
Many Americans don't have a financial advisor because they are saddled by debt or believe that they can manage their money on their own.
You can encourage site visitors to understand the importance of working with a financial advisor by creating a strategically-designed financial advisor website that speaks to them.
Key points here include benefits-driven copy, clear messaging and educational content in different forms, from blogs to videos and social media posts.
Our Financial Advisor Website Design Process
At Digital Silk, we create and design custom websites that are strategically engineered to increase your conversions and on-site engagement.
Here's a sneak peek of our web design process, from kick-off to launch.
Kick-Off & Discovery
Our team begins every web design project by getting to know you as our client.
On our onboarding call, we will discuss your project's scope, including your target audience, current brand strategies, the channels and platforms you use and your short- and long-term goals to complete a comprehensive brand strategy document.
Digital Strategy
One of our expert digital strategists will be assigned to your project to collect the insights needed to create a comprehensive digital strategy for your brand.
Following the onboarding call, our digital strategist will use the brand strategy document that was completed in the previous stage to create your tailor-fit digital strategy.
Information Architecture
Next, our team will plan your sitemap, define your brand's messaging and conversion funnel, and ensure that each of your website's page is fully optimized for SEO.