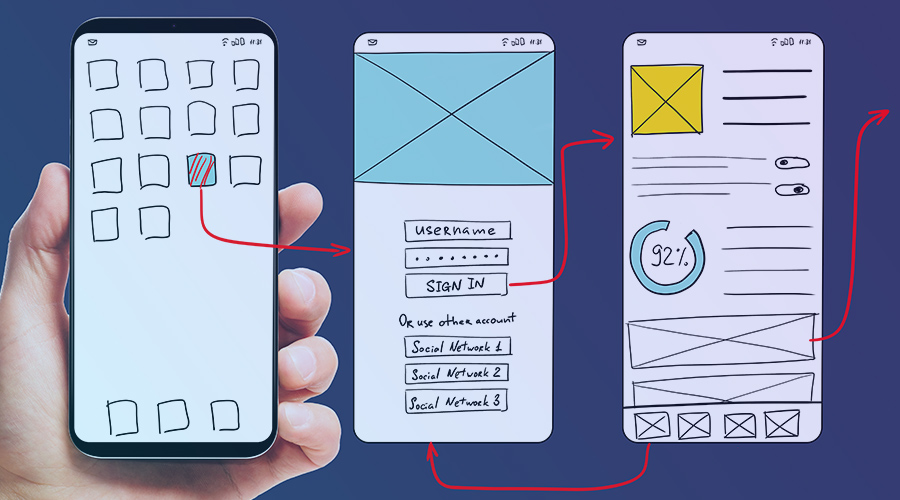 Until 2018, when mobile internet traffic surpassed desktop and laptop, mobile websites were an afterthought to the web design process.
The rise of mobile users turned this around and, in recent years, mobile first web design took priority.
Today, 61% of mobile searchers are more likely to contact a local business if they have a mobile-friendly website.
In this article, we'll break down what exactly mobile-first design is by comparing it to its counterpart, responsive web design.
We will also discuss five best practices for designing a mobile-first website and establish why mobile-first matters.
Finally, we will provide inspiration by looking at five particularly amazing examples of highly functional websites made for smartphones.
What Is Mobile-First Design?
Mobile-first web design is a website design strategy that starts out by sketching and prototyping a website for smartphone screens, then scaling up to larger desktop and laptop screens.
This approach stems from the fact that most users today are looking at websites from their mobile devices, which highlights the importance of delivering an enjoyable user experience for those browsing the web on their smartphones.
Mobile-first web design prioritizes the most important aspects of the website and its content, then adapts the layout to larger screens, creating a more unified user experience across all channels and devices.

Mobile-First Approach vs Responsive Web Design: What Is The Difference?
The terms "mobile-first" and "responsive design" are still sometimes used interchangeably, although these concepts are not at all the same.
In fact, to some extent, they are the exact opposite.
Responsive web design (RWD) creates websites that automatically adjust to the screens of any device.
Responsive design is great for websites that are content-heavy and is a very good SEO factor as well.
The key thing about RWD is that is takes the opposite course of mobile-first: it prioritizes bigger, desktop screens, then scales down to mobile phone and tablet screens.
This is because at the time when RWD was dominant, the majority of internet traffic came from desktop devices, which is why UX designers placed desktop needs at the forefront when creating this type of design.
Mobile-first web design is, as stated above, a design strategy of upgrading from a smartphone version of a website first to larger versions.
This professional web design approach is similar to designing a mobile app and adjusting its layout to fit a desktop screen, while retaining the great user experience traits many apps contain, such as streamlined content and fast download speeds.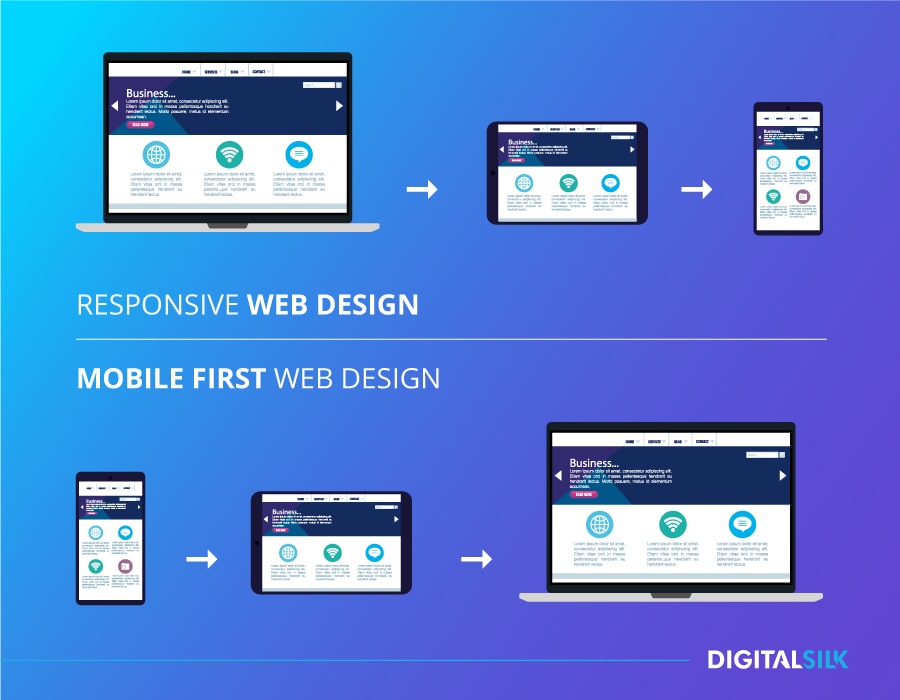 5 Mobile-First Design Principles To Follow
Defining what the user needs to see and understand as soon as they land on your website is the first step of considering content for a mobile-first design.
Let's take a look at five essential principles of mobile-first web design.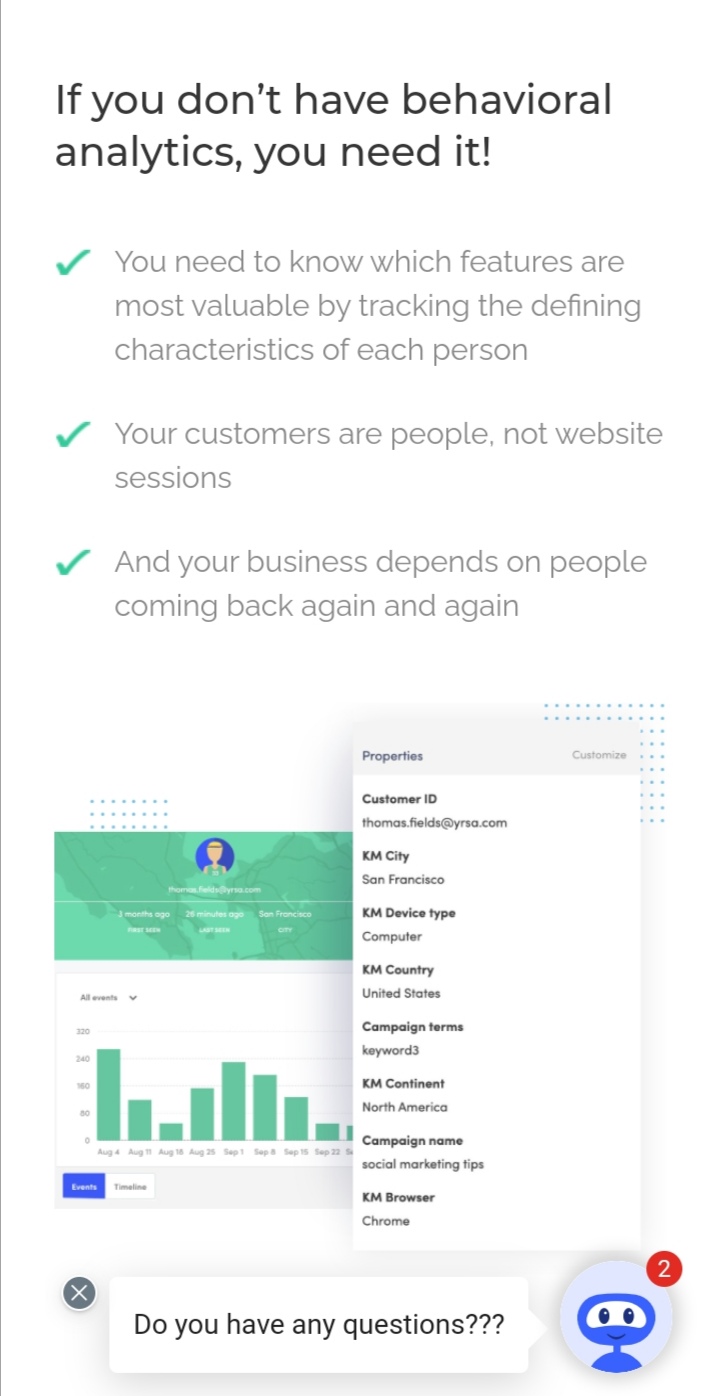 Principle #1: Keep The Design Simple
When designing a mobile-first website, reducing the use of extra functionality and elements in order to focus on essentials will make the user experience much more enjoyable.
Mobile-first web design is all about simplicity because smartphone device holders use their fingers to navigate, which are not as precise as a mouse or touchpad on a laptop or desktop device.
In other words, it's very important to keep everything easily reachable for fully-optimized UX on smaller screens. This is why you should ask yourself what website elements are really necessary and which features and functionalities could be omitted from the mobile-first website to ensure optimal ease of use.
For example, you may decide to:
Reduce the number of links in the main navigation menu
Ask fewer questions and have fewer fields in Contact Us, Subscribe, Purchase and other eForms
Keep the number of pages on the website to a minimum
Increase white space for better visibility and to reduce the appearance of clutter
Use wide borders and clean lines
Use a simple font and make it large enough for legibility
Design your mobile website with a maximum of two columns that separate the content on a single page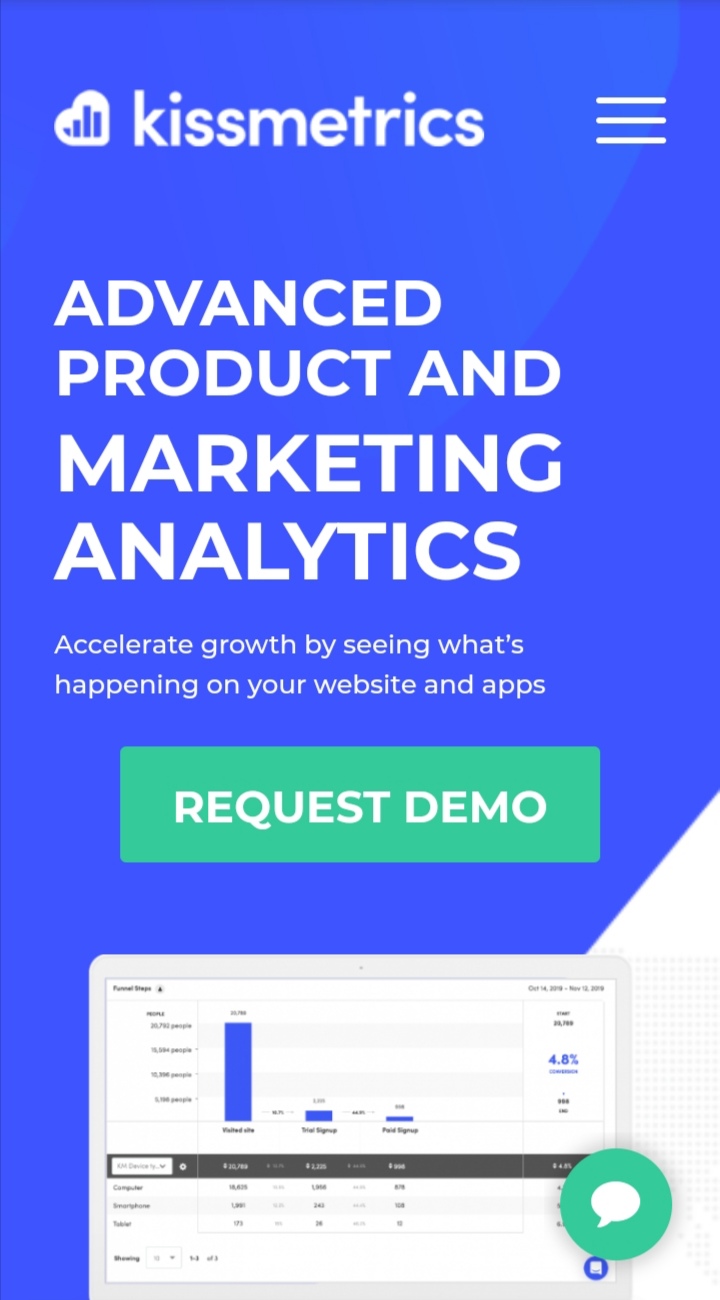 Principle #2: Use Bold And Functional CTA Buttons
Poorly designed call-to-action buttons on mobile sites could cause you to miss out on leads and sales due to usability issues or lead-gen forms that are impossible to fill out.
Your CTAs should grab your visitor's attention and turn your prospects into customers. Every piece of content on your website should work toward this conversion point.
Best practices for creating mobile-friendly CTA buttons include:
Have more than one throughout the page, which should lead to one specific conversion point
Use enticing but concise copy on CTA buttons that motivate users to click
Make big enough CTAs with vivid colors so that they stand out on smaller screens
Place the first CTA above the fold so users don't have to scroll to see it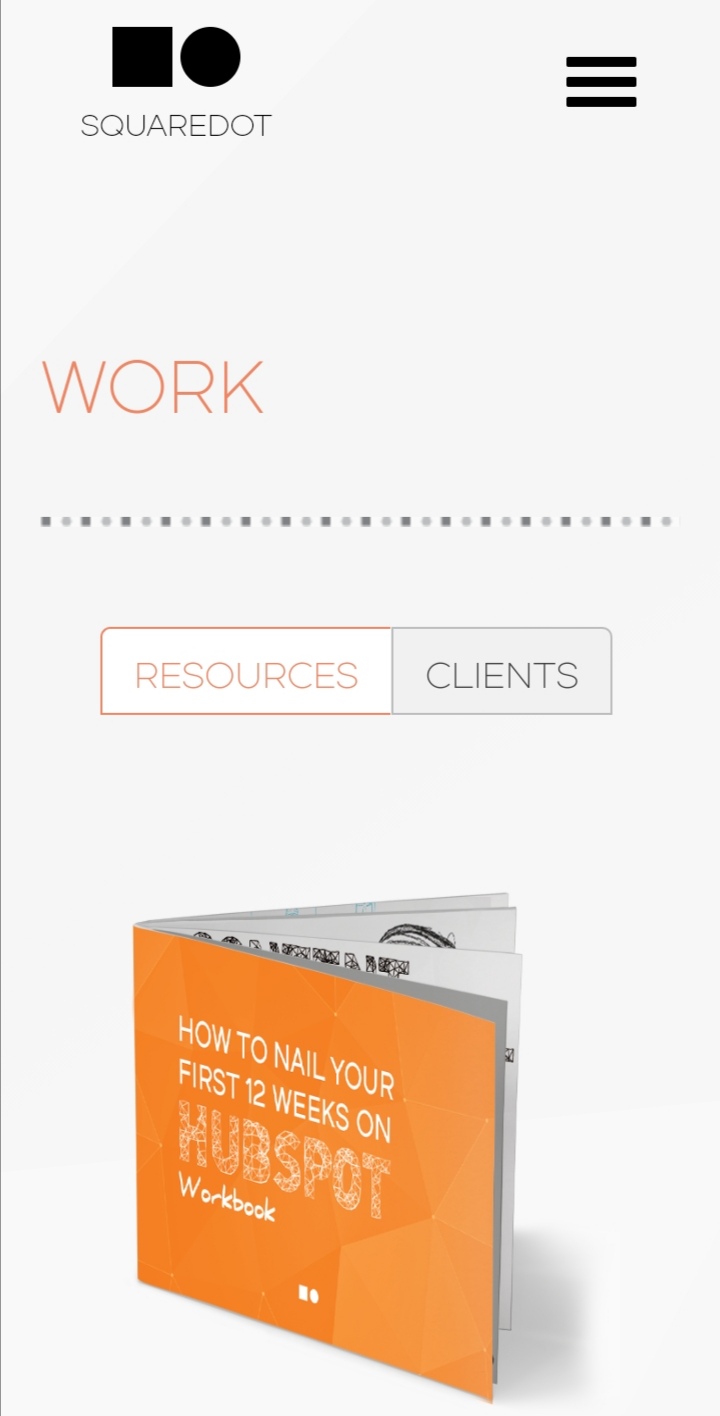 Principle #3: Use Mobile-Friendly Graphic Design
Companies that put emphasis on graphic design outperform businesses that are not focused on design by 200%.
Websites that are well-designed are also deemed more trustworthy and easier to use by their visitors.
Graphic design is an important consideration for a mobile-first approach, because mobile users are more likely to leave a website if they find distractions or poor design.
Graphic design best practices for mobile-first websites include:
Light and dark contrasting color schemes
Vivid and high-quality photographs (optimized for mobile speeds)
Bold shapes and clean lines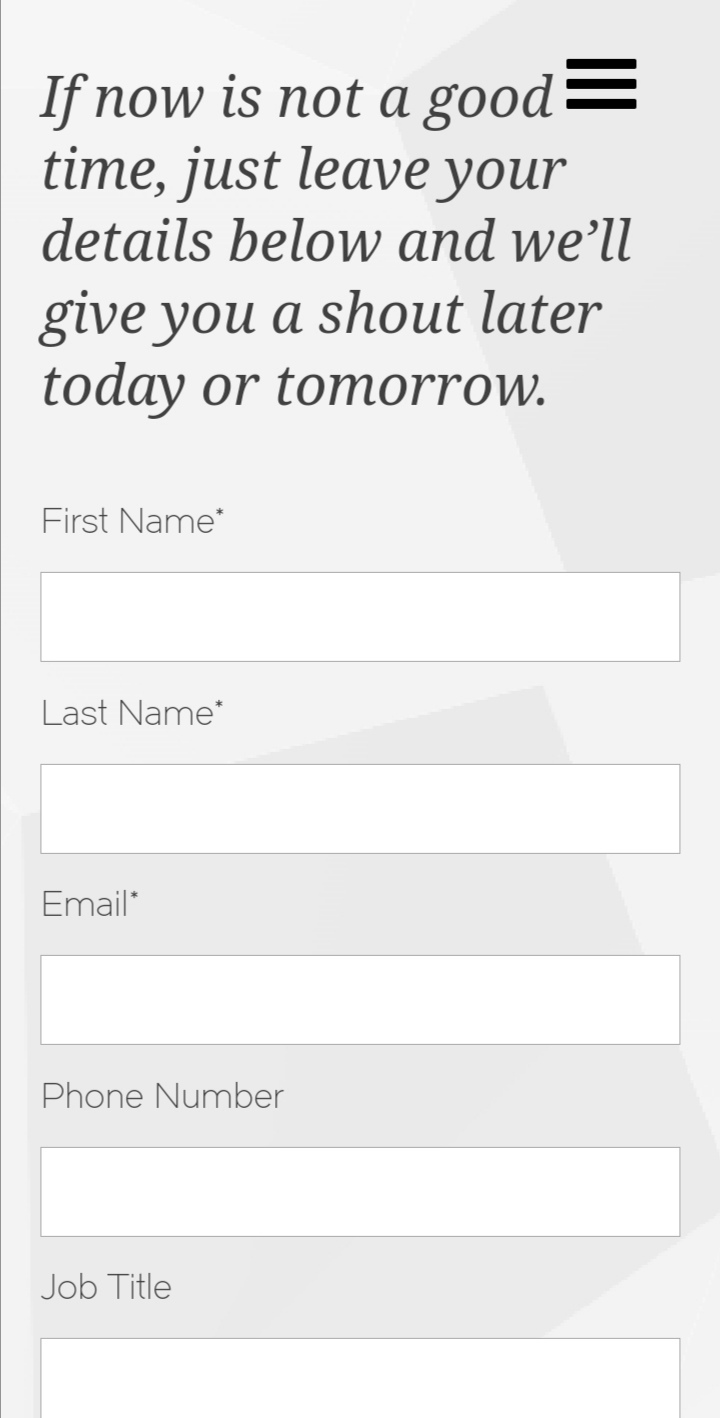 Principle #4: Make Contact Information A Priority
Mobile users are looking for quick information and are not prone to browsing the website for longer periods of time, like desktop and laptop users are.
Prioritizing business contact information by displaying it visibly on a mobile site increases the likelihood of boosting your conversion rates because your customers can easily contact you.
To take this to another level, including a live chat on your mobile website is a good idea because it provides another immediate point of contact to your visitors.
Be sure to display all contact information — such as your company phone number, email, locations and hours — prominently on your website. Don't make your visitors scroll or scan your whole website searching for it.

Principle #5: Speed Up Your Mobile-First Website
Users are more likely to get distracted and bounce when using mobile devices. In fact, 40% of users will leave if a website takes longer than three seconds to load.
A mobile website's performance is key to keeping visitors engaged and loading speeds should be quick — to help retain visitors and also because they are a Google ranking factor.
To improve a mobile website's loading speeds, you should:
Enable browser caching
Optimize images by cropping them to the right size and saving them for web
Enable image compression to reduce the size of images
Minify HTTP, which means:

Streamlining the number of elements on a page
Combining multiple CSS files into one
Putting scripts at the bottom of the page

Minify CSS and JavaScript by removing unwanted code, files and scripts and taking out extra spaces and line breaks
Minimize redirects
Use gZip compression to reduce file sizes
Use mobile CDN to improve latency
Load the content above the fold first
Update the PHP version
Disable unused addons and plugins
Use premium hosting services, if possible
Why Is Mobile-First Development Important?
Mobile-first web design makes sure your website is responsive to customers on any platform.
Starting small and condensing your website's content and information for mobile screens makes it easier to add more features as you scale up to bigger screens.
Designing for mobile devices first means to understand that the needs of those searching on mobile are different from the needs of those using laptop or desktop computers. Remember, it is likely that mobile users are seeking quick information, while desktop users want more detailed content.
Mobile-first web design is also important because it:
Focuses on core content: Mobile-first websites display content in a clear, easy to understand and concise way. This positively affects the larger versions of a website that get a more polished look. Mobile-first design focuses on providing users with exactly what they are looking for, distraction-free.
Provides easier navigation: The stripped-down main navigation of mobile-first websites points the user to several key pages. The hamburger menu, which is usually hidden to the left or the right, creates more space for easy navigation.
Boosts reach and visibility: By optimizing their websites for mobile devices and making smartphones their priority, site owners boost their website relevance and overall reach because Google search results favors sites that show well on mobile.
Is cost-effective: A mobile first website is a modern-day requirement because it boosts opportunities of engaging with qualified prospects and selling a product or service on the go. This contributes to a higher generated revenue, making this approach highly cost-effective in the long run, even when initial high budget resources are required.
5 Mobile-First Web Design Examples
Let's take a look at five mobile-first websites with great design that goes above and beyond in setting the standards of mobile usability and excellent UX.
Example #1: Adobe
Adobe's mobile website provides a wide array of software solutions to users immediately, so they can discover the right product in a matter of seconds after landing on the Home page.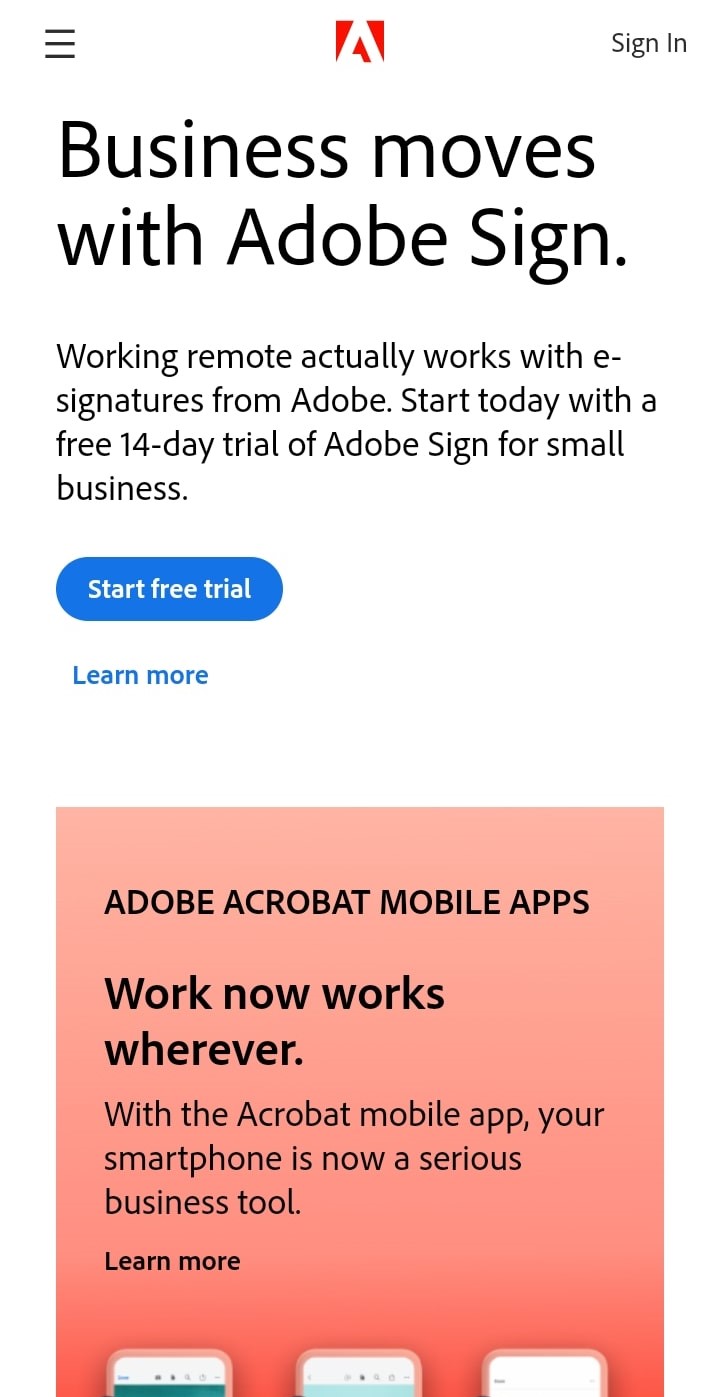 "Start free trial" CTAs are scattered across the single-column webpage, while the five-item hamburger menu lays hidden at the top left and appears only when the user scrolls back up.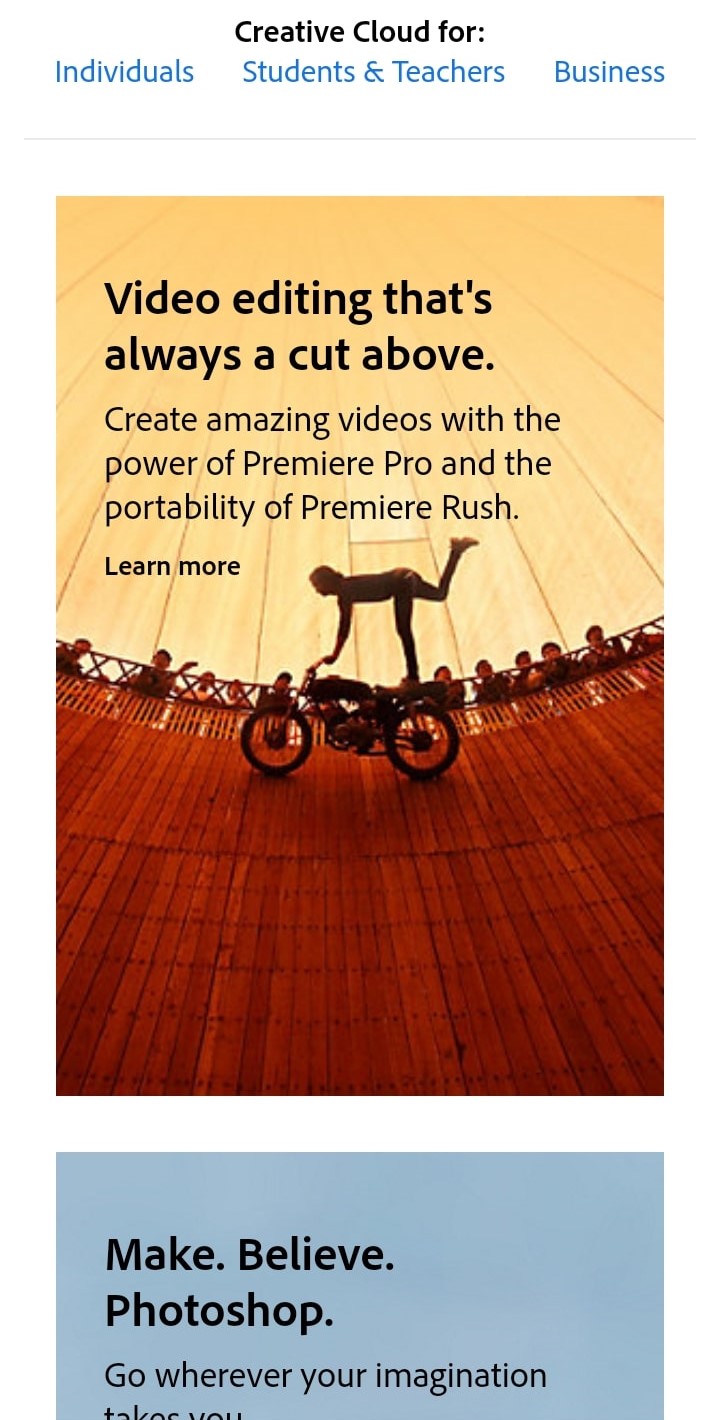 This navigation menu lists several key pages that users can explore to learn more about specific features of Adobe's products.
Striking yet simple typography, vivid colors and white space divide content into thematic boxes that make the website easy to navigate and understand.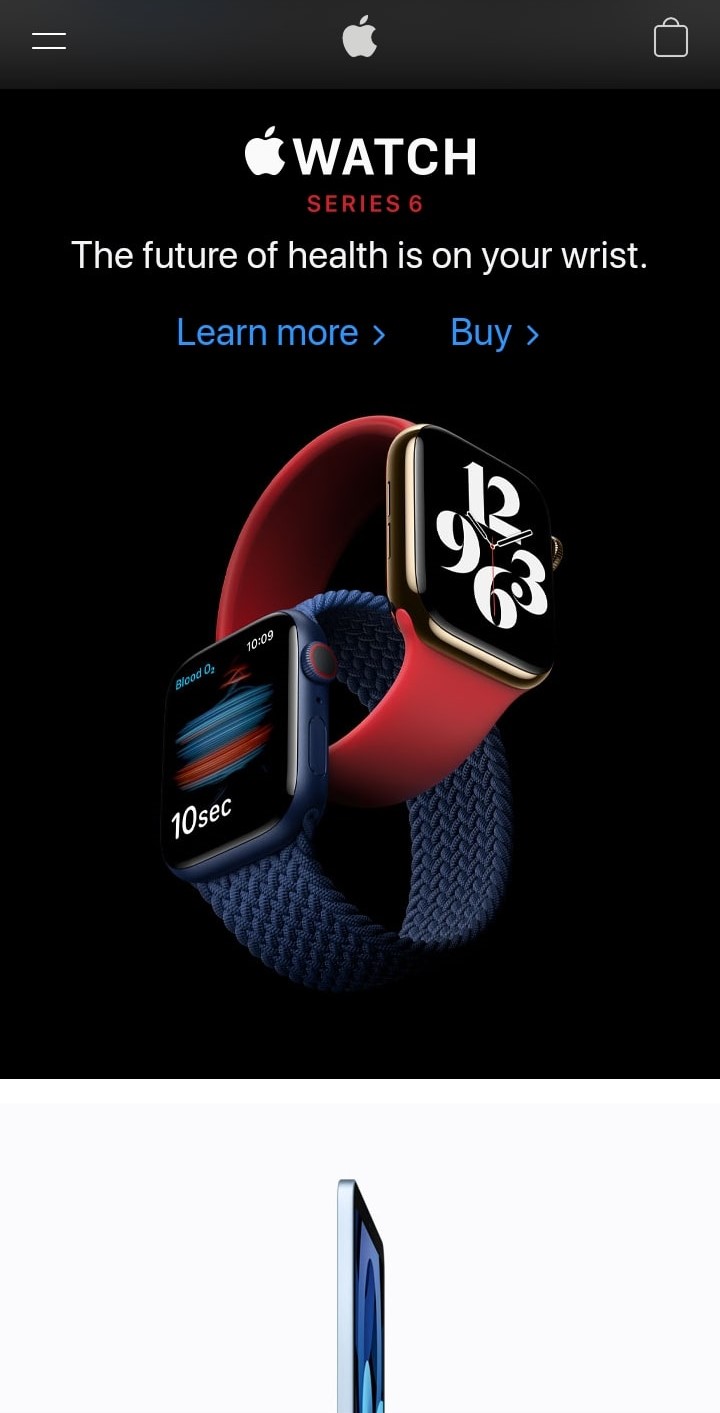 Example #2: Apple
Tech giant Apple's sleek mobile website allows visitors to learn more about their specific products. It does so in a way that is aligned with Apple's brand identity, both visually and in terms of messaging.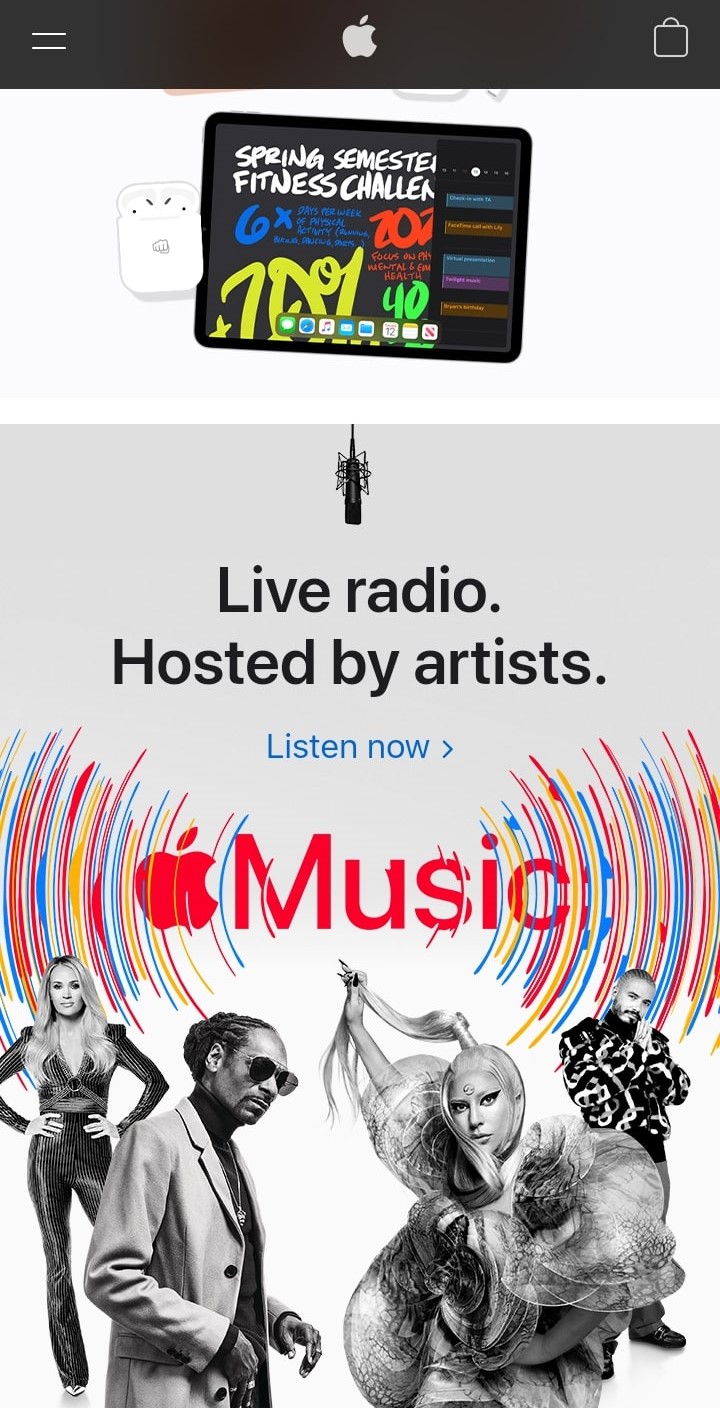 The simple one-column layout follows the best practices of contrasting colors, white space, legible fonts and high-quality imagery, without sacrificing the page load speeds.
The copy is kept to a bare minimum and allows imagery and prominent CTAs do the proposition value talking.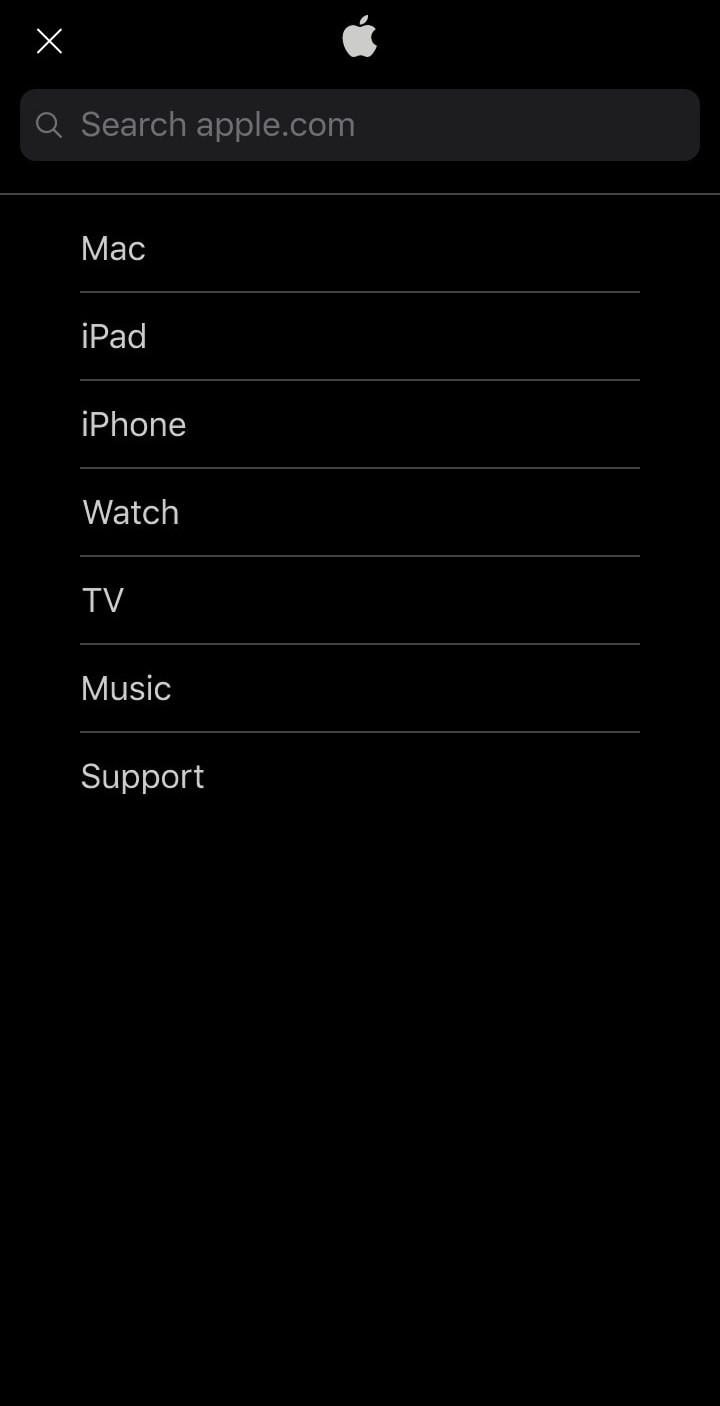 Each product or service is given the exact same space in a box dedicated to its content. The man nav menu is hidden at the top-left and, when opened, presents several key landing pages against a classy black background.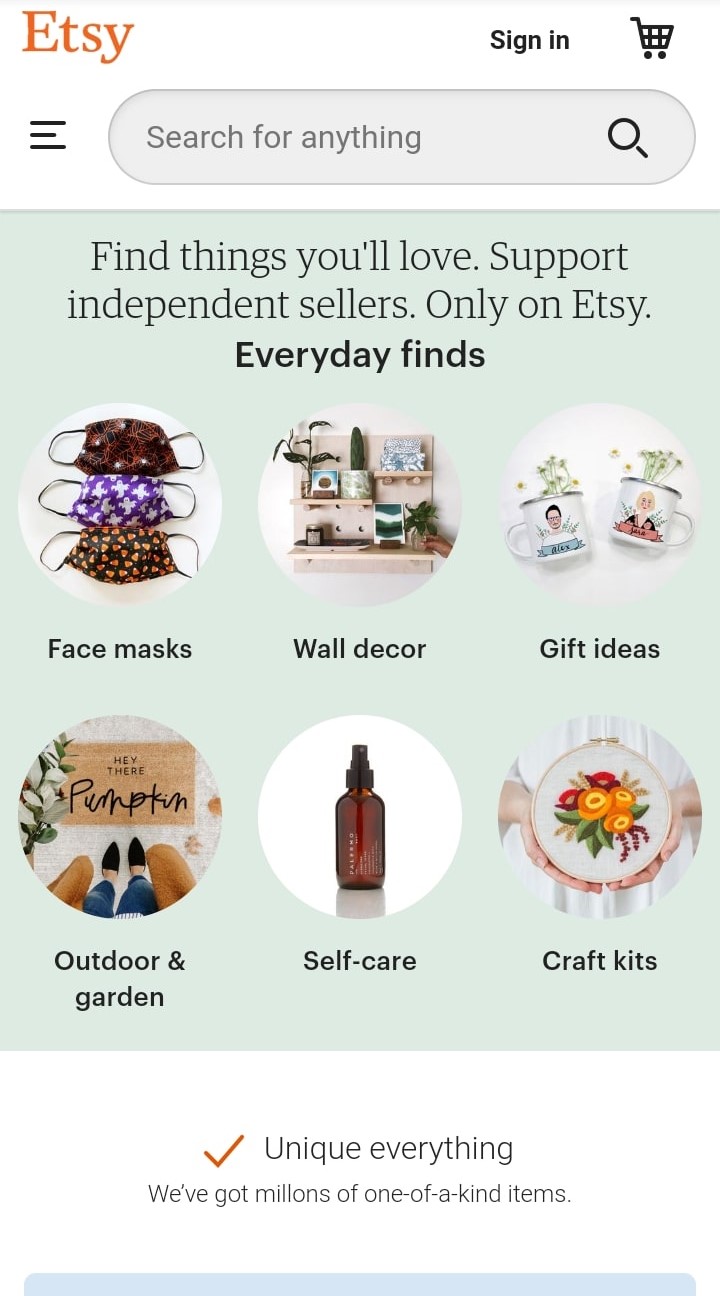 Example #3: Etsy
As an eCommerce website, Etsy caters to buyers of vintage and handmade goods and aligns with their behavior, which is to either search for a specific item or browse items in a specific category.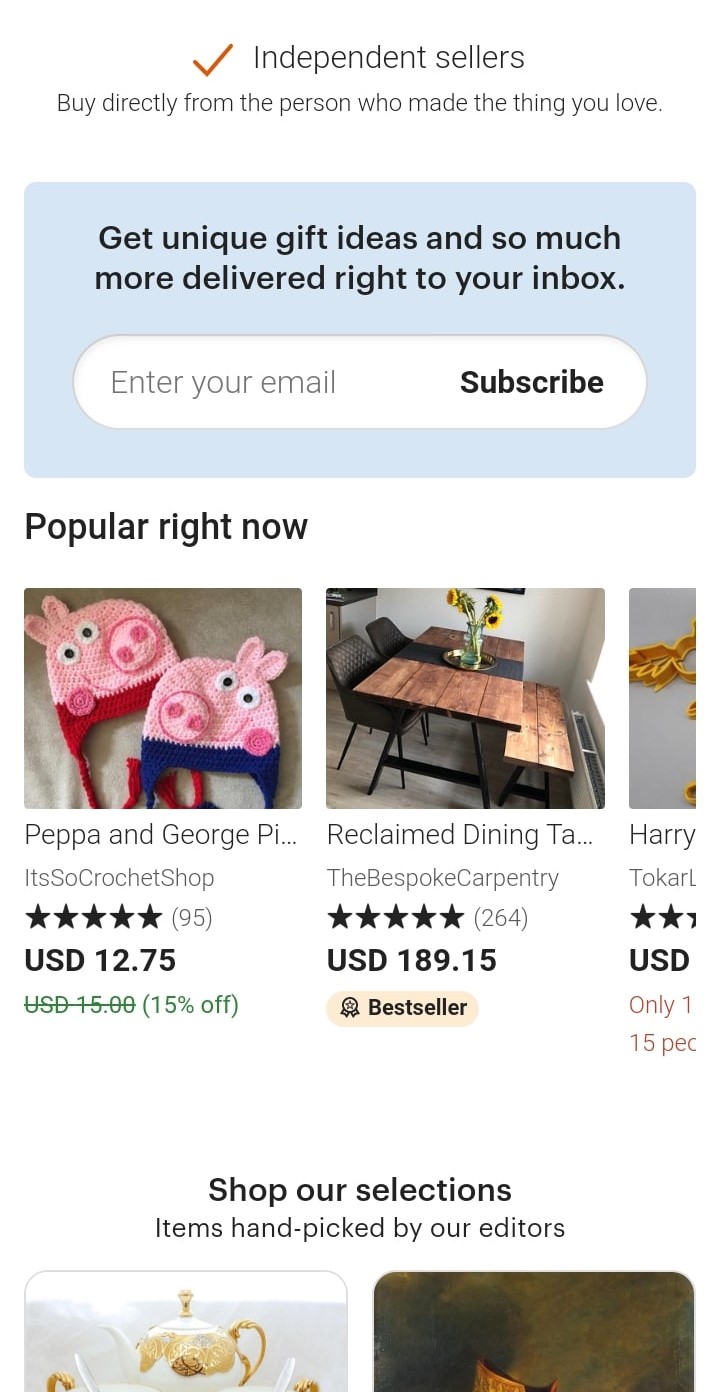 Right above the fold is the hamburger menu with categories users can browse and the search bar with very self-explanatory instructional copy "Search for anything."
Without needing to scroll down, users are also given a choice of several of the most popular and trending item categories. The large images are easy enough to tap and they click through to their respective landing pages.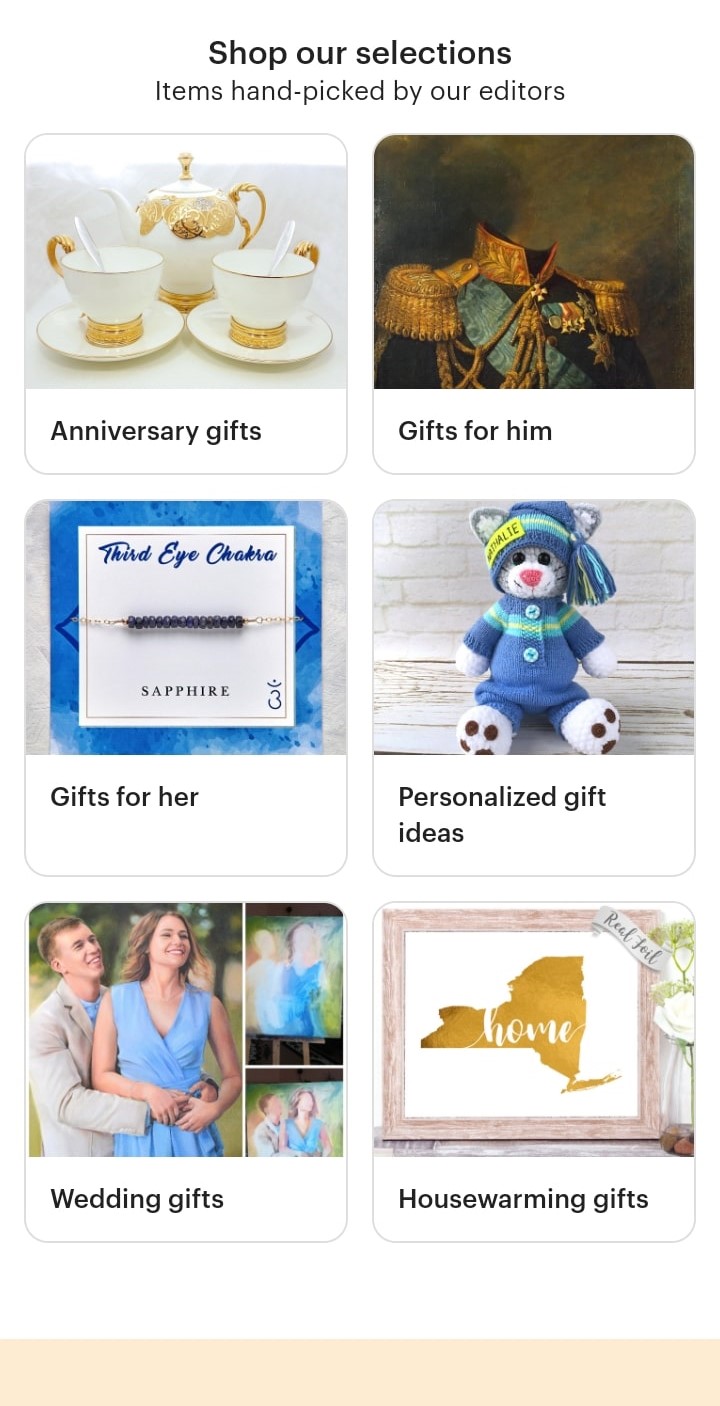 Plenty of white space and excellent visibility make for an easy navigating experience, which is especially important for eCommerce businesses.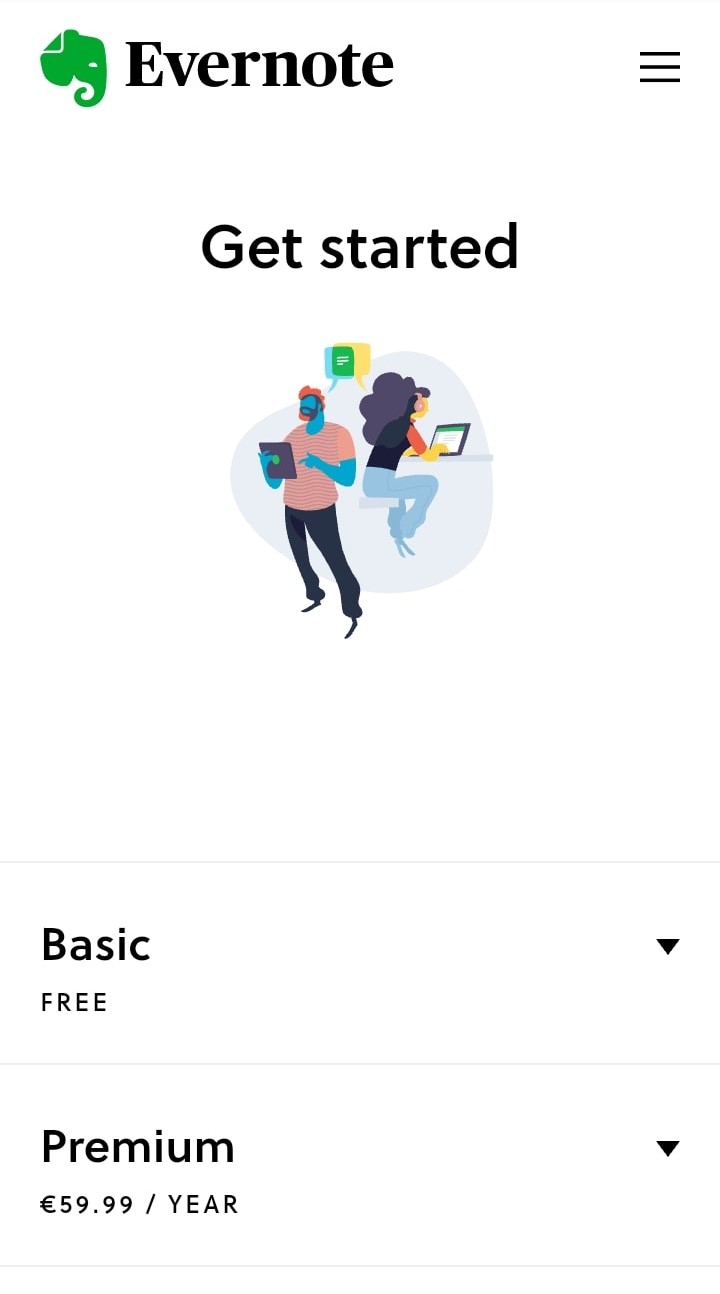 Example #4: Evernote
Evernote's mobile-first website is an exercise in minimalism and clean mobile user interface.
A minimal amount of text, vibrant custom illustrations and very extensive navigation are some of Evernote's main website elements. But none of these are as prominent as the sea of white space that keeps it all remarkably clear and easy to navigate.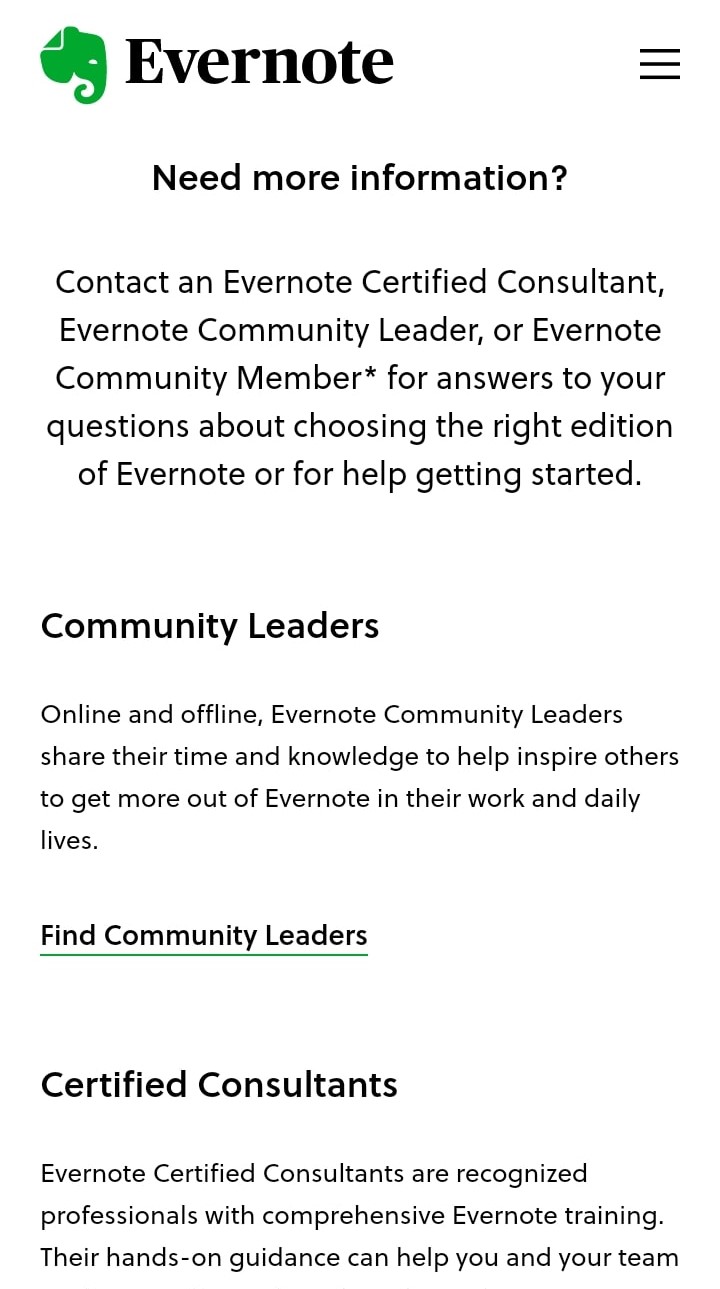 Even the parts of the website that use more text are easy to get around because of consistent use of readable typography.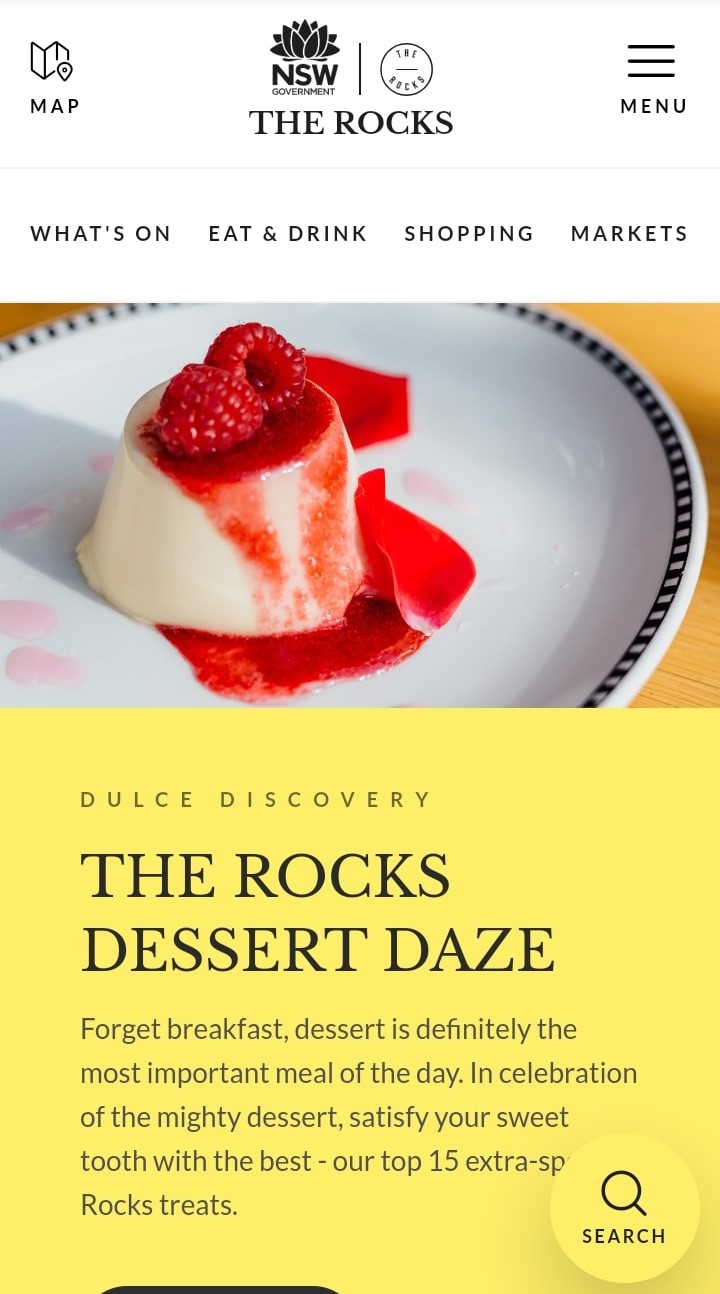 Example #5: The Rocks
A content-rich eat and drink portal, The Rocks, is highly informative and translates quality imagery and blog articles to a mobile-first environment.
Apart from striking colors, legible text and high-quality images, the website uses large CTAs for convenience of use. The smart use of a search button is well incorporated into the layout by following the user in the bottom-right corner.
The brand logo links to the homepage and the navigation menu lists only a few items, keeping the site easy to browse through and understand.
Mobile-First Web Design Takeaways
85% of internet users believe that a company's mobile website should be as good or better than the desktop version. Mobile-first web design delivers an optimal mobile user experience to this audience with:
Concise copy
Bold CTAs
Faster loading speeds
Optimized images and other media
Legible fonts
App-like UI
Ready To Design A Market-Leading Website?
Request A Quote
Tell us about your project and let our experts give you recommendations.
Author Bio
Mathew Reeves is an Experienced in Online Marketing, Mathew writes for business and for pleasure, mostly focused on digital trends and web design. A huge people person, passionate about travel and books. Allergic to poor internet connection.