Did you know that the US web design services industry is currently worth a whopping $40.8 billion?
In today's competitive digital landscape, a unique and visible digital presence is key to rising above the competition and making a name for your brand.
A professional web design company can create an engaging, optimized and feature-rich site for your business that attracts your target audience, provides a seamless user journey and increases conversions.
At Digital Silk, our web design experts use modern web design best practices to create a custom digital experience for your website visitors.
Here, we'll take a plunge into our unique services and process, and share why you should invest in a professional web design company.
What Do Digital Silk's Professional Web Design Services Include?
At Digital Silk, our web designers also serve as professional consultants for strategic website design.
From designing to developing and launching your new online presence, our web design experts get to know your brand, target audience and competitors, and everything in between, while they guide you through a systematic and collaborative web design process.
Check out FieldEdge's new website – a project completed by our talented Digital Silk team:
The Core Elements Of Our Professional Web Design Services
Custom websites: Our experts create custom websites based on your industry, target audience and unique offering. Your site will feature a strategically defined conversion funnel, excellent user experience and an on-brand look and feel to set you apart from your competition.
Digital strategy: We start every project with a strategy that allows us to understand your business, main value proposition and audience, analyze your industrial and competitive landscapes, set SMART goals and plan your website's conversion funnel and user journey.
Responsive or mobile-first design: Our web designers understand the value of delivering a seamless and engaging user experience across all devices and channels. Your site will automatically adjust to every screen size, from desktop to mobile and every device in between.
SEO: During our planning phase, we identify the main keywords to target based on your brand, offering and audience, to ensure your website is completely optimized. We'll also plan 301 redirects during this stage, to prevent the loss of any SEO value.
Security: Before the launch, our team runs comprehensive quality assurance and security checks to ensure that your website functions smoothly and is impervious to malicious attacks. In other words, we've got your back.
Our Professional Web Design Services
Our experts create websites that are strategically designed to improve on-site engagement, increase conversions and drive repeat traffic.
Our professional web design services include, but are not limited to, the following categories of services:
Website Type: 
Informational websites: With this type of website, we communicate the 'who,' 'what,' 'why' and 'how' of your brand to your target your unique audience.
eCommerce websites: Does your website need to include an online shop? We plan, design and develop unique eCommerce sites that allow you to buy and sell tangible goods, services and digital products online.
Landing pages: Different from your homepage, we create optimized landing pages to serve a focused purpose on your site.
Web applications: Besides Android, iOS and hybrid mobile apps, we also plan, design and develop website applications to help our clients grow brand engagement and loyalty.
Design: 
Responsive: All of the websites we create are responsive to ensure you don't miss out on traffic, regardless of the device.
Mobile-first: Did you know that there are 4.32 billion mobile internet users worldwide? For businesses whose audiences prefer mobile experiences, we take the mobile-first design approach so you can stay competitive in today's digital landscape.
Wireframing: Our designers create simple black-and-white mockups so you can see and approve your website's design, conversion funnel and more before the final product is complete.
UI design: We craft stunning UI designs and add all of your unique branding elements, including colors, logos and other custom features, to your new site.
Note that, while integral to our end-to-end web design process, some of these services, such as website strategy, UX and/or UI design can also be delivered separately.
Platforms:
Our design team works with all major platforms including WordPress, Sitecore, Magento, Shopify, WooCommerce and Headless CMS platforms.
We also work with a variety of website integrations. We'll recommend a platform for you that will best fit your unique needs and goals.
Digital Silk's Professional Web Design Examples 
We'll show you a few of our recent custom web designs. Each website is responsive or mobile-first, optimized for search engines and strategically designed by our own creative professionals.
1. Tecnam
Website: https://www.tecnam.com
Category: Aeronautics
Client: Tecnam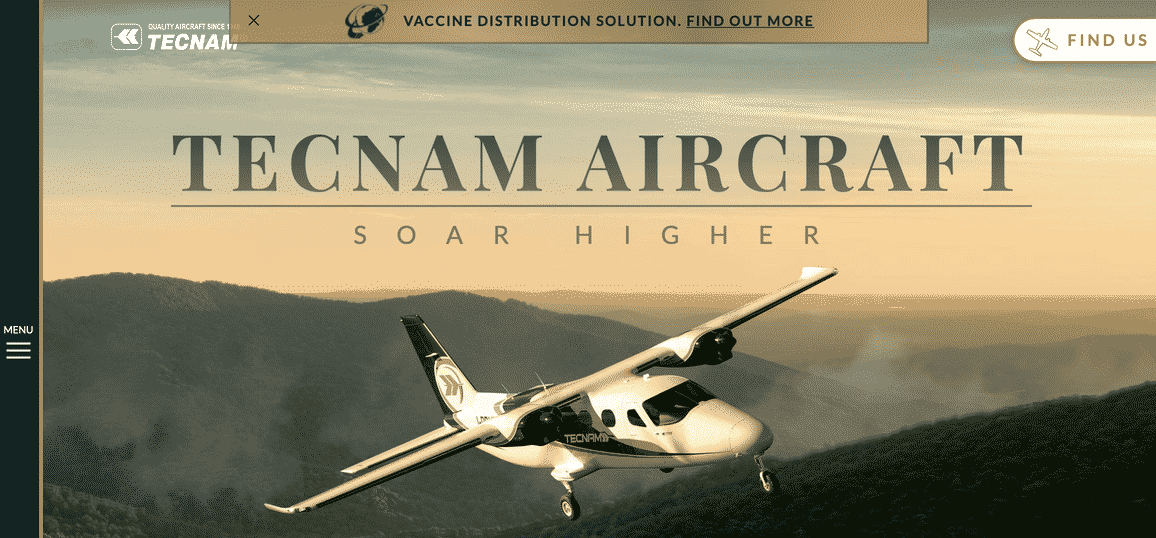 After our redesign, this Italian airplane manufacturer now has a manufacturing website design that truly conveys their brand.
We implemented high-quality videos, images and unique branding elements throughout each page to showcase the company's attention to detail and bring their products to life.
2. Knopp Biosciences
Website: https://www.knoppbio.com 
Category: Medicine
Client: Knopp Biosciences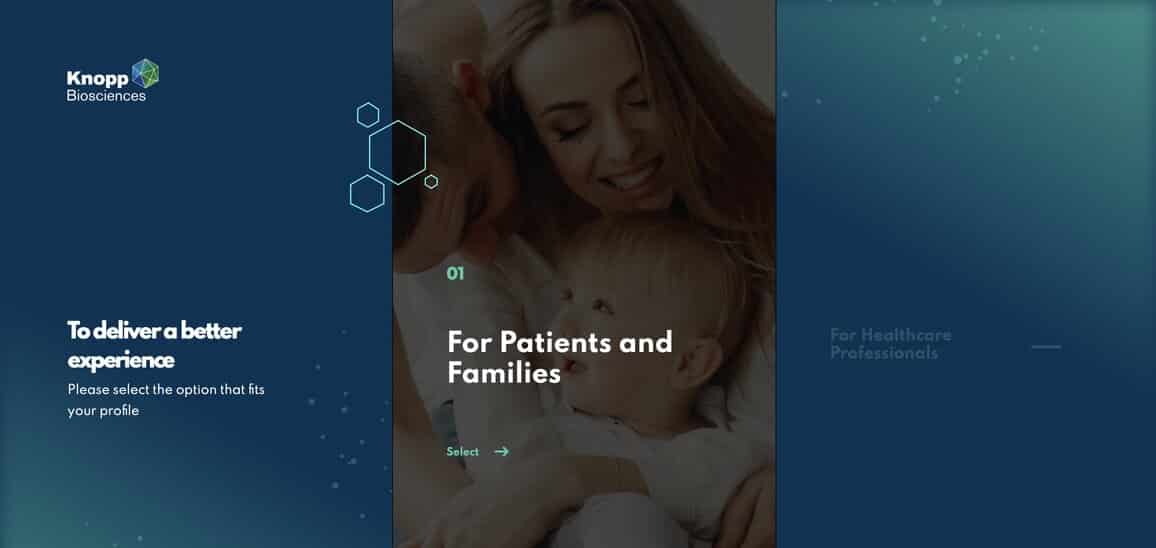 On the brand's homepage, Knopp Biosciences delivers a personalized user journey by allowing the visitor to choose their path: "For patients and families" or "For healthcare professionals."
The clean and sophisticated branding is consistently represented throughout the website, with clear brand colors and subtle yet engaging elements. Our designers used hover animations to show meaningful images and motion graphics with the move of a cursor, to avoid any unnecessary clutter of visual elements.
3. Miami Country Day School
Website: https://www.miamicountryday.org
Category: Education
Client: Miami Country Day School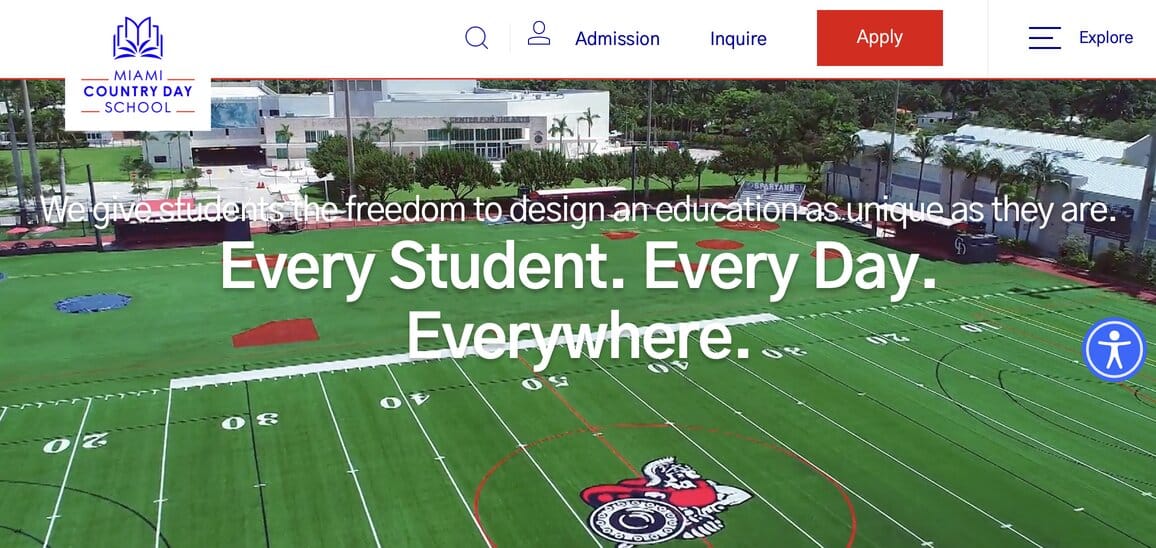 Our designers took Miami Country Day School's website to the next level by implementing a video as the homepage backdrop. From the moment a visitor lands on the site, the video immerses them into the school's campus, from the facilities to community programs and more.
Get an estimate for a website like Miami Country Day School's
Request A Quote
4. FieldEdge
Website: https://fieldedge.com 
Category: Software
Client: FieldEdge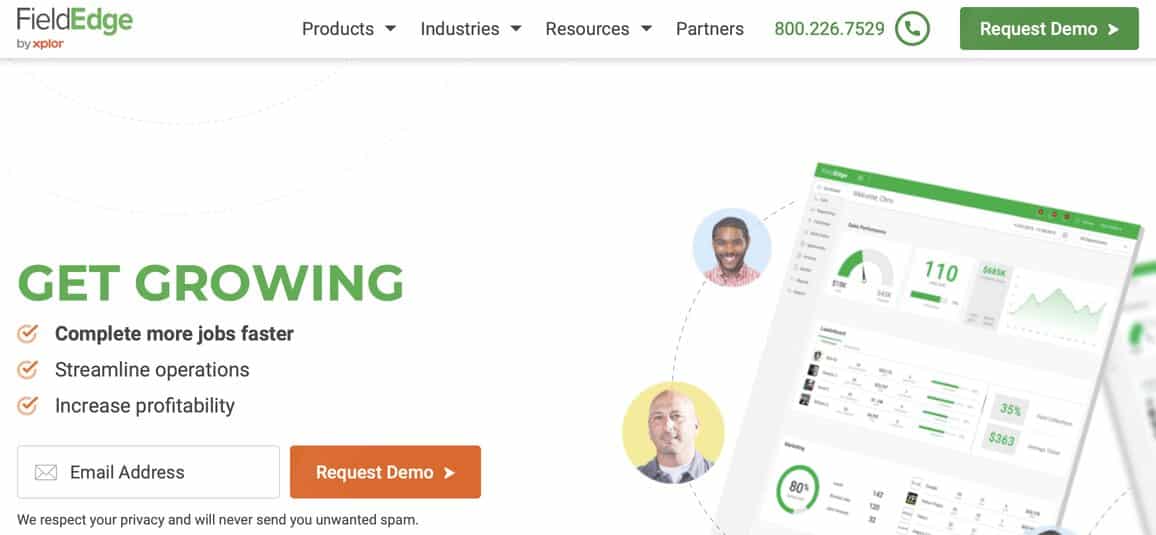 Our redesign remained true to FieldEdge's brand by thoughtfully using their brand colors while adding an engaging touch with motion graphics. The result is a simple yet dynamic user journey throughout the site, with clean, clutter-free messaging and direct CTAs.
What Is Digital Silk's Professional Web Design Process? 
Our skillful web design team follows a thorough and step-by-step process to gain a deeper understanding of your brand and deliver you an industry-leading website.
From identifying your industry landscape, competitors and target audience, our experts give life to your website with a custom design and establish a comprehensive strategy for your brand.
Here's a glimpse into our process:
Step #1: Digital Strategy
The strategy phase educates us about your business including your UVP, target audience and competitive landscape.
We supplement this education with research that allows us to uncover relevant user behavior, competitor and industry insights to formulate data-driven recommendations.
As a result, the strategy allows us to set realistic goals and KPIs, and plan the website from the ground-up.
Step #2: Conversion funnel and user journey planning
With a comprehensive overview of your audience, competitive and industrial landscape, we proceed to plan your website's sitemap and informational architecture.
This allows us to define the messaging for users at each stage of the conversion funnel, as well as to define pathways through the website to the key conversion points. These conversion points depend on your industry and offering.
For example, a key conversion point for a bank website design might be a user signing up for an account. For a hotel website, it might be booking a stay.
Step #3: Wireframing
Our next step is to create a simplified black-and-white representation of your website that helps you visualize what it will look like on both mobile and desktop.
After you approve your wireframes, our designers will bring your site to life with custom UI design.
Step #4: Design
The next step is UI design. This is where we add color, typography, logos and other branding elements to each page.
This process is informed by the approved wireframes, your brand guidelines and website inspiration you provide us with.
Step #5: Development
Once we get your green light on design, it's time for our engineers to do their magic.
Our experienced backend and frontend developers will build your website following industry best practices and detailed specification documents.
From your CMS to the on-site features and functionalities, they ensure everything runs smoothly today and tomorrow; in other words, your website will be able to scale to meet your needs.
Step #6: Quality Assurance
Our QA team uses robust, proprietary pre- and post- checklists to ensure your website looks and works impeccably. This includes responsiveness, loading speed scores, forms and features, SEO details such as header, title and meta tags, and much more.
Step #7: Website Launch
Once your website is thoroughly tested and approved, it's ready to launch!
We'll get it loaded onto your server and push it live.
Step #8: Maintenance
Once your website is live, we can also help you maintain it.
We offer several maintenance options that will help you keep your website secure and backed up around the clock, as well as give you access to our developers and designers so you can adapt your pages and features to your marketing needs.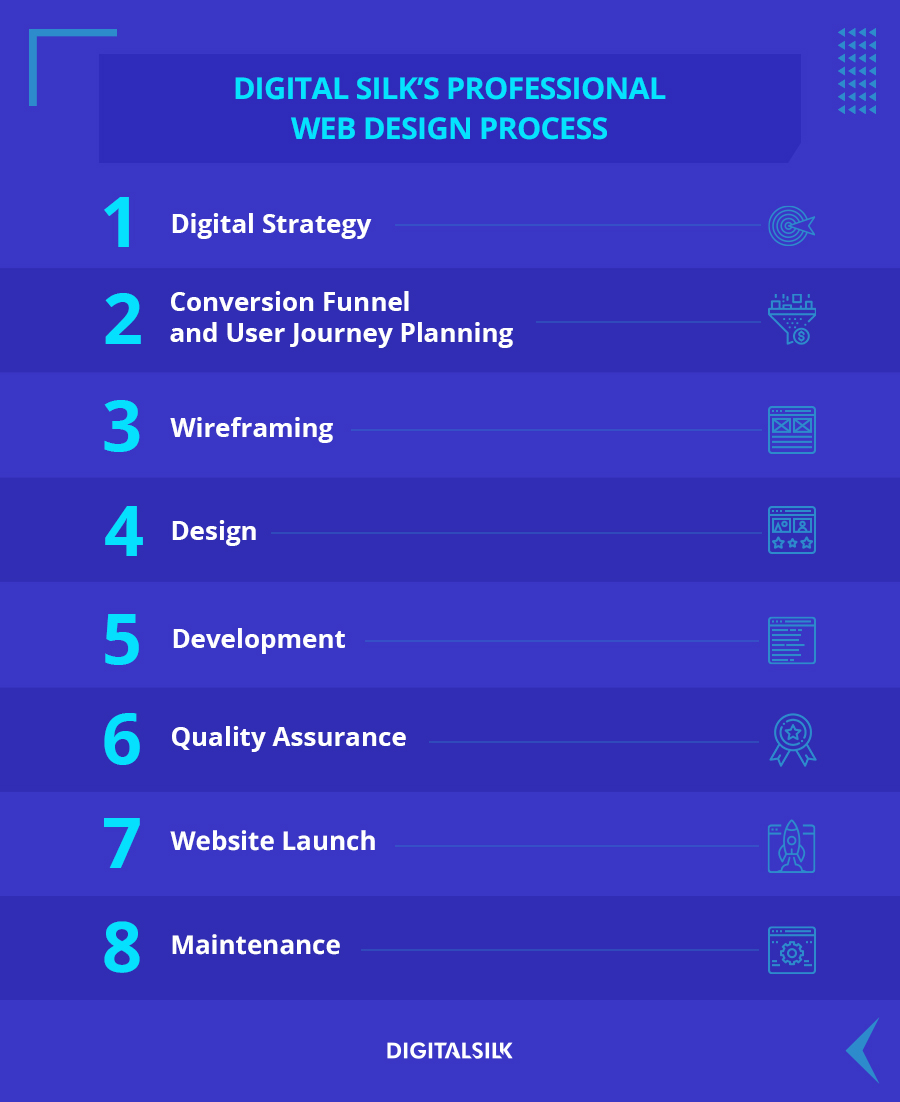 Why Should I Choose Digital Silk As My Professional Web Design Company? 
There are plenty of professional web design companies out there, so you might be wondering, why choose Digital Silk?
After you reach out to us and arrange the initial meeting, you'll get a chance to ask everything you want to know about our expertise, processes and more.
Here's why our experts stand out from the rest:
We provide expert guidance: Our web designers aren't just artists, they're also expert consultants. By trusting us with your website, you'll receive professional guidance and data-driven insights throughout the entire process, from start to finish.
We take ownership of your project: Though our process is highly collaborative, we proactively bring ideas to the table and treat your project as our own.
We move with urgency: Our web design experts are focused and nimble. We recognize that meeting deadlines is crucial to your website's success.
We are transparent: You'll never have to wonder about what's going on behind the scenes, because we provide complete transparency throughout our process.
We generate measurable results: From optimizing your website for any device and ranking high in search engines to ensuring a user-friendly experience and designing an engaging conversion funnel, we consider every single detail to generate measurable results for your website.
How Much Does Professional Web Design & Development Cost? 
The cost of your custom website will depend on several different factors, from the scale of your project, (how many pages, how complex, migration) to functionality and design elements such as animation, and so on.
We charge hourly rates that are highly competitive in the US market. Contact us to get an estimate for your project!
Digital Silk's Professional Web Design Case Studies 
Every website we deliver is an important part of our portfolio that establishes our skills and expertise as a top web design agency.
See how we focus on driving measurable results with these case studies:
1. FieldEdge
The challenge:
FieldEdge's former website didn't accurately present the company's advocacy: helping thousands of service-based organizations increase workforce productivity and sales performance.
They needed an engaging web design, an updated website structure, a clear conversion funnel and an improved user journey.
Our solution:
We designed a new website with creative animations, consistent branding elements and a conversion-based customer journey.
We provided them with a digital strategy, branding strategy, messaging and landing page planning, custom desktop and mobile design, website development and SEO.
Results we achieved in a short period of time:
19% increase in overall traffic
41% increase in PageSpeed score
50% less time needed to load the website
2. Miami Country Day School
The challenge:
Miami Country Day School wanted a visually-appealing website that would showcase the unique qualities of their academic programs and activities.
In just three months, our experts were tasked with reworking their website structure too give them fresh content while accommodating various audiences, from students and teachers to parents and potential employees.
The solution:
We created a new landing page, along with paid media-, retargeting- and email marketing campaigns.
We provided them with a digital strategy, a custom website design, website development on school-specific platform Blackbaud and SEO.
Results we achieved compared to 2020:
15% increase in organic traffic

32% decrease in bounce rate
3. doForms
The challenge:
For doForms to generate conversions, they needed an optimized and user-friendly website. Their previous website had an interface littered with unnecessary elements and web pages.
The solution:
Our team followed a step-by-step process to give doForms a fresh start by providing them with a brand strategy, website design & app development and multi-channel marketing.
Results we achieved in 2 months:
53 new backlinks
18.5% lower bounce rate on free trial page
21% lower bounce rate on contact page
1,500 organic keywords
Increased time on free trial page to 3:20
Wrapping Up How A Professional Web Design Company Creates Websites That Convert 
Instead of opting for a template design, invest in your digital presence by hiring a professional web design company to create an engaging and unique experience for your audience.
It may be the single best investment you make for your brand.
At Digital Silk:
We provide expert guidance
We take ownership of your project
We move with urgency
We are transparent
We generate measurable results
Ready To Design A Market-Leading Website?
Request A Quote
Tell us about your project and let our experts give you recommendations.