With the launch of Apple's first iPad, came a collective 'sigh' from developers heard around the world. Or, at least we picture it that way.
Coding two separate sites – one for desktop and one for mobile – was no longer sensible or sustainable.
Enter: Responsive web design.
While it's actually been around for quite some time, responsive website design is now a must-have for brands across all industries.
We'll break down exactly what responsive website design is and how it works, plus share examples from top brands, and explain exactly why investing in RWD is a must for your brand in 2022.
What Is Responsive Web Design?
Responsive web design is a modern approach to web design that ensures all website pages display correctly on different devices and different screen sizes.
The purpose of responsive web design is to translate the same on-site experience across all devices the user may be accessing your website from, including desktop, tablet and mobile.
Before responsive web design, most websites were static, which meant that mobile users would see the exact replica of the desktop website in miniature form.
Tiny text and call-to-action buttons (CTAs) made reading and interacting with the website on a mobile device extremely difficult, resulting in a poor user experience.
Unlike static, responsive websites redistribute the elements as the surface of your browser changes to maintain the optimum size of text, multimedia, CTAs and other elements.
Designing responsive websites can transform your brand and digital presence. Let's take a quick look at how responsive web design works.
How Does Responsive Web Design Work?
Responsive web design is based on three main principles:
1. Fluid Grids
Think of your screen as a container separated into different content areas that form a grid. Once the size of the screen changes, the content areas adjust accordingly in order to stay within the container.
The grid will end up with a different shape but the content will still be there. The ability of the content areas to move is characterized as "fluid."
2. Media Queries
Media queries are filters that help your website adapt to the proper width and height. These filters change the layout of the page in order to meet the requirements of the device rendering the content.
Whilst this might sound complicated, there are tools such as Bootstrap, H5P, and Elucidat that help with this process.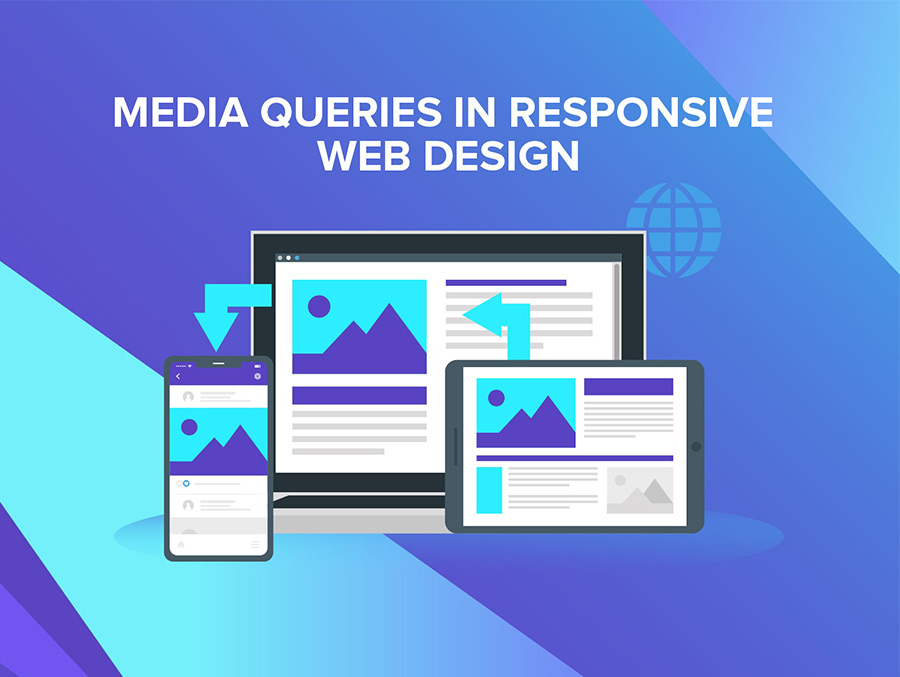 3. Fluid Images
Unlike the fluid grid example, images are not fluid by nature. They have fixed sizing proportions, which can cause inconsistent presentation problems across multiple screen sizes.
On mobile, the user would have to zoom into different parts of the page to read the copy and in other cases, images could take up the entire screen, causing the need to scroll.
By applying a CSS/ HTML command, images acquire the necessary fluidity and automatically adjust to the relevant screen.
Now, let's put the technicalities behind us and see why a responsive website is a a must-have in 2022 and beyond.
What Does Responsive Web Design Look Like?
When working with a web design company like Digital Silk, the process usually involves the provision of two UX designs: desktop and mobile.
Here's an example of what responsive web design looks like:
The designers start with the desktop version, then scale it down to mobile.
The grayscale versions you see on the left are of the UX design on our Digital Silk website. The purpose of this black-and-white version is to map out the conversion funnel and content both on desktop and on mobile.
Once the UX designs are confirmed by the client, the designers can proceed with user interface (UI) design which applies color, images, branding elements and other details onto the approved UX structure.
Responsive Web Design vs Mobile-First Design: What Is The Difference?
Responsive web design and mobile-first web design each have their pros and cons. Let's break down the key differences.
Mobile-first differs from responsive web design in:
Design process: With mobile-first design, web designers begin with a website that fits the mobile device first, before adapting it for desktop computers. By scaling from mobile to desktop layout, they ensure an excellent user experience characterized by fast download speeds, rich media content and easy navigation. Responsive web design, on the other hand, begins with the maximum required screen resolution. Designers narrow it down to smaller screens so the content and layout fit different devices.
Purpose: Although both B2B and B2C sectors use both mobile-first and responsive web design, responsive web design is more common among B2B businesses. Most B2B clients access their website via laptop or desktop computers which makes this type of design a priority. For B2C businesses, mobile-first is ideal because their customers are on the go and the majority use smartphones.
UX: Since the majority of internet traffic is now happening on smartphones, mobile-first looks to provide excellent and fast UX to smartphone users. Responsive web design provides a satisfying alternative to the desktop version of the website for all devices of any screen size, but doesn't fully optimize the user experience for this dominant segment – the mobile users.
SEO: Responsive design is applicable to both desktop and mobile devices and one single version of a website boosts Google page rankings. With mobile-first design, a website is only optimized for mobile devices, and you effectively get two websites, one for mobile and one for desktop, which can be a disadvantage from the standpoint of SEO.
Responsive Web Design Examples From Renowned Brands
To put UX/UI design into perspective, let's take a look at some of the best examples of websites built on a responsive design principle.
These examples will show you the difference between desktop and mobile versions of websites and demonstrate the importance of having fluid grids and flexible images that adapt to different screen sizes.
With a lot of white space in both the desktop and mobile version of its website, QuickBooks offers a clean page layout, a clear value proposition in the hero section and distinctive color for CTA buttons that allows them to stand out.
The desktop version features a complete navigation bar in the website header, as well as additional information about the special offers in the hero section.
On the other hand, the above-the-fold area on the mobile version shows just the key information with a hamburger menu and to-the-point CTAs. Thanks to this responsive design, the user is able to get the full brand experience on both desktop and mobile.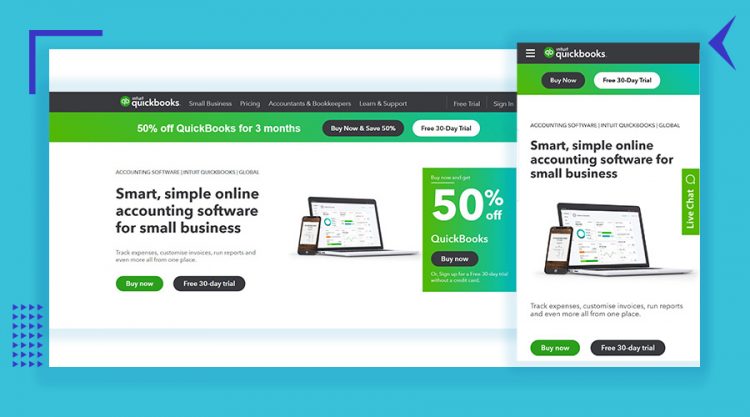 As a media company, Harvard Business Review has a desktop website with more headlines and stories in the hero section than on its mobile counterpart.
However, both website layouts present one main article with a large featured image, while other headlines are text-only. The key article stands out to the user, regardless of which device they're on.
Another important difference between the desktop and the mobile version is that the larger screen holds a capacity for showing the navigation bar with main categories, while the whole menu is visible only after clicking on the menu icon on smaller screens.
Overall, the user experience is similar and key points remain in view for users on all devices.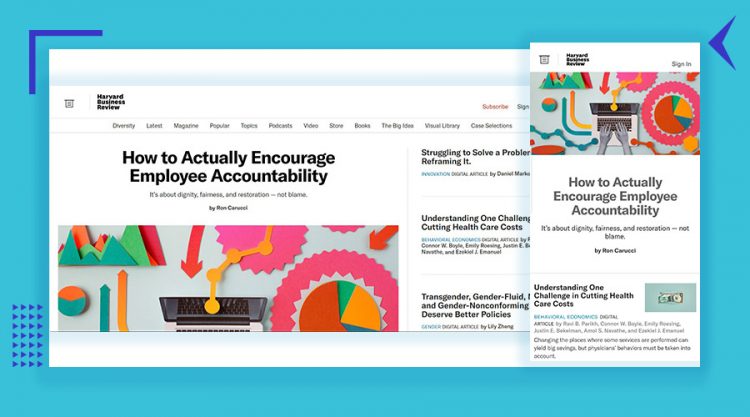 Similar to the previous example, Converse offers a category page menu in the desktop website header, as well as options to sign in, set a user profile, search the site and see the wish list and shopping cart.
The mobile version header is reduced to a hamburger menu, shopping cart and search icons.
The information displayed in the hero section on both versions is the same, including the slider with different products.
But the desktop version shows an additional image and a distinctive CTA button, while the same call to action on the mobile version isn't visible until visitors scroll down.
Considering that all content on a desktop version won't realistically fit into a mobile version, Converse does a good job at providing a similar user experience across both devices.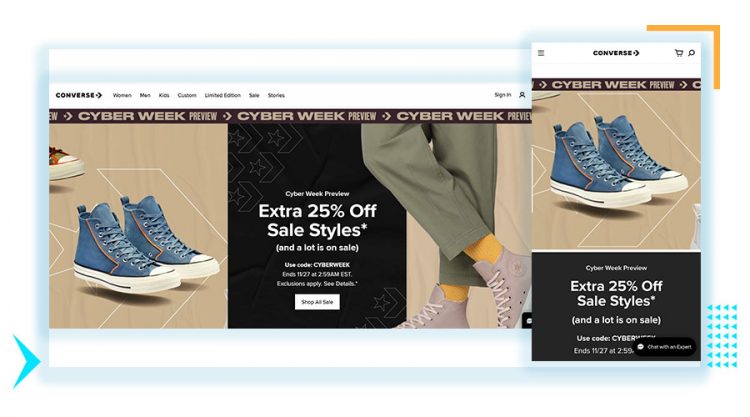 The New York Times is a great example of a responsive website for a daily newspaper and a news portal.
The desktop version offers much more information, of course, ranging from the news categories in the navigation bar and the choice between local and international issues, to additional featured stories and even the current temperature in New York.
The mobile version of the website is much more streamlined, featuring a date and Subscription and Sign In buttons in the header, followed by a single news story above the fold.
Looking at the two side-by-side, it's clear that the mobile design keeps the key information of the desktop version: The top story and graphic, a menu icon and a sign-in icon to allow users to enter the site and explore more.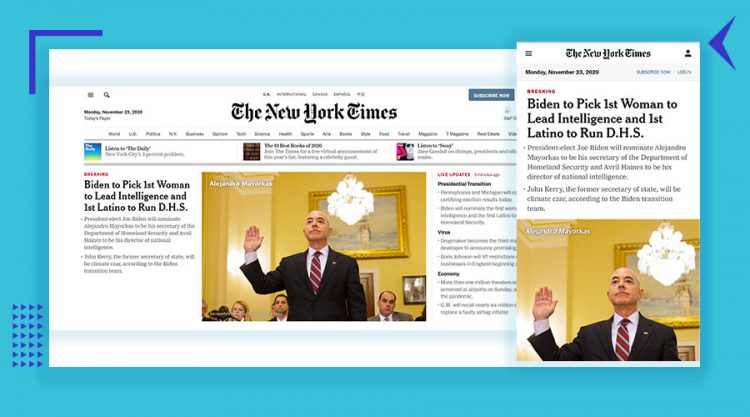 Shopify is a great example of simplistic responsive design, thanks to the clear and concise copy, original high-quality imagery and stand-out CTAs.
The navigation menu with drop-down options in the desktop version adapts to a smaller screen in the form of a hamburger menu. Besides that, the desktop header leads to "Pricing" and "Learn" pages, while the mobile version is reduced to a single "Log in" button.
The clean design makes ample use of white space, instead of trying to shove copy and elements into the design, which could overwhelm the user. Leave it to a clear UVP, high-quality video and attractive CTA to create an engaging user experience.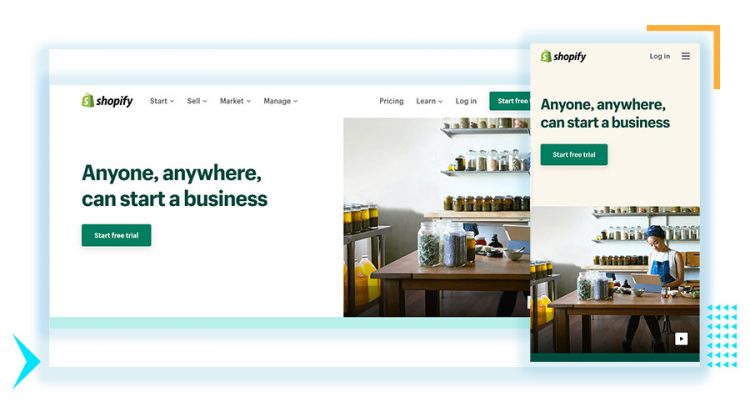 Have you noticed how each of these examples showcases a simplified, decluttered and attractive layout that naturally fits into smaller screens, while the desktop versions offer more information, larger images and various CTA buttons?
That's the essence of responsive web design. The idea isn't to cram all of the information from a desktop site into a small mobile screen. The idea is to keep the key information and ensure the user gets the same or similar experience on all devices.
Why Do You Need a Responsive Website?
According to Statista, more than half the people that will land on your website come from mobile. Your website needs to operate, function and respond at the same

speed and efficiency as the desktop version.

Brand consistency and uniform user experience (UX) are key. Whether on desktop, mobile or tablet, your user should have a seamless, uniform experience across all devices and all interactions with your brand.
Google uses mobile-first indexing, which means your site has a better chance of ranking if you have a responsive web design that displays properly on mobile.
Separate websites require more maintenance. Responsive web design ensures a proper layout on every screen size, with one web design.
A responsive web design will help decrease your bounce rate on mobile and other handheld devices. If a website isn't loading properly mobile users will bounce quickly and avoid returning again.
Responsive Web Design Best Practices
When it comes to building a responsive web design, there are certain best practices to keep in mind to ensure your site functions as it should, and ultimately offers a consistent user experience.
1. Consider CTA Placement & Frequency
CTAs are the holy grail of website elements.
Amidst the hustle and bustle of adjusting content to fit the relevant screen sizes, never neglect the importance of your CTA.
Make your CTAs visible to the user upon landing
Include more than one CTA throughout each page
Make CTAs stand out using engaging action verbs
Consider the size of CTAs to ensure they stand out on smaller screens
2. Choose Your Fonts Carefully
In 2012, American film director Errol Morris wrote a piece for the New York Times titled "Are You an Optimist or a Pessimist?"
What people reading the article didn't know was that Morris was conducting an experiment on the effect of typefaces in changing people's opinions.
Six typefaces were used in this experiment: Baskerville, Helvetica, Comic Sans, Computer Modern, Georgia, and Trebuchet. In a follow-up article, he shared the results.
Comic Sans caused the most disagreement
Baskerville had the most positive responses
Choosing a font type might seem tedious to most, but history and data tell us otherwise. Fonts can make or break your website. As iA very aptly puts it in a recent article, "web design is 95% typography."
Here are a few font-specific details you need to be mindful of:
Type: Legibility on all screen sizes is critical
Size: Fonts should be proportionate with the device
Spacing: Spacing between letters can aid/hinder the reading speed
Width of text block: Chunky content blocks are lees inviting to read
Selection: More than 1-2 fonts make the website too "noisy"
Alignment: Always align copy for an optimal reading experience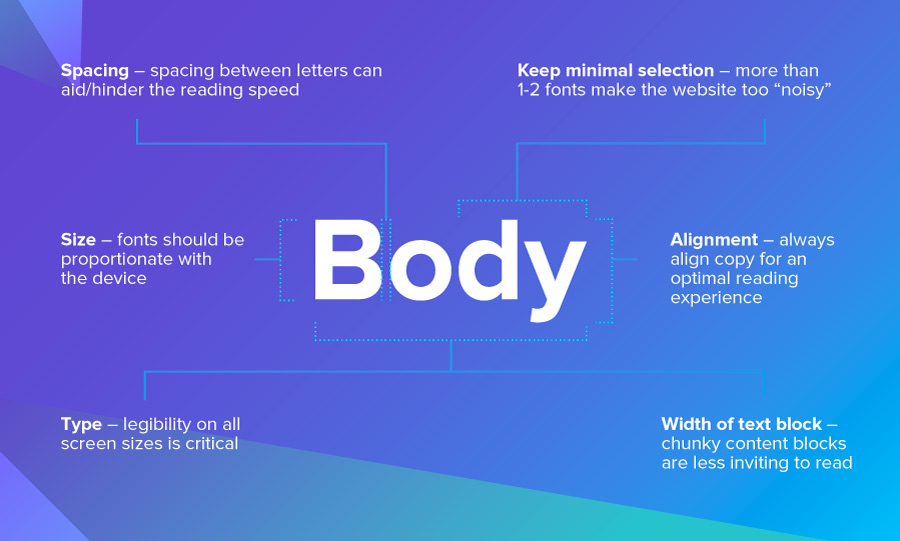 3. User Interaction (UI) Is Key
Designing for specific screen sizes is not just about the dimensions, it's also about the way a user interacts with a specific device. Here are a few things to consider:
For desktops, visitors use a cursor
For tablets, visitors use an index finger
For mobile devices, visitors use a thumb
Taking into consideration that 49% of people use their mobile phone using one hand, the thumb suddenly becomes a focal point. Critical content and CTAs should be within reach of the thumb when considering mobile screens.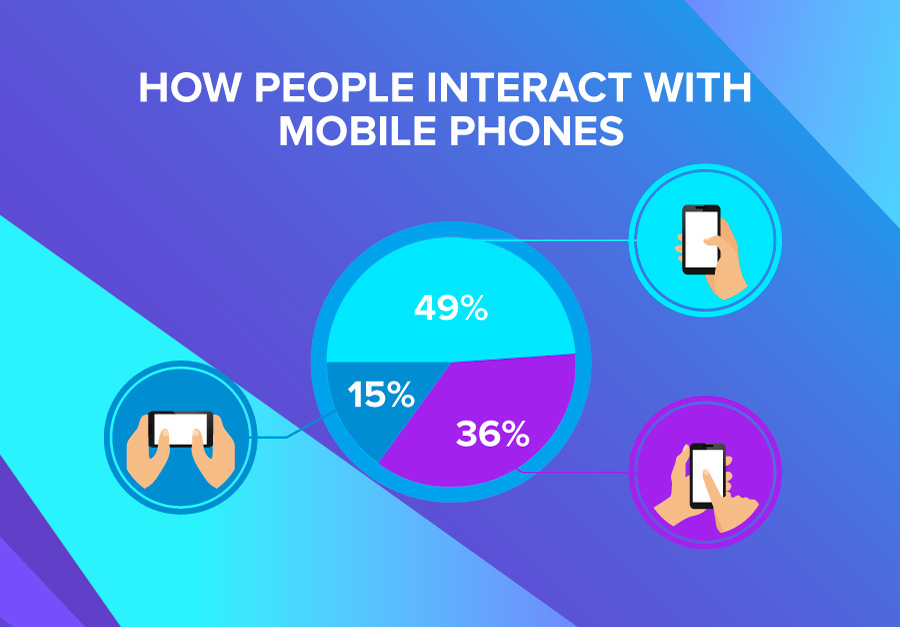 Our Web Design Process At Digital Silk
As a full-service digital agency, Digital Silk partners with clients across industries to ensure higher onsite conversions, increased brand awareness and a more visible online presence.
Our digital strategists, developers, designers, project managers, QA experts, copywriters and other team members follow a strategic process to make your project successful using the best practices.
Here's a quick look at our process of creating a responsive web design for your brand:
1. Digital Strategy
We research your brand, competitor landscape and target audience, discuss the scope and goals of your project and create a digital strategy to optimize your online performance.
2. Information Architecture
We map your conversion funnel and user journey by focusing on each stage, from awareness and interest to consideration and conversion.
3. Design
Our designers create wireframes to show you how your site will look, then add your branding elements, colors, typography and images.
4. Development
Our development team works on UI and UX to ensure a superior user experience and error-free coding.
5. Quality Assurance
We test every part of your website to ensure it functions well across all devices.
6. Launch & Optimization
We launch your website, then offer monitoring and updates to ensure a superior solution.
Key Takeaways On Responsive Web Design
Responsive web design ensures that your site automatically adjusts its content to match the device on which it is viewed.
The key benefits of responsive web design include:
Ensuring a consistent experience across different screen sizes and devices
Meeting the expectations of users landing on your website from their mobile phones
Optimizing your users' browsing experience
Ranking higher on search engines
Reducing your bounce rate
Lowering maintenance requirements
At Digital Silk, we create custom responsive web designs unique for each brand, to increase visibility and traffic, ensure a consistent brand experience and ultimately, increase conversions.
Ready To Create A High-Performance Website?
Request A Quote
Tell us about your project and let our experts give you recommendations.
Author Bio
Tomas McKannie is a digital marketing specialist and a freelance blogger. He is focused on new web tech trends and digital voice distribution accross different channels.