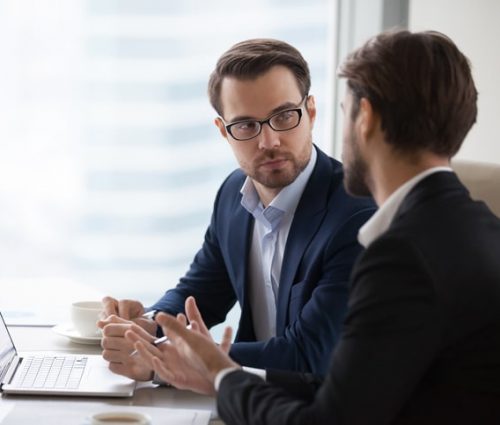 As of January 1st, 2020, there were 1,744,517,326 websites, up from 906,616,188 in January 2016. (Website Hosting Rating)
The website development market is expanding drastically. With newcomers entering the market daily, the environment is evolving quickly and the competition is getting stiffer, making it more difficult than ever to attract and retain target users.
It takes great skill and experience to develop a website that drives business results, and website development consultants come as a solution to a business' skill gap.
These experts can simplify, streamline and enhance your web development process, as well as guide you to an industry-leading solution.
Let's see how.
What Do Website Development Consultants Do?
Website development consultants advise businesses on areas such as:
Website strategy
Engagement
Navigational paths
UX content strategy
Prototyping
Planning
Website development consultants are skilled and knowledgeable in a number of ancillary industries and services surrounding website development.
From analytics and SEO, to branding and business management, these experts carry a skill-set that won't just get you a website, but it will get you a viable business.
Here are a few things that fall under the responsibilities of a website development consultant:
Overseeing development:
Selecting the right platforms
Technology stacks
CMS planning
Integrations
Creating a web strategy including:
User personas
User journeys
Conversion funnel
Information architecture
How the website integrates with the marketing strategy
Overseeing design:
Clarifying a website development consultant's role gives you a clear idea of the value they bring to the table.
A website is merely what meets the eye of the consumer but there's an extensive list of tangible and intangible services a business needs in order to be successful.
These are services a website builder can't provide and neither can a singular marketing specialist.
Now that we know what website consultants can do, let's take a closer look at the services they provide.
The Most Popular Web Consulting Services
Here are a couple of facts to kick-start the conversation:
90% of people have left a website because it was badly designed
93% of people have left a website because it didn't display properly on their device
Websites that are slow to load cost retailers $2.2 billion in lost business
Why did we choose those exact facts? To show you the depth and breadth associated with a website built.
The first stat refers to design, the second one to user experience and the third one to performance.
Establishing a solid digital presence requires an amalgamation of services and this is exactly where web development consultants come into play.
Let's have a look at some of the most popular services they provide.
1. Web Design
Website consultants offer website design as one of their core services.
While you might be thinking about color palettes, background images and website videos, web consultants have their mind elsewhere.
Their knowledge is more technical and business-savvy. They will advise you on things such as:
How to Interpret analytics
CTA placement for higher conversion
A website development consultant has your business's best interest in mind.
Their job is not to do the obvious (in this case web design), but to rely on in-depth user behavior and other relevant insights to make data-driven design decisions that will impact the bottom line.
2. Software Development
Combining custom software expertise with a business savvy approach, is a rare artform. The reason is clear and simple: it takes time and skill to get it right.
Software development consultants devote their time to:
Ensure that the software development process runs fast, smooth and is economically sound
Make sure your software and QA processes are compliant with standards and regulations
Provide a detailed software development strategy
Lay out the architecture design
Detail the Integration roadmap
Audit the software quality
Website consultants contribute in a meaningful, impactful way at every step of the software development process.
3. UX/UI Testing
Only 55% of companies currently conduct any UX testing. (smallbizgenius)

In other words: half of the companies that own a website venture into the digital world without having a clue what their consumer's ideal user journey looks like.
The reality is that if you want to create a website that gets traffic and converts, you need to invest the time and effort in understanding your clientele.
Through A/B testing and analytics, a web consultant will provide you with data-driven insights into your audience behavior that will help you strategically:
Map the user journey
Identify content to optimize user time on page
Even select colors that will drive your click-through rates up
4. Search Engine Optimization
The SEO part of a website development consultant's job is mostly technical.
There is a very long list of technical points that a consultant will take care of in order to get your website in the good graces of search engines.
Here are a few examples:
Keep track of website authority
Provide keywords based on searches in order to structure content around them
Clean up broken links
Audit meta descriptions and meta tags
Fix 404 errors and 301/302 redirects
Remove duplicate content
The list is much longer than that but we wanted to give an indication of the nature of the tasks associated with SEO. Taking care of these issues ensures website SEO health, proper indexation, and easier discoverability.
Why Do You Need A Website Development Consultant?
Website consultants offer a fresh pair of eyes, and a diverse skill-set to help you build a website that won't just be an online brochure.
Their work can't be replicated in-house as it would essentially mean you'd need to hire an entire team of specialists and that subsequently means a big budget.
Website development is just a small piece in a big puzzle and web consultants have a bird's eye view of the puzzle.
Here are the main ways website consultants add value to your company: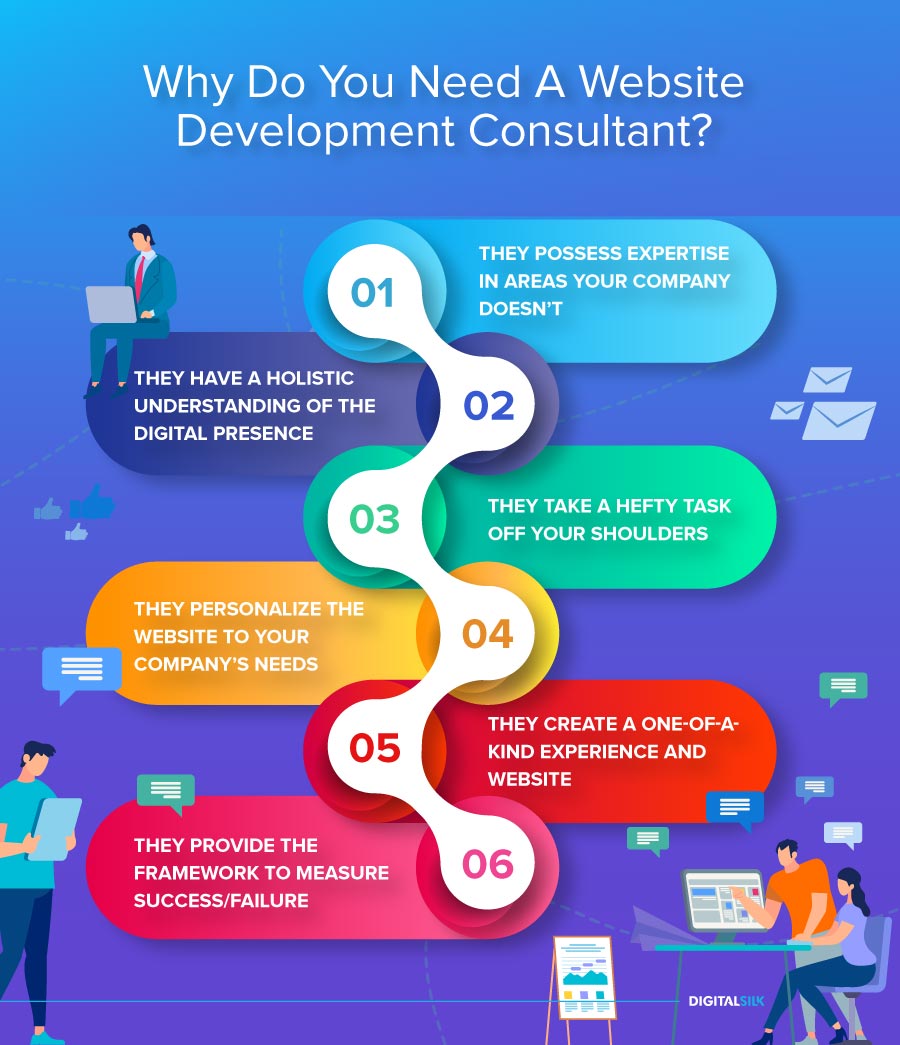 Value is such a broad term and it often goes unmeasured. Luckily, if you decide to bring on a web consultant, their impact and work will show on the "balance sheet".
Are Website Development Consultants a Luxury or a Necessity?
It all comes down to what you want out of your digital presence.
Some companies are happy with just having a website as a reference point. Others want to use websites for sales, business development and branding purposes.
If your business belongs in the latter category, then website consultants are a necessity indeed.
There is obviously the small matter of a budget but that will always be a factor in any business decision you make.
5 Questions To Ask Website Development Consultants
You've made your decision and you're ready to proceed with a web consultant.
How do you enter that first conversation? What kind of questions should you be asking?
Here are 5 questions that will prove to be gold when you establish a connection with a web development consultancy:
What are your timelines for delivering a website?
How much visibility will I have over your performance and results?
What is your pricing structure?
What's the framework for our communication during the project?
Can I see two to three case studies related to my industry you're most proud of?
These questions will give you a good idea about the suitability of the vendor to your needs.
It's essential that you enter a partnership you're comfortable with and that it delivers on the particular needs of your business.
Takeaways on Website Development Consultants
Web consultants are not the first thing that comes to mind when you're thinking of building a website for your company.
Hopefully, today we helped you get a better understanding of their work, usefulness and usability. Let's recap what we went over today.
Web consultants take on the end-to-end website development process
That includes areas like SEO, UX/UI, software development and many more
Their value is significant as they deal with details and technicalities the average tech-savvy person is not aware of
Web consulting is slowly becoming a competitive advantage for businesses that seek quality results from their online presence
Ready To Design A Market-Leading Website?
Request a quote!
Tell us about your project and let our experts give you recommendations.