Did you know that there are over 1.8 billion websites?
With new brands entering the market daily, the competition is getting stiffer, making it more difficult than ever to attract and retain target consumers.
It takes unique skill and experience to develop a website that drives conversions — the kind of expertise that website development consultants offer.
These experts can simplify, streamline and enhance your web development process to help you grow visibility, reach your target audience and ultimately, increase your revenue.
In this article, we'll explain everything you need to know about website development consultants: what they do, common consulting services, and the benefits of working with an expert for your project.
Plus, we'll share a look into our own website development consulting services at Digital Silk.
What Do Website Development Consultants Do?
Website development consultants advise businesses on areas such as:
Website strategy
Engagement
Navigational paths
UX content strategy
Prototyping
Planning
From analytics and SEO, to branding and business management, these experts carry a skill-set that will provide you with more than a simple website upgrade.
Responsibilities of a website development consultant might include:
Overseeing development:
Selecting the right platforms
Technology stacks
CMS planning
Integrations
Creating a web strategy including:
User personas
Conversion funnel
Information architecture
How the website integrates with the marketing strategy
Overseeing design:
Your website plays a key role in attracting audiences, promoting engagement and bringing in leads.
Without a strategic plan, including branded elements, a defined conversion funnel, educational elements and an engaging design, you'll miss out on opportunities left and right.
A website development consultant can offer extensive services that a website builder or a singular marketing specialist might not be able to provide.
Consultants take an unbiased look at your industry, competition, offering and target audience to help you build a website that stands out and create an online strategy for visibility, brand recognition and conversion.
Now that we know what website consultants offer, let's take a closer look at some of the services they provide.
4 Most Common Web Consulting Services
How important is your website for your brand? Let's take a look:
50 milliseconds is all the time people need to form an opinion about your website
90% of people have left a website because it was badly designed
93% of people have left a website because it didn't display properly on their device
From design to user experience, performance and beyond, every facet of your website comes together to create your identity. Each piece of the puzzle plays a key role in how consumers perceive your brand.
Establishing a solid digital presence requires an amalgamation of services and this is exactly where web development consultants come into play.
Let's look at some of the most popular services website development consultants provide.
1. Web Design
Website consultants offer website design as one of their core services.
While you might be thinking about color palettes, logos, images and other visual aspects, design is about more than just aesthetics.
Website consultants will not only help you create your visual identity, they'll also help create the user journey on your website, from one conversion point to the next.
They will advise you on web design aspects such as responsive vs. mobile-first design, menu navigation, CTA placement and more.
A website development consultant offers unbiased, strategic advice to help your brand grow visibility, attract consumers and increase revenue through your website.
They rely on data-driven insights into user behavior and other trends to make design decisions that will have a positive impact on your bottom line.
Expert consultants will look at every detail of your site, from the largest elements to the smallest, and give recommendations on what should be improved.
Professional web consultants know that website design isn't something you just jump into. Every element of your design should have a clear "why" behind it.
For example, watch below as our Digital Silk CEO, Gabriel Shaoolian, examines Prowly's 2021 web design to explain the best practices brands can leverage to stand out against the competition in the digital space:
2. Software Development
Software development and website consulting go hand-in-hand.
Software development consultants who work with custom solutions:
Build scalable custom software
Use the latest technologies to enhance your solution
Make sure your software and QA processes are compliant with standards and regulations
Provide a detailed software development strategy
Lay out the architecture design
Detail the Integration roadmap
Audit the software quality
3. UX/UI Testing
Did you know that only around 55% of companies conduct UX testing?
In other words, half of the companies that own a website venture into the digital world without having a clue what their consumers' ideal user journey looks like.
Remember when we mentioned that web design isn't something you just jump into? Failing to conduct UX/UI testing is doing just that.
One example of an engaging UX is Airbnb.
When you land on Airbnb's homepage, you can quickly set up the specifics of your trip using the search bar at the top.
This includes the location you want to visit, your check-in and check-out dates, plus the number of guests who will be staying.
As you get to the bottom of the page, you are greeted with more useful resources you can use for your trip, such as travel inspiration and experiences you might be interested in.
This valuable information displays without distracting you from finding an Airbnb to stay at. The design is simple, yet engaging and effective.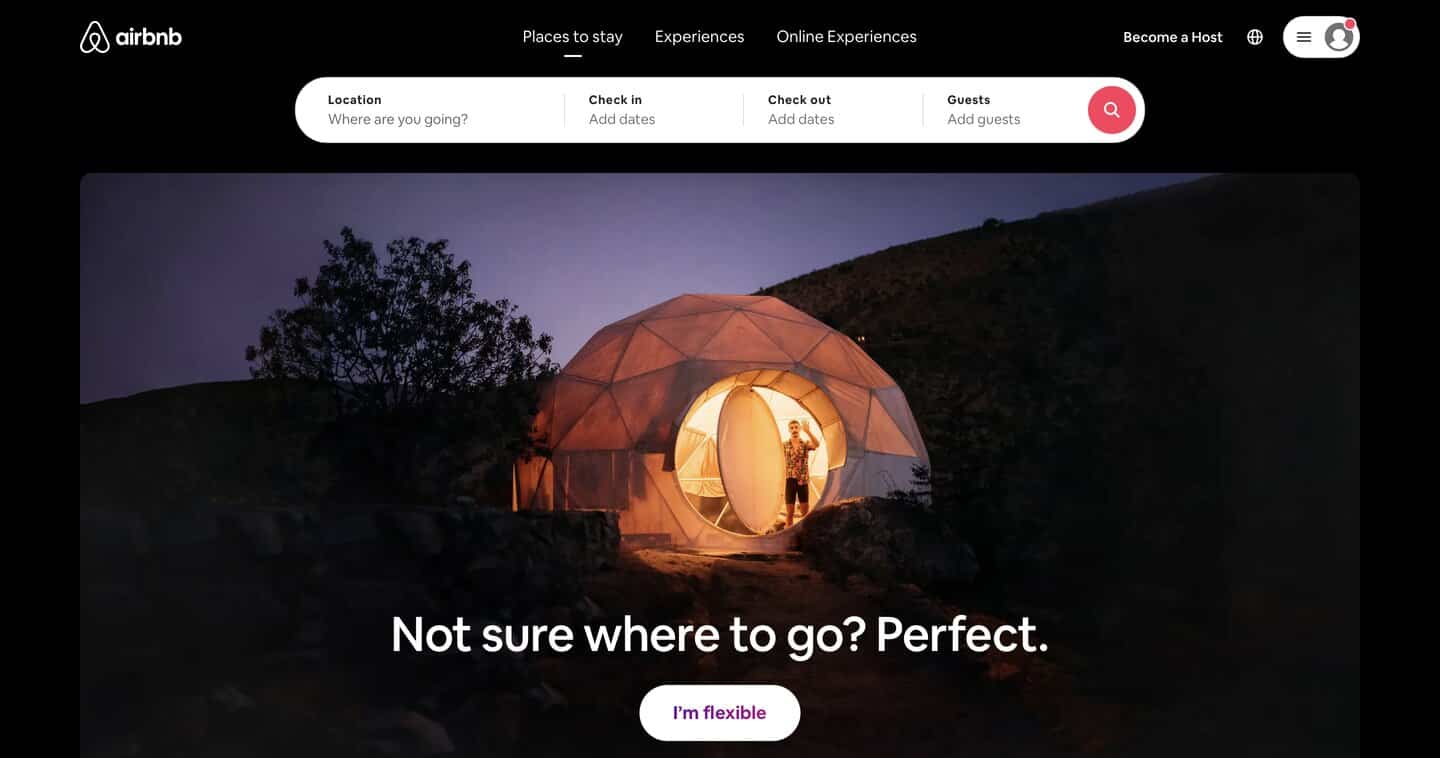 The reality is that if you want to create a website that gets traffic and converts, you need to invest the time and effort in understanding your clientele.
Through A/B testing and analytics, a web consultant will provide you with data-driven insights into audience behavior that will help you strategically map your user journey, identify content types that will optimize time on page, and more.
4. Search Engine Optimization
Making your brand visible in a sea of digital competitors relies heavily on SEO. A website development consultant will:
Track your website authority and create a plan to improve it
Provide keywords based on the search intent of your target audience
Monitor and fix broken links
Implement internal links in your content to increase click-through
Audit meta descriptions and meta tags
Fix 404 errors and 301/302 redirects
Remove duplicate content
This list is just a small snapshot into the responsibilities of a website consultant when it comes to SEO.
Ultimately, your consultant should create an SEO plan to ensure SEO health, proper indexation, and easier discoverability.
Why Do You Need A Website Development Consultant?
Website consultants offer a fresh pair of eyes, and a diverse skill-set to help you build a website that will showcase your brand in a unique way, connect with your target audience and increase conversions.
Instead of hiring an entire team of specialists in-house, an agency that offers these services can provide you with each piece of the puzzle, from designers and developers to SEO experts, digital strategists and more.
Here are the main ways website consultants add value to your company: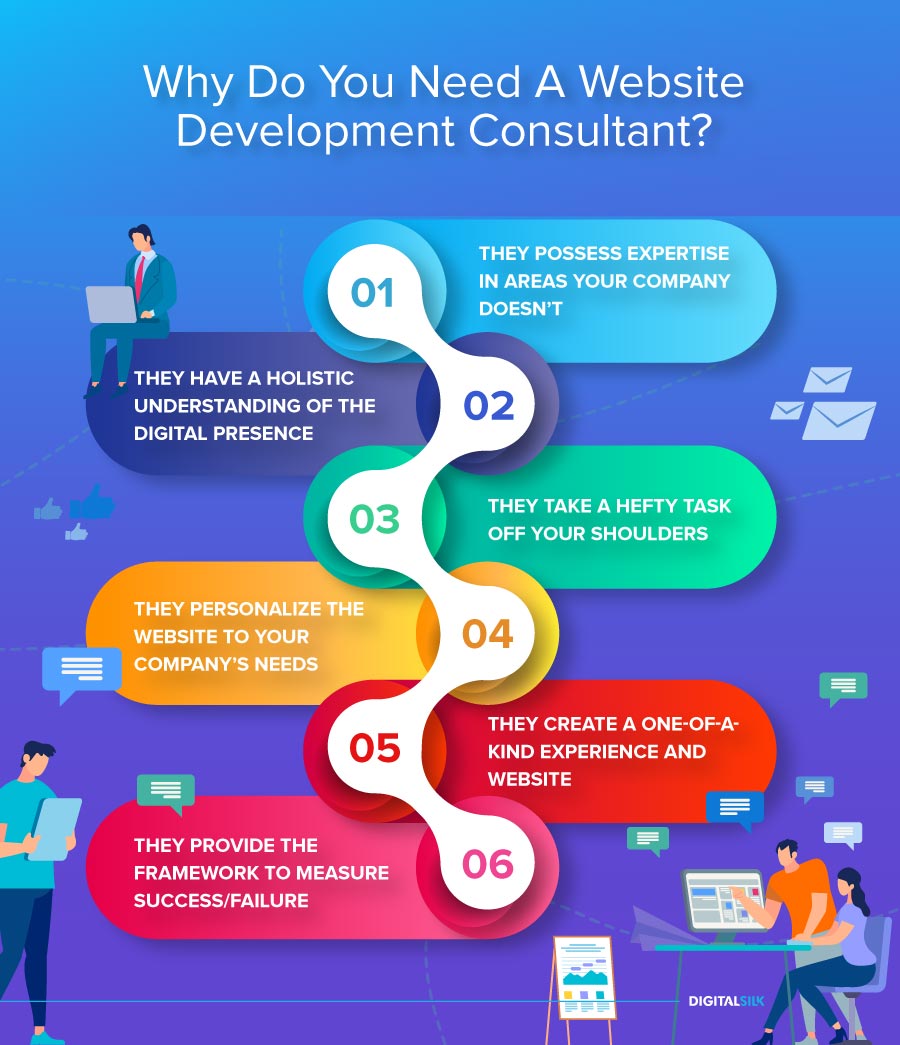 5 Questions To Ask Website Development Consultants
So how do you choose an agency to work with? What kind of questions should you be asking?
Here are five questions you should ask potential website development consultants:
Can I see your portfolio and/or case studies you're most proud of?
How would you prioritize my budget?
How involved will I be throughout the process?
What is the timeline for deliverables?
How do you measure results?
It's essential that you enter a partnership you're comfortable with and that it delivers on the particular needs of your business. After identifying your needs and conducting thorough research, interview each potential consultant or agency to find the best fit.
Our Web Development Consulting Services At Digital Silk
At Digital Silk, we help brands of all shapes and sizes, from startups to Fortune 500 companies, create optimized websites that offer a superior digital experience.
We devise web strategies tailored to meet the specific needs of every brand. Our experts can craft a new website for you or work on improving and redesigning your current website.
At Digital Silk, our web consulting services include:
Web strategy and web user experience planning
Web traffic and user experience managing
Website optimization and performance planning across all channels
Web design and development and devising a web strategy for a client
Our goal is to help businesses of all sizes increase their brand recognition and, ultimately achieve higher conversion rates.
Takeaways on Website Development Consultants
Website development consultants commonly advise businesses in areas such as website strategy, engagement, navigational paths, UX content strategy, prototyping and planning.
At Digital Silk, our web consultants can help your brand establish, improve, grow and monetize your web presence.
Through custom web design, data-driven marketing strategies, SEO and more, our experts can help you grow brand recognition to ultimately drive conversion.
Ready To Design A Market-Leading Website?
Request a quote!
Tell us about your project and let our experts give you recommendations.