If you knew that your website only has seven seconds to impress your prospects what would you change about it?
Your navigation? Your Images? Colors?
The market is moving fast, and so are the user behavior and expectations.
The rapidly changing digital trends indicate the need for flexibility and continuous website improvement as the core part of your digital strategy and web maintenance.
In this post we will look at:
The 5 reasons why you should improve your site regularly
The common website issues that might be affecting your sales
The key website improvements a web consultant can help you with
How to define your business goals and stay on track
Why Website Improvement Should Be A Constant In Your Web Maintenance Strategy
From following trends to boosting your sales, these are the top five reasons why website improvement should be an integral part of your web maintenance strategy:
Reason #1: Stay Relevant
Web design and development is a dynamic field.
New trends and technologies are constantly emerging which makes it easy for brands to lose their appeal in the eyes of the target audience.
To provide an engaging experience, stay competitive and relevant both to your audience and to the search engines, brands should audit and evolve their website continuously.
Reason #2: Improve User-Experience
Regular analysis of on-site user behavior helps you see what makes your visitors convert as well as to uncover problem areas, evolving user experience accordingly.
To ensure that the new UX elements are solving the pain points and enhancing the conversion funnel, evaluate the new features via A/B testing and monitoring the key metrics.
Reason #3: Boost Your Search Engine Rankings
Search engine optimization is key to generating more organic traffic.
However, since the leading engines like Google are constantly updating their algorithms, being on top of your SEO strategy is vital.
To be visible to your target audience as they are searching for the type of products and services your brand offers, work on your technical and on-page SEO regularly.
Reason #4: Gain A Competitive Advantage
Ongoing maintenance is the key to good website performance. It grows traffic, builds trust and increases customer retention.
Updated content, page speed optimization and functional navigation are just a few of the factors that keep your prospects engaged with your website more and longer than with the competitors.
Reason #5: Boost Sales
Your website can make or break your business.
According to HubSpot, 90% of visitors leave a website they find unappealing. And as many as 40% of them leave a site that takes longer than three seconds to load.
It takes as little as a few seconds to lose a prospect due to a broken link, downtime or a slow loading page.
This ultimately affects your sales!
Regular website improvement can decrease bounce rates and lost revenues. All it takes is proper monitoring, tracking data and developing a solid plan to make your site more reliable.
7 Website Issues That Might Be Affecting Your Site Performance And Conversions
These are some of the most common problems that can affect your sales and website performance:
Website Issue #1: Slow-Loading Pages
As web pages go from one to ten seconds to load, brands are likely to see a bounce rate increase of up to 123%. (Think with Google)
Loading time is one of the most common reasons for immediate page abandonment. And when it comes to search engine rankings, every second counts because some research suggests that page speed is one of the ranking factors.
Today's consumers want to spend less time finding the products and the information they need which means they have very little to no patience for slow-loading sites.
Having said that, this can drastically decrease conversions and have you bleeding leads throughout your conversion funnel.
To avoid this, analyze every page on your website, see what slows them down and make the necessary fixes.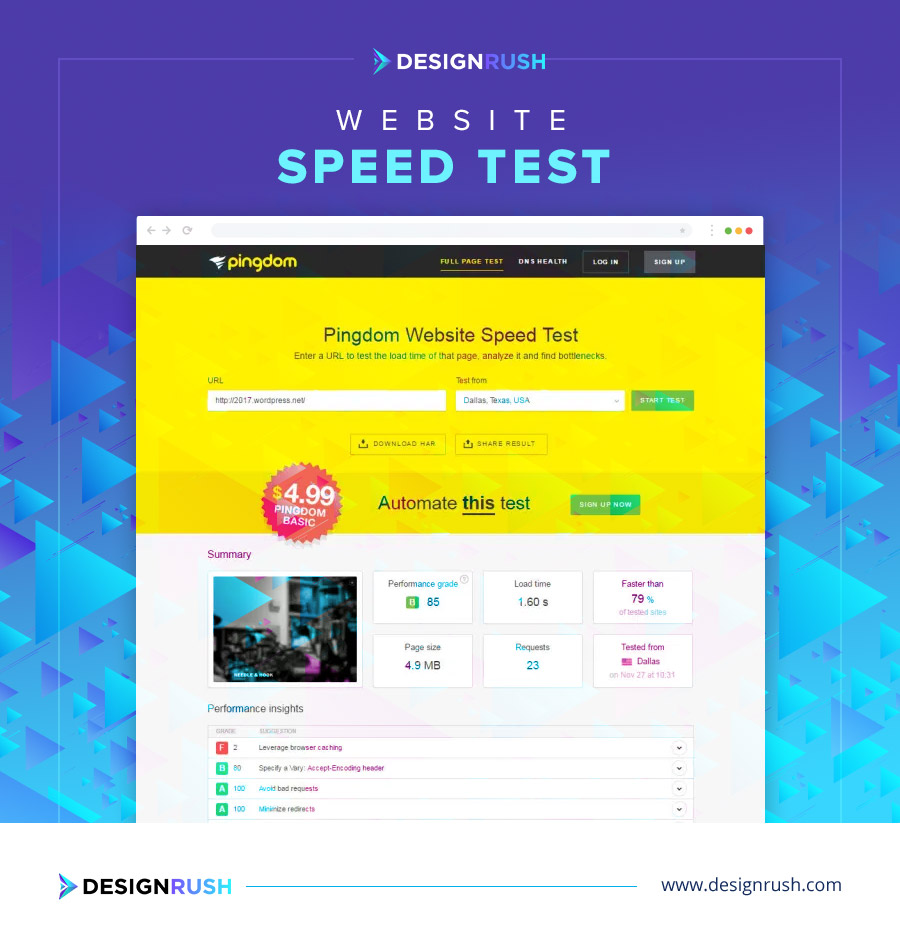 Website Issue #2: Unresponsive Design
Unresponsive design is a common website issue that affects user experience and pushes visitors away.
Here is why:
According to StatCounter, between April 2019 and April 2020, internet website traffic came via:
Mobile (53.81%)
Desktop (43.27%)
Tablet (2.92%)
In other words: Mobile has surpassed desktop web traffic.
If your website does not work on mobile devices properly, expect to face high bounce rates.
What's more, mobile responsiveness is one of the signals Google's algorithm tracks. So, a static website will result in lower rankings.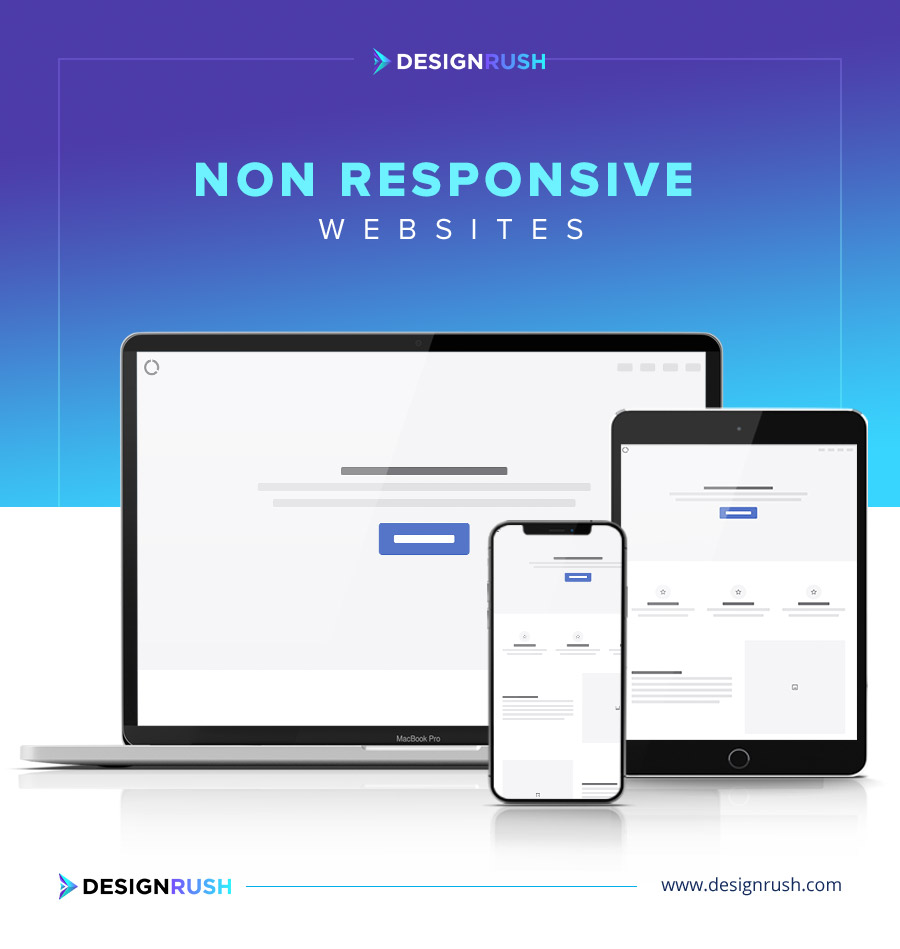 Website Issue #3: Clutter
Cluttered design forces website visitors to waste time searching for and processing information and trying to engage with your brand.
This can hurt your website performance in two ways:
On the one hand, it ruins user experience because it inhibits the visitors to find what they are looking for.
On the other hand, in the case of B2B buyers, even if it does manage to get a few points across to the researchers, it is likely to confuse and repel decision-makers whose attention span is notoriously short.
This ultimately results in poor engagement, higher bounce rates and fewer conversions.
Website Issue #4: Broken Links
While broken links may not seem like much on the surface, these common website issues can seriously affect:
Your SEO: 411 or 404 pages restrict the flow of link equity throughout your website. Once Google's crawlers track them, it may negatively impact your rankings because the search engine doesn't want to send users to sites that may provide them with poor user experience:
Reputation: Running into a broken link is a frustrating experience. These links prevent users from completing some desired tasks and accessing the information they need. This pushes visitors away and damages your business reputation.
Revenue: Broken pages are roadblocks to the conversion process. Consumers don't trust companies that provide them with poor experience and they wouldn't buy from an untrustworthy brand.
Website Issue #5: Hard To Find Contact Details
Due to the growing number of fake websites which are sites posing as legitimate businesses with the purpose of extracting sensitive personal data, users can be quite suspicious when browsing the internet.
A hard-to-spot phone number, email address and business location can potentially cost you customers and sales for this very reason.
Website Issue #6: Lack Of CTAs
HubSpot found that incorporating anchor CTAs in their content increased their conversion rate by 121%.
CTAs are a key ingredient of effective marketing. They reduce decision fatigue and guide the visitors to take specific actions.
You publish content on your site with a purpose. And including compelling CTAs will ensure that each landing page or blog post is meaningful and it fits into your overall marketing plan.
A simple CTA like "Click here" or "Buy now" can significantly increase click-through rates and conversions.
Website Issue #7: Complex Navigation Menu
If your navigation is complex or unclear, your prospects may bounce and start another search for a website that will live up to their expectations.
Simple navigation can make the difference in keeping users invested in your website. It saves their time, improves on-site experience and even facilitates the decision-making process by making the key information easily accessible.
6 Website Improvements A Web Consultant Can Help You With
A web consultant works closely with your in-house team, helps you discover website issues and assists you in fixing them.
Here are five ways a web consultant can help you make the necessary website improvements:
Website Improvement #1: Website Audit
A website audit helps you analyze the current state of your site, find out what's working or not, as well as discover discrepancies in data and compatibility.
It is an inevitable process for website improvement that will provide you with key data on:
Content quality
Responsiveness
Loading times
Optimization
And more
A web consultant brings to the table both expertise and experience you need to:
Identify the right data to analyze and track
Assess the current metrics
Ask the right questions
Set realistic goals
Identify impediments to performance
Identify untapped opportunity
Website Improvement #2: Web Design And User Experience
Web design and user experience go hand in hand. As we've seen by now, these are strongly correlated with how users perceive the brand, influencing their decision to trust and engage with it.
From details like the psychology of color and font + browser compatibility, to more complex elements like wireframes and responsiveness, a web consultant will help you optimize your design for user engagement and conversions.
Counting on the help of expert advice, you will be able to enhance:
Usability
Aesthetics
Visibility
Interaction
Website Improvement #3: Web Development
Your website's backend is as important as your site's front end. It contributes to a user-friendly content management system, easy navigation and site compatibility with various devices, among the others.
When it comes to backend development, a web consultant can help you with:
Create and manage database
Choose the right server technologies
Integrate cloud computing
Develop and manage a content management system
Manage APIs resources
Backup files
And more
Website Improvement #4: Search Engine Optimization And Content Strategy
Organic search generates 53% of the total website traffic.
There are three tactics that count for an effective organic search strategy:
On-page SEO: It includes optimizing your content to allow search engines to understand its topic. The key factors to consider are keyword optimization, quality content, interlinking and more.
Technical SEO: The strategies around technical SEO are not content-related and their aim is to improve the website's backend structure and foundation. They relate to mobile-friendliness, site speed, security and more.
Off-Site SEO: While not a website improvement tactic, per se, off-page SEO strategy contributes to website performance in search. It incorporates tactics that improve a website's domain authority and strengthen the relationship with other sites and brands. This strategy includes, but is not limited to gaining quality backlinks, guest blogging and influencer marketing.
Website Improvement #5: Data-Driven Marketing
Web consultants can help you improve your marketing strategies by collecting and making sense of deep data on every aspect of target user behavior.
The data they collect is both on and off-site, procured by high-end tools that rely on cookies.
This then feeds back into the website improvement plan, as well as beyond, including remarketing, digital marketing campaign strategies, business opportunities and growth and more.
Website Improvement #6: Conversion Funnel
A sales or conversion funnel is the user journey that a website visitor goes through from their first interaction with your business until they convert and become a client or a customer.
Optimizing the conversion funnel is vital for gaining these qualified prospects and:
Making more sales thanks to a bigger number of prospects going through all the stages of the funnel
Giving you an edge over your competitors that do not optimize their funnel
Identifying the right marketing strategy through targeting the right audience in particular stages of their user journey
Website consultants take these steps to optimize your conversion funnel:
Research your target audience and market to know your ideal customer profile
Create a content strategy that prospects will find educational and helpful
Use the right content and media at every stage of the funnel that supports corresponding stages of users' journey
Capture prospects' email addresses
Include case studies, review and client testimonials as social proof
Include enticing calls-to-action
Simplify checkout forms
How To Define Your Website Goals & Stay On Track With Those
A website primarily exists to accomplish your business goals and serves as a tool for company growth.
Whether it is brand awareness, lead generation or client retention, to successfully compete you need to set clear objectives.
To set your website goals effectively, make sure you stick to the S.M.A.R.T rule:
Specific: They should be clear, well defined and unambiguous
Measurable: You should set website goals that you can test and measure
Attainable: They should be acceptable and not impossible to achieve
Realistic: They should be reasonable and relevant
Timely: You should have a clearly defined timeline and determine a specific start and an end date
While it may be easy to set website goals, sometimes it can be quite difficult to accomplish them.
However, here are a few tips that will help you stay on track with your objectives and realize them successfully:
Don't focus on too many goals at a time: A goal takes time, effort and a strong strategy to accomplish. And trying to complete several objectives at once, you may end up failing to achieve any of them.
Make research: Before you start focusing on your website goals, you should make it clear who you are targeting, where your audience is located and even spy on your competition to see what strategies work for them.
Set a strategy: To execute your goals successfully, you should craft a plan beforehand. Make sure you gather the facts to see where your business is standing now. Analyze the info and find a better opportunity to achieve your website goals.
Set deadlines: Every goal should have a realistic deadline. They will help you move closer to what you want to accomplish and force you to organize tasks based on their priorities.
Track your progress: Tracking the progress of your website goals will help you find out whether your strategies work or not. It is beneficial in discovering visitor's trends and opportunities that you can leverage to improve your approach in the long-term.
Website Improvement Takeaways
Your website is your salesperson and one of the most powerful marketing channels in your arsenal.
To optimize its efficiency and effectiveness, website improvement should be at the heart of your maintenance and digital strategy.
It will help you:
Stay relevant
Improve user experience
Improve your search engine rankings
Gain a competitive advantage
Increase your sales and revenue
To improve it, identify the key bottlenecks to user engagement and conversions.
The most common website issues include:
Slow-loading pages
Unresponsive design
Cluttered design
Broken links
No contact details
Lack of CTAs
Complex navigation
A web consultant can help you identify what pushes your visitors away and help you with:
Website Audit
Web design and user experience
Search engine optimization
Data-driven marketing
With the help of an expert, you can make the necessary website improvements and boost its performance.
Your website primarily exists to accomplish your business goals. To define and stay on track with them:
Stick to the S.M.A.R.T rule
Focus at one goal at a time
Identify your audience and competition
Set a strategy base on the data you collect
Set deadlines
Track the progress
Ready to build a market-leading website?
Let's talk