According to a 2017 Global Online Consumer Report, 63% of consumers search online to discover new products or services, while only 26% seek out physical locations.
This means that for many consumers, your website is their first interaction with your brand.
If your website isn't converting your visitors and they're leaving your site as quickly as they came, you can bet your web design has a lot to do with it.
In this article, we'll share five signs that you need professional web design services, plus detail our expert process and show you three designs from our own Digital Silk workshop.
5 Signs You Should Invest In Professional Web Design Services
Did you know that 85% of users confess to making judgments about a company's credibility based on their web design?
If your website isn't modern, easy to navigate, quick to load and visually appealing, your visitors won't stay long, and your conversion rates will suffer. Enter website redesign – or a website design from the ground up!
Here are five signs that your website is sabotaging your brand and could use the help of professional web design services:
1. Your Page Speed Is Lagging
Did you know that 53% of mobile users will abandon a website if it takes more than three seconds to load? In fact, 47% of consumers expect web pages to load in two seconds or less.
How much does this matter? Well, for every extra second it takes an Amazon page to load, it costs the consumer giant an estimated $1.6 billion dollars in sales each year.
Decreasing your page load time is key to increasing conversions. Every minute you allow your website's loading speed to lag, you are losing money.
Lagging load time is a sign of poor site optimization — something professional developers can remedy for a fast and functional site ecosystem with custom web design services.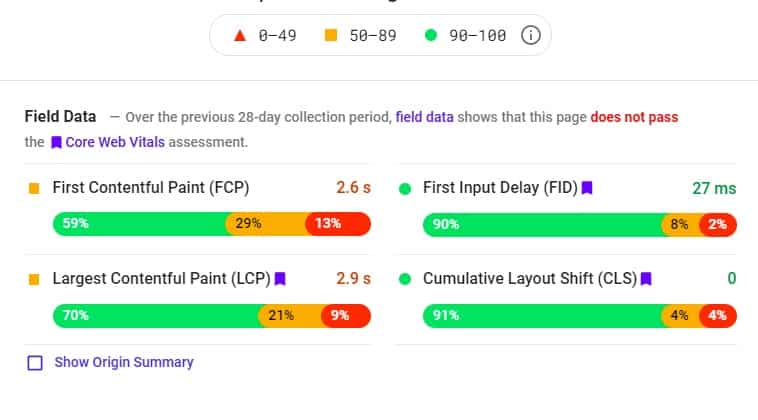 2. You Are Not Reaching Your Target Audience
Do you find that you are attracting consumers who are not compatible with your offers? Or maybe your website traffic is lacking and your page views feel out of your control.
We know that the majority of consumers are discovering businesses through search engines such as Google and Bing.
There are algorithms behind the scenes that dictate which websites appear for certain search terms, and how they rank. In order to reach your target audience, you need to use relevant keywords, relevant social media platforms, and so on.
If you're attracting the wrong audience and/or your website has low views, the answers lie in your SEO and digital strategy — something that the pros know exactly how to handle.
3. You Are Not Achieving Your Conversion Goals
Through your products or services, your marketing tactics, your digital strategy and your website itself, the ultimate goal is conversion, right? So if your website isn't converting, it's a major problem.
Experts understand consumer behavior and know exactly how design guides consumer action in different industries.
For example, they know that placing a booking form in the hero section of your hotel website can increase conversions, and they know that including a searchable product catalog with a spec sheet can do the same for manufacturing websites — insights that are key to increasing your conversion rates.
4. Your Website Looks Generic
Plugins like Divi and Elementor Pro make having a layout for your website as easy as drag and drop, but by using templates, you are sharing the same designs with thousands of others.
This makes your website hard to differentiate from competitors, and even worse — a "templated" look can come across as less trustworthy and less professional than a custom web design.
A custom website is one of the main advantages of hiring professional web design services: Experts will create a website that is unique to your brand, based around your offering, goals and target audience.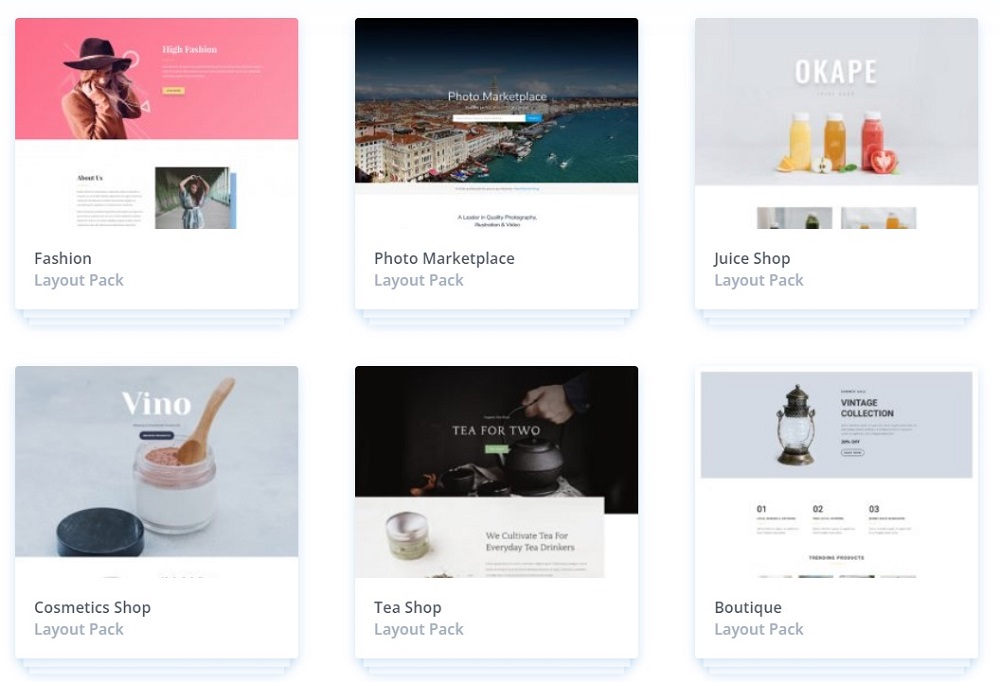 5. Your Site Is Optimized For Desktop Viewing Only
Have you ever tried to open a website on your phone and were met with a massive wall of text and navigation buttons so small your entire thumb covers most of them?
It's probably a safe bet to say you didn't stay on the site for very long. Optimizing your website for different screen sizes and devices ensures that your audience has an engaging experience on your site, regardless of the device they use.
Optimization doesn't only mean resizing your site to fit the screen but also making sure the UI elements and functionalities are intuitive, responsive and quick to load.
As of 2021, there are 6.3 billion smartphone users. That's three times the number from 2016, and it is steadily and rapidly increasing. Having a mobile-friendly version of your website is a must.
Digital Silk's Website Design Services
Our web design and development team at Digital Silk serve as both web design experts and consultants for your project.
We offer complete professional web design services from start to finish, including a strategy, design, content and maintenance.
Our custom web design services include:
Integral Web Design Deliverables
At Digital Silk, we create superior custom websites. We do not use third-party templates, which are difficult to modify and scale. Instead, we develop custom UX and UI design and CMS, based on your audience and your offering.
Each of our website projects start with a digital strategy that helps us plan a highly competitive, market-leading site, including a conversion funnel and user journeys. We optimize all our sites for search engines, from technical to on-site SEO.
Web Design
Our experts create both responsive and mobile-first web designs. The approach we take depends on your unique requirements and target audiences.
Regardless of the approach we take, our websites scale seamlessly across all devices. Our expert UX and UI designers create strategic digital experiences optimized for target user engagement and conversions.
Here's a look into how we think about web design at Digital Silk. Watch our CEO Gabriel Shaoolian analyze Prowly's 2021 web design below:
Web Development
From WordPress to headless CMS, from Shopify to Magento, our engineering teams are trained and experienced in using market-leading website platforms.
They develop scalable and secure websites that users, admins and search engines can easily navigate.
Quality Assurance
We have specialized QA teams and proprietary pre- and post-launch quality assurance processes to make sure that all elements of your custom website look and work impeccably, including, but not limited to:
Loading speed
Integrations
Forms and other features
Responsiveness
Digital Silk's Web Design and Development Process
Our web design services team at Digital Silk follows an eight-step process to develop a custom website for your brand.
You will emerge from discussions with our team equipped with a better strategy to achieve your KPI's through your site so you can connect with your target audience and increase conversions.
Here's a glimpse into what you can expect as our client:
Step 1. Digital Strategy
This is the get-to-know-you phase where you discuss the scope of your project with our team. We'll outline your goals, create a timeline, and set up a meeting and reporting schedule.
You will have already filled out a questionnaire by this point, which will give our team a preliminary understanding of your industry, company, competitors, target audience and expectations.
Our team will then follow this with deeper research into user behavior, competitor insights and industry insights so we can set realistic goals and KPIs as we build your site from ground up.
Step 2. Conversion funnel and user journey planning
After acquiring a more comprehensive understanding of your audience, competitors and industrial landscape, our team will develop your website's sitemap and informational architecture.
This helps us devise the messaging for users at each stage of the conversion funnel and define pathways through your website to the key conversion points.
Step 3. Wireframing
Next, our designers create your wireframe. This black-and-white representation of your website will help you visualize how it will appear on both mobile and desktop.
Step 4. Design
Once you approve your wireframes, our designers will get started on a custom UI design unique for your brand. Our UI design involves colors, typography, logos and other branding elements to make your site your own.
Step 5. Development
Once we have your green light for the design, our experienced backend and frontend developers will build your website following industry best practices and detailed specification documents.
From your CMS to the on-site features and functionalities, your website is built to be able to scale as needed when the time comes.
Step 6. Quality Assurance
This step ensures your site looks flawless and functions the same. Our QA team will check your site's responsiveness, loading speed, features, functionalities and SEO details such as the headers, title and meta tags, and more.
Step 7. Website Launch
After your website passes our rigorous testing, you are ready for launch! Our team will get your site loaded onto your server and push it live, where we will continue to monitor your website's performance and security, optimizing and updating as needed.
Step 8. Maintenance
Our web design services don't end after you launch. We offer maintenance services to ensure your website remains secure and your data is safe.
You'll have access to our expert developers and designers to adapt your pages and features as needed.
How Much Do Web Design And Development Services Cost?
The cost for custom website design and development services depend on several factors, which our web design and development team will discuss with you.
These factors include:
The scale of your project
The number of pages
The complexity
The functionality and design elements
We offer hourly rates that are highly competitive in the U.S. market. Contact us to get an estimate for your project!
3 Web Design Examples From Our Digital Silk Experts
ACLU of Virginia Presents Annual Report 2020-2021
Website: https://acluvaannualreport.org/
Category: Education
The Client: ACLU of Virginia
The American Civil Liberties Union (ACLU) of Virginia is a private, non-profit origination that promotes civil liberties and civil rights.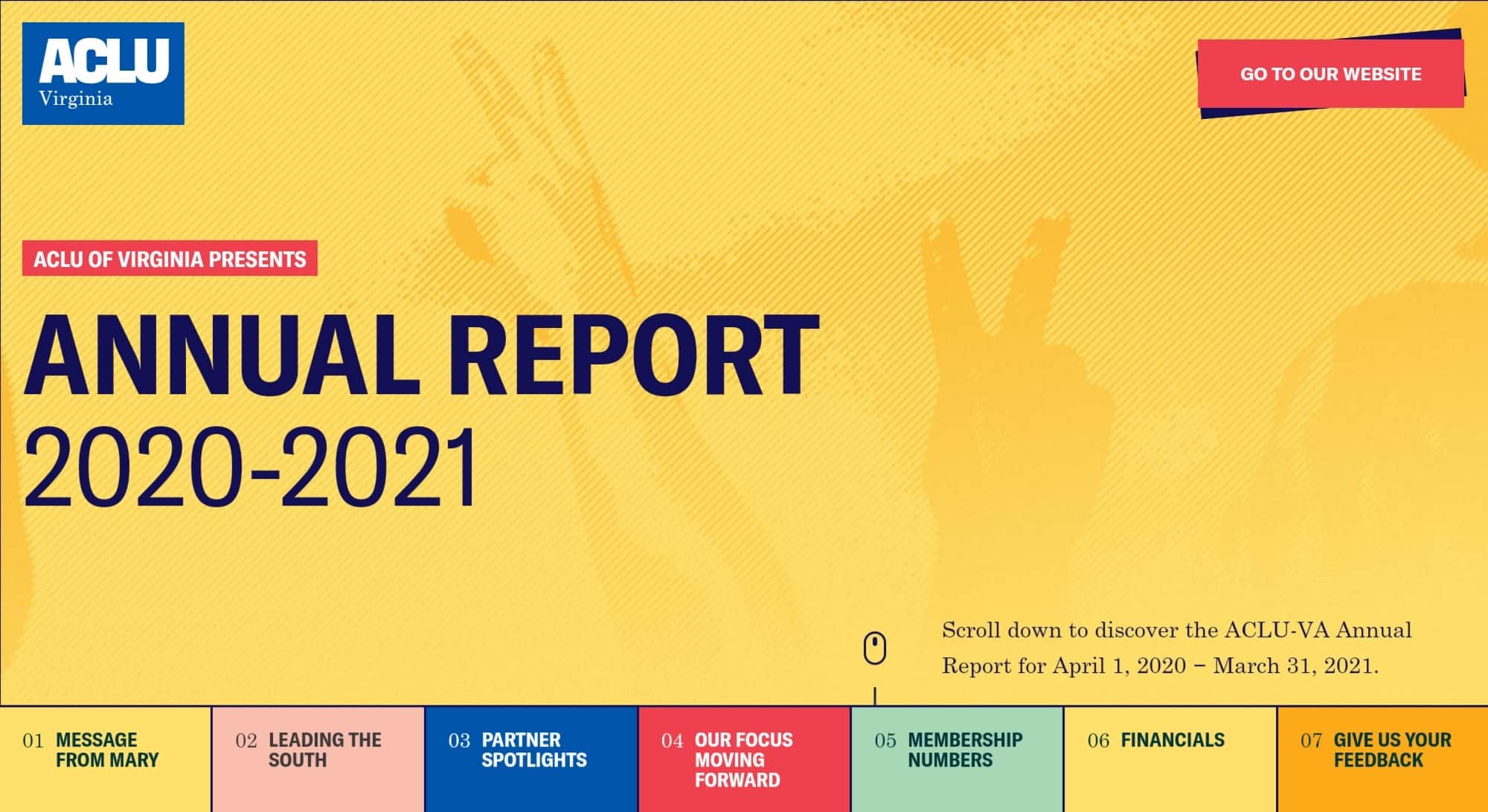 The aim for this site was to convert what was initially a PDF report into an interactive and engaging experience to generate more interest in the material and increase views.
Considering the average user's attention span of eight seconds, our designers used minimalist best practices and bold, easy-to-read fonts, short paragraphs, subtle animations and simple navigation.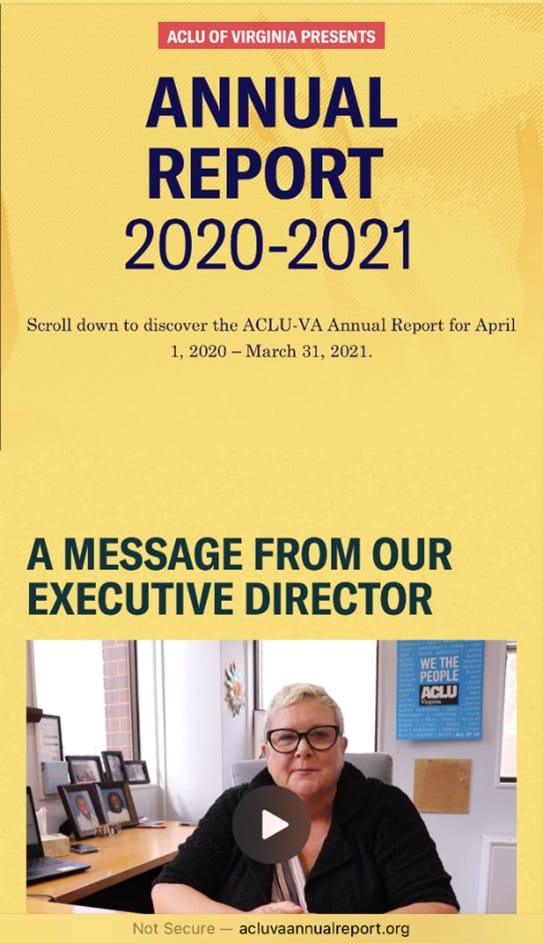 From the very beginning of the site, the navigation menu shows up as file tabs akin to an actual folder. This gives viewers an idea of what to expect before they start scrolling.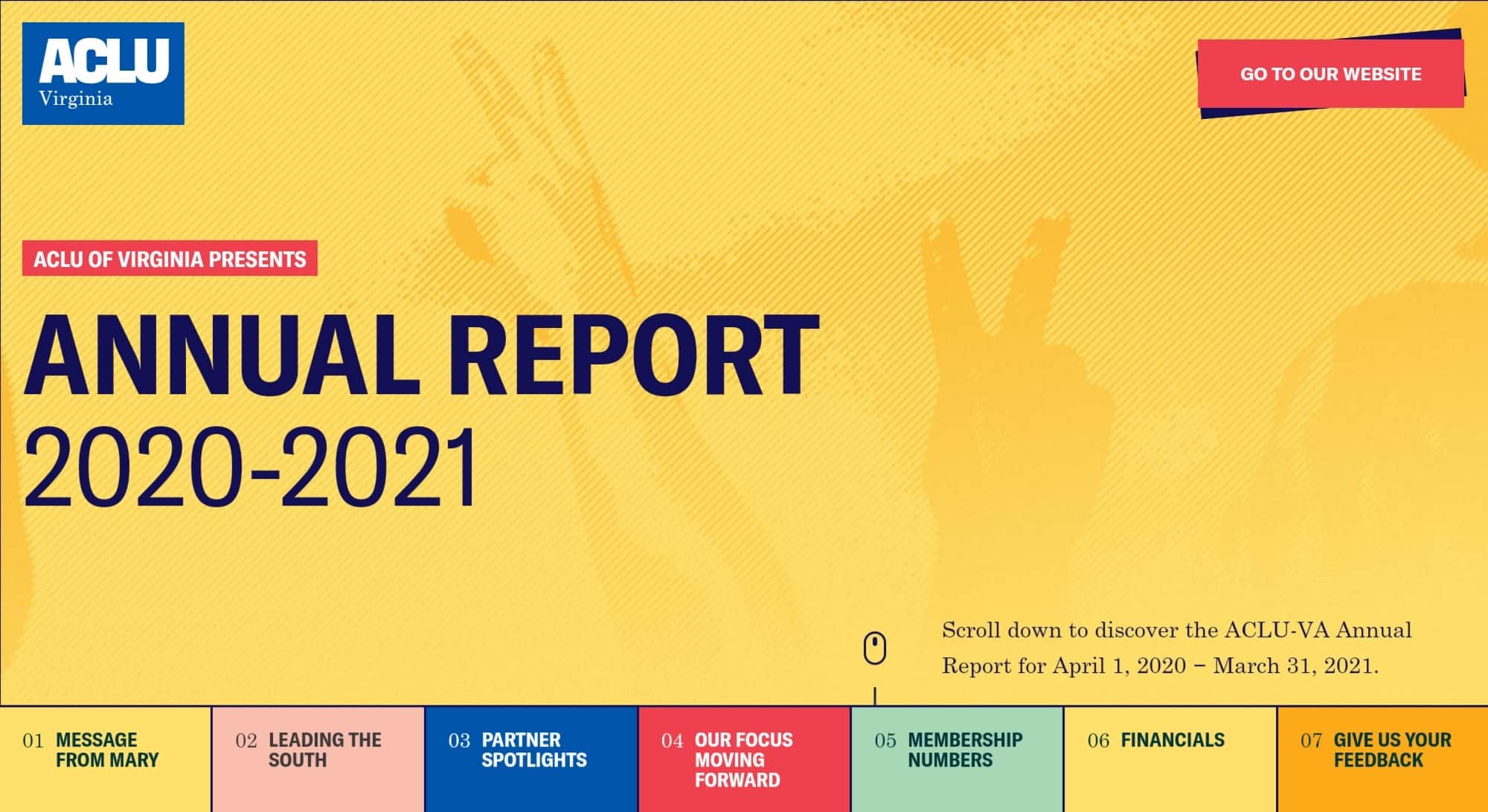 The site feels like a parallax page or microsite as every page on the navigation bar actually appears on the landing page while you scroll down.
The vibrant colors give the report life, but also serve a purpose of transitioning from one chapter: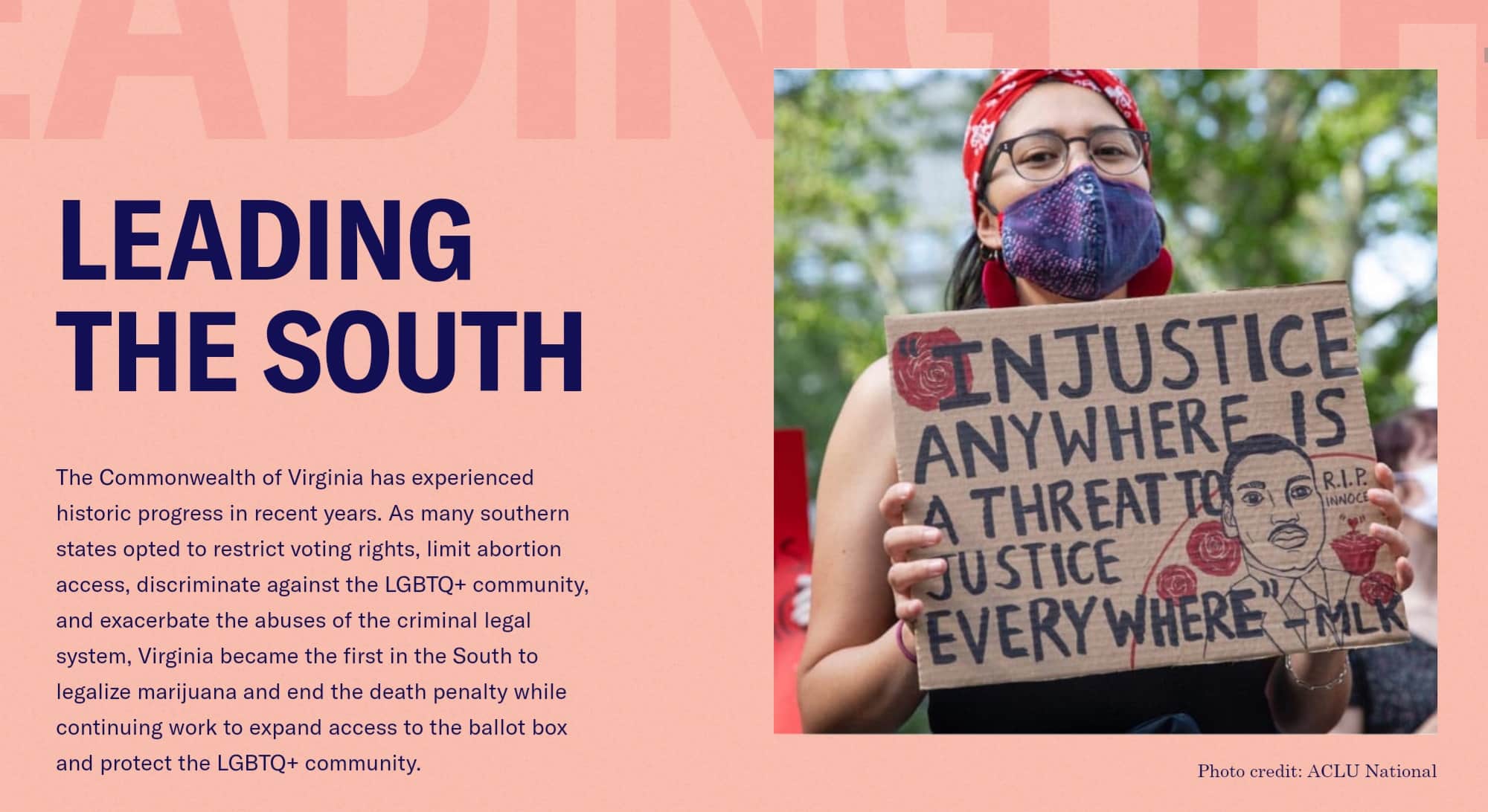 To the next: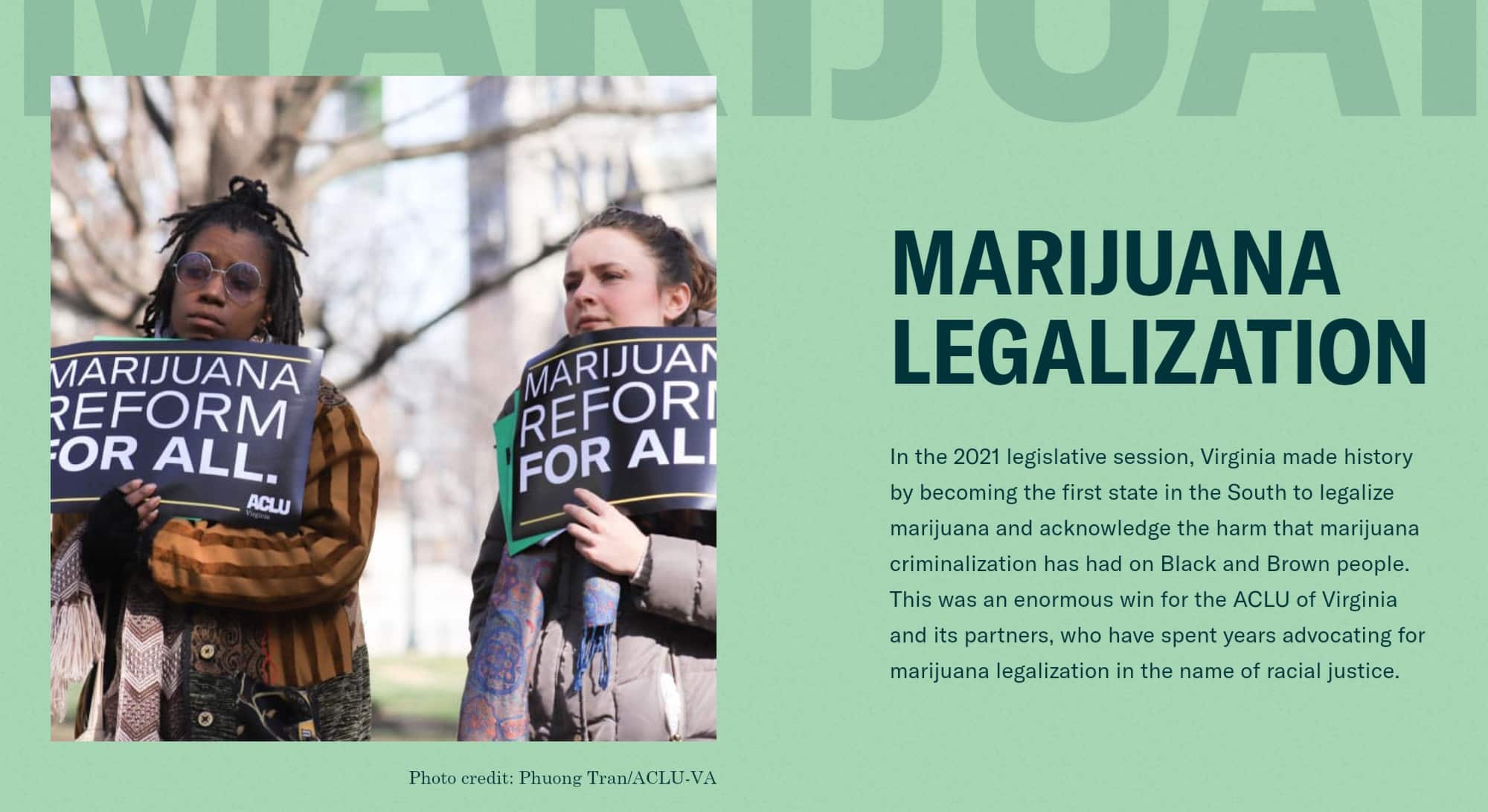 Our team used a variety of design strategies to keep readers engaged and to package the content in a new, easily digestible way, starting with the very first thing you see when landing on the page, a video message from the executive director.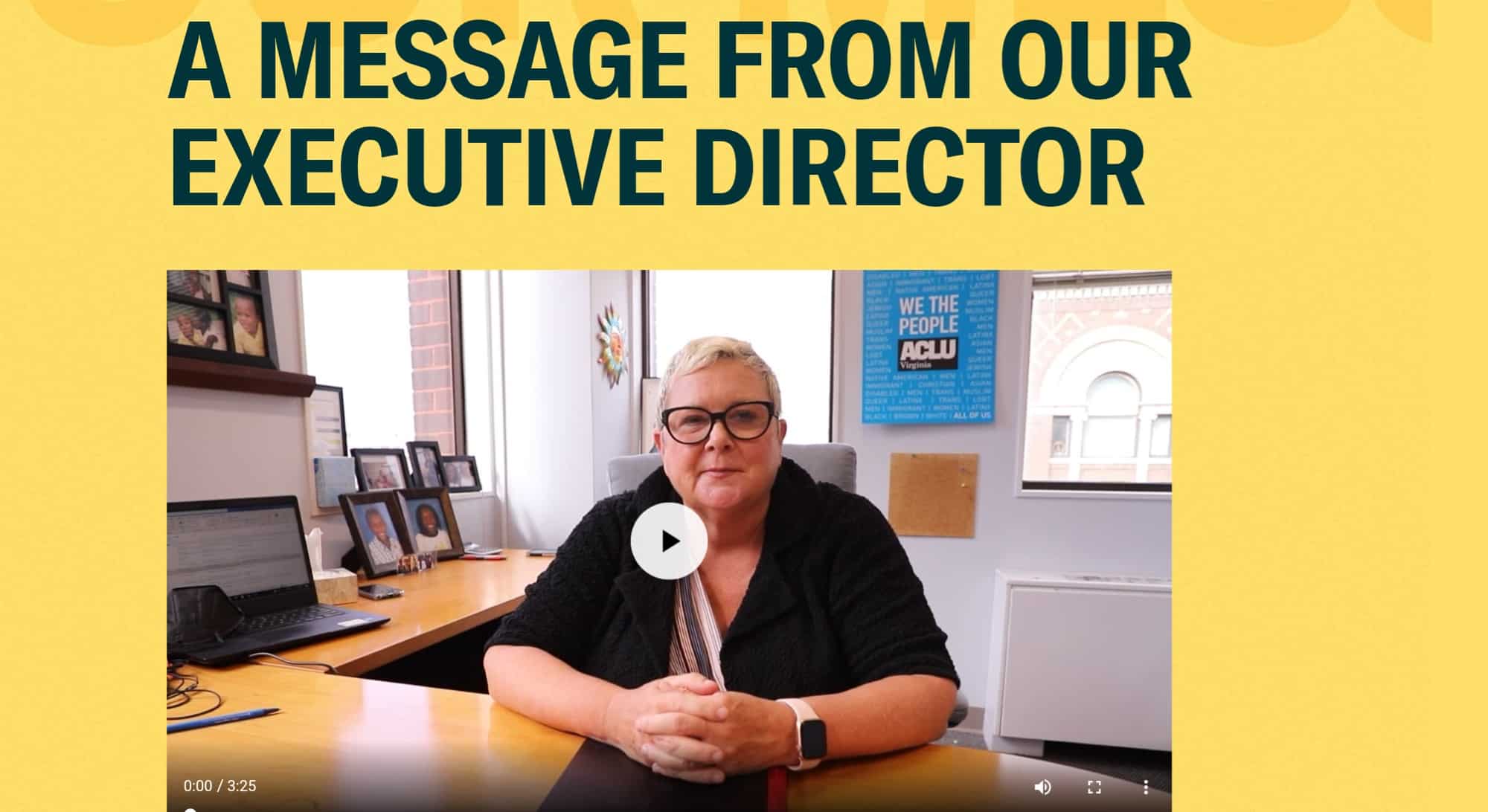 Our designers used custom iconography to help readers visualize principles.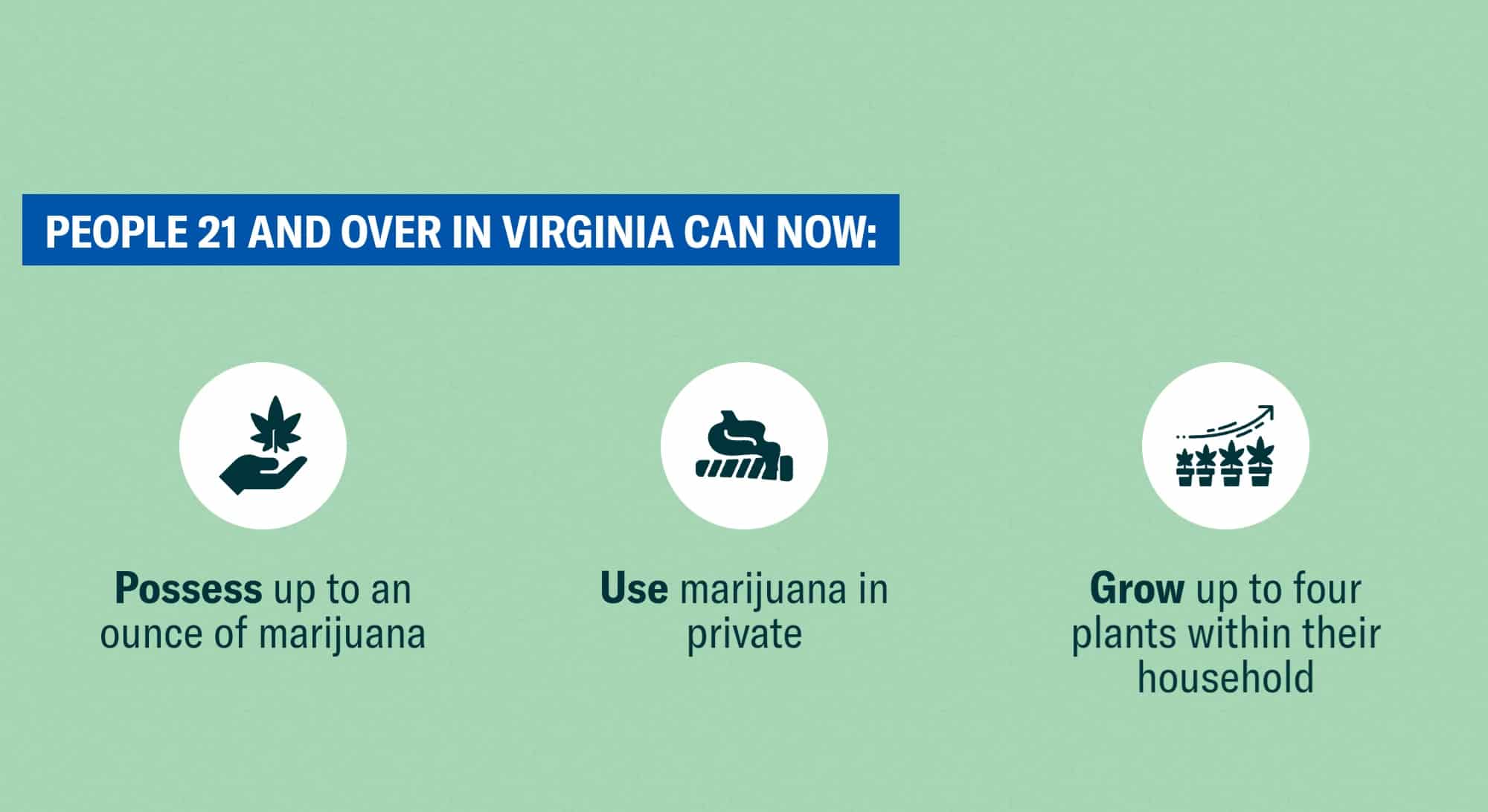 They created a mind-map of milestones to showcase goals.
The timeline provides an easy-to-access history and plans for the future.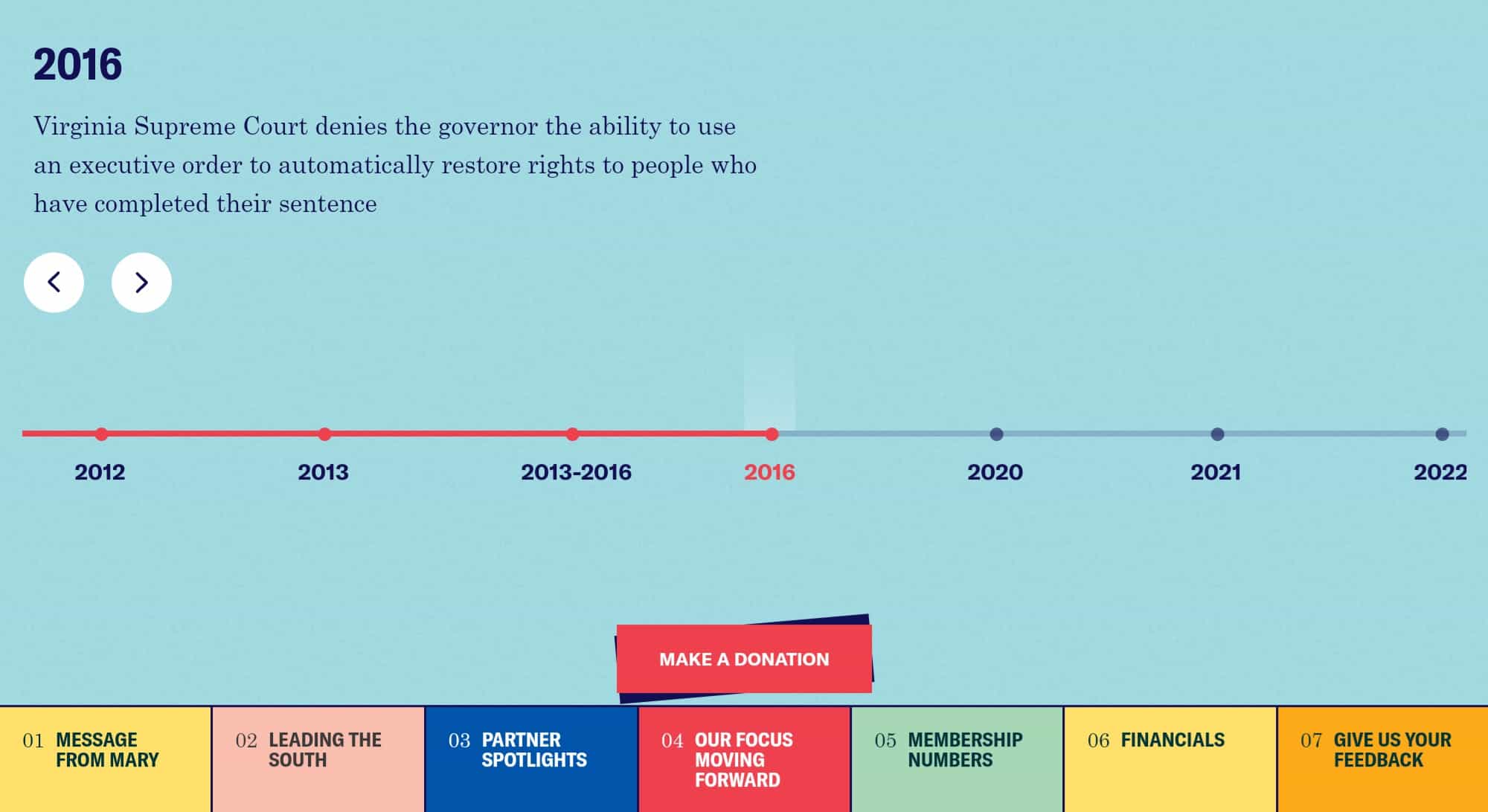 Our designers used modules to make detailed content more digestible.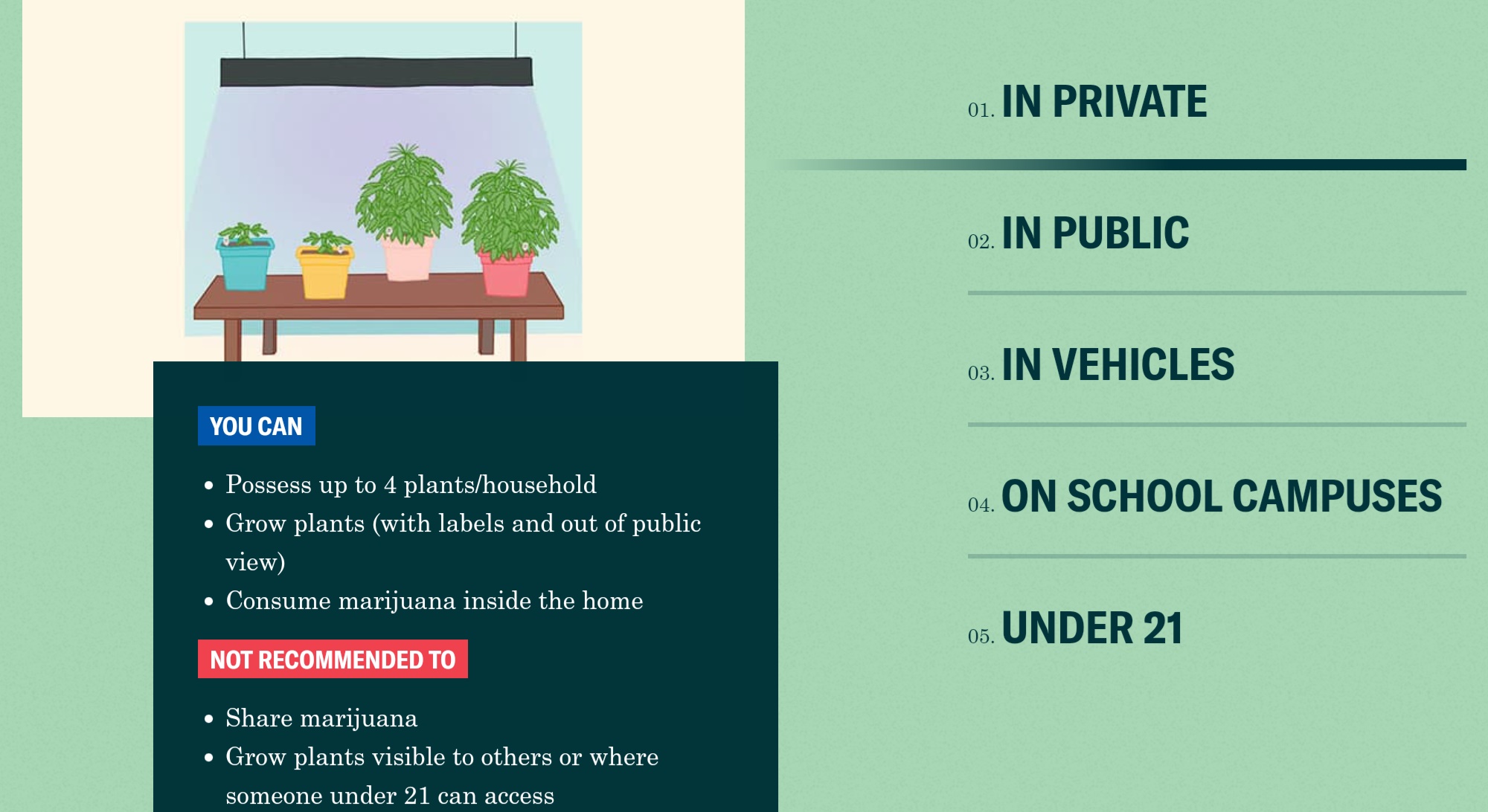 And they implemented carousels to emphasize key points.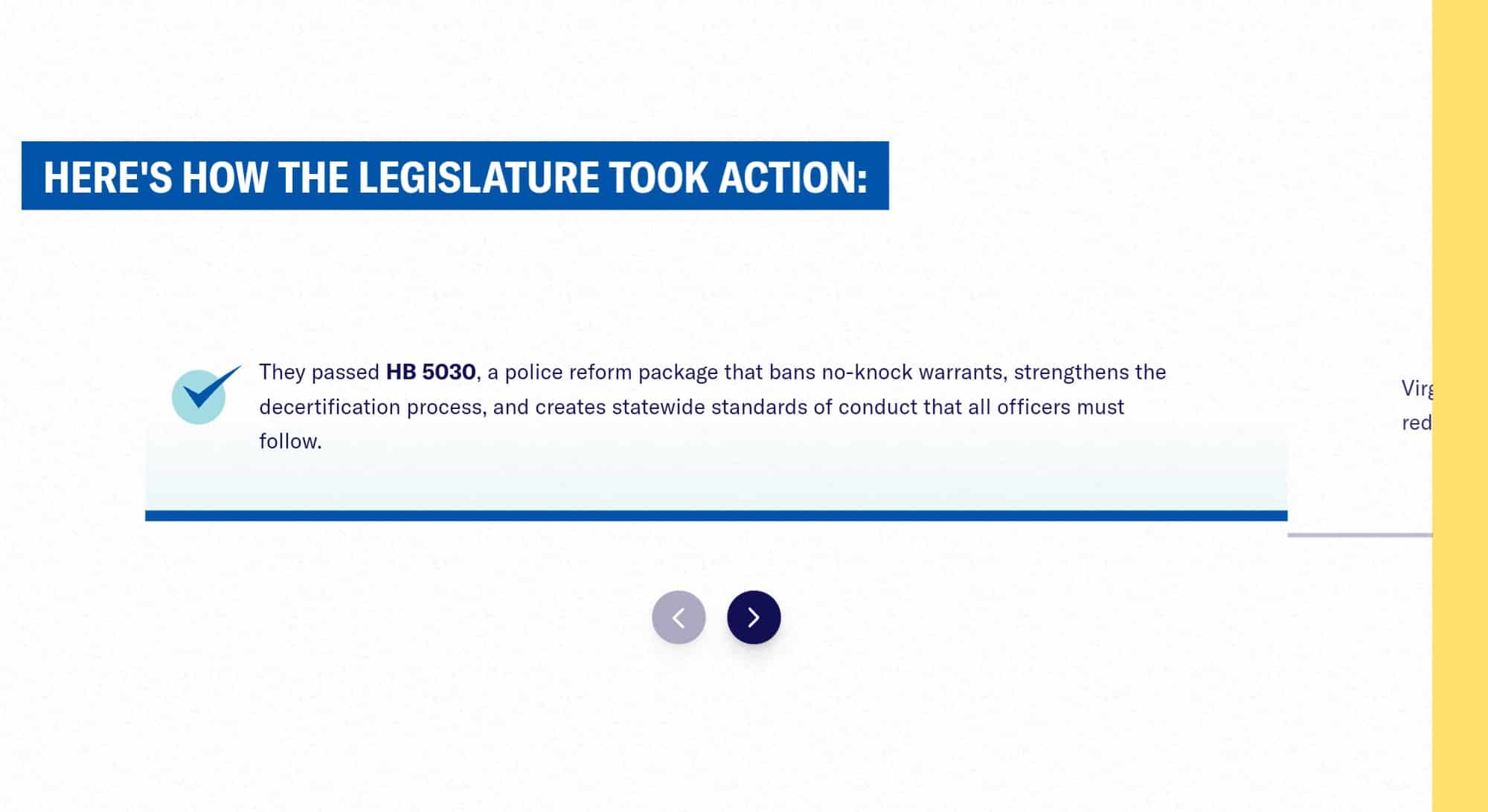 Our team also strategically placed CTAs after compelling data was shared to give viewers a means to act directly and immediately.
For example, they inserted a "Become an Advocate" CTA directly after showing upsetting percentages of how grave the situation is; a "Voting Rights" CTA right after describing the unfairness of a situation; and a "Become a Member" CTA towards the end, after the viewers have become more informed.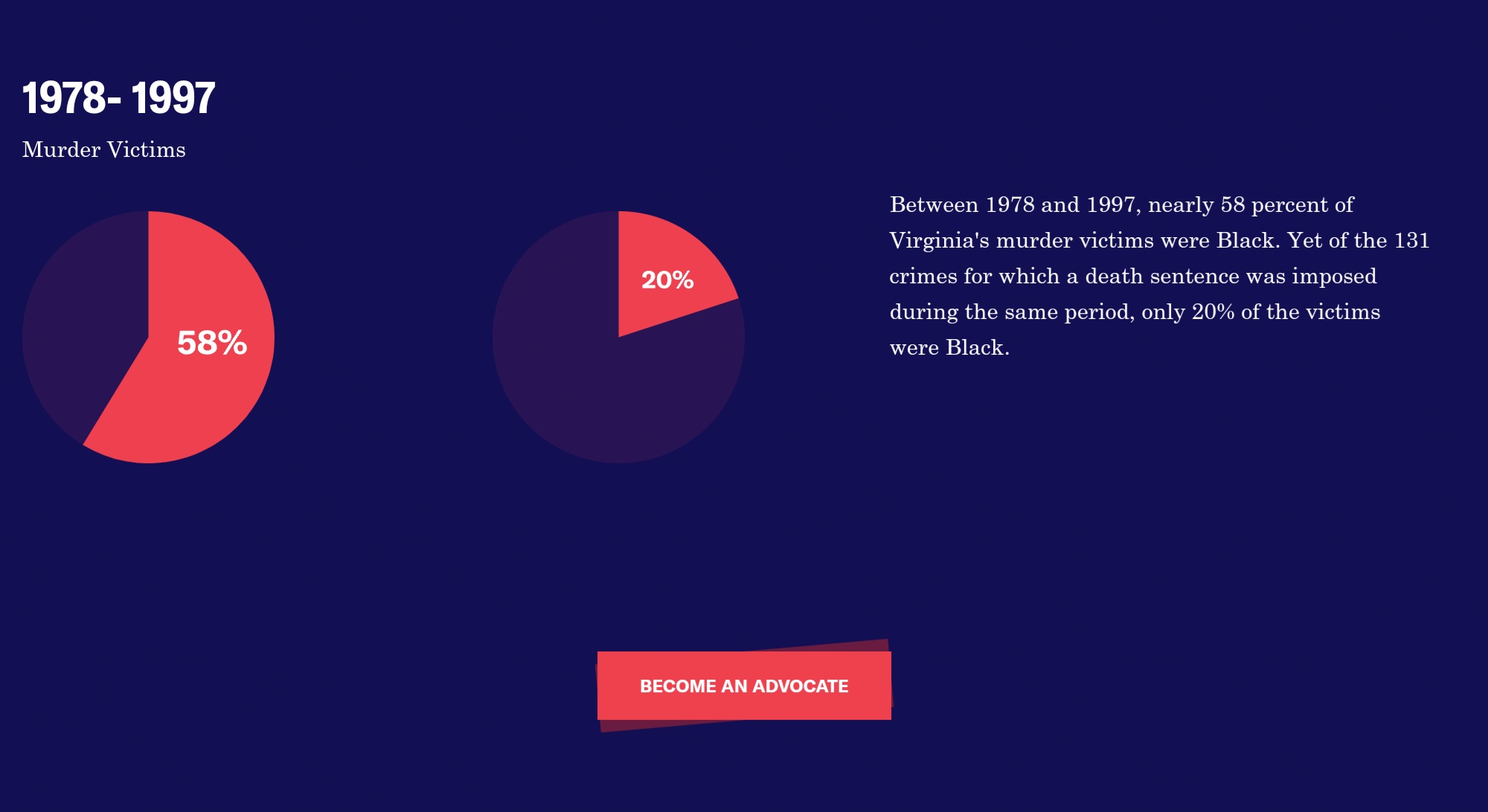 The right placement of CTAs helps guarantee KPIs are met by best utilizing the emotional reaction of the viewer and offers a way to action immediately.
The "Our Staff" and "Board Members" sections towards the bottom of the page include a motion graphic that reveals a staff portrait when users hover on their name.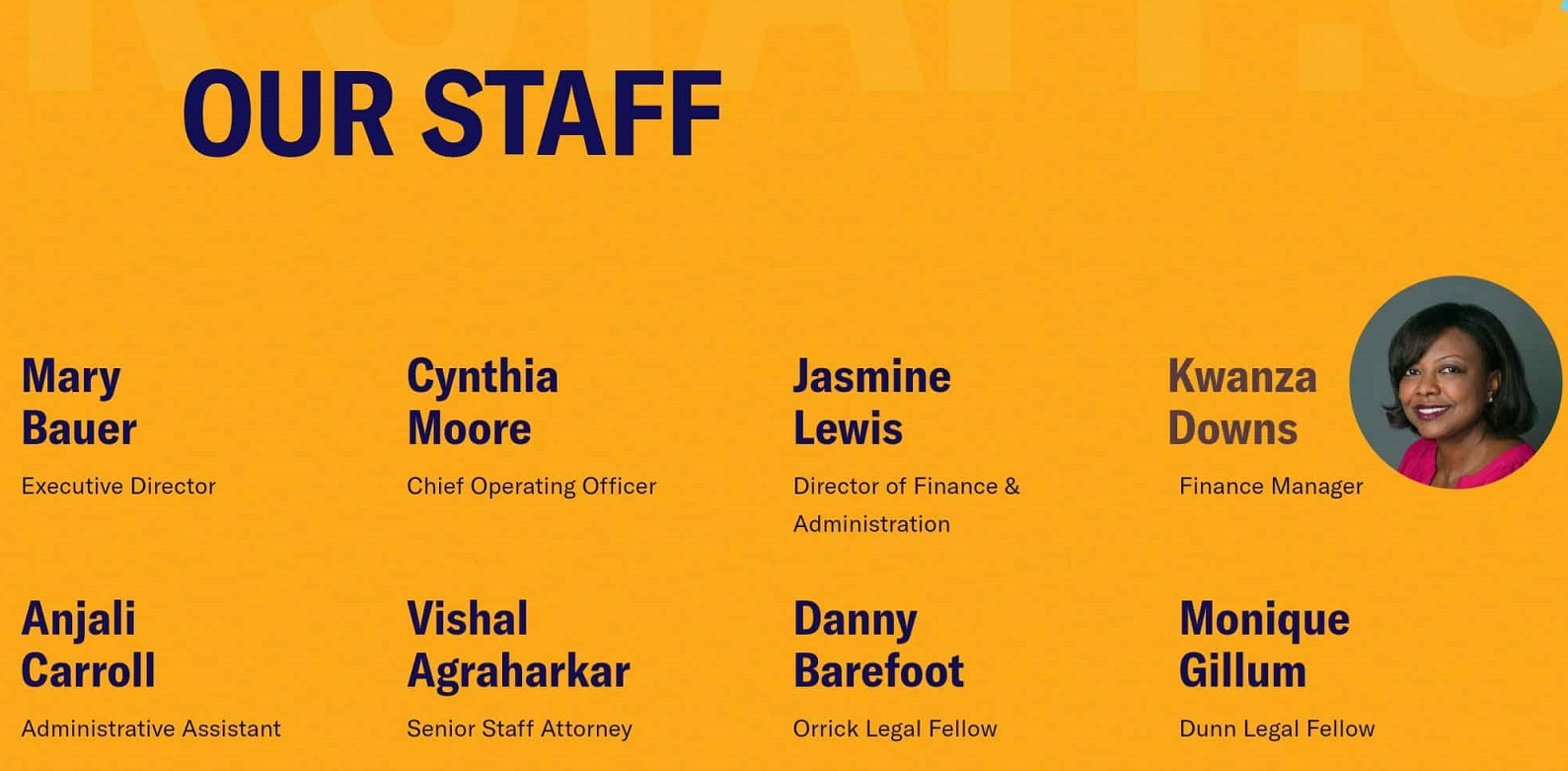 When you reach to the footer, you'll find two last CTAs; one for feedback and one for conversion.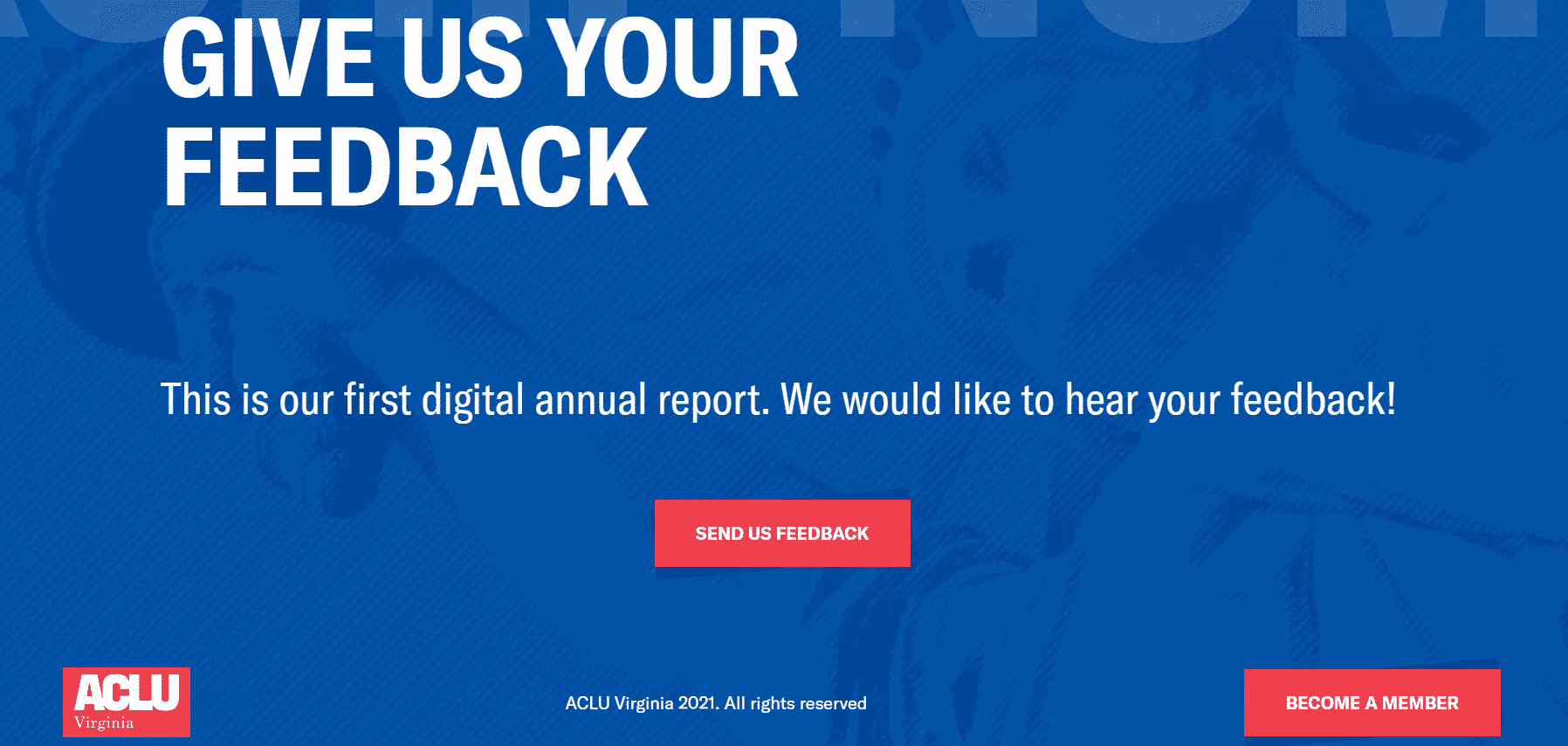 Get an estimate for a design like ACLU of Virginia's Annual Report
Request A Quote
Knopp Biosciences
Website: https://www.knoppbio.com/
Category: Medicine
The Client: Knopp Biosciences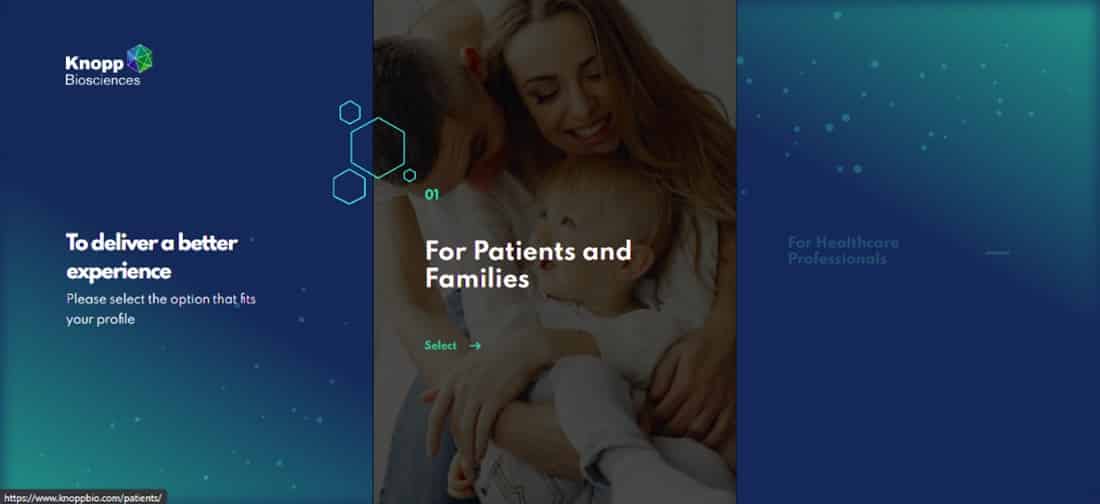 With a defined color pallet, our team created branding for Knopp Biosciences that is clean, sophisticated and fit for the modern age with custom icons and immersive yet snappy motion graphics.
If you hover over either square on the landing page, visitors can personalize their user experience by choosing "for patients" or "for healthcare professionals."
For the version of the site geared towards patients and families, there's an emphasis on clear, concise text paired with beautiful custom graphics.
Images of people of differing nationalities and ages in the hero section summarize expectations for the user experience: Expert advice made accessible for everyone.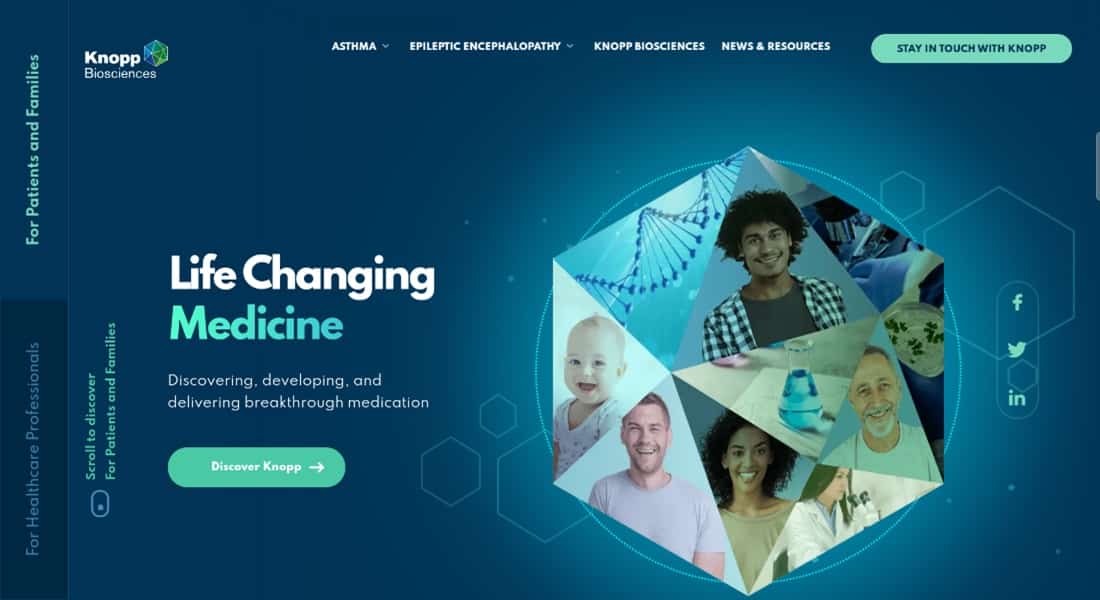 Scroll down and the custom transitions and graphics encourage users to read and interact with the site and explore its interlinked content.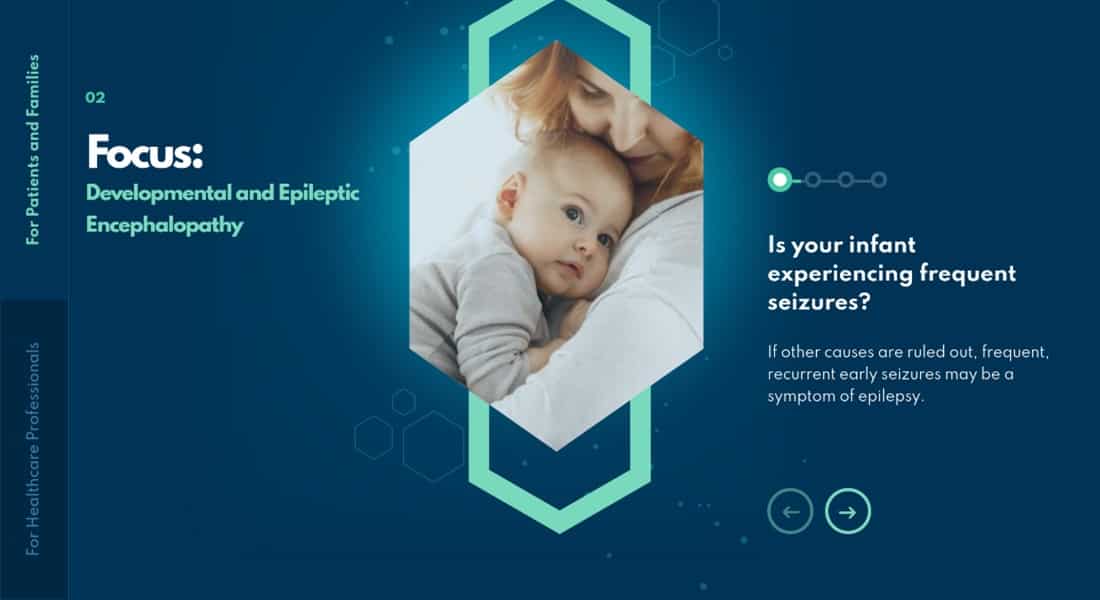 Based on our web team's research, science sites tend to become across as dry, intimidating and distant – which is why our designers met the challenge head-on to make the site stand out.
The hexagon shapes throughout the site draw the eye and encourage users to explore sections in the carousel.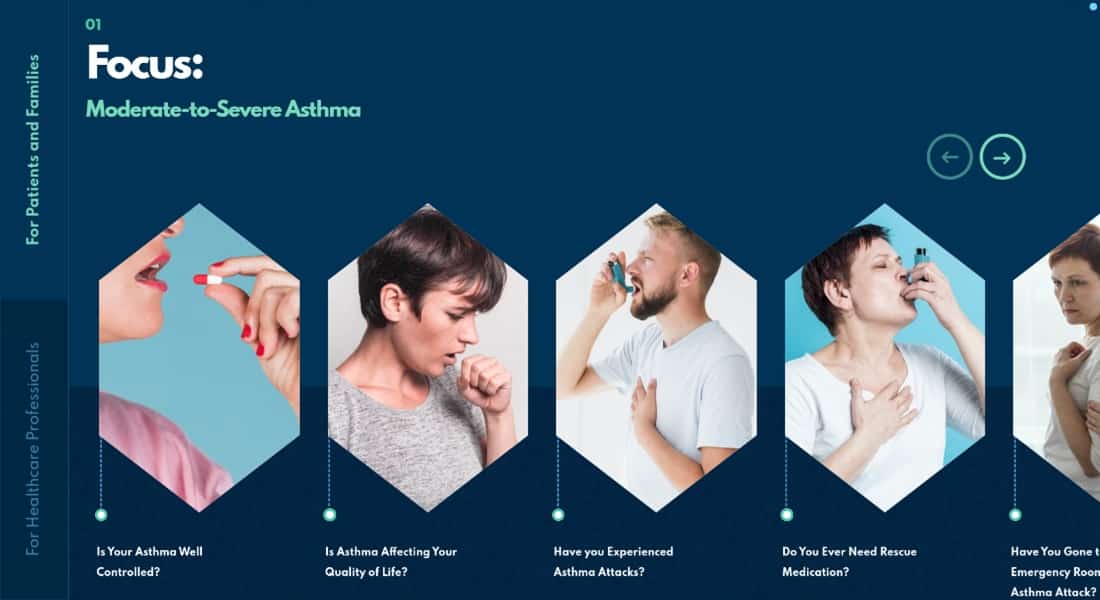 Once users click on a link of interest, a smooth transition brings up the relevant page seamlessly as if they haven't left the home page.
This ensures that that momentum at the start of their conversion journey doesn't break and they keep engaging and stay on site. This is a similar concept to infinity scrolling prevalent on social media.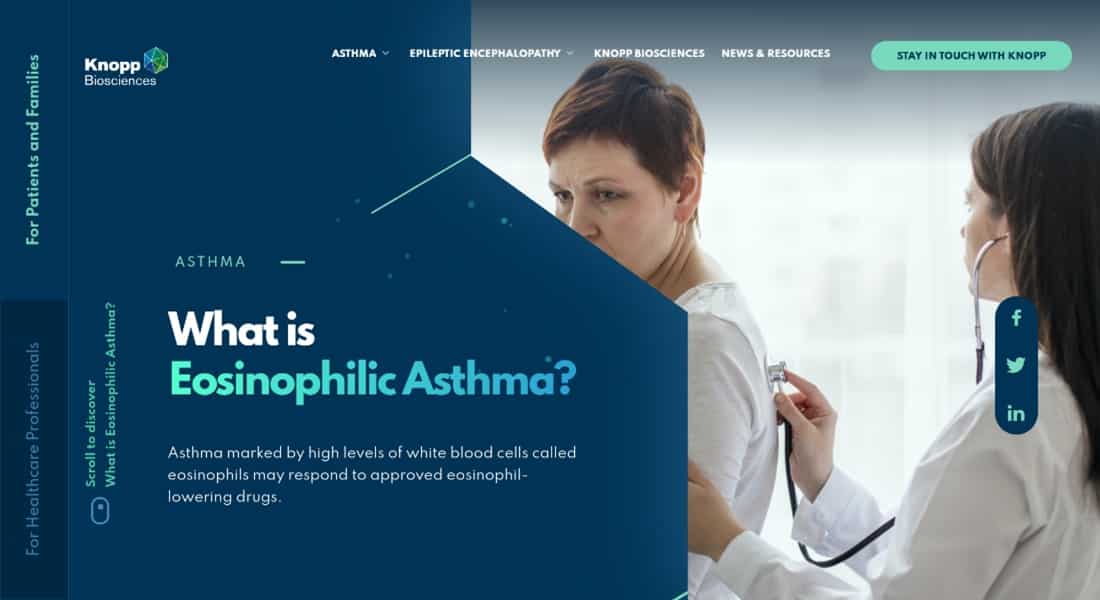 Creative graphics are used to give users the information users need without overwhelming them with chunky paragraphs or complex terminology.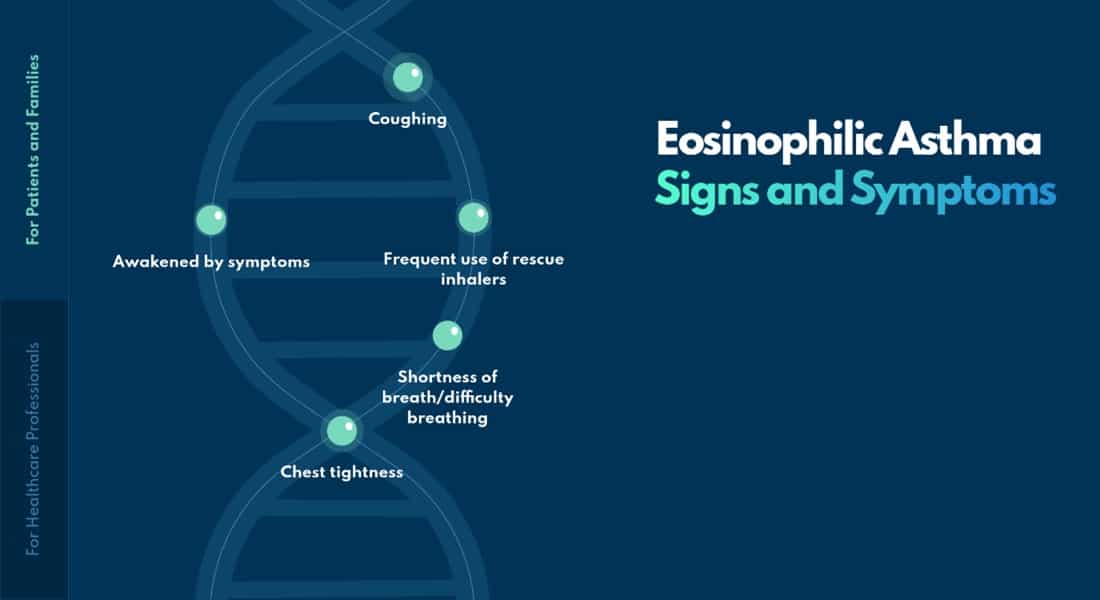 The user experience tailored for health professionals is driven by the fact that they seek detailed information and are more familiar with what they specifically need, such as studies and reports.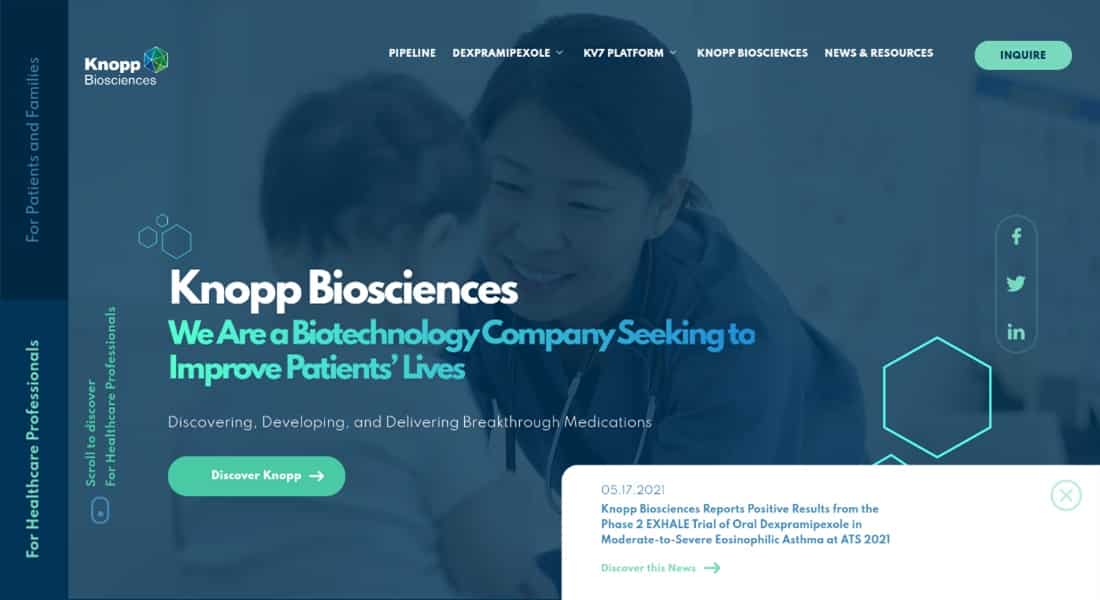 This home page for professionals is more compact to help healthcare workers get to the information they are searching for quickly.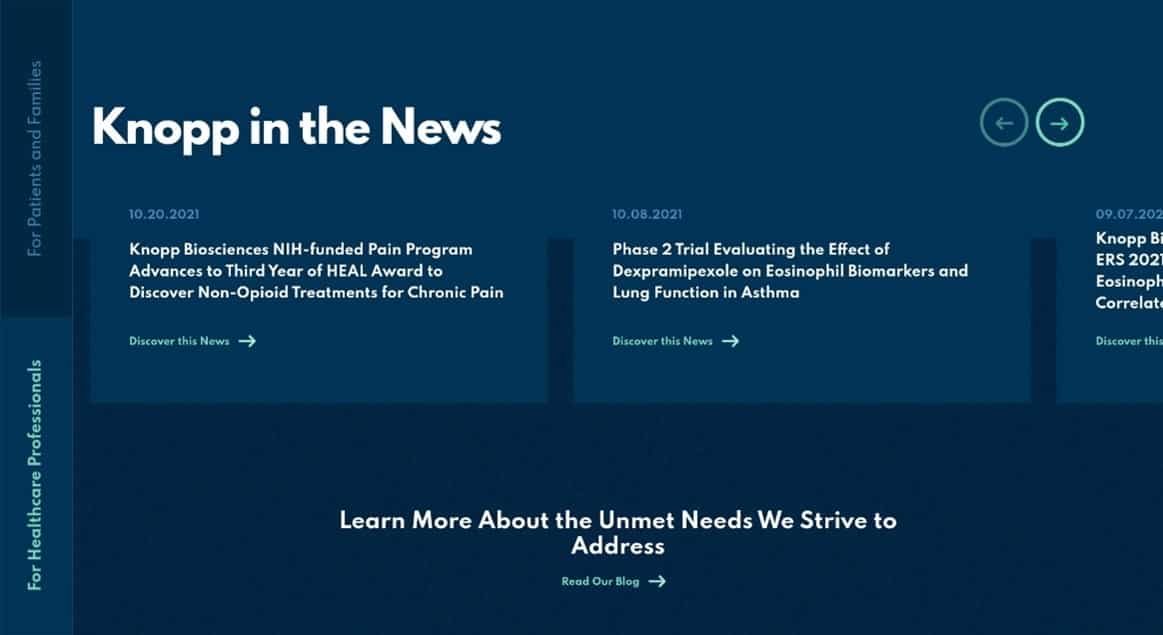 The footer is kept minimal with two email opt-ins as key elements and vital information such as a disclaimer and phone number.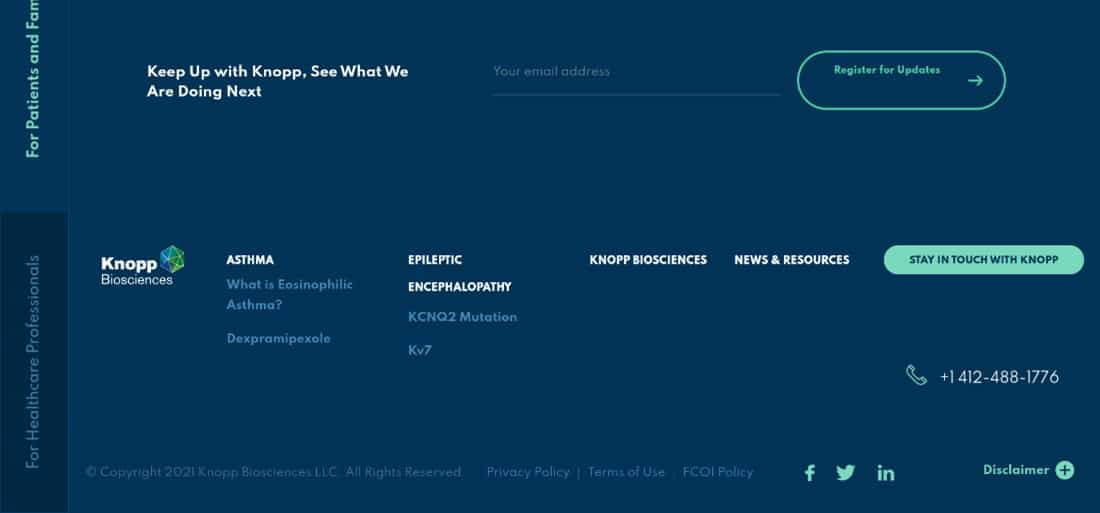 Find The Plan
Website: www.findtheplan.com
Category: Health Insurance
The Client: Find The Plan
Find The Plan helps customers find health insurance, Medicare, and insurance for senior caregivers.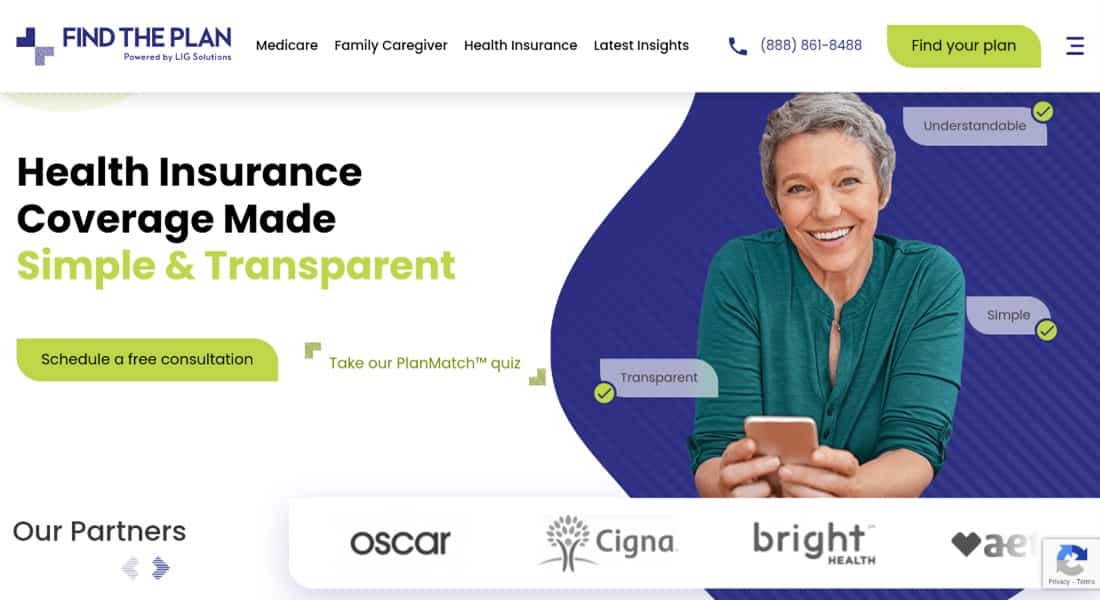 Our designers opted for a white, green and violet-blue color scheme for this website. Blue, in color psychology, gives a brand an aura of security and trustworthiness. Green, on the other hand, is used to represent health.
The white background is refreshing to the eyes, gives space to the design and allows the content to pop.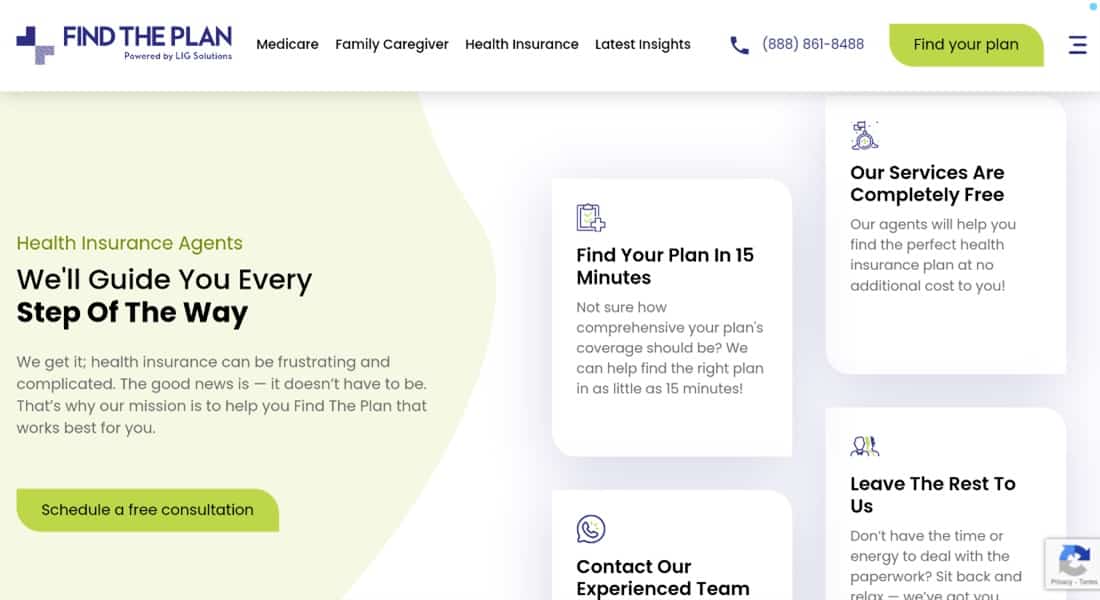 Hard edges would make the brand feel a bit more technical and intimidating, so our designers choose geometric, rounded shapes for the icons and design elements.
Combined with subtle transitions and hover effects, the website feels modern, fresh and engaging to visitors.
As the user scrolls down, they get a more well-rounded understanding of Find The Plan, the types of insurance offered, and how easy it is to "find their plan."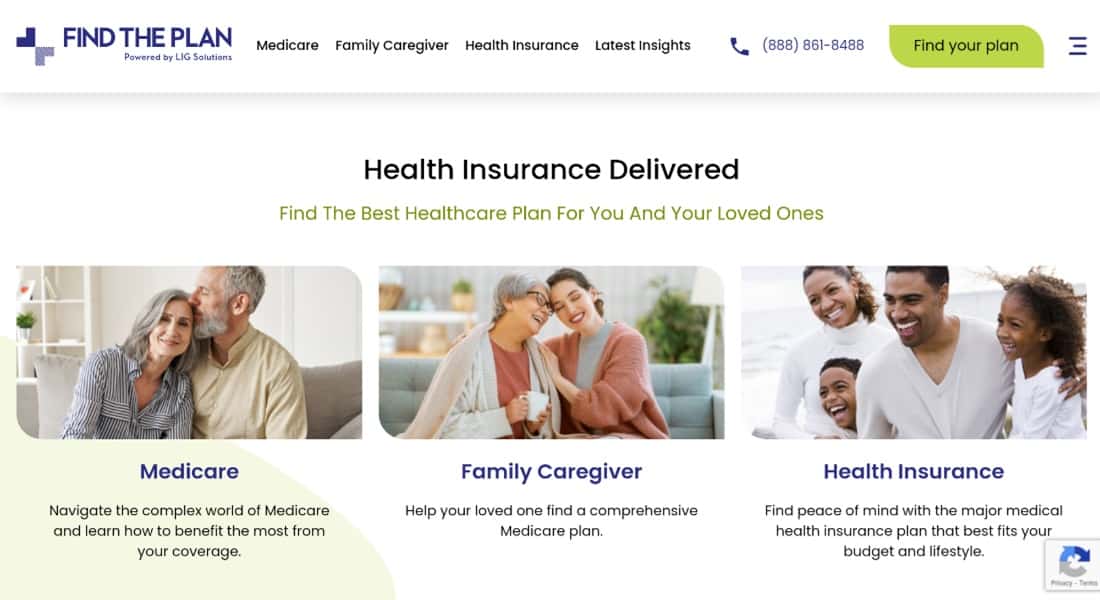 Even as you scroll, the menu above stays. We used this sticky navigation bar so that the most necessary info and main conversion points are always in view.
The main CTA button in the top corner stands out – but it doesn't distract from the rest of the landing page.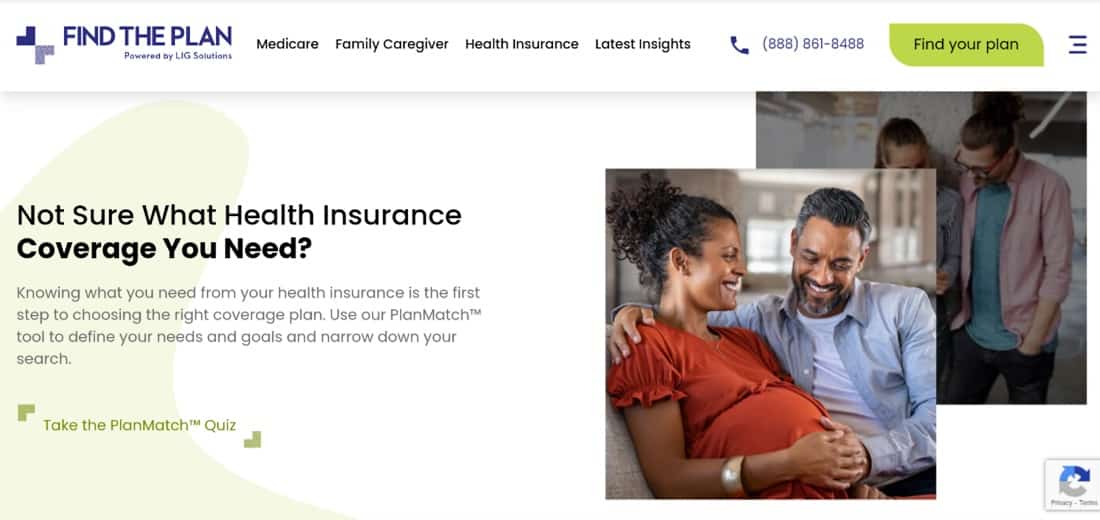 To ensure that visitors weren't overwhelmed, our designers made use of graphics, such as this visualization of Find The Plan's insurance process. The graphic makes the process clear to understand and makes it seem easy and do-able in just four steps.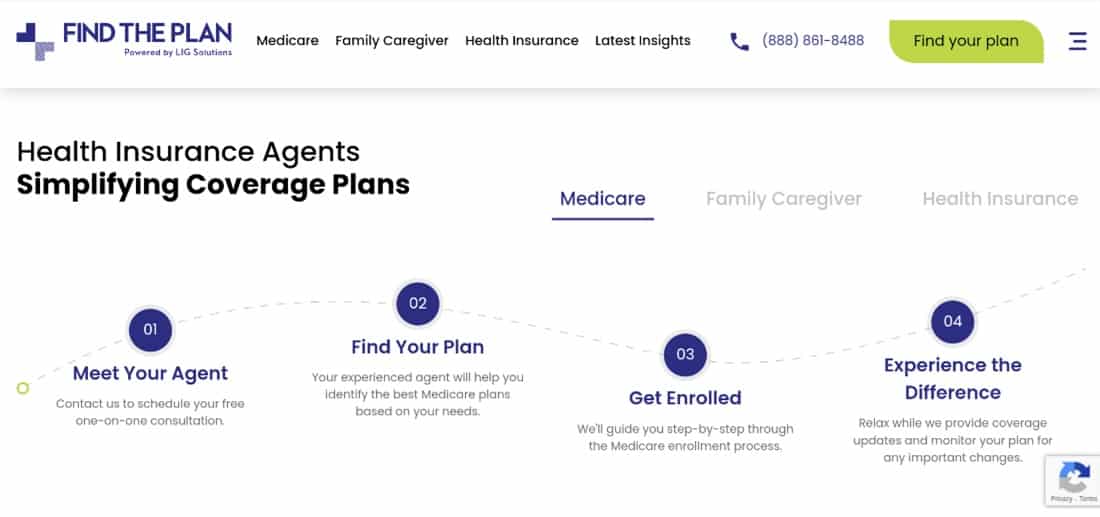 The bottom of the page has an integrated form Where visitors can quickly and easily contact the company.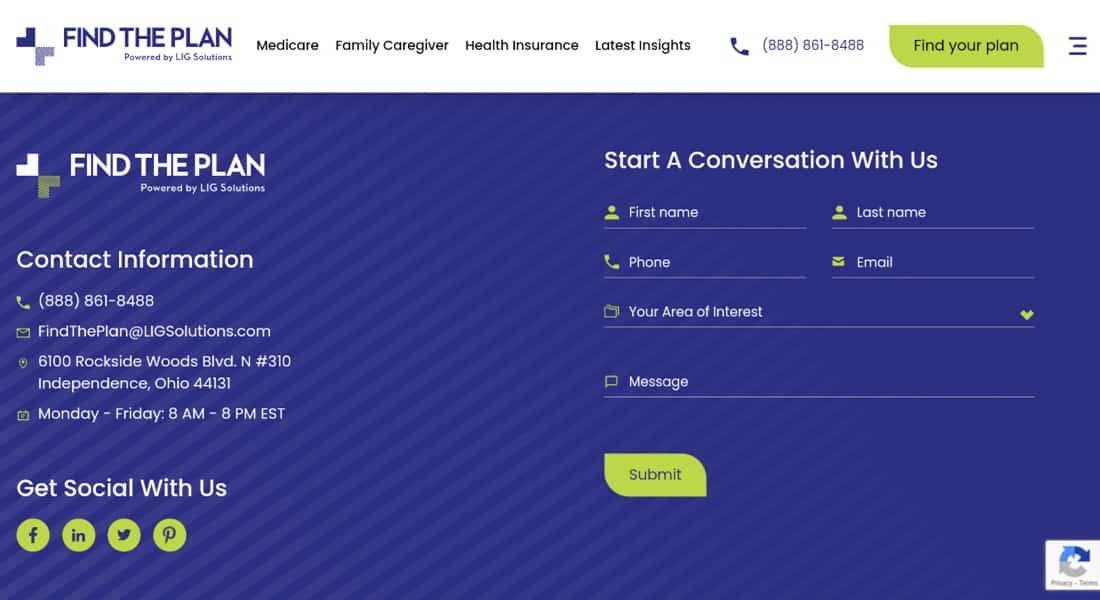 Why Choose Digital Silk As Your Professional Web Design Company?
At Digital Silk, we understand that by choosing our web design services you're not only entrusting us with your website, but with your brand reputation as well.
By partnering with Digital Silk, you have access to:
An expert team with a proven track record
Insights into the latest trends and best practices
Full website optimization across all devices and search engines
Top-of-the-line tools
When you choose to work with us, you can expect:
Proactive ownership of your project from start to finish
In-house experts who use best practices and innovation to execute and even enhance your vision
Recommendations based on a comprehensive evaluation of your offering, industry landscape, competitors, target audience and other key factors
Full transparency, including regular communication and reporting, detailed time tracking and streamlined execution
Takeaways On Web Design Services
Web design is a responsibility we don't take lightly. Our experts treat your project as their own and it is through this care and attention to detail that we are able to consistently create superior digital experiences from start-ups to Fortune 500 brands.
At the end of our results-driven process at Digital Silk, you will have a professional website that is either responsive or mobile-first, fully-branded and above all — converts.
At Digital Silk, we:
Move with urgency
Take ownership of your project
Are transparent
Provide expert guidance
Generate measurable results
Ready To Design A Market-Leading Website?
Request a quote!
Tell us about your project and let our experts give you recommendations.