Did you know that 88% of online consumers are less likely to return to a website after a bad experience?
Think of your website as your best salesperson, available 24/7. If your site is slow to load, your navigation is difficult, your branding elements are all over the place and your content isn't valuable, even your best salesperson doesn't stand a chance at driving conversions.
So, exactly how do you plan a website to ensure your visitors have a positive experience?
We'll let you in on just that. We've put together a professional website planning guide for custom website projects. We'll list the steps to follow when planning a website that is optimized for both SEO and conversions.
Plus, we'll give you a comprehensive downloadable checklist to help you plan your project.
How To Plan A Website
Let's jump right into it! Below we show you some of the steps our Digital Silk experts take before they start planning a website design.
You can take these steps for any website project, whether you're planning to design your website in-house or delegate it to experts.
1. Document Your Goals & KPIs
Start your website planning process by detailing the objectives you wish to achieve with your website. Why are you (re)designing the website? Define the specific goals for your website design or redesign project and how you plan to measure them.
If you already have a functioning website, review its current performance and define areas where there's room for improvement. Write down specific SMART goals, i.e. Specific, Measurable, Attainable, Relevant, and Timely.
These goals might include:
Generating more traffic
Generating leads
Boosting online sales
Decreasing your bounce rate
Increasing your mail subscribers
Improving customer satisfaction
Improving conversion rate
KPIs to measure the success of your goals might include:
Organic traffic
Traffic by source
Search rankings
Dwell time
Interactions per visit
Once you have specific goals laid out and metrics to determine how to measure their success, you can start strategizing actionable ways to achieve them.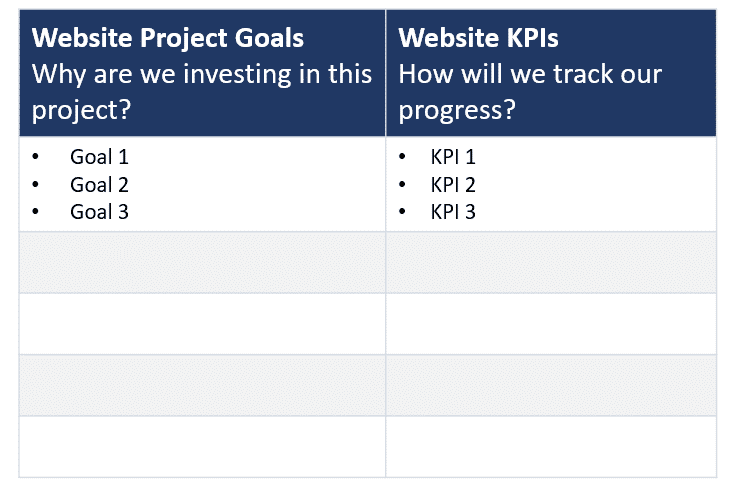 2. Define Your User Personas
To better understand what your users need and expect, create personas for your target groups. List as many details as possible to create personas for each target segment, including:
Gender
Age
Education
Marital status/Kids
Professional development story
Position and experience within the organization
Reporting line
Frustrations
Needs
Expectations
Likes/Dislikes
How do they approach the website planning topic
Corporate subscriptions and publications
Brand listening tools to identify public sentiments
Personal traits
Politics & Economics
Entertainment preferences
Personal pain points and anxieties
Creating user personas will allow you look at your website through the eyes of your users and clarify your website requirements in terms of messaging, user journey and design.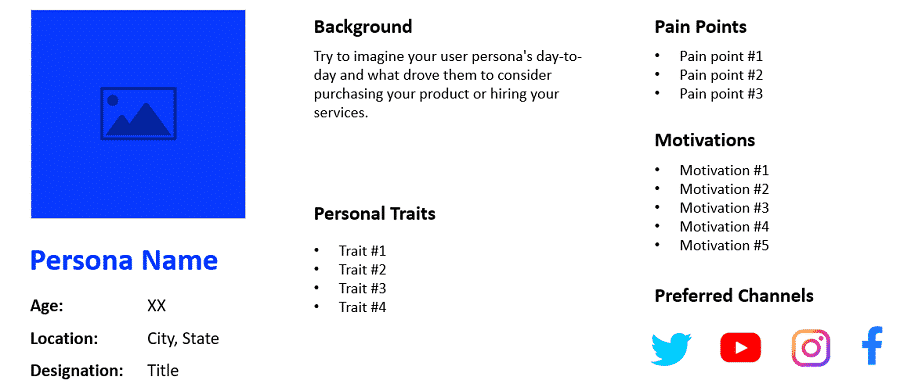 3. Analyze Your Direct Competitors
List and carefully analyze between two and five of your top competitors. Look beyond their user interface and review their:
Sitemap
Content strategy
Messaging
Key landing pages
SEO efforts (use tools such as SEOMinion and Ahrefs to observe title tags, meta descriptions, image titles and more)
The purpose of this task is to research your competitors' strengths and weaknesses compared to your own, find a gap in the market and optimize your business strategy.
Discuss your competitors' offerings, how they differ from yours, what makes them stand out and be liked by customers.

4. Find Inspiration Websites
Visit and analyze your favorite websites, whether they're in the same industry or a different one.
Look beyond the user interface. Focus on the conversion funnel and user journey that navigates (or fails to navigate) visitors to various conversion points.
Take note of their messaging, images, colors and typography and consider which elements work for the brand vs. against it.
5. Create A SEO Plan
Find viable keywords, particularly for your key landing pages, using keyword research tools such as SEMrush.
Keyword research can (and should) impact your sitemap as it will tell you what your audience is looking for, what terms they are using to look for your services, and what type of information they want to find on these service pages.
If you are redesigning your website, your SEO plan should also contain details such as redirects, which are key to retaining your current SEO value.

6. Create A Sitemap
Creating a sitemap will help you decide what pages, and in what order, to display to your users.
It can also help your designers and developers understand your website requirements.
Here's an example of how your sitemap might look: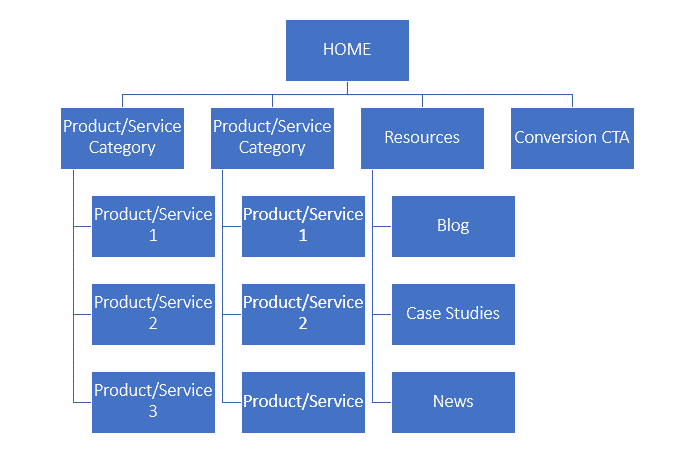 7. Map Out User Journeys
The user journey is the path your users take to travel through your website. When planning your sitemap and landing page content, determine where your user should go, from one page to the next.
CTAs are key to building effective user journeys. Each page should have several diversified CTAs that help the user continue their journey through your website, finding more relevant and valuable information until they are ready to convert.

8. Plan Landing Page Content
Never design a website before outlining the key information and content your landing pages should have. Messaging is more important to the user experience than wireframes and creative designs.
Communicate your message clearly from the moment your users land on your homepage, by highlighting the value your business offers to your target audience.
Focus on your consumers' needs, expectations and pain points. Show what makes you different and how you can make the life of your user better, easier, more comfortable, more interesting, more attractive, etc.
Plan CTAs to lead your users to different stages of the conversion funnel keeping them engaged and willing to explore more.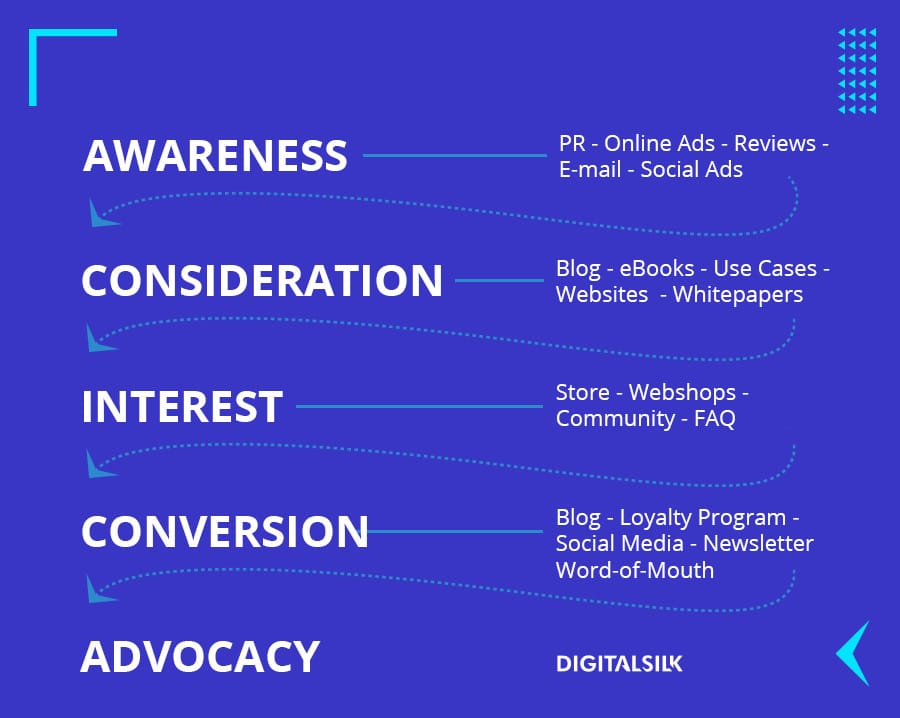 9. Create A Design Brief
Your design brief should include your brand style guide to ensure the designer accurately translates your visual identity to your website. Details to add to your design brief include:
Logo variants and guidelines
Color palette
Typography
Iconography
Image treatment
Your design brief should also include references to the special design elements you'd like to feature on your website, such as:
Modules
Roll-over effects
Forms
Other interactive elements
10. Define Your Budget
The reason why we listed your budget as the last step is because the cost of your website will depend on your requirements. Here's a useful guide to determining the cost of your website:
To set up your budget:
Define the purpose of your website (selling advertising space, lead generation, software integration, etc.)
Define whether you need a template design or a custom website design
Create a list of must-have features and functionalities
Research agencies and meet with your top considerations to transparently discuss your needs and budget
Find Your Platform (CMS)
If you opt for a templated website, you can choose from one of the many content management systems (CMS) available, such as WordPress, Joomla, Magento or Kentico.
To decide which platform is right for you, make sure your CMS:
Is strategy-friendly: Choose a CMS solution that enables your team to focus on implementing strategies that boost web traffic, instead of spending time on managing the technology.
Is scalable: As your business changes and grows, so should your website. Opt for a CMS solution that can reflect your business's growth in the years to come.
Supports omnichannel: Content exists on many channels, platforms, operating systems, browsers and devices. Opt for a CMS solution that is capable of supporting a variety of new and existing channels.
Supports third-party integrations: Certain CMS solutions, like headless CMS with robust APIs, allow you to connect with third-party content management tools. This is important for easier incorporation of personalized marketing strategies, deep insights into user behavior and integration of marketing automation tools, business intelligence systems and other software to enhance the website's capabilities.
Offers good technical support: Choose a CMS that allows developers to work without interfering with the creation and management of content.
Download Our Editable Website Planning Template
Free Website Planning Template
Download your free, ready-to-use website planning PPT template.
Email the download link to:
Planning A Website With An Agency
If you are outsourcing any part of your website design, complete the ten-step website plan above with additional details your digital agency should know such as:
Your business overview
Brand book or brand style guide
Your key stakeholder's contact info (assign roles within your team and name one stakeholder responsible for project managing with the agency)
If you decide to work with our award-winning team at Digital Silk, here's what you can expect:
We are both experts and consultants: From project managers, digital strategists and designers to backend and frontend developers and content specialists, our seasoned professionals with years of experience in various industries plan your website based on thorough research. We look at every aspect of your website planning to achieve your KPIs and exceed your expectations, through strategic design, development and content based on your target audience and your offering.
We serve as a long-term partner: We understand your industry and offer expertise to help you create strategies, execute them and accomplish your goals. Plus, we don't leave you after launch! Our experts take care of website maintenance, improvements and updates for your brand.
We offer full transparency: We communicate and report on task progress during regular meetings, to ensure strict time tracking and transparent execution.
We help you achieve your conversion goals: We understand your consumer behavior and know what type of design works for each industry. From booking forms on your hotel website to product catalogs with spec sheets on your manufacturing site and testimonials on your family law or financial advisor website — we base your design off of industry insights to increase your conversion rates.
We grow your business: As an experienced agency, we contribute to your business growth. We help you attract more qualified leads, acquire new customers, drive more sales and expand to new markets.
Interested in seeing some of our work? Check out the new website we recently created for field management service software company, FieldEdge:
Creating An RFP For Your Website Project
If you are planning to engage an agency in your website project, consider issuing a request for proposal (RFP) to conclude your website planning process. You can reuse a lot of the points you cover in your website plan in the RFP document.
An effective website RFP will allow you to reach agencies that are interested in working on your project. You can review their replies and find the agency that's right for you.
To create a website request for proposal:
State your website requirements in a simple and direct language
Define your website goals and project scope
Describe your pain points and expectations
Include important information related to the timeline, submission guidelines, evaluation criteria, contact details and more
Add a clear budget for your project
Website Planning Takeaways
Website planning is a significant undertaking, but it doesn't have to be confusing or difficult. The ten steps our experts outlined above can help you through the process, step-by-step.
Your website plan should include:
Goals and KPIs
User personas
Direct competitors and their performance
Websites to use as inspiration
SEO plan
Website sitemap
User journey map
Landing page content
Design brief
Budget
While you can go it alone, a professional agency will help you through every step of the website planning process and deliver a solution based on your needs, goals and budget.
At Digital Silk, our industry-leading experts create custom websites that improve visibility, engage target audiences and increase conversion.
Ready To Build A Market-Leading Website?
Request A Quote
Tell us about your project and let our website strategists give you recommendations.