As much as 26% of brands consider their outsourcing project a failure.
Finding the right web design agency can be overwhelming and that's not surprising: you are, after all, trusting someone with the future of your online reputation.
However, with risks come rewards. In this article, we'll look at five questions that will help you find the right web design agency and maximize the rewards.
5 Essential Questions To Ask When Hiring A Web Design Agency
Asking the right questions will help you identify the agency that has the right talent and the right approach to your project. It will help you find a partner that will take ownership of their work and put your mind at ease.
Choosing the wrong agency may lead to loss of revenue and opportunities, poor results and perhaps even a damaged online reputation.
Question #1: Will You Provide Recommendations And Ideas?
Will your prospective web design agency give you recommendations and ideas for your website?
Or are they more interested in showing you their work and telling you how great they are?
If it's the latter and they aren't willing to explore your goals or come back to you with recommendations, consider looking for an agency that will be proactive and show enough interest to provide you with additional ideas.
Any agency can show you their best work and talk about their success – but the right agency will want to talk about you and give you ideas and recommendations to meet your goals.
Note that this is something the agency should be upfront about right off the bat.
The video below illustrates how we conduct in-depth web design analysis and what recommendations we provide comparing your performance to that of your competitors.
Question #2: How Am I Benefitting From Working With You?
Look at your prospective agencies' processes. What are their deliverables?
Do they just give you a template and fill it with content or do they plan the website and build it from scratch, based on your business's specific needs?
Of course, this will depend on your budget: if you have a tight budget, perhaps the template is the better way to go.
But if you have a decent budget, will the agency plan the website with you?
Will they take you step-by-step through the process so it makes sense to you? Are you comfortable with their expected deliverables?
These are all critical points of consideration at this stage of the interview.
Question #3: Who Will Be Working On My Project?
What are the agency's qualifications and credentials?
Who will lead design and development? How long have they been with the company? How many years of experience do they have? What else have they worked on in the past?
Make sure you speak to the person leading your project, whatever their title may be: account director, project manager or lead strategist.
Question #4: Do You Have Experience With Similar Projects?
The work in the agency's portfolio may not be in your industry, but it should have the same or similar challenges that your project has.
For example: if you need a smart search feature or if you have complex navigation or a product price that needs to change depending on the buyer, find out if they've worked with similar features or similar challenges before and what the outcome looked like.
Question #5: How Will You Bring Value To Our Relationship?
Once the project is done, how will they bring value to it?
Can they help you develop and execute marketing strategies to drive qualified, targeted traffic once you launch your website?
Note that the answer to this question is something the agency should volunteer up front, without you having to ask. They should have a clear outline of what they can bring to the table.
Preparing For The Interview: 5 Steps To Take
To better prepare for an interview with a prospective web design agency, it's important to establish certain internal factors that will affect the course of your website project.
Defining these factors will help you get a clearer picture of your business's needs, which will ultimately help you partner with an agency that can fulfill them.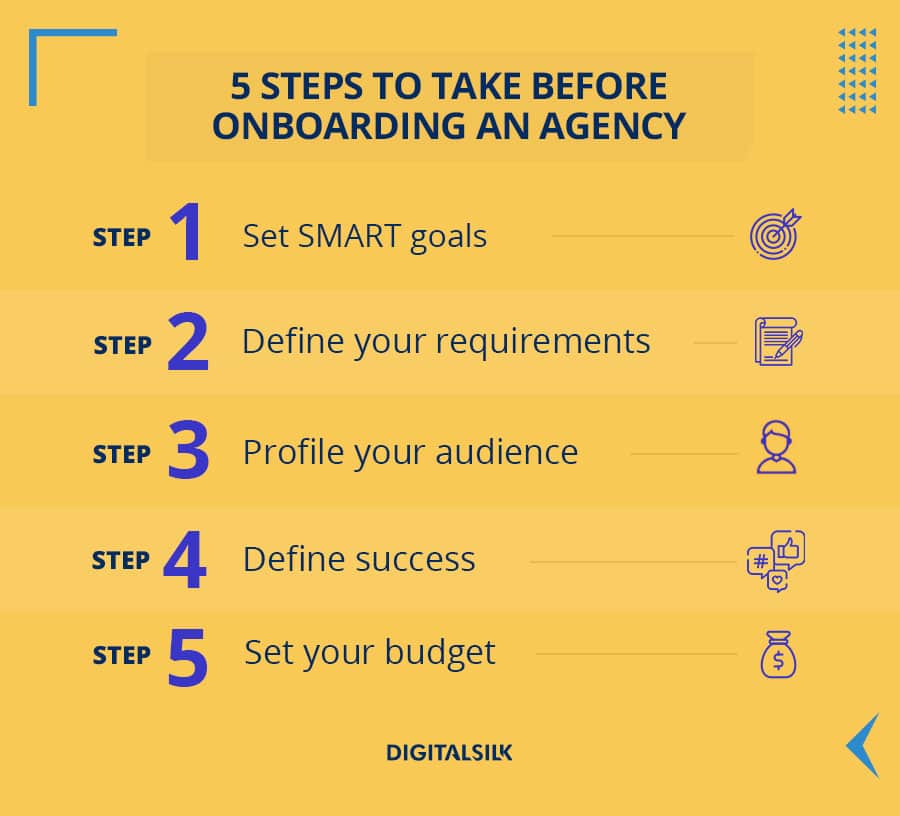 Step #1: Know Your Goals
Why do you need a new website – or a redesign of an old one?
The most important factor that will inform your questions to agencies and impact your final choice is establishing your specific goals for the website.
What business goals do you have for your future website? What need should it fulfill?
If you already have a website, is it failing to attract visitors or keep them engaged?
Is your current website difficult to update? Are the conversion rates low?
Determining your objectives, ranging from traffic to sales and design, will make the search for your partner easier.
Step #2: Set Your Requirements
You should know in advance what you are looking for and expecting to get out of the project.
Your goals are broader objectives, such as to increase traffic and sales. But when it comes to website requirements, think in terms of how you want the website to look and feel.
How many website pages do you need? What specific features and functionalities would you like your website to have?
Setting requirements for the design will also help set the needs and expectations to help you find the right web design agency partner. Being able to deliver on all of your requirements is the first step to a partnership.
Step #3: Define Your Audience
Your target audience is your website's most important asset. It's who you are making the website for.
Identifying your ideal customer profile according to demographic data, buying intent, purchase decision making, personal goals and pain points is a factor that will inform multiple aspects of your final website's design and functionality.
Step #4: Define Success
Coming up with long-term and short-term goals will determine how you will measure the success of your new website.
Think in terms of specific metrics that will be important to keep track of, such as traffic, sales, subscriptions, page dwell time and conversion rates.
For your website, what will define success?
Step #5: Define Your Budget
Knowing exactly how much money you can allocate for the services of a web design agency is vital: this will make sure you get the most bang for your buck.
Every agency charges differently and the cost of your project will likely depend on the project's scope and complexity. Clearly defining your budget will help you find a top-rated agency that is able to complete your project within your cost range.
Why Is It Important To Ask The Right Questions Before Hiring A Web Design Agency?
Ultimately, the decision you make based on the answers to the above questions can lead to one of two outcomes: the right decision can lead to many positives and amplify your business, while the wrong one can potentially harm your brand and your revenue.
Here are three main reasons why it's important to ask these questions:
Reason #1: To Increase Efficiency
Sitting down with a prospective web design agency partner and asking questions will help you communicate the things that are important to you, when it comes to your business, your values and your goals for the project.
By setting a tone for communication upfront, the process will become clearer and more efficient. This unified front will help eliminate any friction that happens to arise during the process.
Reason #2: To Ensure You Find The Right Partner For Your Specific Project
Asking the necessary questions will help you find the web design company that is right for you and your specific project.
Ideally, this will be a one-stop-shop that takes care of all your website-related services – not just the creation of the website.
The right agency will be able to provide you with a website that:
Accurately reflects your brand
Boosts your online (and offline) business reputation
Is well-optimized for ranking and visibility
Attracts qualified visitors and ideal customer profiles
Generates steady revenue
Taking it one step further, an ideal partner will also help you with your hosting plan as well as post-launch maintenance, updates and metric tracking.
Reason #3: To Get An Accurate Proposal For Your Project
While cost isn't the only factor that you should consider when hiring a web design agency, it is an important one.
Determine how much you're willing and able to spend on the project and get clear estimates from each prospective partner.
An accurate proposal can also help make sure your project stays on course throughout the entire process.
Asking the right questions can help you define your features and requirements based on which agency can craft a precise job proposal, including cost, deliverables and an estimated completion date.
Takeaways On Questions To Ask A Web Design And Development Agency
During the interview process with your prospective web design partners, asking the right questions can help you establish which company can ensure your brand reputation stays intact online.
The five essential questions you should ask when looking for a web design and development agency are:
Will you provide recommendations and ideas?
How am I benefitting from working with you?
Who will be working on my project?
Do you have experience with similar projects?
How will you bring value to our relationship?
Trusting someone with your brand is a big deal, so it's important to dig deep and ensure you choose a partner who's the right fit.

Ready To Create A Market-Leading Website?
Request A Quote
Tell us about your project and let our experts give you recommendations.